Are you planning a trip to Oahu with a baby and want to know where to pick up baby essentials on vacation? Keep scrolling to find out the best Oahu baby stores that sell Hawaii baby clothes, books, toys, and more.
This post about the best Oahu baby stores was written by Hawaii travel expert Marcie Cheung and contains affiliate links which means if you purchase something from one of my affiliate links, I may earn a small commission that goes back into maintaining this blog.
Are you traveling to Hawaii with a baby?
You will love this guide! It has all the best places for finding Hawaiian baby clothes, toys, books, and so much more. We have done all the research for you so that you can spend less time looking and more time having fun in Hawaii.
Our list of stores is perfect for when you are visiting Oahu with your little one. They will be able to find everything they need at these shops.
Plus, it's great because there is something here for everyone – for mommy to daddy too! So sit back and relax while we show you where to go on Oahu with a baby!
Keep scrolling to get our guide on where to shop on Oahu with kids today!
Want to skip all the planning and just access my detailed Oahu Itinerary complete with daily schedules, kid-friendly activities, and travel hacks? Click the button below.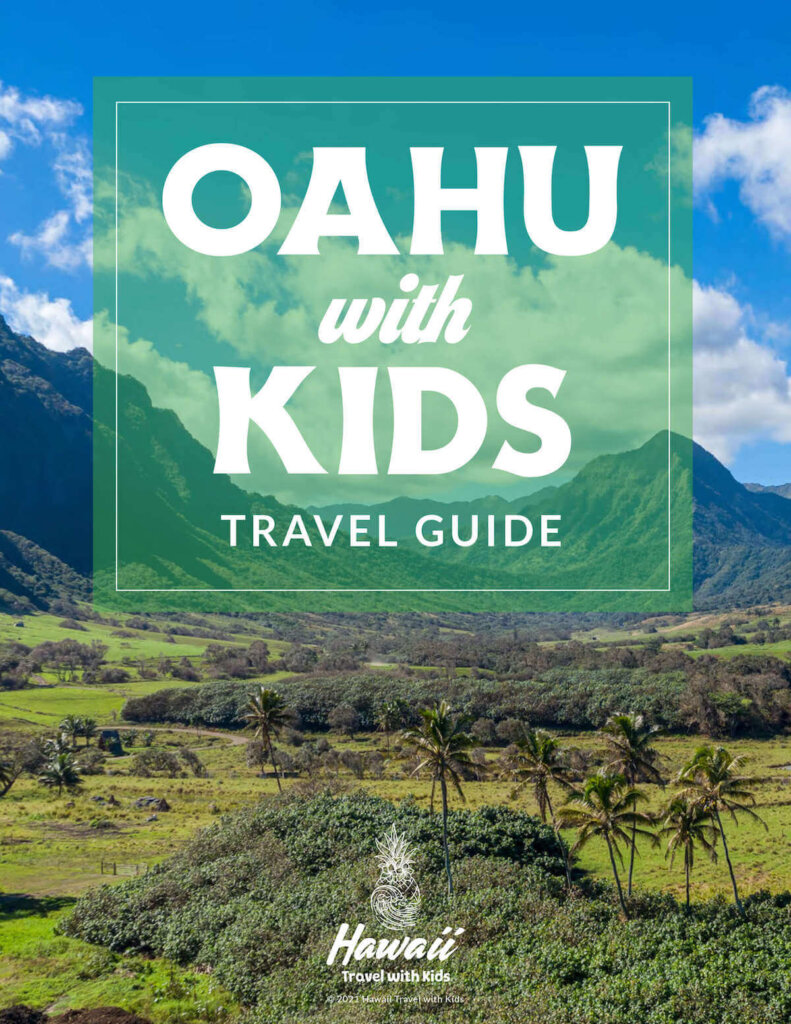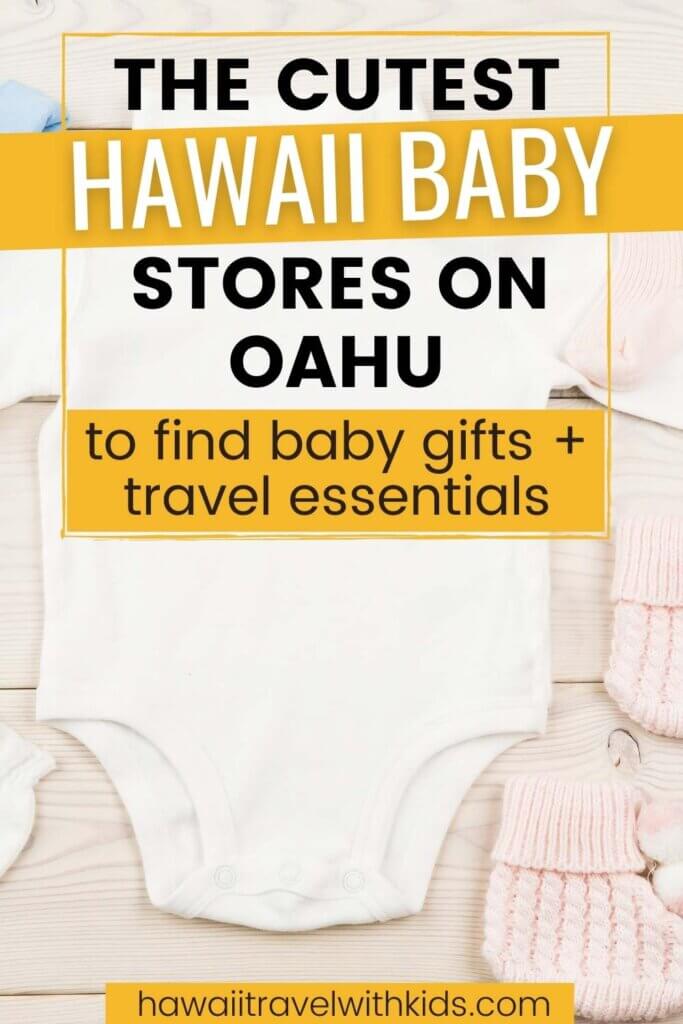 Cutest Baby Stores in Oahu Hawaii
Here are our top favorite baby stores in Oahu, Hawaii! These stores have everything from baby clothes to shoes, toys, and so much more. Some of these stores have handmade items, while others are brands you are probably familiar with.
Hopscotch
Hopscotch is one of the best baby stores in Hawaii! Located in Honolulu, this baby store has just about everything you'll need for your little one. It has a wide variety of clothes, blankets, and swaddles. You will even find nursing items as well!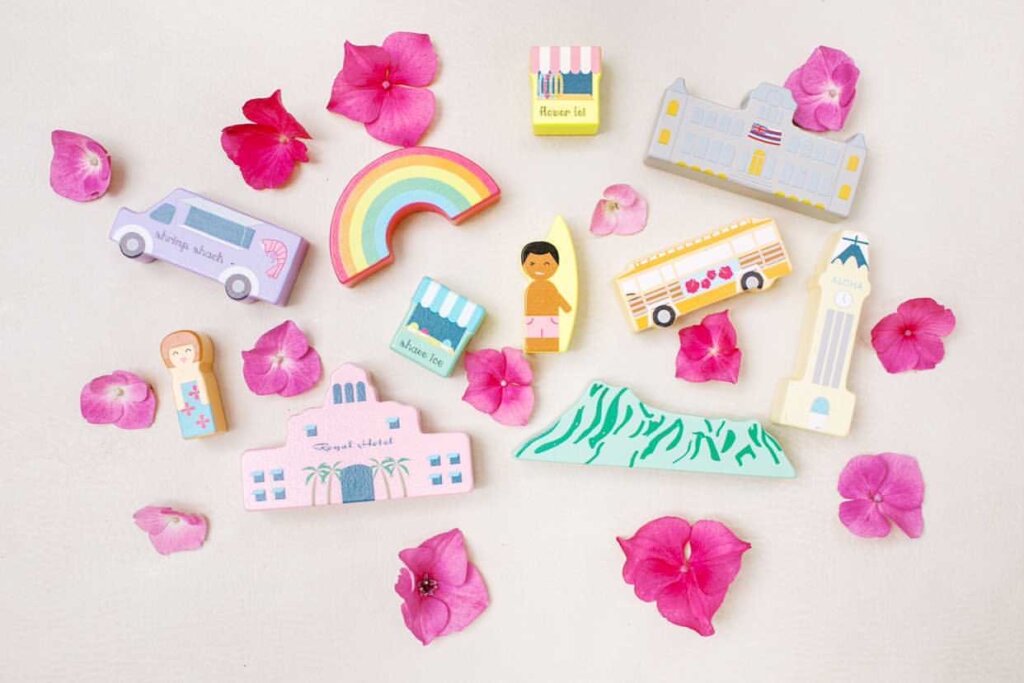 This is one of many toy stores in Hawaii as well. The toys located at Hopscotch are all unique to Hawaii. You will find my favorite Keiki Kaukau shave ice playset and an alohaland block set. Not only are these toys super fun for kids, but they also are special to the island culture. These are toys you might not find on the mainland.
Hopscotch also supports many other local baby businesses from all over the island. You will find Hawaiian baby boutiques such as Coco Moon, Aloha Made Baby, Keiki Kaukau, and many others. This is one of the best Honolulu baby stores to visit and support the local small shops!
You can find Hopscotch on Ala Moana Blvd. in Honolulu, as well as online.
Up & Riding
Up & Riding is another Honolulu baby store that we absolutely love for its surfer-style clothes. You will find baby clothes from 6 months up to youth sizes for 13-year-olds.
This is a baby shop you can use until your child becomes a teenager! These clothes are designed with surfers and skaters in mind.
You can check out their website as well to order online. This shop is located in the Kahala Mall in Honolulu.
Mālama Baby
Mālama Baby is another cute baby store in Hawaii. While this one doesn't have a set location, it does pop up at local markets and boutiques all around the island. You can also find their items online as well.
You can find Mālama Baby at the following stores on Oahu:
Hopscotch
Homegrown Pearlridge
Tani Manini
Taj Clubhouse
They also keep you updated on what local farmer's markets or other events they will appear at on their website.
Mālama Baby is one of the cutest baby boutiques Hawaii offers. They make handmade baby carriers with Hawaiian styles and prints. You will also find some cute stuffed animals, car seat accessories, swaddles, and many other great baby necessities.
Carter's
Thankfully there is always a Carter's store located in Waikele at the Premium Outlets. Carter's is another one of the top baby stores in Oahu. It has baby clothes from preemie sizes all the way up to size 14. This is a great stop to find affordable baby clothes for your little one while on the island.
Gap Kids
At Ala Moana, you will find a Gap Kids store to shop from as well. Gap always has stylish baby clothes if you need a new outfit while staying in Hawaii. All of Gap Kids' clothes are super comfortable and versatile to fit little ones' needs. You can find preemie to size 14 here.
Growing Keiki
Located on the North Shore in Haleiwa, Growing Keiki is another beautiful baby store in Oahu. This store carries surfer-style baby clothes, along with toys and books for the little ones to enjoy.
They are getting more and more clothes and accessories for young babies, making this a great stop when you have multiple kids! You will find so many fun prints for your family with this company!
Tini Manini
Tini Manini is another baby store in Haleiwa. This shop focuses on hats and shirts for little ones. They have sizes from 6 months to 8, and the sizes are made with plenty of room to grow in, so they last a long time.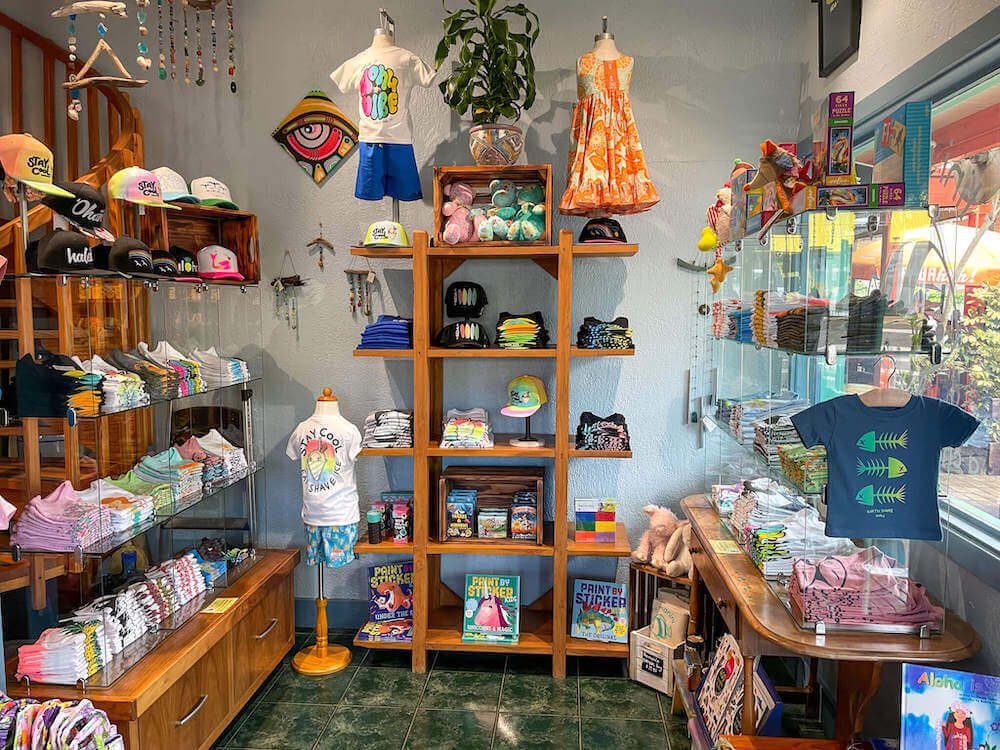 Their shirts and items are unique because all the designs are artwork created by a family member. Every member, even their young children, help make these shirts. You can also buy their products online.
Oshkosh B'Gosh
Located in Waipahu, you will find an Oshkosh B'Gosh. Here they let you buy online and pick it up at the store if you want, which saves parents a lot of time!
Here you will find a wide range of clothes for all sizes for your infant and child.
The Children's Place
Another well-known brand of baby clothes is also on the island of Oahu. This is a great simple store to grab some good-quality baby clothes.
The Children's Place is located in the Pearlridge Center. You can order online and pick up your order from the store as well. This store carries 0-24 months, as well as kids size 2-16.
Caterkids Hawaii
This baby store is different from any other baby store you will visit while in Hawaii. That is because this store is actually selling used baby items. Think of it like Goodwill. However, this store will also buy baby items you no longer need and then will clean them and sell them to other families in need!
This baby store is helpful for those living on a very tight budget in Hawaii. We all know baby items are not cheap, so this store helps families buy lower-priced baby items and helps them get money back on things they no longer need!
Just because these items are used doesn't mean they don't have good baby products. They make sure to only buy high-quality items to sell to new parents. Caterkids is located in Waipahu as well as online.
Healthy Baby Hawaii
This baby store in Hawaii is another one that is unlike all the rest. This shop does not sell baby clothes or toys. Instead, Healthy Baby Hawaii is dedicated to giving parents and their babies healthy baby food.
All their baby food is organic and locally sourced whenever possible. You can get a monthly subscription or buy whenever you want. They will also deliver your food weekly to you, so you don't even have to go to their shop in Kailua!
They have everything from puree solids, finger foods, toddler meals, and snacks. They even have lactation products and meals for moms! As they have grown, they are also expanding its products to include sensory play kits and more.
This Hawaii baby store is definitely one to check out and get some very healthy baby food during your stay.
Dayleeosi
Located in the Windward Mall in Kaneohe is Dayleeosi. This is a cute shop that has both baby and Keiki items to enjoy. All of their items have local designs and are beautiful. You can find good deals at this store for all your baby will need.
You can find diaper bags, seat covers, baby clothes, Minky blankets, and so much more. Everything in this shop would make for a great Hawaii baby gift!
Hawaii Baby Boutiques
While many of these Hawaii baby boutiques have completely adorable Hawaii baby clothes, these shops are not physical boutiques to shop inside. These baby boutiques are all online but are still local to Hawaii and have the cutest Hawaiian-style baby items!
Izzy and Luke
I've been pretty obsessed with Izzy and Luke's clothing since my oldest was a toddler. Their shirts are super soft and have the best Hawaiian references on them. Both my kids wore their "no worry beef curry" shirts until they couldn't squeeze into them anymore.
You can shop for their cute made-in-Hawaii clothes online.
Kahakai
After the owner searched for a cute Hawaiian baby gift for her friend, she decided to make one herself. She saw the lack of beautiful, laid-back style baby clothes, so she started her business! Kahakai does not have a physical shop, but it does provide cute Hawaii baby clothes for all to enjoy.
Everything is made in Hawaii, baby clothes, Muslim swaddles, crib sheets, rompers, hats, and so much more. All of her designs are simply so adorable and individualized. If you are looking for a cute Hawaiian-style baby gift, Kahakai does not disappoint. You can also enjoy free shipping on all US orders.
Little Turtle Hawaii
Another amazing Hawaii-based baby store is Little Turtle Hawaii. This was once a physical store in Hawaii up until November 2015. They shut their doors to their shop but stayed an online business so they could enjoy working from home.
This store has been around since 1981. All of their items are made from materials from local shops and vendors. They don't mass produce anything, so everything is handmade and unique, which is always a great option when you are getting a baby gift.
Not only are their items handmade and special, but you can also find personalized gifts at Little Turtle Hawaii!
You can also find a Little Sandy Footprint Kit, which is super cute, and any new mom would love! If you are looking for baby gifts from Hawaii, this shop definitely has awesome baby gifts!
Oahu with a Baby FAQs
Where can I find made in Hawaii baby clothes?
When it comes to baby clothes, Hawaii has some of the cutest options! Coco Moon, Izzy & Luke, and Small Fry Kauai have some really cute Hawaii onesies. You can also find little Aloha shirt sets and dresses at the Aloha Swap Meet, Target, Walmart, and other big box stores (but these are not made in Hawaii).
Do I need a stroller when visiting Oahu with a baby?
We've done it both ways, and I have to say it really depends on where you're staying and what you'll be doing. We found it super helpful when walking around Waikiki, exploring the Polynesian Cultural Center, and walking around the Aloha Swap Meet, and I would imagine it would be nice at Pearl Harbor. Otherwise, we preferred to just use a baby carrier when walking around, going hiking, or shopping.
What is there to do on Oahu with a baby?
There are tons of baby-friendly activities on Oahu. Many boat rides are for kids of all ages. Sea Life Park is a really fun option for babies who like animals. There's also the Honolulu Zoo and Waikiki Aquarium. And the Polynesian Cultural Center is super baby-friendly. We've actually taken babies to many luaus, and they always do well.
Best Baby Stores in Hawaii Wrap Up
These are our favorite Oahu baby stores to buy from and visit while you are enjoying your stay in Hawaii. When it comes to baby stores, Hawaii has some of the cutest in the U.S.
You can find all of these stores in Hawaii, but if you're not able to visit the islands anytime soon, don't worry. Many of them have online shopping options so that you can enjoy their beautiful wares from anywhere in the world! That way, you can enjoy cute Hawaiian patterns even if you can't make it to Hawaii.
Enjoy baby clothes, toys, and other baby necessities from these local Oahu boutiques and stores. And check out our other resources for traveling to Hawaii with a baby.