Looking for yummy tropical smoothie recipes for a healthy breakfast? Try this delicious blueberry banana chia smoothie with coconut water recipe to kick off your morning!
This blueberry banana chia smoothie recipe contains affiliate links which means if you purchase something from one of my affiliate links, I may earn a small commission that goes back into maintaining this blog.
We've been on a smoothie kick over the past few months, and we're trying out all kinds of new combinations.
My kids love yogurt in their smoothies, so that's usually how we make them in the morning. But I'm lactose-intolerant. So that means I have to take a Lactaid pill in order to share their smoothie.
Sometimes I substitute the yogurt for coconut milk to make it a dairy-free smoothie. And now I'm trying coconut water smoothies!
It's pretty easy to make smoothies with coconut water. And by adding the banana, it still has a creamy consistency.
I've actually found several tropical smoothie recipes with coconut water that have turned out tasty. It's been a great way to incorporate coconut water into my diet (I have a hard time drinking it straight from the container).
I'm pretty excited to share my coconut water chia banana boost smoothie recipe with you today. I even sprinkle in some chia seeds for extra protein and fiber.
Keep scrolling to get my blueberry chia smoothie recipe your whole family will love!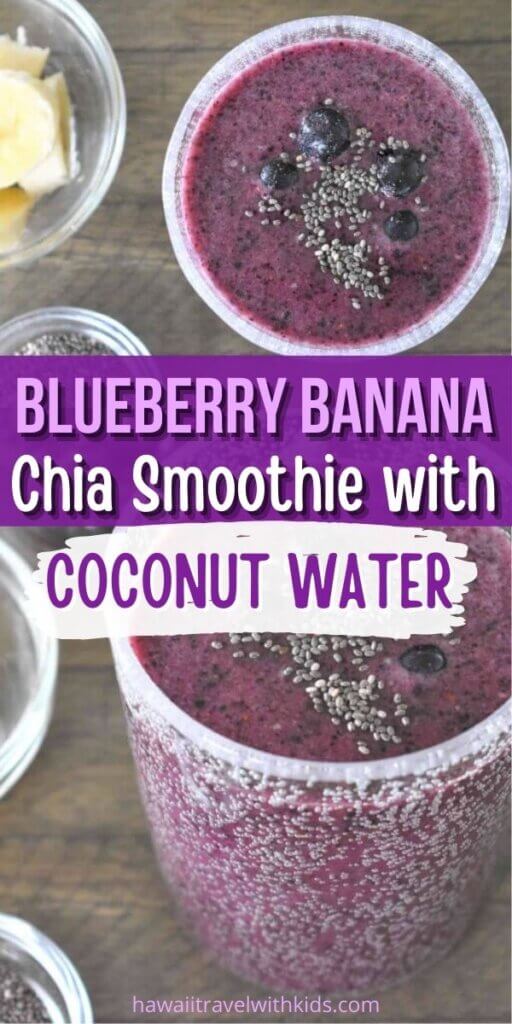 How to Make This Banana Coconut Water Smoothie
Here is this super easy chia banana boost tropical smoothie recipe!
Prep Time: 10 mins
Total Time: 12 mins
Servings: 1
Chia Banana Boost Tropical Smoothie Ingredients: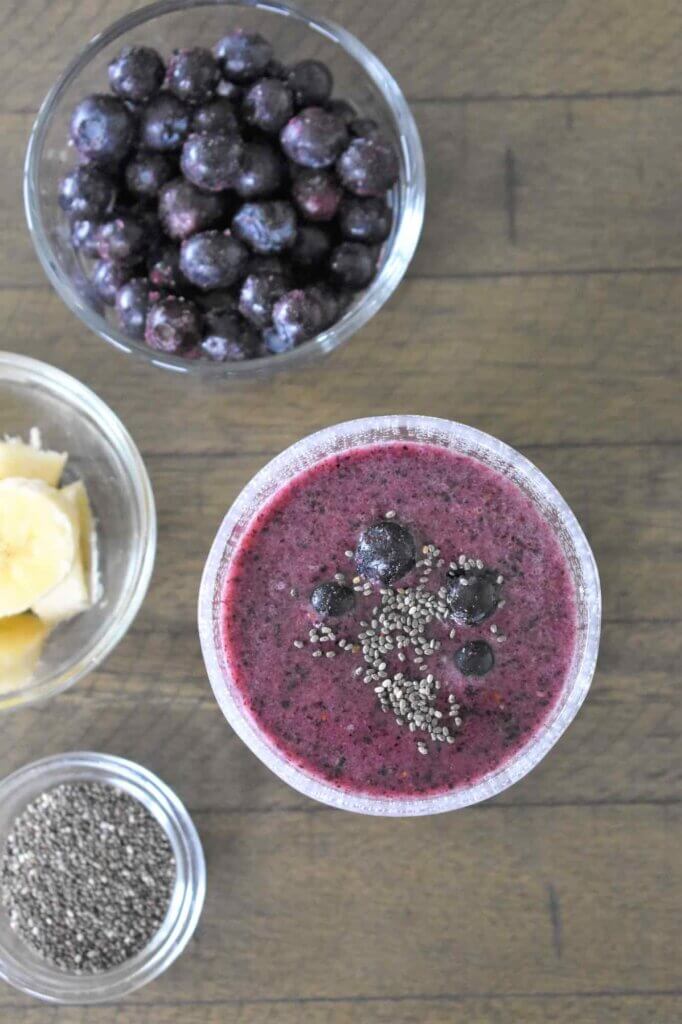 Coconut Water Banana Smoothie Directions:
Gather all your ingredients and place the frozen blueberries, banana, chia, and raw honey in a blender.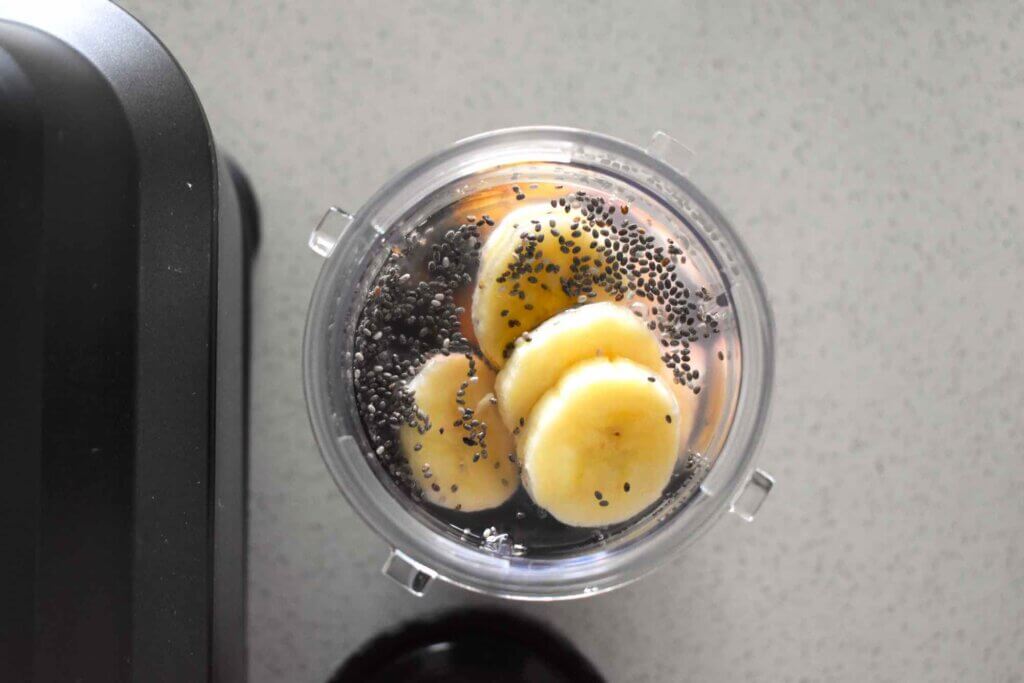 Next, add in the coconut water. Blend until it has a smooth consistency.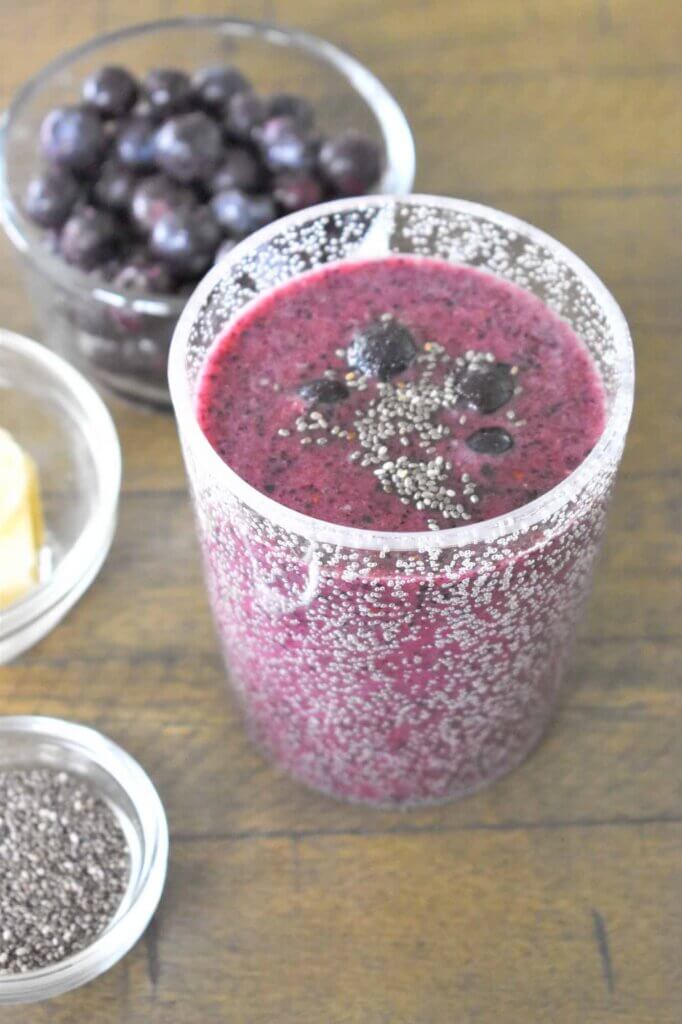 And that's it! It's seriously simple, and it's a great way to get a few more electrolytes into your diet, which helps keep you hydrated.
Chia Banana Boost Tropical Smoothie Tips
Add in all your hard ingredients to your blender before adding the coconut water. This helps to blend everything together smoothly.
If you want this to have more protein for your morning, try adding in natural peanut butter!
If you don't want to entirely use coconut water, you can use some almond milk as well to keep it dairy-free.
If you want to make a copycat recipe for the Tropical Smoothie Cafe chia banana boost, you will want to add in some oats, almonds, cinnamon, and coconut.
Add in some shredded coconut for a more coconut flavor one time; it's delicious! You can also add in some strawberries too for more health benefits. Customize it as you please!
This recipe has no added sweeteners. But, if you want it to be sweetened, try some maple syrup instead of sugar.
The frozen banana is what helps this smoothie to be creamy. If you do not have a frozen banana, try one banana instead and see how that turns out for you.
Chia Banana Boost Smoothie FAQs
How to make a smoothie with coconut water?
It's really easy to add in a splash of coconut water to your favorite smoothie recipe. Or you can fully replace the milk or yogurt with coconut water. Just be sure to also include a banana if you want it a bit creamier.
Is coconut water good for you?
Coconut water has natural electrolytes, which is the main reason it has become so popular in the past few years. It also might benefit your heart, blood sugar, and kidneys, promote circulation, and more. There are a lot of health benefits of coconut water, making this chia banana boost tropical smoothie full of nutritional value you will love.
Is coconut water good for weight loss?
It's a great part of a healthy diet because it's low in calories. Coconut water also contains bioactive enzymes that are known to ease digestion and boost metabolism. And a high metabolism can help you lose weight.
Can you put raw chia seeds in a smoothie?
Yes! You can totally add in raw chia seeds into your smoothies. They are a great source of fiber and are good for heart health too! They also have some healthy fats, making them a great superfood for your chia banana smoothies.
What are the chia banana boost nutritional benefits?
This chia boost tropical smoothie is packed full of antioxidants, minerals, vitamin D, and dietary fiber, to name a few. It is great for bone health and has potassium, magnesium, and other great vitamins.
Tropical Smoothie Chia Banana Boost Recipe Wrap-Up
This drink is perfect for breakfasts, as it has plant proteins, fiber, antioxidants, and other health benefits, making it one of my favorite smoothies!
This chia banana boost recipe is so simple to make and is packed full of healthy ingredients. No sugar is added, so you can happily give this tropical smoothie chia banana boost to your kids for a healthy breakfast option.
Yield: 1
Blueberry Banana Chia Smoothie with Coconut Water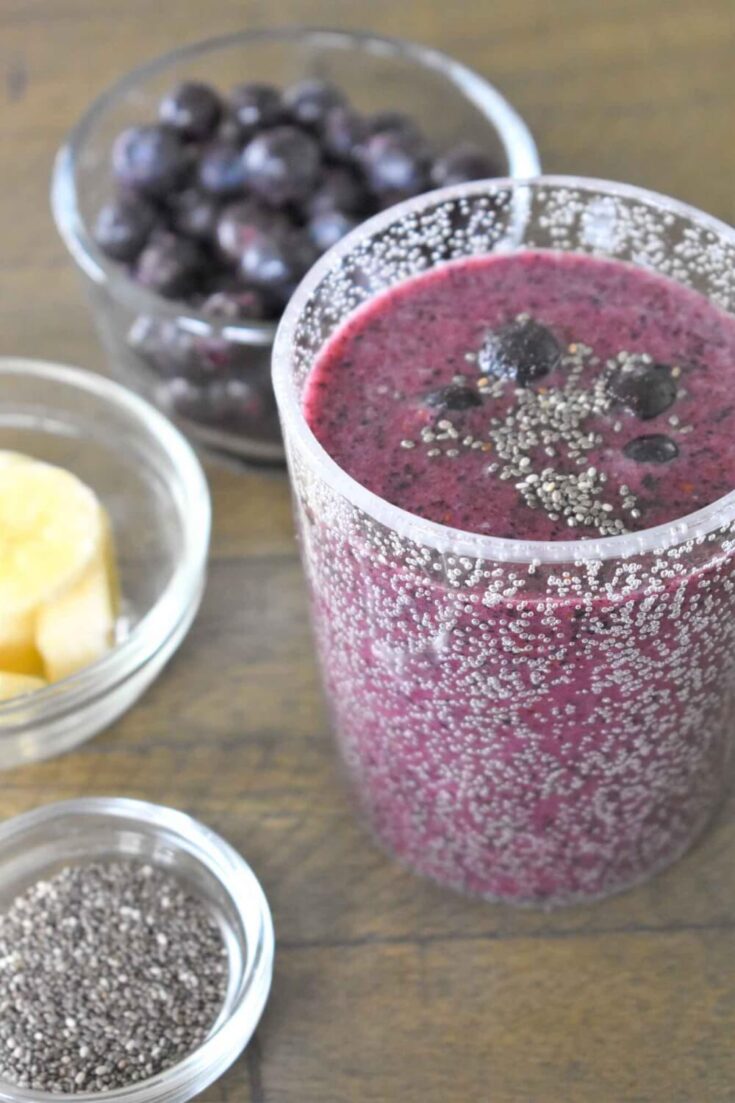 Looking for a yummy dairy-free smoothie recipe with coconut water? You'll love this super easy blueberry banana chia smoothie recipe that is full of vitamins and nutrients!
Additional Time
2 minutes
Ingredients
1 ½ cups frozen blueberries
½ frozen banana
1 cup coconut water
½ tablespoon chia
1 tablespoon raw honey
Instructions
Combine blueberries, banana, chia, and raw
honey in a blender.
Add in coconut water.
Blend until smooth and serve.


Nutrition Information:
Yield:
1
Serving Size:
1
Amount Per Serving:
Calories:

310
Total Fat:

4g
Saturated Fat:

1g
Trans Fat:

0g
Unsaturated Fat:

3g
Cholesterol:

0mg
Sodium:

257mg
Carbohydrates:

71g
Fiber:

13g
Sugar:

50g
Protein:

4g