Feeling like kicking your morning off in Hawaii? While we can't always be in the Islands, we can definitely pretend! Scroll to find out 43 Hawaiian tropical smoothie recipes to transport you to the Hawaiian juice bar of your dreams!
This post about Hawaiian tropical smoothie recipes contains affiliate links which means if you purchase something from one of my affiliate links, I may earn a small commission that goes back into maintaining this blog.
Breakfast in Hawaii for my family usually involves a lot of fresh Hawaiian fruit like mango, pineapple, and papaya. We usually hit up farmers markets and hand-pick the best tropical fruit to eat during our vacation.
We like to cut it up first thing each morning, and we add it to our cereal, put on our yogurt, or just eat it on its own.
When we go out exploring the island, I always make sure we hit up one of those adorable fruit stands in Hawaii to get freshly squeezed juice or Hawaiian smoothies.
With the weather getting warmer and a whole lot sunnier here in Seattle, we've been making Hawaiian smoothies at home for a little taste of the tropics!
I've come up with my list of some of the best Hawaii smoothies out there. Take a look and enjoy!
Learn how to make a Strawberry Mango Smoothie Bowl!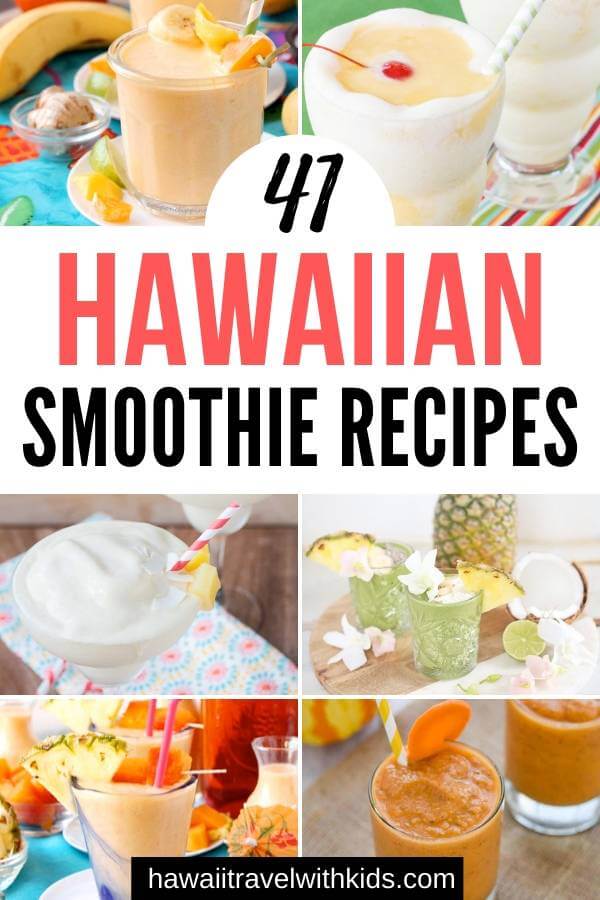 43 Incredible Hawaiian Tropical Smoothie Recipes To Try
Pineapple Tropical Smoothie Recipes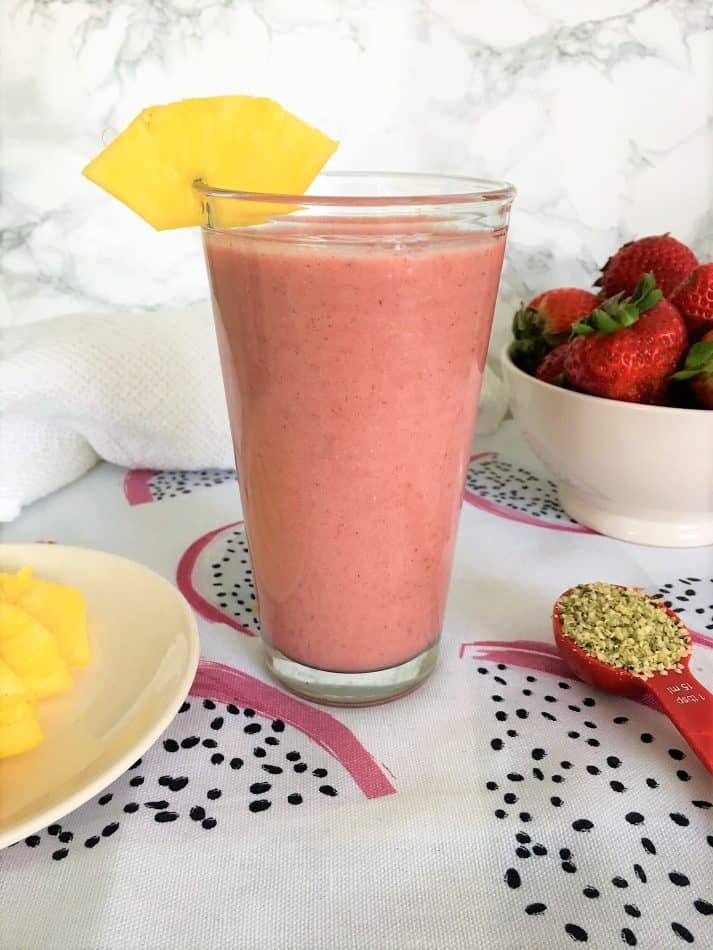 I'm a sucker for pink, so I love this pop of color in this strawberry pineapple smoothie. Plus, it has no added sugar and a boost of protein from hemp hearts.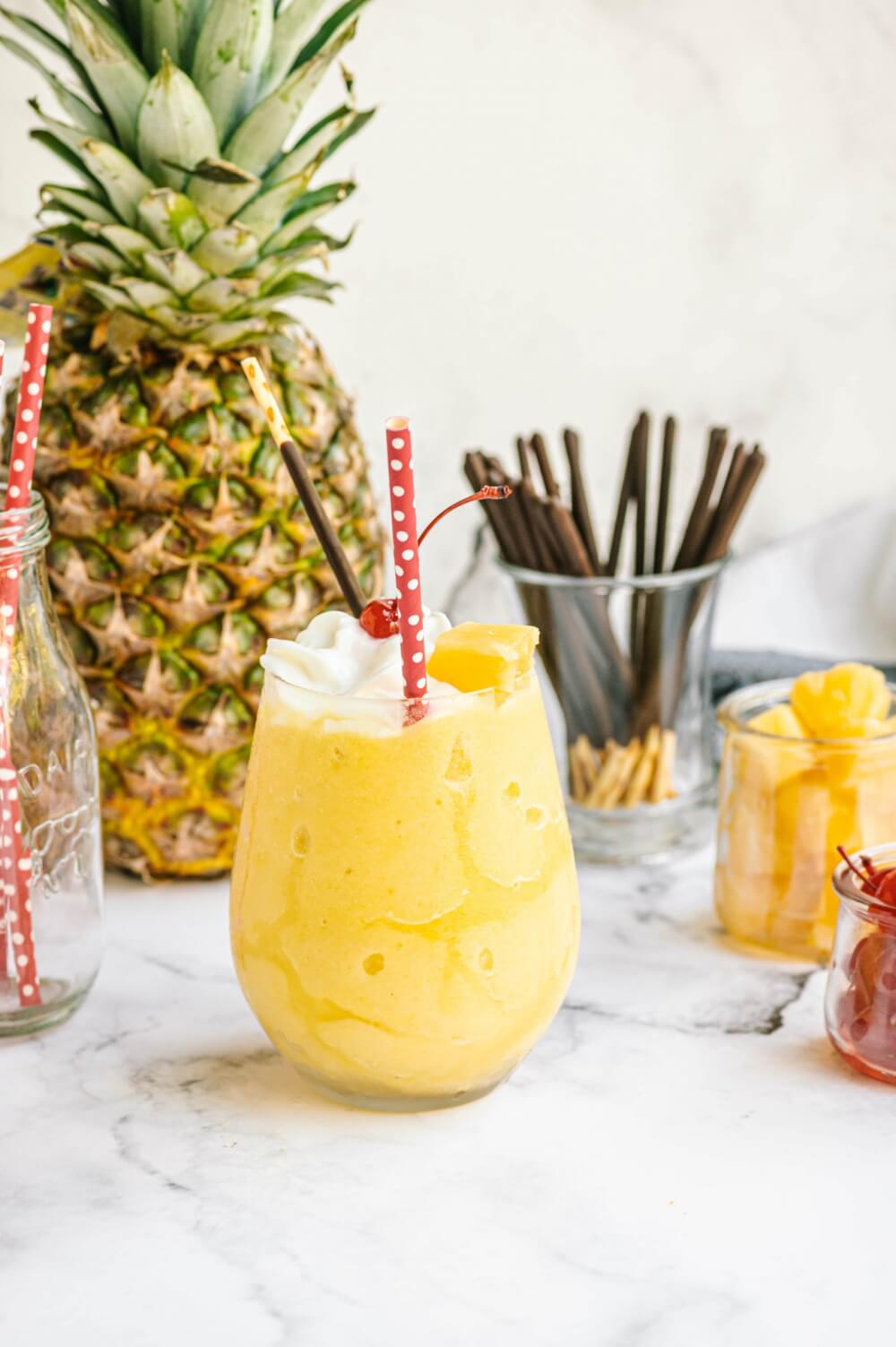 Dole Whip is one of our favorite Disney treats. To turn this into a creamier smoothie, just add more coconut milk and a splash of pineapple juice. It's so yummy!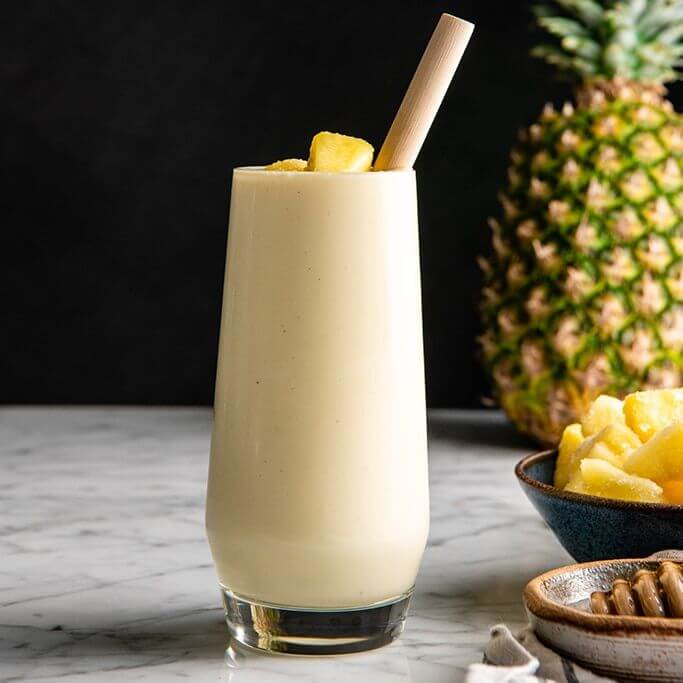 This dairy-free, healthy pineapple smoothie recipe is easy to make with just 5 ingredients in 5 minutes! You can use fresh or frozen pineapple!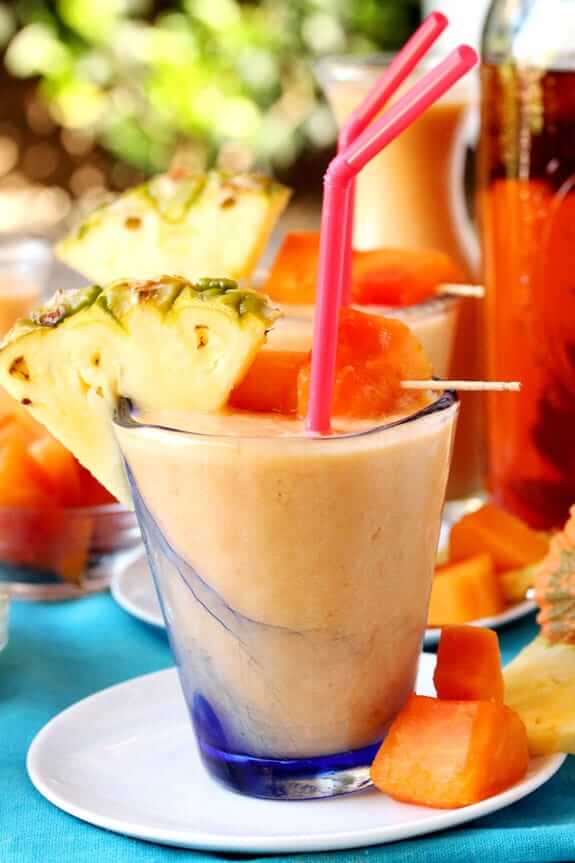 Caffeinated smoothies are my favorite way to wake up without coffee! Of course, when you are in Hawaii, use fresh Hawaiian papaya!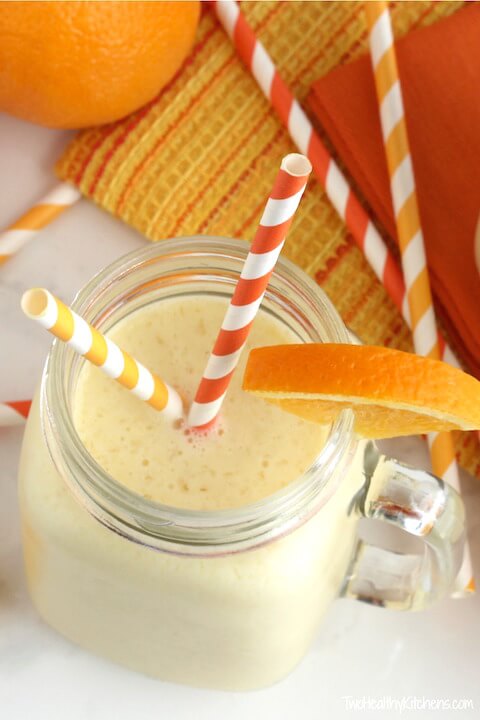 Add a tropical pineapple twist to the classic (and nostalgic) flavor of an orange creamsicle! This refreshing and delicious Pineapple Orange Creamsicle Smoothie is full of protein and nutritious fruit!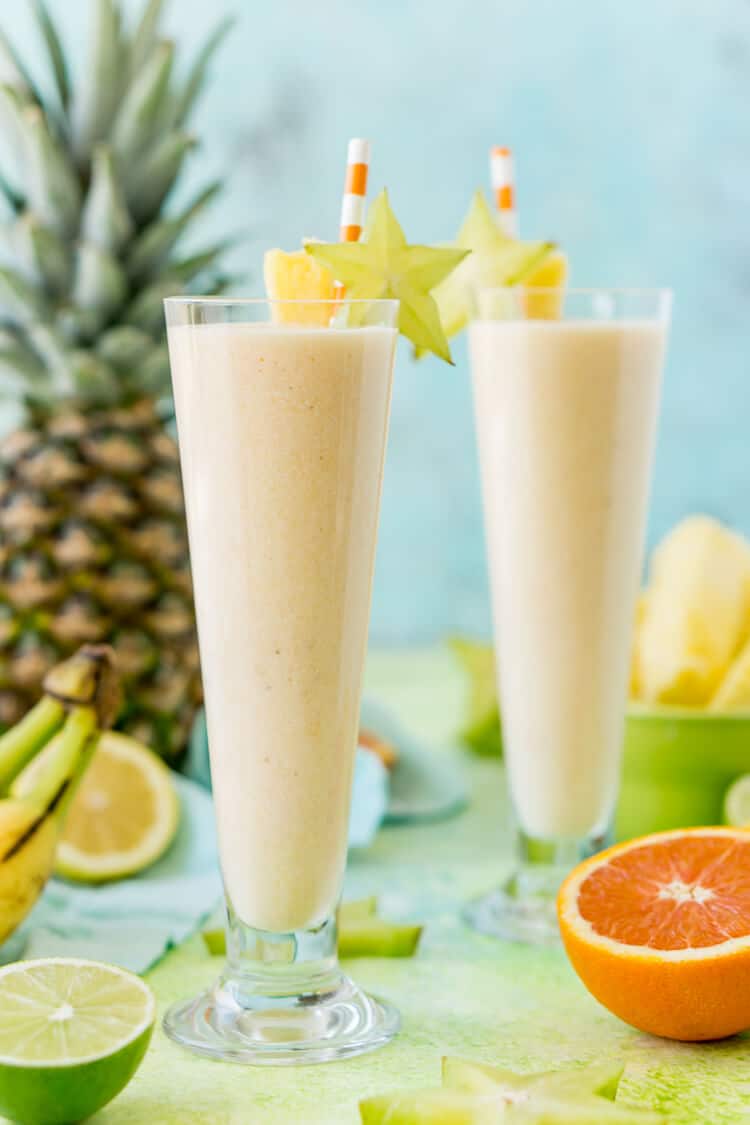 This pineapple orange tropical smoothie is the ultimate way to get in some Vitamin C and potassium for breakfast or as an afternoon snack! It's full of orange juice, pineapple, lemon juice, lime juice, banana, and coconut extract, plus it includes cottage cheese for extra protein.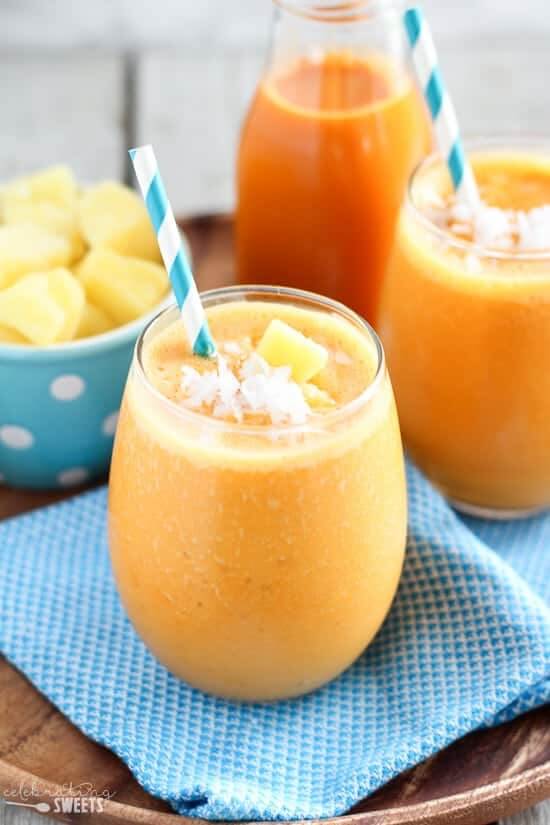 This Hawaiian tropical smoothie is filled with tropical flavors like coconut and pineapple and the beautiful color and slight sweetness of carrot juice. This light and refreshing tropical smoothie is the perfect way to kick off your morning.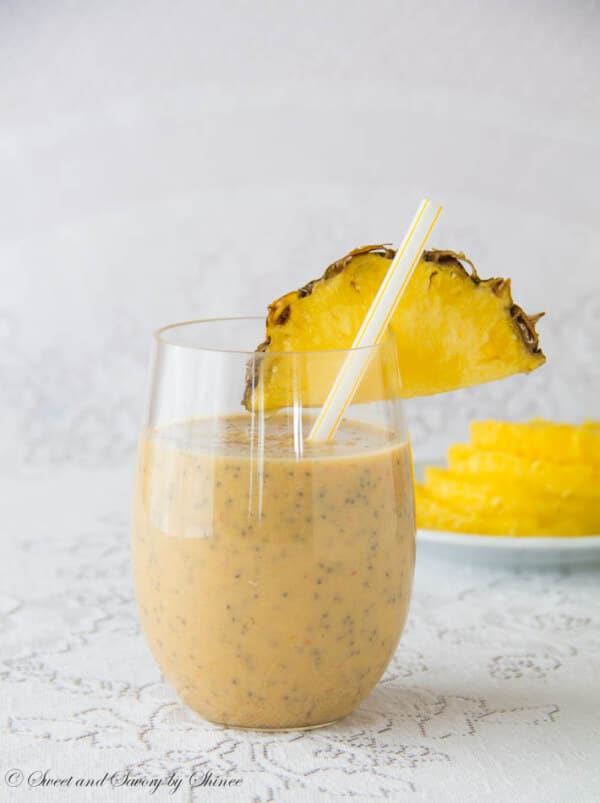 This delicious pineapple citrus smoothie is great for your digestive system and promotes healthy weight loss. It's got Vitamin C and prune juice, so it's a good smoothie to cleanse and energize your body with natural sweetness.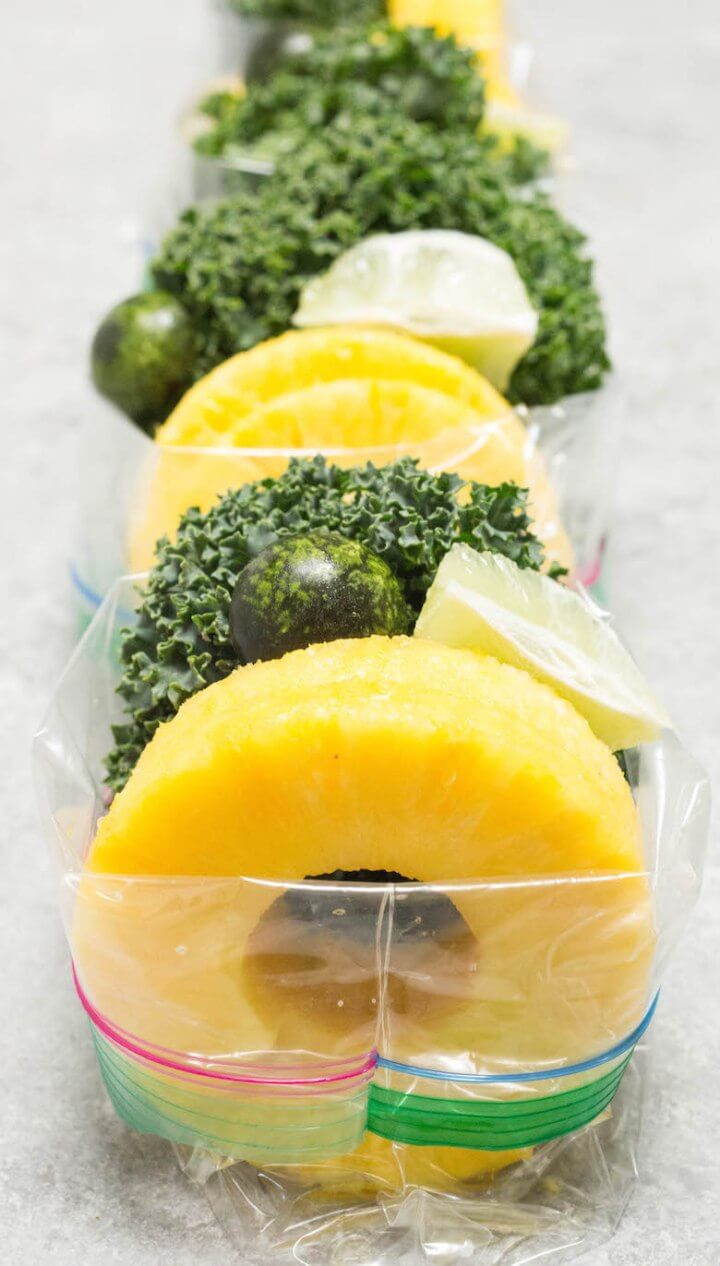 I love that this pineapple smoothie recipe is all about prepping the smoothie ingredients ahead of time so you can just grab them from your freezer and blend until smooth for a quick breakfast or lunch.
Mango Tropical Smoothie Recipes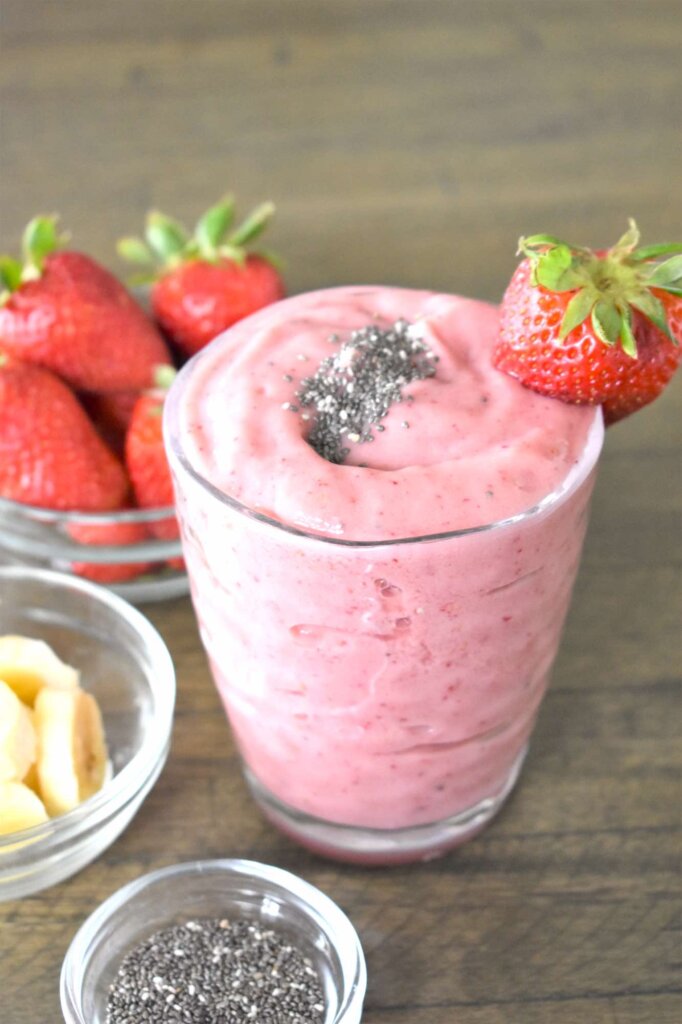 This is an awesome dairy-free smoothie recipe with no added sugar. Plus, it's got chia seeds for extra protein and fiber. Super tasty and a healthy refreshing drink!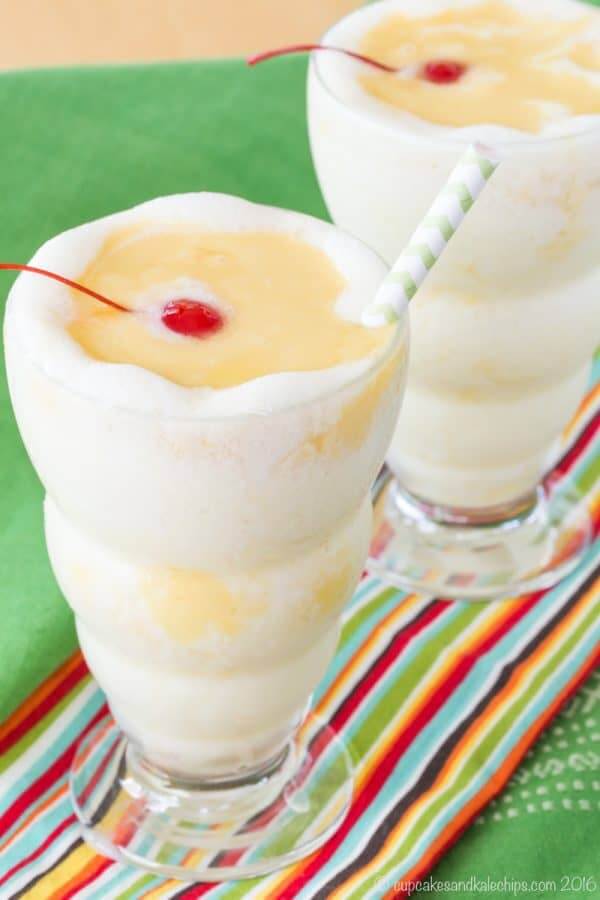 Pineapple Mango Lava Flow Smoothies are a fun and healthy version of the traditional lava flow frozen cocktail. The strawberry is swapped for mango. You can even add some rum extract if you're missing that flavor.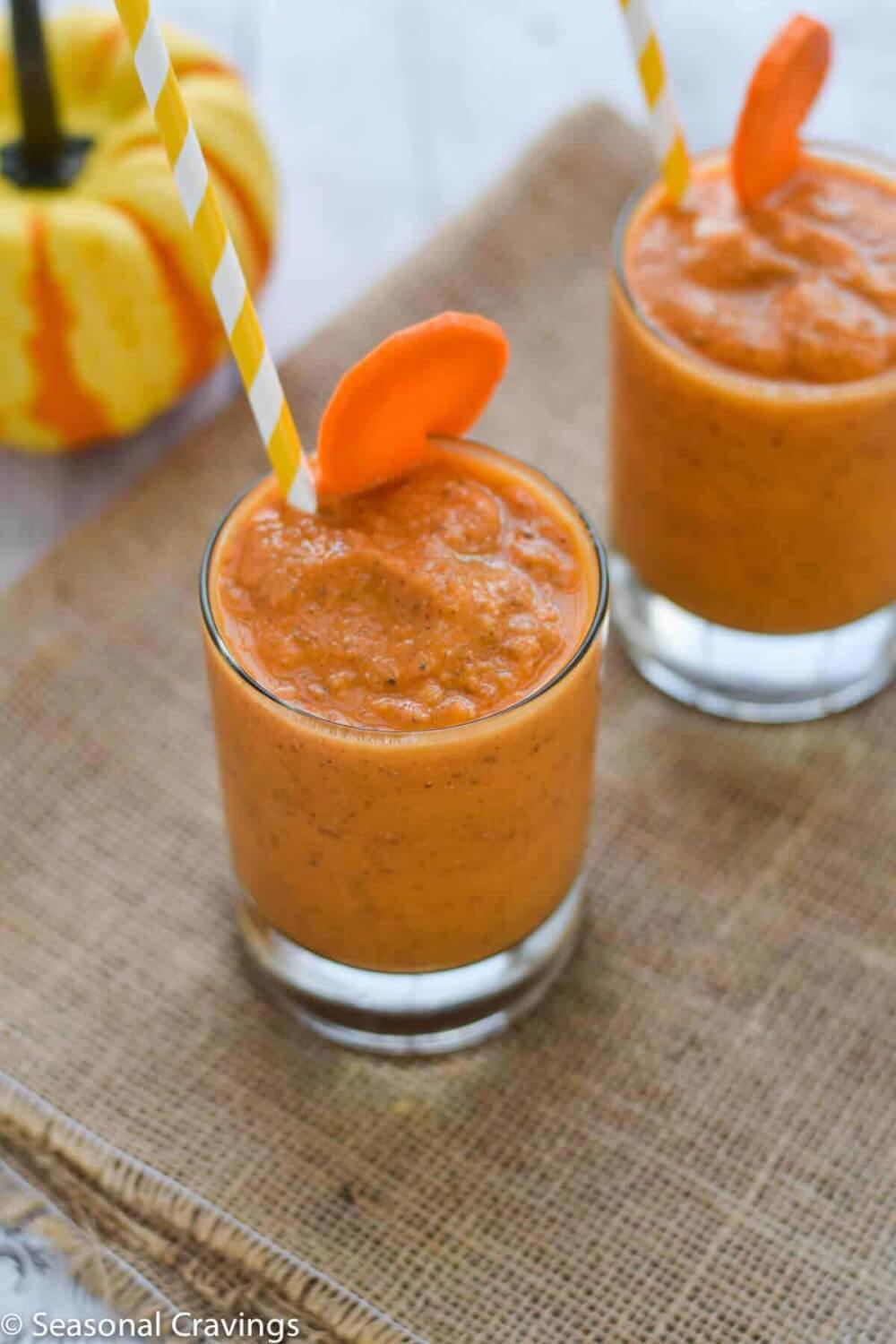 This Mango Carrot Chia paleo smoothie is packed with fruits and veggies. The chia seeds give a boost of fiber to this gluten-free tropical smoothie. Add frozen fruit, mango nectar, or vanilla yogurt if you want other flavors.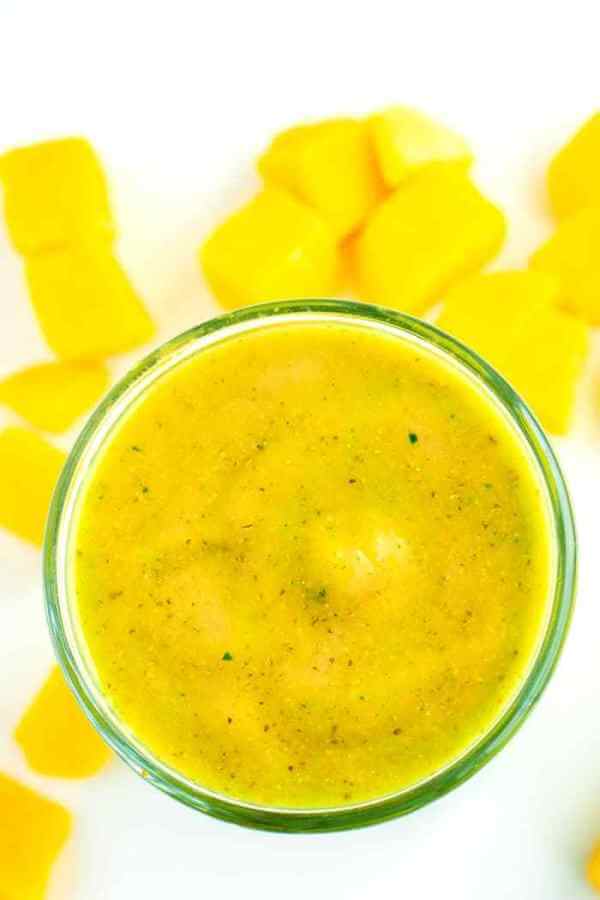 Not only is this healthy Mango Banana Smoothie recipe easy to make, but it only takes 5 minutes, serves 6, and costs just $5.31 total! It uses both frozen mangoes and fresh bananas.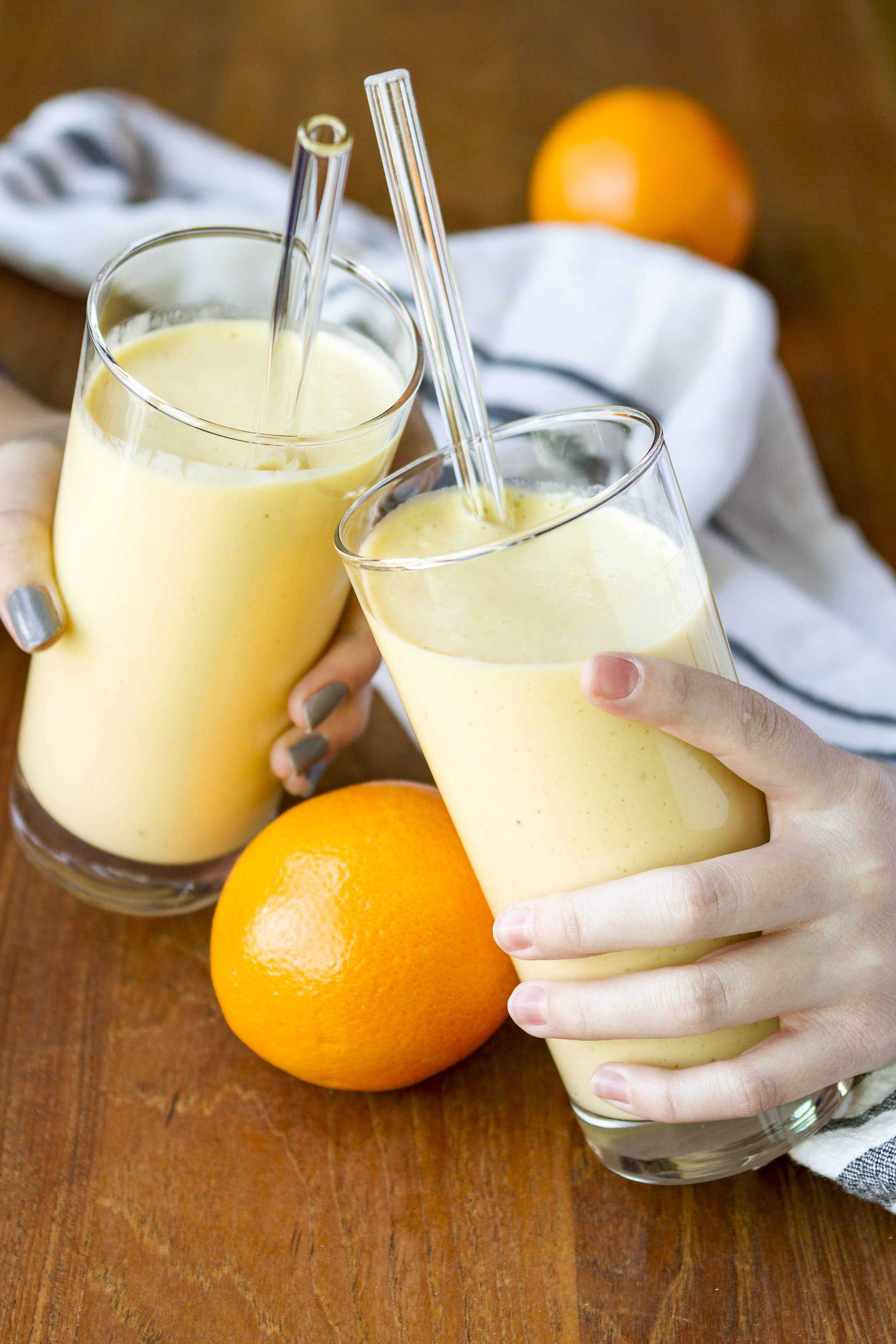 This healthy mango orange smoothie recipe is packed with fresh ingredients that will help keep your immune system in top shape for fighting cold and flu. It's also tasty and refreshing and a great frozen treat.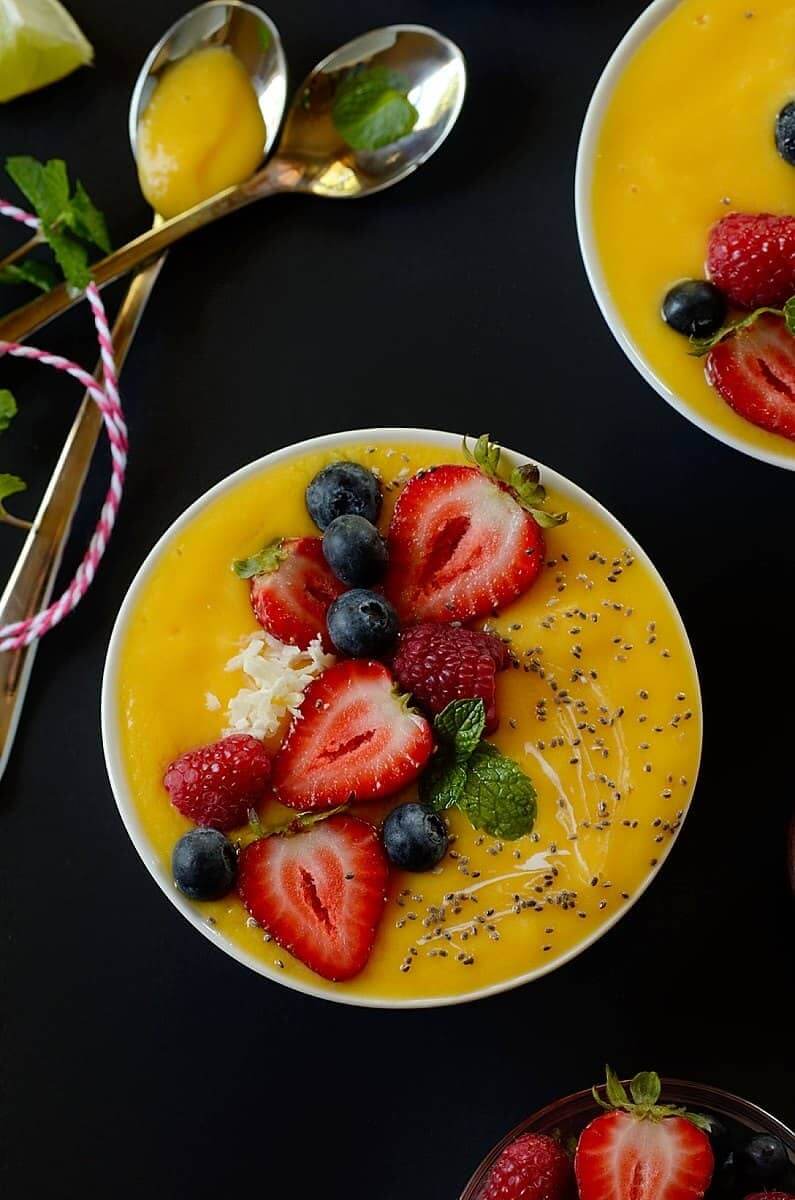 This tropical and summery mango lime smoothie bowl is topped with shredded coconut flakes, berries, chia seeds, and fresh mint leaves for a nutritious breakfast. It has a thick and creamy texture and uses delicious fruits!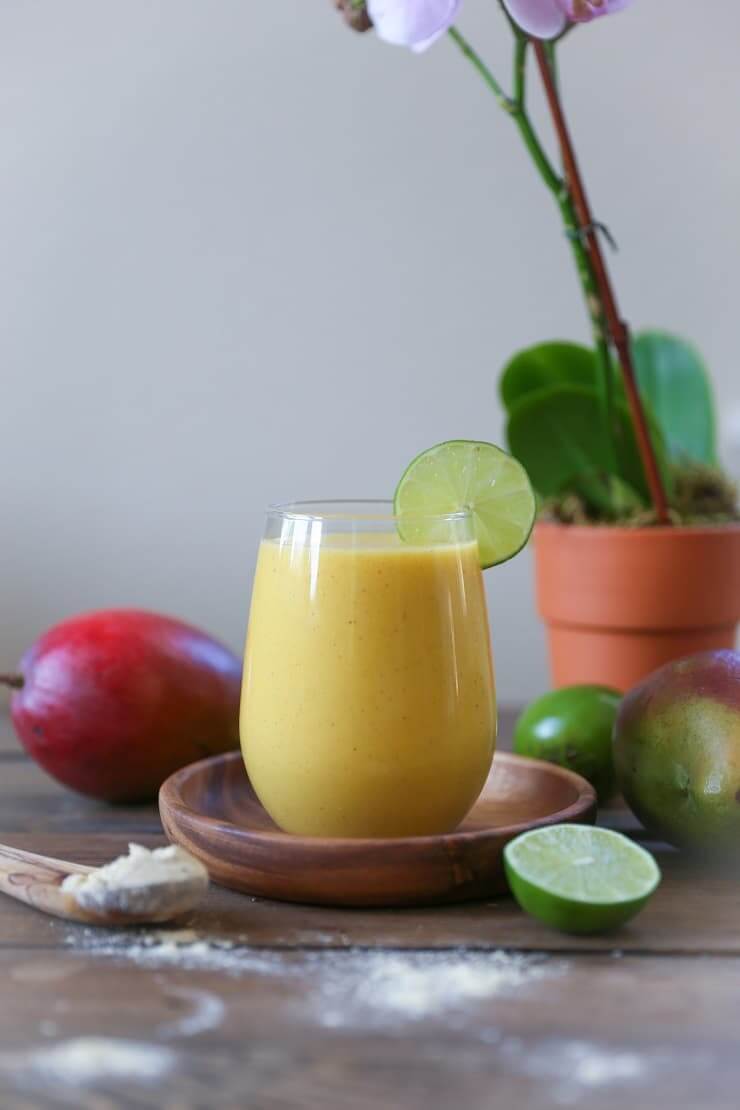 This immunity-boosting tropical smoothie recipe is full of Vitamin C and antioxidants to keep your immune system strong and your skin glowing! You can easily turn it into a smoothie bowl and top it with your favorite fresh fruit and nuts for a zesty way to start the day!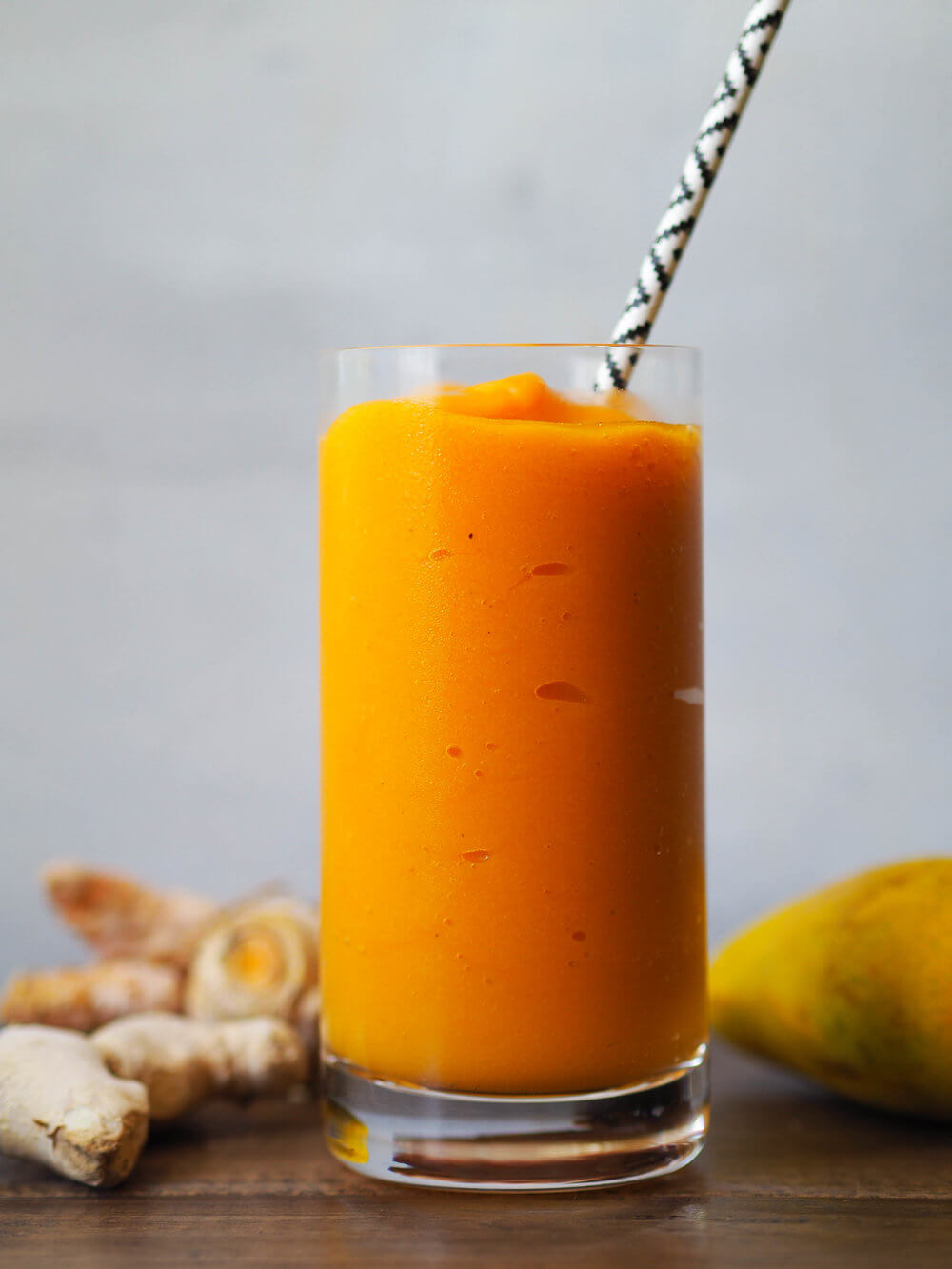 This spicy turmeric mango smoothie recipe is super refreshing and full of antioxidants! Made with a blend of fresh mango, orange juice, and carrot with coconut water, it's the perfect little hydrating tropical smoothie for summer.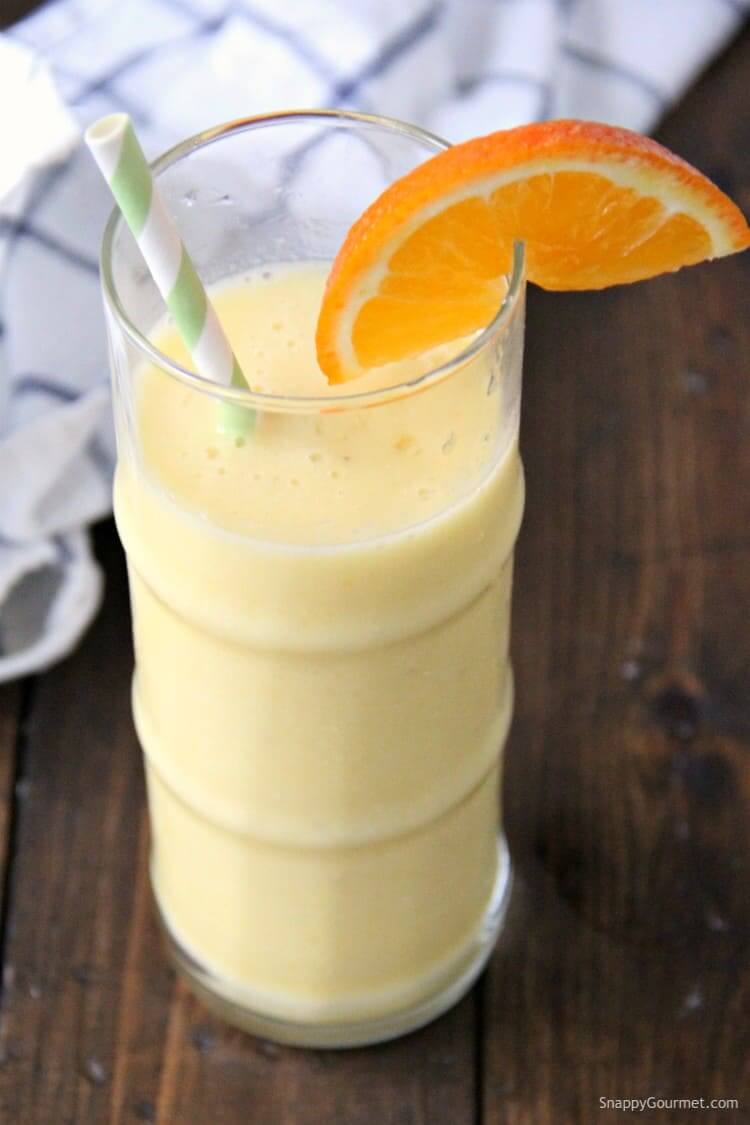 This easy Hawaiian smoothie recipe is full of delicious tropical fruits, including frozen mango chunks and pineapple. This tropical smoothie is naturally gluten-free, vegan, and vegetarian and one of my favorite family-friendly recipes.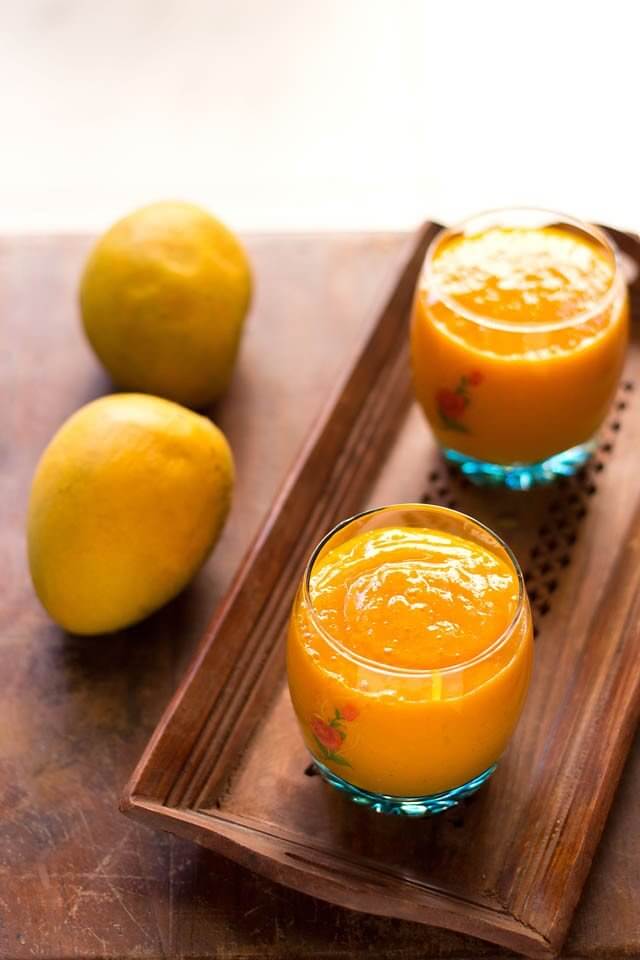 Here's an easy and tasty mango banana papaya smoothie that is naturally sweet and will give you lots of energy! But, if you add some milk or yogurt for extra protein while making the smoothie, then you'll need to add some sweetener to balance it.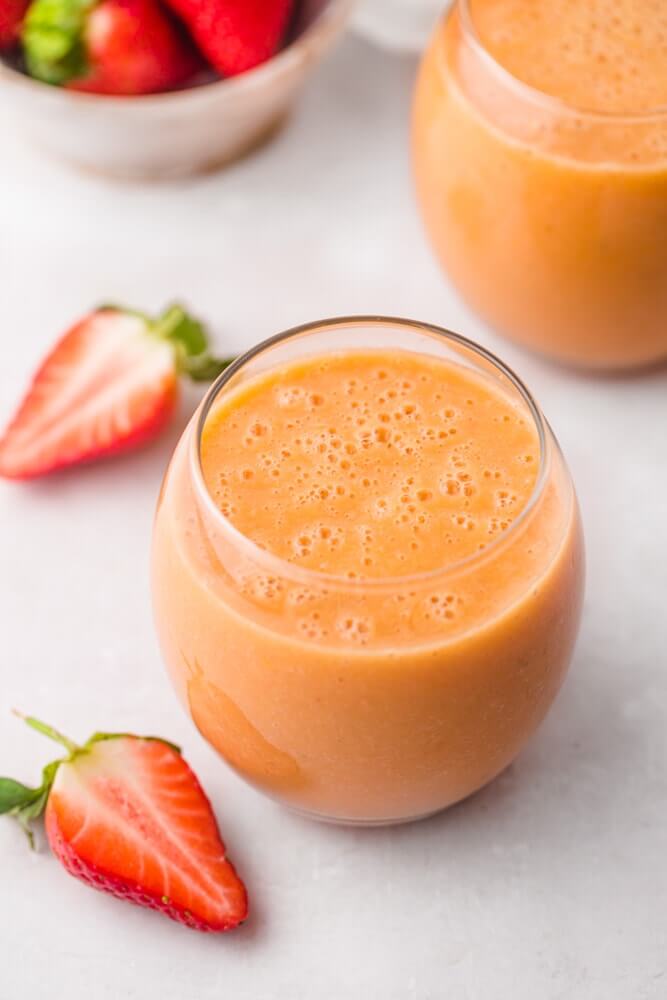 This tropical strawberry mango smoothie is packed with antioxidants and Vitamin C. It's vegan, sugar-free, gluten-free, and fat-free, and you can enhance it with plant-based milk, like canned coconut milk or almond milk, for extra creaminess. You can use both fresh and frozen strawberries with this too!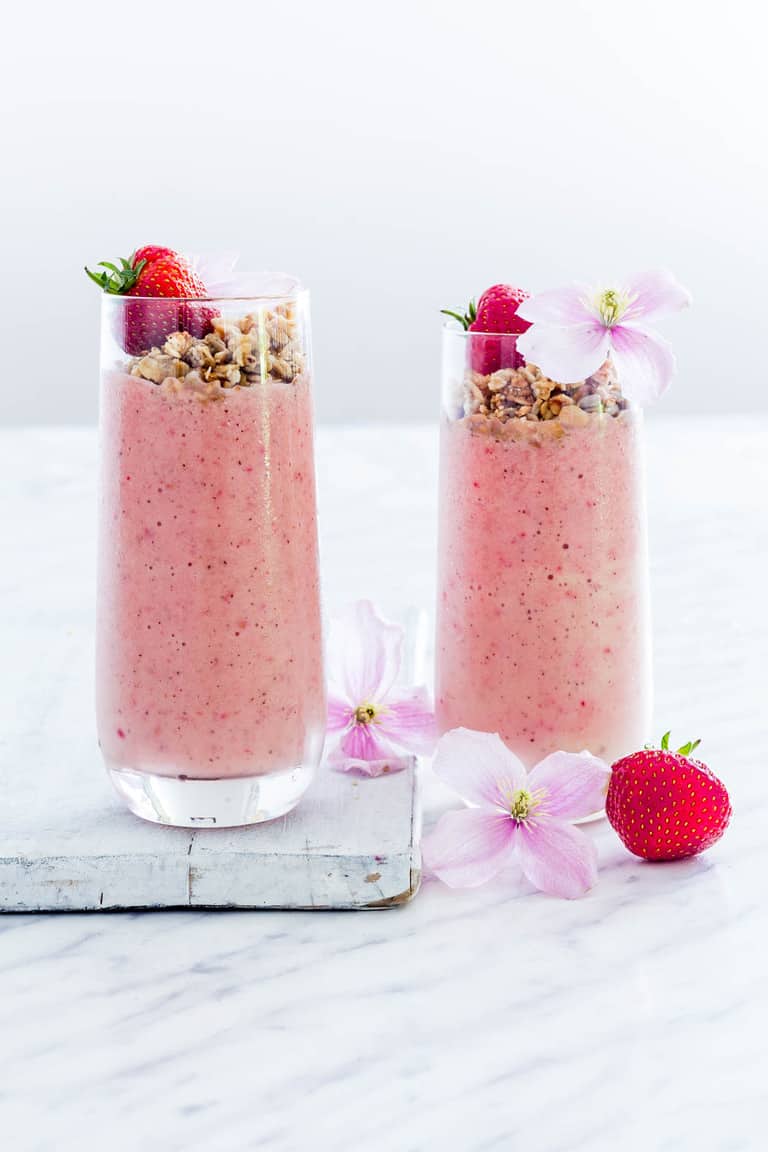 Not only is this tropical fruit smoothie delicious, but it's gorgeous! Just grab some frozen kiwi, mango, and pineapple and add in leftover fresh banana and strawberries, coconut milk, and pineapple juice to make this yummy mango kiwi pineapple smoothie.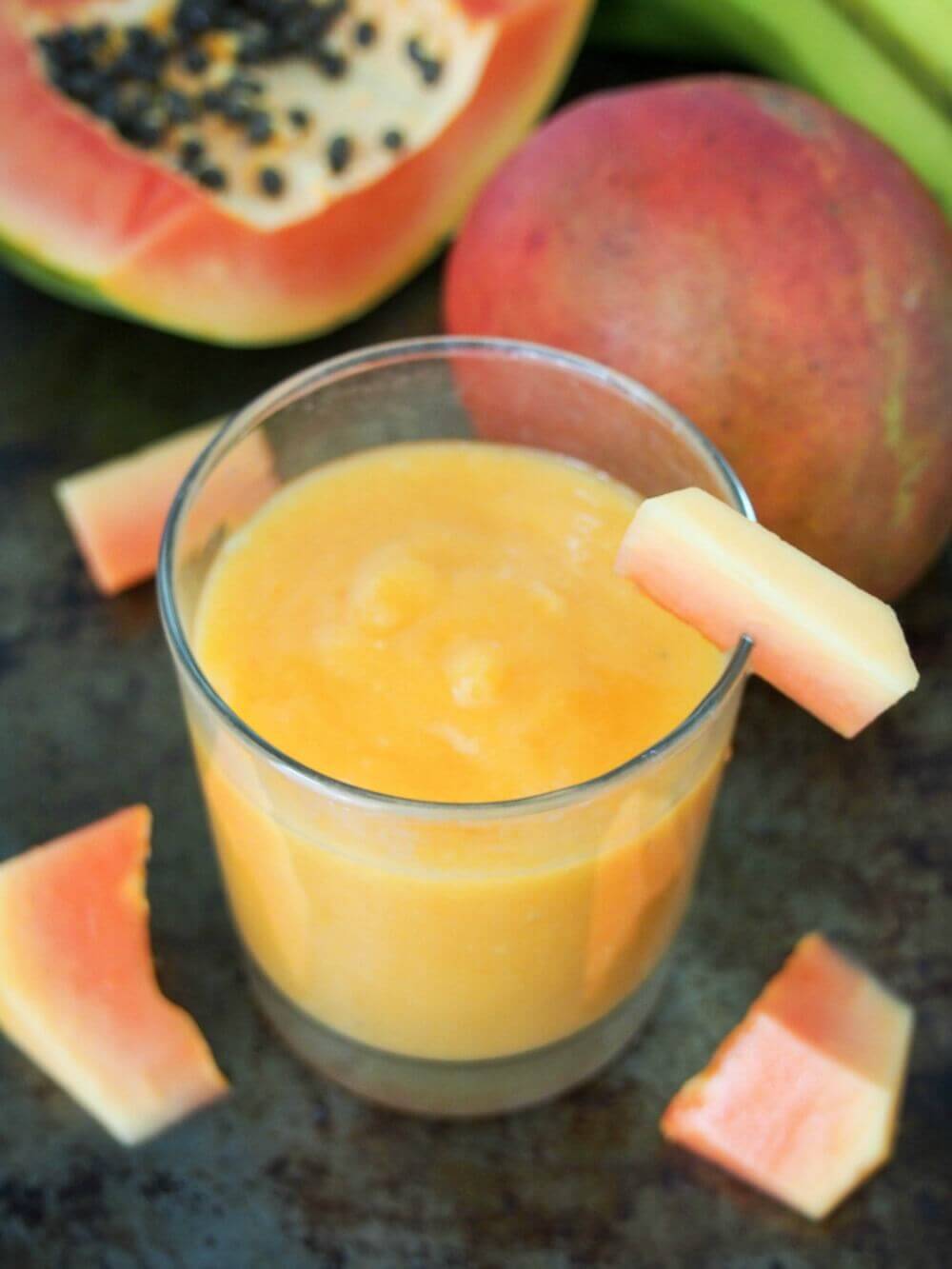 This tropical fruit smoothie is made with mango, papaya, orange juice, and banana for a refreshing, tasty, and vitamin-C-packed drink. It's the perfect taste of Hawaii!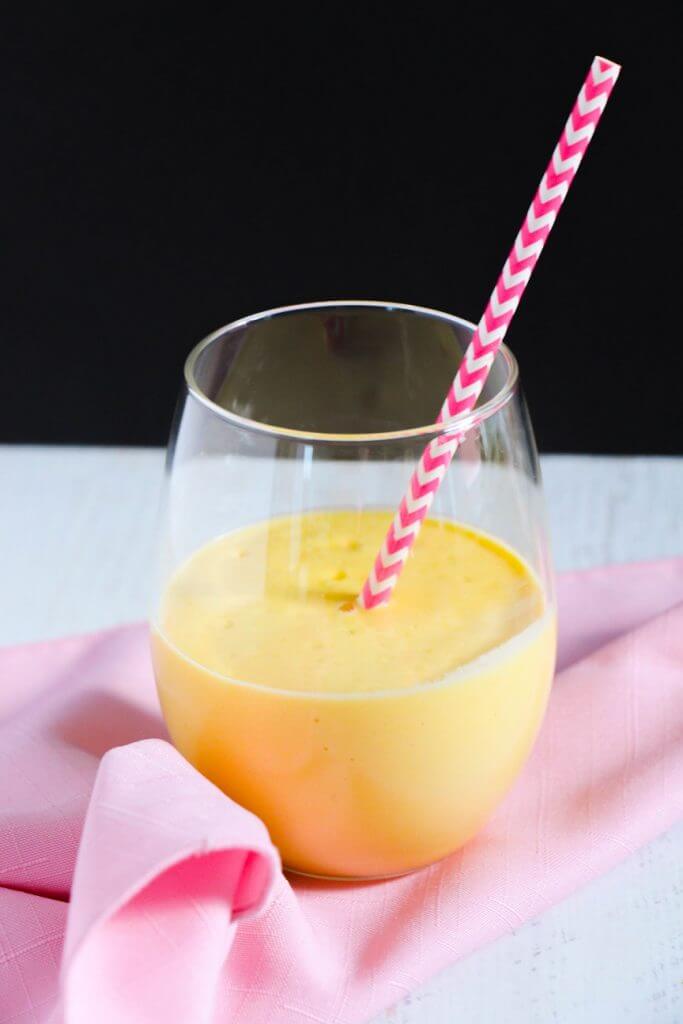 This easy and quick Hawaiian smoothie recipe is so yummy! You can add a frozen banana for extra creaminess and cashew butter for a bit more protein.
Tropical Smoothie Recipes with Coconut Milk or Water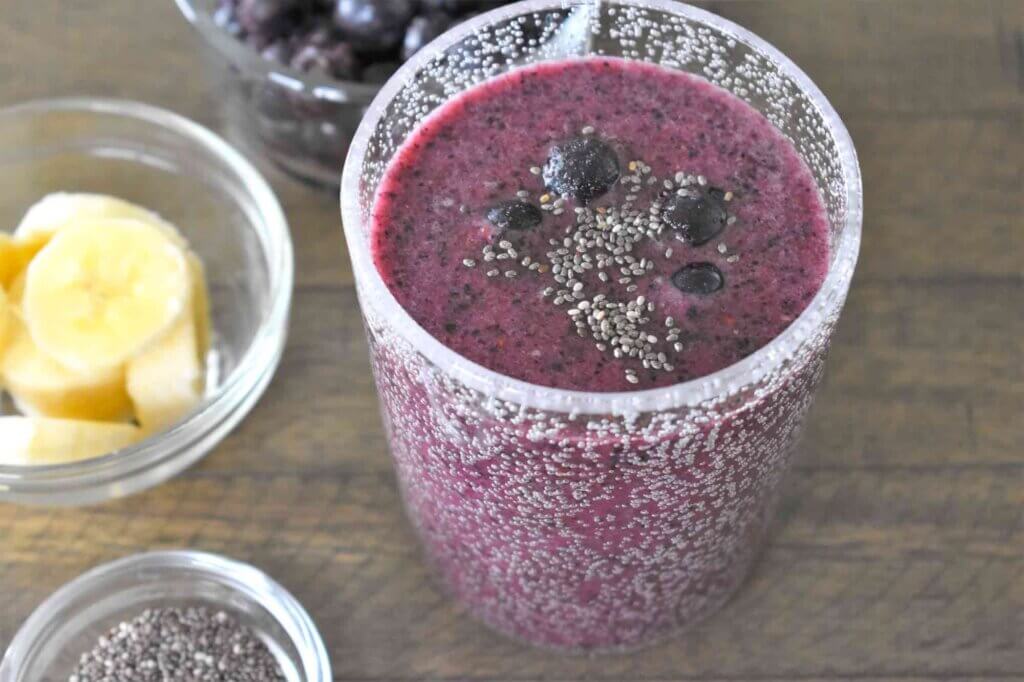 This dairy-free smoothie recipe features coconut water, blueberries, banana, honey, and chia seeds. It's full of nutrients, and it's a great way to kick off your day!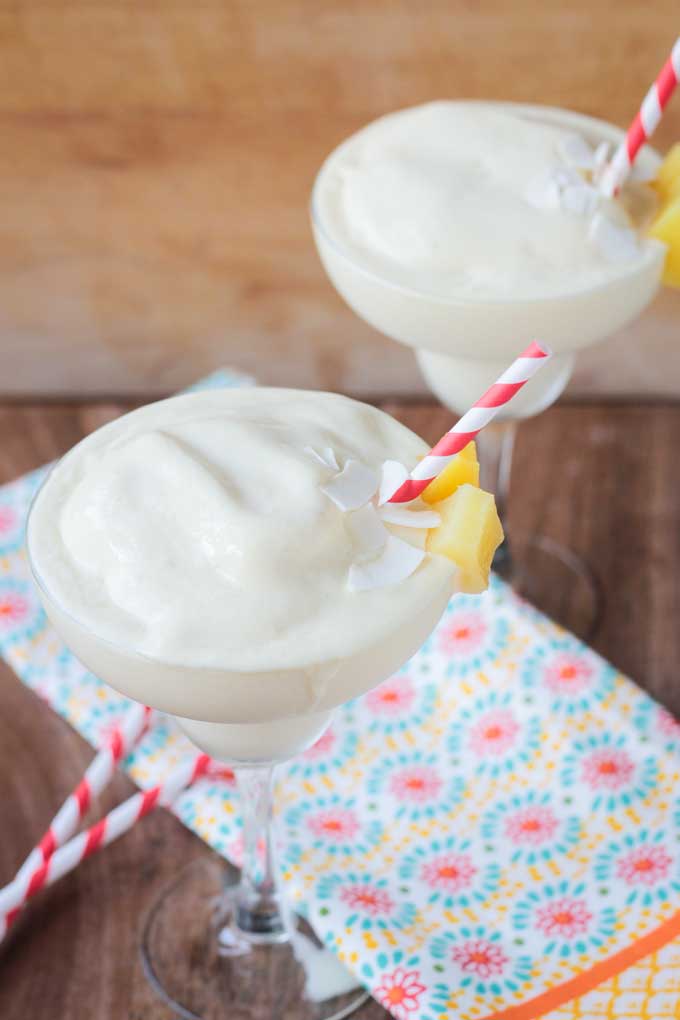 This delicious pineapple coconut smoothie is basically a virgin Pina Colada. You can make a big batch for your family (and feel free to pour a little rum for the adults!)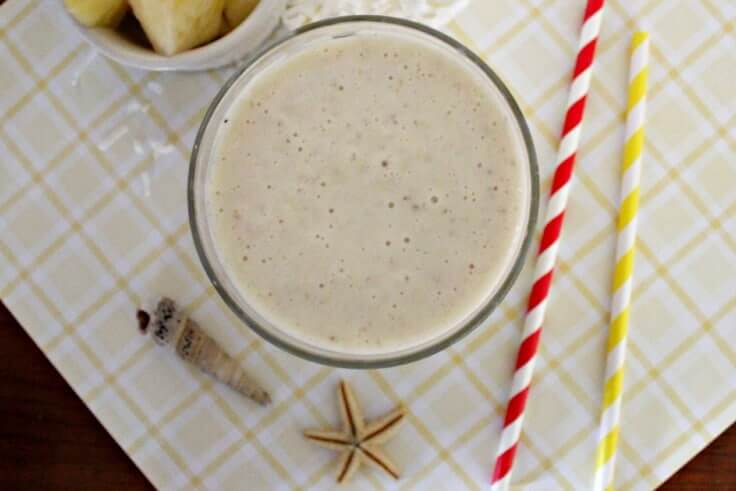 The key to this tropical protein smoothie is Greek yogurt. It has more protein than regular yogurt, and it tastes great when mixed with pineapple, banana, and coconut. You can also add in your favorite protein powder too for an added boost.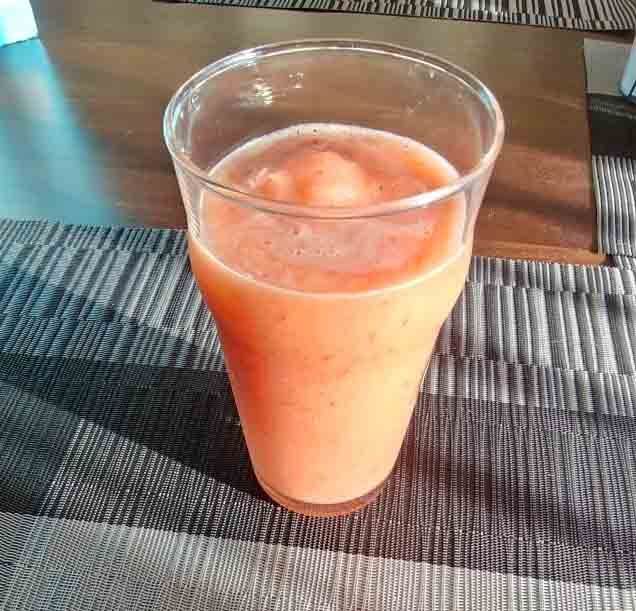 Coconut water can be an acquired taste. That's why I love using it in fruit smoothies like this coconut water smoothie. It's a nice flavor without all the added sugar. You can use water or fruit juice.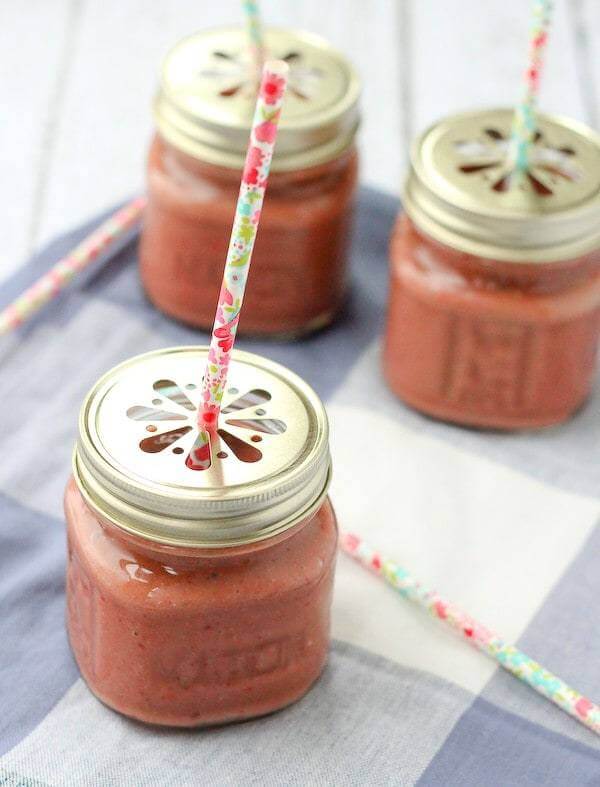 This refreshing raspberry mango coconut water smoothie will have you thinking you're on a warm beach vacation in Hawaii! The secret ingredient is ginger. It really livens things up and makes this tropical smoothie super refreshing and energizing.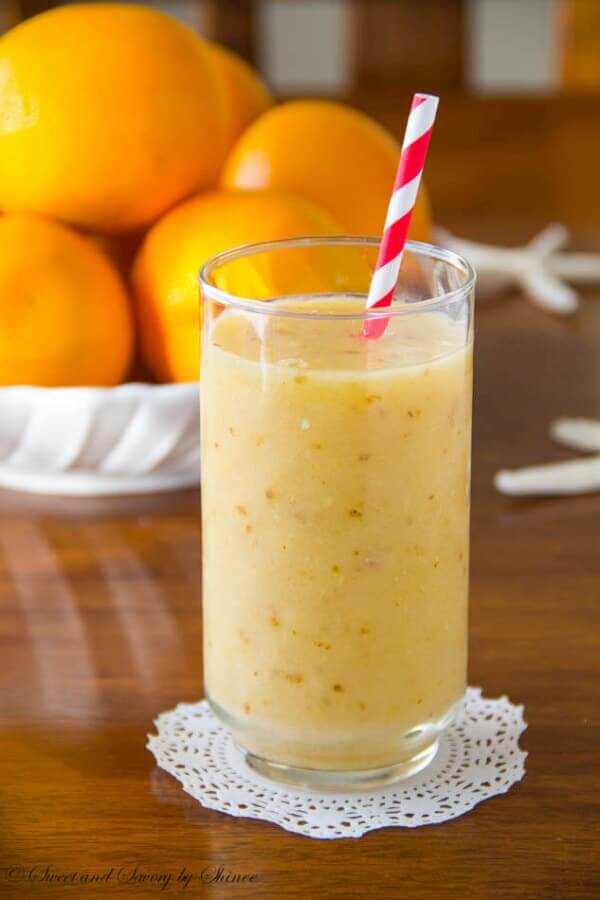 This tropical smoothie tastes a lot like a pina colada, even though there is no pineapple! The trick is to use fresh pear for an unsurpassed creaminess.
Tropical Green Smoothie Recipes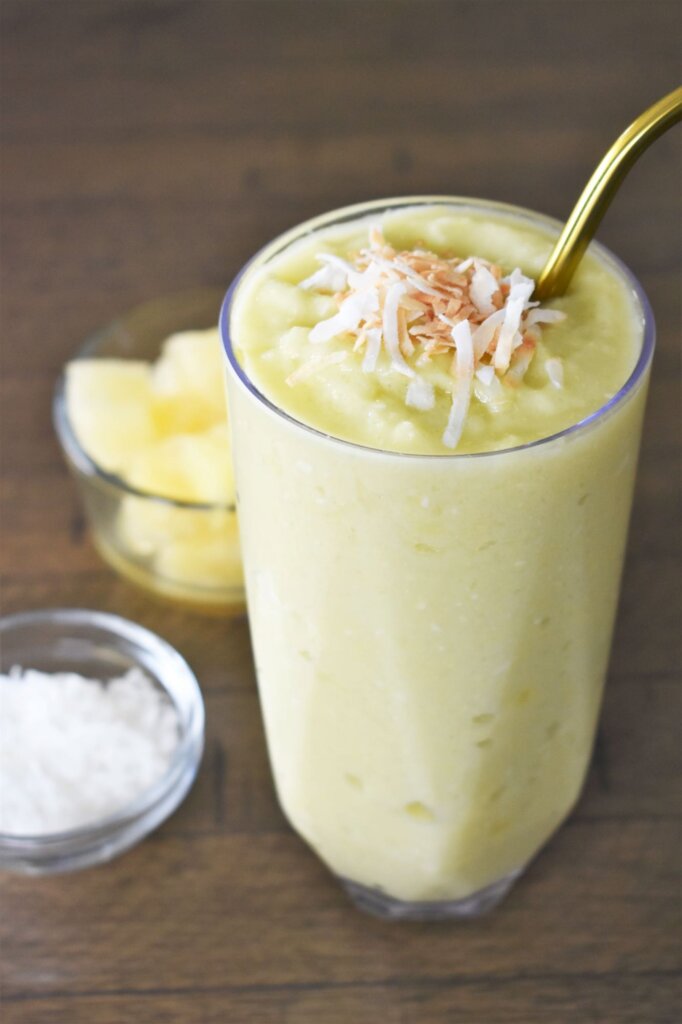 This Hawaiian green smoothie is packed with antioxidants, nutrients, and all kinds of other health benefits. It's completely vegan and dairy free and tastes delicious!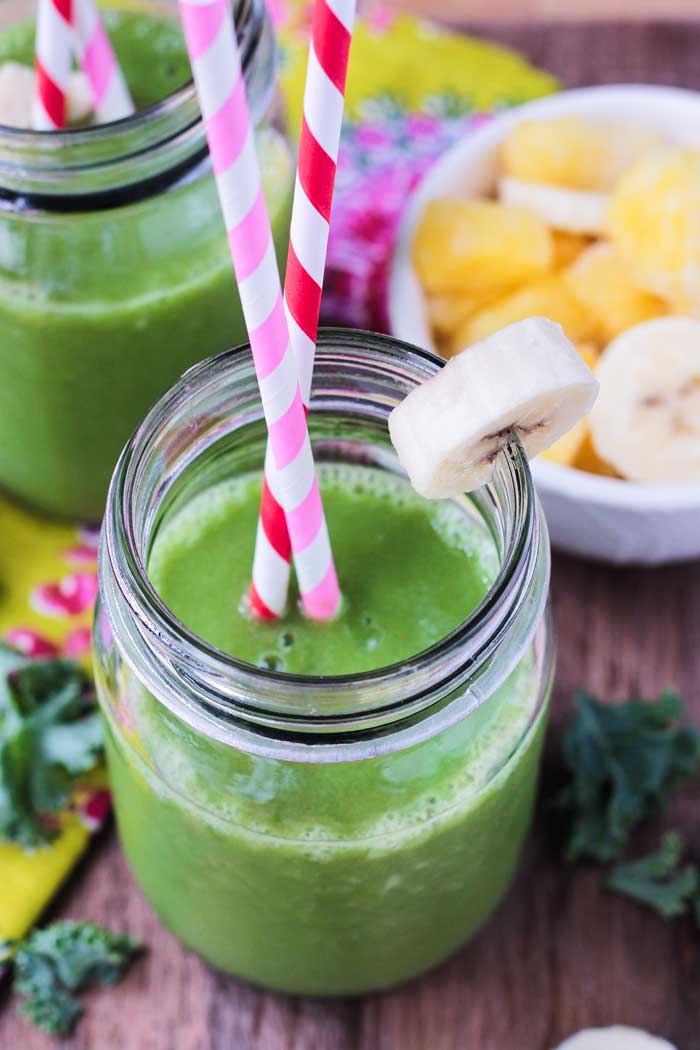 In this dairy-free tropical green smoothie, you won't taste the kale, but you will reap the health benefits while enjoying the sweet taste of pineapple, coconut, and banana.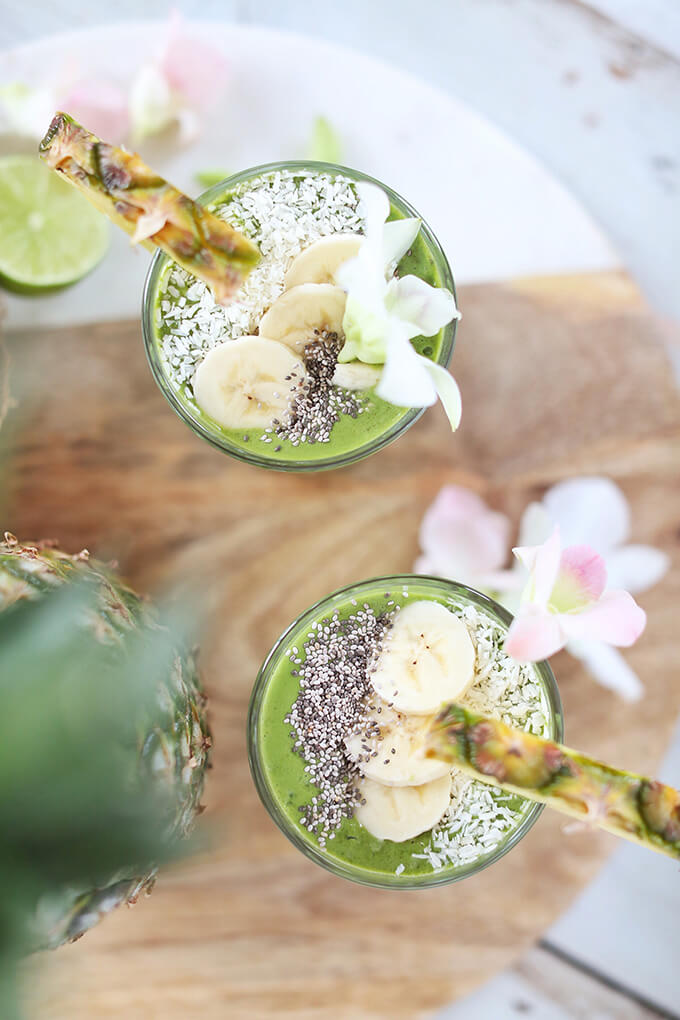 I'm usually not a fan of spinach in smoothies, but this one is a game-changer! It's got frozen tropical fruit like banana, sweet pineapple, satsumas, pear, lime, ginger, and coconut water to help mask the taste. Plus, it's topped with fibrous chia seeds!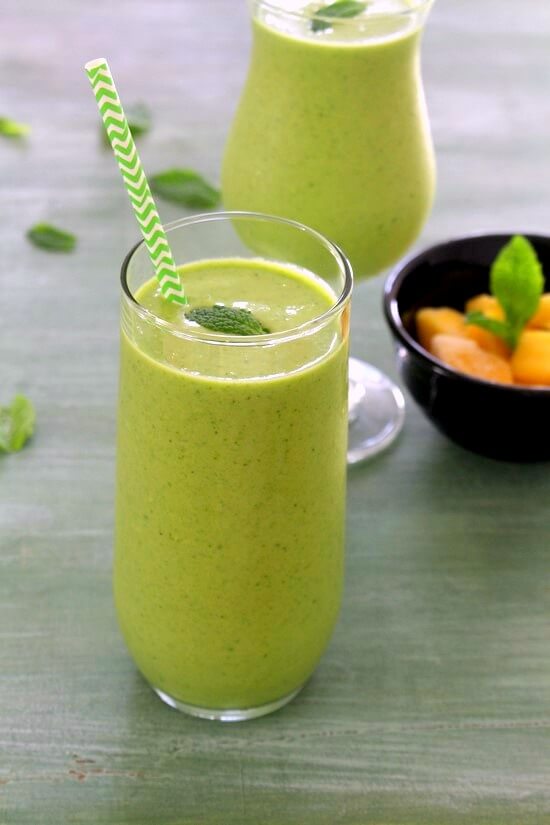 This tropical and creamy mango coconut green smoothie is made with just 4 ingredients, comes together in seconds, and is packed with nutrients. Plus, it's vegan, and there is no added sugar. Use refrigerated coconut milk to make a tropical smoothie like this one have an extra creamy texture!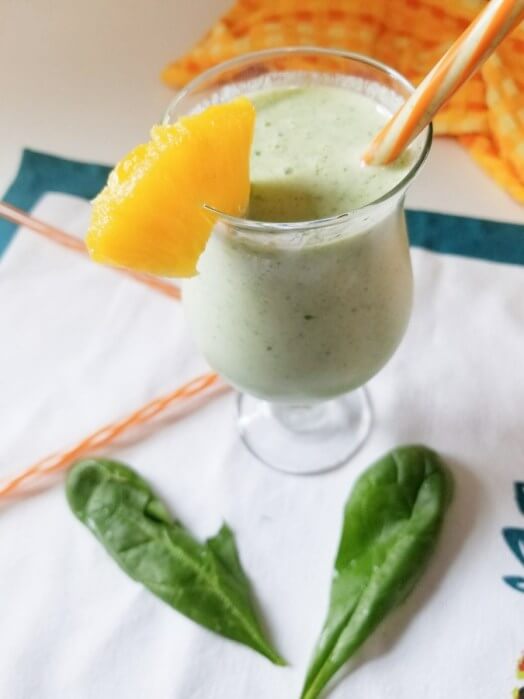 Book your immunity with this Hawaiian pineapple spinach smoothie. It's loaded with great power foods, and it's high in fiber, helps with digestion, and tastes delicious!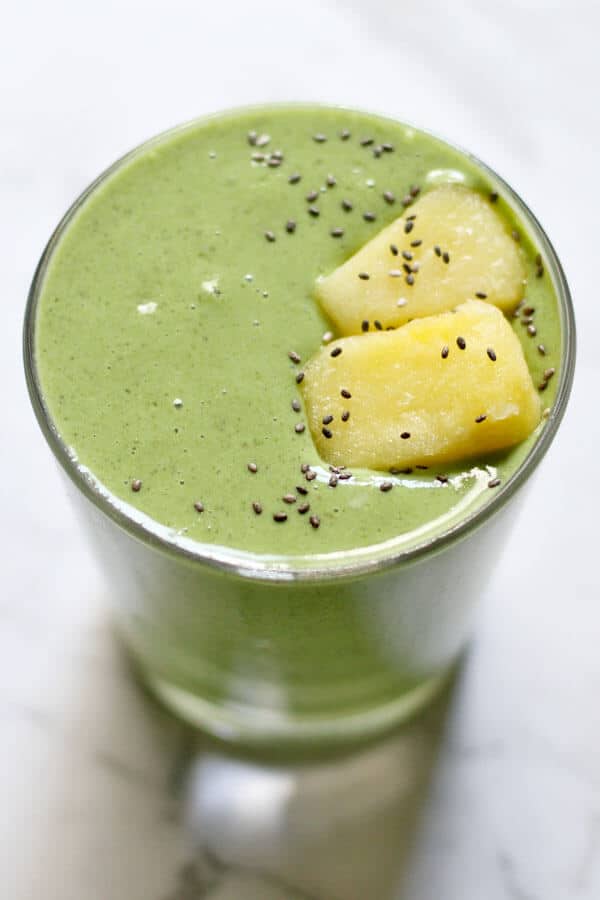 This easy tropical kale pineapple smoothie is refreshing, creamy, and smooth. You can add yogurt and milk for extra protein or use dairy-free ingredients to make it vegan. I wish more smoothie recipes with kale tasted as good as this one!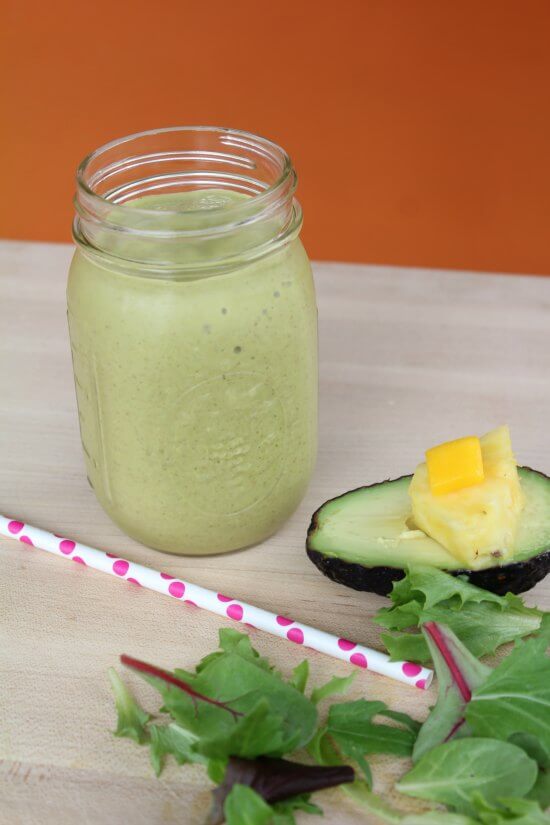 If you're looking for a more savory smoothie, this tropical avocado smoothie is a delicious blend of mango, pineapple, and avocado with added nutrients to make this a power smoothie.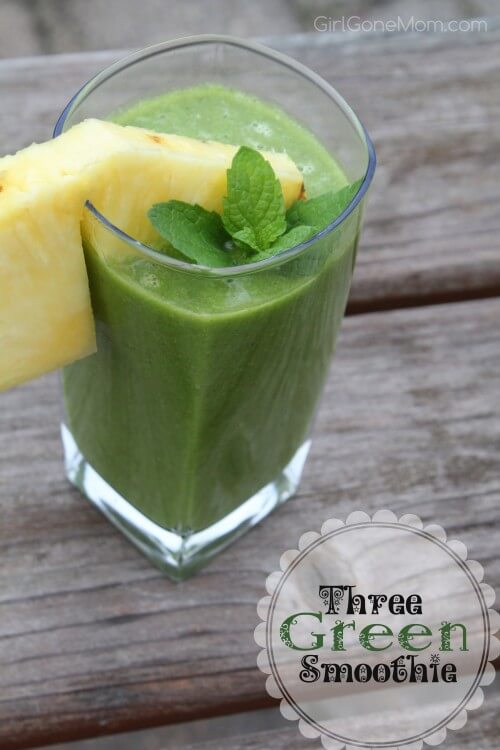 This tropical green smoothie is as healthy as it is delicious. It provides all of the wonderful nutrients to your body, and it's a great way to get in those recommended servings of fruits and vegetables, especially for kids! It even tastes good with frozen fruit and fruit juices.
This kiwi pineapple spinach smoothie bursts with fresh vitamins and nutrients. It's blended with smooth avocado and naturally sweetened with a banana. It tastes like a rich, creamy dessert your kids will love!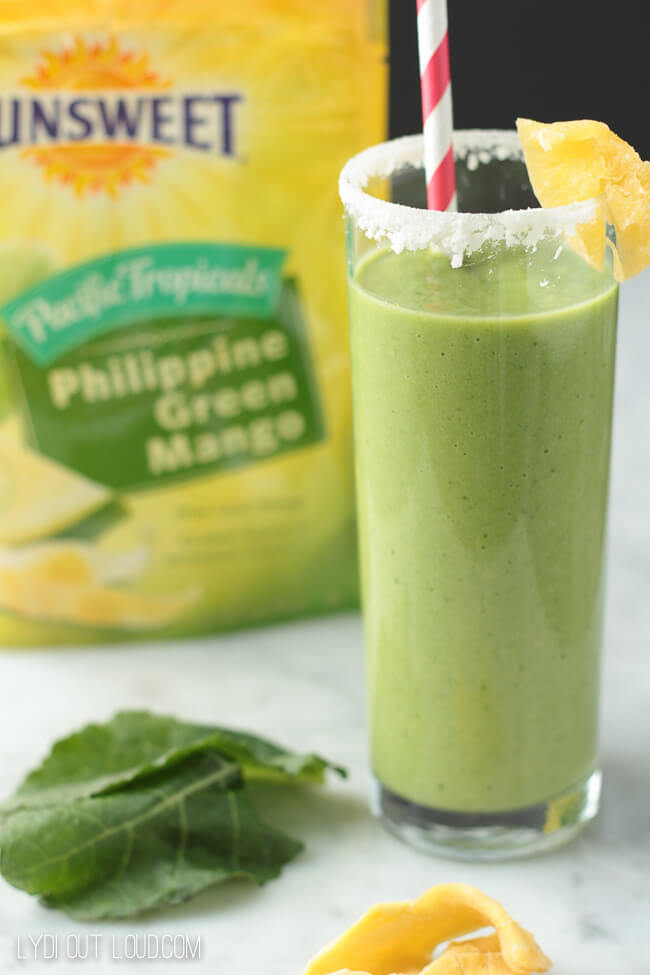 This tropical green smoothie is a great meal supplement. It's very filling and full of all kinds of healthy goodness, including dried mango. Make sure you have a high-powered blender for this recipe!
Tropical Smoothie Recipes with Ginger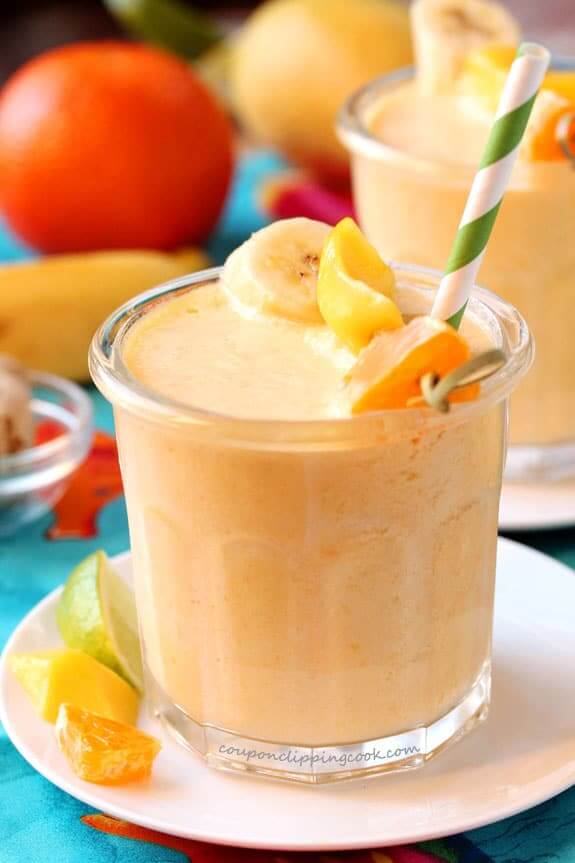 This tropical smoothie recipe includes coconut milk, fresh tangerine, lime, banana, mango, and some ginger for a kick to wake you up! If your kids love smoothies for an after school snack, this is perfect!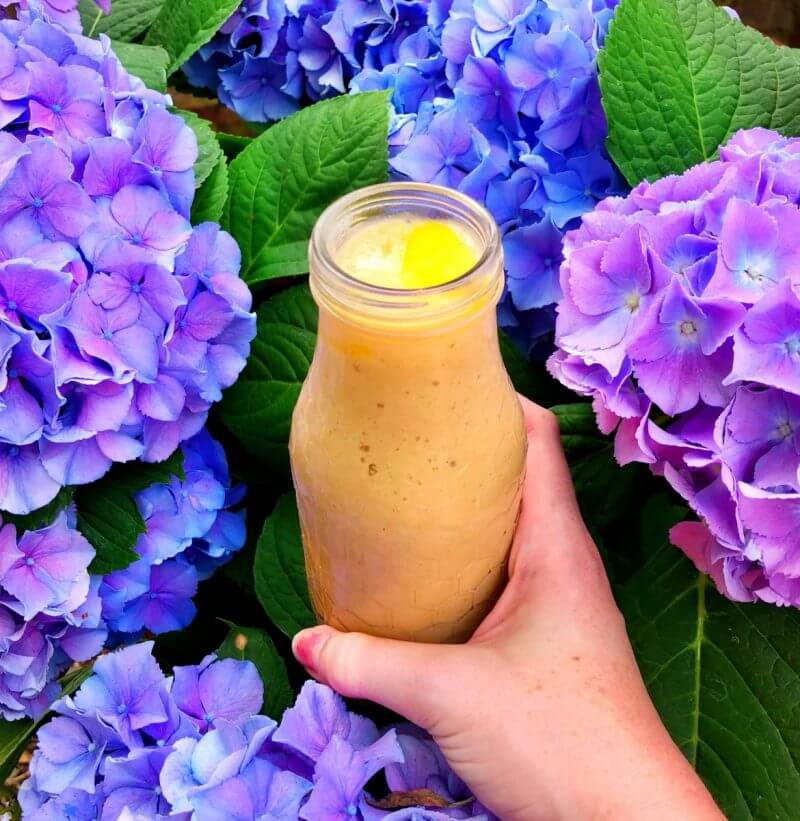 This mango ginger smoothie is super sweet, ice-cold, and dairy-free. Not only is it refreshing, but it also helps digestion and nausea, which is very common in the summer heat. Add ice cubes and use frozen fruit, and you'll have your new favorite summer drink!
More Hawaiian Smoothie Recipes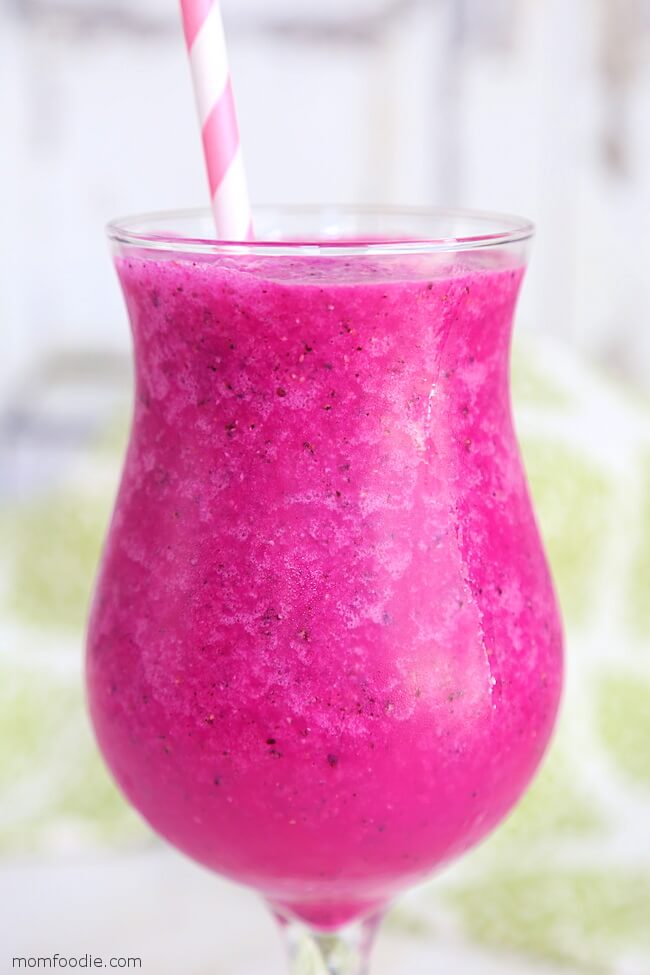 Ok, tell me this isn't the most vibrant smoothie you've ever seen! This vegan smoothie only has 3 ingredients, so you can really taste the yummy dragon fruit. It has a smooth texture and tastes absolutely delicious.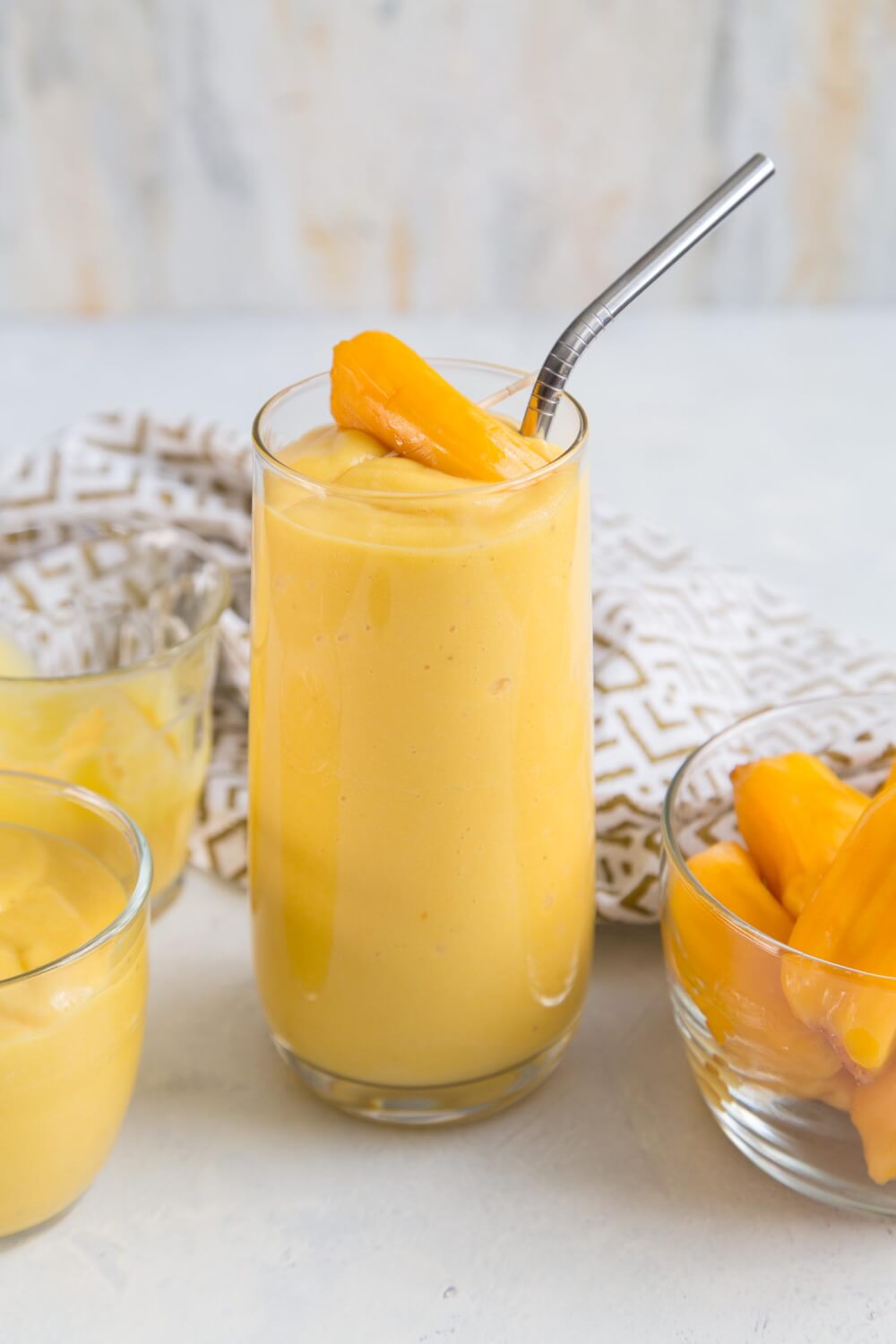 One of the more unique tropical fruits is jackfruit. It is a great addition to the mango, banana, coconut milk, and pineapple fruit juice in this tropical smoothie. This recipe uses the perfect blend of frozen and soft ingredients to give you a smooth and delicious taste.
Hawaiian Smoothie FAQs
Is a smoothie healthy?
They can be! It really depends on what you put inside. If you're just using fresh fruit and don't add in sugar, they can be a great part of a healthy diet.
What should you not put in a smoothie?
If you're trying to be healthy, skip the sugar (including honey, coconut sugar, and maple syrup). And only use plain yogurt instead of flavored yogurt, which usually has a lot of added sugar.
Are smoothies good for weight loss?
Smoothies are pretty great at keeping people full (especially if you add in protein), so they can be used as a meal replacement. But they are mostly just a tasty way to get nutrients and fiber.
Loving these tropical smoothie recipes and looking for adult libations? Check out my top Hawaiian cocktail recipes!