Wondering where to eat in Maui if you love Japanese food? Check out this list of the best sushi in Maui, Hawaii!
This list of the best sushi in Maui, Hawaii contains affiliate links which means if you purchase something from one of my affiliate links, I may earn a small commission that goes back into maintaining this blog.
Hawaii is home to a lot of Japanese families, and with it comes Japanese influence.
That said, it's no question that Hawaii's food scene is heavily influenced by sushi, musubi, and poke bowls. And I'm super thankful for that!
Because Maui is a popular island to visit, we've created a list of some of the best sushi restaurants/bars in the area.
Some of the fish is caught locally the same day you'll taste it. That's one of the many reasons I love eating at restaurants in Hawaii.
You wouldn't want to leave Maui without trying at least one of these Maui sushi spots!
Don't have time to read a bunch of Hawaii blog posts and reviews? Here are some of our top picks for visiting Maui.
Popular Maui Tours/Activities
Favorite Maui Resorts/Hotels
Andaz Maui (this is a luxury resort with the best luau on Maui)
Honua Kai Resort & Spa (this is one of our personal favorites because there are tons of pools and there are condo options)
Want to Rent a Car in Hawaii?
One of the best places to rent a car in Hawaii is Discount Hawaii Car Rental because they get the best rates from top national companies like Alamo, Dollar, Thrifty, Avis, Enterprise, Budget, and Payless.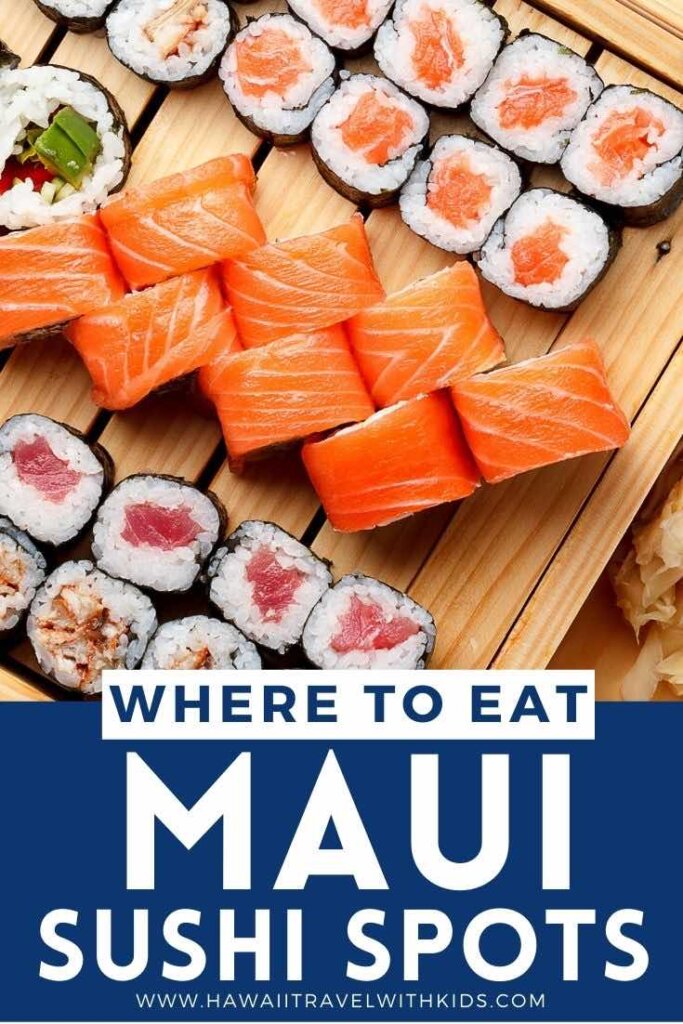 7 Places for the Best Sushi in Maui
If you love trying sushi places when you travel, you'll definitely want to check out a few of these Maui sushi spots!
First on our list is Koiso Sushi Bar at 2395 Kihei Street. The Sushi Bar is one bordering on legendary. Definitely the best sushi in Kihei, Maui!
With only fifteen seats available, the place is very in-demand and requires a reservation. In fact, guests have to book two weeks in advance to secure a table.
That said, if you're looking for an intimate sushi dinner, Koiso is the place for you.
In addition, people praise their sushi for being unique, offering the freshest fish. The sushi menu is amazing and ever-changing, depending on the availability of seafood. Specifically, each menu item costs around $9.00 to $19.00.
Also, Koiso Sushi Bar also offers a to-go menu from 2:00 PM to 5:00 PM. That's perfect for grabbing to eat on your lanai while creating your own happy hour!
Items on the menu include sushi platters between $25 to $90. The Koiso Choice ($35) sushi platter includes Futomaki, Tuna Roll, Shrimp, Tuna, Grilled Salmon, Inori, and an egg roll.
Another bestselling sushi platter is the Chef's Choice platter ($90) which serves 3-4 people. Also, the platter includes most of the bestsellers on the menu.
Koiso Sushi Bar is open from Tuesdays to Saturdays from 6:00 PM to 8:00 PM. This is one of the best sushi restaurants in Maui.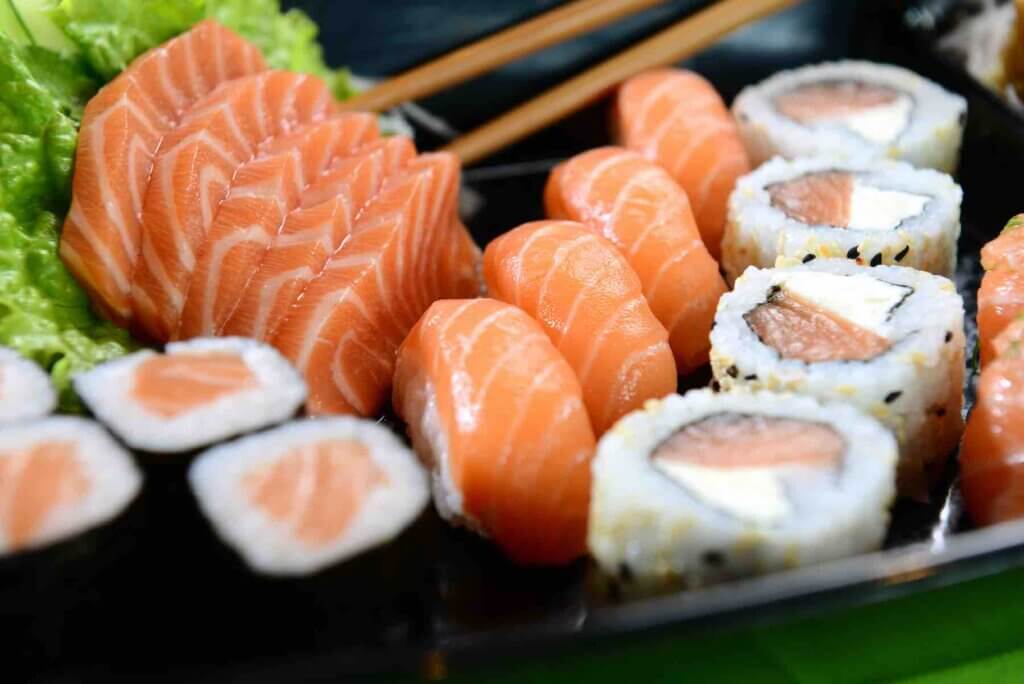 Next on our list is Sansei Seafood Restaurant & Sushi Bar. Because of its popularity, the sushi bar actually has two locations in Maui, including South Kihei and Kapalua.
Similar to Koiso, Sansei has also received awards. Specifically, the sushi bar won the Gold 'Aipono Award for "Best Sushi," Bon Appetit's "Favorite Asian Restaurants," and "America's Best Sushi Bars."
Sansei began as a sushi bar at the Kapalua Resorts on Maui in 1996. Not long after, it became a seafood restaurant, and the founder, D.K. Komoda, had to open more new restaurants all around Hawaii.
While customers visit for most of their dishes, their more notable sushis are the Panko Crusted Ahi Roll and the very famous Kapalua Butterfly Roll.
A visit to the sushi bar isn't necessarily cheap, though. Despite this, it's definitely worth it. Sushi rolls cost around $4.75 to $17.75, depending on the type of fish.
Sansei also offers different sushi platters that cost around $15.00 to $95.00, the latter being an omakase selection of the best the chefs offer that day.
Overall, Sansei is the place to visit if you're up for a meal that's a little bit on the fancy side. Plus, it's the best Japanese restaurant Maui has to offer.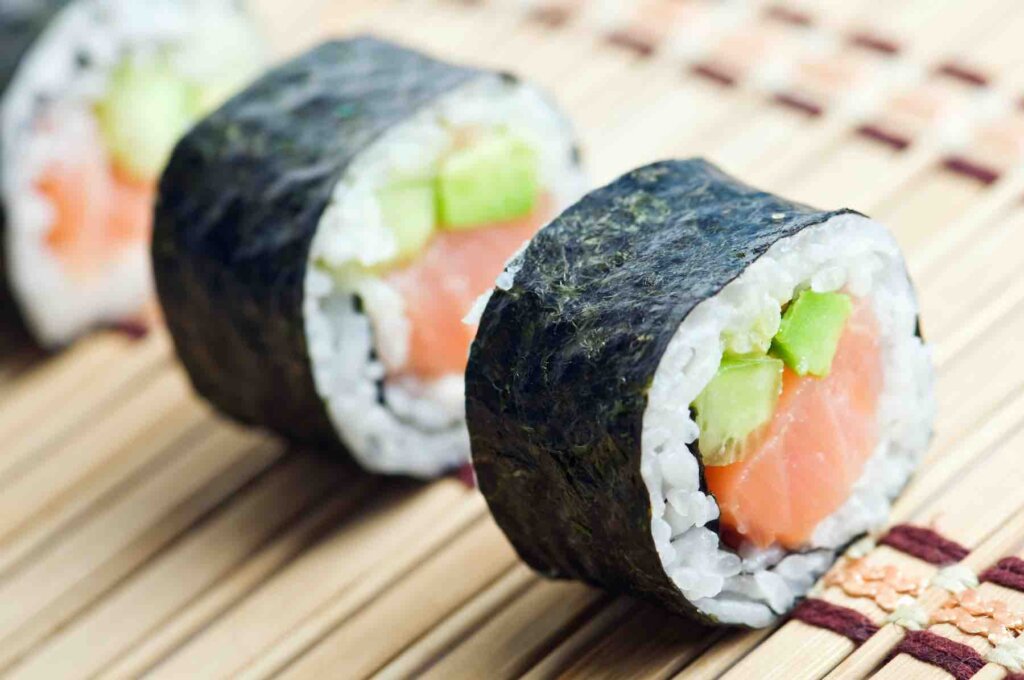 Next on our list is Miso Phat over at 4310 Lower Honoapiilani Highway in Lahaina. Because they have the best sushi in Lahaina Maui, they also have a Kihei location too!
The family-owned and operated Lahaina sushi bar was awarded the Silver Maui 'Aipono Award for "Best Sushi" in 2018.
People from all over Hawaii come to Miso Phat for some of the freshest sushi rolls on the island.
Aside from great sushi, people also come to Miso Phat for their delicious ahi poke bowls.
Another great sushi roll is their TNT Roll, a California Roll that is topped with scallops and spicy aioli. Yum!
Miso Phat's price range is also fairly average for some of the freshest fish.
An eight-piece specialty roll will cost around $18.00 to $20.00. Their ever-popular baked rolls cost around $20.00 to $25.00. Other items on the menu cost around $6 to $10.
Miso Phat also offers combo platters and an omakase menu. The Combo Platters range between $25 to $50, while the Omakase ranges from around $125 to $150 per person. The Omakase includes a hot & cold appetizer, assorted sashimi, and assorted Nigiri & dessert.
Miso Phat is open from 11:30 AM to 9 PM daily. It's one of the most popular sushi restaurants in Maui.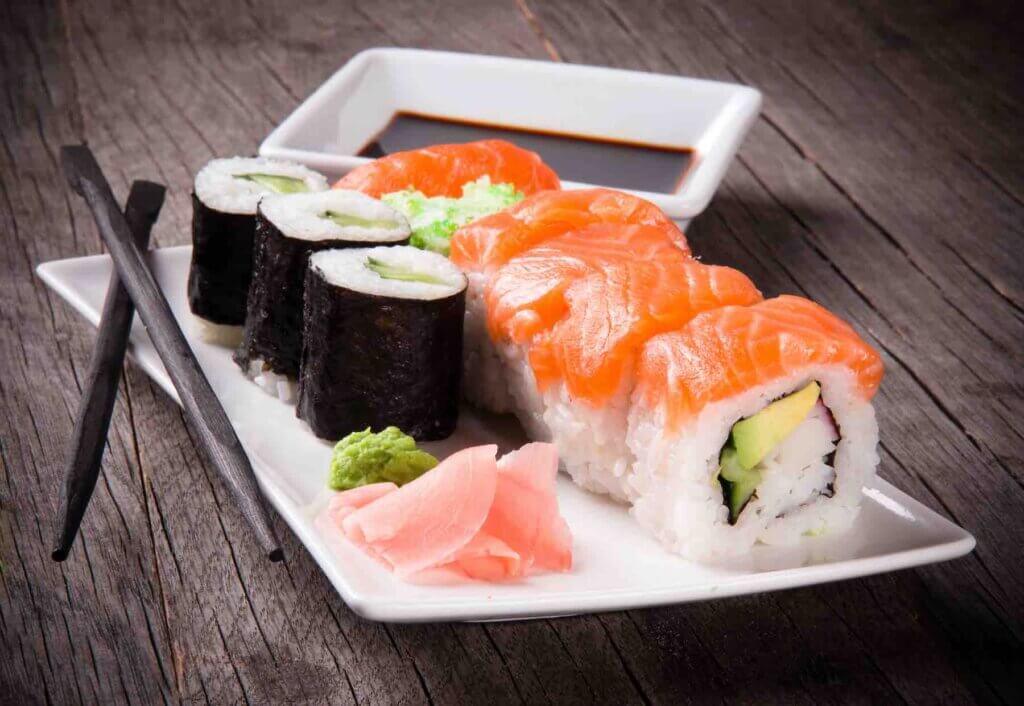 If you're looking for a more laid-back dining option, Lahaina Sushi Ko at 844 Front Street is the place for you.
The restaurant is tucked away in the middle of the best art galleries in Maui, making it the perfect place to dine at after looking at incredible art.
The restaurant boasts of its fresh fish and locally-sourced ingredients. In fact, the restaurant came from the idea that they should open a restaurant where they can make their personal dishes out of locally-sourced ingredients.
The sushi chef Chai creates some of the best sushi rolls with fun Disney-inspired names like The Snow White & Beauty & the Beast.
The Snow White is a sushi roll that includes shrimp tempura, cream cheese, and avocado and is topped with white tuna & tobiko. And the Beauty & The Beast Roll consists of snow crab, shrimp tempura, cream cheese, and cucumber and is topped with BBQ eel and tuna.
This Maui sushi restaurant's specialty rolls cost around $18 to $25. On the other hand, their regular rolls cost between $9 to $13, making it one of the more affordable choices on this list.
Aside from its delicious and unique sushi rolls, Lahaina Sushi Ko also boasts of its poke bowls.
Their "Combo Poke" consists of fresh island Ahi, salmon, and yellowtail, a spicy poke sauce with a delicious ginger dressing. The Combo Poke costs $25 and is one of their bestsellers. Their other Poke Bowls cost around $13- $35.
Lahaina Sushi Ko is open from Tuesdays to Sundays from 3:30 PM to 8:30 PM. Many visitors claim it's one of the best restaurants in Lahaina, Maui, and has the best sushi Lahaina has to offer.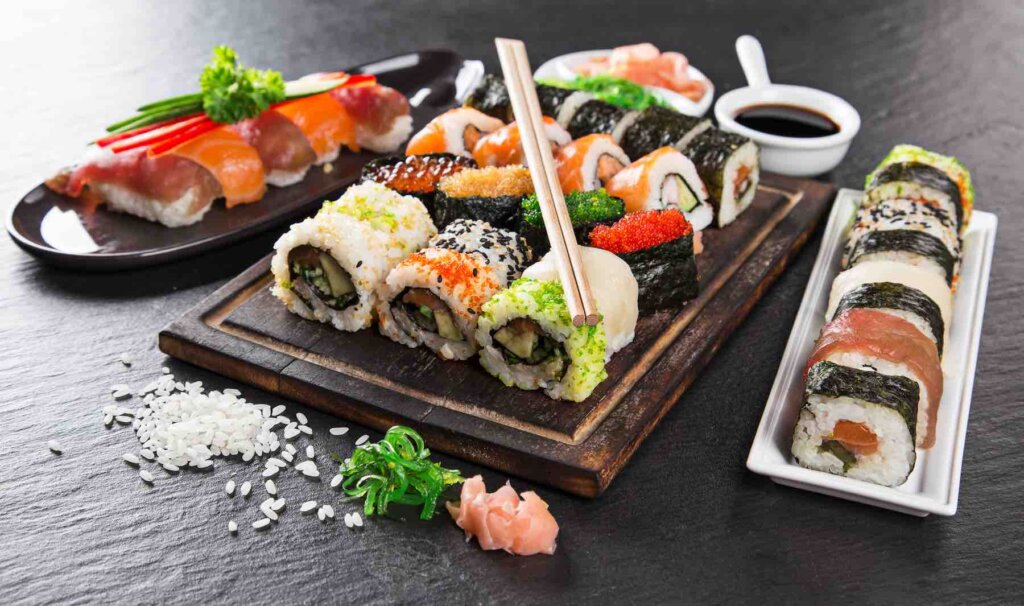 Morimoto Maui is a Japanese beach house-type restaurant at 3550 Wailea Alanui Drive in Maui.
This is one of the best Maui sushi restaurants and features high-quality and fresh ingredients, including locally-grown fruits and vegetables.
Aside from this, chef and owner Morimoto procures his seafood from some of the best markets in the world. In fact, he also ships seafood from the very famous Tsukiji fish market overnight.
That said, it's no wonder that the beachfront restaurant at the Andaz Maui Resort gets multiple praises from both locals and tourists.
If you're looking for a more romantic and extravagant sushi experience, this is your stop. It's the best sushi in Wailea.
Some of the dishes to look out for are Tuna Pizza, Spicy King Crab, Octopus Carpaccio, and of course, a variety of maki and sushi.
However, prices aren't that extravagant. It's amazing how much sushi and maki you can get for only about $5 to $14.
Morimoto also offers a chef's combination from $45 to $100. And the restaurant entrees cost around $35 to $80.
Need some specialty cocktails while waiting? The restaurant also offers delicious cocktails for over $19 to $21.
Morimoto is open from 12:00 PM to 8:45 PM daily. This is my pick for fine dining on Maui if you're in the mood for sushi.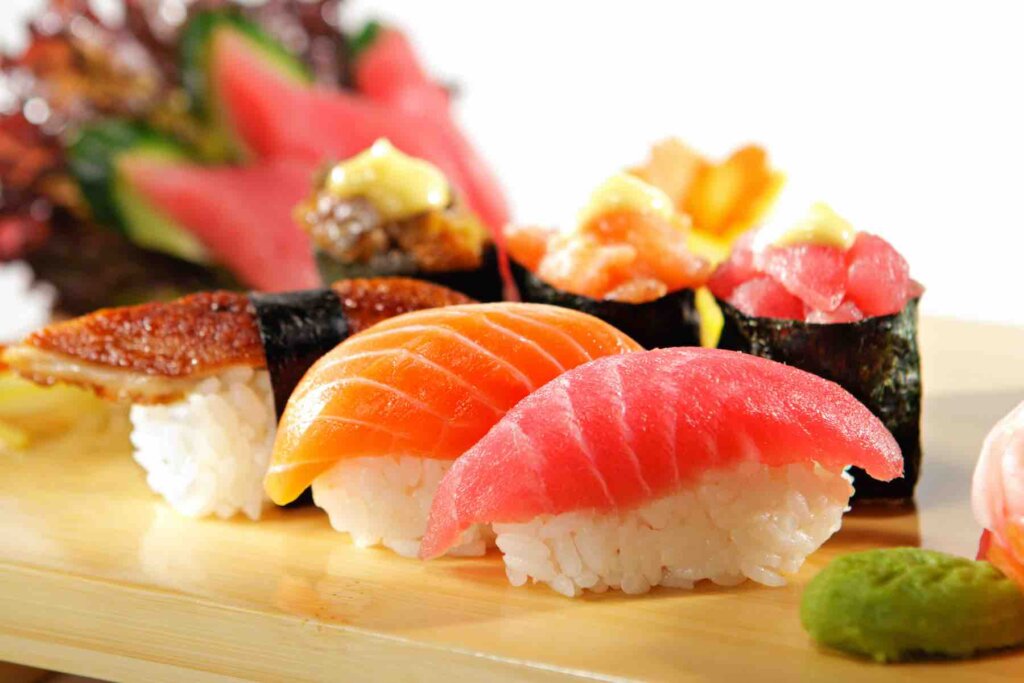 Another sushi restaurant on Maui that prides itself on using locally-sourced ingredients is Nuka over on 780 Haiku Road on Maui's North Shore.
The restaurant's name is the Japanese word for "Rice Bran." That said, it's no wonder that the restaurant proudly mills its own rice.
While the restaurant is more Izakaya-focused, its sushi is definitely notable.
One sushi roll to look out for is the Haiku Roll, a sushi roll made with delicious seared tuna, cucumber, and papaya, wrapped in soy paper and topped with a tasty spicy mayo.
Another roll to try is the Maui-inspired Haleakala Roll. It's basically a California roll with salmon, dynamite sauce, tobiko, eel sauce, and bonito flakes.
Nuka's price range is relatively reasonable.
A small plate of appetizers ranges between $5.00 to $28.00. Their two-piece sushi plate costs around $7.00 to $11.00. Their sushi and sashimi platter cost around $31.00 to $40.00. The Japanese restaurant's specialty rolls cost around $9.00 to $21.00.
Nuka is open from 10:30 AM to 2:30 PM and 4:30 PM to 10:00 PM daily.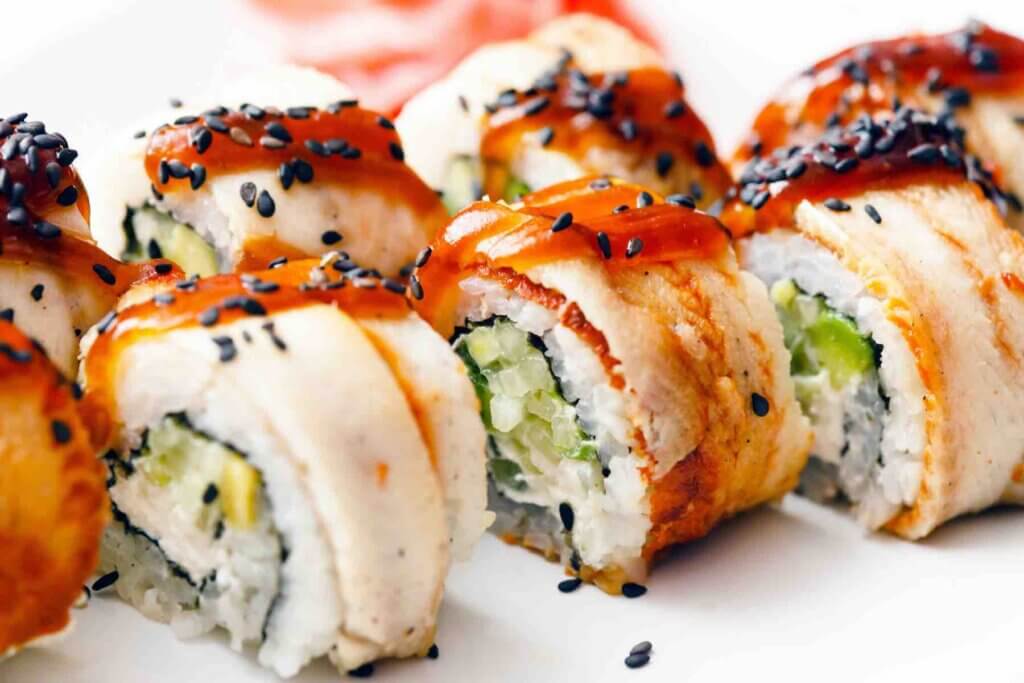 Located at 1215 S. Kihei Road, Sushi Paradise Maui is another one of the places where you can try some fresh local fish and eat sushi.
Chef/Owner Akira Watanabe started this traditional Japanese sushi place back in 1994, and it is one of the local's favorites.
You will find the freshest sushi here, including salmon rolls, spicy scallop rolls, or its specialty rainbow rolls.
This sushi restaurant has fairly affordable prices, with rolls ranging from $6.00 to $14.00 typically.
They are open daily from 6:00 PM to 9:00 PM.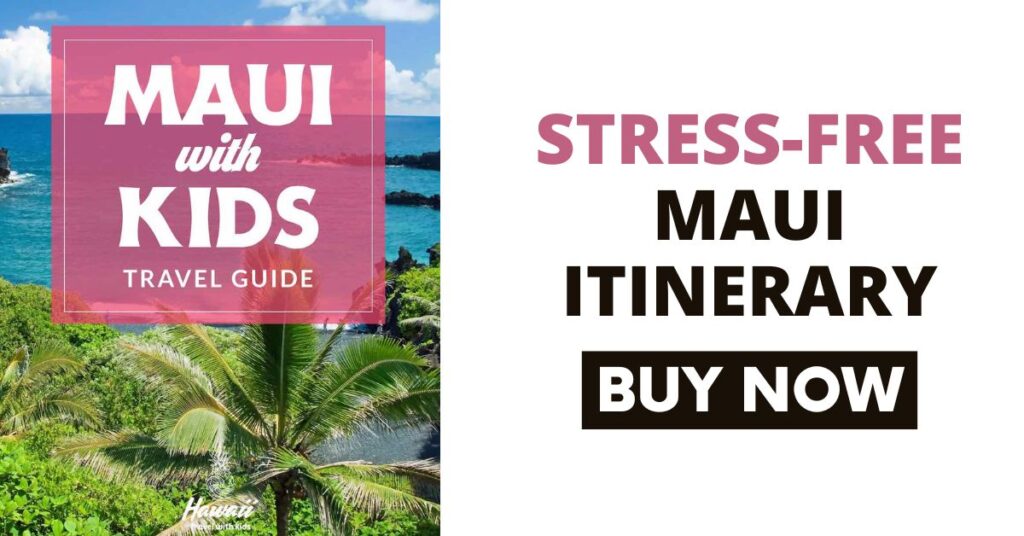 Maui Dining FAQs
Where do locals eat in Maui?
There are tons of delicious places to eat in Maui. Locals love the Ulupalekua Ranch in Upcountry Maui for the best lunch in Maui. There's also Geste Shrimp Truck if you want authentic Hawaiian shrimp. And Sam Sato's is another good option.
Where to eat in Lahaina?
There are SO many restaurants in Lahaina that it can be hard to choose. Duke's is a popular place for tourists (get their Hula Pie!) Star Noodle is another popular place to eat in Lahaina. And Miso Phat is some of the best sushi in Maui.
What's the best fine dining in Maui?
Mama's Fish House is one of the best restaurants in Maui, hands down. It takes months to get reservations, but it's got one of the best views, and the food is phenomenal. Other options include Merriman's or Pacifico.
Which is the best sushi to try?
If you have never tried this Japanese cuisine, you'll want to try a California or spicy tuna roll or other specialty rolls at each location you visit. These are some sushi lovers' favorites, so you can't go wrong with any of these delicious sushi options!
Who owns Miso Phat Sushi Maui?
Joy Steadman has been the owner of the Miso Phat Sushi Bar for over 20 years and offers some of the best sushi Maui offers!
More Maui Eats
We've listed some of the best sushi spots you can find on Maui. However, there are a lot of other restaurants and dishes to try around the area.
If you're looking to make dishes on your own, here are some Maui groceries you can try! And if Poke Bowls are your thing, then this list is definitely for you. Finally, if you're looking for some shave ice, here's a list of some of the best shave ice on Maui.