Are you wanting to go kayaking in Hawaii but don't know where to start? Check out this guide to canoeing in Hawaii for your next Hawaiian family vacation!
This post about the best tips for kayaking in Hawaii was written by Hawaii travel expert Marcie Cheung and contains affiliate links which means if you purchase something from one of my affiliate links, I may earn a small commission that goes back into maintaining this blog.
If you're planning a family vacation to Hawaii, kayaking is an absolute must. It's not only fun for adults and kids alike but also provides a great way to see different parts of the island from the water.
In this post, I'll share our 7 best tips for successfully paddling with your kids in Hawaii.
A successful kayaking trip with kids requires proper planning and preparation. The earlier they start kayaking, the more likely they will love the sport.
Kayaking is one of the most fulfilling water sports activities you can do with your family, and that is why you should bring them onto your next kayaking trip.
We have highlighted some great tips that will come in handy when you decide to take your kids kayaking.
So if you're ready to go out on the open ocean and explore all that Hawaii has to offer, then read on!
Want to skip all the planning and just access my detailed Hawaii Itineraries complete with daily schedules, kid-friendly activities, and travel hacks? Click the button below.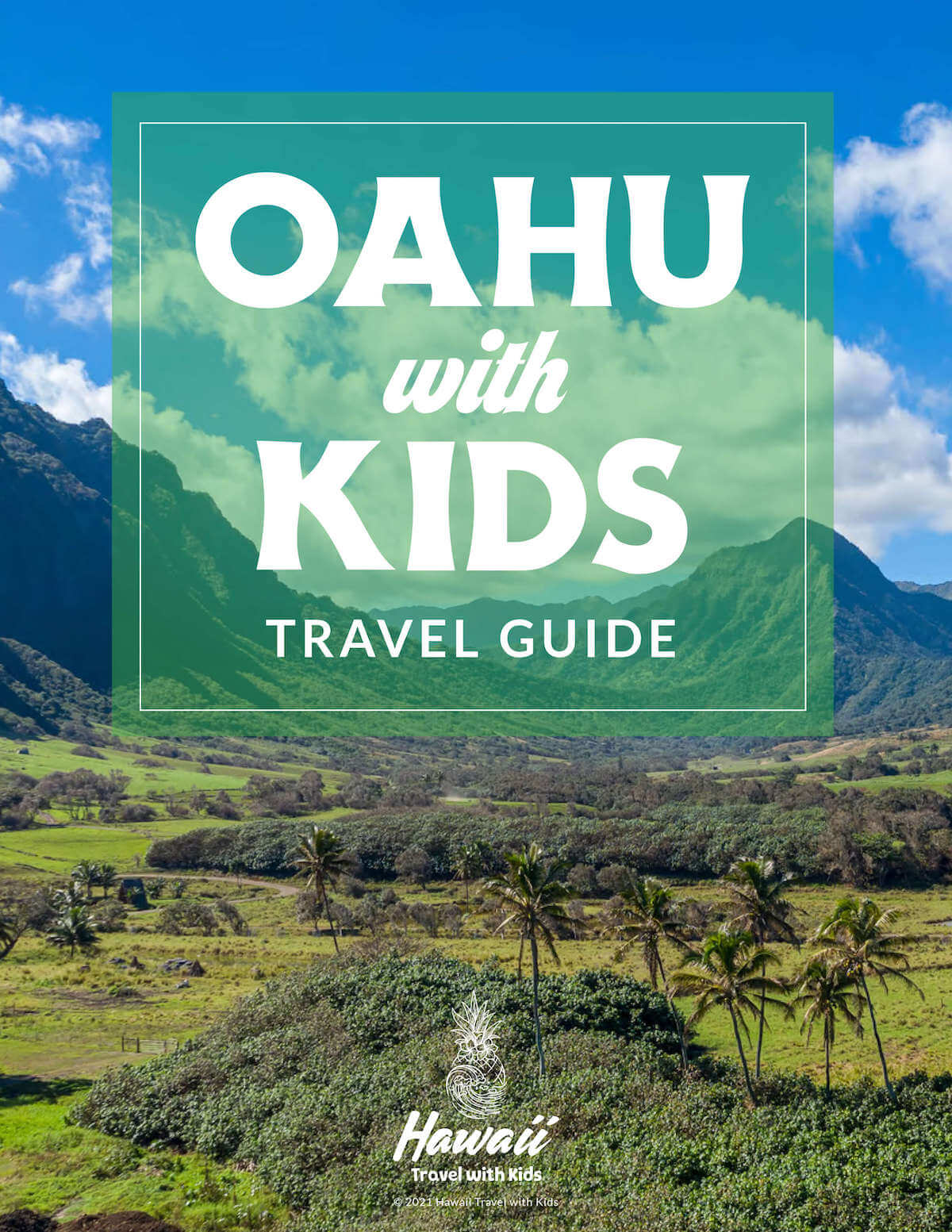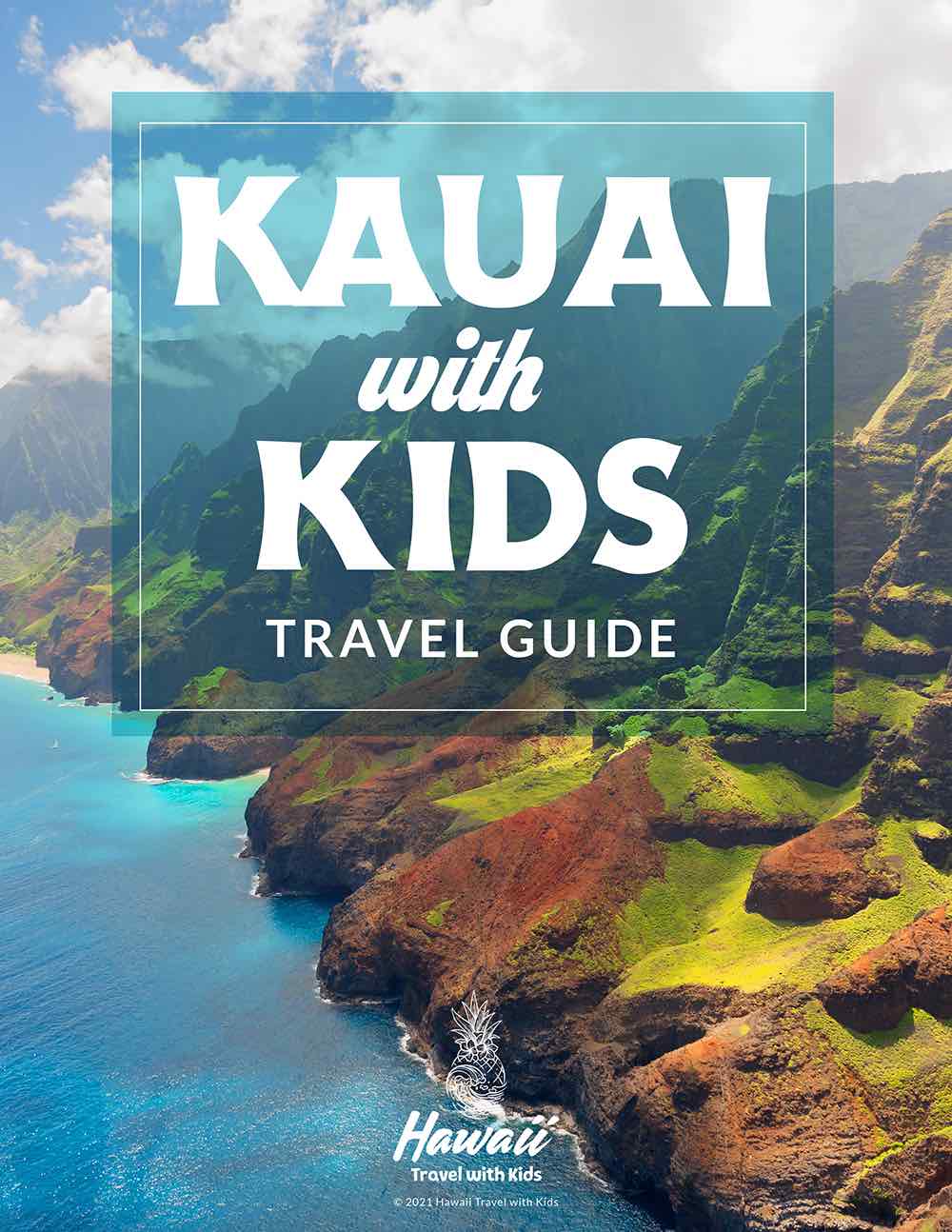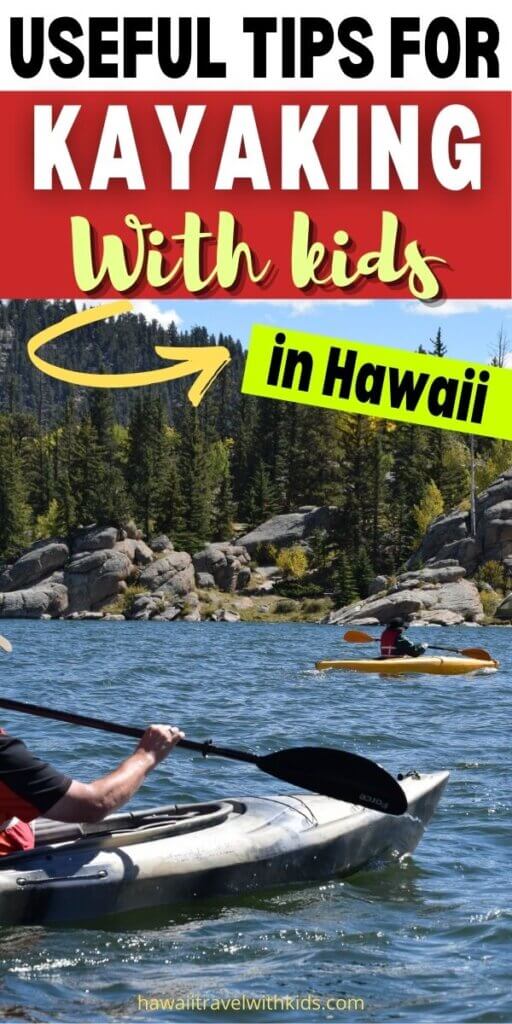 Useful Tips for Kayaking with Kids in Hawaii
1. Planning the Kayaking Trip
When you are planning a kayaking trip with your kids, a few things pop into mind. Where will you go on the trip? What kind of adventure are you looking for? Is the planned kayaking destination safe for the kids?
Ideally, your kayaking destination in Hawaii should be a place that is either really pretty or offers something that will excite and intrigue your kids.
This trip is about them, and if you want them to enjoy kayaking as much as you do, you should choose a destination that thrills them.
One fundamental rule you should keep in mind is that you should never take your kids into the water unless you are sure of your experience and capacity to handle accidents if they occur.
This is why it is a non-spoken requirement that you build some skills in your kids before heading out into the water.
For instance, teach them how to swim and how to get back into the kayak should it capsize.
The first kayaking trip with your kids should happen in calm waters. This is not the time to explore oceans, sea caves, or rapids.
Give them time to get comfortable with the water and to build their boating skills before they tackle more challenging waters.
2. Choose the Right Boat to Go Kayaking in Hawaii with Kids
There are so many options to explore when you are looking for a kayak for your family.
If your kid is less than 10 years old or if this is their first kayaking expedition, you might want to go tandem with them.
Let them go solo after you are comfortable with their ability to handle the kayak and to handle themselves in the water.
If you are going tandem, let them sit in front of the kayak, where you can keep an eye on them.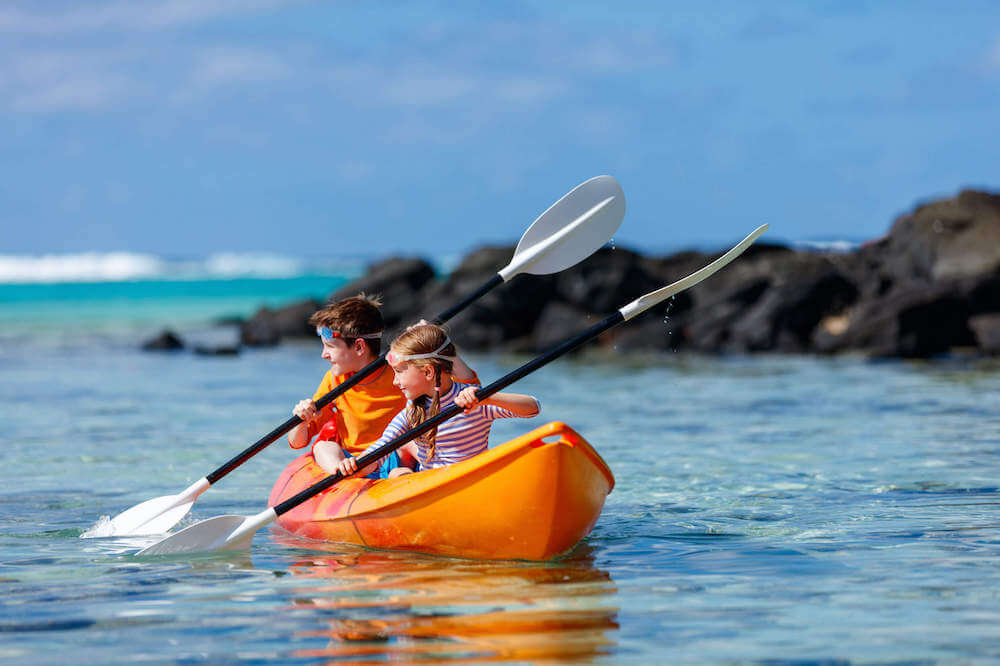 Make sure you get the right paddle for them as well. Typically, the long paddles you use might be too heavy or too cumbersome for them.
Shop for something they can handle without much stress. Teach them how to paddle the right way.
If you are renting out a boat in Hawaii, ask for advice on what works best for your kids at the kayak rentals place. Be sure to include paddle floats, bilge pumps, and throw bags for the boat.
First-time kayakers usually go with sit-on-top kayaks because they have a wider hull that allows for more stability in the water. Experienced kids can go with sit-in kayaks.
Make sure they get a kayak that they feel comfortable in and can control easily.
Guided kayak tours are great for beginning with your kids because they will help you find the perfect kayak for your entire family and can help teach your children along the way. Even a private tour guide would be super helpful as well!
3. Safety First
Your child's safety is a priority when you are taking them kayaking for the first time.
Besides giving swimming lessons and lessons on how to handle themselves in the water, you should bring safety gear to protect them in emergencies.
A personal flotation device is a must-have for your kid and yourself as well. Make sure that their PFD fits them snugly without restricting their mobility.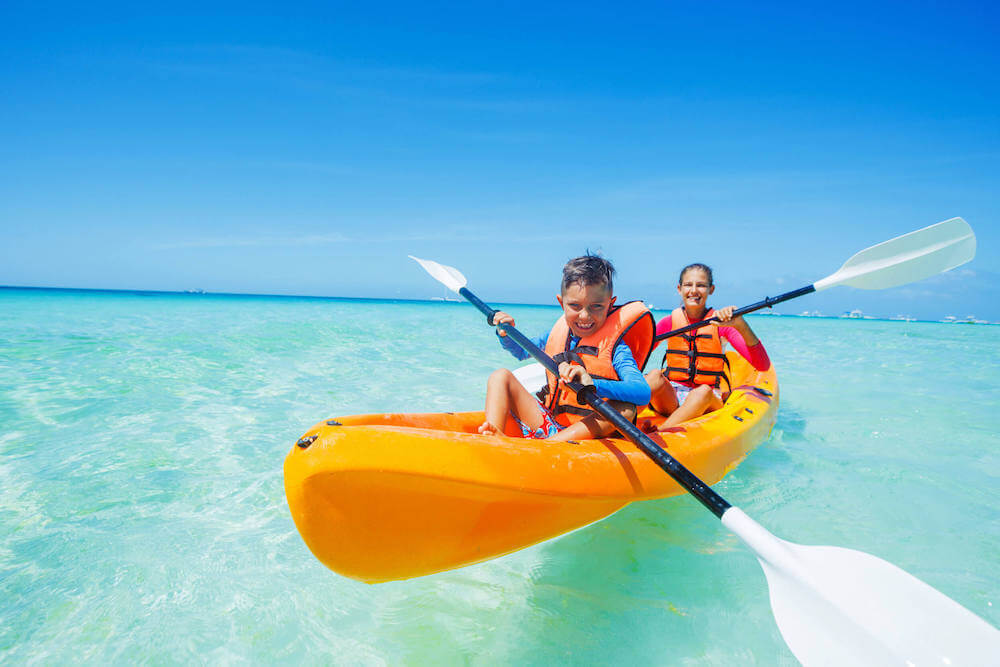 If they are paddling their kayak, bring a tow line. Keep the distance between your kayak and their small but not too close to avoid disrupting movements.
Dress your kids for the weather. And yes, the weather in Hawaii does change seasonally.
Ideally, if you are kayaking in relatively cold water or during the winter, you should dress them in water-proof neoprene clothing that will keep them warm throughout the kayaking expedition.
During the summer months, carry sunscreen and wide-brimmed hats to protect their skins from the sun's UV rays. It is also a good idea to carry extra clothing stashed away in a waterproof bag in case your kids get wet.
Drysuits and wet suits can also work great depending on where you are going kayaking and the weather condition at the location.
Carry a picnic basket that is filled with goodies your kids love. Energy bars would be great if you would be kayaking for a long time.
Carry clean water in bottles, and do not allow your kids to drink from the rivers you are kayaking in, as this water may be contaminated. A well-stocked first-aid kit is also important when kayaking.
4. Tips for in the Water
You have planned your trip successfully and made sure you have all the safety gear you need. Now it is time to test the waters.
Before you push your kayak into the water, you might need to go over a few things with your kid, just to emphasize safety.
5. Kayaking Rules
Let your kids understand the kayaking rules well before they get into the water, especially if they will be kayaking solo.
For instance, they should not stand or lean on the kayak as this affects the kayak's stability. Explain to them why this is important and what would be the consequence of not following such rules.
6. Don't be in a Rush When Kayaking in Hawaii with Kids
Remember that you have come to the ocean or river to enjoy yourself.
It is not a competition to see who gets to a certain destination first. Take time to enjoy the scenery around you.
If the water is calm enough, it is okay to separate a bit, but if the water starts getting rough, you will be safer closer together. You can take as many breaks as you or your kids need.
7. Stay Positive
The kids may not get the hang of kayaking immediately. Be patient with them.
Offer the kids tips on how to paddle the correct way, how to keep the kayak steady, and what to do if their kayak tips over.
With these instructions and you being there to help them any time they have an issue, you will be building their confidence in kayaking, and their ability to control their kayaks and be comfortable in the water will also improve.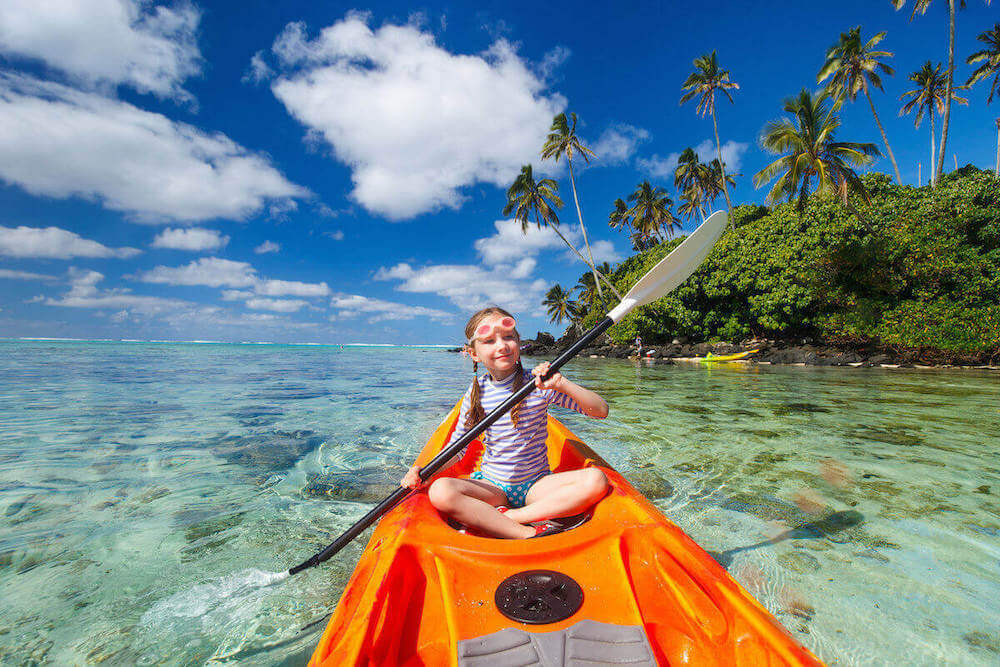 Kid Friendly Hawaii Kayak Tours
If you'd be more comfortable doing a guided kayaking tour in Hawaii instead of renting kayaks and doing it on your own, you have several options. These are my top picks:
Kayaking Tour of Kailua Bay on Oahu
Explore Kailua Bay on a guided kayak tour. During this eco-adventure, you can paddle out to Popoia Island (Flat Island) or the Mokulua Islands and enjoy amazing views from the water. Snorkel with green sea turtles at Lanikai before visiting a bird refuge for lunch by the beach, all while wearing your included equipment of snorkeling gear and tasty food!
This small group Kailua beach kayak tour is perfect for those that want an engaging half-day adventure in Hawaii where they get to see what it's like beneath their feet as well as up above them in clear waters filled with surprises around every corner – including some unusual but adorable marine life too!
This kayaking tour is for kids ages 8 and older and offers some of the best kayaking in Oahu. Check latest rates and more information.
Check out these other great kayaking spots on Oahu.
Wailua River Kayak and Waterfall Hike on Kauai
Experience the deep natural beauty of Kauai with a combo hiking and kayaking adventure on the Wailua River. This offers some of the best kayaking in Kauai and starts with a leisurely paddle down this sacred river surrounded by lush tropical scenery.
Then, you'll get to explore nature firsthand before refueling with an afternoon picnic lunch at one of their amazing waterfall swimming pools near Po'olenalena Falls.
The Wailua River kayak tour is perfect for adventure seekers and those who want to go on hiking tours as well.
This Kauai kayak tour is for kids ages 6 and older. If you want to enjoy kayaking in Kauai to waterfalls, this is the kayaking in Kauai for you. Check latest rates and more information.
Turtle Reef Kayak Tour of Makena on Maui
Join this Maui kayaking tour to see the beautiful turquoise water and meet some of Hawaii's endangered sea life in Turtle Town. This gentle excursion paddles through Turtle Reef in search of schools of fish, turtles, or any other critters that might be around! This spot is known for having abundant marine life and is often great for a snorkel adventure too.
You might even spot some Hawaiian green sea turtles, making it one of the best Maui kayaking adventures to go on.
Launching out of Makena Landing just 10 minutes south of Wailea Beach Resort on South Maui's coastline, you will get a breathtaking view as well as have your worries melt away with each paddle stroke. It is definitely one of the best Maui kayak tours!
This kayak Maui tour is for kids ages 5 and older. It offers some of the best kayaking Maui has to offer! Check latest rates and more information.
Makena is one of the best kayaking spots on Hawaii!
Kayaking with Kids FAQs
At what age can a kid start kayaking?
While kids of all ages are able to participate in tandem boats with a grown-up, kids from seven to ten years old are at an ideal age for learning how to kayak on their own. Keep in mind that you should never take your child out onto the water unless you have extensive experience or there's someone experienced paddling alongside them. And there should be one adult for every child.
What to bring kayaking with kids?
It is important to protect yourself from the sun's rays when you are out kayaking, especially in Hawaii. Long sleeve rash guards, sun hats, and sunglasses will help shield your skin, while UPF clothing can provide long-lasting protection. It's also helpful to pack snacks and water bottles.
How dangerous is kayaking with kids?
The biggest danger when kayaking with kids is the very real threat of drowning. That's why it's so important that all the grown-ups are strong swimmers and kids are wearing life jackets. Dehydration and sun exposure are also some risks to watch out for.
Is kayaking in Hawaii hard?
This really all depends on your experience with ocean kayaking. You will find plenty of Hawaii tours for kayaking that are great for beginners and won't be too hard, while other sea kayaking tours will be hard and should only be done with more experienced paddlers.
What island is best to kayak in Hawaii?
Usually, Oahu, Maui, and Kauai are the most common Hawaiian islands to enjoy kayaking. There is a clear kayak Maui tour that is incredible, while many Oahu kayak tours on the North Shore are amazing for an aquatic adventure. Kauai river kayak tours are also some of the top Hawaii kayaking tours you will find! You'll also find a few Big Island kayak tours as well.
Hawaii Kayak Tours with Kids Wrap Up
We hope that this blog post has given you access to all of the information you need for your next kayaking trip! From choosing the right boat to water safety tips and rules, we have covered them all. And we've even provided some kid-friendly Hawaii kayaking tours.
Ocean kayaking is quite fun, and there are plenty of kayak tours on all the Hawaiian islands to go on these sea kayak adventures! Be sure to check out any of the Hawaii kayak tours above for your next kayak adventure.
Now go out there and get paddling!
Want to learn more about kayaking in Hawaii? Check out our posts about the best places to kayak in Hawaii and our favorite Oahu kayak spots!