If you're looking for a tropical cocktail that's blended with frozen fruit, you'll love this simple frozen mango margarita cocktail recipe. Scroll for this easy summer cocktail recipe that is perfect for BBQs or backyard parties!
This easy frozen mango margarita recipe contains affiliate links which means if you purchase something from one of my affiliate links, I may earn a small commission that goes back into maintaining this blog.
Frozen mango margaritas are one of my favorite summer cocktails. There is something about the tart and sweet flavors combined with the icy coldness that makes me feel like I'm on a tropical vacation.
I love to share this recipe because it's so easy to make, especially if you're entertaining guests in your backyard or hosting a summer party!
It only takes three ingredients: tequila, triple sec (or other orange liqueur), and frozen mango chunks, plus a little ice. You can also add some simple syrup for extra sweetness.
The best part? It's totally customizable! Add any of your favorite tropical fruits or herbs to give them an original flavor.
Keep scrolling for the best frozen mango margarita recipe that's super easy to make and sure to transport you to Hawaii!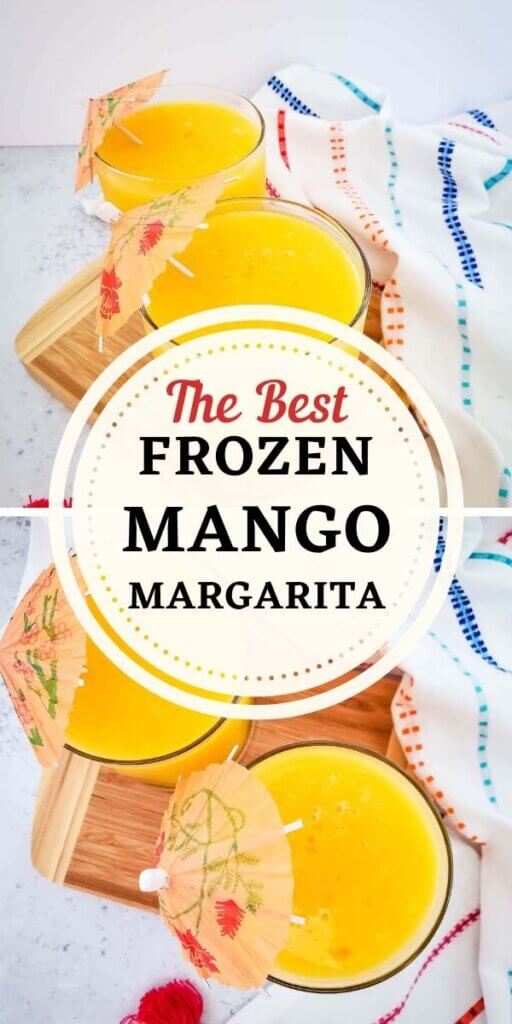 Best Frozen Mango Margarita Recipe
Here is a simple mango margarita recipe that you can follow. It makes 2 margaritas. You can probably find all the ingredients for this mango margarita at your local grocery store, making it an easy mango margarita recipe you can make any time you are in the mood for some frozen mango drinks!
Makes 2 margaritas
Frozen Mango Margarita Ingredients
3 oz high-quality tequila
1.5 oz triple sec
16 oz bag of frozen mango chunks, thawed but cold
½ cup ice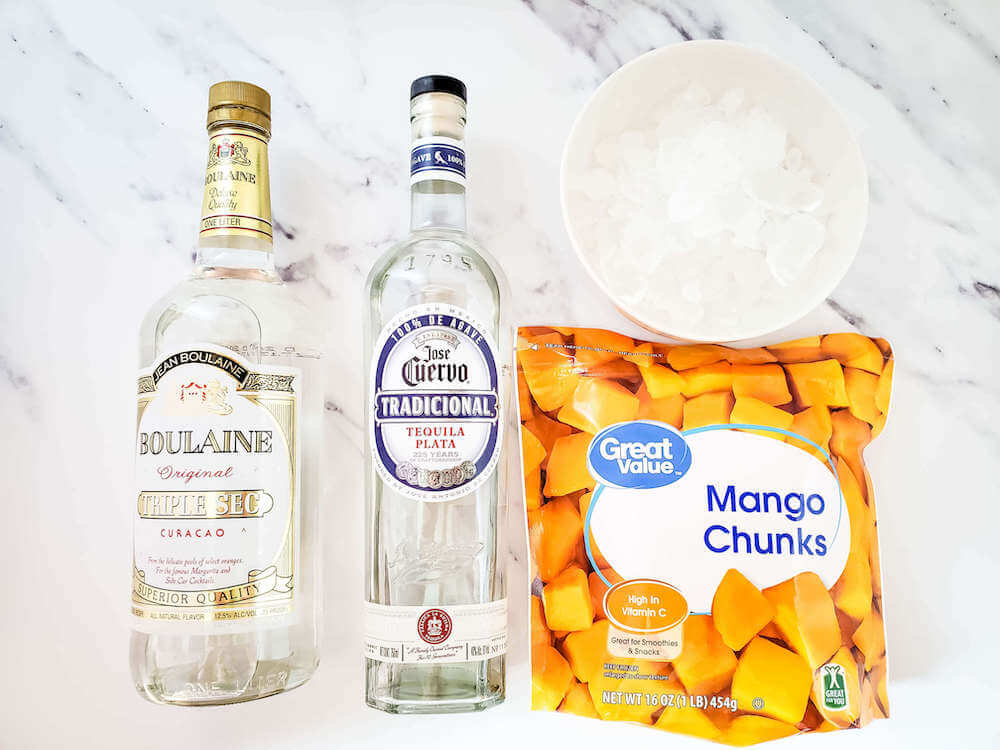 How to Make Frozen Mango Margaritas
If you want to take your next party up a notch, use this recipe for frozen mango margaritas.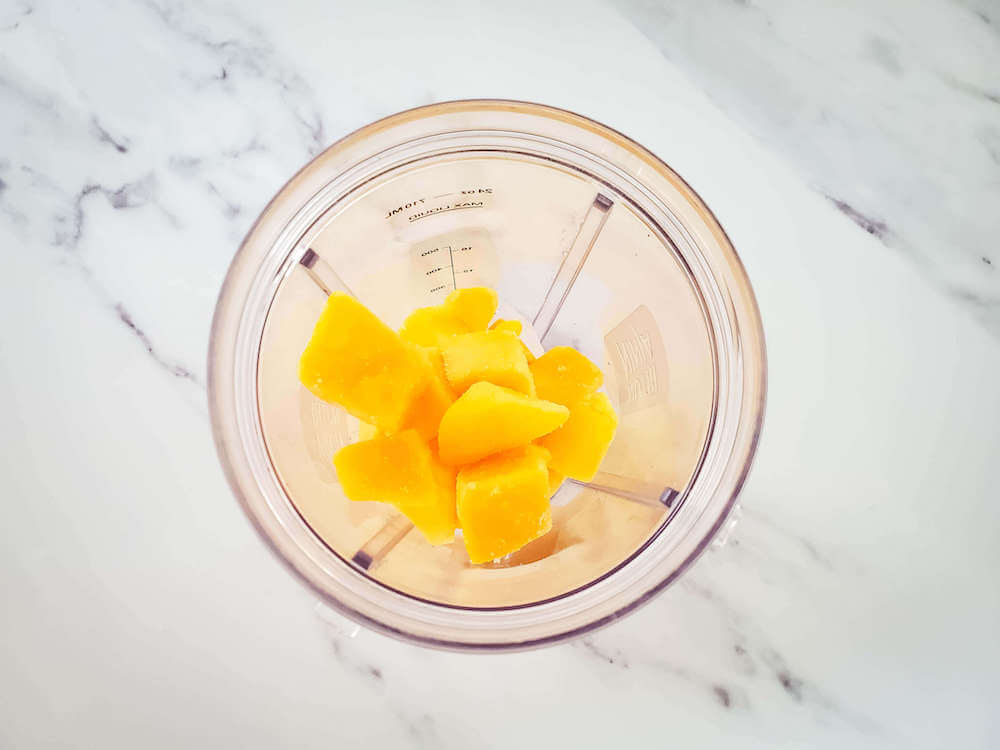 First, add your ice cubes and throw in chunks of cold but thawed-out frozen mangoes into the blender.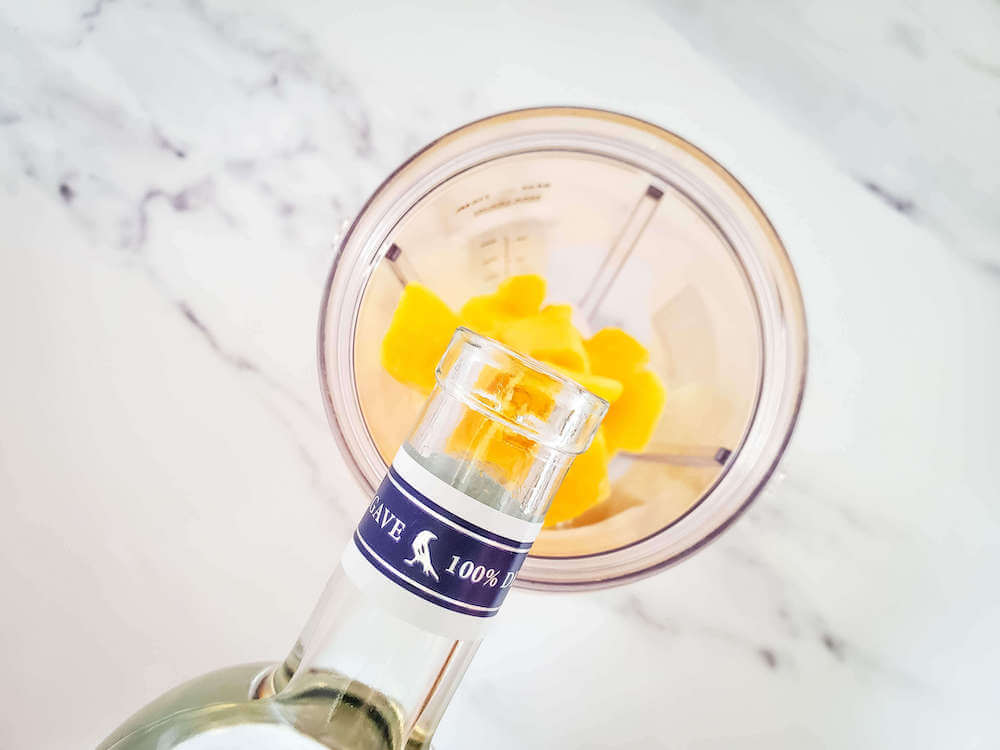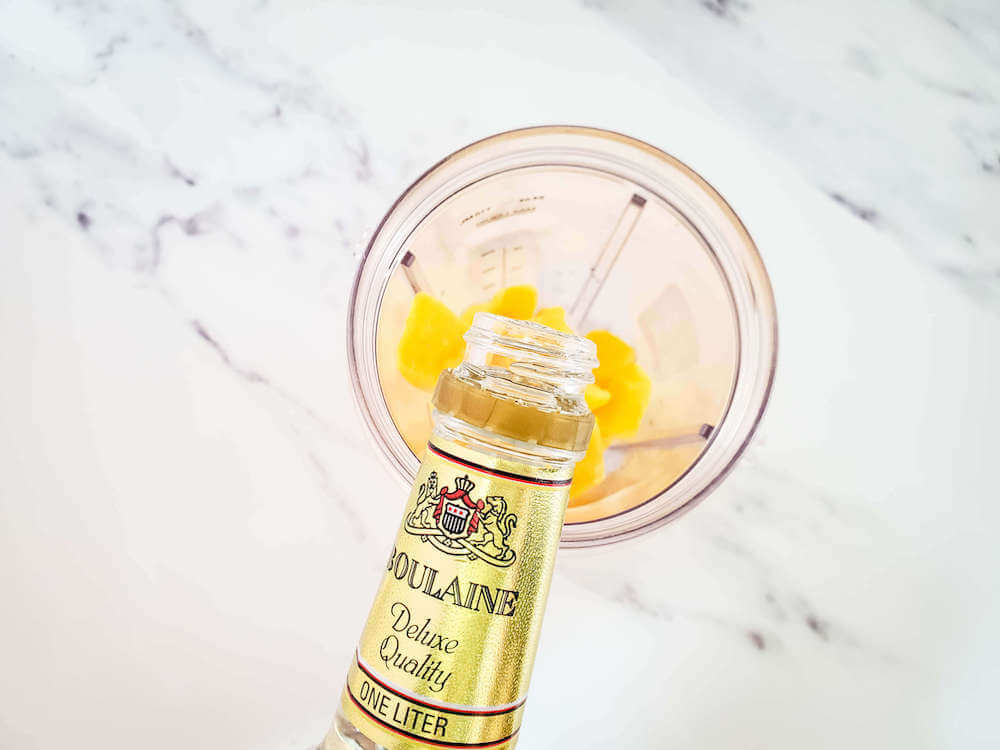 Then, pour the tequila and triple sec on top of the ice and mangoes.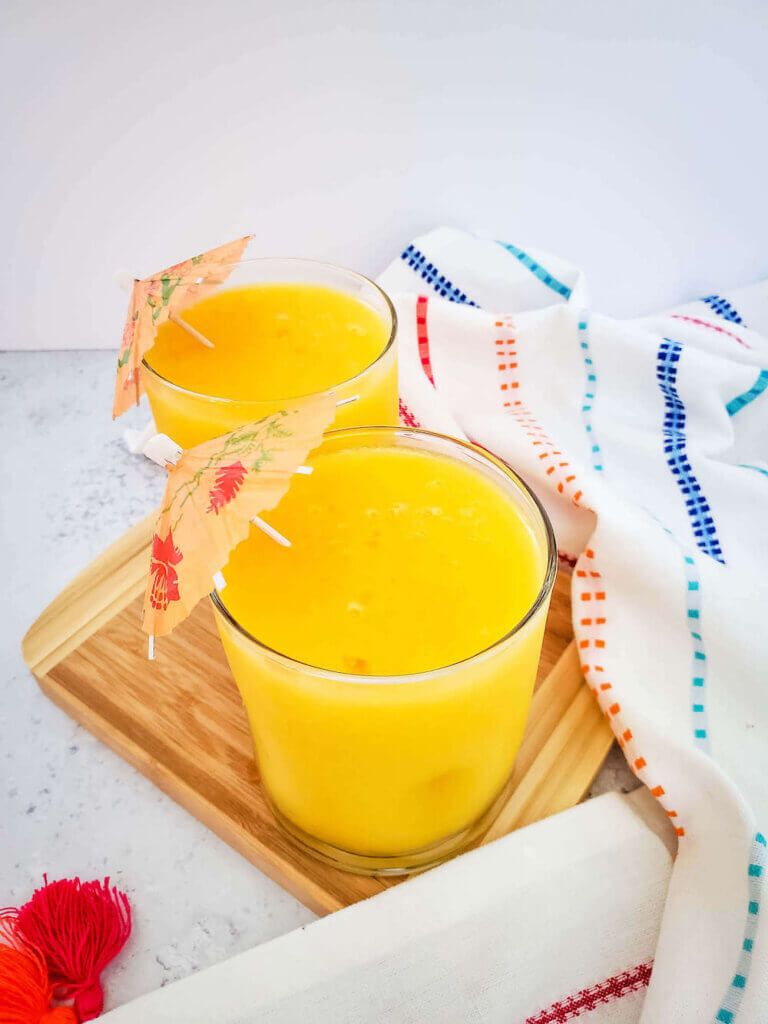 Blend with a high-speed blender until it has reached your desired consistency before pouring two prepared glasses full of deliciousness that is sure not to disappoint! You want to blend until smooth but not overdo it.
Need to Troubleshoot?
What if I don't have time to thaw the mango?
You can totally use frozen mango, but swap out the ice for 1/2 cup of water.
Can I make this mango margarita on the rocks?
Sure! Add in all the ingredients to your blender except for the ice. Put the ice in your glasses, and then pour your mango margarita mix over the ice.
How can I turn this into a spicy mango margarita?
You have a couple of options to do that. The first option is to run a wedge of citrus around the rim of the glass and then sprinkle some chili powder on it. You can also slice up jalapeno peppers that can float in your cocktail. Or you can add a bit of chili pepper water into your mix. That will definitely take this classic margarita mixture up a notch! Cayenne pepper would also work too.
This would be perfect for Cinco De Mayo, served with other delicious Mexican foods.
Can I use fresh mango instead of frozen mango?
Yes, that's totally fine. Just be sure to keep the fresh mangoes in the fridge so it's nice and cold when you put them in the blender. Otherwise, your drink won't get cold enough. Make sure to use ripe mangos to keep the mango nectar and flavor.
How can I make this look fancy?
It's super easy to make it a bit more Instagrammable. Simply rim the glass with lime juice with a lime wedge and dip it into sugar. Voila! You can also add some fresh mint to it as well. Leaving some lime wedges hanging on the cup will make it look fancy and extra delicious too!
Margarita Cocktail FAQs
What's in a margarita cocktail?
A margarita is a citrus-infused cocktail consisting of tequila, orange liqueur, and lime juice. Usually, it's served either blended with ice, on the rocks (poured over ice) or without any ice at all. And sometimes, it's served with a bit of salt on the rim of your glass.
Is a margarita a Hawaiian cocktail?
No, the margarita definitely originated in Latin America. However, this recipe includes mango, which is very popular in Hawaiian cocktails. And you can even add in chunks of pineapple to add more Hawaiian flavors.
How do you make frozen margaritas thicker?
To make your homemade mango margaritas thicker, try adding in some agave nectar or honey. It will make a sweeter margarita but also thicker too! You can also add more frozen fruit to make it more of a slushy consistency. Adding too much ice will make it watery, especially if you do not serve immediately.
Is a blended margarita the same as a frozen margarita?
Blended mango margaritas are the same as frozen mango margaritas. They are different from on the rocks as a frozen margarita has more of a slushie texture that can still be drunk through a straw.
How much alcohol is in a mango margarita?
All mango margarita recipes will vary with how much alcohol, but this mango frozen margarita recipe has 3 oz of tequila.
Why do people add triple sec to margaritas?
Triple sec is basically an orange-flavored liqueur that helps you create the perfect drink. It has a great balance of sweet fruit flavors with some bitter notes. It is one of the main reasons why this is the best mango margarita recipe!
Frozen Mango Margaritas Recipe Wrap-Up
Making margaritas is always so much fun, and you definitely cannot go wrong with this frozen mango margarita.
Make this next time you are missing Hawaii and craving mangoes for a delicious and easy margarita you will love!
Yield: 2
Crazy Easy Frozen Mango Margarita Recipe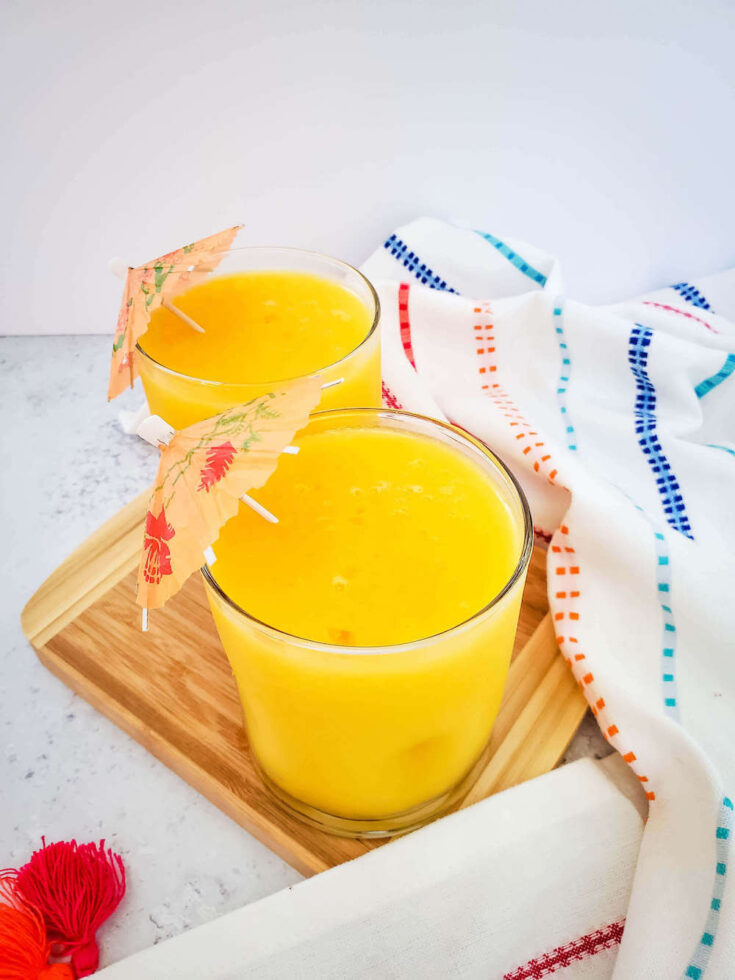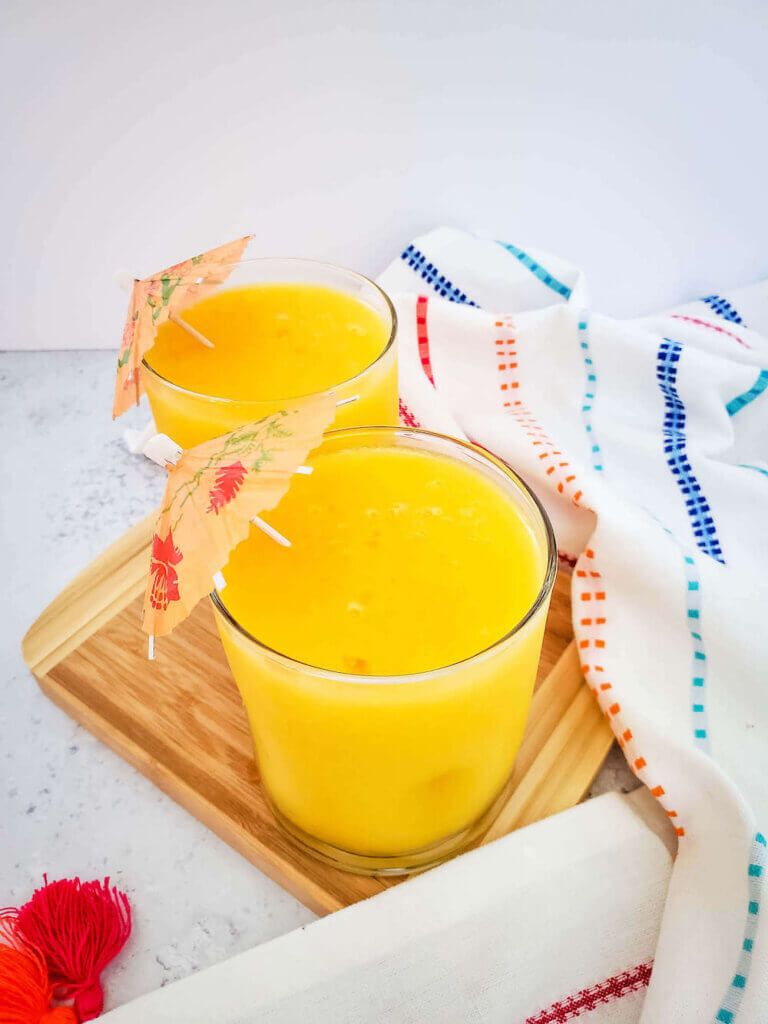 Looking for a super easy (and tasty) summer cocktail that will have you dreaming of the beach? Check out this simple frozen mango margarita recipe!
Additional Time
5 minutes
Ingredients
3 oz tequila
1.5 oz triple sec
16 oz bag frozen mango chunks, thawed but cold
½ cup ice
Instructions
Add ingredients to a blender and blend on high until you have a smoothie-like texture.
Pour into two glasses.
Enjoy!
Notes
You may use frozen mango and add ½ cup of water instead of ice.
You may run a lime wedge around the rim of each glass and dip it into sugar, if desired.
Nutrition Information:
Yield:
2
Serving Size:
1
Amount Per Serving:
Calories:

284
Total Fat:

1g
Saturated Fat:

0g
Trans Fat:

0g
Unsaturated Fat:

0g
Cholesterol:

0mg
Sodium:

5mg
Carbohydrates:

39g
Fiber:

4g
Sugar:

36g
Protein:

2g