Are you looking for the best place to stay on Maui for families with kids of all ages? Keep scrolling to read this honest Marriott Maui Ocean Club review.
This Marriott Maui Ocean Club review contains affiliate links which means if you purchase something from one of my affiliate links, I may earn a small commission that goes back into maintaining this blog.
Guest post by Keri of Bon Voyage with Kids
Are you planning a trip to Hawaii and don't know where to stay?
If you are looking for one of the best places to stay in Maui, Hawaii, the Marriott Maui Ocean Club is one to consider. This luxurious resort is located right on Kaanapali Beach and offers stunning ocean views.
Our family visits Maui every summer, and since our second visit, when my oldest was a toddler, we have chosen the Marriott Maui Ocean Club. It is one of the best places to stay on Maui with kids, especially toddlers.
One of the reasons I highly recommend Marriott Maui Ocean Club is that it is home to one of the best pools on Maui, with plenty of lounge chairs and shaded areas to relax in. The tot splash area is one of the best on Kaanapali. And there is also a wonderful beachfront bar and grill, as well as family-friendly activities your kids will love.
As part of the Marriott Vacation Club, the rooms are a home away from home, with kitchenettes to full-sized kitchens, free laundry onsite or even in your room, onsite grills for guests to use, and family-friendly activities to keep the little ones busy.
Here's why you should consider the Marriott Ocean Club when looking for where to stay on Maui with kids.
Don't have time to read a bunch of Hawaii blog posts and reviews? Here are some of our top picks for visiting Maui.
Popular Maui Tours/Activities
Favorite Maui Resorts/Hotels
Andaz Maui (this is a luxury resort with the best luau on Maui)
Honua Kai Resort & Spa (this is one of our personal favorites because there are tons of pools and there are condo options)
Want to Rent a Car in Hawaii?
One of the best places to rent a car in Hawaii is Discount Hawaii Car Rental because they get the best rates from top national companies like Alamo, Dollar, Thrifty, Avis, Enterprise, Budget, and Payless.
Want to skip all the planning and just access my detailed Maui Itinerary complete with daily schedules, kid-friendly activities, and travel hacks? Click the button below.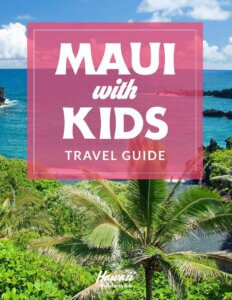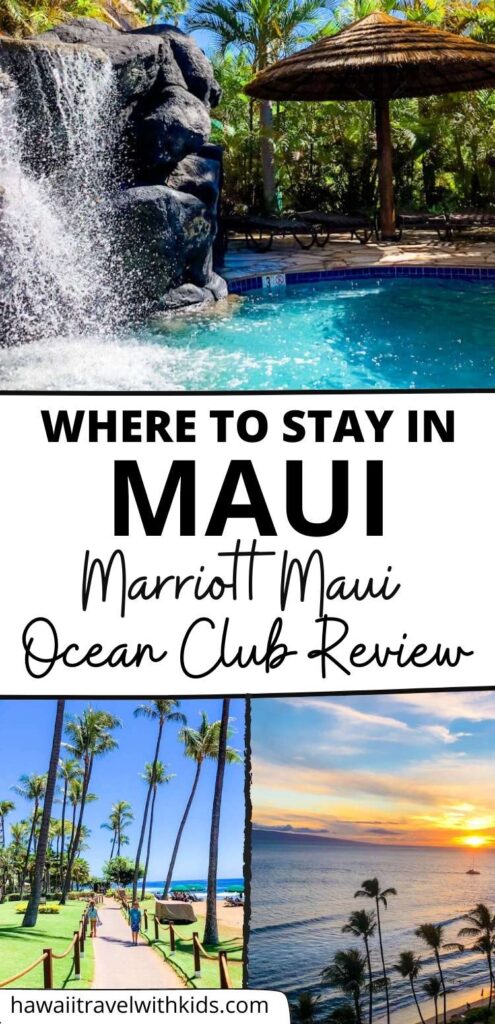 Why We Chose The Maui Ocean Club
While there are many family-friendly resorts on Maui, we keep returning to the Maui Ocean Club year after year.
Our very first visit to Maui was when my son was 18 months old. We actually stayed next door, at the Hyatt on Kaanapali.
But when considering where to stay the following year, we were initially struck by the toddler splash area and the family-friendly vibe of Marriott Maui Ocean Club. When we stayed there for our second year, we were blown away and completely hooked!
The Marriott Maui Ocean Club is part of the Marriott Vacation Club, which means that guests have access to all of the benefits of that program, including discounts on dining and activities and a family-friendly resort.
But you don't have to be a member of the Marriott Maui Ocean Club to stay there (we weren't on our first visit.)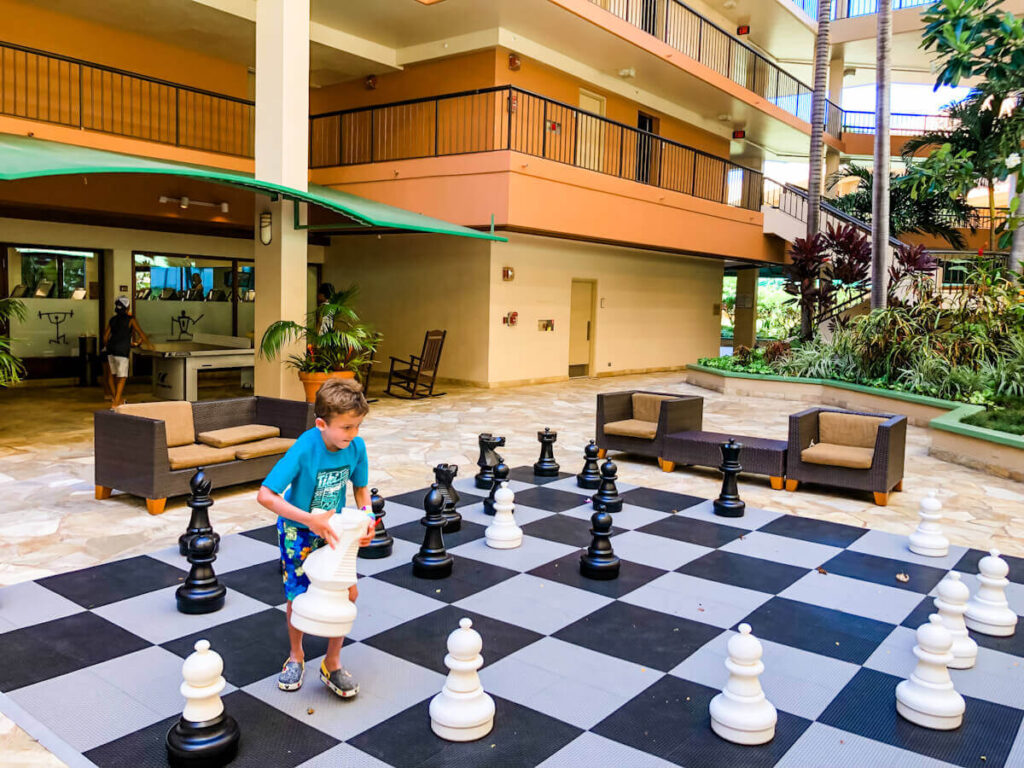 What we were struck by was a room with a kitchenette, FREE laundry onsite, property grills free for guest use, family-friendly activities like large scrabble and chess boards, and activities coordinated by the staff.
I mean, mid-day treasure hunt, free shave ice, and free temporary tattoos? My son was immediately bought in! And that's just some of what is available here!
There are also three pools, onsite dining, an onsite Starbucks, and so much more. As our family grew to three kids, and we invited grandparents along, having a resort that rivals an Airbnb couldn't be beaten.
Plus, it is right in beautiful Kaanapali, just a short walk from Whaler's Village and the other area resorts (which we visit for dining sometimes.) These are just a few reasons why we think it's the best place to stay in Maui, Hawaii.
Save Money with Points
Here are the best credit card offers for families who travel and want to use points to pay for airfare and hotels in Hawaii.
Where Is The Maui Ocean Club?
The Marriott Maui Ocean Club is right on Kaanapali, next to the Hyatt and across from the Kaanapali Golf Club. It is just a 15-minute walk from Whaler's Village. This is the best area to stay in Maui.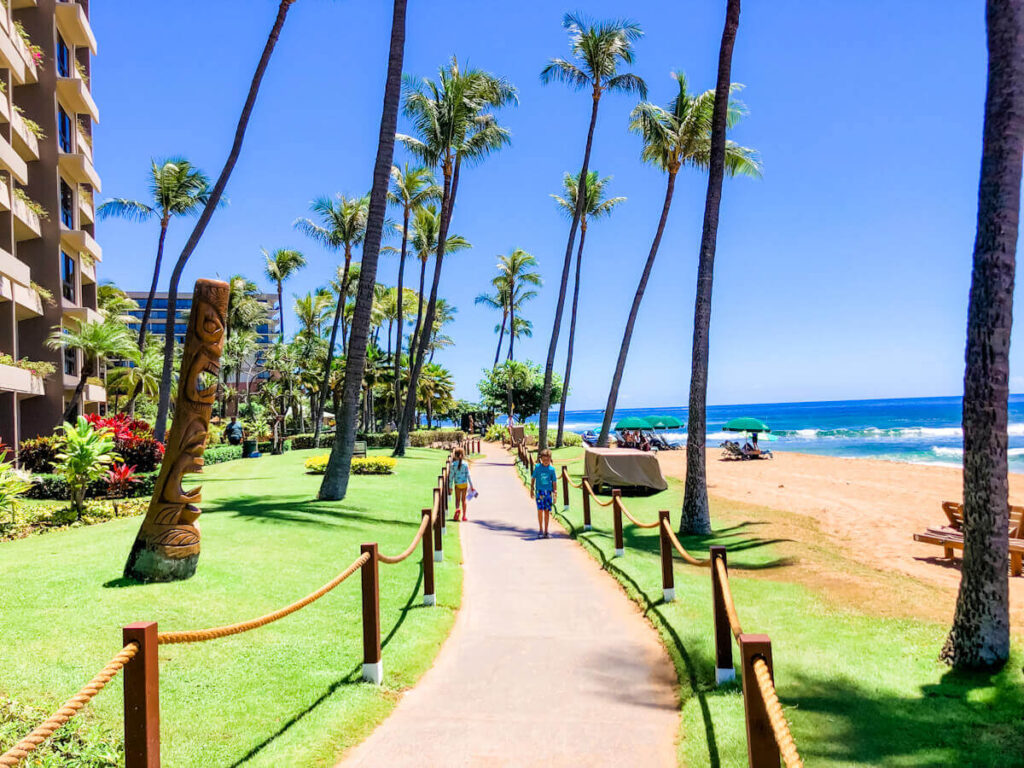 Its location is ideal for all of our favorite family activities on Maui, as it is only a 10-minute drive to Kapalua Bay Beach, where we love to snorkel, and another 10-minute drive to Lahaina. There is private parking on the property, which is another family-friendly perk of this resort! They offer both self-parking and valet parking.
There are so many nearby attractions by Marriott's Maui Ocean Club, which is another added bonus of staying here. Whalers Village is also close by and perfect for guests who want to get some shopping done.
And, we love to take our oldest son golfing, so close access to the world-renowned Kaanapali Golf Club is an added bonus!
There is a narrow beach in front of the Marriott Maui Ocean Club, which people enjoy. But the surf is a bit rougher.
For smaller kids, I would go north of Black Rock to the beach up there, which is calmer, or spend the day at Kapalua Bay Beach. Ka'anapali Beach is also nearby and a great option as well.
Our kids love spending most of the time at the large pool, where there are two smaller waterslides, a volleyball net, a tunnel, basketball hoops, and plenty of room for swimming. It is one of the three pools on-site, but it is the one where most of the activities happen.
As toddlers, my kids loved the ship splash area, which kept them busy for hours!
If you're looking for a place with a lot of kid-friendly amenities, the Marriott Maui Ocean Club is one of the best places in Maui to stay for families.
Honest Marriott Maui Ocean Club Review
What Was Our Room Like?
Having stayed at Marriott Maui Ocean Club Resort over nine times, we have had a range of rooms. There is the main center area that has the Maui, Molokai, and Lanai towers. This is bookended by the Napili and Lahaina towers, which are mainly the Marriott vacation club towers.
We have stayed in the main area, as well as the Napili and Lahaina towers. You can't go wrong in any of these locations, as, after all, you are in Maui! Check out the latest rates and availability.
We have had a hotel-style room with a kitchenette, sink, and mini-fridge to a two-bedroom ocean-front condo. These include full kitchens, in-room laundry machines, a full-sized dining room, and a living room.
Some of the rooms look toward the Kaanapali hillside, and others have oceanfront views. Although there are no three-bedroom villas, the two-bedroom suites give this ocean-view room a run for its money!
Other amenities include a full kitchen, king bed, air conditioning, flat screen tv, and an ocean view unlike anything else.
As a family of five, we prefer to have at least a one-bedroom with a kitchen and laundry, as it allows us to order in groceries and eat out less. The laundry is a huge bonus. And we love to take advantage of the onsite grills.
But the rooms and resort certainly act as a home away from home while on vacation, which is why I always say it is one of the best places to stay on Maui.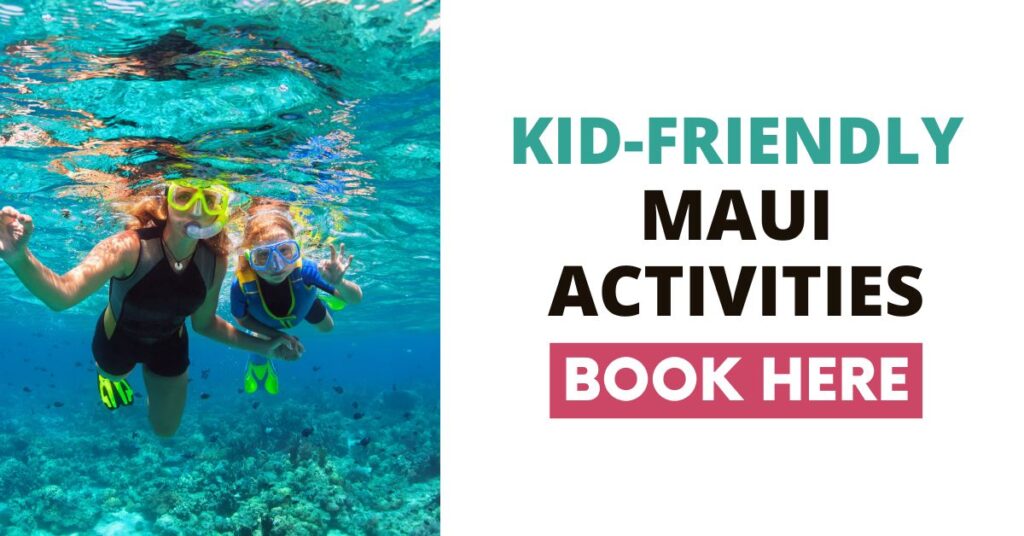 What did we think of the dining options?
Starbucks
While this is probably one of the most expensive Starbucks I have been to, it is still nice to have a morning coffee by the pool. But note that you will pay between $3-$4 just for a drip coffee. It carries the traditional Starbucks menu items you see on the Mainland.
Beach Walk Kau Kau To Go
This is the grab-and-go restaurant near the pool. They have a range of options from traditional fares, like burgers and chicken fingers, to pizza and several healthy options. In fact, their chicken pita is one of my favorites.
They also host a nightly cookout most weeks with a different meal each night. This is where you may get some Hawaiian specialties like Huli Huli chicken! It is a nice offering that adds some variety to the staples at the grill.
Lokelani Pool Bar
You can have an outdoor sit-down lunch or dinner here. It has a very similar, if not the same, menu as the Beach Walk Kau Kau To Go.
Makai Tiki Bar
The Makai Tiki Bar is by the Napili tower pool. You can order lunch poolside and enjoy an afternoon cocktail by the pool or on the lawn resting in a hammock.
Longhi's Restaurant
This new restaurant is Italian-themed. You can dine outdoors overlooking the ocean while enjoying Italian, steak, and seafood fare.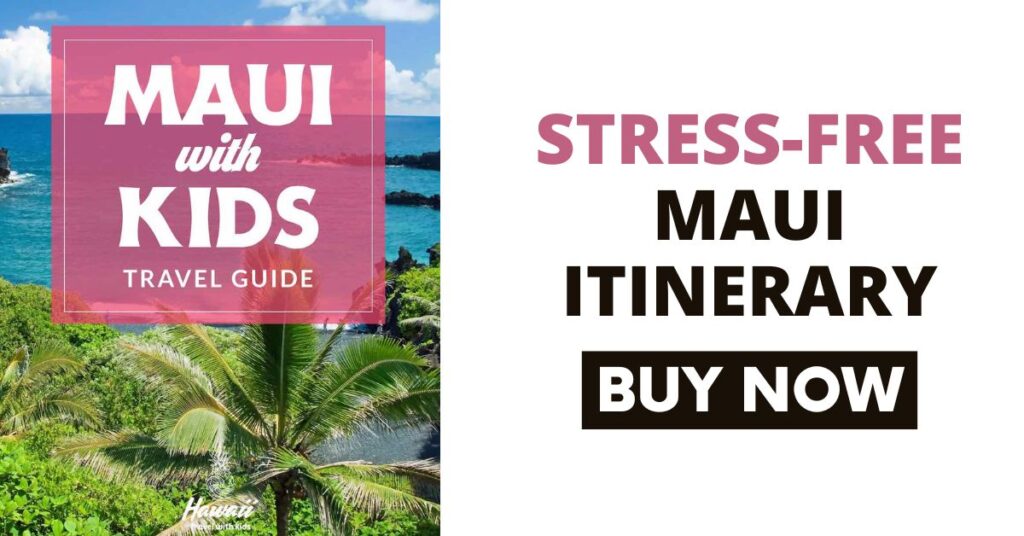 Maui Ocean Club Pool Area
There are three pool areas. The large (very large) main pool area, as well as smaller pools in front of the Napili and Lahaina towers. For adults, I recommend the Napili pool. It is quieter over there and narrow.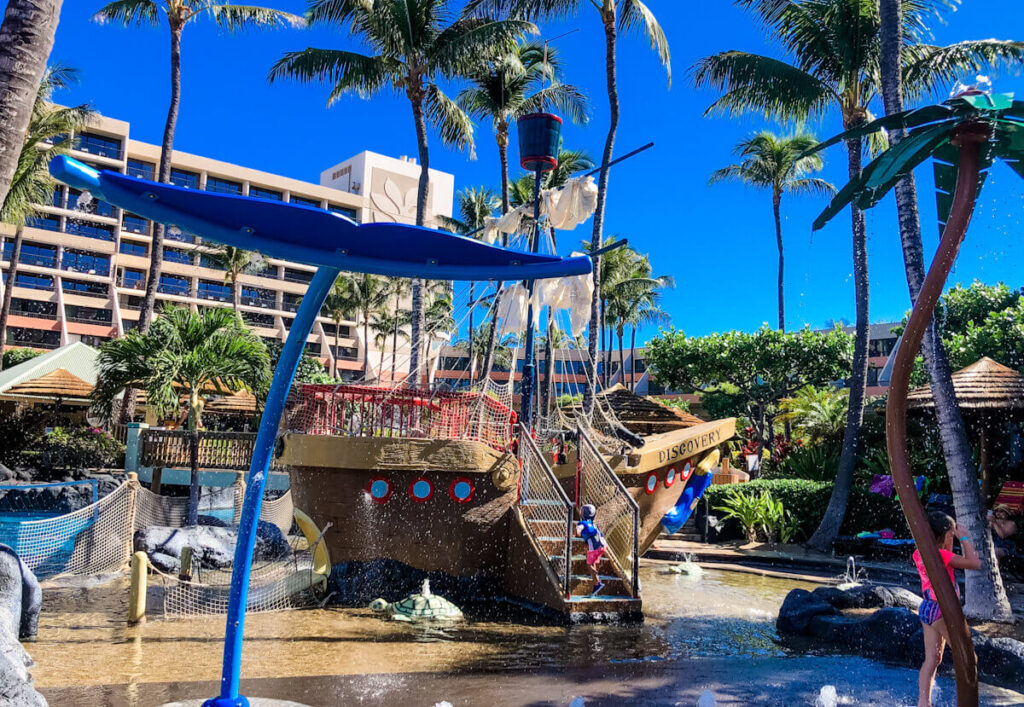 The main pool area has the kiddie splash area with a pirate ship, and it is a great place to park yourself for the day. It is also very large and active. It is where you can swim, throw balls, float, etc. It is also where the activities tend to be, like shave ice, temporary tattoos, music, etc.
If you want something in the middle, the pool area in front of the Lahaina tower is a great option. It is not as busy as the main pool but a bit larger than the Napili pool. Kids are also often in this pool as well. We like to hang out here in the evenings.
All three pools are themed with the essence of Hawaii, such as black rocks and waterfalls. And they are super Instagrammable.
The pool areas can fill up, so we always recommend getting down to the pool at least to reserve a chair by 8 a.m. Staff does come around and make sure you are a guest of the resort and give bands so you can get towels. They will also remove the belongings of "chair hoarders" who do not come back for a while.
Is it worth renting a cabana?
The cabanas are really nice, and we have rented them a couple of times. They are hard to get, so you need to book them in advance of your visit.
The cabanas face outward toward the ocean, so it is a nice way to spend a quieter time. But they aren't necessary as we have always gotten chairs. Learn more about renting a cabana in Hawaii HERE.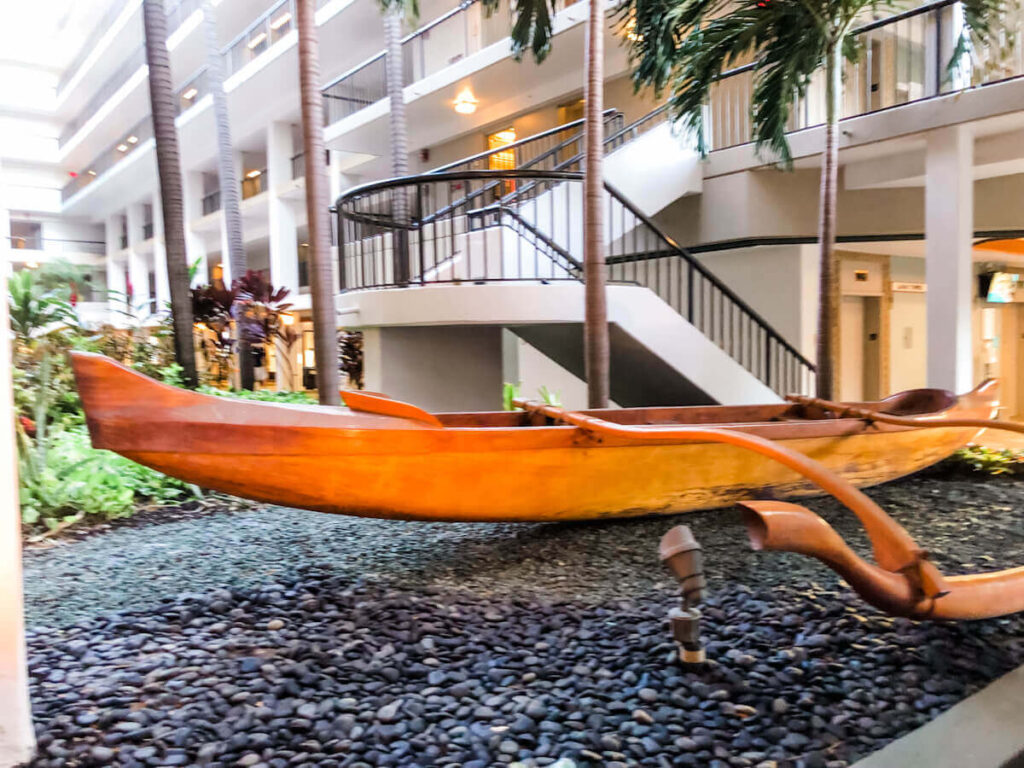 Other Features and Amenities
Luau
There is not a luau on-site, but you are right next door to the Hyatt, which has the Drums of the Pacific luau. And, you are within walking distance to both the Westin and the Sheraton Black Rock, which also have luaus.
Additionally, you are only a 10 or so-minute drive from the Old Lahaina Luau, which is the best one on Maui, in my opinion.
Golf
Being right across the street from the Kaanapali Golf Club, you can easily walk or take a two-minute drive to enjoy an epic round of golf.
We have done this with our oldest, and not only is this a PGA-level golf course, but you have views of the ocean from several of the tees. It is well worth doing if you are a family of golfers. It is the best Kaanapali golf resort and offers some of the golf courses on Maui.
Spa and Gym
There is a modest spa on site. You can book ocean-side massages as well as a few services on the property. But the Hyatt next store has a full-service spa. There is also a gym on the property, and various fitness classes are held throughout the day.
Kids Activities and Programming
There are tons of kids' activities at the Marriott Maui Ocean Club, which is why it is one of the best places to stay on Maui with kids!
For toddlers and younger kids, there is the ship splash area as well as an onsite playground. You can also take a short walk over to the Hyatt to see the penguins, swans, ducks, and talking birds. I used to do this with my kids!
There are also fun games like pool, ping pong, oversized floor chess, checkers, and oversized floor scrabble that our kids love to play. And, for tweens and teens, you can check out their on-property escape room!
We also love the onsite activity center that regularly hosts crafts for kids and adults. My daughter and I took a lei-making class, and they often have "grab bag crafts," painting classes, and a range of activities.
Outside, the staff regularly hosts activities and events, like laser tag, balloon toss, shuffleboard, waterslide races, free shave ice, free tattoos, popcorn, poolside movies, smores nights, movie rentals, and more.
There is a list of activities given at check-in that will ensure you are not bored when you are there!
Shopping
The shopping at Marriott Maui Ocean Club is not as robust as some of the other hotels. That said, the sundry shop on the property has both a modest range of food items and beach necessities and a lovely collection of souvenirs and gifts.
There are a few other shops on the property that sell swimming essentials, some clothes and jewelry, and a photography shop. But you are within walking distance to Whalers Village, where you will find a huge selection of popular Hawaiian shops, as well as excellent restaurants for families.
A Few Additional Tips
While Marriott Maui Ocean Club is one of our favorite places to stay on Maui with kids, it doesn't have as fancy a lobby or many shopping opportunities as some of the neighboring hotels.
The other thing to note is that while there is beach access, the beach in front of the hotel isn't very wide, and the surf is a bit rough. So while you can enjoy the beach, we tend to spend more time at the pool.
That said, those are the only negatives for our family when it comes to this resort. The home away from home feeling is ideal for families, so it is always our top choice when people ask me where to stay on Maui.
One other tip is because it is a Marriott Vacation Club hotel, they may offer you a discount card to use on the island. If so, get it! It has gotten us discounts at local restaurants and shops and free desserts!
Would I recommend the Maui Ocean Club?
Overall, Mariott Maui Ocean Club is without a doubt one of the best places to stay on Maui, especially for families.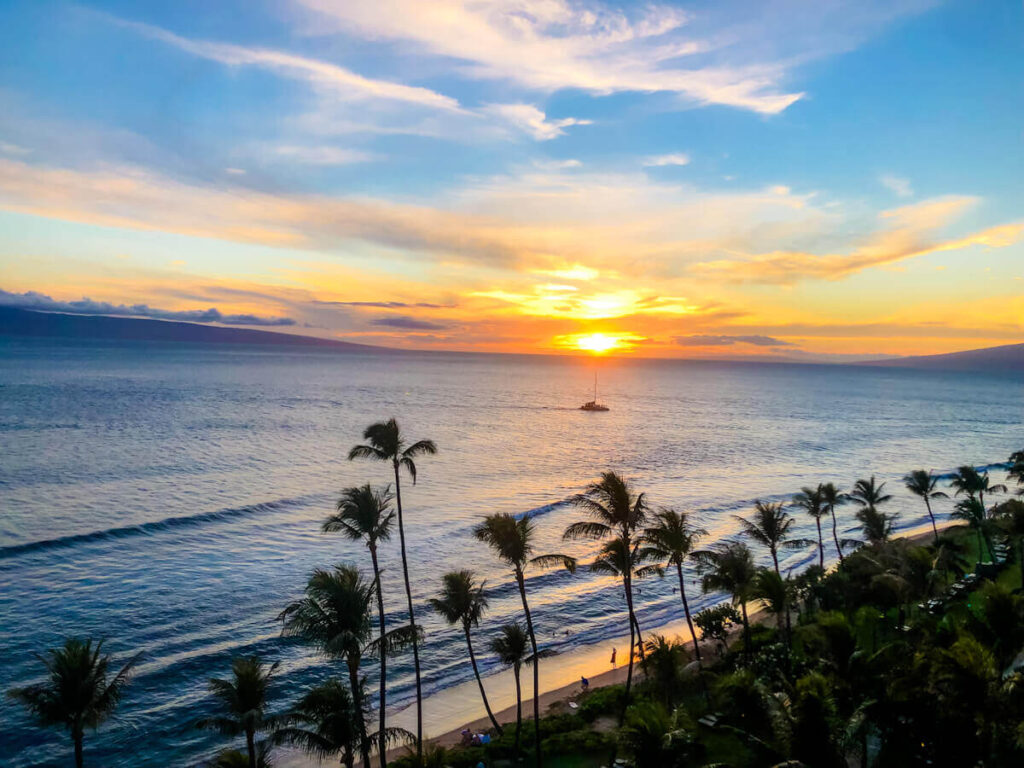 The amenities, offerings, location, and rooms add a lot of value to any Maui vacation. And it is one of the best locations on the island to catch an epic Maui sunset.
I highly recommend Marriott Maui Ocean Club for your family's next Maui vacation! Check the latest rates and availability.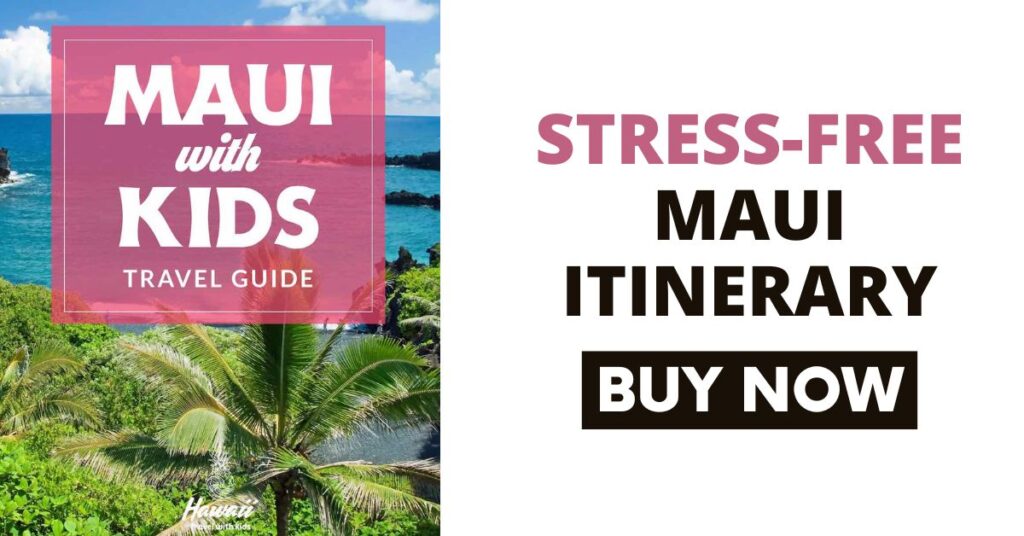 Best Places to Stay in Maui Hawaii FAQs
What is the best beach to stay on in Maui?
The most popular places to stay on Maui for resort vacations include Wailea, Kaanapali, Lahaina, and Kapalua. If you're looking at vacation rentals, Kihei is a popular beach town for families. And if you are hoping to really unplug, head to Hana.
What is the nicest part of Maui?
While Maui is a lovely island, the spot with the most luxury hotels is in Wailea. Here, you'll find gorgeous resorts (like the one featured in White Lotus) as well as upscale restaurants and boutique shops.
Does it matter where you stay in Maui?
One of the biggest questions first-timers have is where to stay in Maui, Hawaii. Most people choose to stay in Lahaina or Kaanapali because that's where you'll find most of the hotels/resorts as well as popular tourist attractions. This is great for people who want to stick to the Westside and maybe do a day trip or two.
When was Marriott Maui Ocean Club built?
Marriott's Maui Ocean Club was built in 1981 and was updated in the following years. The last major renovation was around 2009.
How far is the Marriott Ocean Club on Maui from the airport?
It is closer to Kapalua Airport and is about 10 minutes away. The Kahului Airport is about 45 minutes away. There are shuttles that go from the airport to the Marriott's Maui Ocean Club too!
Are there any resort fees at Marriott's Maui Ocean Club?
There are no resort fees to worry about here! You will have complimentary property amenities like the fitness center, free wifi, and others without worrying about any resort fees.
About Keri
Keri is a mom of three kids and a family travel blogger at Bon Voyage With Kids. Based in New England, she has lived abroad three times, has traveled to nearly 30 countries, worked for Walt Disney World Resort and for an educational travel company, and regularly travels with her kids. Her family visits Hawaii every summer, with Maui being their favorite island. She inspires families to enjoy the journey of traveling with kids and to experience destinations, not just visit them. She also loves finding ways to inspire learning about world cultures and countries when not traveling.