Are you looking for a unique breakfast at Disney Aulani Resort on Oahu? Keep scrolling for my honest review of the Disney Aulani Character Breakfast and whether or not it's worth booking.
This Disney Aulani character breakfast review contains affiliate links which means if you purchase something from one of my affiliate links, I may earn a small commission that goes back into maintaining this blog.
Are you looking for a fun breakfast experience on Oahu?
Our family recently did the Disney Aulani character breakfast on Oahu. It's open to anyone, not just people staying at the Disney Aulani Resort.
Keep scrolling to read our honest Aulani character breakfast review and find out whether or not it's worth adding to your Oahu itinerary.
The food at the Disney Aulani character breakfast was delicious, and all of our kids had fun meeting their favorite characters like Goofy, Pluto, and Mickey Mouse. You can see some of our photos below!
However, there are a few things that might make or break this experience for you…so keep scrolling before making up your mind about whether or not it's worth adding to your Oahu itinerary!
Want to skip all the planning and just access my detailed Oahu Itinerary complete with daily schedules, kid-friendly activities, and travel hacks? Click the button below.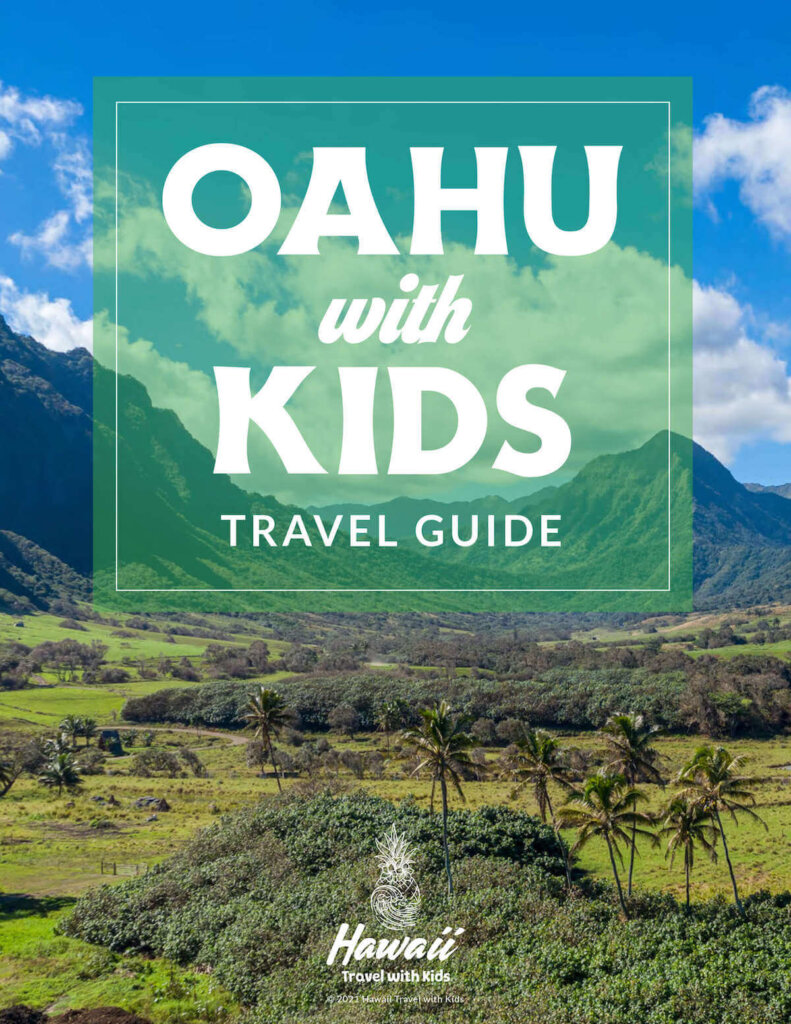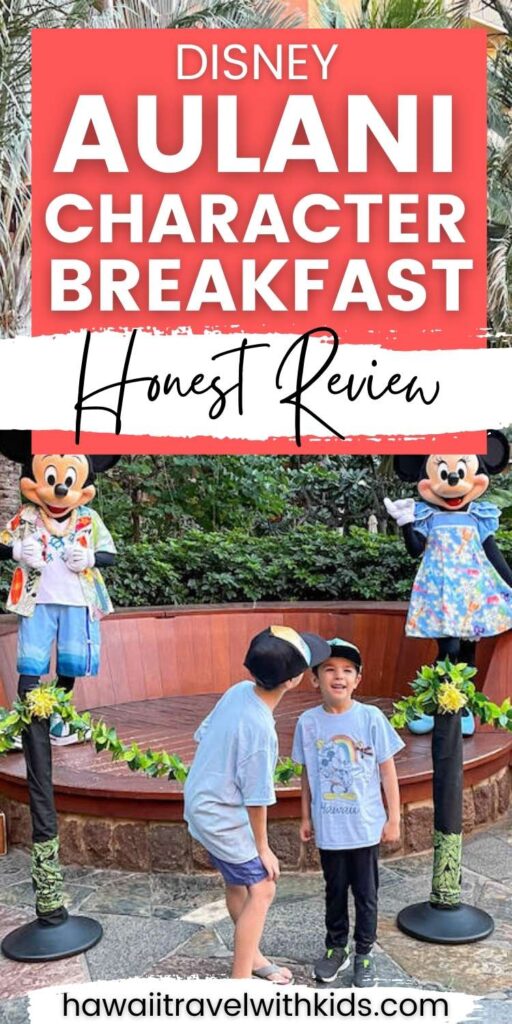 What is a Disney Character Breakfast?
Most Disney Parks and some Disney Resorts offer character breakfasts. These are meals where guests have lots of opportunities to interact with Disney characters throughout their meal.
The main perk of this is that guests meet Disney characters without waiting in line at the Parks.
The type of food varies depending on the restaurant, and sometimes it's a plated meal while other times it's a buffet.
Where is Disney Aulani Resort?
Aulani, a Disney Resort & Spa, is located in Ko Olina on the island of Oahu. It's about 25 minutes from the Honolulu Airport (or an hour with traffic). The address is 92-1185 Ali'inui Dr, Kapolei, HI 96707.
This Disney Aulani Character Breakfast takes place at Makahiki, one of the restaurants at Aulani Resort.
What to Expect at the Disney Aulani Character Breakfast
Before I really get into it, I'd like to say that we've done the Aulani Disney Character Breakfast twice. The first time was a few years ago (pre-Covid), and the second time was in November 2021, with health and safety precautions in place.
This review is specifically about our November 2021 experience, but I'll be sure to point out any differences between the two breakfasts in case things revert back to how they were originally at some point.
Arrival
When you arrive at the Makahiki Restaurant on Level 1 at Disney's Aulani Resort, a family-friendly restaurant, you'll check in with the host desk. I also saw kiosks where you could check in with a QR code, but we just talked to a cast member.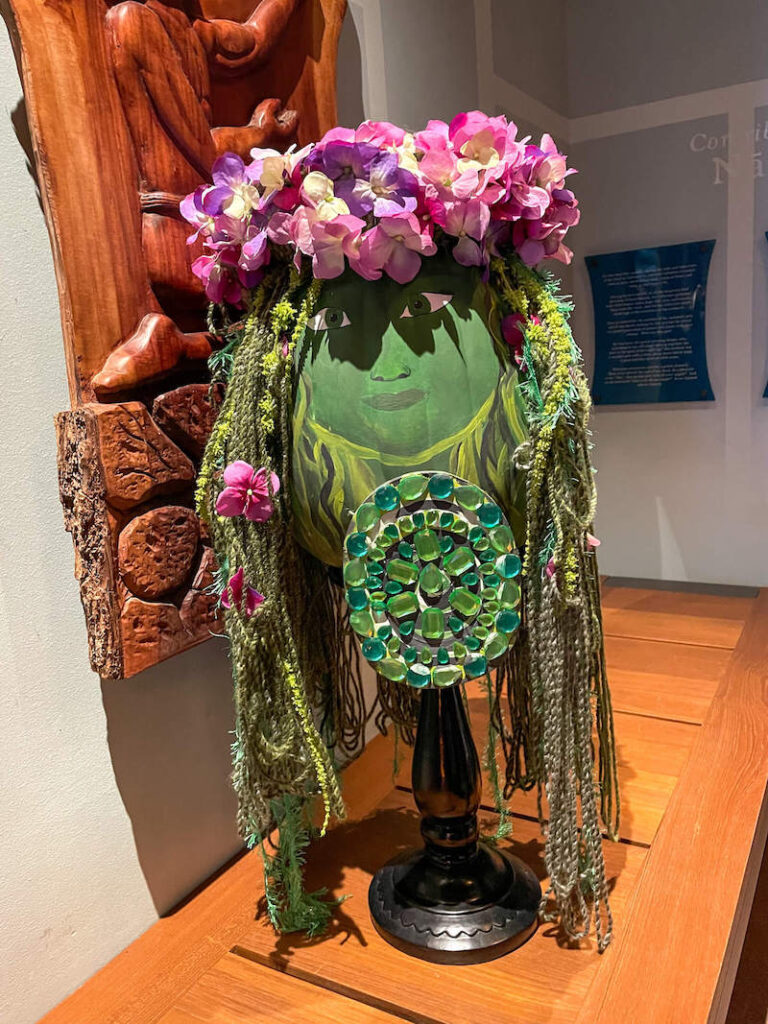 You'll get a card with your name on it, and you'll be escorted to the souvenir photo line. This is typical with any Disney character breakfast. There's usually a signature character where you'll get a "good" photo with the PhotoPass photographer.
Since this character meal is called "Breakfast with Mickey," it makes sense that he'd be there. The bonus is that Minnie Mouse joins him! This was the same as before, but the photo set-up was a little different. I'll explain below.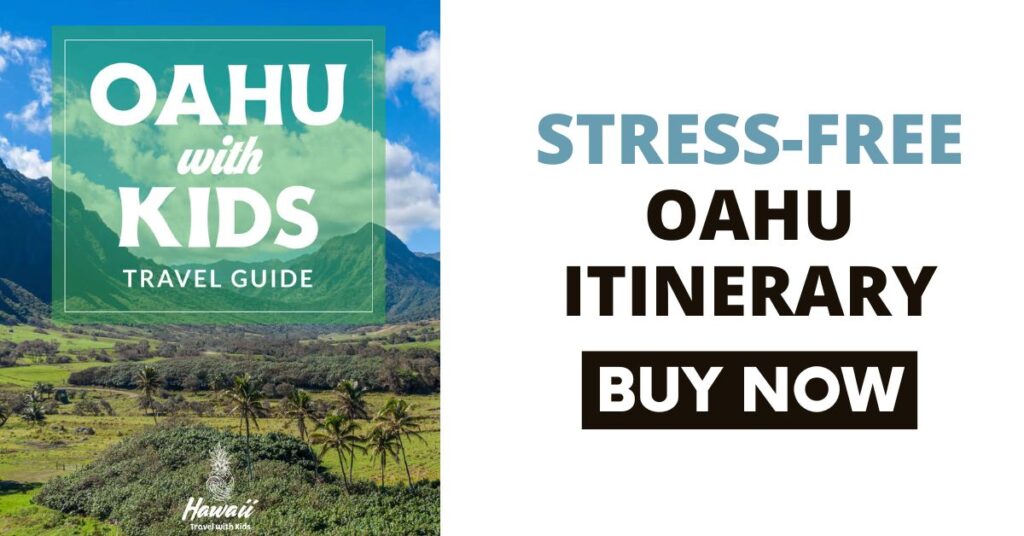 Photo with Mickey & Minnie Mouse
You'll stand in line, and when it's your turn, you'll hand the card over to the cast member so they know which family they are photographing. They have a table set up where you can place any belongings you don't want in your photos, like bags or masks.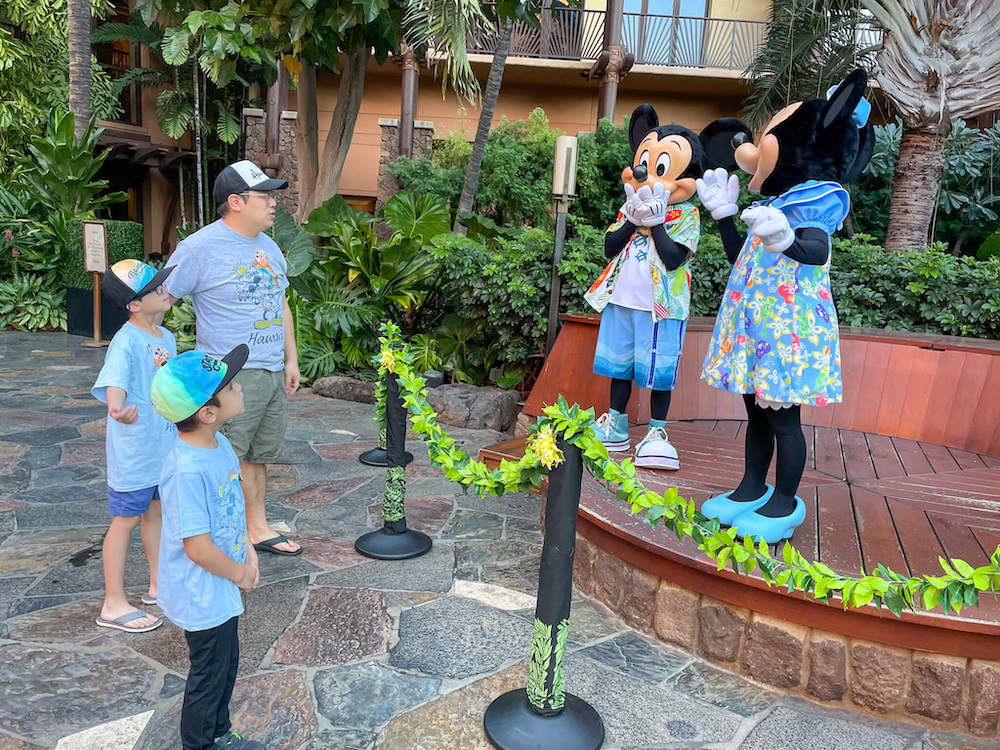 Then, Mickey and Minnie will say hello from a small stage area. Well, they don't actually talk, but they are super animated, and we had a great conversation with them while the kids got comfortable.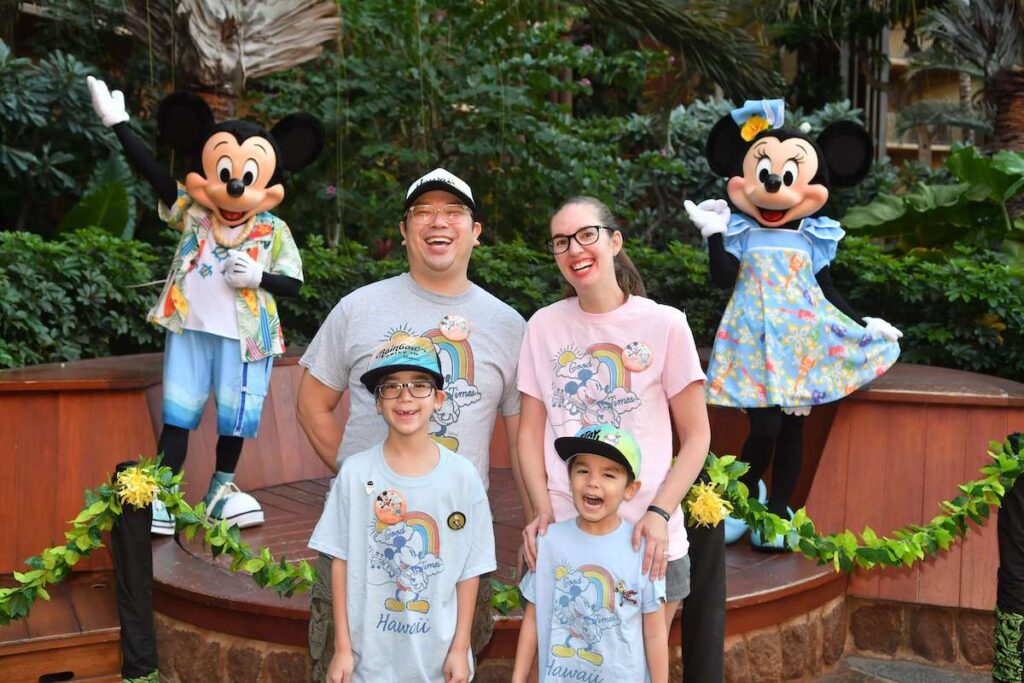 Next, it was time to take photos. The PhotoPass photographer had us do a few family shots, and then my husband and I jumped out of the photo so he could get photos with just the kids. They are great about getting little ones' attention and suggesting posing ideas.
The photographer even invited me to snap a few photos on my phone just to be sure we got some. It was great.
I want to note that these photos are part of the character breakfast and are NOT included on the PhotoPass. You'll need to purchase these during breakfast if you'd like your photos.
Character Interactions
After the photos with Mickey and Minnie, we headed back to the restaurant waiting area before a cast member came out to take us to our table.
Now, this is where things started to get different than our first experience at Breakfast with Mickey. On our way to the table, Chef Goofy and Pluto came up right behind us and set up for photos in the kitchen.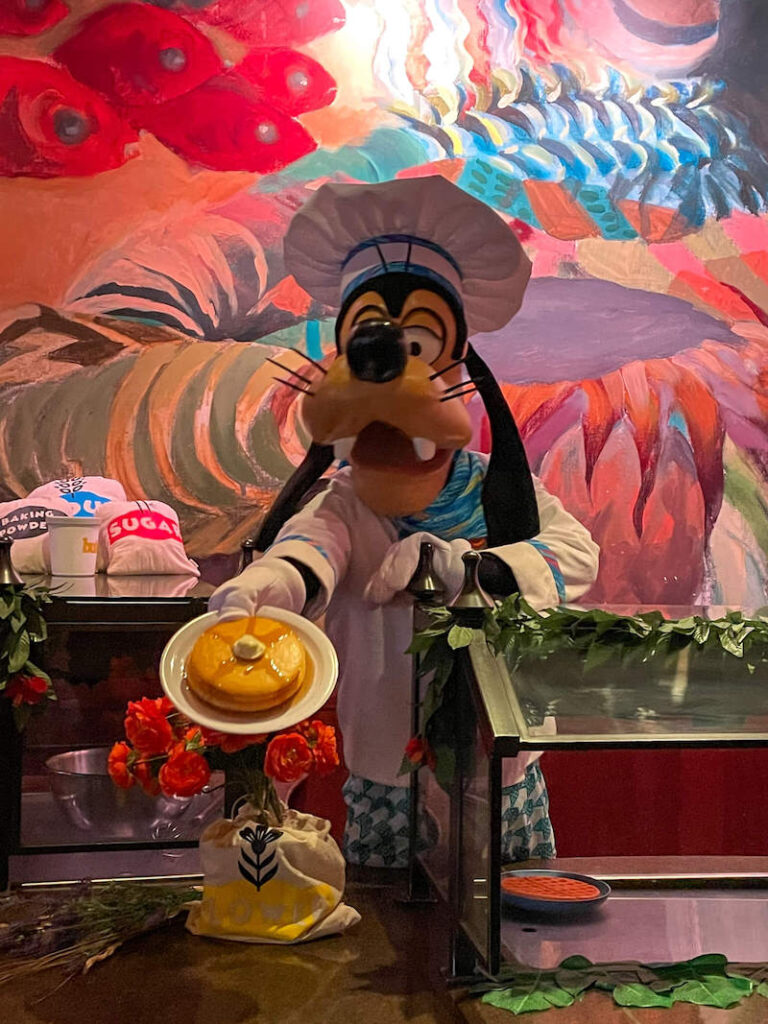 This was WAY better than when they walked around during the meal because the lighting is usually weird, and you'll get half-eaten plates of food in the photos. Or your kid has syrup all over their face. Or they need to go potty, and you miss your turn with the characters.
Having this character photo spot before heading to the table is genius, and I really, really hope they keep it!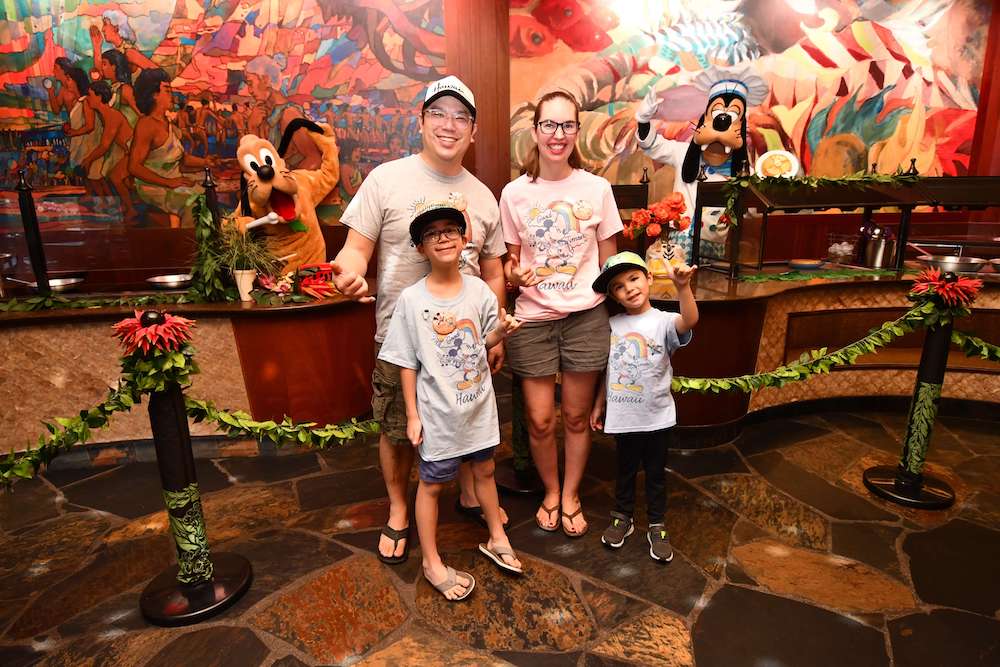 Plus, they had a Disney PhotoPass photographer there who got a bunch of shots. They are part of the PhotoPass, and you can access them through the Disneyland App.
Menu Items
Once we were seated, a cast member took our drink order. Since we had a 7 a.m. reservation, it was COFFEE for the grown-ups and pineapple juice for the kids.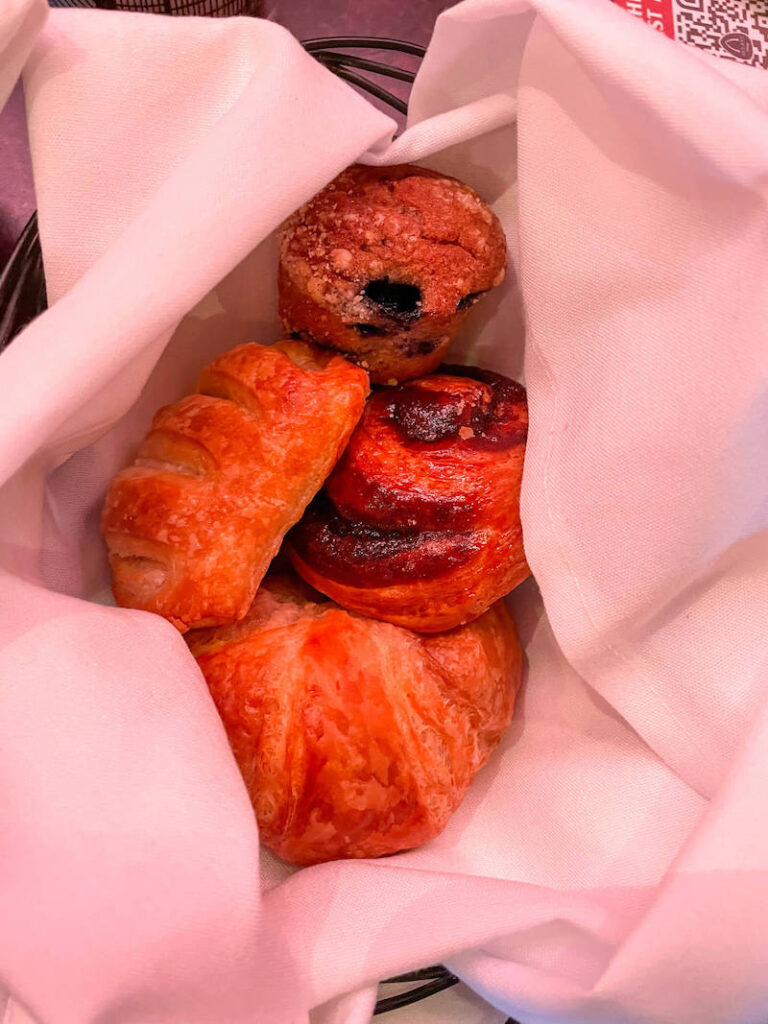 Then, they brought us out two baskets of baked goods. We got mini croissants, muffins, and pastries. And we also got mini plates of fresh fruit. They also took our breakfast order.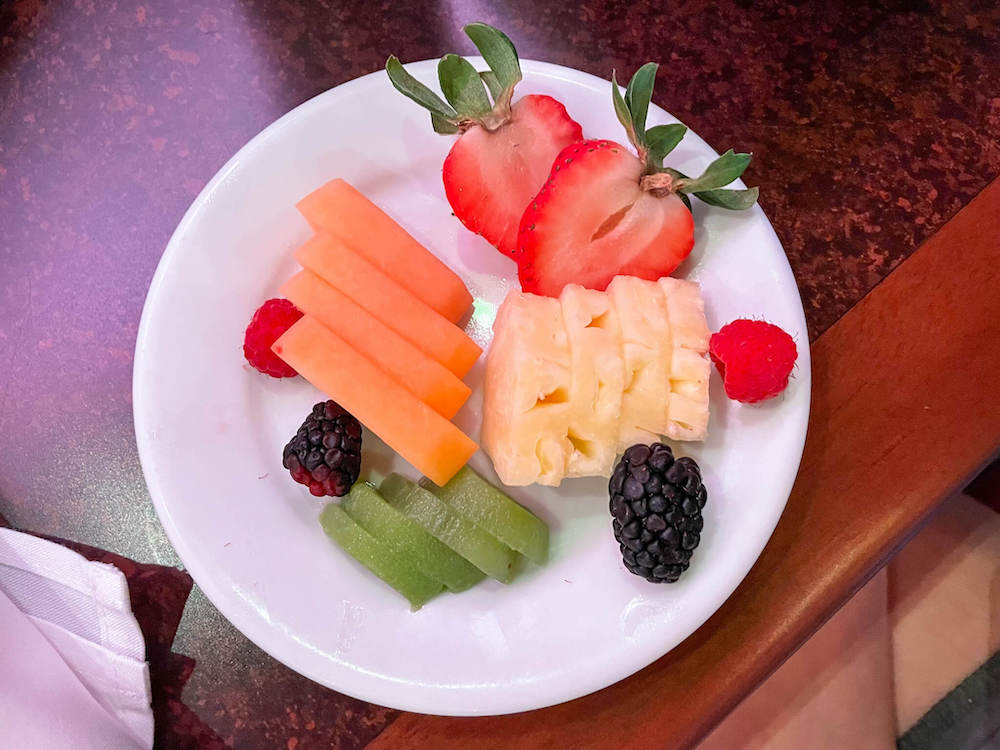 Usually, the Disney Aulani Character Breakfast is a breakfast buffet with a wide assortment of American and Asian-style breakfast items. It's a great way to get your favorite breakfast items while trying a few new dishes.
In November 2021, the Makahiki Character Breakfast was a plated meal where we chose items from their menu. They have a QR code on the table so you can access their menu.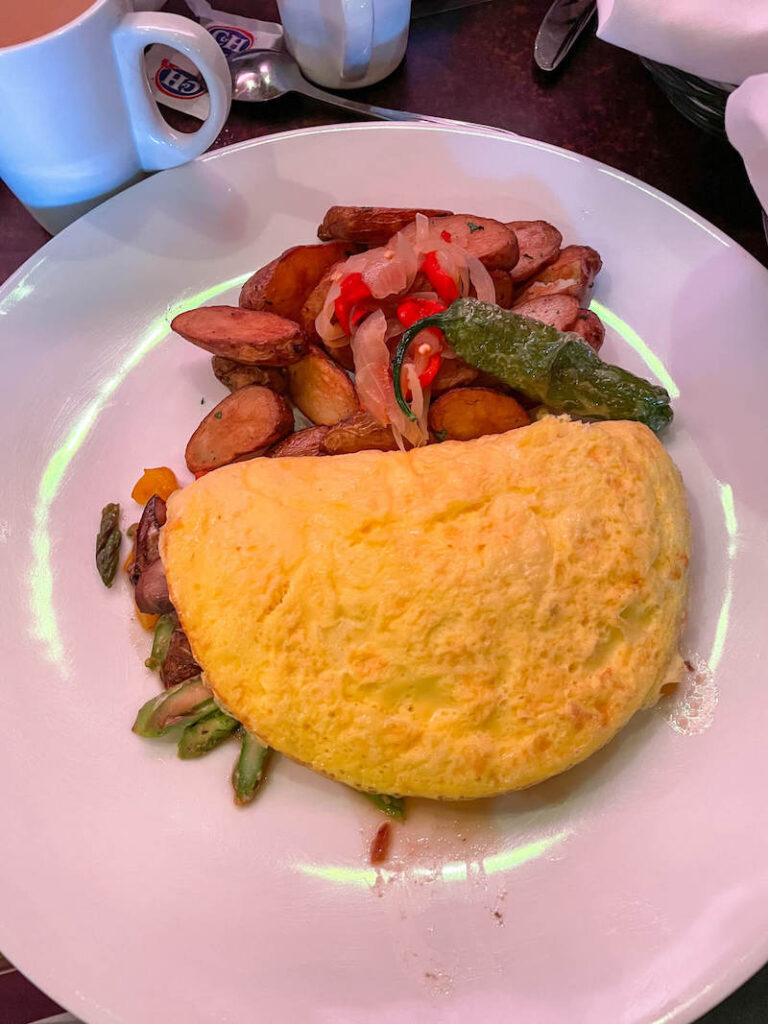 It was mostly classic American breakfast items with a few island twists. Our kids got the classic Mickey waffles (some were even chocolate!), my husband got the Hawaiian-style Loco Moco, and I did the Oahu Farmers Omelet.
They were all pretty tasty, and we ended up with lots of leftovers to take back to the room to snack on later in the day.
Hawaiian Entertainment
During breakfast, there was a lady playing the ukulele and singing Hawaiian songs. We sat really close to her, but the speakers were kind of quiet, and it was hard to hear her when she was making announcements or talking about the songs she was singing.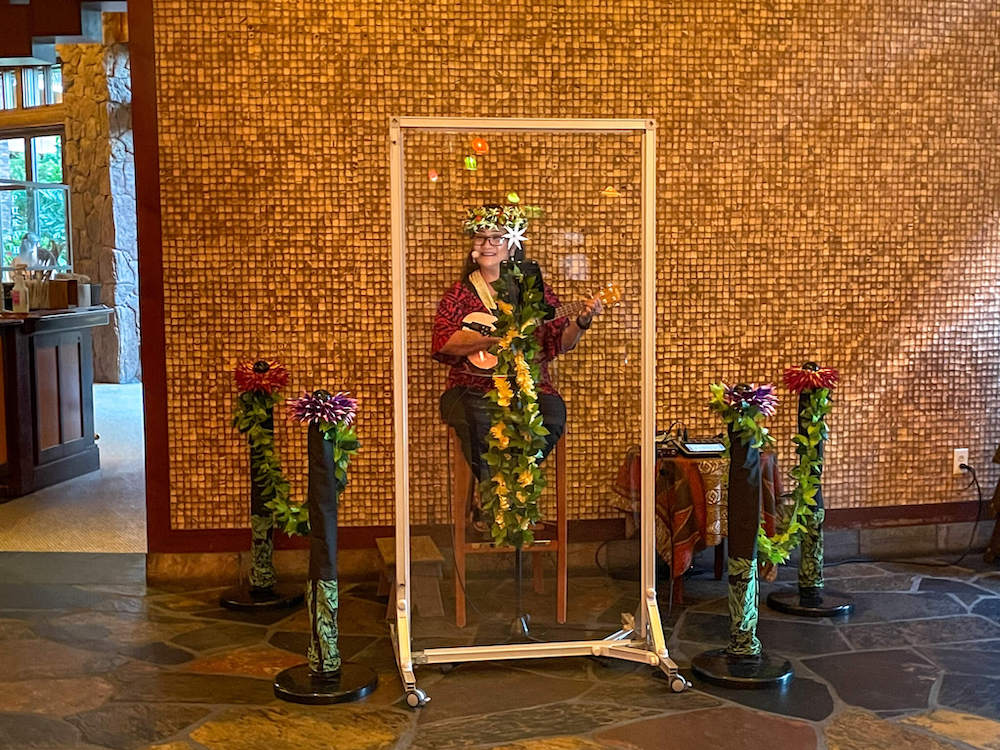 Usually, they have "Aunty" come gather the kids for a parade around the restaurant for Aunty's Breakfast Celebration, where they sing, dance, and play music. It was a blast when my kids were little, and I hope that comes back.
But in the meantime, it was great to be able to hear live Hawaiian music while we ate our meal.
Why We Booked this Disney Aulani Breakfast with Characters
I took my boys to the Aulani Character breakfast a few years ago when they were 4yo and 9mo. They both had a blast, and I figured it would be something fun to do during our stay at the Disney Aulani Resort.
Normally, I over-schedule our family vacations, so I made a real effort on this trip to only book a few things. I figured we'd need to eat breakfast, and we'd be up early with the time difference anyway.
Since we flew in the night before, this was a great way to kick off our Disney Aulani vacation!
How Does the Disney Aulani Character Breakfast Compare with Other Disney Character Meals?
We've done a LOT of Disney character meals at Disneyland and Walt Disney World. Each one is different, and some are a lot better than others. The food quality and character interactions vary.
The Disney Aulani character breakfast has a reputation of only having 2-3 characters during the meal itself. When we went a few years ago, we saw Minnie Mouse and Goofy a few times during breakfast.
Personally, I really like the Disney Aulani breakfast because it's open-air and it's really laid back. I didn't feel rushed to eat my meal or like I needed to linger in order to see all the characters.
Since we stayed at Disney Aulani Resort, I knew we'd have an opportunity to meet the other characters later in our trip. I think seeing 4 characters during breakfast is great, but I know other character meals have more at Disneyland or Walt Disney World.
What to Wear to the Aulani Disney Character Breakfast
Normally, I'd say wear whatever you want, but I'm a total Disney geek, and dressing up is part of the fun!
I ordered matching Aulani shirts from Etsy, and I figured the Aulani breakfast with the characters was a great place to wear them. Matching Disney shirts always look so cute in character photos.
While we were there, we saw a family wearing matching Christmas jammies, and I'm seriously kicking myself for not coming up with that idea! It would be amazing to wear family-matching Disney pajamas to this character breakfast (or any Disney character breakfast)!
Mickey and Minnie wear blue-colored Aloha wear, so it's cute to wear anything that goes with that. And Minnie Ears are always a good idea!
So, Is the Disney Aulani Character Breakfast Worth It?
Our family really enjoyed it! It will definitely be worth it if/when they bring back Aunty's entertainment, but I'd still recommend it if they keep things the same as in November 2021.
Knowing that everything is pricey when the Disney name is attached, this is one of the best family-friendly breakfast options to do at Aulani with kids or even without!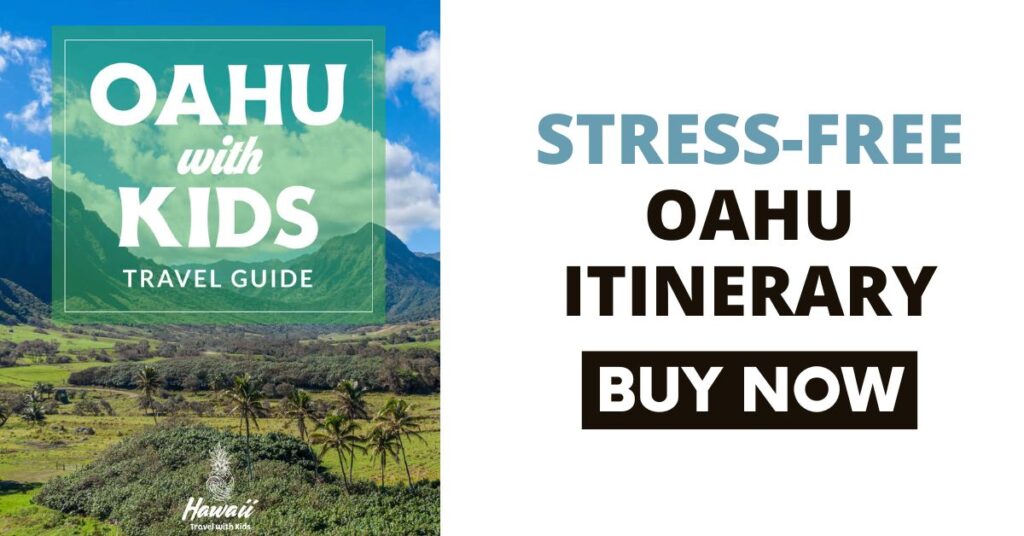 Disney Aulani Character Breakfast FAQs
How much does the Aulani character breakfast cost?
The price for the Disney Aulani character breakfast is $49 for adults (ages 13+) and $29 for kids ages 9 and under.
What characters are at the Disney Aulani character breakfast?
The character sometimes varies. You'll definitely meet Mickey Mouse. Other popular Disney Aulani breakfast characters include Minnie Mouse, Goofy, Donald Duck, and Pluto. Usually, you'll see 2-4 characters during breakfast at Aulani Resort.
Do I have to stay at Disney Aulani to do the character breakfast?
Nope! You can do the Disney character breakfast at Aulani without staying at the resort. It's convenient if you're staying somewhere else in Ko Olina and can just walk. But, if you're driving, you'll get a few hours of complimentary valet parking during your meal.
How long is the Aulani character breakfast?
Most people stay about 1 hour for the Disney Aulani character breakfast. That includes the time for character photos and enjoying breakfast.
Does Aulani have a character dinner?
No, the only character dining experience currently is the Aulani character breakfast. You can enjoy a delicious dinner at the resort, but the characters are not present.