Are you planning a trip to Disney Aulani in Hawaii and want to know what to wear? Keep scrolling for my top Disney Aulani t-shirts you'll want to add to your Hawaii packing list!
This Disney Aulani t-shirts post contains affiliate links which means if you purchase something from one of my affiliate links, I may earn a small commission that goes back into maintaining this blog.
A big part of any Disney vacation is figuring out what you're going to wear.
Personally, I'm obsessed with the Disney Dress Shop and always bring a few for any Disney vacation. They look so cute in photos!
But, I also like to wear Disney shirts that match where we are going. So, Lion King for Animal Kingdom at Walt Disney World, nautical Minnie Mouse for Disney Cruises, and Minnie Mouse hula dancing for Aulani.
If your family normally does matching shirts at Disney World, you might be wondering if people do that at Disney's Aulani Resort in Hawaii.
Honestly, Aulani is unlike any Disney Resort we've experienced.
That's because it's a mix of Disney vacation fanatics as well as people who love traveling to Hawaii and are curious about Aulani.
When we were there, we did see a lot of guests wearing matching Disney Aulani t-shirts as well as shirts featuring Moana, Lilo & Stitch, and Mickey Mouse.
For our next trip (which we hope to reschedule for 2021), we'll be going all out on fun Aulani shirts.
Because I love supporting small businesses (now more than ever), I've pulled my favorite Disney Aulani shirts from Etsy you should get before your trip to Aulani!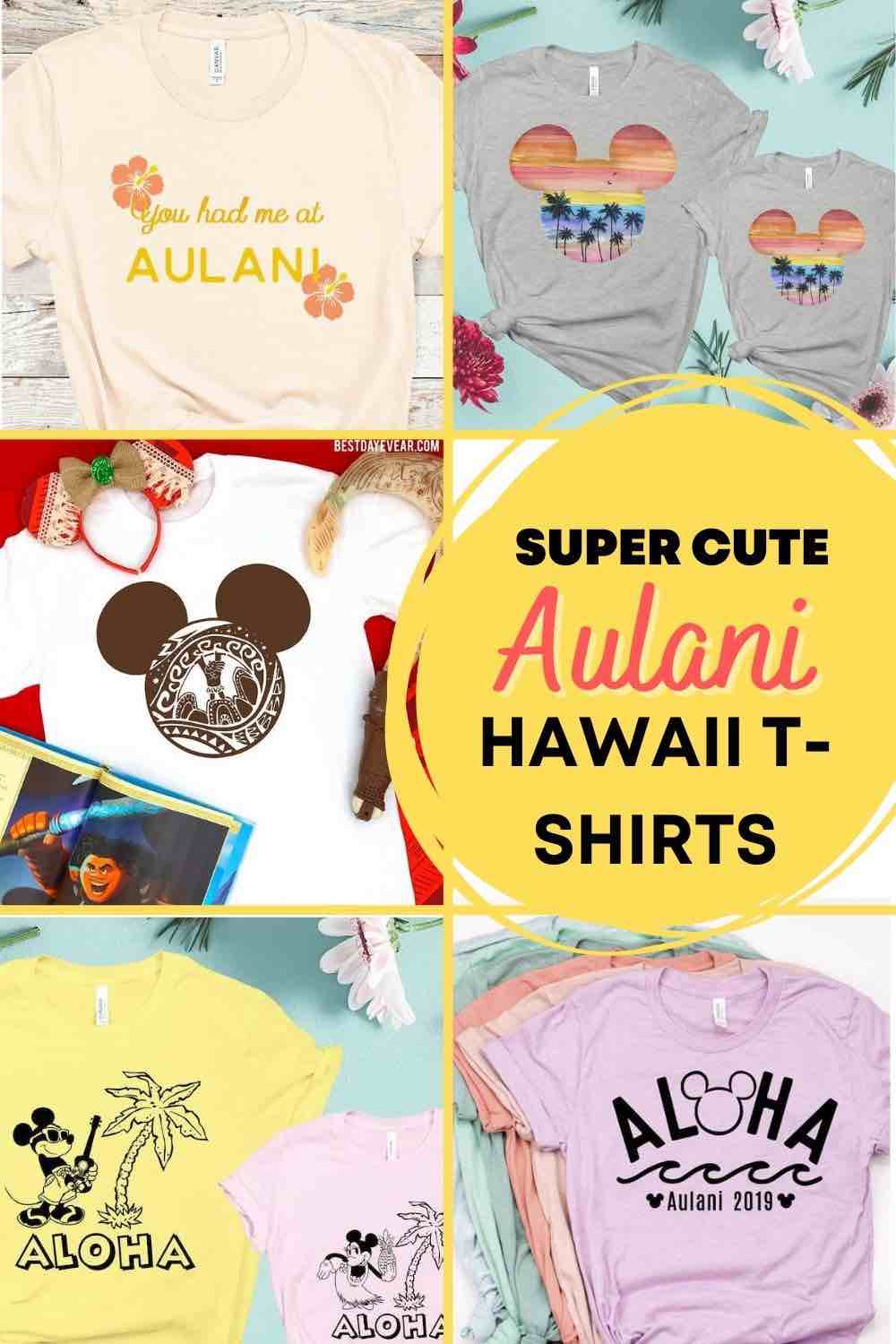 Aulani Resort FAQs
Do people wear matching Disney shirts at Aulani?
If you've ever been to Walt Disney World or Disneyland, you know the family matching shirts can be a really big deal. It's less of a big deal at Aulani, but you'll still see some families rocking some adorable matching Hawaii and Disney clothing.
What else to wear at Aulani Resort in Hawaii?
Most people wear swimsuits and cover ups at the pool and t-shirts and shorts throughout the resort during the day. You'll want to wear Aloha Shirts and flowy dresses for the luau or when going out to eat dinner.
What to pack for Disney Aulani?
Besides breathable clothing, you'll want to make sure to have sunglasses, a sun hat, reef-safe sunscreen, sandals, and anything else you'd normally pack for Hawaii.
13 Cutest Disney Aulani T-Shirts from Etsy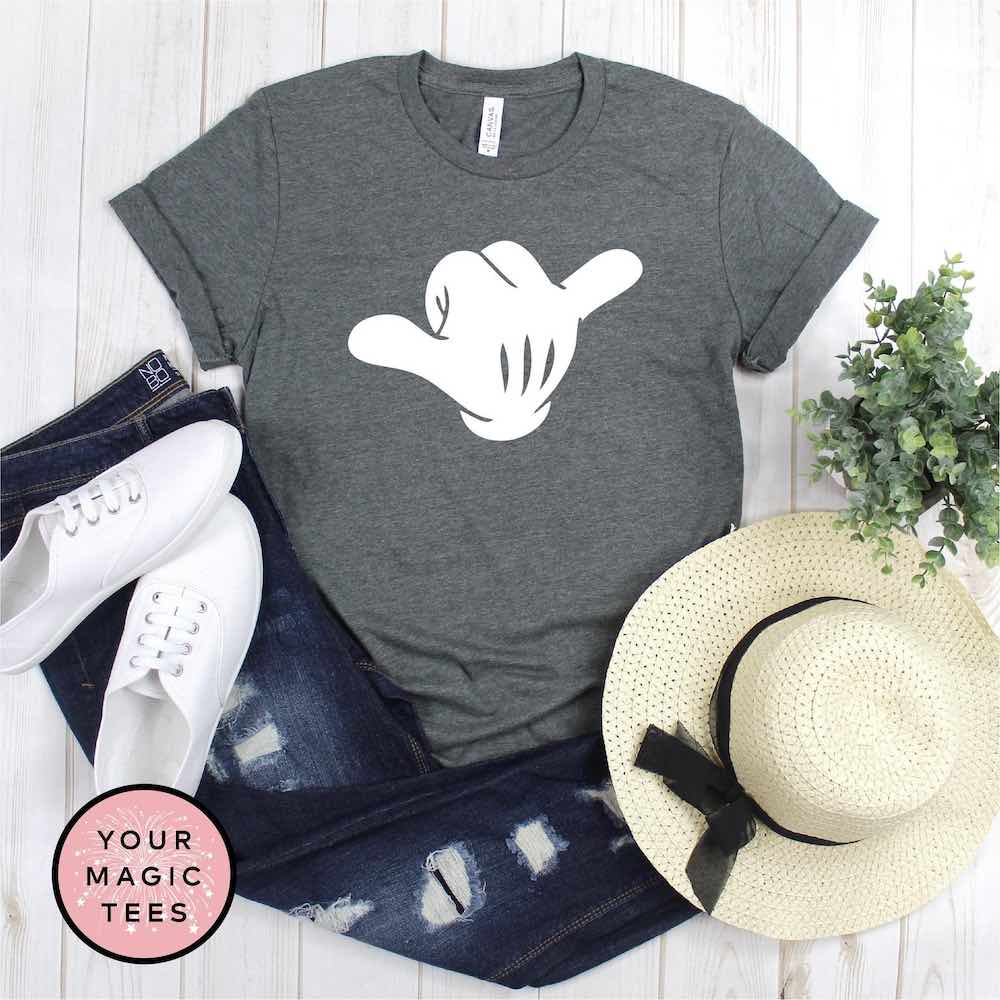 We all can recognize that hand anywhere! It's Mickey Mouse and he's getting into the Aloha Spirit by throwing us a Shaka sign!
It means "hang loose" and "no worries" which is exactly the vibe you'll want on your next trip to Aulani!
BUY ON ETSY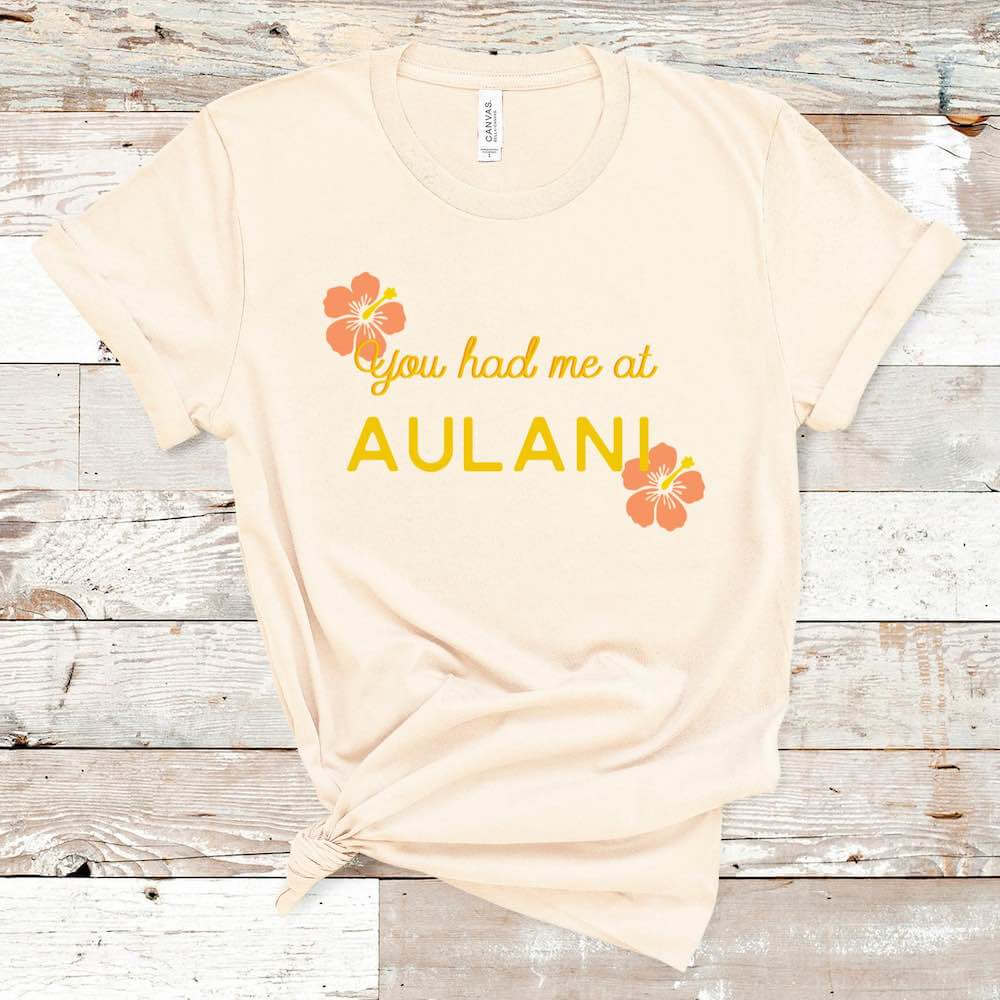 This Aulani t-shirt totally made me smile when I saw it!
The color is gorgeous for so many skin types and it would look so cute in Instagram photos at the Resort!
BUY ON ETSY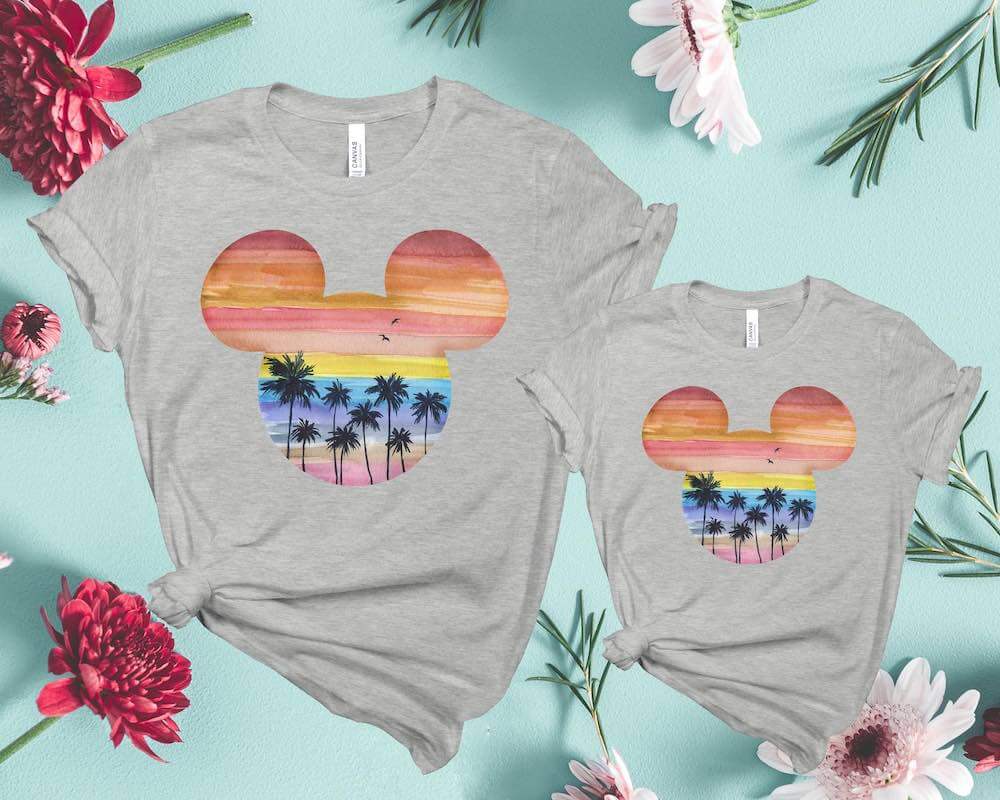 Is there anything more beautiful than a Hawaiian sunset?
My favorite part about these Aulani family matching shirts is that there are so many colors in the sunset that they will go with any color shorts or skirts!
BUY ON ETSY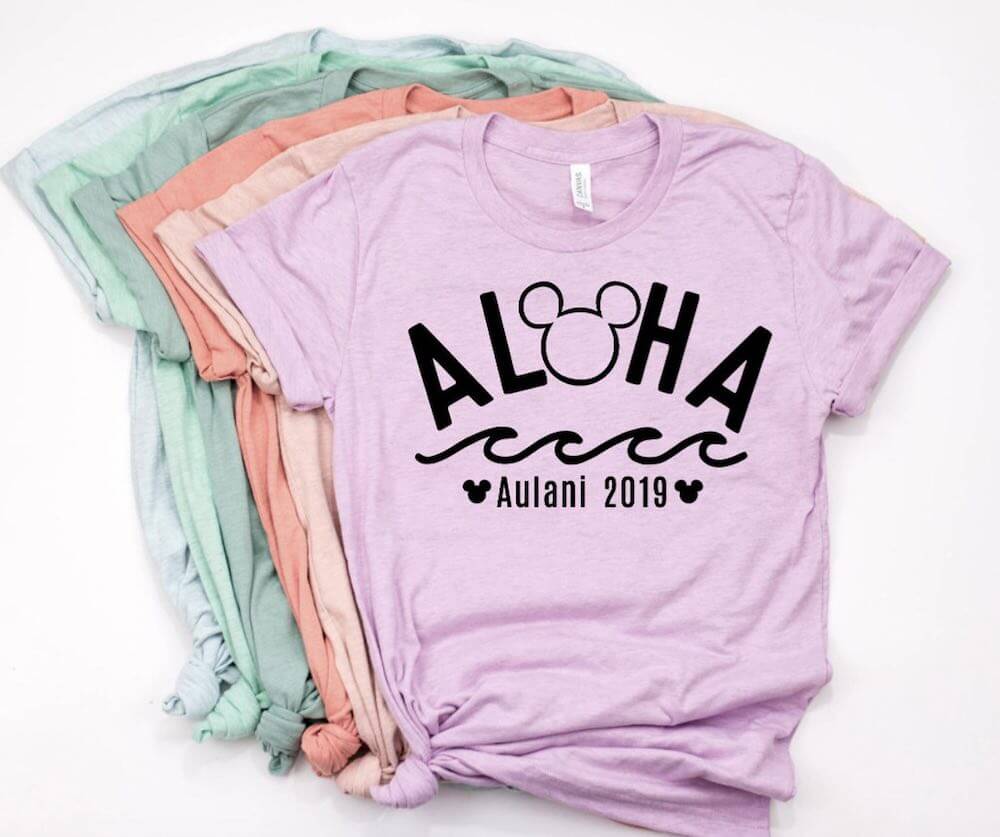 If you are doing a big Aulani family vacation with a large group, it can be fun to get everyone matching Aulani shirts.
These ones come in a ton of colors and sizes and you can customize the year.
Perfect for big group photos on the beach!
BUY ON ETSY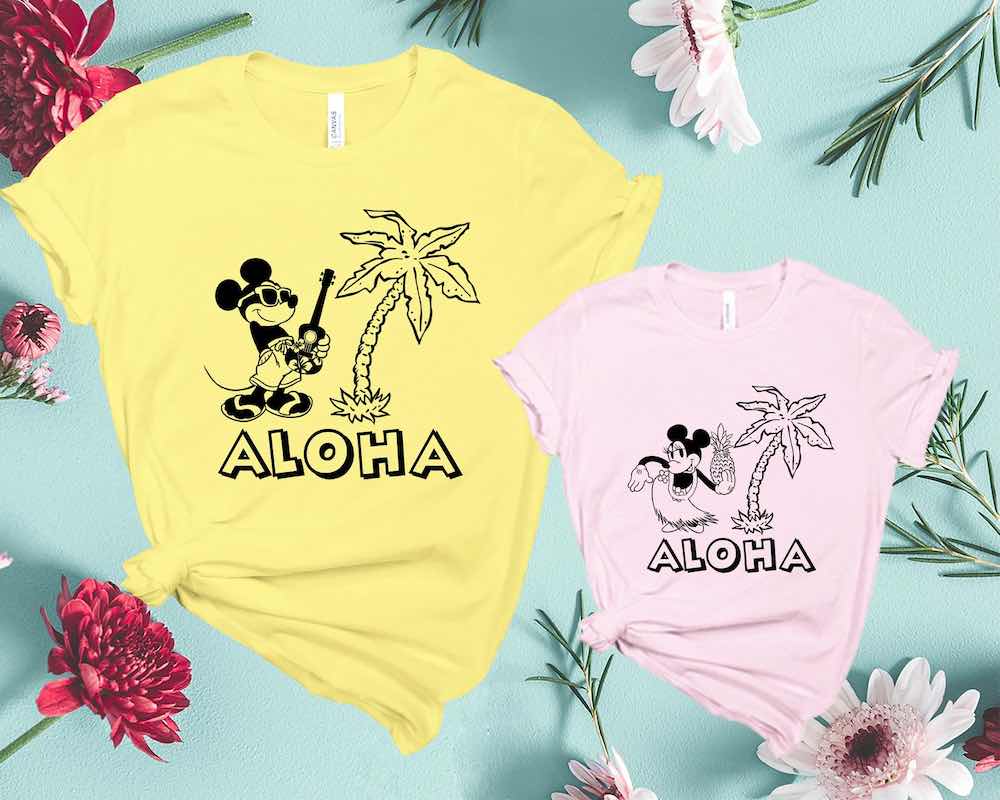 I'm seriously swooning over how CUTE these shirts are!
Perfect for a family vacation to Aulani and I love that they come in a bunch of colors and sizes so you can find the best ones for every member of your family!
BUY ON ETSY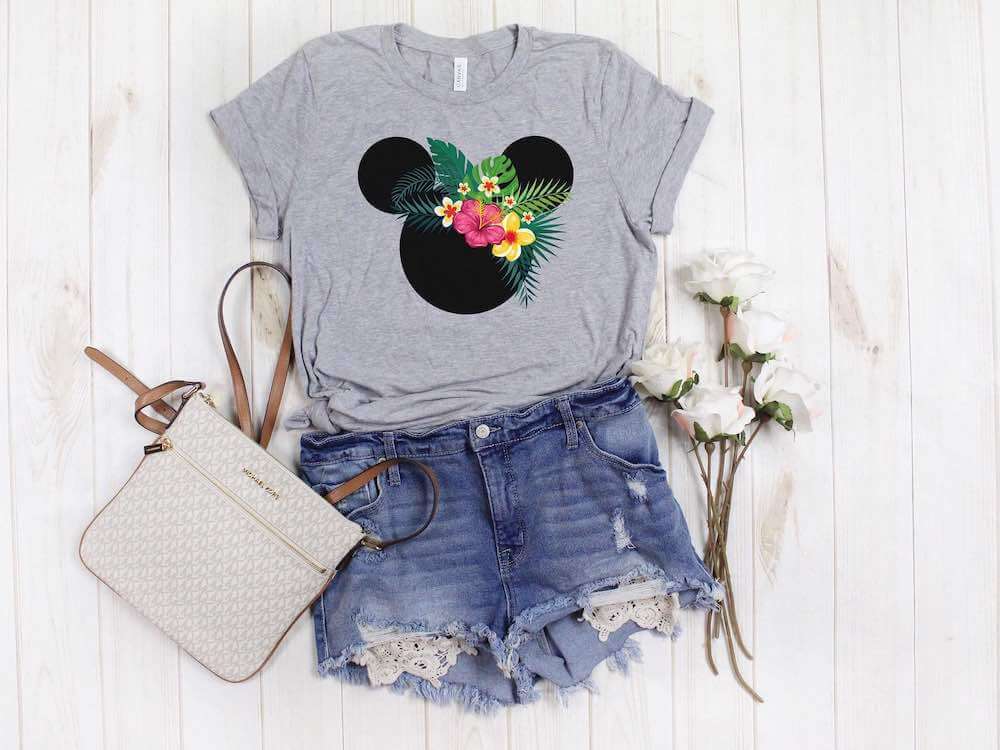 Hawaii has some of the most beautiful tropical flowers and I love how this shirt celebrates that!
What a fun twist on a traditional Mickey Mouse shirt for Hawaii!
BUY ON ETSY
I love how simple this design is yet is easily conveys that you are full of both the Aloha Spirit and feeling Disney vibes!
It comes in a lot of sizes and colors so you could do this as matching family Aulani shirts or just buy one for yourself.
BUY ON ETSY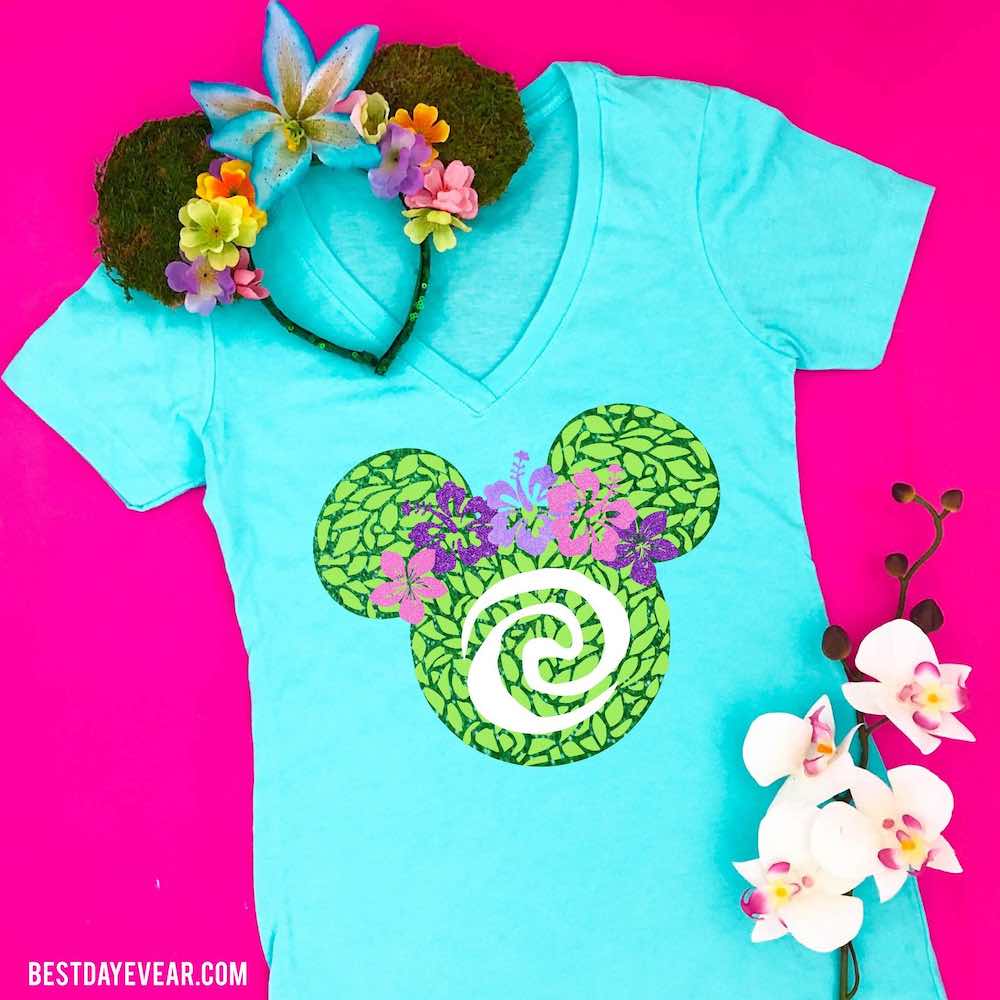 Every time I see the Heart of Te Fiti, it makes me want to cry because I remember the scene where Moana returns the Heart of Te Fiti and restores beauty in the world.
Aulani has lots of nods to Moana and this shirt would be a perfect addition to your Hawaii wardrobe!
BUY ON ETSY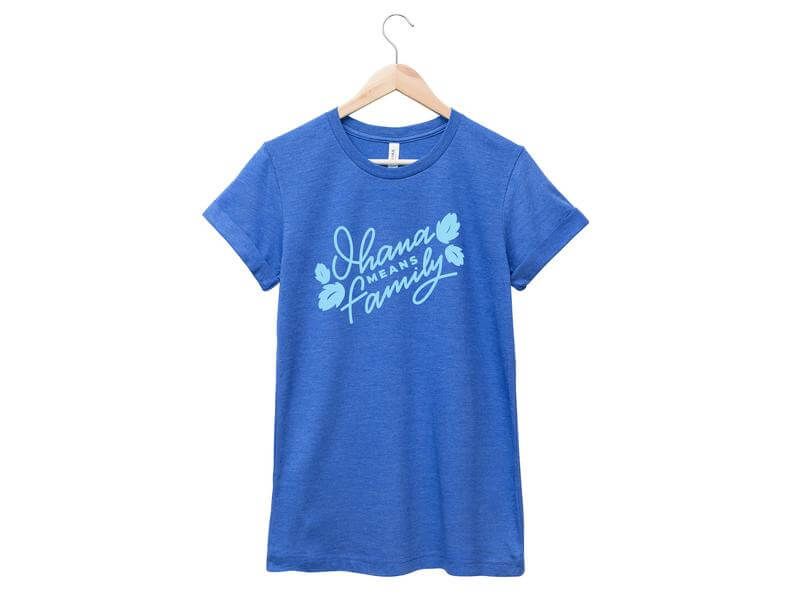 Be honest, did you know that Ohana means family before you ever watched Lilo & Stitch?
It's so amazing to see how that movie has added such an important word to so many families throughout the years.
This shirt is just so perfect for your Disney Aulani family vacation!
BUY ON ETSY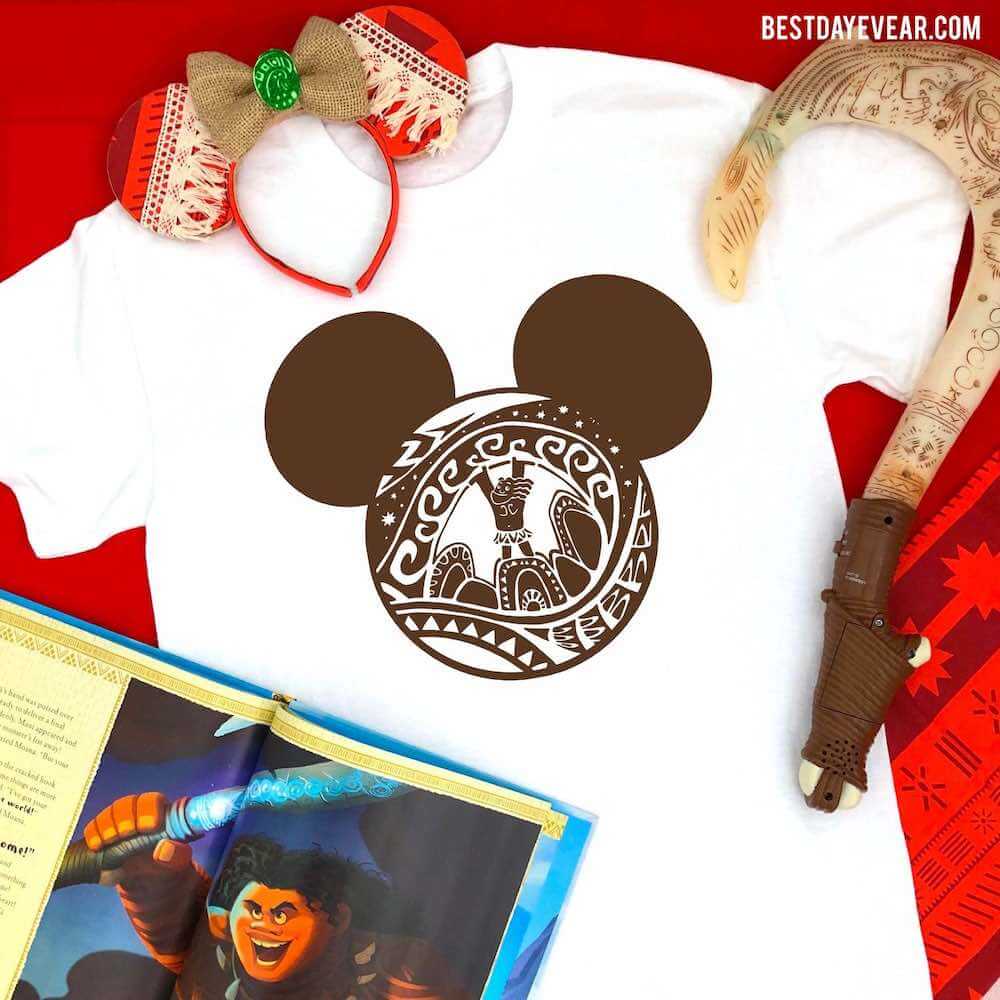 As soon as I saw this Maui shirt on Etsy, I knew I had to include it in this post.
It features Mini Maui and it's just SO cool! I know both my boys would love to wear this on our next Aulani vacation!
BUY ON ETSY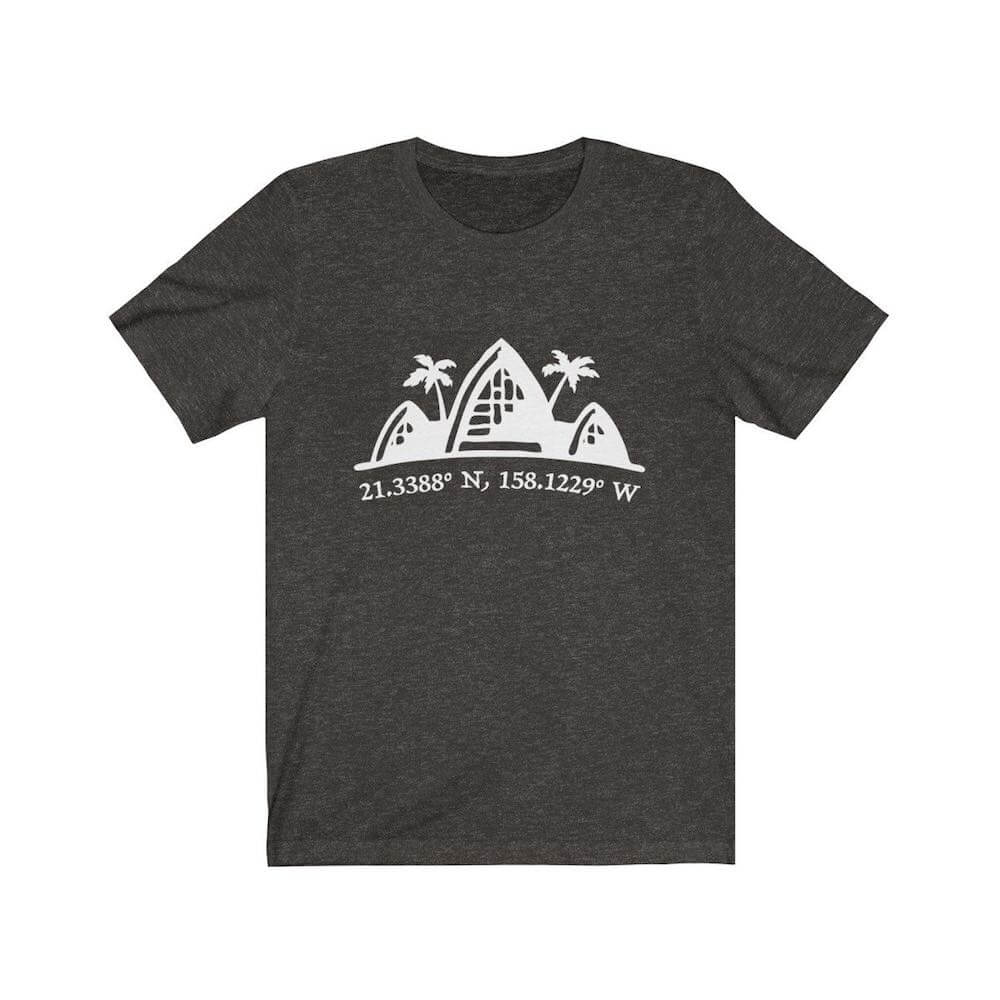 If you've visited Aulani before, you will easily recognize it's iconic facade. And now you know the coordinates!
I kind of love how this shirt doesn't scream Disney and only people who have been there will "get it" when you are out and about outside the Resort.
BUY ON ETSY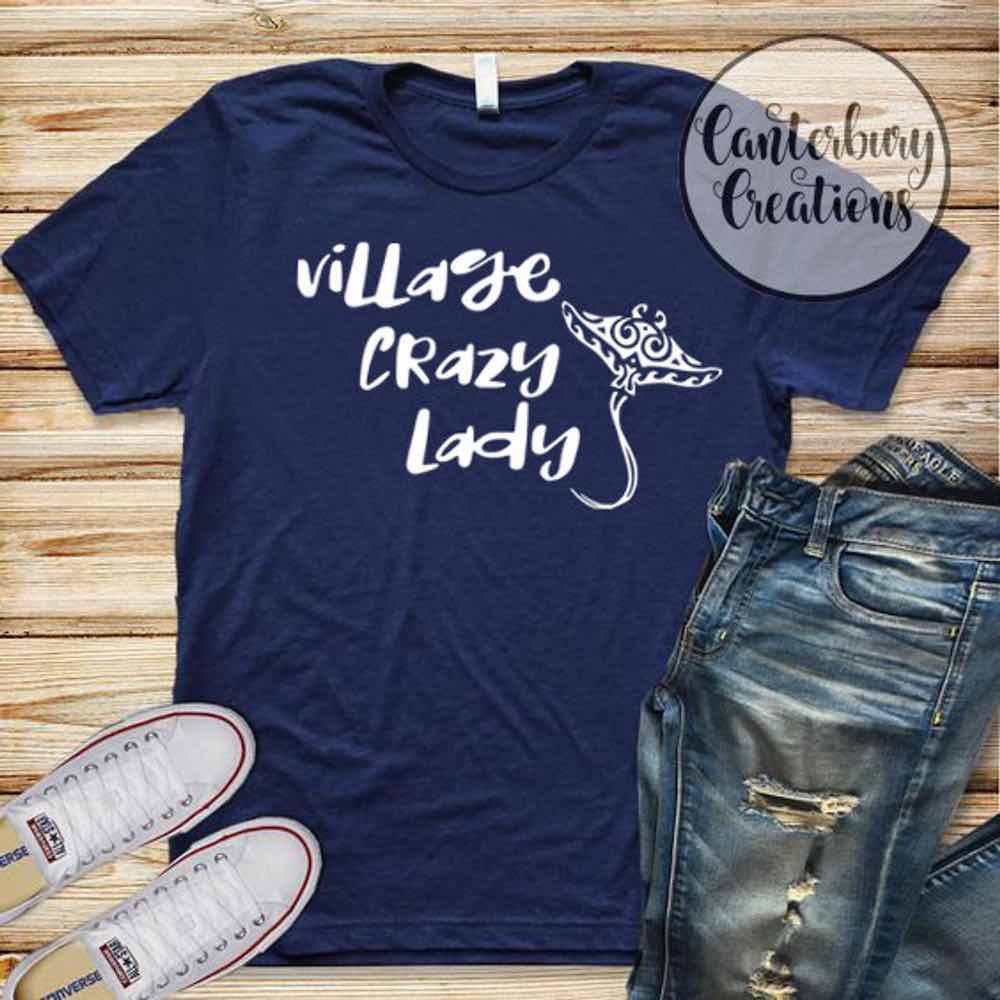 Ok, we all know that Gramma Tala kind of figured out the secret to life.
I will always admire her willingness to be herself no matter what people said around her. There's nothing wrong with being the Village Crazy Lady!
BUY ON ETSY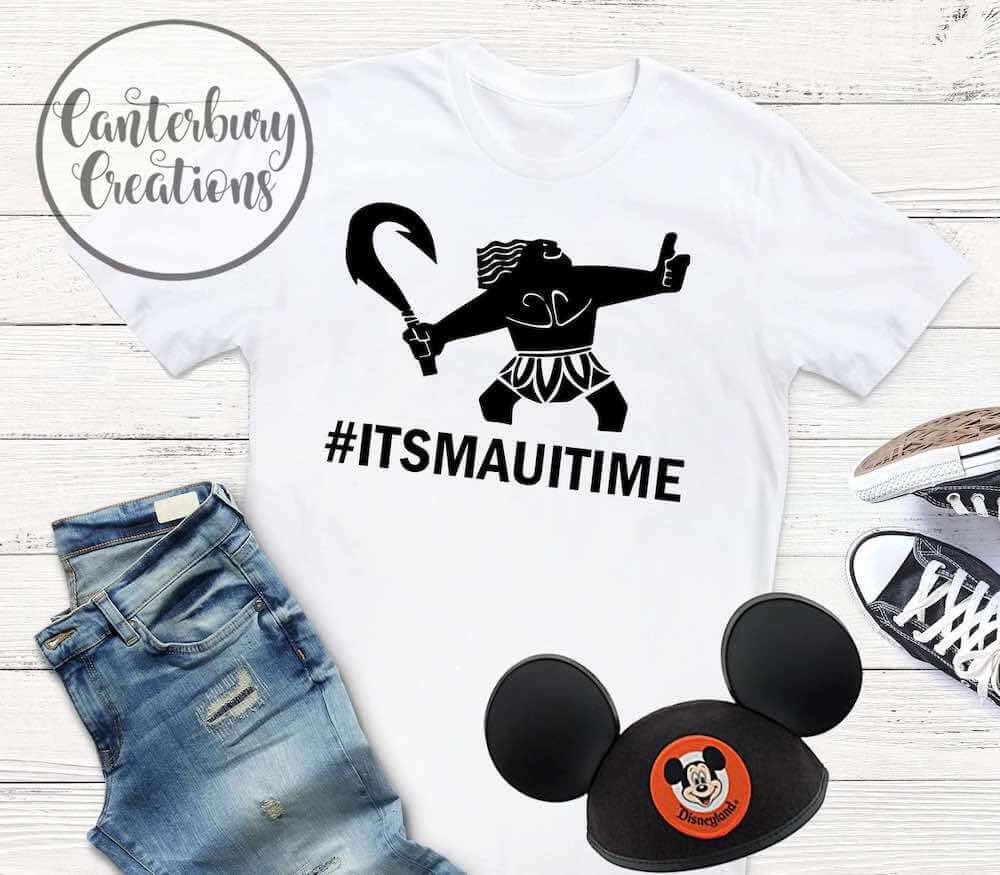 Ok, this is a pretty epic Maui shirt for Aulani, right?
It totally made me lol when I saw it and it would actually be an awesome shirt to wear on the airplane ride to Hawaii!
BUY ON ETSY
BONUS: Check Out These Disney Aulani Minnie Ears!
Because I have a slight Minnie Mouse ear obsession (ok, maybe it's a full-blown addiction by now) I had to include some awesome Minnie ears I found.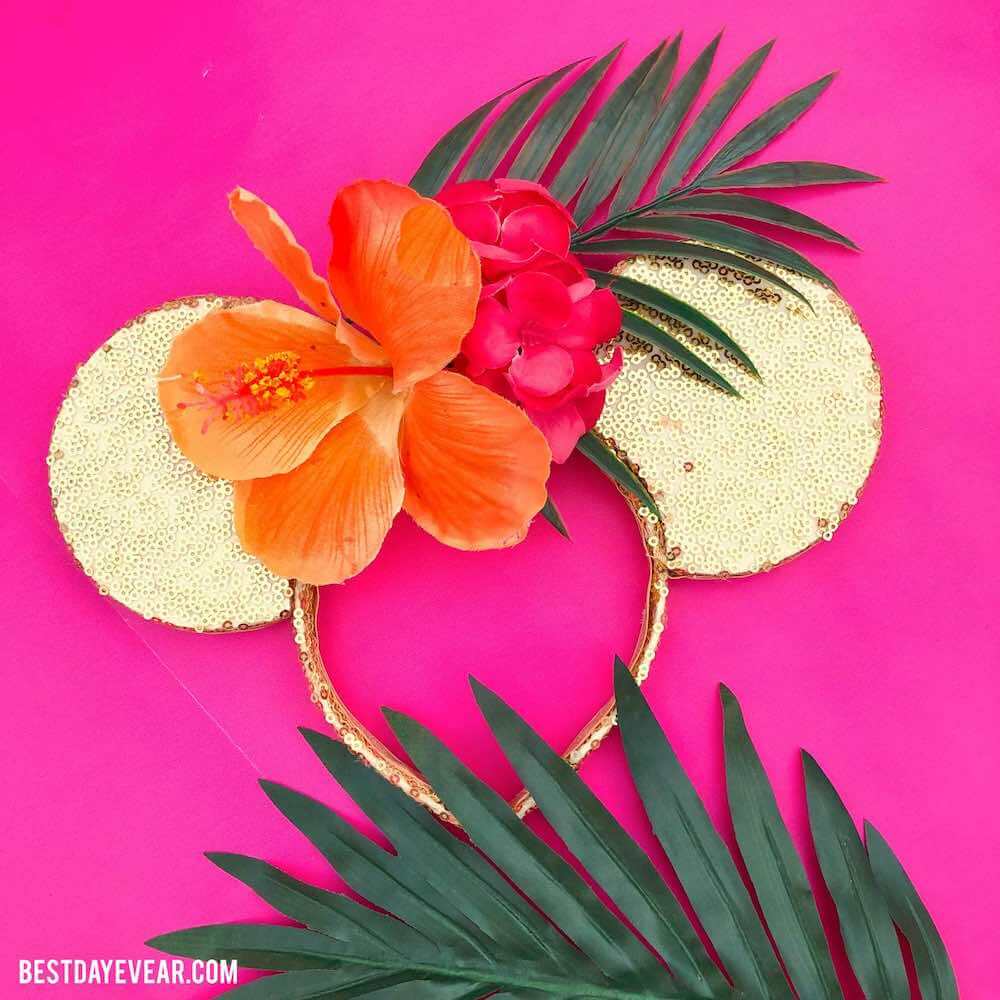 I'm a HUGE fan of large Hawaiian flowers. I think that's from growing up as a hula dancer.
And the gold sequins take it to the next level!
BUY ON ETSY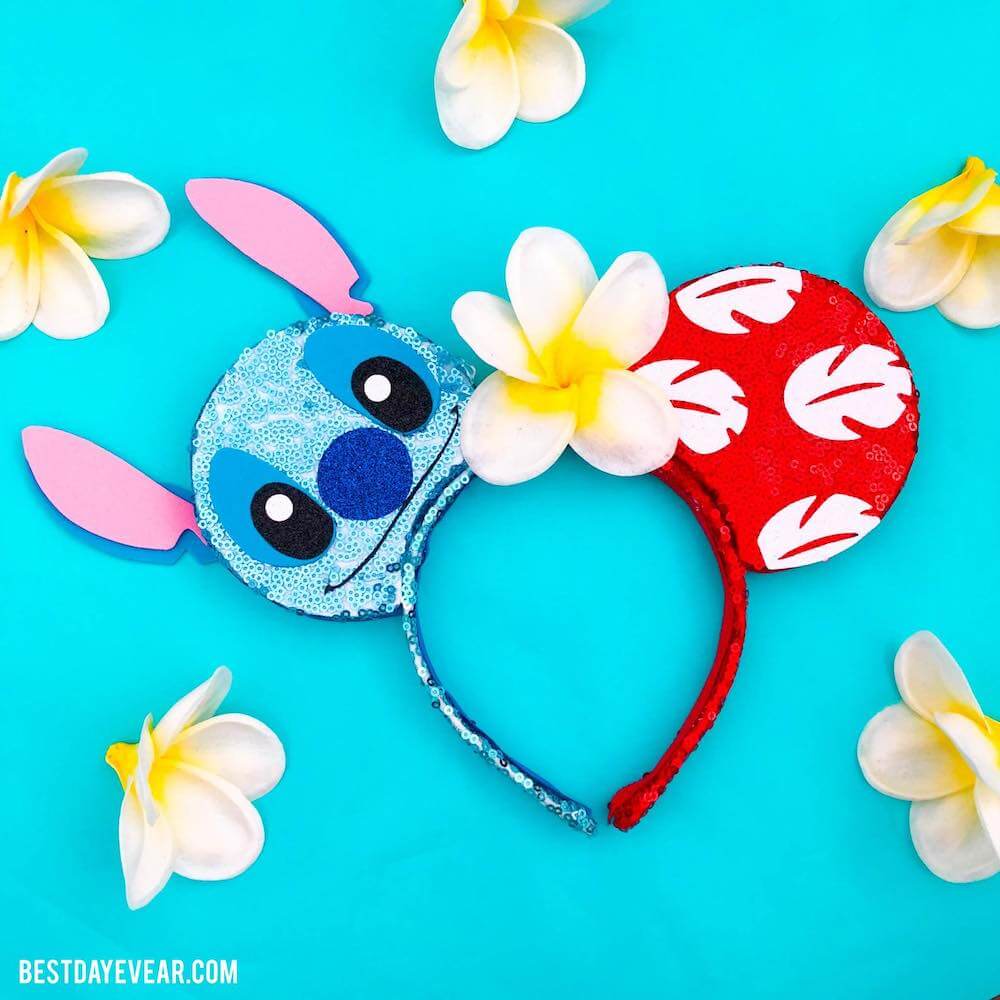 Stitch is all over Aulani Resort and he'd totally approve of these adorable Lilo & Stitch ears!
It would look super cute with the Ohana Means Family shirt from above or even just a solid color shirt to let the ears pop!
BUY ON ETSY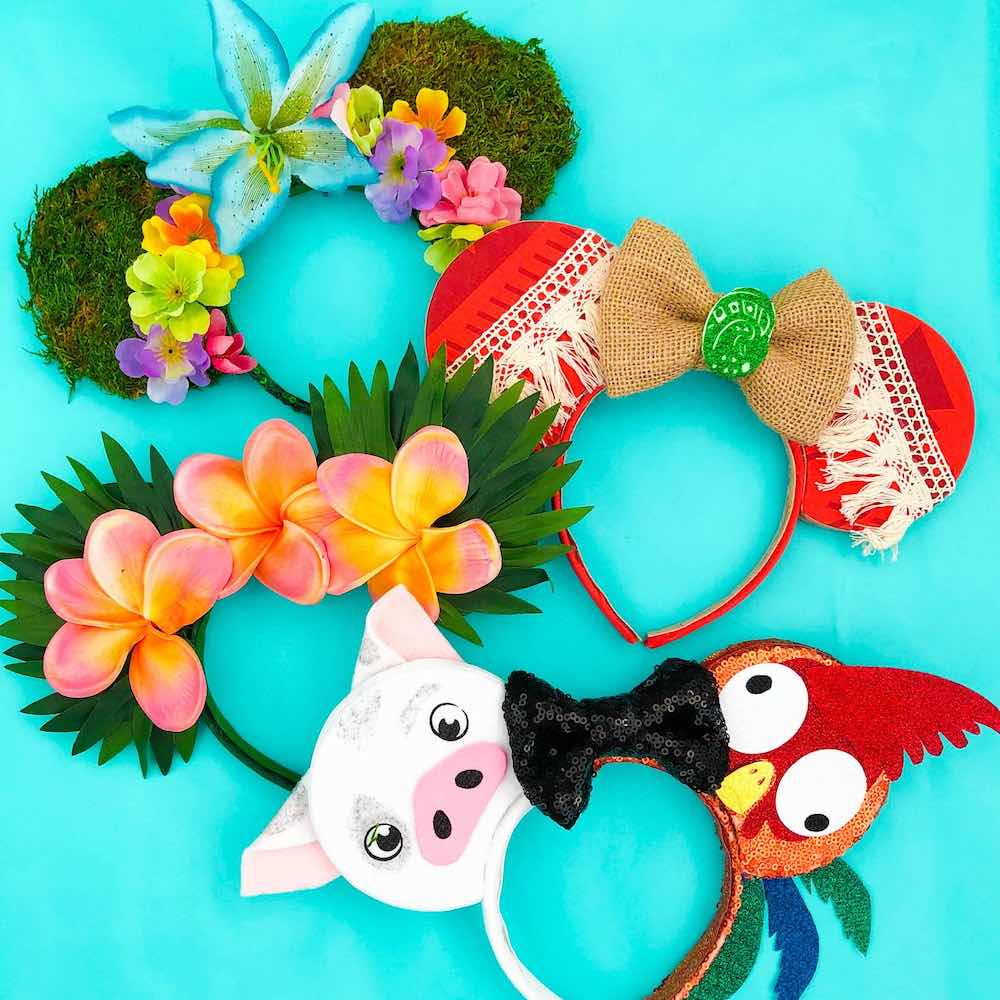 Ok, so there were way too many cute Moana ears to just add one. I'm seriously tempted to order all of these for our next trip!
BUY ON ETSY