Are you planning a trip to Hawaii in December and want to know all the Hawaii Christmas activities and events? Keep scrolling to find out how to spend Christmas in Hawaii with kids for a magical time.
This post about how to spend Christmas in Hawaii in December was written by Hawaii travel expert Marcie Cheung and contains affiliate links which means if you purchase something from one of my affiliate links, I may earn a small commission that goes back into maintaining this blog.
Planning a Christmas getaway to Hawaii?
We know it can be hard to plan a trip to Hawaii with kids, but we have all the information you need.
You'll find everything from Santa Claus sightings to festive parades and holiday events that will make your December unforgettable. And don't forget about New Year's Eve. There are tons of ways for adults and children alike to ring in 2023 while celebrating together as a family!
We've got everything you need so that this will be one of the most memorable Christmases ever!
You deserve an unforgettable holiday season with your loved ones. And if you want some tropical weather while doing it – then head over to Hawaii during December! With our help, you'll have everything planned out in no time at all for a fun Hawaii Christmas vacation.
So what are you waiting for? Get started now!
Want to skip all the planning and just access my detailed Hawaii Itineraries complete with daily schedules, kid-friendly activities, and travel hacks? Click the button below.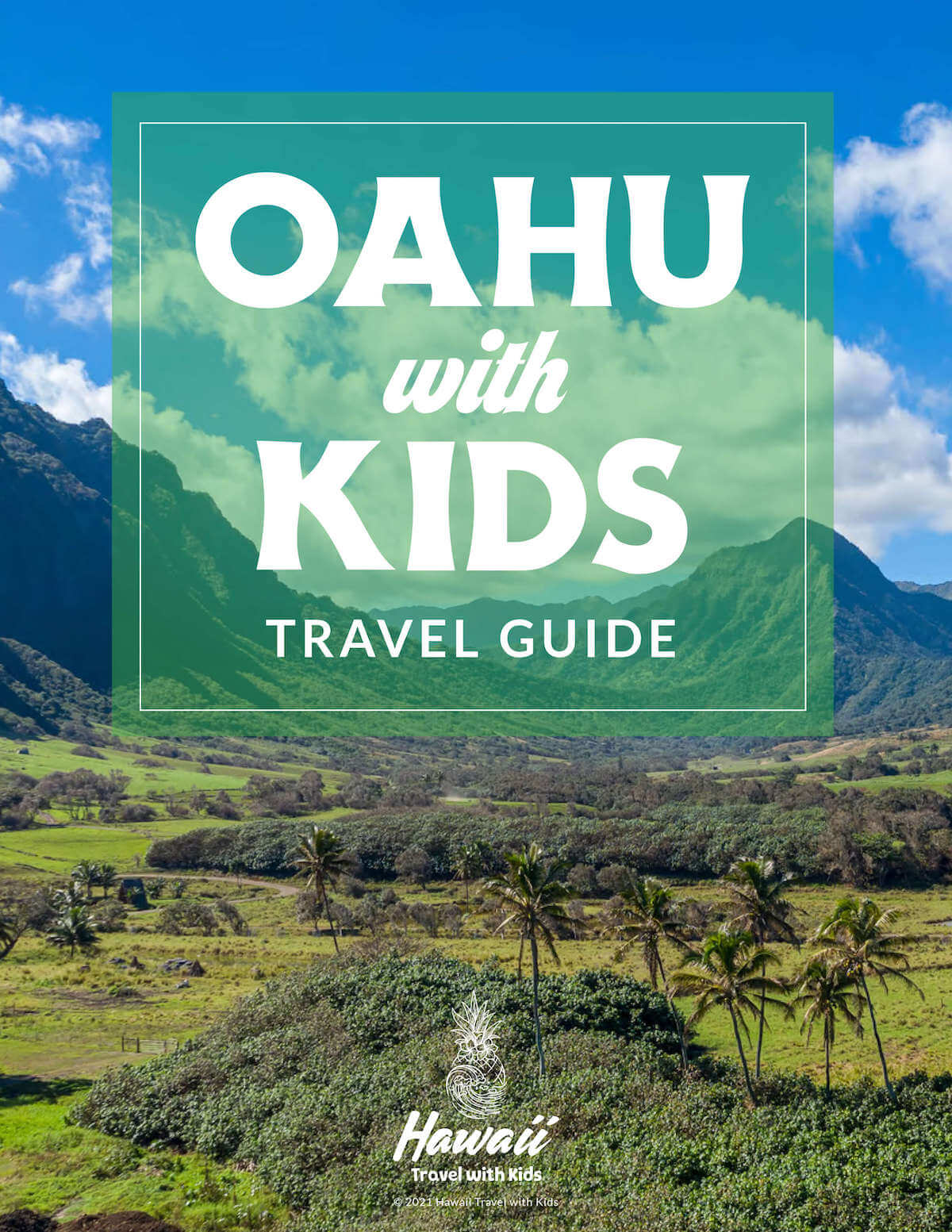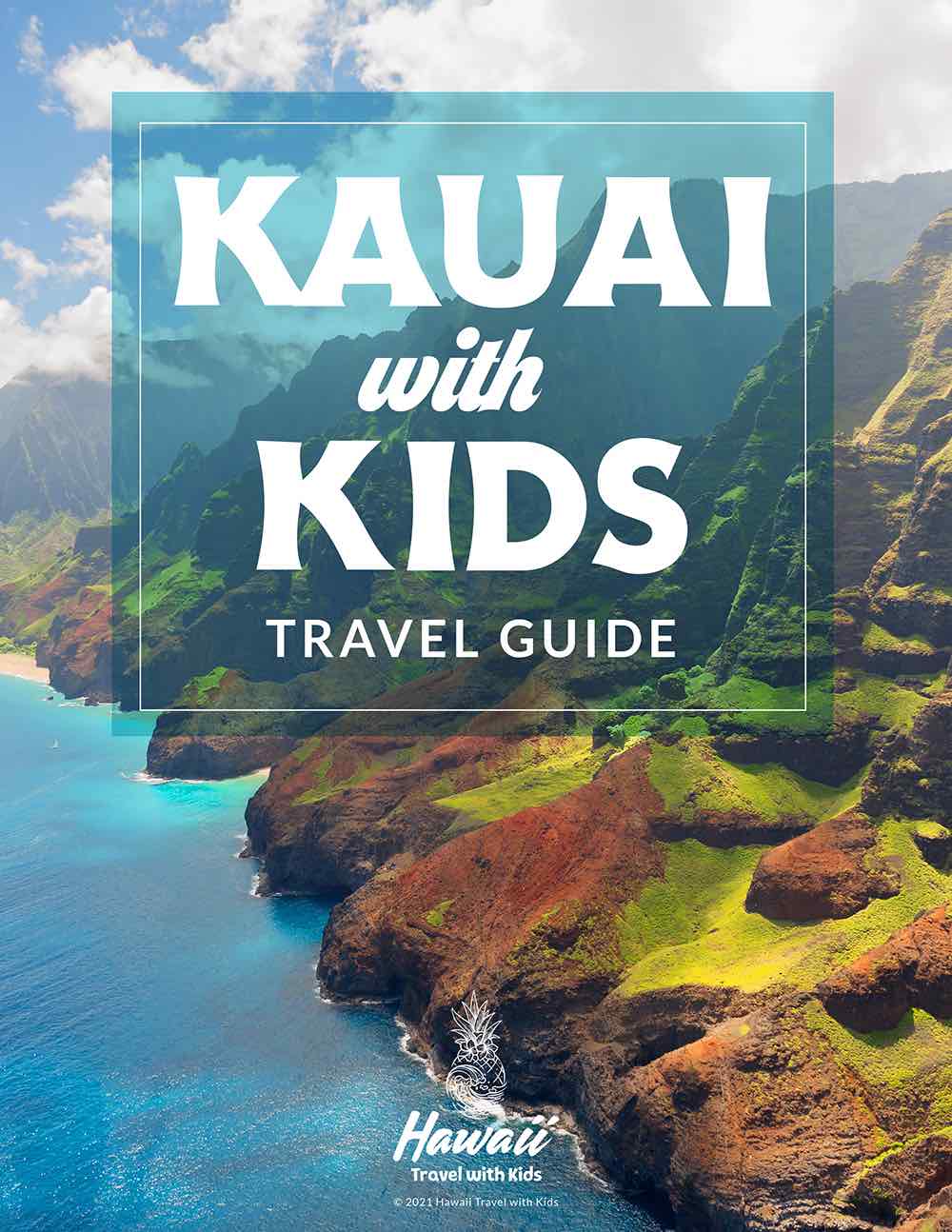 What To Expect While Vacationing in Hawaii In Late December
The Christmas spirit is alive and well in Hawaii in December, you will still see lights, decorations, and Christmas trees. The island climate and activities will also still be in full swing, so you can enjoy a bit of everything on your holiday vacation.
What's the weather like in Hawaii in December?
The December months are temperate, and offer ranges from 70 to mid-80 degrees Fahrenheit in the winter months. This is usually pretty comfortable for getting out and exploring the islands.
The temperature is still great for swimming and going to the beach, but it will get chilly in the evenings. It can also sometimes rain a bit, so it's a good idea to pack a light jacket. Check out my full Christmas packing list for Hawaii HERE.
While there will be no snow in mass quantities, the high peaks of Mauna Kea and Haleakala Crater can be snow-covered. This is a pretty amazing thing to see.
If you are looking to go surfing in Hawaii, you'll definitely want to check the surf report. North Shore waves can be pretty intense, so it's best to sign up for surfing lessons if you're a beginner.
Is December a crowded time to visit Hawaii?
If you are spending Christmas in Hawaii, you will likely wonder, "Is Hawaii busy during Christmas?"
It is important to remember that the Christmas and New Year's holidays are a busy time in Hawaii, with many travelers, so be prepared for some crowds if your visit will be towards the end of the month.
If you're looking for fewer crowds, a good time to visit would be the beginning of December, before the holiday rush.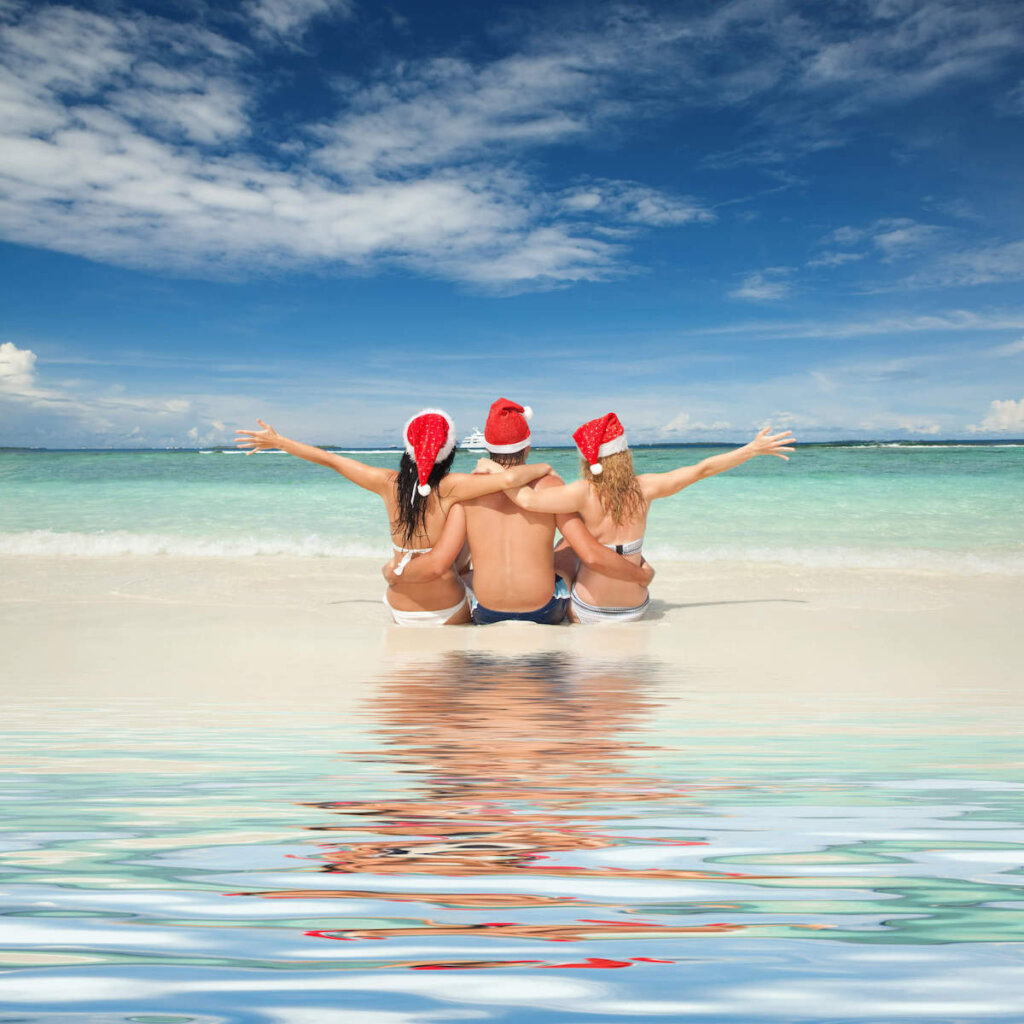 What's There to Do In Hawaii During Christmas With Kids
There are many fun Hawaiian xmas activities offered in Hawaii during Christmas. You and your family can spend time at the beach, go skiing, or even enjoy many different Christmas events that are held on the islands.
Fun Christmas Events In Hawaii For Families
Here are some of the top things to do in Hawaii during Christmas!
Big Island Christmas Parades
The Big Island is very big on Christmas celebrations, and there are many parades hosted throughout the island. The Keaau Christmas Parade is a popular option for visitors and offers carolers, performances, and parade floats.
Another option is the Pahoa Christmas Parade, which also includes floats, singers, performers, and even an appearance from Santa!
This attraction is more for early birds as it starts earlier in the morning. At night, Pahoa village is also decorated with lights and decorations for those who may not get up early enough for the parade but still want to enjoy the holiday festivities.
Mauna Kea Snow Adventures
Hawaii is not known for its snow, but the same can't be said for the high peaks of Mauna Kea.
Every winter in Hawaii at Christmas time, the volcanoes of Hawaii are covered with snow, and those interested in experiencing it can drive up the mountain and take in the snow, make snowballs, or even snowboard or ski if you'd like to.
Skiing and snowboarding on the volcano are not advised for young children as the weather and terrain are unpredictable. However, there is an observatory where you may be able to stargaze on clear nights.
Here's a cool Mauna Kea stargazing tour that looks amazing!
Honolulu City Lights
Another exciting celebration is Honolulu City Lights. This Oahu Christmas event features a 50ft Christmas tree decorated with island décor and lights.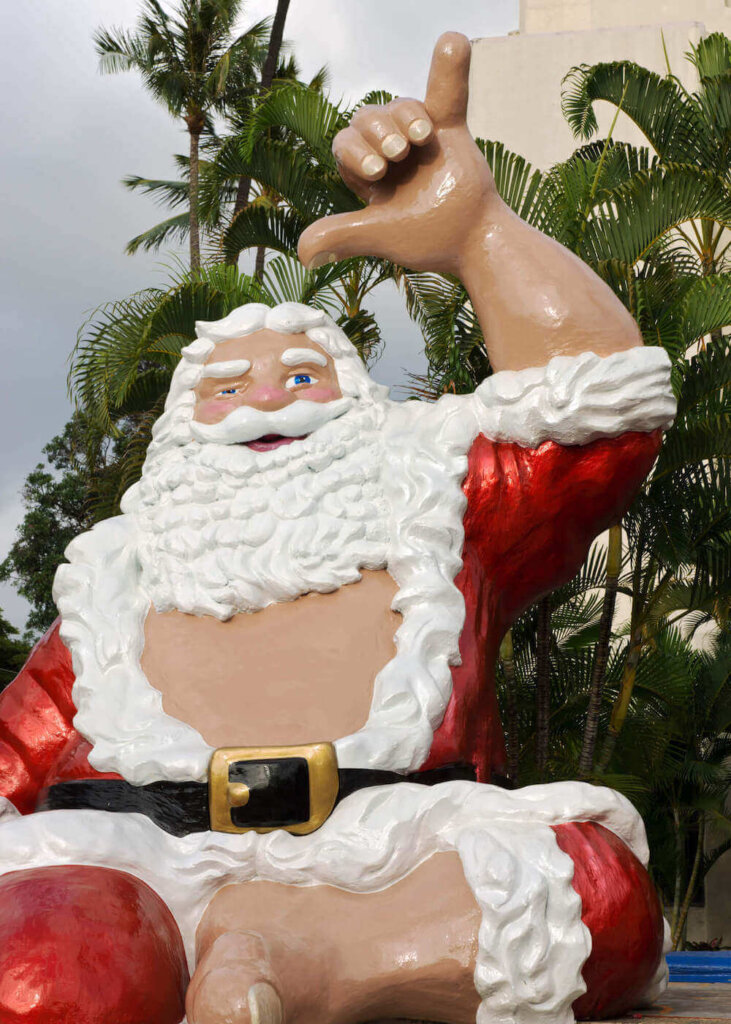 This Hawaii Christmas event is sure to give your children a magical experience. It also features a giant island Santa and Mrs. Claus for you to take pictures with.
There are actually a bunch of events on Oahu associated with Honolulu City Lights, including outdoor movies, displays, etc.
This is one of the top things to do for Christmas in Hawaii for kids!
Santa's Arrival
The most unique experience to have with your children on a Hawaiian Christmas vacation is Santa's Island's arrival. It's not Christmas in Hawaii until you've seen Hawaiian Santa!
While this experience can be found on several different islands and in several different cities, the most well-known occur at the Grand Wailea Resort on Maui and at the Outrigger Hotel on Waikiki Beach.
For this tropical Hawaiian Christmas tradition, Santa arrives at the beach on an outrigger canoe. From there, you can take pictures with him, and witness him reading off his nice list!
It is one of the best things to do in Hawaii for Christmas!
Kauai Festival of Lights
The county of Kauai hosts an annual Festival of Lights, which is perfect for families. This is a park decorated fully with Christmas lights and decorations, so you and your family can walk through and enjoy the scenery.
This Kauai Christmas event also offers indoor setups for decorations, and you can meet with Mr. and Mrs. Claus.
Things To Do On Christmas Eve & Christmas Day When Everywhere is Closed
If you are wondering what to do in Hawaii in December on Christmas Day, here are a few ideas.
Whale Watching
During the months of November to mid-April, there are active whale migrations that you can observe.
Depending on your location, several companies offer whale-watching tours on Christmas Eve and Christmas Day.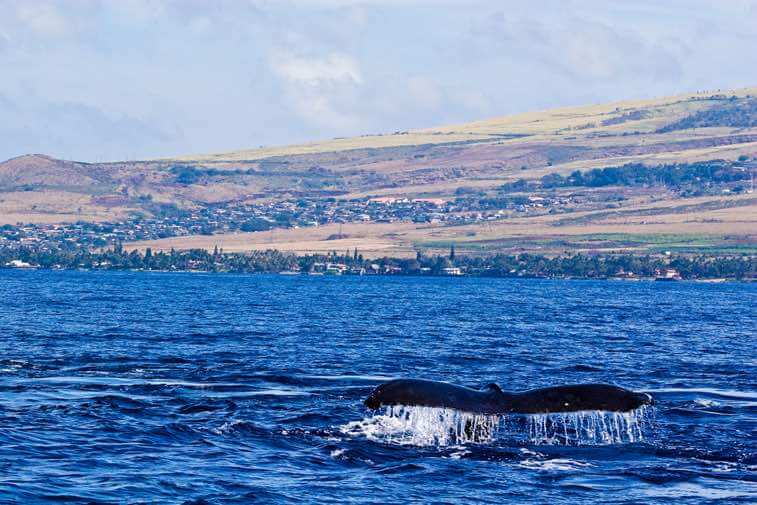 Maui is a popular spot for Christmas Day whale watching, this company even offers Maui Christmas cruises where you can watch the whales while you eat dinner.
Hawaii trips in December are perfect for whale-watching!
I've got full guides to whale watching on Maui and Kauai that include whale watching tours if you're looking to book out around Christmas.
Chinatown Winter Walk
Honolulu is a beautiful city, and Chinatown is also a spectacle of Christmas cheer during the month of December.
The Chinatown Winter Walk is a self-guided walk-through of Chinatown's shopping district where shopkeepers compete to have the best window display. It is available to the public on Christmas Eve and Christmas Day.
National Parks and Beaches
If you and your family want to get out and do something active, then you can enjoy any of the Hawaii National Parks at any time of the year! That means Christmas Eve and Christmas Day.
You can also visit any of the public beaches if you want to build sandmen and take a dip in the ocean.
Christmas on Hawaii isn't Christmas until you make a sand snowman!
Christmas Cruise from Lahaina
Because of the recent Lahaina fire, this tour is currently unavailable.
If you're spending Christmas in Maui, this is a fun Maui brunch or dinner cruise. You'll get to enjoy delicious food at a private table while gazing out at the stunning view of West Maui.
There's also live Hawaiian music to get you in the spirit!
Magical Christmas at Rock-A-Hula
If you're looking for a fun Waikiki Christmas event, you might book tickets for the Magical Christmas at Rock-A-Hula. It's a dinner show that's fun for your whole family! Read my full Rock-A-Hula review.
Attend a Christmas Luau
Another way to make Christmas Day in Hawaii a bit more fun is to attend a luau. I did a quick search and found that the following Hawaii luaus are hosting Christmas luaus:
Oahu Christmas Luaus
Maui Christmas Luaus
Big Island Christmas Luaus
Best Restaurants To Eat Christmas Dinner At On December 25th
One of the things I've noticed over the years when traveling to Hawaii for Christmas is that it can be tricky to find somewhere to eat. Here are a few places that are open on Christmas Day that are worth making a reservation for.
Ruth's Chris Steakhouse
This popular steakhouse is available on a few different islands, and they are open to serve you on Christmas Day. Find Ruth's Chris Steakhouse Hawaii locations HERE.
Deck. Restaurant
A Waikiki restaurant that boasts a four-course meal and holiday dessert tasting, this is a great option for the whole family if you all want to sit down and enjoy a nice meal together.
The best part is the cuisine is Hawaiian, so you can further immerse yourself into your tropical vacation for xmas in Hawaii. Find out more information HERE.
Duke's or Hula Grill
Another place to eat dinner in Hawaii on Christmas Day is Duke's. They have locations in Waikiki, Maui, and Kauai.
Their sister restaurant, Hula Grill, is another good choice. They have locations in Waikiki and Maui.
Hotel Restaurants
If you are having trouble locating a restaurant, then you can be comforted by the fact that all hotel restaurants will be open and available in Hawaii at Christmas.
You just might want to make a reservation a few weeks ahead of time if you're planning on eating out because the accommodations are usually crowded.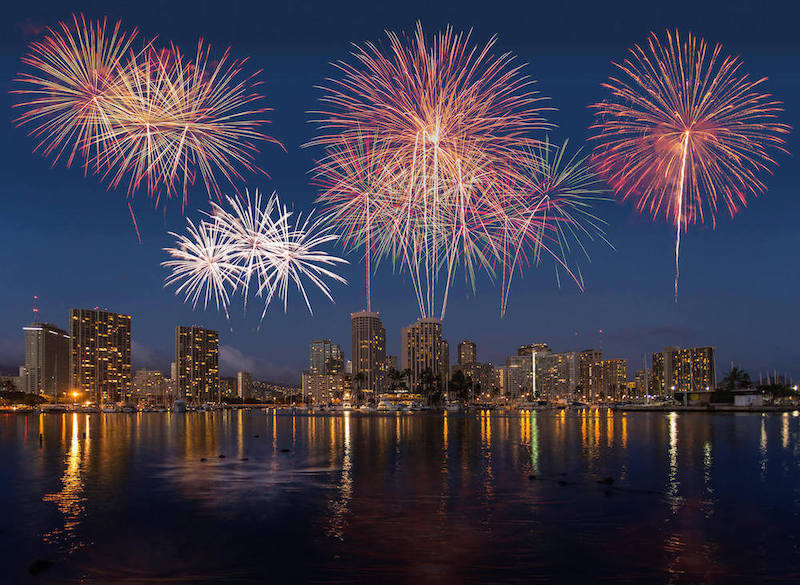 Fun New Year's Eve Events For Adults & Kids
If you are in December in Hawaii, might as well stay for New Year's too!
Poʻipū Beach Park on Kauai
This beach celebration offers traditional fireworks displays that the whole family will enjoy. This event also hosts an outdoor movie and has a selection of food trucks so you and your family can have a fun celebration without leaving the beach to search for food and entertainment.
Hawaii Dinner Cruises
Another popular option to celebrate the New Year in Hawaii is a dinner cruise. There are many different companies and areas that offer these, but they usually allow for a beautiful view of fireworks while drifting out to sea.
The top pick for Waikiki is this Star of Honolulu New Year's Eve Midnight Celebration Dinner Cruise.
They also provide spectacular dinner options, with the option for alcoholic drinks, or not, if you are enjoying the time with your children. Read our full Star of Honolulu review.
Oahu Dinner Cruises Open New Year's Eve
Maui Dinner Cruises Open New Year's Eve
Waikiki New Year's Fireworks
Waikiki throws a particularly awesome firework show that helps you ring in the New Year. You can see these fireworks from the beach, park, and even some hotels.
This event also hosts a party of the year at Aloha Marketplace Tower, showcasing DJs and live performances.
Fukubukuro at Ala Moana Center
One of the best New Year's Day events is Fukubukuro. This is a Japanese New Year event where people pay for mystery bags at stores throughout the mall. You pay a discounted price for a grab bag.
We did this many years ago, and it's one of my favorite shopping memories!
How To Handle Santa & Presents While In Hawaii For Christmas With Kids
We talked about the Hawaiian way of Santa's arrival above, so it only makes sense that he would know your kids are in Hawaii instead of at their house!
To make it truly feel like Christmas, you should still decorate your vacation home or hotel room and bring along a few of your family's presents.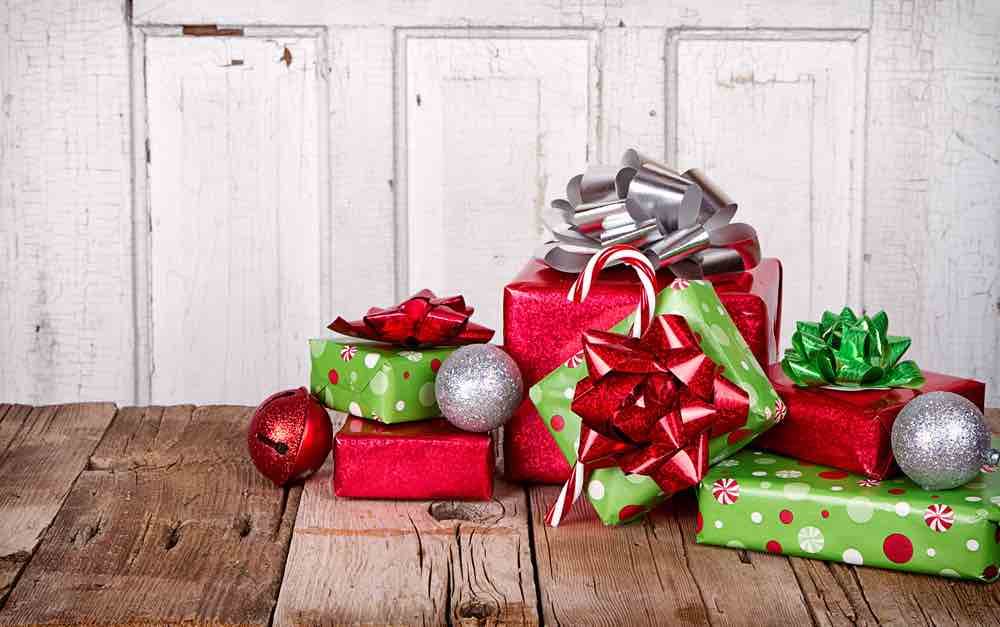 While traveling with presents may be difficult if you have bought your children large gifts, it may be best to plan for smaller or minimal gifts when you know you will be traveling to Hawaii in Christmas for the holidays.
In the past, we've saved the larger gifts for our kids to open once we got back home. These are usually big LEGO sets and things I know our kids would want to play with as soon as they open.
For older kids, you can give them cash/gift cards to go shopping in Hawaii. Or you can do experience gifts where each kid gets to pick an activity, like going ziplining or swimming with dolphins.
Decorating For Christmas While in Hawaii
When it comes to decorating for the holiday while in your vacation home, you should use local styles, such as beautiful Hawaiian flowers and minimalistic lights on your tree and house.
The Christmas poinsettia is also in full bloom during this time on the islands, which is perfect for decorations.
When it comes to a tree, it is quite impractical to pack a fake tree to travel with, so it is a better option to try and find something once you arrive.
I've seen people hang little ornaments on the leaves of a pineapple. Or they get a mini tree from Target to put somewhere in their hotel room.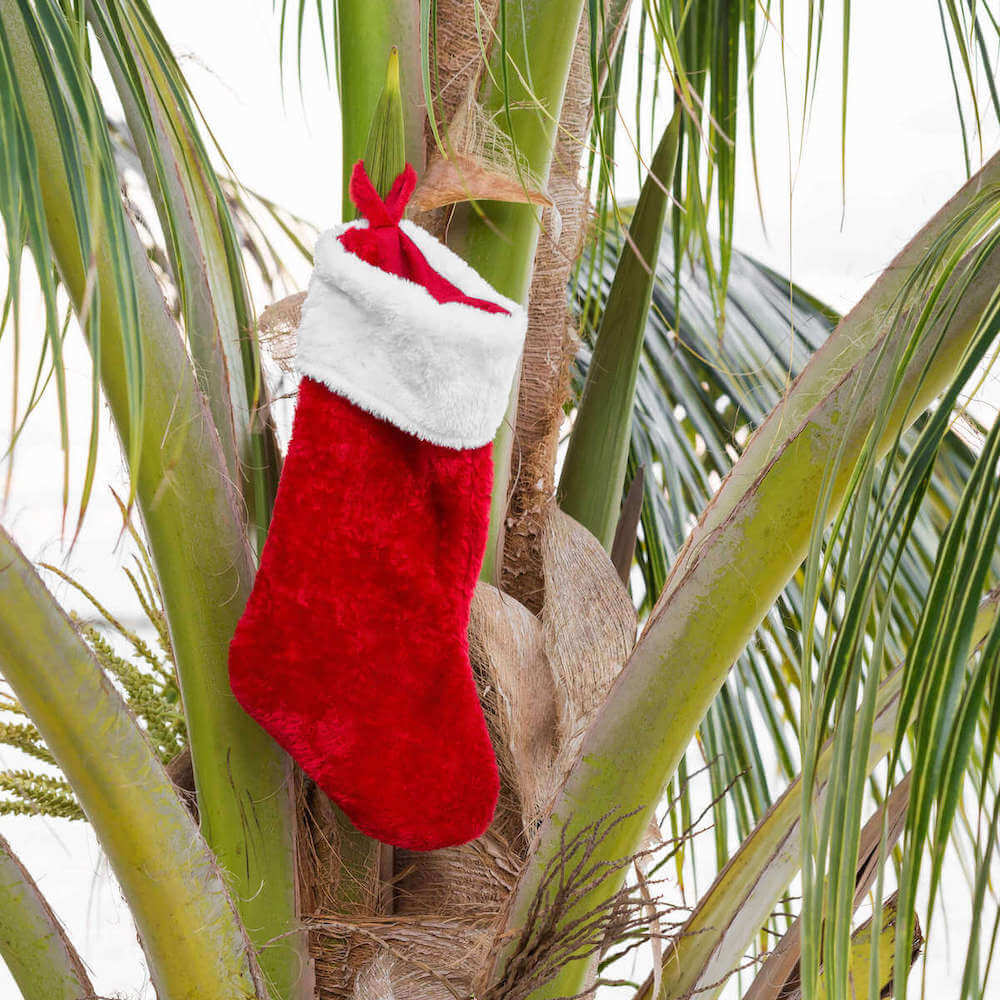 If your family has a tradition of hanging stockings, it would be fairly easy to pack these and hang them for the holidays in your vacation home.
If you have younger children, you want to maintain the "magic of Christmas" even during your vacation. So, if you have any family traditions for Christmas, try to find ways to incorporate them.
To Bring the Elf or Not To Bring the Elf, That is the Question
The Elf on the Shelf is a very popular tradition for younger children, and you may be wondering if you should bring it with you on your vacation.
If you have younger children who are invested in this tradition, then you should absolutely bring it!
Even though you are on vacation, you still want your children to enjoy the Christmas magic and don't want to feel as if they have confused Santa or their elf by going to Hawaii for the holidays.
It is also fun and exciting to watch their faces as they find their holiday friend around their temporary holiday home. You can even have your elf wear a little Aloha shirt or a hula skirt to really go all out!
Hawaii Christmas FAQs
Do they have Christmas trees in Hawaii?
Yes! While traditional Christmas trees (like pine trees and Noble firs) don't grow in Hawaii, they are actually shipped to the islands each holiday season. You'll mostly see these in hotel lobbies or in shopping areas. Additionally, you'll also see a lot of palm trees with tropical decor!
Can you see Santa in Hawaii?
Absolutely! While Santa is known for vacationing in Hawaii during his off-season, he also makes a special arrival in Hawaii. He comes by outrigger canoe! There are a few places for Santa meet & greets and photos on most of the islands.
What are some Hawaiian Christmas carols?
If you're heading to Hawaii in December, you'll definitely hear Hawaiian Christmas carols in stores and restaurants. Bing Crosby's Mele Kalikimaka is by far the most famous. Willie K's version of O Holy Night is another good one. And you'll definitely want to hear the local favorite Numbah One Day of Christmas.
Is Christmas a good time to visit Hawaii?
I think visiting Hawaii over Christmas is a great idea! You will get to see a different side of the islands and enjoy all the fun Christmas Hawaii traditions.
What is Christmas in Hawaiian?
Christmas in Hawaiian language is Mele Kalikimaka.
Christmas in Hawaii Is a Magical Time That Is Sure To Bring Joy to the Whole Family
Christmas is a great time to visit Hawaii. There are so many things you can do during this festive season!
We've compiled just some of the best activities and events on our list above, but there are plenty more options for your December holiday in paradise.
Christmas in Hawaii is a unique experience that allows your family to experience another culture while also bringing some of your personal traditions along.
Whatever way you celebrate, you and your family will have an amazing time together by enjoying these celebrations.
And if you want to keep the magic going year after year, check out these adorable Hawaiian Christmas ornaments and decorations to add a little Mele Kalikimaka to your holiday spirit!
P.S. Join our Hawaii Travel with Kids Facebook group to get connected with other families planning a trip to Hawaii!