Are you planning a trip to Hawaii in December and want to know what to add to your Hawaii packing list? Keep scrolling to find out the best Christmas packing list for Hawaii.
This ultimate Christmas packing list for Hawaii in December contains affiliate links which means if you purchase something from one of my affiliate links, I may earn a small commission that goes back into maintaining this blog.
Are you planning a Christmas vacation to Hawaii?
I have the perfect packing list for your family! You'll find everything from what clothes to pack and what to bring on the flight. And don't forget about these helpful tips for traveling with kids in winter. It's all here, so scroll down and enjoy!
If you're looking to escape the cold this winter, don't forget about Hawaii! I have all the information you need to plan your perfect Christmas vacation in Hawaii.
From what clothes to pack for December in Hawaii, to helpful things to pack on the flight over, and even some of my favorite places to visit with kids. This is everything you need for your next Hawaiian adventure!
This article has everything you need from packing lists, advice about flying with kids during wintertime, and more! It's easy-to-read and full of useful information that will help make your holiday travel much easier than ever before. So don't wait any longer – read my article now!
Whether you're looking for a detailed Hawaii packing list or just want some help getting started, this is the place for you. We've got lots of great information that will make your trip go smoothly and give you memories that last forever.
Want to skip all the planning and just access my detailed Hawaii Itineraries complete with daily schedules, kid-friendly activities, and travel hacks? Click the button below.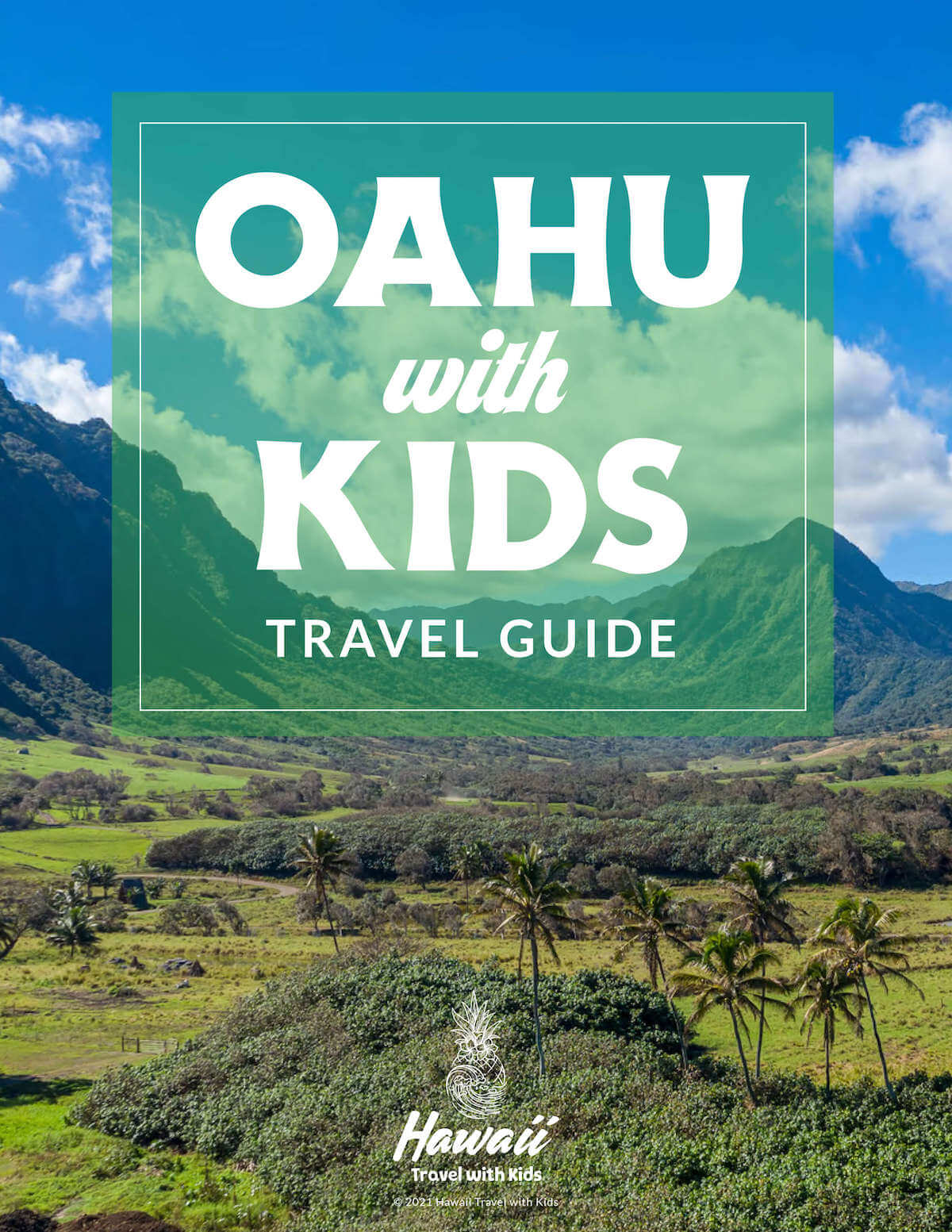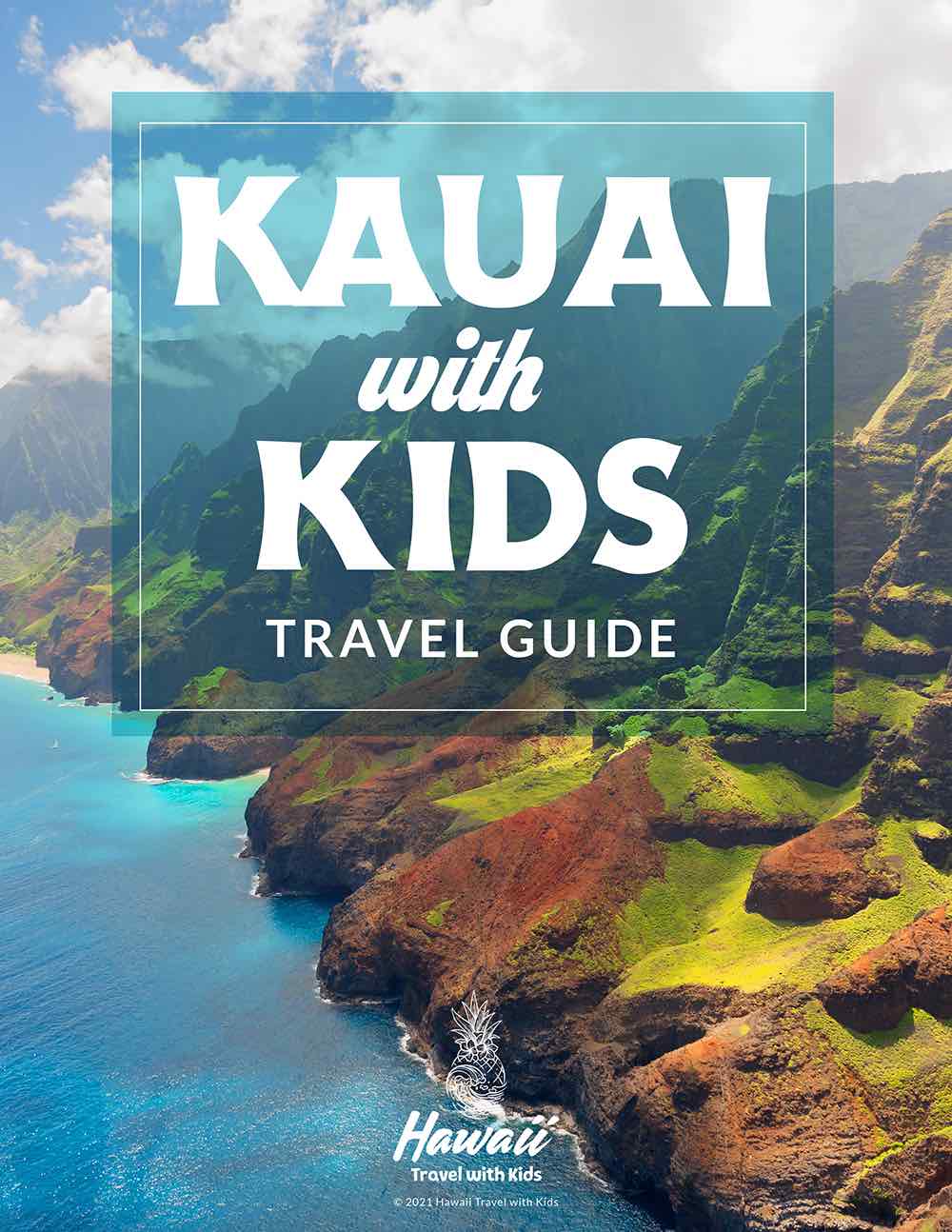 Christmas in Hawaii FAQs
What do you need to travel to Hawaii this Christmas?
For 2021, travelers ages 5 and older need to either show proof of vaccination or a negative Covid test from an approved provider. You'll also want to make sure to have a photo ID for all the adults, your airplane tickets (either paper copies or digital), and all your luggage.
How does Hawaii celebrate Christmas?
Like most places in the United States, people in Hawaii LOVE Christmas! You'll see all kinds of Hawaiian Christmas decorations, events, music, and other festivities. On Christmas Day itself, you'll find a lot of families getting together for BBQs or hanging out on the beach. You might even see a surfing Santa!
Do you need water shoes in Hawaii in winter?
It really depends on where you go. Most beaches have soft sand and you can get away with bare feet. However, if you go somewhere with lava rock (specifically Kona), you'll definitely want to protect your feet with reef shoes.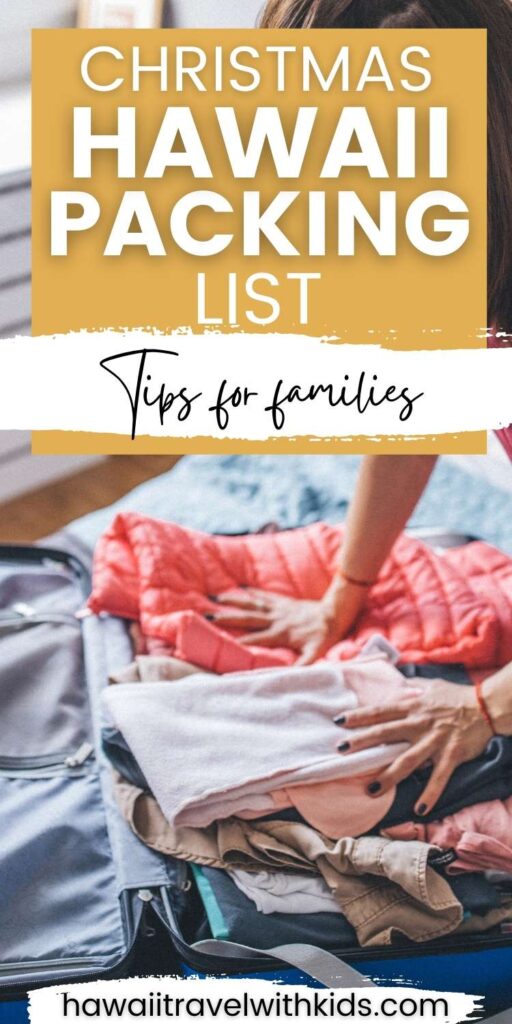 What is the Temperature Like in December?
Winter in Hawaii is not like the mainland at all. Some barely even consider it winter because consistent temperatures remain like the rest of the year. You'll find it to be around 81 degrees. It is a little bit cooler than the summertime, but still pretty hot and humid.
For lows, you will have temperatures in the mid-70s. You can experience some rainstorms, but those never last more than a few minutes. In Hawaii, the temperature in December is still beautiful and perfect for a sunny vacation!
What Should I Wear in Hawaii in December?
You can wear normal warm weather clothes in Hawaii in December. You might want a lightweight sweater during the night as it does get cooler generally into the 70s. Shorts, shirts, dresses, and swimsuits are perfect clothes to wear!
What Should I Pack for Christmas in Hawaii?
There are many things to consider when packing for Hawaii during winter. From clothes to beach gear and presents, here are things to pack for Hawaii in winter! Use this as your ultimate Hawaii packing list during Christmastime.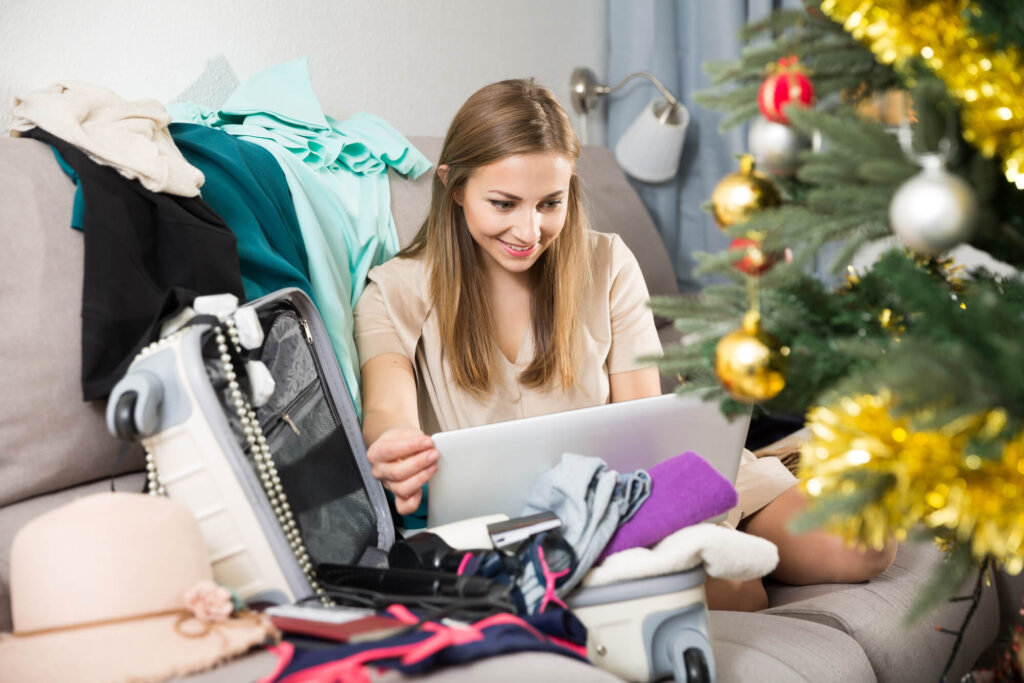 One thing to consider on your packing list for Hawaii is how long you plan to stay. Adjust this travel packing list for the number of days you'll be staying on the islands.
I've got really detailed Maui packing lists and Kauai packing lists that might help you out.
Clothes
When deciding what clothes to bring to Hawaii, you'll want to make sure you have enough to last your entire trip, unless you plan to do laundry during your stay.
Here are what clothes to pack in Hawaii during your Christmas vacation:
Plenty of swimsuits (we love THESE UV protection swimsuits)
Swimsuit cover
Underclothing and socks
T-shirts
Dresses
Shorts
Skirts
Lightweight jacket
Pajamas
Lightweight fabrics work best in Hawaii, so you can stay nice and cool. Be sure to bring clothes that are made out of cotton, rayon, or silk. Bamboo clothes are also super comfortable in the humidity!
You probably won't want to bring jeans unless those are what you are most comfortable in. At least one pair of pants should be enough to go on hikes or to have if the temperature drops.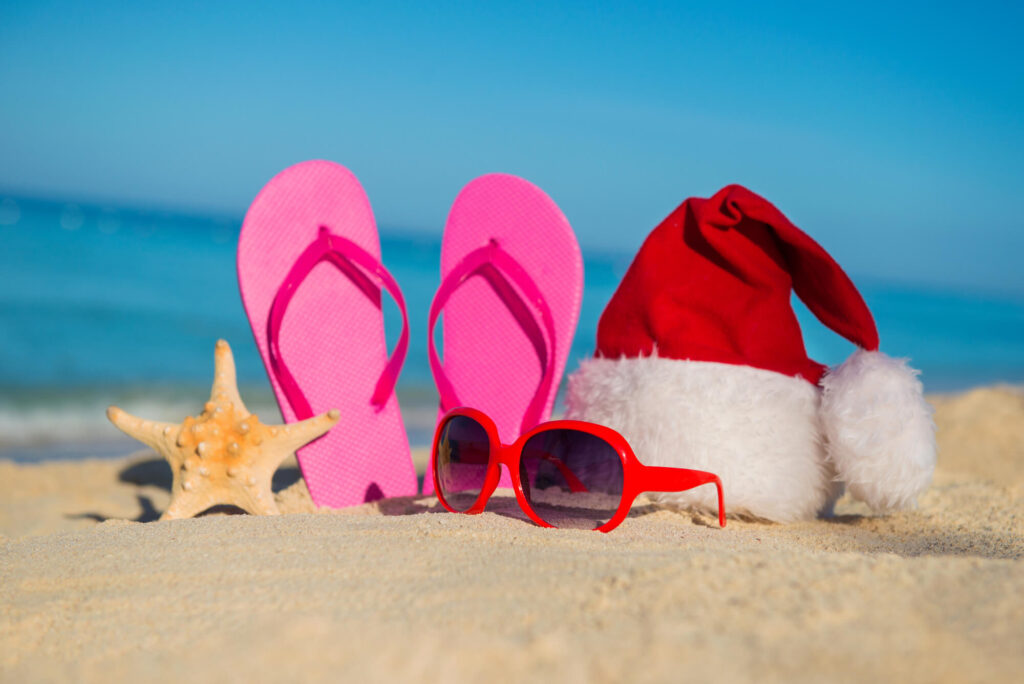 Shoes
You will want to bring a few pairs of shoes. Sandals are usually the best and most comfortable in Hawaii. But, if you plan to go to tourist attractions all day long, you'll probably want to bring some nice tennis shoes too.
If you want to go on some gorgeous hikes, pack some hiking shoes! Water shoes are not an absolute must but do come in handy on rocky beaches.
Accessories and Personal Items
You'll want to bring a few accessories as well during your Christmas vacation in Hawaii. On your Hawaii packing checklist, be sure to include the following:
Hat
Sunglasses
Beach bag
Reef safe sunscreen
Toothbrush and toothpaste
Floss
Razor
Hairbrush
Vitamins and medicine
Water bottle
Fanny pack, backpack, or purse
Bug spray or bug bands
Chapstick
You might not need to bring body wash, shampoo, or conditioner if you are staying in a hotel or Airbnb as they are already provided. If you want your particular hair products, then include them on your packing for Hawaii list.
Travel Documents
You'll also need to include some travel gear you'll need at the airport and throughout your trip. Regardless of your travel plans to Hawaii, be sure to bring the following:
Passport
Plane tickets
Credit cards
Cash
Vaccine records if needed
Emergency contact lists
Reservations for hotel, resort, and tours
Most of these items can be on your phone or another electronic device, but it is also a good idea to print a copy of each just in case. You never know when you might need a hard copy version!
Technology Gear
You'll also want to add some technology gadgets to your packing list for Hawaii. Plan to bring a waterproof phone case so you can take cool pictures on the beach without worrying about your phone.
If you have a GoPro or waterproof camera, these are also great to bring to Hawaii during Christmas. Since you are traveling to Hawaii for Christmas, you'll want to bring a nice camera along to take Christmas pictures with your family! Don't forget an SD card either!
Of course, you'll bring your phone, but don't forget your charger. If you plan to work some, you'll want your laptop as well.
Christmas Items
If you are staying on Christmas Day, you'll want to bring a few extra items. Here are some ideas on what to take to Hawaii for Christmas!
Should you pack Christmas presents?
You'll want to bring some presents you already have for your kids if you stay for Christmas. Unless your entire Christmas is this vacation, bring a few extra gifts.
You can also wait and buy a few gifts in Hawaii, but it will probably be more expensive. If you want to take fewer suitcases, wait until after Christmas when you get home to open your gifts.
Family Outfits
If you are visiting Hawaii with your family, be sure to pack extra clothes for a great family picture. Since you are going during Christmastime, red or green clothes would be perfect! If you want to be extra festive, pack some Santa hats too!
You can also hit up Target or Walmart to get matching Hawaiian Christmas Alohawear that's also a fun idea!
Extra Space
One of the best things you can do for your Hawaii vacation checklist is to leave extra room in your bags. You don't want to pack everything until it is full because you'll buy souvenirs and other presents during your vacation. 
You'll want plenty of room, so you don't have to frantically buy another suitcase once you see yours is overfull!
If you are traveling to Hawaii in December, here is everything you need to pack to fully enjoy your vacation! Each family might have particular needs, but this is a typical Hawaii vacation packing list to begin with.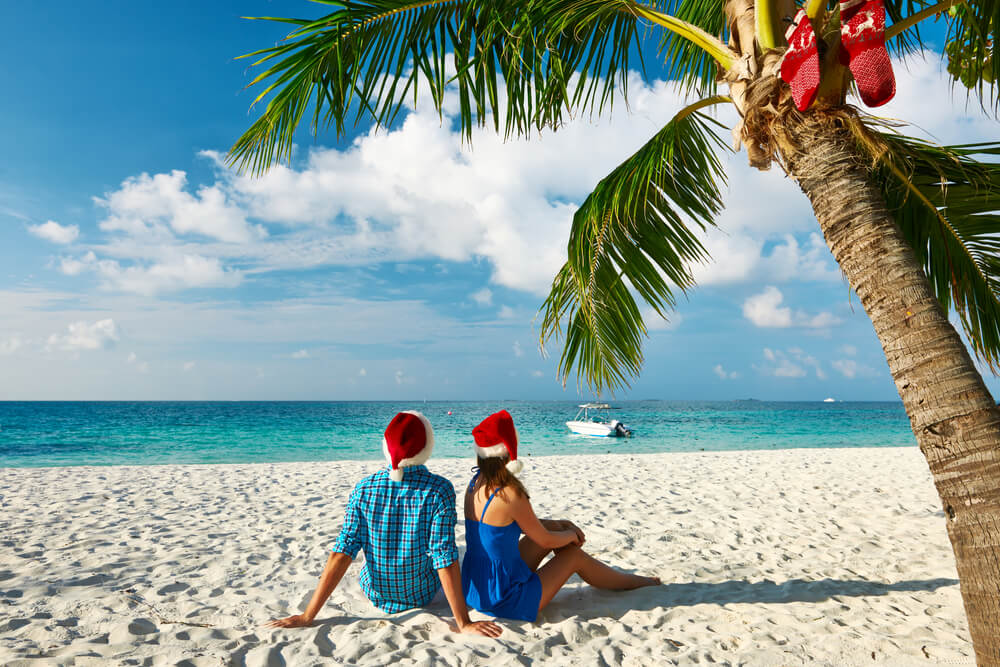 Things to Do in Hawaii in December
Are you wondering how Hawaii celebrates Christmas? Just like everyone else does! Just because there isn't snow or cold weather, you can still celebrate Christmas in Hawaii! Here are a few fun Christmas activities in Hawaii to enjoy during your vacation.
Build a Sand Snowman
You can still make a cute snowman; just use sand instead of snow! These are so fun to make with your family. See who can make the best-looking one! Maybe you dress them up with a lei and sunglasses.
Visit Christmas Lights
Besides the Honolulu City Lights, you can also go around the island neighborhoods to see the houses decorated with all sorts of holiday lights. So many people deck out their houses to show their holiday spirit! Check out the best places to see Christmas lights this year!
Snowboard on Mauna Kea
If you are on the Big Island, go visit Mauna Kea and see the snow there! Some people are brave enough to snowboard here, but others like to see snow in Hawaii too. Learn all about Mauna Kea and if you should snowboard during your trip in December.
Go Surfing
If you are in Hawaii in December, head to the beach and go surfing! This is a unique adventure that you might not get to do ever again. Change up the holiday traditions and enjoy a Christmas in the sun!
See Santa
You can see Santa in many places all over the islands! Along with the Polynesian Cultural Center, you can see Santa in Hawaii at Grand Wailea Resort in Maui or the Outrigger Hotel in Waikiki.
Visit the Hawaii Christmas Store
There is a fun Christmas store in Hawaii with Christmas decorations, presents, ornaments, and more! You'll find anything you could want for Christmas at this store. Pick up a fun Christmas ornament as a souvenir to remember this fun vacation.
Best Places to Visit in Hawaii in December
Along with doing those super fun Christmas activities during your vacation, here are some of the best places to visit in December on the Hawaiian islands.
Polynesian Cultural Center
The Polynesian Cultural Center is full of Christmas spirit during the month of December. You can find fake snow for the little ones, a Christmas light lagoon trip, and local Christmas music concerts. You can even get to see a Hawaiian Santa too!
Rock a Hula
Visit a fun Christmas-themed hula event at the Magical Christmas Rock a Hula! You can enjoy some delicious dinner and dessert, along with listening to beautiful Christmas music in this fun show.
Honolulu City Lights
During December, be sure to visit the Honolulu City Lights. This city is lit with beautiful Christmas lights and other holiday decorations, including a huge Shaka Santa and Ms. Claus, and so much more.
If you are going to Hawaii in December, it is best to know what to pack for Hawaii ahead of time. Use this as your Hawaii trip packing list, so you don't forget anything when it comes time to leave. Then you can simply enjoy your Christmas vacation!
Packing for Hawaii at Christmas Wrap Up
You're now fully prepared for your Hawaii Christmas vacation! When you visit the islands this December, be sure to pack these must-have items on your Hawaii packing list and follow our tips for staying safe and warm.
We hope that reading about what it's like to celebrate Christmas in Hawaii has made you excited to finally experience all of the islands have to offer at Christmastime. You should know exactly what to pack on a trip to Hawaii during Christmas.
Be sure to check out some other articles we've written about visiting Hawaii during wintertime here on our blog!