Planning a trip to Hawaii in December and want to get into the holiday spirit before you go? Keep scrolling to check out the most festive Christmas movies set in Hawaii!
This list of Christmas movies set in Hawaii contains affiliate links which means if you purchase something from one of my affiliate links, I may earn a small commission that goes back into maintaining this blog.
A Christmas vacation in Hawaii is truly one of the most magical and unforgettable Christmas experiences you could ever have.
However, if you cannot spend your Christmas in Hawaii, you can still learn all about this holiday on the islands through movies!
There are plenty of movies filmed in Hawaii, and a few great Christmas ones too!
So, grab a festive drink and some Hawaiian hurricane popcorn! Here are some of the best Christmas movies set in Hawaii to watch this holiday season.
Want to skip all the planning and just access my detailed Hawaii Itineraries complete with daily schedules, kid-friendly activities, and travel hacks? Click the button below.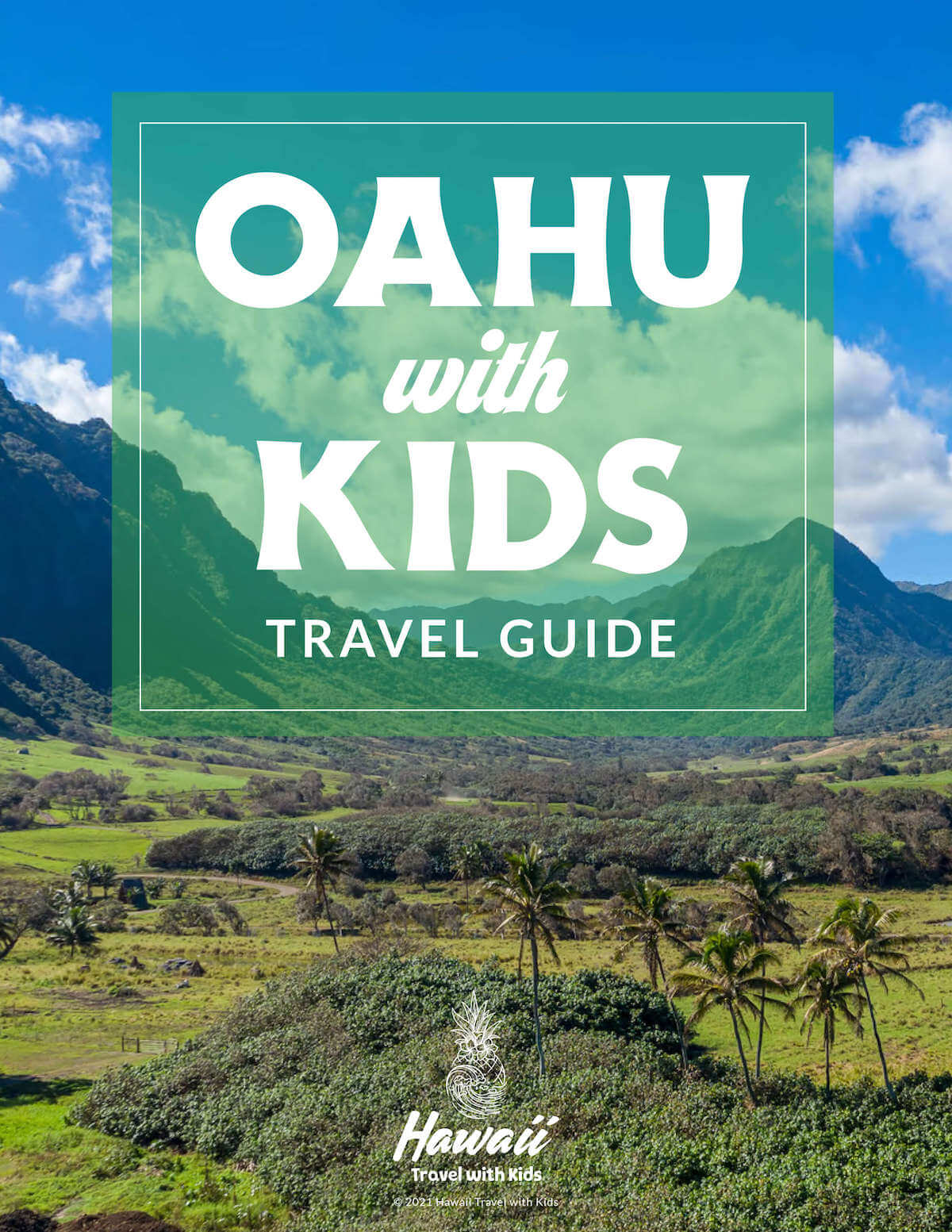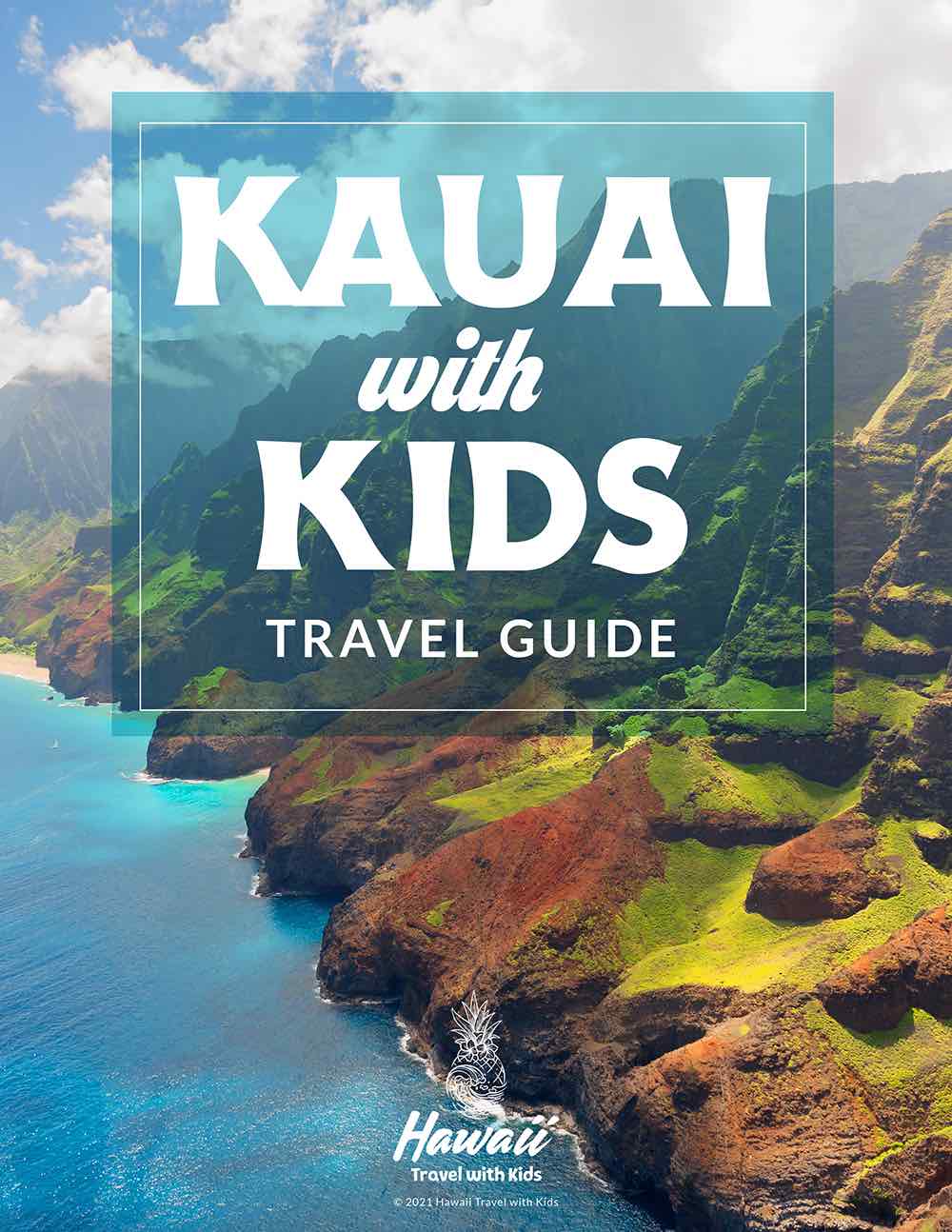 Movies Based in Hawaii FAQs
How many movies have been filmed in Hawaii? 
There have been over a hundred movies shot in Hawaii. Each year there are a few new movies coming out that are based on one of the islands. Some of the best movies filmed in Hawaii include Same Time, Next Christmas; Jurassic Park; 50 First Dates; Finding Ohana; and many others.
What is Hawaii at Christmas time like? 
Christmas time in Hawaii is simply beautiful! The weather cools down slightly, but you will still find plenty of sunshine and warm days. You will see Christmas decorations all over the islands as well. Christmas in Hawaii is truly a magical paradise!
Are there any Hallmark movies filmed in Hawaii? 
Yes! There are quite a few great Hallmark movies filmed in Hawaii, with more coming each year. Some of the popular Hallmark movies based in Hawaii include Groundswell, You Had Me at Aloha, Hidden Gems, and Two Tickets to Paradise.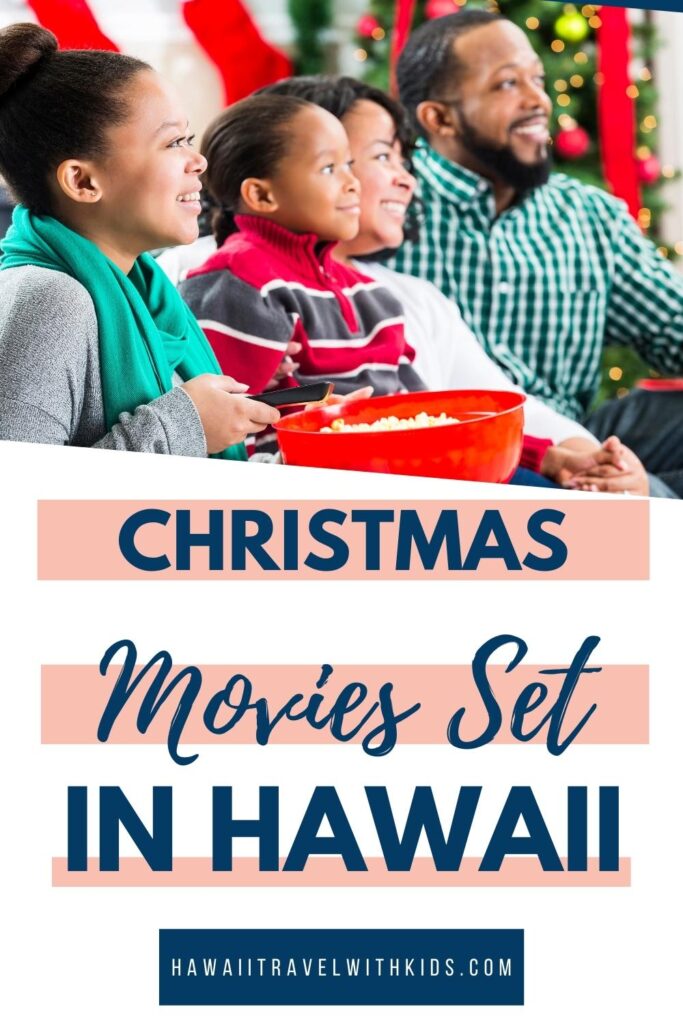 Christmas Movies Set in Hawaii
Here are a few Christmas movies in Hawaii! Each of these is filmed and set on one of the Hawaiian islands and will make you feel like you are in paradise as you watch during the holiday season.
Tis The Season – A Hawaiian Christmas Story
One of the first Christmas movies based in Hawaii is a short film called Tis the Season. It is only 45 minutes long and was filmed back in 1994.
In this short Christmas film, a family faces hardships leading up to the holiday season. The dad, Kimo, got laid off from his job right before Christmas, so the mom has to start working double shifts.
With all this stress, the family learns how to adapt and preserve despite the challenges. Along their journey, they meet Mrs. Livingston, who turns out to be their angel and helps them save Christmas!
She helps Kimo find a new job and gets Heather, his daughter, the Christmas present she always wanted. Throughout the movie, they learn what the true meaning of Christmas is all about being together as a family.
It is a sweet older movie that was entirely filmed in Hawaii!
Same Time, Next Christmas
One of the best movies set in Hawaii during Christmastime is Same Time, Next Christmas. This movie was filmed in December 2019 on the island of Oahu and is an hour and a half long.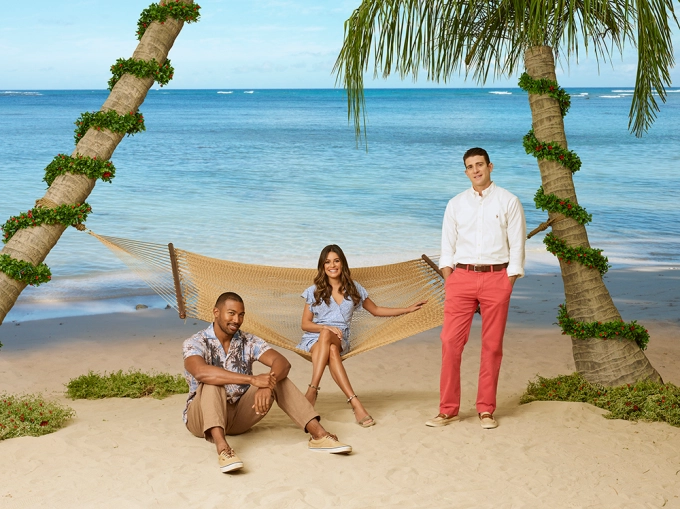 Most of the movie was filmed at Turtle Bay Resort, where other great movies were filmed. It is a beautiful location for any movie! In the movie, you will also see Kawela Bay, Kahe Point, Kahala Resort, and Waimea Falls.
In this movie, you will see a lot of fun Christmas traditions in Hawaii and see what makes a Christmas vacation in Hawaii so special.
Lea Michele, Charles Michael Davis, and Bryan Greenburg are the three main characters in Same Time, Next Christmas. Other actors and actresses include Dannah Lane, Nia Vardalos, George Newbern, Phil Morris, and Candance Smith.
Olivia and Jeff met when they were five at a Hawaiian resort. Their families go on a vacation to Hawaii each year for Christmas. They instantly become best friends and stay close as the years go on until they are teenagers. Then something happens, and Jeff's family doesn't come back to Hawaii.
After they lost connection for quite a few years, they surprisingly both go to the same Hawaiian resort one year when they are both adults. Olivia is now engaged to a businessman, Gregg, and Jeff has a child and is trying to figure things out with his wife.
Olivia and Jeff reconnect and have fun for a few Christmases as adults throughout the movie. You see plenty of places all over Hawaii and fun things to do for Christmas in Hawaii.
Does seeing Jeff reignite her feelings for him, or does she marry Gregg?
This is one of the best Christmas movies ever made, especially since it was filmed in Hawaii! It is family-friendly, fun, light-hearted, and just a wholesome romantic Christmas movie to watch during the holiday season. Watch it on Disney Plus.
Jessie's Aloha Holidays with Parker & Joey
Technically this is not a movie, but it is a TV show that is set in Hawaii! This episode is actually from the Disney show "Jessie" and is the season 3 finale.
In this episode, Jessie gets a role on a show called Aloha Crime, so she takes the kids she babysits with her to Hawaii to film. It is a crossover between "Jessie" and "Liv and Maddie" and is an hour-long episode to finish off the season.
This episode aired on November 28. 2014 and the majority of it takes place in Hawaii! Watch it on Disney Plus.
Other Hallmark Movies Set in Hawaii
There are plenty of other great Hallmark movies set in Hawaii. Each one has a different love story and all are fun movies to watch all year long!
Here are just a few of them:
Most of these have come out in the last couple of years, so there will probably be many more in the future too!
While these are not Christmas movies, they are classic Hallmark movies that you can watch in the months leading to Christmas.
Holiday Movies Based in Hawaii Wrap Up
Hopefully, you have some fun Christmas movies set in Hawaii to watch this holiday season!
Whether they are Christmas movies or just fun romantic movies based in Hawaii, these movies are sure to bring a smile to your face. Cuddle up with your spouse and enjoy these romantic movies in paradise!