Planning a trip to Hawaii in December and want to know where to visit Santa Clause in Hawaii? Scroll to find out the best spots to get your Hawaii Santa photos this year!
This list of where to visit Santa Claus in Hawaii contains affiliate links which means if you purchase something from one of my affiliate links, I may earn a small commission that goes back into maintaining this blog.
Are you headed to Hawaii for a fun family Christmas vacation with your kids? Then you definitely need to visit a Hawaiian Santa!
Christmas in Hawaii is magical, with plenty of things to do in Hawaii in December. While he may not come in the traditional ways of the mainland, Santa does, in fact, visit Hawaii.
Here is your guide to finding all the places to visit Santa Claus in Hawaii!
Want to skip all the planning and just access my detailed Hawaii Itineraries complete with daily schedules, kid-friendly activities, and travel hacks? Click the button below.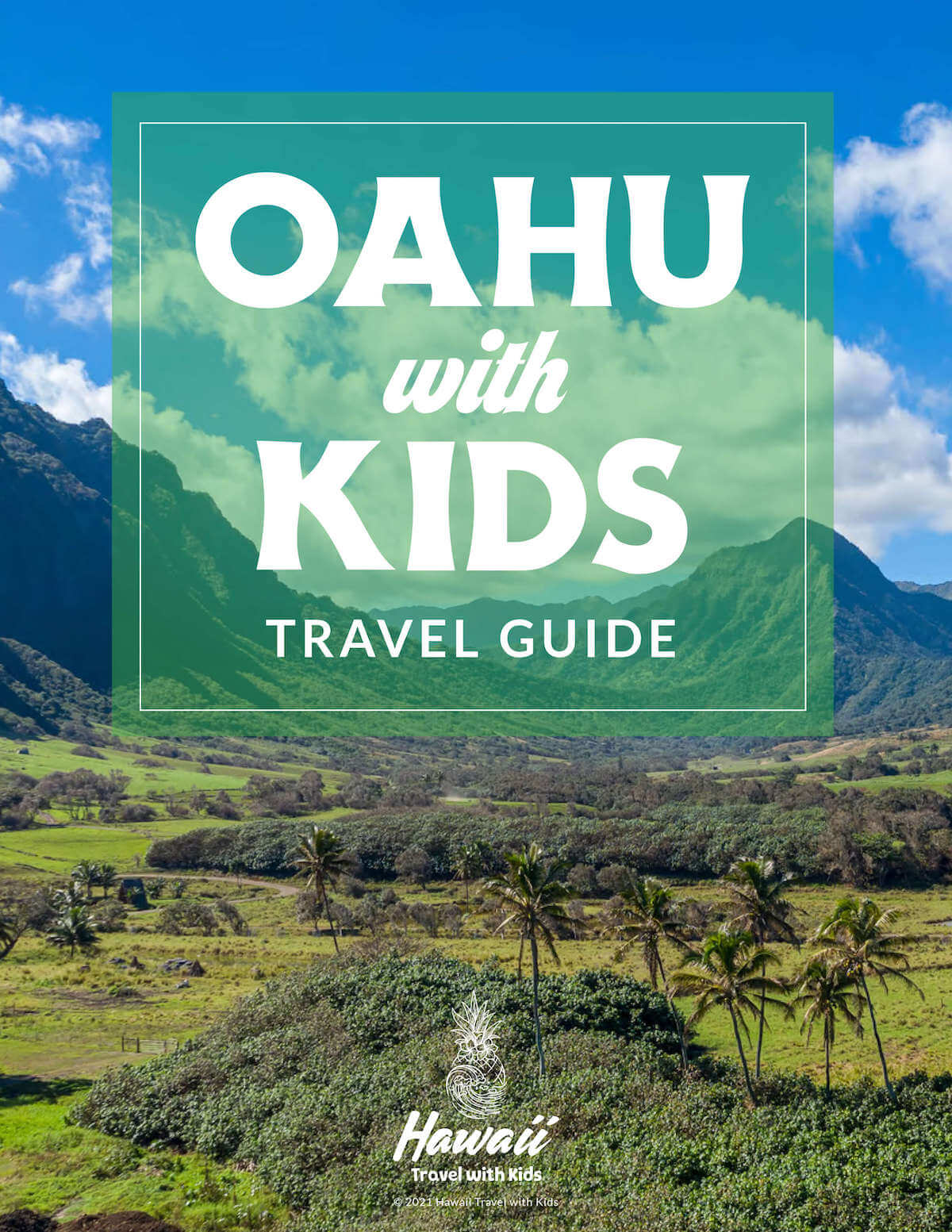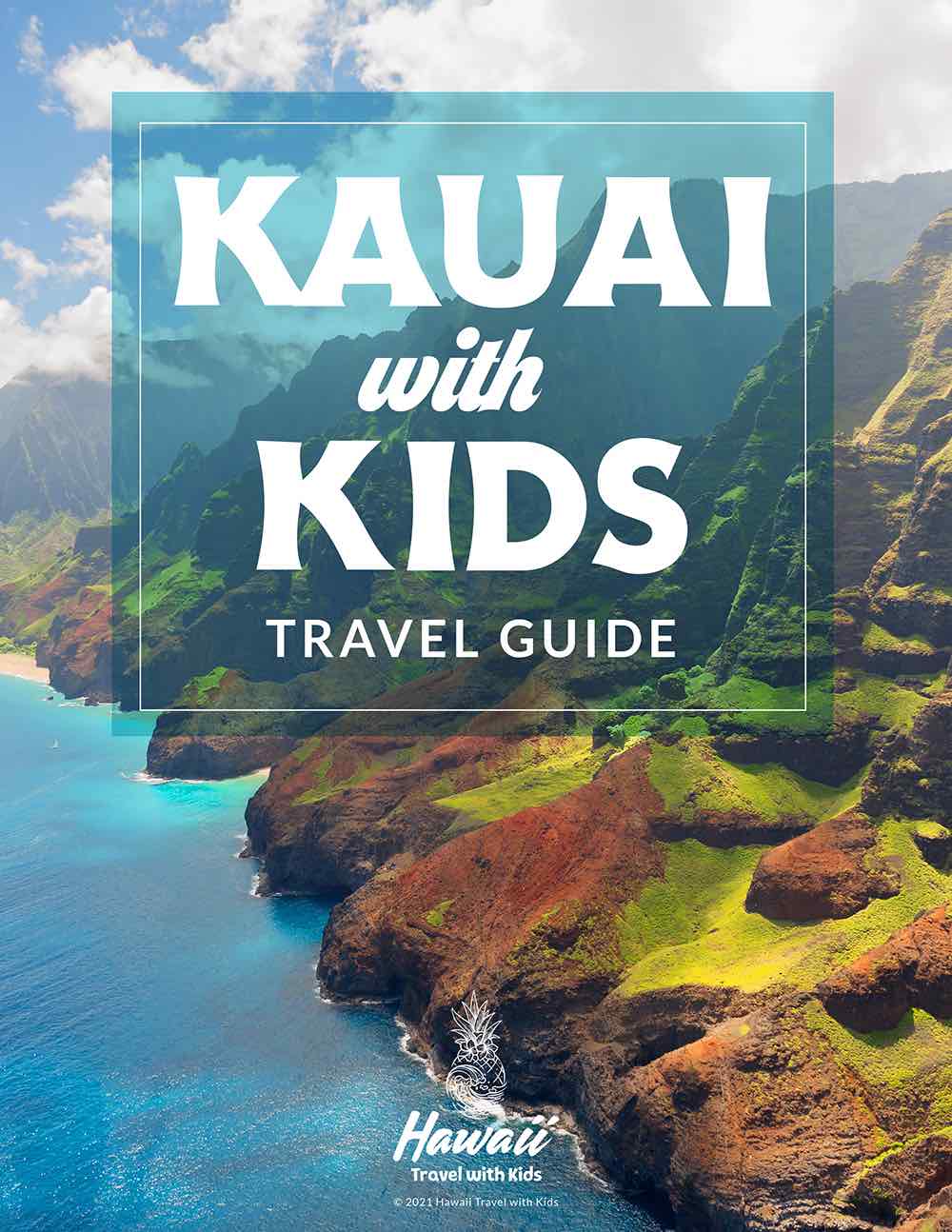 Hawaiian Santa FAQs
How does Santa travel in Hawaii? 
You will find Santa riding on a canoe to travel to Hawaii. This is a fun activity you will definitely want to show your kids if you are in Hawaii over Christmas.
What is Santa Claus called in Hawaii? 
Santa Claus is called Kanakaloka in Hawaiian. Santa in Hawaii wears some nice Hawaiian clothes and flip-flops!
Which Hawaiian island is best for Christmas?
This all depends on what you want to do during your Hawaii Christmas vacation. If you want to spend time at tourist locations with festive activities, you'll want to visit Oahu. If you want warmer weather and less chance of rain, visit the Big Island!
What does Santa do in Hawaii? 
Santa loves to visit with all the kids and spends most of his time at the beach in Hawaii. You can find him riding on his canoe and surfboard or in some local shops as well.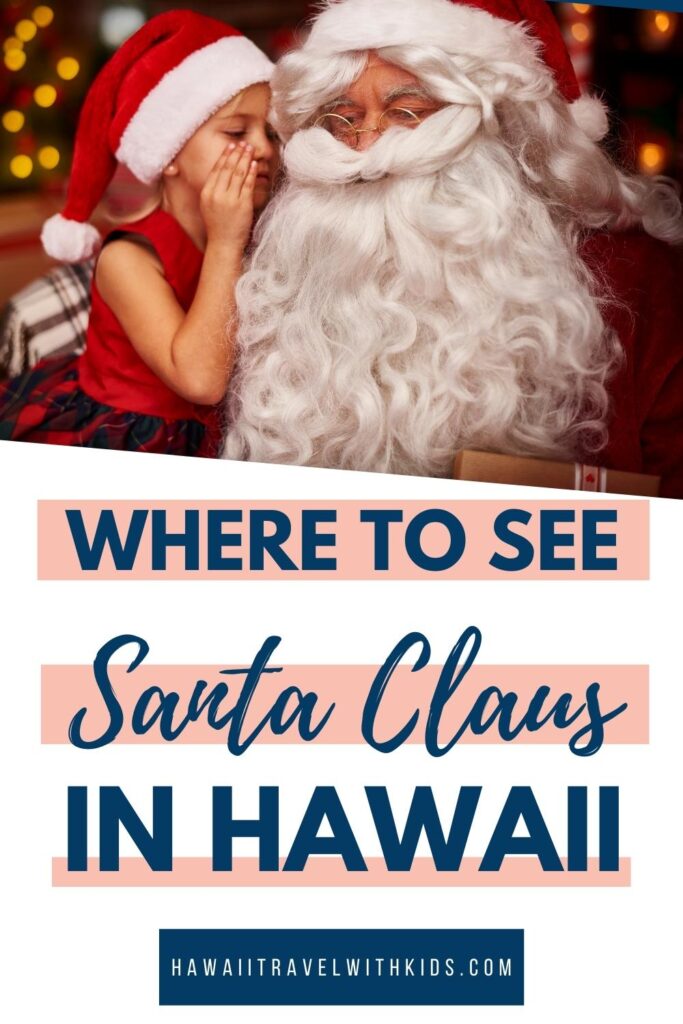 Where to Visit Santa Claus in Hawaii
One of the fun Hawaiian Christmas traditions is to go and see Santa Claus, especially when he arrives on the beach. Here are all the fun places to see and visit Santa Claus in each of the Hawaiian islands.
Santa in Maui
One of the fun things to do in Maui in December for kids is to see Santa! Check out all the places where Santa will be in Maui during Christmastime.
Grand Wailea
One of the best places to visit Santa Claus in Hawaii is the Grand Wailea in Maui. This is where Santa will come on a canoe to meet with everyone.
On Christmas Eve at Wailea Beach, Santa will come riding on a canoe to come and take pictures with the entire family. You can take your own picture or get a professional one done while you are there. There will also be plenty of fun holiday activities afterward as well you don't want to miss!
Queen Ka'ahumanu Center
Usually, after Thanksgiving, you can go to the Queen Ka'ahumanu Center to get your photo taken with Santa Claus! They decorate the mall's main level with Santa's little village and make it a fun experience for the entire family.
This Santa will even be in his traditional red suit outfit for you to get a special Christmas in Hawaii picture.
Alii Nui Maui
If you want your family to really get to know Santa during your Christmas vacation in Hawaii, go on a catamaran cruise with Santa himself!
For two hours, you get to meet with Santa, get free pictures, and your kids get a free gift from him too! There is an awesome hot cocoa bar as well. This is truly a unique experience you won't find anywhere else!
Fairmont Kea Lani
Both Santa and Mrs. Claus will come riding on an outrigger canoe to meet you at the Fairmont Kea Lani too! There are plenty of other fun holiday things for the kids to do as well, and it will be so much fun for them to visit with a Hawaiian Santa!
Lahaina Cannery Mall
In Lahaina, Santa and Mrs. Claus will also make an appearance at the Lahaina Cannery Mall during the month of December. This is another great place to get your pictures taken with Santa while you are in Hawaii for Christmas.
The Shops at Wailea
This is another great mall that will have Santa around to take some fun holiday pictures. As this is one of the Christmas traditions in Hawaii and the mainland, if you are in Wailea for your family trip, stop by and get a quick picture!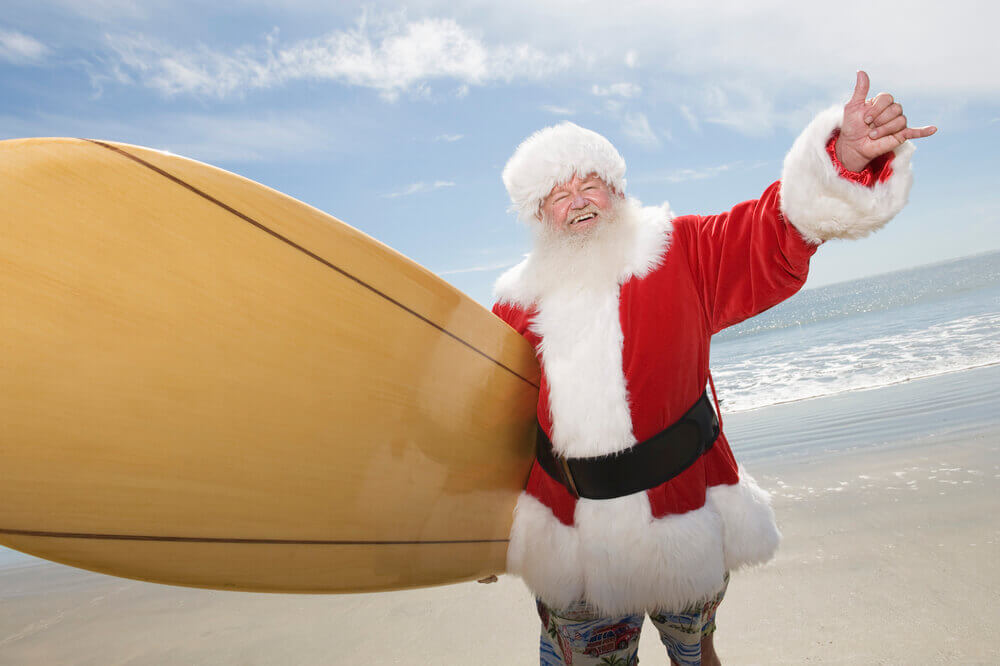 Santa on Oahu
Here are all the fun places to go see Santa on Oahu!
Outrigger Waikiki Beach Resort
Christmas in Oahu isn't really Christmas until you see Santa surfing in Hawaii and riding his canoe. At the Outrigger Waikiki Beach Resort, you will see just that! This is one of the best places to visit Santa Claus on Oahu!
Spend your Waikiki Christmas catching Santa on the beach and spending some time with him. You can usually get some free pictures in the lobby too!
Ala Moana Center
You will be able to get fun pictures with Santa at the Ala Moana Center on Oahu. You can usually find him on the Mauka Wing on the second level with Mrs. Claus here, too! Have a fun, short visit with him before heading off to your other fun adventures!
Hawaii Kai Towne Center
The Hawaii Kai Towne Center has a whole day filled with fun holiday activities. In the evening, Santa will come to visit and take pictures with you before lighting the tree ceremony. You can also enjoy plenty of fun crafts, food, and activities for the kids!
Kahala Mall
You will also be able to get some pictures with Santa at the Kahala Mall. A fun day is usually planned with activities to entertain the entire family. You will be able to meet and take pictures with Santa and make sure you are on the nice list!
Polynesian Cultural Center
If you are in Hawaii during Christmas, head to the Polynesian Cultural Center. You will find many fun holiday activities each day leading to Christmas.
Santa's workshop is located here, where you can come and take selfies with Santa himself. He is usually in his aloha outfit, so be sure to get a picture of that if you can!
Mililani Shopping Center
The Mililani Shopping Center will have a fun parade that features Santa, but it will also have him available for pictures inside during the month of December. This mall offers self-serve pictures with Santa, so bring your camera and get someone to take your family Christmas picture!
Pearlridge Center
The Pearlridge Center turns into the magical North Pole right after Thanksgiving! You will find Santa here, ready to take pictures and talk to all the kids around. You can quickly capture a memory with Santa before heading on your way to other fun Christmas activities.
Royal Hawaiian Center
The Royal Hawaiian Center is another incredible place to go visit with Santa Claus on Oahu. Not only can you get some fun, free photos with Santa, but there are plenty of incredible kid activities here; your kids will never want to leave!
From Santa's Storytime to cookie decorating class, and writing letters to send to Santa, the Royal Hawaiian Center has the best Christmas adventures for the entire family!
Windward Mall
You can also grab some pictures with Santa Claus at the Windward Mall in Kaneohe. Sometimes you might even spot Mrs. Claus! If you are on this side of the island, it is worth a visit to get a nice photo of your little ones with Santa during your vacation.
Santa in the Big Island
Here are all the best places to see Santa for your Christmas on the Big Island trip!
Prince Kuhio Plaza
Located in Hilo, the Prince Kuhio Plaza will have Santa and his crew from the North Pole ready to take some pictures with you! While you do not have to have a reservation, they allow you to reserve a time, so you aren't waiting forever!
Lanihau Center
Santa will be at the Lanihau Center by the big tree to take some pictures with the kids! Jolly St. Nick will have his helpers with him to make for a fun gathering for your little ones to experience some of the holiday magic in Hawaii.
Santa on Kauai
If you are spending Christmas in Kauai with your family, here are some of the best places to see Santa Claus on the island!
Healing Horses Kauai
Healing Horses Kauai is a must-see during your Christmas adventure. You will get to take pictures with Santa who will be accompanied by painted horses!
This is a great stop for your entire family as you will get to learn their mission while spreading some holiday cheers with Santa.
Kaua'i's Festival of Lights
Kaua'i's Festival of Lights is another great stop to meet Santa on Kaua'i. The Lihue County Park is decked out in beautiful holiday decorations and tons of Christmas lights. Santa and Mrs. Claus make some special appearances a few days in December, especially on Christmas Eve!
How to Visit Santa in Hawaii Wrap Up
If you are going on a family vacation to Hawaii during Christmas, you will definitely want to take some pictures with Santa Claus!
From seeing Santa surfing in Hawaii to riding a canoe in his aloha outfit, you will have plenty of great experiences visiting Santa Claus you won't elsewhere!