Planning a trip to Oahu and want to explore the North Shore town of Kaneohe? Scroll to find the best things to do in Kaneohe Oahu, including where to eat, awesome Kaneohe hikes, top beaches, and more!
This things to do in Kaneohe Hawaii post contains affiliate links which means if you purchase something from one of my affiliate links, I may earn a small commission that goes back into maintaining this blog.
Are you planning a trip to Hawaii and want to know what there is to do in Kaneohe?
You're at the right place! We have all the information you need about this city, from fun things for kids and adults alike.
Kaneohe is one of the beginning cities along the North Shore and has many fun things to do. Read on to learn all about the Kaneohe attractions, as well as all the things to do during your stay in Kaneohe!
If you've never been here before, we can help make your vacation as easy as possible with our tips on how to get around town.
And if you already know everything about Kaneohe, then check out some of our favorite spots that will make your stay even better!
Whether it's a family adventure or an escape for two, we have something for everyone. So read on and find out more about the best places in Kaneohe Oahu! You won't regret it.
Don't have time to read a bunch of Hawaii blog posts and reviews? Here are some of our top picks for visiting Oahu.
Popular Oahu Tours/Activities
Favorite Oahu Resorts/Hotels
Want to Rent a Car in Hawaii?
One of the best places to rent a car in Hawaii is Discount Hawaii Car Rental because they get the best rates from top national companies like Alamo, Dollar, Thrifty, Avis, Enterprise, Budget, and Payless.
Want to skip all the planning and just access my detailed Oahu Itinerary complete with daily schedules, kid-friendly activities, and travel hacks? Click the button below.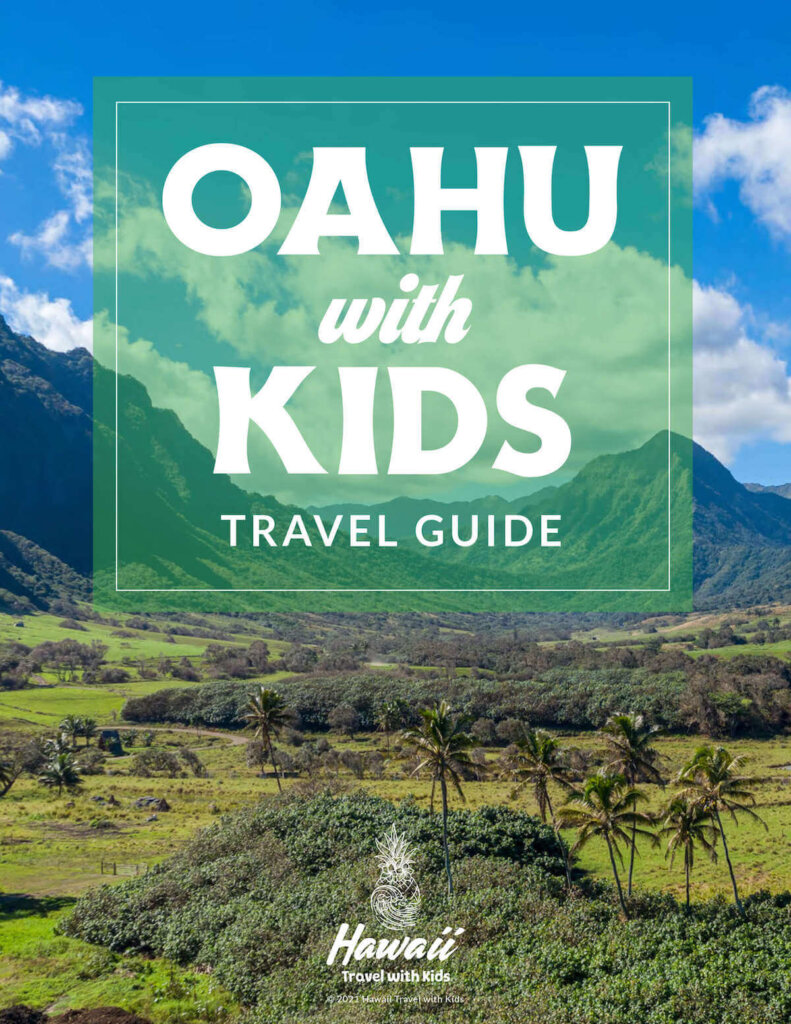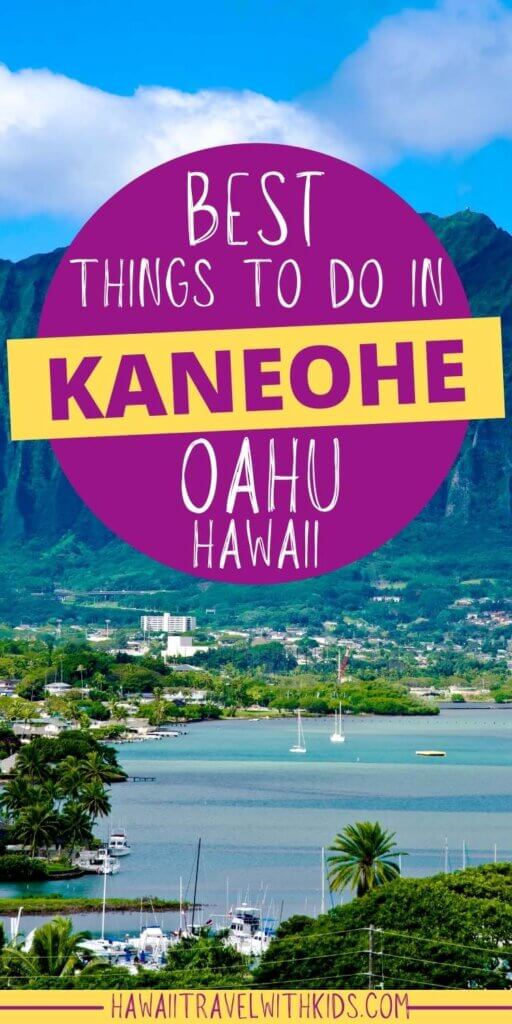 Where is Kaneohe?
Kaneohe is close to Kailua, Hawaii, and is on the northeast side of the island. It is one of the first bigger towns on the North Shore heading toward Honolulu. It is a very convenient town to live in and visit, with many shopping centers and fun things to do in Kaneohe, HI.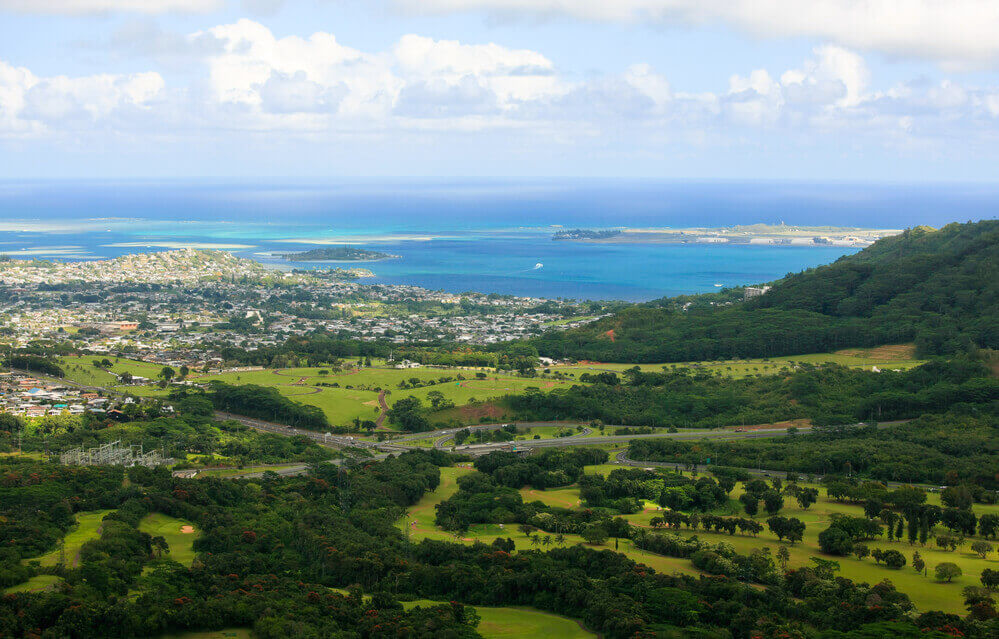 Fun Things to Do in Kaneohe
There are so many cool things to do in Kaneohe, and it is hard to name them all! Here are some of the favorite places people love to explore and visit during their vacation in Oahu.
If you are wondering what to do in Kaneohe, Hawaii, this guide is perfect for you!
Botanical Gardens
The Botanical Gardens is a beautiful and peaceful garden. If you need to relax and meditate in nature, head over to the Ho'omaluhia Botanical Gardens! It is one of the best free things to do in Kaneohe too!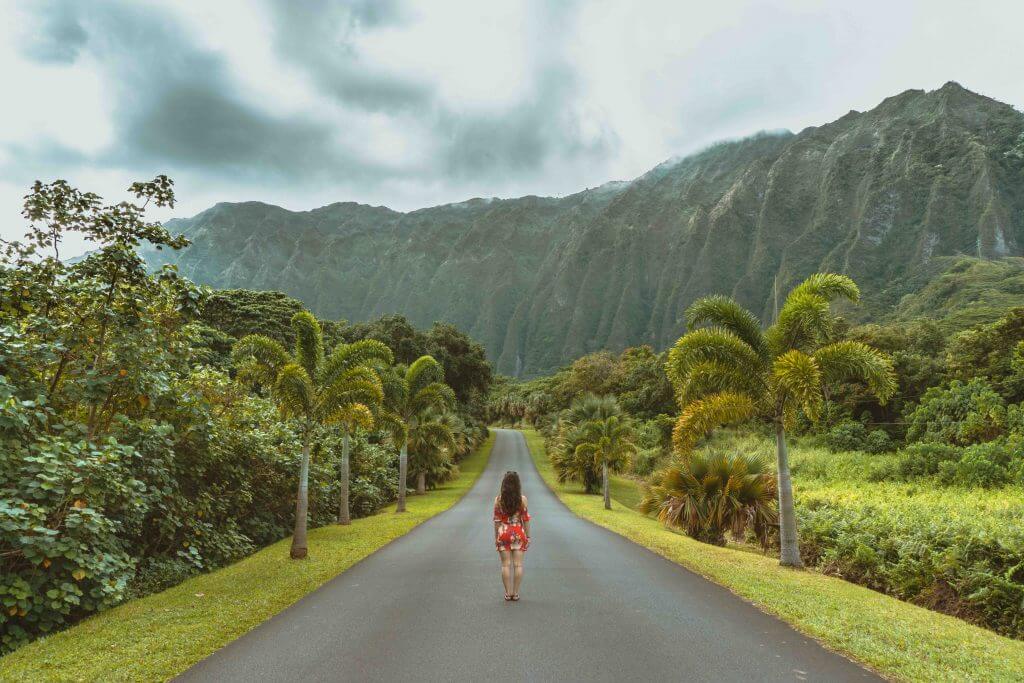 You can explore the mountains and scenery by walking or driving in your car at this botanical garden. You can also fish and paint there too! You will get wonderful views of the Ko'olau mountain range at this botanical garden.
Hoomaluhia Botanical Gardens is definitely one of the best things to do in Oahu for free, so be sure to stop by for a visit.
Golf
Whether you are an avid golfer or just like to play some mini-golf, Kaneohe is the place to go! There are a few 18-hole golf courses, all available to the public.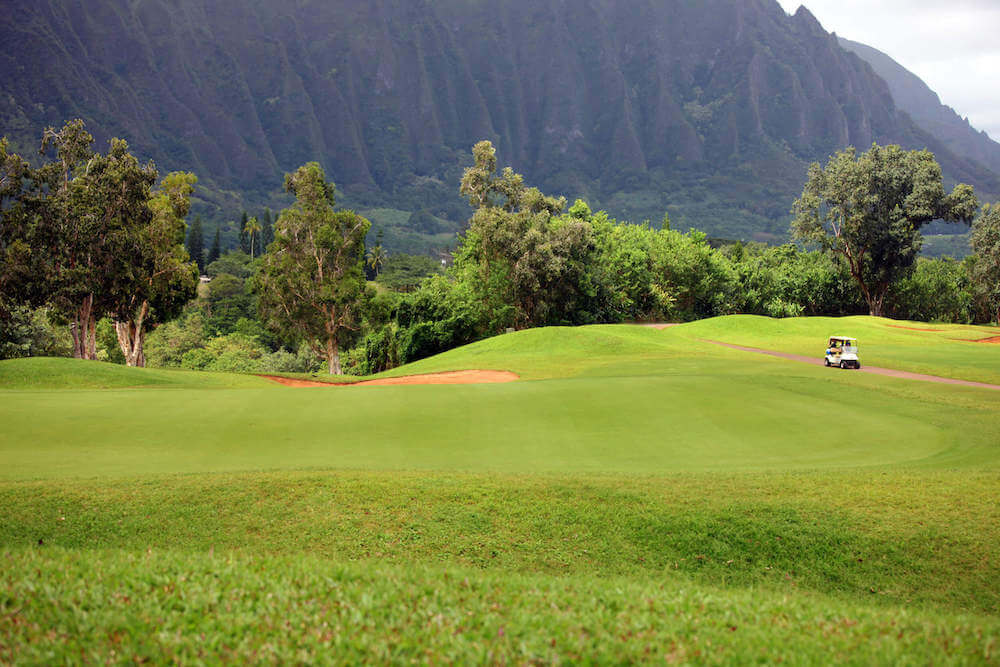 You can enjoy the Bayview Golf Course as well as the Pali Golf Course. Wherever you decide to play golf, there are beautiful mountains and a clear ocean as you play, making it a unique golfing experience for sure.
The Bay View mini putt would be a fun experience for kids too!
Check out both the Bay View Golf Course and the Pali Golf Course.
The Ko'olau Golf Club has been closed down due to COVID.
Kaneohe Bay Sandbar Tour
Kaneohe Bay is an amazing bay where you will find beaches for just about everything! You can go snorkeling, surf the waves, relax on the sand, go kayaking, paddle-boarding, and more.
An Oahu Sandbar Tour is another fun thing to do in Kaneohe. You can take a boat out to Kaneohe Sandbar, and then you can do as you please. The boat tours are the best way to get there. Check latest rates and more information.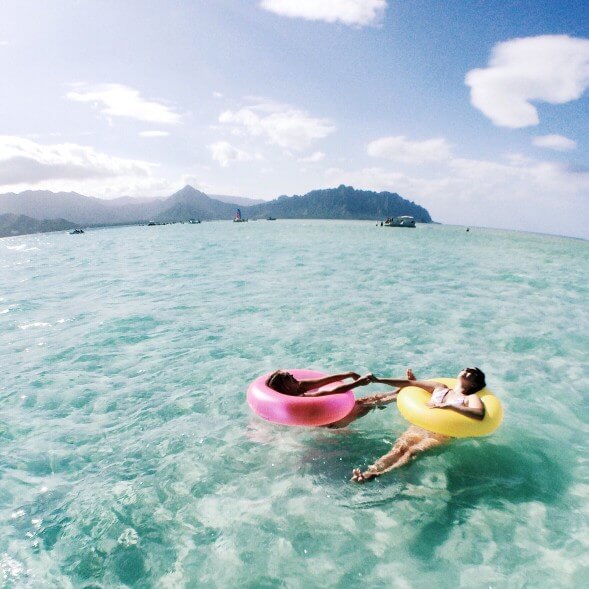 Grab your favorite pool floaties and soak in all the gorgeous scenery at Kaneohe Sandbar. It is one of the top attractions in Kaneohe by far.
There are sea turtles you can see and swim with as you snorkel. Locals view Kaneohe Bay as one of the best places to snorkel! Or go paddle boarding and enjoy all the beautiful scenery of Kaneohe. It is one of the best things to do if you are staying in Kaneohe for sure!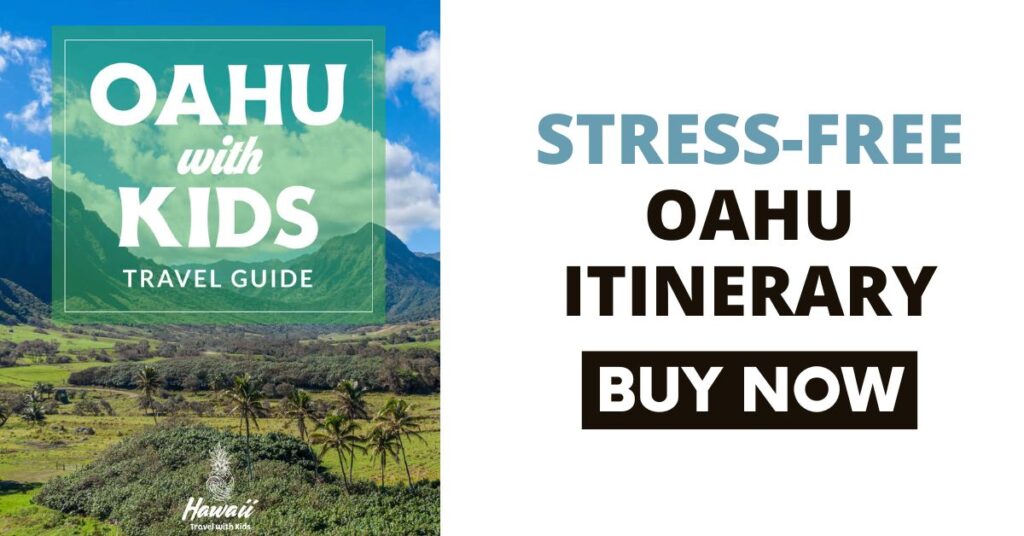 Farmers Market Windward Mall
Who doesn't love farmer's markets? I sure do! The Farmer's Market at Windward Mall has just about everything you could want! The fresh fruits and vegetables are great for tourists to find as they are not the traditional foods you would see back on the mainland.
But you will also find delicious lunch plates, baked goods, and more. If you plan to cook meals during your vacation, this is also a great place to find cheaper fresh goods. The market is open on Sunday mornings and Wednesday evenings. Check out all the Oahu farmers markets HERE.
Byodo-In Temple
This temple, replicated after the full-size one in Japan, is definitely a Kaneohe sightseeing spot you don't want to miss. This is one of the best photo spots in Hawaii as well! You might recognize it from a few movies and tv shows like Hawaii Five-O, Magnum P.I., and many others.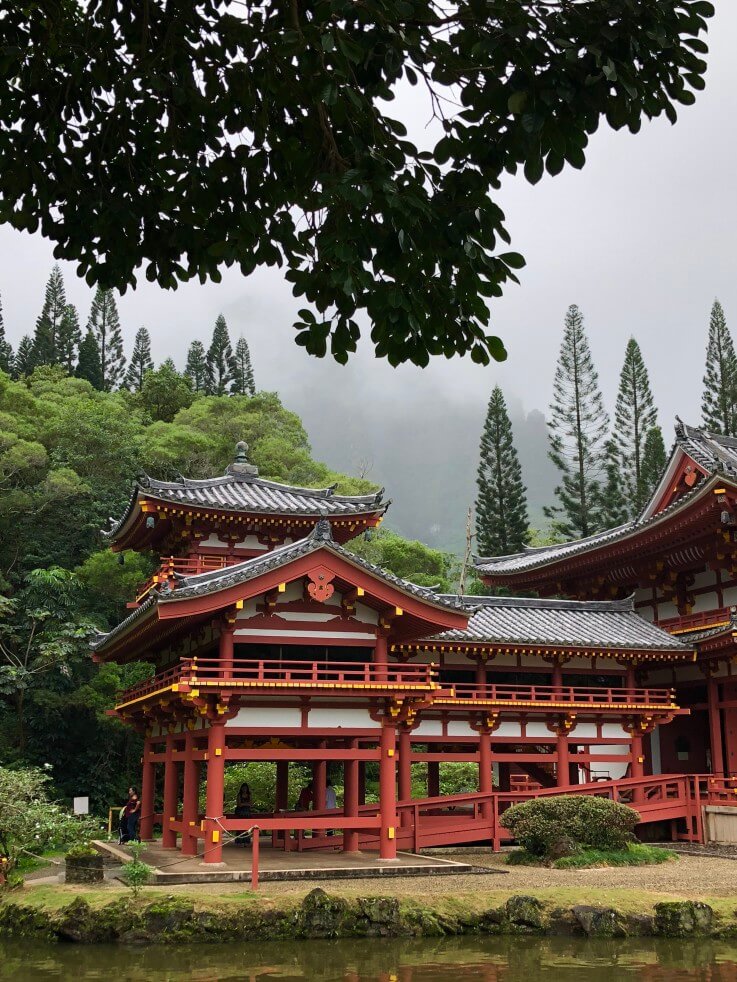 This is a very sacred spot, but all visitors are welcome as it is a non-practicing temple. This is a great tourist attraction in Kaneohe. Explore the beauty as you walk along the foot of the mountains and feel the peace and serenity as you spend time at this place.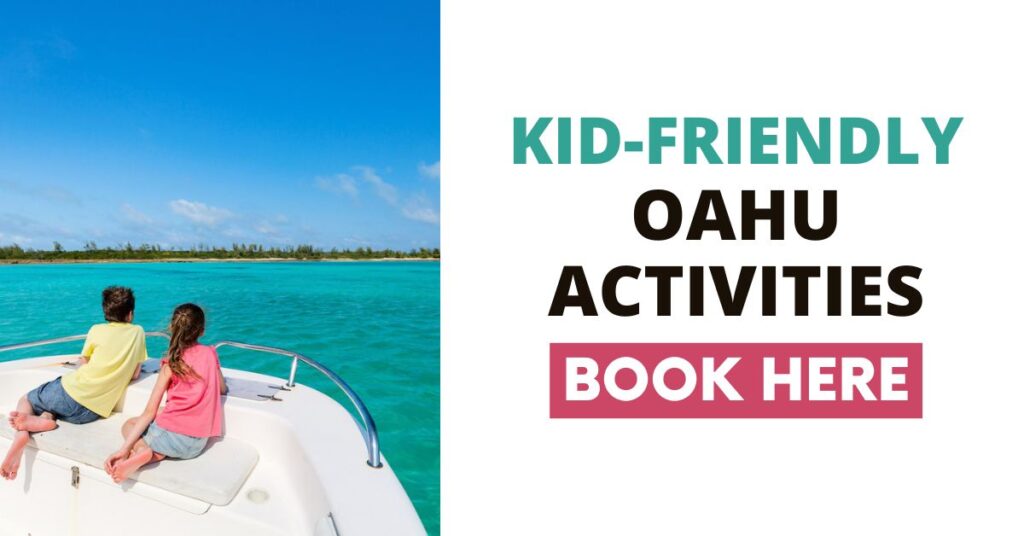 Bay View Activities
As mentioned above, Bay View has a great golf course and a miniature golf course. The mini-golf course has either an 18-hole or 36-hole course to choose from. Enjoy soaking up the sun with some friendly competition! This is one of the fun things to do in Kaneohe at night as well!
You can also do a super fun zipline at Bay View! It is a 400-foot-long zipline that goes over Kaneohe Bay. It is a dual-track, so you can enjoy ziplining with a friend or family member right by your side. You can get a single ride or three rides.
This zip line is one of the most affordable ziplines on the mountain and gives you scenery you won't find anywhere else! It is another one of the great outdoor activities and Kaneohe things to do if you love adventures.
Kaneohe Hiking Trails
If you plan to stay in Kaneohe, bring some good hiking shoes because this town has some good hiking trails!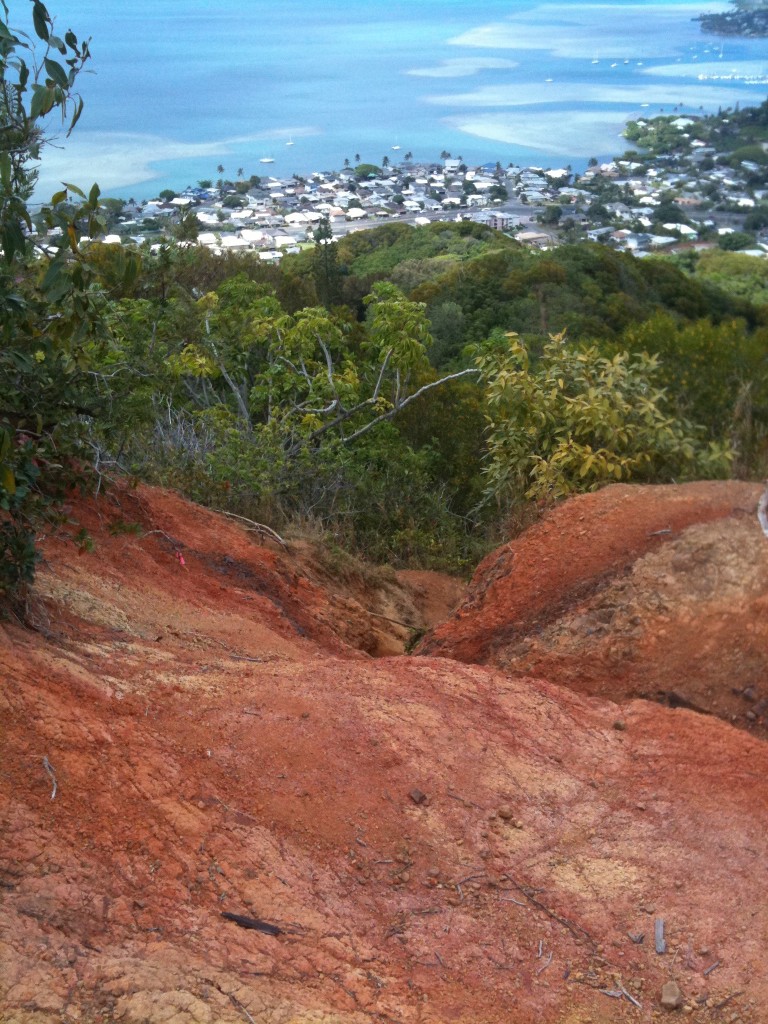 Friendship Garden is a favorite Kaneohe hiking trail. It is maintained but still feels like a 'wilderness' almost. This is a very respected area that has opened to the public, so treat it likewise. The parking lot is very limited and only has about six spots in total. Carpool and buddy up to accommodate the parking.
If you need a short and relatively easy hike, try the Pu'u Ma'eli'eli trail. It is only 1.5 miles for the entire hike, which is super short! This hike is located by the Temple Valley Shopping Center. Many find this trail easy enough for kids to go on, but it will be slippery if it rains.
Another great hiking trail located in Kaneohe is the Ulupaina Trail. It is a less-known trail but offers amazing views of the mountains, Chinaman's Hat, and the ocean. Make sure your camera is fully charged to capture the beauty here!
This hike is more difficult as it does get steep and muddy in many areas. This hike is in the Valley of Temples Memorial Park and is around three and a half miles. Many complete it in around three hours, so plan accordingly.
There are many pillbox hikes in Hawaii, and the Pu'u Ma'eli'eli Pillbox is in Kaneohe. You can probably finish this in around 30 minutes if you hike a lot, but it is challenging for those who don't hike much. It is one of the fun hiking trails to see the pillbox along with the view of the vast ocean.
Book a Family Photo Shoot
Whenever we travel to Hawaii, we almost always book a family photo shoot with Flytographer. They are super easy, affordable, AND it guarantees that I'll be in some photos. You can get $25 off if you book through this link or use the code HAWAIITRAVEL.
Kualoa Ranch
This is one of the top Kaneohe tourist attractions, but it is one you definitely need to visit! Take a jungle tour to see all the fun movies that were filmed along the Kualoa mountains.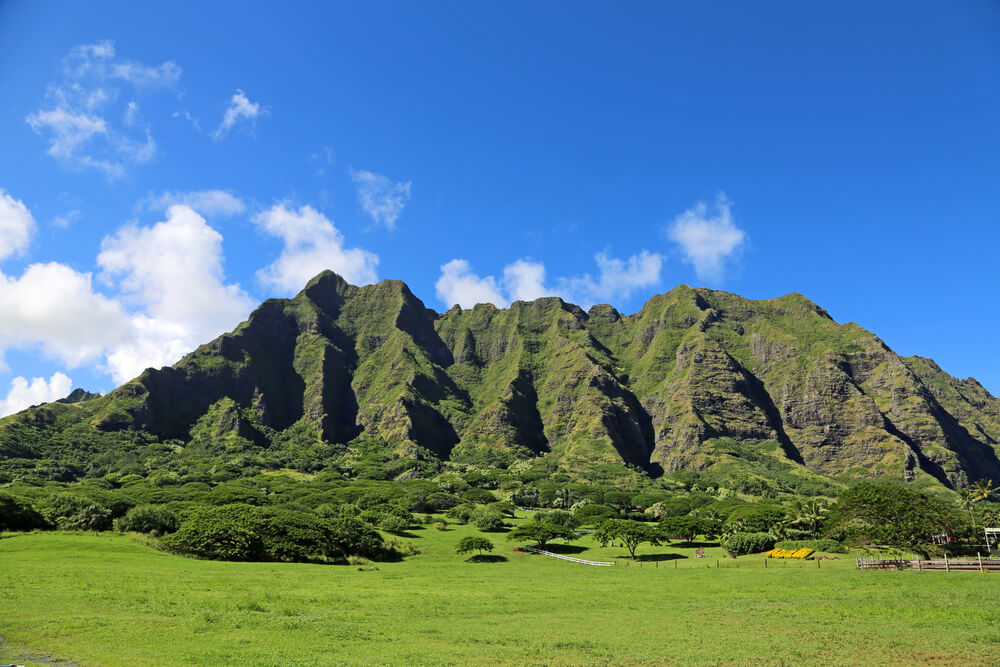 There are so many fun adventures that await you at Kualoa Ranch, including:
If you visit anything in Kaneohe, the Kualoa Ranch is one of the best! Many tourists visit daily, so be sure to get your reservations ahead of time. It is by far one of the best Kaneohe Hawaii things to do in my opinion!
We love the Jurassic Valley zipline, secret island, and just about anything this ranch offers.
You can read my full guide to Kualoa Ranch Secret Island Oahu HERE and my Jurassic Park ATV tour review HERE.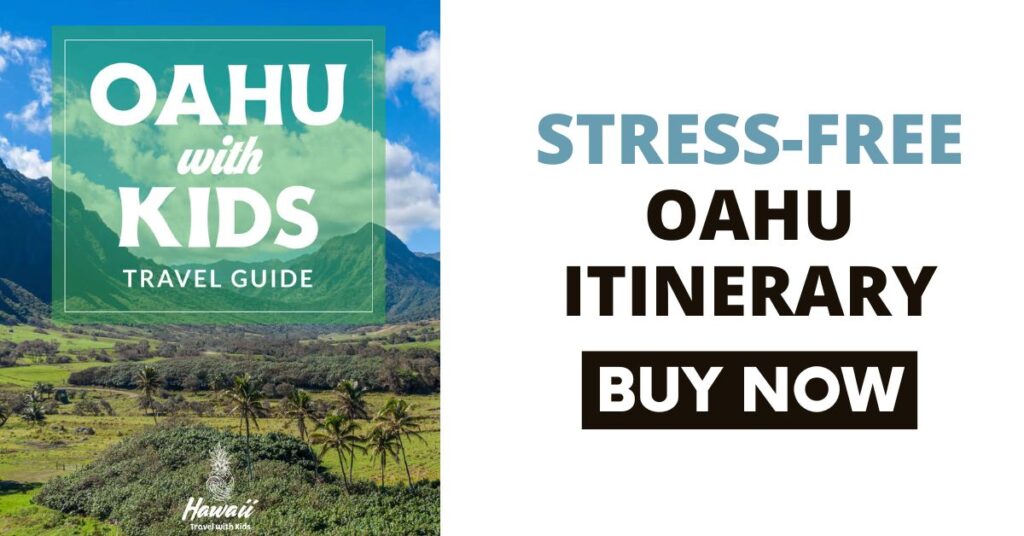 Best Places to Eat in Kaneohe
Check out some of these places to eat while you are there and wondering where to eat in Kaneohe. These are some of the best restaurants in Kaneohe you could find!
Adela's Country Eatery
This is one of the best places to eat in Kaneohe; everyone recommends it! This place features local dishes using ingredients that are from Hawaii.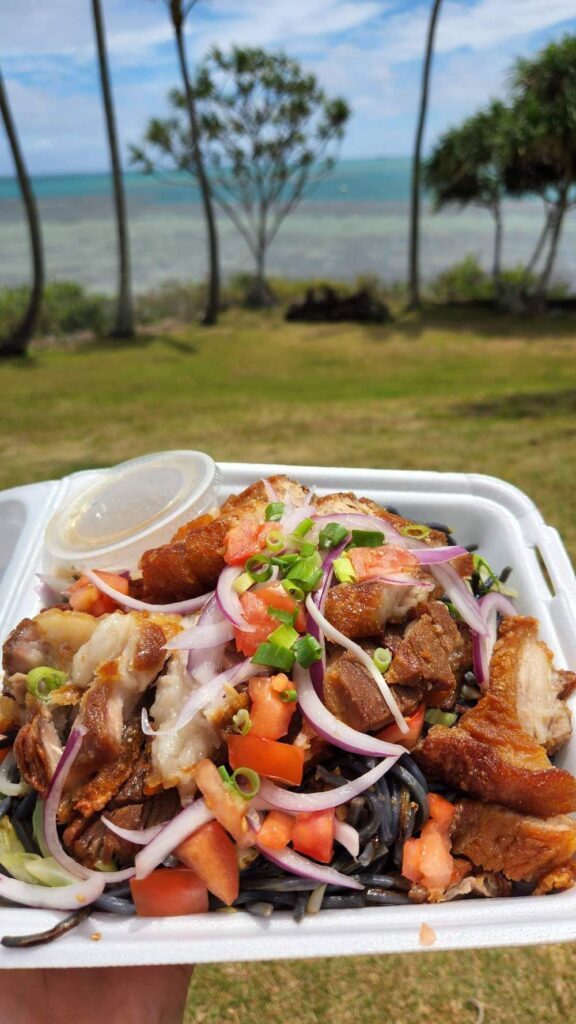 Adela's Country Eatery is famous for the noodles that are made in Hawaii. Order from the menu or make your own pasta plate! You'll also find many plate lunches like ribs, kalua pig, and chicken.
Haleiwa Joe's
Another delicious place to stop at is Haleiwa Joe's in Kaneohe. This restaurant originally was in Haleiwa but was able to open a second location here and offers some of the best food in Kaneohe.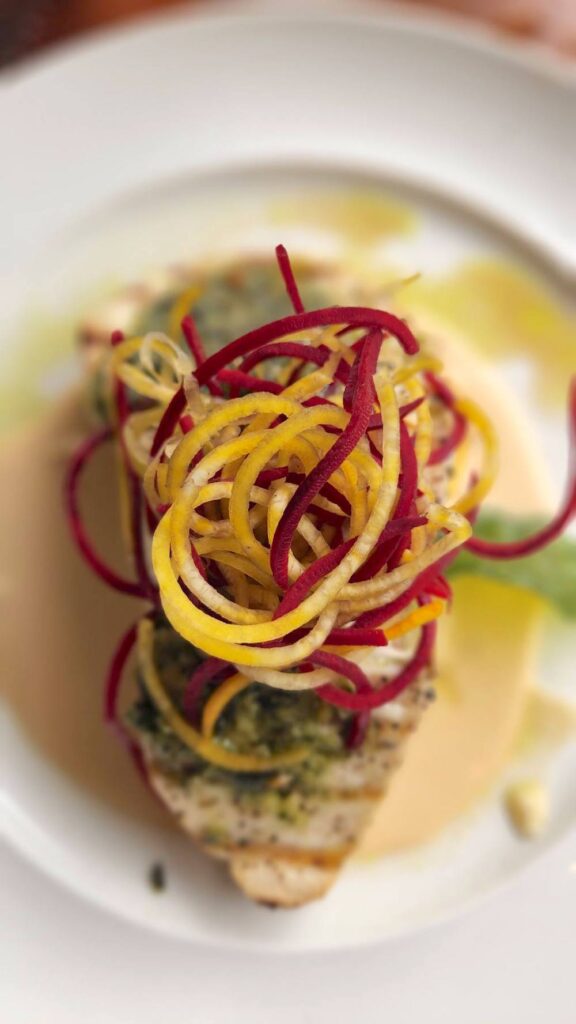 It sits right on the Haiku Gardens. There is a koi pond to enjoy along with the fresh breeze as it is an open restaurant. Many of the items on the menu are fresh ahi and other delicious seafood.
Waiahole Poi Factory
Another traditional Hawaiian food restaurant in Kaneohe is the Waiahole Poi Factory.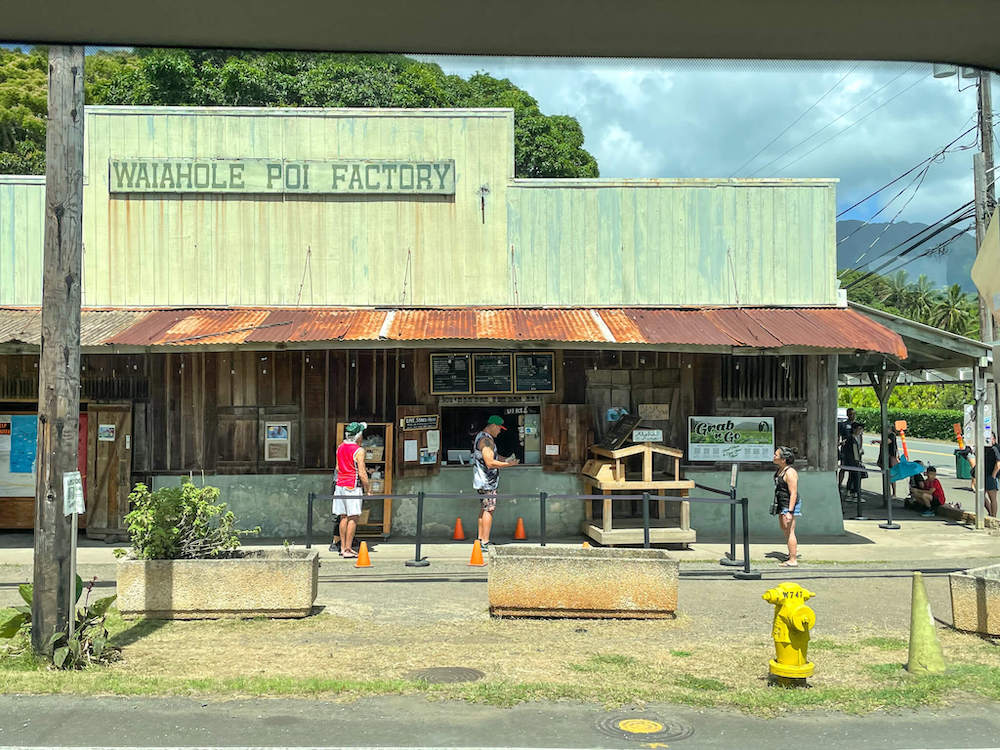 This place is famous for its hand-pounded poi and delicious traditional Lau Lau. Everything is very authentic and fresh. Locals and tourists love this place!
Best Beaches in Kaneohe
There are so many beaches along Kaneohe Bay, but there are two that are amazing to visit. The first was mentioned previously: Sandbar Beach. This beach is unique as it is actually off the island. There is a sandy spot that will appear during a low tide.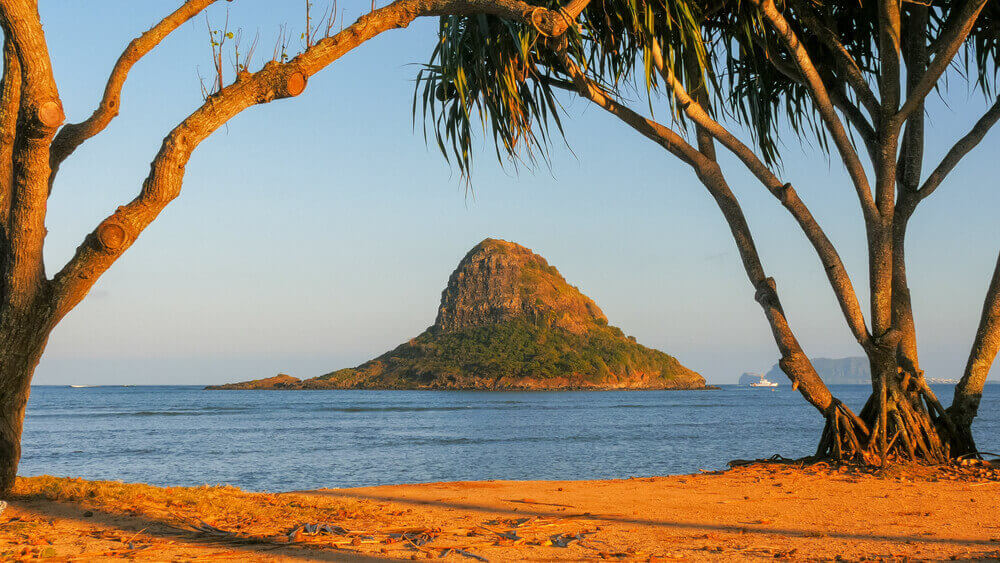 Another great one is the Kualoa Regional Park. This part is where you can access Chinaman's hat and is right across the road from the Kualoa Ranch. This beach has picnic places where you can barbecue and enjoy the beautiful beach and Kualoa mountains.
If you want to visit Chinaman's Hat, get a kayak; you do not want to swim to it. It is ⅓ of a mile out from the Kualoa Regional Park, and sharks have been spotted there, not to mention the tides that can shift at any given moment.
If you are brave enough to venture to Chinaman's Hat, be sure to hike to the top. It is incredibly difficult but worth the experience and view!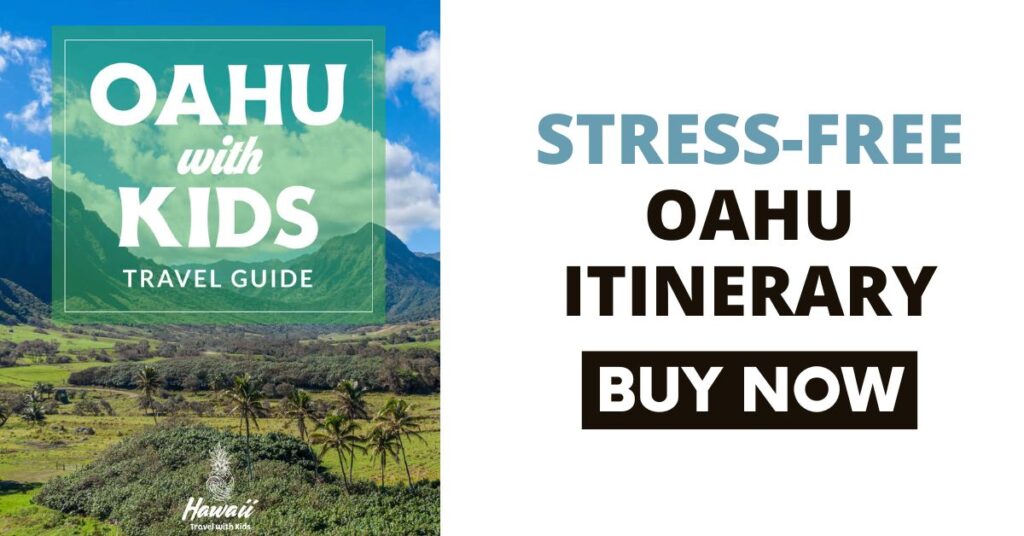 Kaneohe Oahu FAQs
What is Kaneohe known for?
Most people who move to Kaneohe are connected to the military. That's because the Marine Corps Base Hawaii is located there. That's one of the 9 Hawaii military bases. It's not necessarily a tourist town, but it does attract friends and family visiting military personnel.
Is Kaneohe Bay safe to swim in?
You bet! There are actually 4 beaches located at Kaneohe Bay, so you'll have lots of space for all the things to do in Kaneohe Bay, including swimming in the ocean, snorkeling, surfing, or bodyboarding. And the beaches are great for relaxing and enjoying some beautiful Hawaiian sunshine.
Is the Kaneohe Sandbar worth it?
Absolutely! It's such a hidden gem on Oahu! You'll most likely need to take a boat to get there, but it's an awesome place to go swimming. Plus, you'll get sweeping views of the Ko'olau Mountains.
How to pronounce Kaneohe?
Kaneohe is pronounced kaa·nay·oh·hay.
How far is it from Kailua to Kaneohe?
One of the things to do near Kaneohe is to visit Kailua, a nearby town. Kaneohe is about 10 to 15 minutes away from Kailua.
What's the weather in Kaneohe usually like?
Because it is located right near the Ko'olau Mountain Range, Kaneohe does get a lot of wet weather. You might get some rain every now and then, but it usually is only for a few minutes and doesn't last long. You can find plenty of sunshine for all the outdoor activities and sightseeing in Kaneohe!
Is Kaneohe worth a visit?
I definitely think Kaneohe is worth a visit. It is a hidden gem on Oahu, filled with such natural beauty along the North Shore. It is perfect for day trips during your vacation in Oahu! From visiting a sandy beach to playing golf, shopping, and going on guided tours, visiting Kaneohe is one of the top things to do in Oahu for couples and the entire family!
Kaneohe Activities Wrap Up
Kaneohe is an awesome place with so much to offer. Whether you're looking for a family-friendly vacation, need some time to unwind, or want the perfect romantic getaway, there's something here for everyone!
So what are you waiting for? Add these things to do in Kaneohe to your Oahu bucket list, and have fun on your next vacation to Hawaii! Check out some of our other Oahu content below.