Planning a trip to Maui in December and want to know how to spend Christmas on Maui? Scroll to find out the best things to do in Maui Hawaii for Christmas.
This post about celebrating Christmas on Maui Hawaii contains affiliate links which means if you purchase something from one of my affiliate links, I may earn a small commission that goes back into maintaining this blog.
Are you planning to spend Christmas on Maui, Hawaii?
While it is fun to have a white Christmas on the mainland, a Hawaiian Christmas is extra special!
Here is everything you need to know to have the perfect Christmas day in Maui. You'll learn about the best Christmas activities in Hawaii, where to find Christmas lights in Hawaii, and so much more!
Make sure you don't miss out on all the fun activities we have listed below for this holiday season. We guarantee it will make your trip even more memorable if you try them all out while staying in Maui over Christmas time!
You won't regret spending your holidays on Maui. It is truly a magical place during the winter months.
Keep scrolling to plan your perfect Maui Christmas!
Don't have time to read a bunch of Hawaii blog posts and reviews? Here are some of our top picks for visiting Maui.
Popular Maui Tours/Activities
Favorite Maui Resorts/Hotels
Andaz Maui (this is a luxury resort with the best luau on Maui)
Honua Kai Resort & Spa (this is one of our personal favorites because there are tons of pools and there are condo options)
Want to Rent a Car in Hawaii?
One of the best places to rent a car in Hawaii is Discount Hawaii Car Rental because they get the best rates from top national companies like Alamo, Dollar, Thrifty, Avis, Enterprise, Budget, and Payless.
Want to skip all the planning and just access my detailed Maui Itinerary complete with daily schedules, kid-friendly activities, and travel hacks? Click the button below.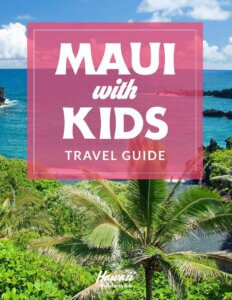 Maui Christmas FAQs
Does Maui celebrate Christmas? 
Yes, Maui does celebrate Christmas just like every other island in Hawaii. While special Hawaiian Christmas traditions make it a bit different from what you are normally used to, Christmas is still a wonderful holiday in Hawaii. 
Where are the Christmas lights in Maui? 
There are Christmas lights all over Maui! Many communities and neighborhoods light up their homes with gorgeous decorations all throughout the island. Many businesses will have Christmas lights as well. Keep reading to find the places with the best Maui Christmas lights!
Is Christmas a good time to go to Maui?
While rental cars, hotels, and flights are more expensive in December, Maui is still an amazing place to visit during Christmas. You'll find beautiful sunshine and can escape the cold weather during Christmastime, which makes it a great place to visit in December!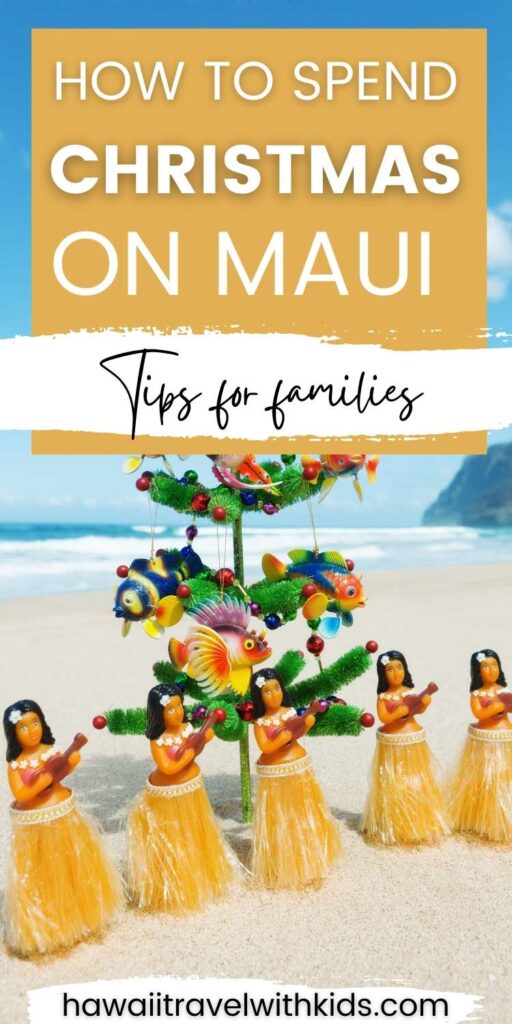 What is the Weather Like in Christmas in Hawaii?
In Maui, the weather at Christmastime is usually pretty warm and sunny. You probably will experience some rain and wind, as December is the coolest month in Hawaii.
Christmas weather in Hawaii is usually in the mid-80s for highs and can get to the high 60s for cools. Be sure to pack a light jacket and some pants just in case! Maui's Christmas weather is still very beautiful and sunny. Check out my full Hawaii Christmas packing list HERE.
Best Christmas Activities in Maui
Here are a few of my favorite Maui Christmas activities. Maui Christmas vacations are some of the best because there are so many Christmas festivities all month long!
Santa Visits
Santa loves to visit Maui every year! You might see him come on an outrigger, sled, surfboard or jet. He loves to surprise all the kids in a different way each time. Find out where to see Santa in Hawaii.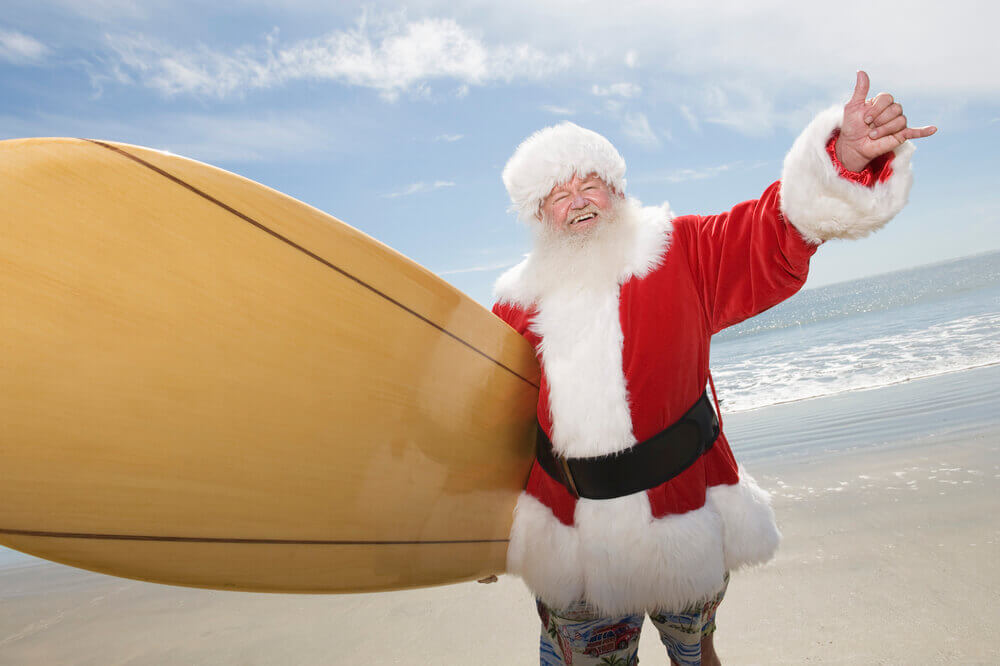 Usually, on Christmas eve, Santa will come on a canoe at Wailea Beach. Mrs. Clause will be there too, and you can take pictures will them.
You can join Santa on a sail in Alii Nui! Kids can enjoy sitting on a boat with Santa eating delicious treats, and sipping on Hot Cocoa.
Shopping
Everyone wants to grab some fun Hawaiian souvenirs during their Christmas vacation in Hawaii. Here are some of the best shops in Maui.
Whalers Village in Kaanapali has tons of shops you can find all your gifts in one place! You will find some well-known shops and some smaller businesses that have beautiful Hawaiian pieces to enjoy.
You'll also find plenty of good things at the Shops at Wailea. It's a great place to get a few Maui Christmas ornaments to remember your trip.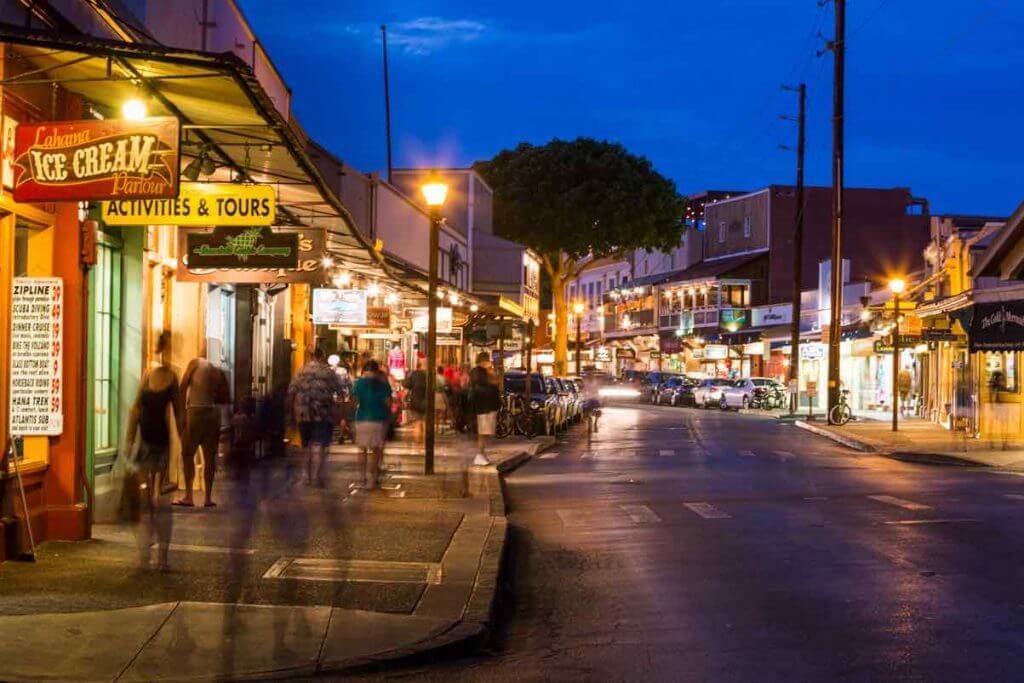 You can also find some pretty unique local items on Lahaina Front Street. The Banyan tree is also lit up and a beauty to see here as well! At Hui No'eau Visual Arts Center, you can find local arts art pieces to get as well.
Maui Ocean Center
The Maui Ocean Center is filled with many events through December and is the perfect place for Christmas activities for kids and families. You'll also be able to see Scuba Clause and his Elves right in the middle as you explore all the Ocean Center has to offer.
Whaler's Village
The Whaler's Village is another fun place for families to visit with children. Some carolers have been seen strolling through the shops and restaurants during December, spreading extra holiday cheer. Here you'll also find specific activities, especially for Christmas!
Maui Arts and Cultural Center
At the Maui Arts and Cultural Center, you'll find some pretty unique concerts throughout the month of December. Many of these events include local Hawaii artists who share their love for Christmas and Hawaii all in one!
If you are in the mood for some beautiful holiday music, check out some of these concerts on Maui during Christmas!
Kula Botanical Gardens
At the Kula Botanical Gardens, you will see some beautiful Christmas trees on Maui! This garden is the biggest one to grow all the Hawaii Christmas trees each year. If you are wanting a real Christmas tree during your trip, go grab one here! They also make gorgeous Hawaiian Christmas wreaths too!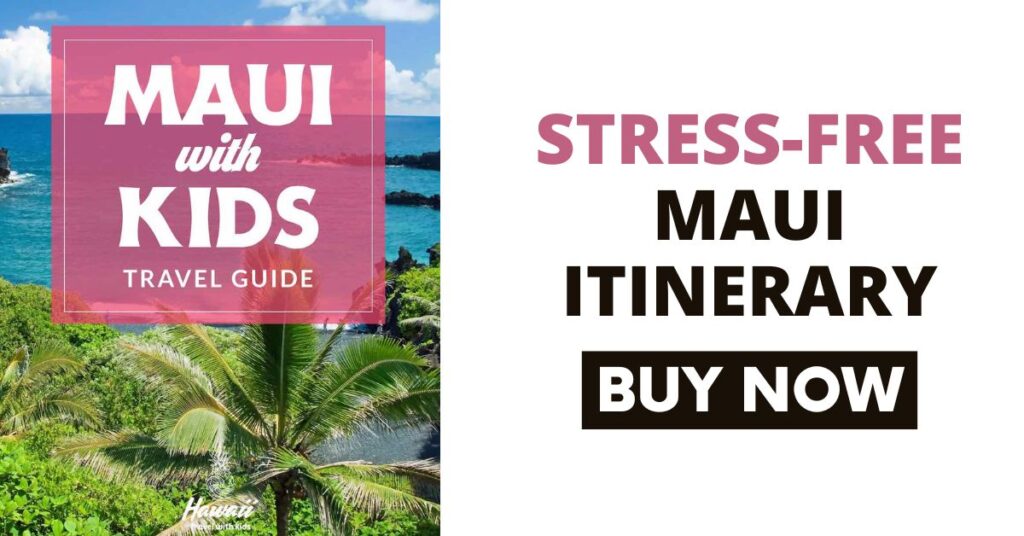 What is There to Do on Christmas Day in Maui?
Are you wondering what to do in Maui on Christmas day? There are so many fun things to do in Maui at Christmas! Here are some of the best things to do in Maui on Christmas day!
Ugly Sweater Party
On Christmas Eve and Christmas Day, visit Down The Hatch in Lahaina as they host their 7th annual Ugly Sweater Party! Wear your ugliest sweater while you eat, party, and wait for Santa to come!
Halona Kai Holiday Village
Halona Kai Holiday Village is one of my favorite ways to spend time during Christmas in Maui. Each night from 5:00-9:00 pm, you'll find various Christmas activities starting on the 23rd until the 27th. Here you'll enjoy a Christmas tree lighting each night followed by an appearance from Santa.
From there, you'll have a variety of fun games and activities as you spend the holidays with your family. There are also treats galore from Mrs. Clause's Bake Shop too! This is a great family-friendly Christmas activity to enjoy this year in Hawaii from Christmas!
Go to the Beach
Visit any beach on Christmas Day as it is free! Surf, soak up the sun, and enjoy a Christmas unlike any other. You can even build your own snowman out of sand! You can't go wrong with this Christmas activity! Your kids will love this on your Maui Hawaii Christmas vacation.
Whale Watching
During winter months is the best time to go whale watching. Many tours will take you up close to the whales for you to enjoy, but you might get lucky and see some along the beaches as well.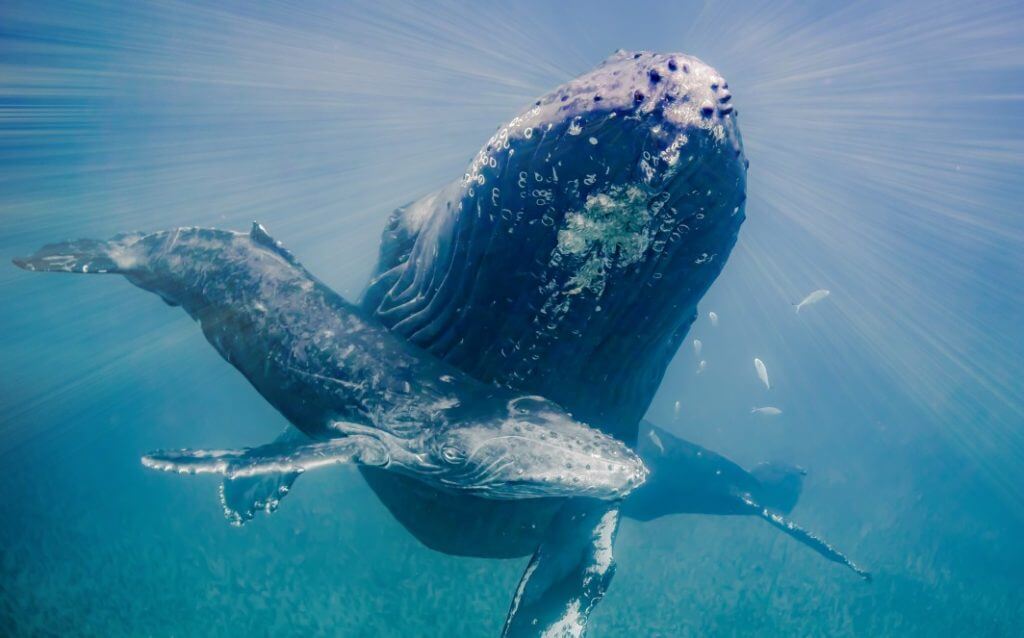 The Pacific Whale Foundation has some amazing tours. You can read more about Maui whale watching HERE.
Maui Christmas Luau
There are plenty of fun Christmas luaus to enjoy all throughout the month of December. From Christmas dinner in Lahaina luau to a delicious Maui Christmas brunch, there is some fun Maui Christmas events to enjoy for a nice Hawaiian luau.
There is a fun Christmas Eve Luau with Wailea Marriott, or enjoy brunch of the ocean with a Christmas cruise from the Pacific Whale Foundation. Check out all the fun Christmas Luaus during your stay in Maui!
Where to Eat in Maui for Christmas
There are many places open for Christmas, so you can still eat Christmas dinner on Maui. Here are some options for an awesome Maui Christmas dinner to choose from!
Nick's Fishmarket
Nick's Fishmarket is open for Christmas! Not only that, but they also have a special menu just for Christmas. Enjoy some classic seafood dishes, including ahi, potstickers, and poke, along with an amazing holiday special!
Mala Ocean Tavern
You'll also be able to enjoy some drinks and dinner a Mala Ocean Tavern. Here you can enjoy some live music during happy hour as you eat and enjoy your Christmas day. Happy hour is available 2:00-4:00 pm every day.
Lahaina Grill
Enjoy your Christmas meals at the Lahaina Grill during your trip. Lahaina Grill has also been a top favorite for many years and even claimed the best Maui restaurant for 28 years, so check it out and see for yourself!
Merriman's
Merriman's is another delicious restaurant open on Christmas Eve and Christmas Day. The Maui Merriman's is located in Kapalua and is open from 3:00-8:30 pm on Christmas. Some of the holiday menu items include poke, curry, oysters, lamb chops, and so much more!
The Plantation House
Also located in Kapalua is the Plantation House. It is open in the evening on Christmas and has delicious Hawaiian food, including poke, shrimp scampi, ahi sashimi, and more! Enjoy a family dinner on Christmas here.
Where to See Christmas Lights on Maui
Here are some of my favorite places to see Hawaiian Christmas lights in Maui!
Banyan Tree
The Banyan Tree located in Lahaina on Front Street is always decorated in beautiful lights. This has become a holiday tradition to decorate the tree with thousands of lights throughout December. This is one of the best Christmas trees in Maui, so be sure to visit during your Maui Christmas!
ʻUlupalakua Holiday Tree
Another fun Christmas tree lighting on Maui is the 'Ulupalakua holiday tree. Here you will see this 80-foot colossal camphor tree decorated in beautiful lights. During the tree lighting, you will see Santa, have delicious food and hot chocolate, as well as live Christmas music and crafts for the little ones. Learn more about this Maui Christmas tree from the 'Ulupalakua Ranch.
Grand Wailea
You will see the Grand Wailea full of Christmas lights all December long. This is a fun place full of holiday cheer to visit. You can even see a real-life gingerbread house village in the lobby too!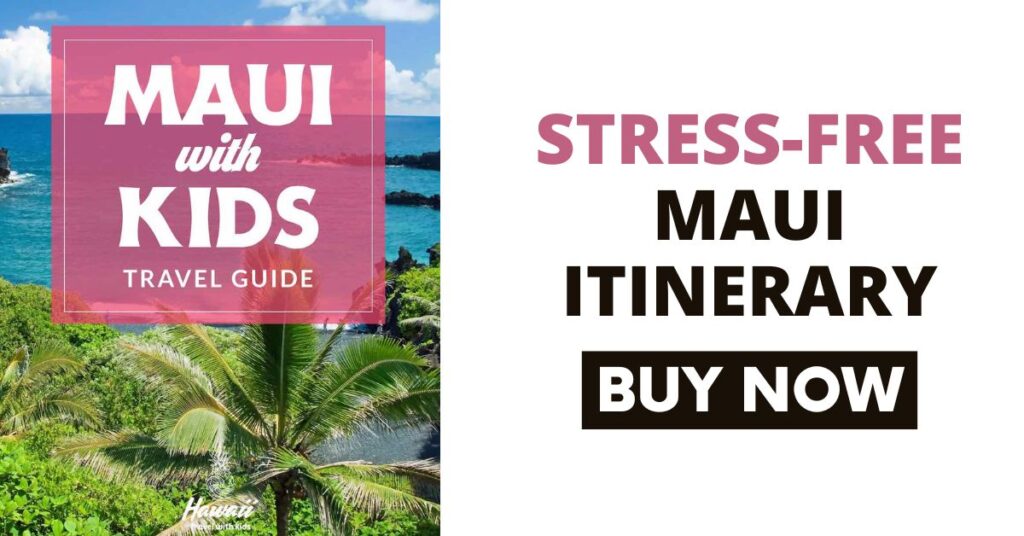 Christmas in Maui Hawaii Wrap Up
Hawaii is the perfect place for a family to spend Christmas. With beautiful scenery, festive celebrations and plenty of activities to keep everyone entertained throughout their stay on Maui, you'll never want to go home!
If you plan to spend Christmas on Maui, be sure to use this guide to create the perfect holiday itinerary for your family! These Christmas events and activities on Maui will be so much fun during the holiday season.