Planning a trip to Hawaii in December and want to know how to spend Christmas in Hawaii? Scroll to find out the most magical Hawaiian Christmas traditions worth experiencing yourself.
This post about Hawaiian Christmas traditions contains affiliate links which means if you purchase something from one of my affiliate links, I may earn a small commission that goes back into maintaining this blog.
Do you want to visit Hawaii during Christmas?
If so, then this post is for you. I'm going to share with you some of my favorite places and things to do in Hawaii during the holidays.
You won't find these events anywhere else in the world! It's a truly magical time of year here in Hawaii. So let me show you why it's one of my favorite times of year on this island paradise.
Whether it's your first time visiting or you're a regular visitor to Hawaii's beautiful islands, I can guarantee that this will be one Christmas vacation you'll never forget!
If you've been thinking about visiting Hawaii during the Christmas vacation then this post is for you!
Keep scrolling to learn all about Hawaiian Christmas traditions and the best things to do in Hawaii during Christmas.
Hawaii Christmas FAQs
Where can you see a big Hawaii Christmas tree?
One of the most fun Christmas events in Hawaii is Honolulu City Lights on the island of Oahu. Here, you'll see a giant Christmas tree all decorated up. There are also many hotels that feature beautiful Hawaiian Christmas trees in their lobbies.
What are the most famous Hawaiian Christmas carols?
The most popular Hawaii Christmas carol worldwide is "Mele Kalikimaka" which was originally sung by Bing Crosby. In Hawaii, a popular Christmas carol is the Twelve Days of Christmas (Hawaiian Style).
Where should I go in Hawaii for Christmas festivities?
If you're debating which island to visit in Hawaii during Christmas, I recommend Oahu. This is the island with the most Christmas events, stores decorated for the holidays, and outdoor decorations.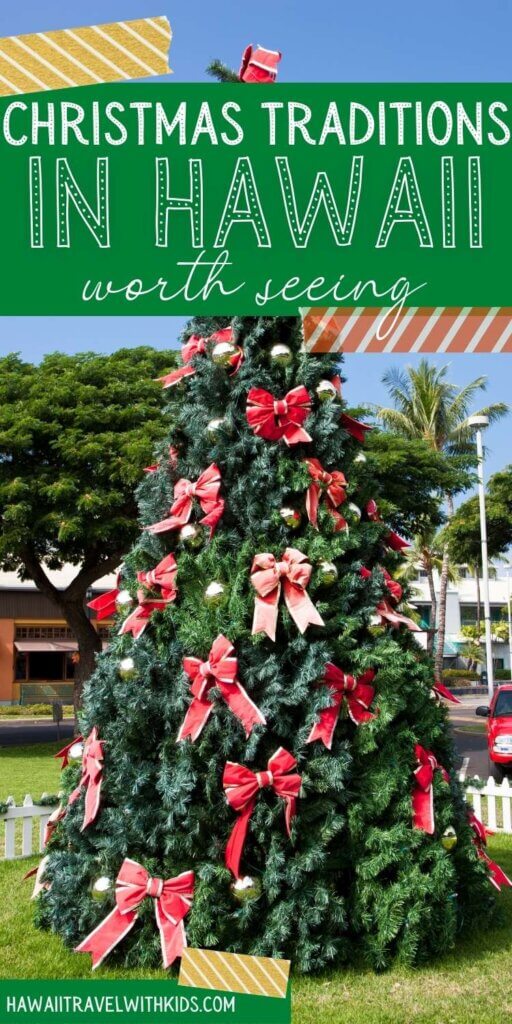 History
Cultural Influences That Helped Shaped Hawaiian Christmas Traditions
Polynesian traditions and customs are the roots of Hawaiian culture. That's because the islands are geographically a part of Polynesia. Other islands included in Polynesia are New Zealand, French Polynesia, and Samoa.
Hawaii has many cultural roots stemming from Korean, Chinese, Japanese, Filipino, and Portuguese immigration that occurred heavily in the 1900s.
These cultures along with those of the Americans who eventually overthrew the Hawaiian government, have merged together into a true melting pot of Hawaii Christmas traditions.
How Does Hawaii Celebrate Christmas?
Hawaii celebrates Christmas similarly to those on the mainland US but with a tropical flair that only they possess.
However, the ancient Hawaiian tradition that preceded Christmas is called Makahiki, and it is still practiced in some ways today. This was a three-to-four-month long tradition that helped to celebrate well wishes and forced a stop to any war at the time to give thanks and gifts to one another.
So, in essence, it had the Christmas spirit we are all familiar with, just in a different form.
This and the mainland version of Christmas have been mixed together by Hawaiian locals for some time. Christmas has gained popularity in Hawaii since the late 1800s.
Today most people in Hawaii celebrate a mix of the two holidays. They utilize figures like Santa, Christmas trees, and other notable Christmas décor. They also keep their traditions alive by hosting traditional feasts, gift-giving, and sometimes outdoor games specifically associated with Makahiki.
It is believed that Christmas was first introduced sometime after 1820 by some Protestant missionaries. Before Christmas, the people of Hawaii celebrated a four-month-long festival called Makahiki. Since wars were forbidden during these four months of Makahiki, the holiday became associated with Christmas because of its similarity of meaning of "peace and goodwill to all men".
The first Christmas on record in Hawaii was in 1786. Captain George Dixon celebrated a large Christmas feast with his crew.
Before Christmas there was Makahiki
Long before Christianity had introduced the celebration of Christmas on the island of Hawaii, the indigenous people celebrated the primeval tradition of Makahiki. The festival was a four-month-long celebration involving sacred rest and feasting to venerate the earth and the local god Lono. Later on, it was integrated with Christmas celebrations but the traditional foods have remained the same.
How do Hawaiians say Merry Christmas?
Pacific islanders offer seasons greetings in a unique way. Instead of the common greeting "Merry Christmas", they greet each other by saying "Mele Kalikimaka" on Christmas Day. "Mele Kalikimaka" literal means "Merry Christmas".
The first Christmas in Hawaii
Protestant missionaries arrived in Hawaii from New England in 1820 and widely spread the adoption of Christmas. However, the first recorded Christmas in Hawaii is believed to have occurred in 1786.
English Captain George Dixon's ship, the Queen Charlotte, docked in Waimea Bay on the island of Kauai that year. He commanded his crew to prepare a Christmas dinner of roasted pig and grog with coconut milk, before leading his crew in a toast dedicated to their families and friends back home.
In 1856, King Kamehameha IV declared December 25 his kingdom's national day of Thanksgiving. Santa Claus' first appearance on the islands occurred in 1858 with an arrival at Washington Place.
Do people in Hawaii put up Christmas trees?
If you visit Hawaii during Christmas time you will notice there are Christmas trees lit up in public spaces. Honolulu and several other big cities have tree lighting ceremonies and use these as decorations during the holiday.
Tourists and islanders alike put up trees for their families to celebrate as well.
Sometimes these trees can be hard to come by as a lot of them get shipped to the island from the mainland. Though most orders are placed with plenty of time for everyone to share in this holiday tradition.
There are a few options for Christmas tree farms in Hawaii if islanders would rather participate in picking their own tree and taking it home. This makes the experience more personal for their families.
What do they call Santa Claus in Hawaii?
While to most of us Santa Claus is just Santa, in Hawaii he and Mrs. Claus take on similar but different identities.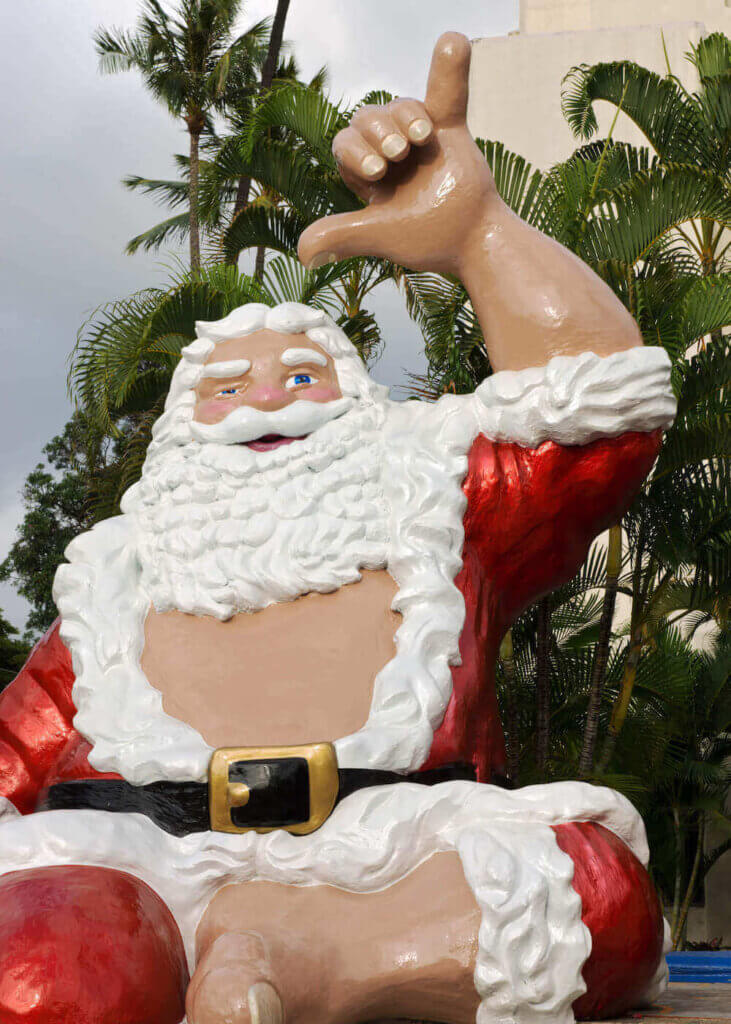 Santa Claus is commonly called Shaka Santa. This references the popular "hang loose" hand sign that you can see Santa waving in Hawaii.
Mrs. Claus is instead referred to as Tutu Mele. "Tutu" is a common term to refer to grandmothers in Hawaii, and "mele" generally refers to a chant or a Hawaiian song. She wears a Hawaiian muumuu and a hibiscus flower in her hair. Shaka Santa wears flip flops, shorts, and an open shirt.
This is a fun and interesting way for Hawaiian culture to put its own spin on these traditional holiday figures. Find out where to visit Santa in Hawaii.
What do people in Hawaii eat on Christmas Day?
Those of us who are used to mainland US or European dinners during the Christmas holidays may be intrigued by the foods that people in Hawaii eat for Hawaiian Christmas dinner.
Instead of a turkey or ham, they eat a roasted pig called a kalua pig. This is a popular main dish for events and celebrations. This is traditionally cooked in an underground oven called an imu. However, some people make it in their oven or a slow cooker.
This is complemented by several other Hawaii Christmas food dishes such as poke, lomi lomi salmon, and classic poi. Poi is made by mashing up taro roots and letting them ferment.
But, that's not to say some people in Hawaii don't do a "traditional" Christmas dinner of ham, turkey, or a roast with all the trimmings and side dishes.
Hawaiian Christmas Words and Phrases
Traditional holiday items and events, of course, have Hawaiian equivalents. "Merry Christmas" in Hawaiian is "Mele Kalikimaka," and might be most recognized by Bing Crosby's famous Christmas song with the same name.
"Hau'oli Makahiki Hou," means Happy New Year. This corresponds to the historical Makahiki Festival. Because the festival celebrated the new year over four months, this phrase directly translates to "Hau'oli," (Happy) "Makahiki" (Year) "Hou," (New).
Wander around the breathtaking festivals and knickknack stalls during the holidays. You might hear "Ahiahi Kalikimaka ' (Christmas Eve) or "wehi," (ornament). "Kanakaloka" means Santa Claus, and "hoku," means star. And of course, "Aloha," stands for love.
Fun Yearly Christmas Events in Hawaii
Christmas Parades
A popular tradition that includes the whole community around Christmas in Hawaii is the parades. There are parades in Honolulu like the boat parade that features a line of decorated boats that fill the marinas with lights. And there's the Waikiki Holiday Parade that honors the survivors of Pearl Harbor.
The Big Island and Kauai also host large city-wide parades which really bring out the Christmas spirit to the communities.
Santa's Arrival
Santa and his arrival are a staple of Christmas on the islands, because of this tradition's uniqueness. So, in this tradition, Santa will arrive at the beach to greet onlookers via outrigger canoes sometimes accompanied by hula dancers. He then reads off his nice list to the children and parents of the beach.
There are several variations of this tradition across the islands. The most popular occurs on Waikiki Beach so be sure to experience it when you visit for the holidays!
Hawaiian Christmas Carols
Christmas Carols are a tradition that many of us are familiar with. In Hawaii, this tradition is alive and well too, except that they usually don't go door to door.
Caroling in Hawaii happens on beaches, in backyards, and at celebrations around the holidays. They often sing in the Hawaiian language rather than English and they play ukuleles to enhance the melody.
The really cool thing is that they often put a Hawaiian twist on classic Christmas carols, like the 12 Days of Christmas.
Christmas Hula Performances
Similar to the carols of the local Hawaiians, they will have special hula performances around the holiday.
You can find many of these performances throughout the month of December. Many locals and tourists relish this tradition that sprinkles in Christmas themes such as Christmas trees, poinsettias, singing, and dancing.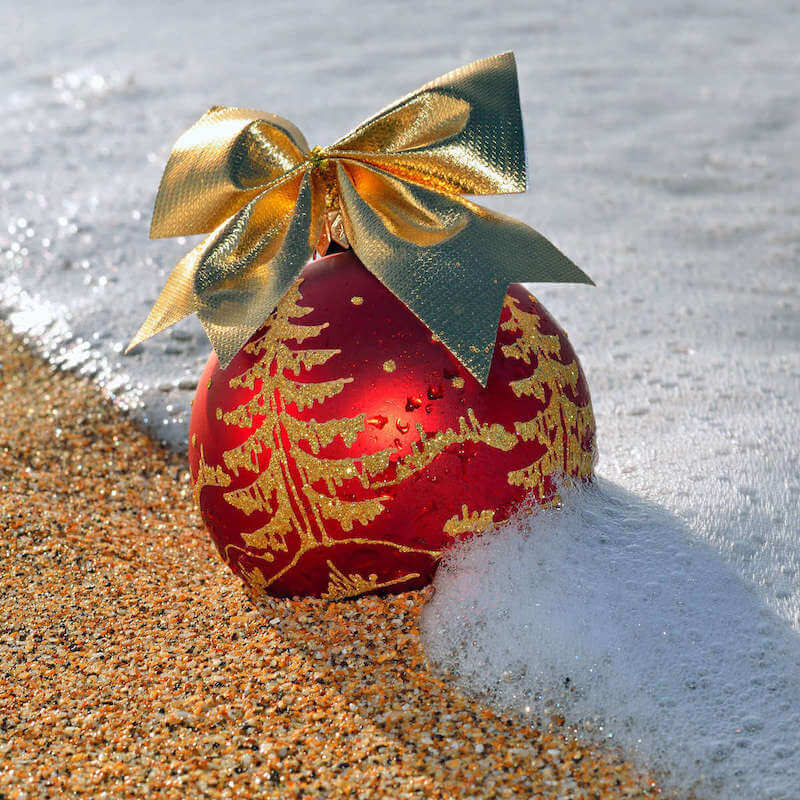 Hawaiian Christmas Day Traditions
Christmas Luau
A big Christmas tradition in Hawaii, and for many other occasions is the luau! One of the most recognizable practices in the island's culture is basically a large party of family, friends, or even an entire community. These luaus are often done in someone's backyard.
This is a Christmas celebration that gets to the heart of Hawaiian culture and helps everyone share in the spirit of the holiday.
People visiting Hawaii during Christmas often book a professional Christmas luau to attend with their family.
Opening Presents
This is a tradition that follows the rest of the world's Christmas morning, locals and Hawaii residents will wake up and exchange gifts with one another and share their thanks.
Then afterward they can go to the beach and surf or build 'sandmen', which are the island version of snowmen.
Christmas Dinner/Buffet
Similar to the luau but not as much of a party, this is reminiscent of the Christmas dinner that those of us are probably familiar with.
In Hawaii, as it is a well-traveled tourist destination, many restaurants are open on Christmas day. So, tourists and people who live in Hawaii, go out with their families and eat a big dinner together.
Sometimes they will cook a dinner like in the luau or they will cook other traditional meals. But many will go out to a fancy eatery or buffet with their family and friends and spend their time together eating and sharing stories.
Christmas Surfing
Surfing is a large part of Hawaiian and beach culture in general, the Christmas time does not stop this fact. Many surfing competitions will occur during December.
And during Christmas, there are a few iterations of the Santa's arrival tradition in which he will catch some waves for the beachgoers to see before he comes to shore.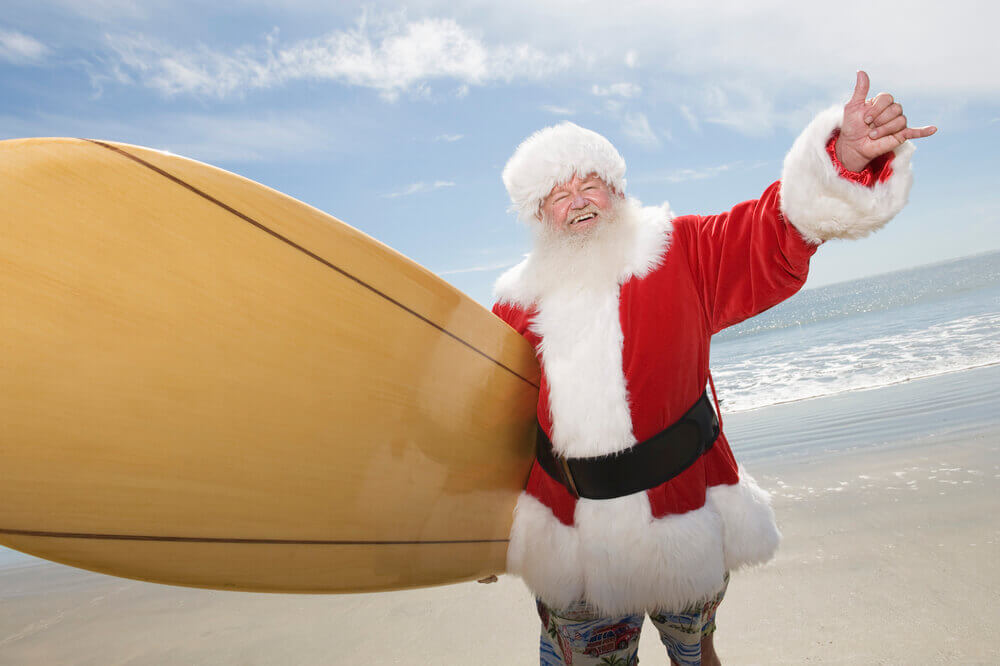 Surfing can also be an important tradition to those who have a tradition of going to the beach after opening presents on Christmas day. Some will put on their Santa hats and go surf or participate in other beach activities with their families.
Makahiki
This is the most unique and interesting tradition involving Christmas in Hawaii, as it is the ancient Hawaiian New Year festival.
While this is technically a New Year festival it lasts for three to four months and encompasses the time of Christmas as well. That is why many locals will incorporate the two into their traditions. Since the festival is so long, they can choose dates to celebrate and bring in other aspects of the holiday.
This tradition honors the old Hawaiian God Lono, who was a fertility and agriculture God. This festival would put a stop to any wars in the islands for the entirety of the festival so everyone could share gifts, celebrate, and spiritually cleanse themselves.
Fun New Year's Traditions in Hawaii
New Year's traditions in Hawaii are heavily influenced by Chinese, Japanese, Korean, and Portuguese cultures. Due to the diversity among the islands and the citizens within them, there are many cultural traits that have evolved and been shared over hundreds of years.
Fireworks
The tradition of shooting off fireworks may be nothing new to most of us but the reason the tradition persists during New Year's celebrations in Hawaii has a slightly different reason than just because they are fun and pretty.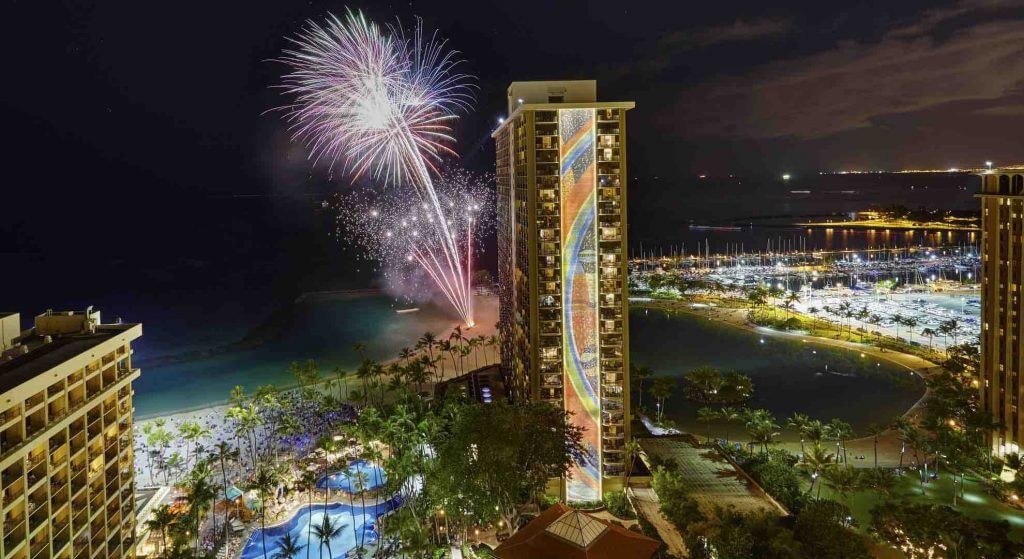 The Chinese actually believed that setting off fireworks to bring in the New Year would ward off evil spirits and protect the citizens during the year. This belief has caused this tradition to continue into the modern-day to help Hawaiians celebrate.
Mochi Pounding
Mochi is a popular Japanese rice cake dessert that you can find year-round in Japan and in Hawaii. Hawaii has been greatly influenced by Japanese and Chinese culture and the mochi pounding tradition is a testament to the melting pot within the islands.
The sticky rice is pounded with a wooden mallet while another family member creates the dough with water and creates the mochi balls or patties. These are a sign of good luck in the coming year.
Chinese New Year
Yes, you read that right even though it is Chinese by name this cultural festival has been carried over into Hawaii traditions because of the influx of Chinese immigrants in the 1900s.
The Chinese population in Hawaii is alive and well and in Honolulu's Chinatown, they hold a Chinese New Year festival every year.
Eating Sashimi
Eating sashimi on New Year's is another tradition incorporated from Japanese traditions. Hawaiians and Japanese love raw fish, the poke bowl is the Hawaiian raw fish dish of choice, and during this holiday it is an expensive sign of good fortune.
Ahi tuna is the fish of choice for New Year's sashimi and annually due to the demand during this holiday the price skyrockets, which just tells you how popular this tradition is to the people.
First Day Hike
The First Day Hike may be something that other places in the US participate in, but none due to it being better and with more beautiful views than Hawaii. This Hawaii tradition garners attention from around the world and hundreds of people of different cultures attend this hike.
The First Day hike occurs in many state parks and in Hawaii, the trail leads to Makapu'u Lighthouse overlook. This is a guided hike that begins with the blowing of a conch shell and ends with the group watching the year's first sunrise together.
The Best Way to Experience These Christmas Traditions in Hawaii
Whether you want to learn and actively be a part of these Hawaiian traditions or just want to observe and enjoy the culture with your family, either way, this is a great holiday destination!
You can enjoy unique Christmas and New Year's traditions that you can't experience anywhere else, and create priceless memories with your family while you're there.