Are you dreaming of a Hawaii vacation but it's not in the budget? Keep scrolling to find out some easy ways to do a Hawaii Christmas at home.
This post about easy ways to do a Hawaii Christmas at home contains affiliate links which means if you purchase something from one of my affiliate links, I may earn a small commission that goes back into maintaining this blog.
Are you looking for a way to make your Christmas feel like it's in Hawaii?
You're not alone. Many people are looking for ways to bring the tropics into their homes this holiday season. I've got 12 easy tips and tricks that will help you do just that!
There are so many other ideas that will help bring the tropics into your holiday celebration – all without having to leave town or break the bank.
The best part is that they're simple enough for kids (and adults!) of any age and skill level – whether they're crafty or not.
So what are you waiting for? Let's get started!
Keep scrolling to read more about how to have a Hawaii Christmas at home!
Hawaii Christmas FAQs
What are the best Hawaiian Christmas carols?
There are a TON of fabulous Christmas carols performed by Hawaiian musicians. Many Hawaiian singers even have a Christmas album out. While I love Mele Kalikimaka, there's also the 12 Days of Christmas (Hawaiian-style) that's pretty amazing!
What does Hawaiian Santa look like?
Usually, you'll see Santa wearing an Aloha shirt and shorts when he's hanging out in Hawaii.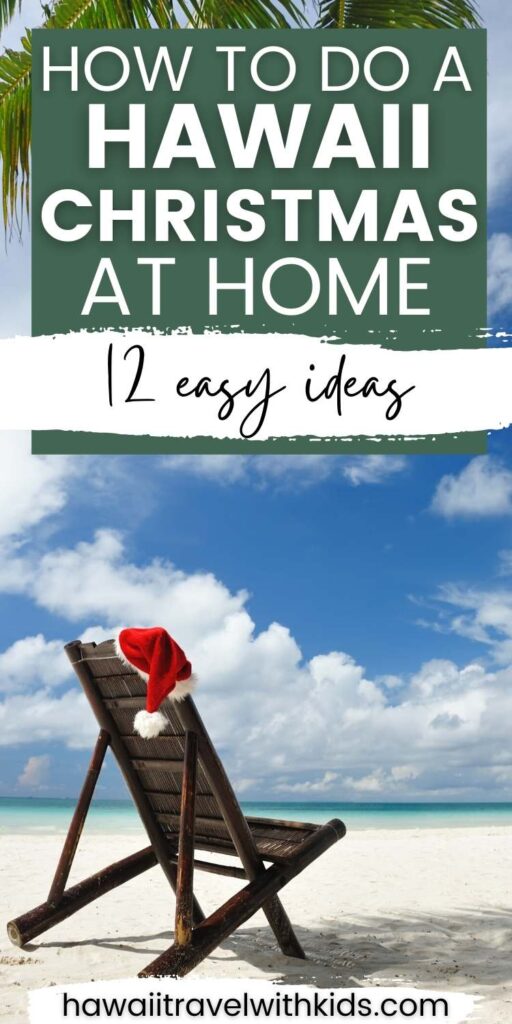 12 Hawaii Christmas Ideas to do at Home
1. Hang mini ornaments from a pineapple
I'm a fan of anything that involves a pineapple. It's one of our favorite Hawaiian fruits and it's just so versatile.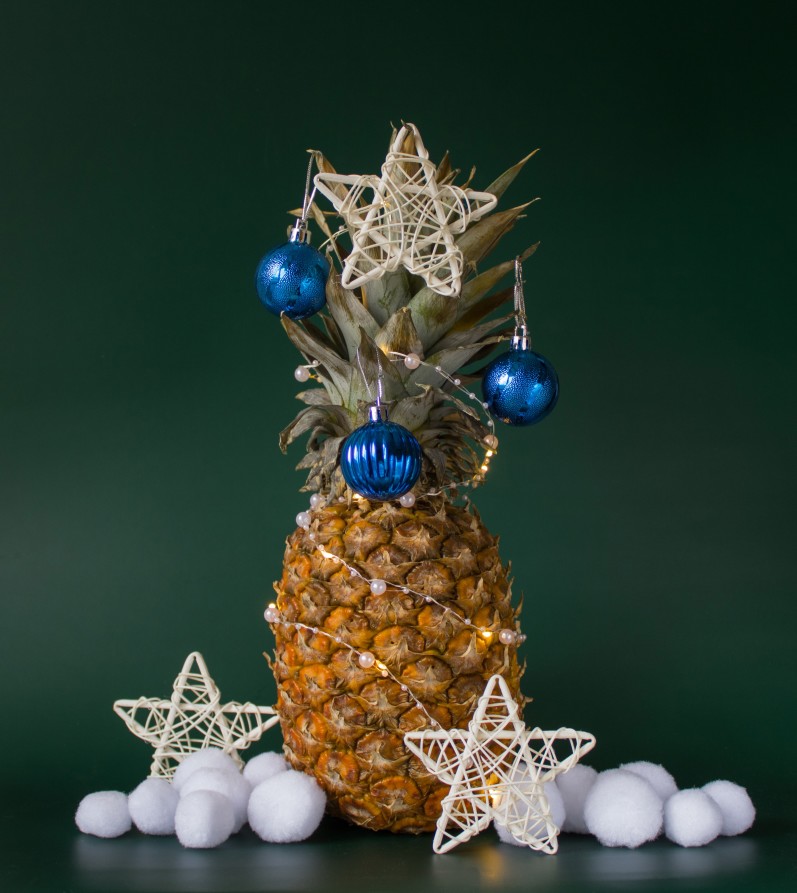 One of the cool things about pineapples is that they have really sturdy leaves on their crown. So, I thought it might be perfect to hang little ornaments from leaves. This would be a festive thing to do before you slice it up.
2. Listen to Bing Crosby's Mele Kalikimaka
This might be the easiest thing that anyone could do to add a little Hawaiian Christmas to their home. Mele Kalikimaka is one of the most beloved Christmas carols and it's all about celebrating Christmas in the islands.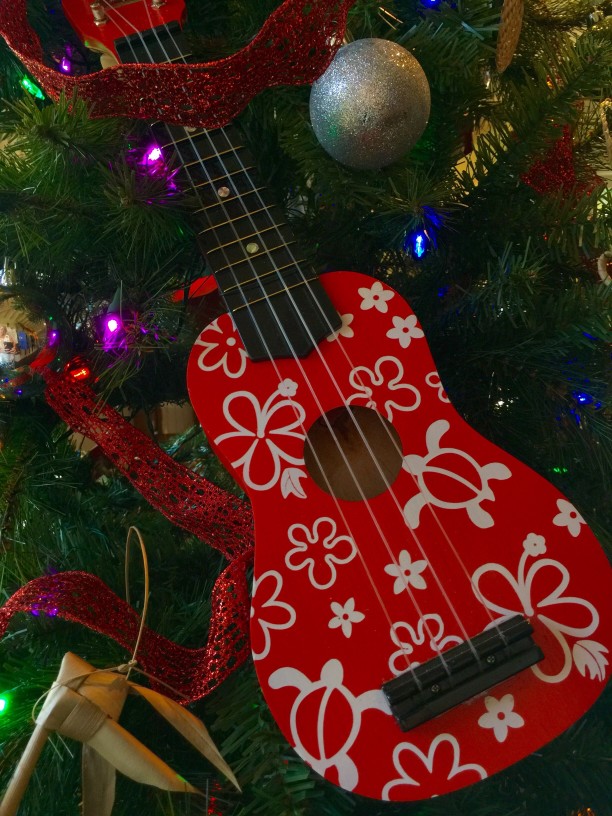 It's a great song to add to your Christmas playlist. You could even choreograph a hula dance to go with it or try to dance along to hula dancers on YouTube. Check out my top Hawaiian Christmas music!
3. Add Hawaiian ornaments to your tree
If you're willing to throw down some cash, there are tons of adorable Hawaiian Christmas ornaments worth adding to your tree.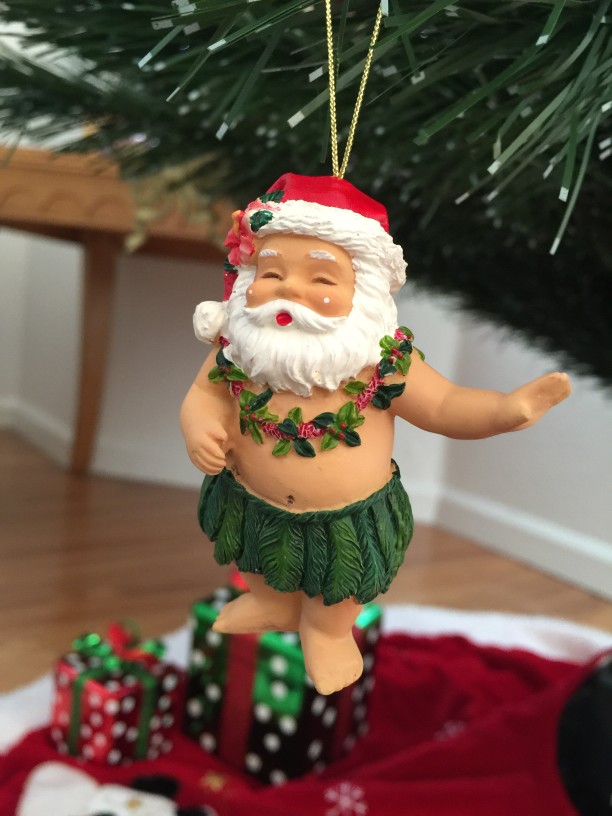 Many of these make great additions to Christmas trees that have eclectic ornaments. Or, you could go all out and do a completely Hawaiian-themed Christmas tree.
4. Make origami poinsettias
If you're a fan of Christmas crafts, you'll love this easy origami poinsettia tutorial. These look super cute placed in Christmas tablescapes or you can add a ribbon and turn them into ornaments.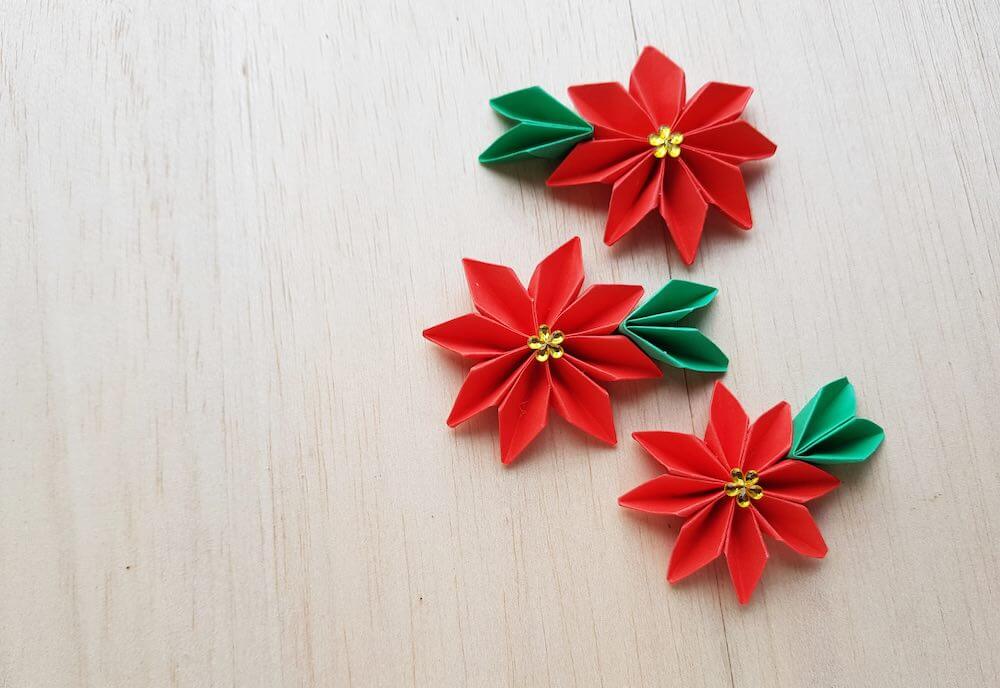 Another option is to attach them to a ribbon and make a poinsettia garland to hang over your fireplace or on a railing.
5. Decorate your tree with silk leis as garland
If you want to have a lot of fun with your Hawaii-themed Christmas tree then you've got to add some leis to it! I'm not talking about the plastic leis for luau parties, but the ones with silk flowers.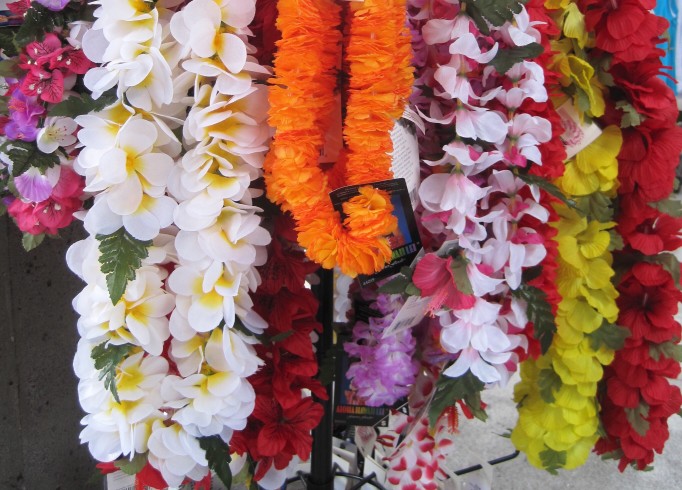 You can carefully cut them and tie them together to form long garlands. Then, simply wrap it around your tree. It's great to use as filler if you don't have too many ornaments or if you like a full tree.
6. Add little leis to your Santa figurines or decorations
One of the things I'm obsessed with lately is adding little leis or hula skirts to our regular decorations. It's a really easy way to transform the decorations you get out every year.
You can grab some mini silk flowers and use a needle and thread to string little leis.
A similar idea is to use raffia to make little grass skirts. These look extra cute on Santa or snowmen.
7. Hang ornaments from a mini palm tree
I have a little mini palm tree that lights up and it always makes me smile. These are great to hang little ornaments from the branches. Or, you could even just glue on little colorful pom poms to make them more festive.
8. Use Hawaiian wrapping paper to wrap gifts
If you're doing a Hawaiian Christmas tree, it would be most appropriate to also make sure your gifts are covered in Hawaiian wrapping paper.
It's a pretty easy way to get the Mele Kalikimaka vibe by your tree. This is especially fun if you leave wrapped presents under your tree before Christmas.
9. Use plumeria and hibiscus flower hair clips on trees
Another fun way to add a tropical flair to your Christmas tree is to use Hawaiian flower hair clips on the branches. These are also great for securing a string of lights or garland.
It's a simple thing to add but it will really make your tree pop!
10. Create a paper poinsettia wreath
If you love DIY Christmas wreaths, you'll love this simple tutorial to make a paper poinsettia wreath. It uses burlap ribbon which really ties everything together.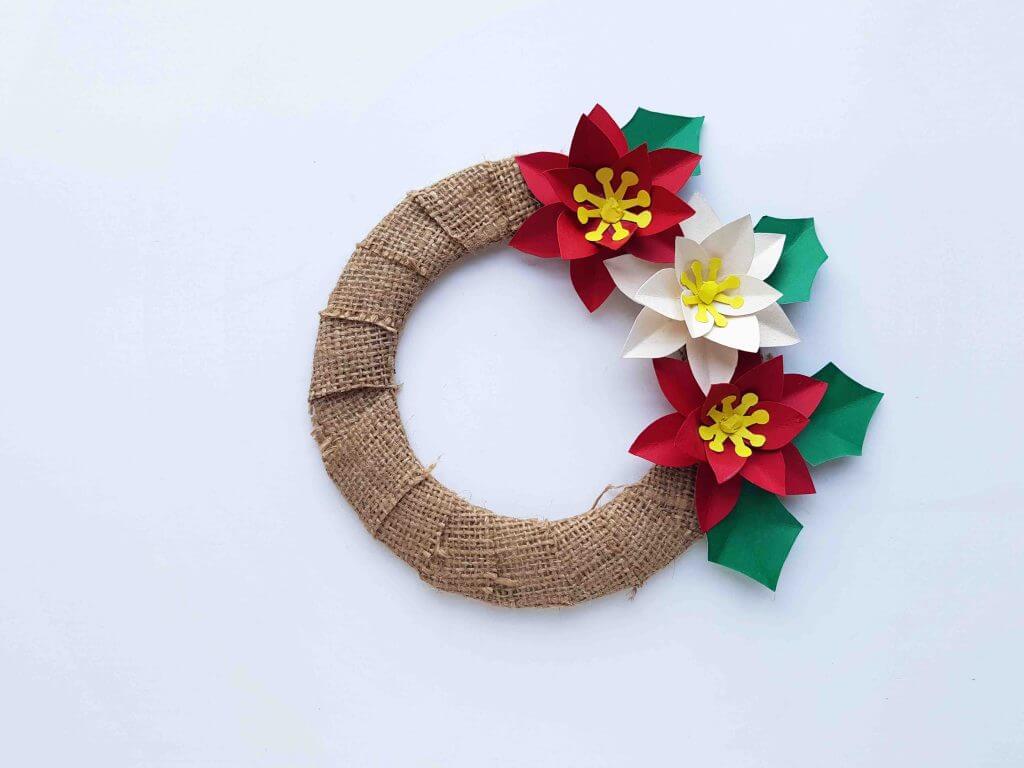 This is really cute to hang on any interior door that needs a little festive touch.
11. Make a garland out of shells
This idea is similar to the silk flower lei garland only this time you're using shell leis. We always have a bunch laying around our house, so we just use those but you can order some HERE.
Since it's easy for the shells to fall off if you cut these leis, I suggest tying them together. These look nice draped around a fireplace or used as part of a tablescape. Or you can add them to your tree.
12. Get a mini tree and decorate it with lei flowers
If you have a mini Christmas tree in your box of decorations, it's really fun to add flowers to it to make it a bit more tropical.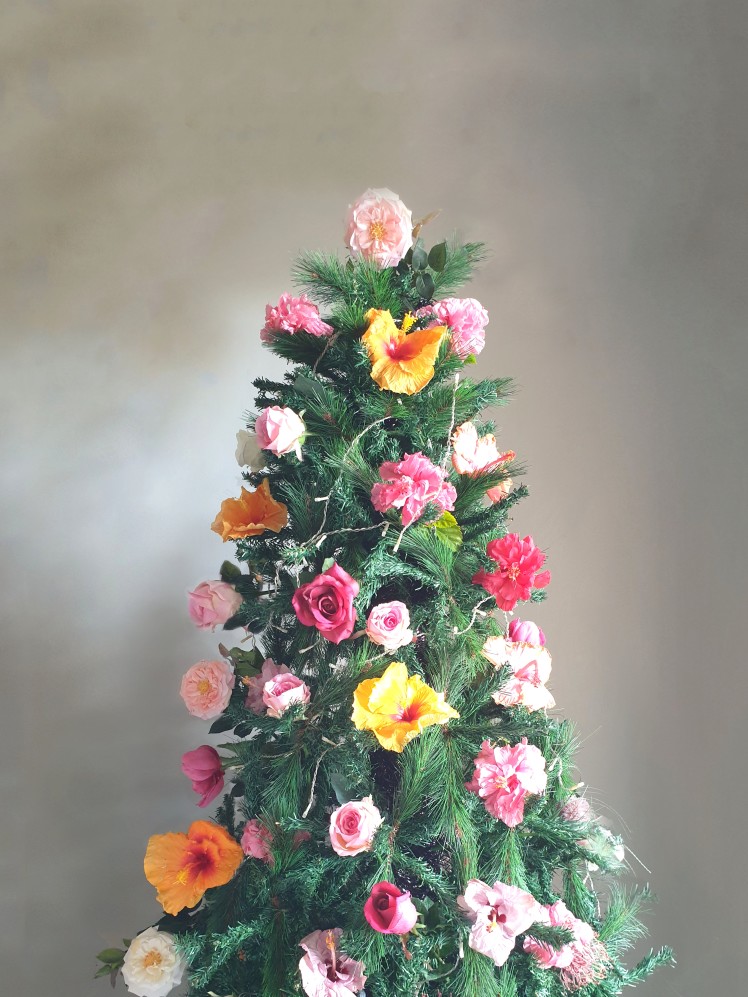 You can take apart an old silk lei and attach those flowers. Or you can make little origami flowers.
BONUS: Fill your house with poinsettias
I just had to add this last option of turning your home into a poinsettia display. You can get some of the huge ones from Costco or do the smaller ones you can find at grocery stores or nurseries.
These add a great pop of color and it will make you feel like you're in the lobby of a Hawaiian hotel at Christmas.
Hawaiian Christmas at Home Wrap Up
Ok, I hope this list of ways to celebrate Christmas Hawaii-style has inspired you to add a few new decorations to your home. You can easily have a Hawaii Christmas at home no matter what your budget is!