Are you planning a trip to Hawaii in December and want to know where to see Christmas lights in Hawaii? Keep scrolling to find out how to see Hawaii Christmas lights for a magical trip.
This post about where to see Christmas lights in Hawaii in December contains affiliate links which means if you purchase something from one of my affiliate links, I may earn a small commission that goes back into maintaining this blog.
Are you looking for a way to make your Hawaii trip even more magical?
You're in luck because we have the perfect guide for you! We've compiled all of the best places to see Christmas lights in Hawaii. From Oahu, Maui, and Big Island, these are some of the most beautiful spots on earth.
If you want to get into that holiday spirit while also enjoying one of the most gorgeous islands in America, then this is definitely something you need to check out!
There are so many great reasons why seeing Christmas lights in Hawaii is such an incredible experience.
For starters, it's during a time when everything seems extra festive and bright. The weather is warm but not too hot which means it won't be uncomfortable walking around outside at night admiring all of these amazing displays.
Plus there will be tons of other people around who are just as excited about seeing them as well! What could be better than sharing that excitement with others? It really makes for a wonderful family outing or romantic date night idea!
So what are you waiting for? Check out our guide right now before planning your next vacation here!
Keep scrolling for my ultimate guide on where to see Christmas lights in Hawaii.
Christmas in Hawaii FAQs
Is Christmas a good time to go to Hawaii?
Hawaii at Christmas is a truly magical time. You can hear Hawaiian Christmas carols on the radio and in restaurants. You might also see Santa surfing at the beach or walking around in an Aloha shirt throwing shakas. And you can build sandmen on the beach.
Is Christmas in Hawaii expensive?
Absolutely. I've gotten sticker shock on quite a few of our Hawaii Christmas trips. Airfare will spike in mid-December and say high through New Year's Day. Prices also increase for hotels, car rentals, and some attractions.
Can you swim in Hawaii in December?
Yes. The weather is a bit cooler and hotel swimming pools might be cold, but you can still swim. Keep in mind that the sunrise is later and sunset is earlier, so you might want to head to the beach in the middle of the day to maximize the heat.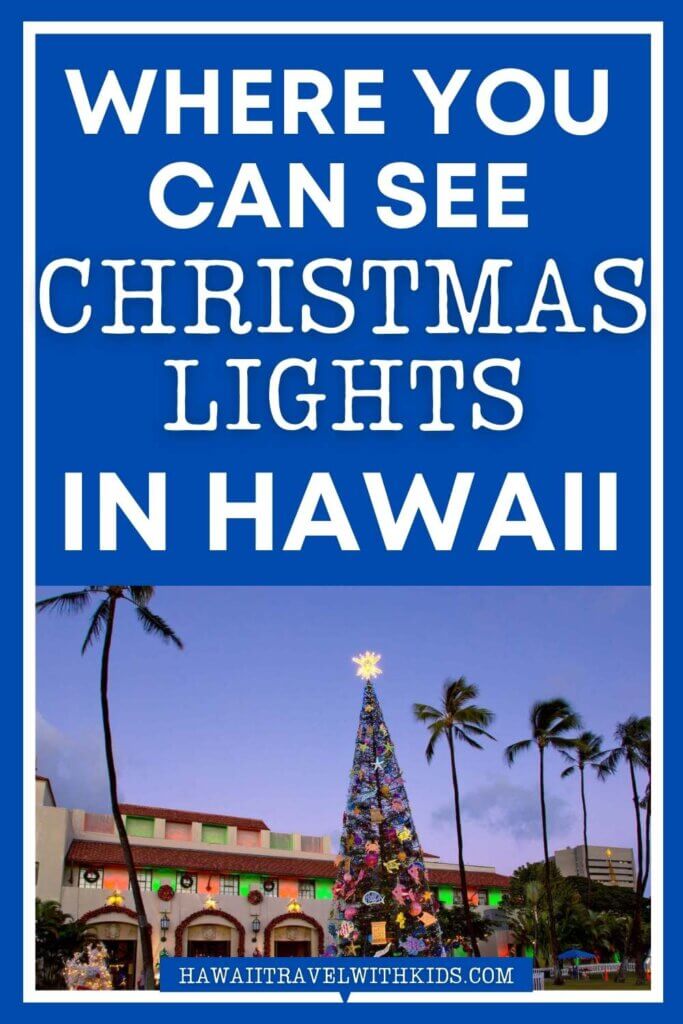 Where to See Christmas Lights on Oahu
If you're planning to spend Christmas in Hawaii, here are all the Christmas lights on Oahu. Each one is beautiful and will add joy and festivity to your Christmas vacation in Hawaii!
Honolulu Hale City Lights
One of the best Christmas lights in Honolulu, Hawaii, is put on by the Friends of Honolulu City Lights. It is a nonprofit that dedicates its time and energy to having an annual month-long Christmas lights display in Honolulu. Honolulu Hale City Lights takes place all December long and is entirely free!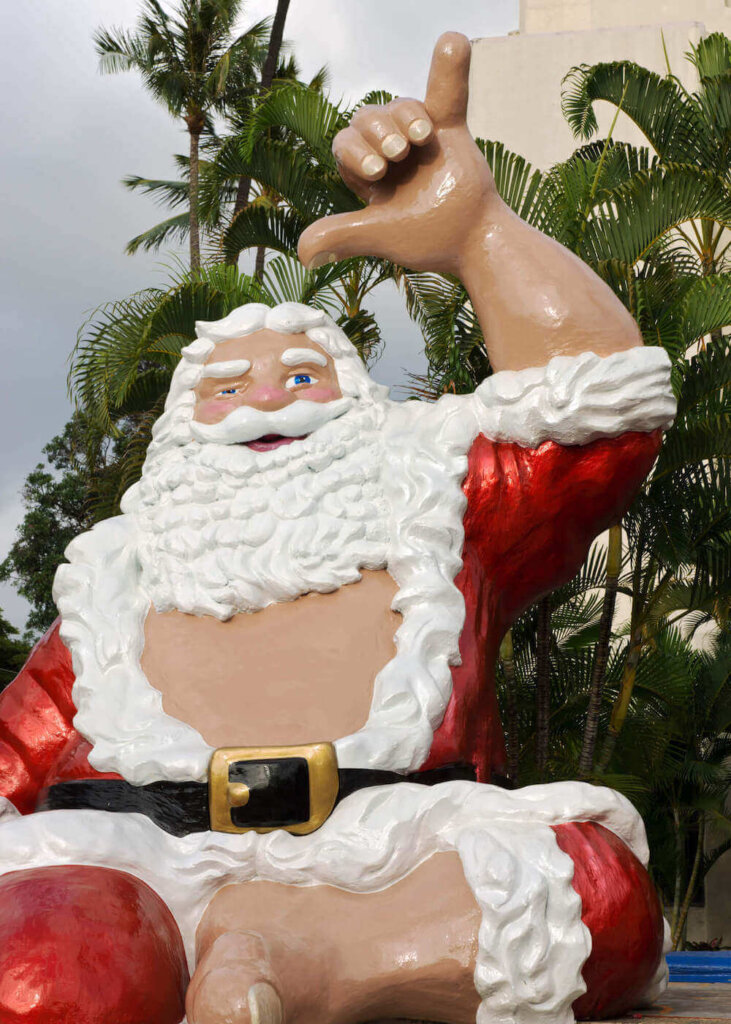 This year, 2022, marks the 38th year of this traditional event. Here you will find a public wreath contest, Shaka Santa, Mrs. Claus (Mele), the Snow Family, a gorgeous tree, and many more outstanding decorations. There are hundreds of lights on businesses and all around town to support this event.
This event is in the Honolulu Hale, which is the city hall. Not only are there lights, but also plenty of food and fun activities for the children. The Honolulu Hale Christmas lights is one of the best Christmas events in Hawaii for sure!
Kaneohe Christmas Lights
Namoku Street is filled with trees and lights and is definitely included in our Christmas lights in Hawaii guide. Some consider this street "Christmas Tree Lane." Drive down this street to find houses filled with a variety of light displays.
Also, on this street, be sure to spot a huge 9-foot bear on a train and Santa on the rooftop! There are even rumors that a Where's Waldo themed house can be spotted on this street!
Another fun street with Christmas lights in Hawaii is 45-229 Nakuluai Street. On this street, you will find wooden Disney characters that are handcrafted and incredibly unique. Some of these characters include Harry Potter, Kung Fu Panda, Happy Feet, Dora, and many more. The house includes these characters in their lights and Christmas fun.
45-623 Hinemoe Loop will make you look and feel like a complete winter wonderland. The house is decorated with tons and tons of fake snow, making it feel like a true Christmas miracle.
This house has some interactive features, including a kid play zone. This play zone has a mailbox for Santa and snowballs for the kids to enjoy, along with candy canes and cookies! Other houses on this street are also well decorated, making it a beautiful road to visit and enjoy the holiday spirit.
Kapolei Christmas Lights
91-887 Puhikani Street is another great Christmas lights display to see in Hawaii. This house uses technology to produce a show involving Mickey Mouse, Frozen, and more amazing Disney movies.
I love this one because it is not a typical Christmas lights show. The show is 20 minutes long and will continuously play on a loop. Usually, they start on the 15th of December and go until Christmas night.
Polynesian Cultural Center
The Polynesian Cultural Center (PCC), located in Laie, has an annual Christmas event with lights, music, and tons of fun free activities. The kids can enjoy seeing a Hawaiian Santa and his workshop, go on a train ride, and explore with a scavenger hunt!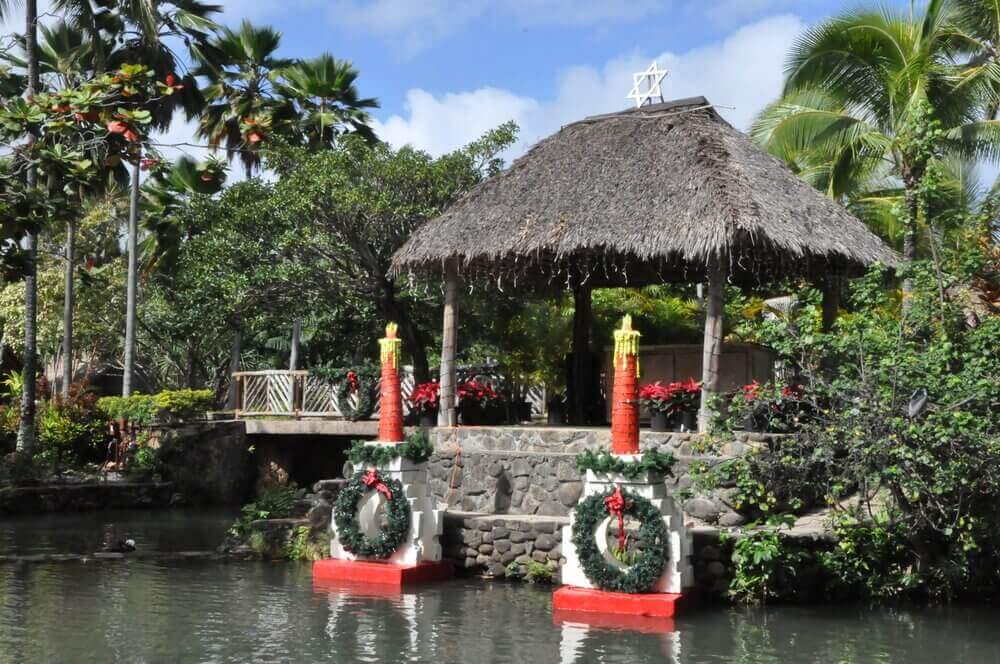 The PCC also has a live nativity scene where you can go on a lagoon ride to enjoy the lights and Christmas spirit. These Christmas lights and fun events are usually the last two weeks leading up to Christmas. All events are always free to enjoy for the entire family.
Drive around Brigham Young University Hawaii's campus for even more beautiful Christmas lights and decorations. You can be sure to add this to your Christmas traditions in Hawaii! Click here to buy your Polynesian Cultural Center tickets.
Kailua Christmas Lights
On the west side of Oahu, Kailua has a street filled with Christmas lights to enjoy. Akumu Street has one home with a huge display filled with over 10,000 lights; however, most homes will also be decorated to enjoy. The best part: they are all synchronized to Christmas music!
This house also has inflatable Christmas decorations, ornaments, and so many more decorations to watch in amazement. The show is usually put on daily for a few hours every night. This is one of the best Christmas activities in Hawaii as families can enjoy the lights and music together.
255 Kuupua Street decorates their home with an "It's a Small World" theme. They make a display full of Christmas lights and include children from all over the world. This home wants to share the message of unity and peace on Earth with its decorations.
Also, on this street, you will find cute candy canes, lollipops, palm trees, and even Snoopy the Christmas Beagle. It is a unique Christmas light display.
Pearl City Christmas Lights
In Pearl City, 98–1297 Hoohuali Place puts on "A Warm Mele Kalikimaka for Mickey and Minnie Mouse." Francis and Estrella Aki have decorated their home for over 30 years and love to share the aloha with others.
They also have decorations that show Lilo and Stitch, Little Mermaid and Flounder, Thomas the Train, Dora and Boots, and the Kalikimaka Hawaiian Orchestra Menehune Band. They love to put on this show for all those who stay at the Aulani Resort during their Christmas vacation in Hawaii.
Waikele Christmas Lights
94-226 Anapau Place in Waikele has an amazing display of Christmas lights that we just had to share. It was actually featured on The Great Christmas Light Fight on ABC. This house has over 20,000 lights and adds new features each year. With their light arches, it looks like the lights are leaping from their home.
Along with many other houses on the street, they coordinate and have around 20 synchronized songs for their entire display. One popular song that always is on display is "Let it Go."
Each year the owners accept donations to help support a local charity. In the past, they have donated to PATCH, The Next Step Shelter, and The Hawaiian Humane Society. Solar panels light up the entire display all night long; that's pretty impressive!
Where to See Christmas Lights on Maui
If you want to enjoy some Christmas lights during your Xmas in Maui, take a look at two of the best places to see lights on display.
Grand Wailea
A Maui Christmas wouldn't be complete without a visit to the Grand Wailea. This resort is fully decorated during Christmastime. It has a grand Christmas tree filled with lights and decorations but also has lights over all the trees throughout the resort grounds.
You will even see a fully constructed gingerbread house village in the front lobby! How cool is that!
Banyan Tree Park
This is the oldest Banyan tree in the entire state. It was planted in 1873 and is 148 years old. Each year in December, this tree is completely covered in Christmas lights.
There are also some fun children's activities. Your child can enjoy decorating cookies, seeing Santa in the North Pole, or taking pictures with a 6-foot Snowman.
Where to see Christmas Lights on Kauai
If you want to enjoy some Christmas lights during Christmas on Kauai, take a look at the best place to see a display.
Kauai Festival of Lights
One of the biggest displays of Christmas lights on Kauai is the Festival of Lights. And the best part is that it's totally free!
Visitors love the charming "Santa's Gone Kauaiian" theme and adorable handcrafted "Trash to Treasure" decorations created by talented teens from this island!
In twinkling lights find their beautiful Hokulea Aloha Tree as well as unbelievable "If Can, Can," tree; don't miss it either. There are also plenty other amazing items for you here at Christmas folk art show including SPAM can trees or surfer Santa riding his board.
Where to see Christmas Lights on the Big Island
Here are a few fun places to see the Christmas lights on the Big Island of Hawaii!
Punalights
This event called Punalights started back in 2008 and has been growing and adding new features to its display every new year. Their display has lights and decorations that are synchronized with music.
Sometimes there is holiday music, while others are general music as well. They keep a list of all their music selections for each night of its display on their Facebook page.
Hawaii Volcanoes National Park
On the drive to see the gorgeous volcano on the Big Island, you can see two different types of lights during December. First, you will see Kilauea Military Camp, which has 50 acres of this national park with tons of cabins for the military. Both active-duty and veterans can stay in these cabins.
During Christmastime, these cabins are completely decked out in the full Christmas spirit. Enjoy the beautiful lights, statues, and garlands as you make your way to the volcano.
Once you arrive at Kilauea, you will also be able to see the glowing orange light from the volcano itself. You won't be able to explore that type of Christmas light anywhere else!
Hawaii Christmas Lights Wrap Up
Christmas time in Hawaii is unlike any other place in the world during the holiday season. While there may not be snow or be a winter wonderland, it will still be festive and joyful. I hope you enjoy these Christmas lights in Hawaii!