Looking for an awesome place to get Hawaii gifts for kids? Keep scrolling to learn about my personal favorite spot for Hawaiian toys: Keiki Kaukau!
This post about local Hawaiian toys was written by Hawaii travel expert Marcie Cheung and contains affiliate links which means if you purchase something from one of my affiliate links, I may earn a small commission that goes back into maintaining this blog.
On our most recent trip to Hawaii, I had one main objective: shop local in Hawaii. I had purposefully set aside money that was normally used for travel specifically so I could shop like crazy in Hawaii and support local businesses.
One of the places that was high on my list was a local kids shop on Kauai called Small Fry Kauai. They have all kinds of adorable items for babies, toddlers, and little kids. They also sell my favorite Hawaiian toy brand: Keiki Kaukau.
I'm all about buying good-quality toys that we can pass on to other families when my kids have outgrown them. We've thrown out too many junky toys over the years and I just feel so bad about it.
I've actually been on the hunt for awesome Hawaiian toys since I was pregnant with my oldest son 8 years ago. But, I couldn't find much besides the usual Hawaii souvenirs that don't often stand the test of time.
I'm so thankful that Keiki Kaukau has filled this void by offering the cutest Hawaiian wooden toys, puzzles, pretend play items and even Hawaiian children's books!
The Hawaiian word "keiki" means child and "kaukau" means to eat. So, most of these items are food-related, which is awesome!
Keep scrolling to hear about some of my personal top picks of Hawaii kids toys that make the ultimate Hawaii gift for kids!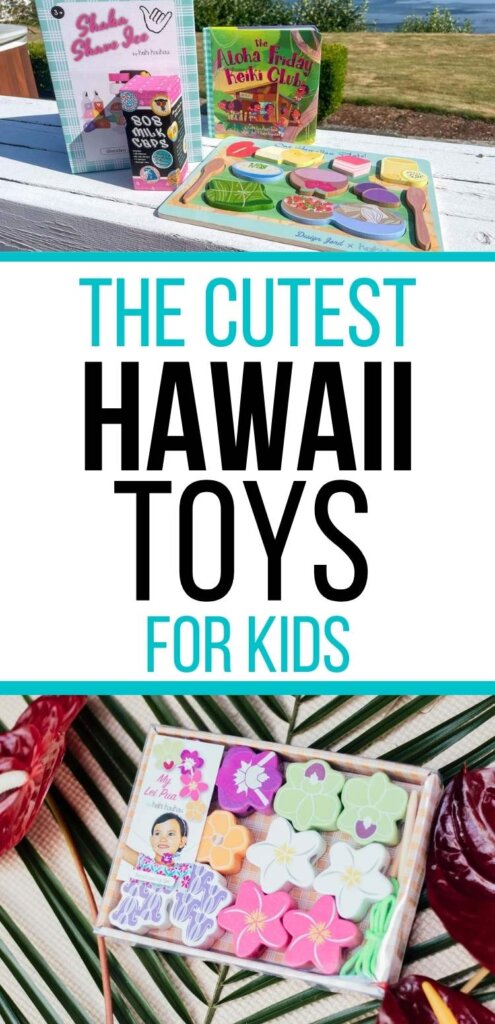 Cutest Hawaiian Toys from Keiki Kaukau
Below, I showcase some of my favorite Keiki Kaukau toys that would make an excellent addition to any playroom or preschool classroom. These items are a great way to promote diversity and celebrate the Hawaiian culture.
Hawaiian Wooden Food Toys
Both of my kids have been pretty obsessed with our Kidkraft play kitchen. I swear it's been one of the best investments we've made in the past couple of years and it's still in amazing condition.
Part of what makes it so much fun for the kids is that we're able to change it up with different types of play food and kitchen-related toys.
Keiki Kaukau has several amazing Hawaiian wooden food toys. They are all made with FSC-certified wood. Plus, they donate 5 meals to the Hawai'i Food Bank for every play set sold. So, you can feel good about getting more than one!
I'm listing just a few of my favorites below:
We all know that Hawaii is known for having amazing farmers markets. So, it makes sense that Keiki Kaukau would create play food of items you can pick up at a Hawaii farmers market.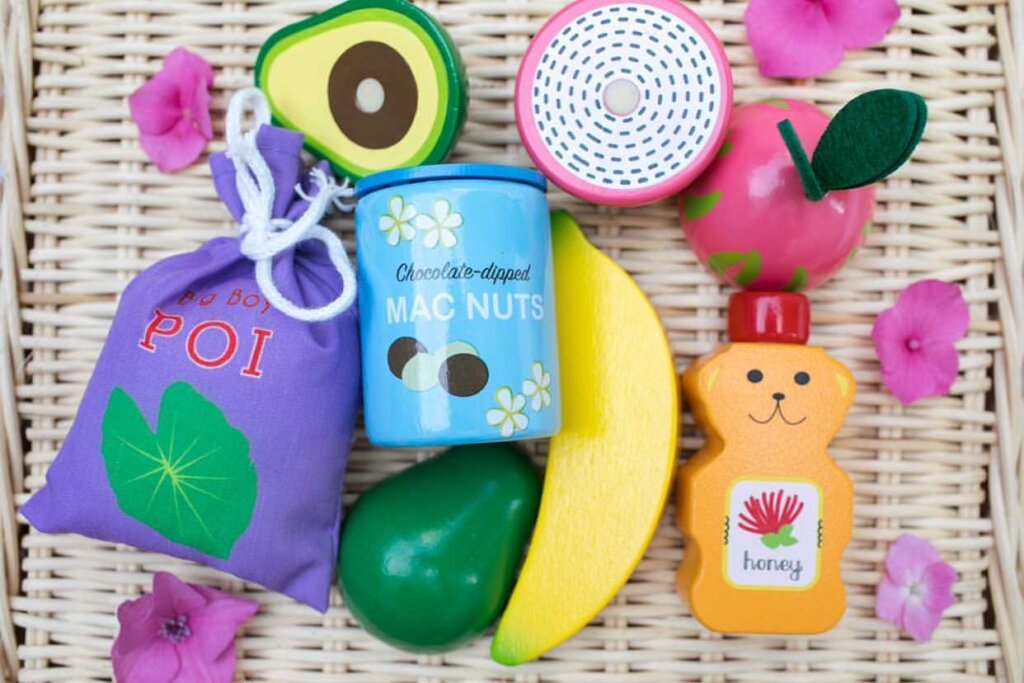 This set of Hawaiian wooden food toys includes chocolate-dipped macadamia nuts, Hawaiian honey, dragon fruit, banana, avocado, and a bag of fresh poi.
When my oldest was born 7 years ago, I had the hardest time finding culturally diverse play food. I found a few felt items, but I just couldn't find any sturdy wooden ones that could be used for years and years.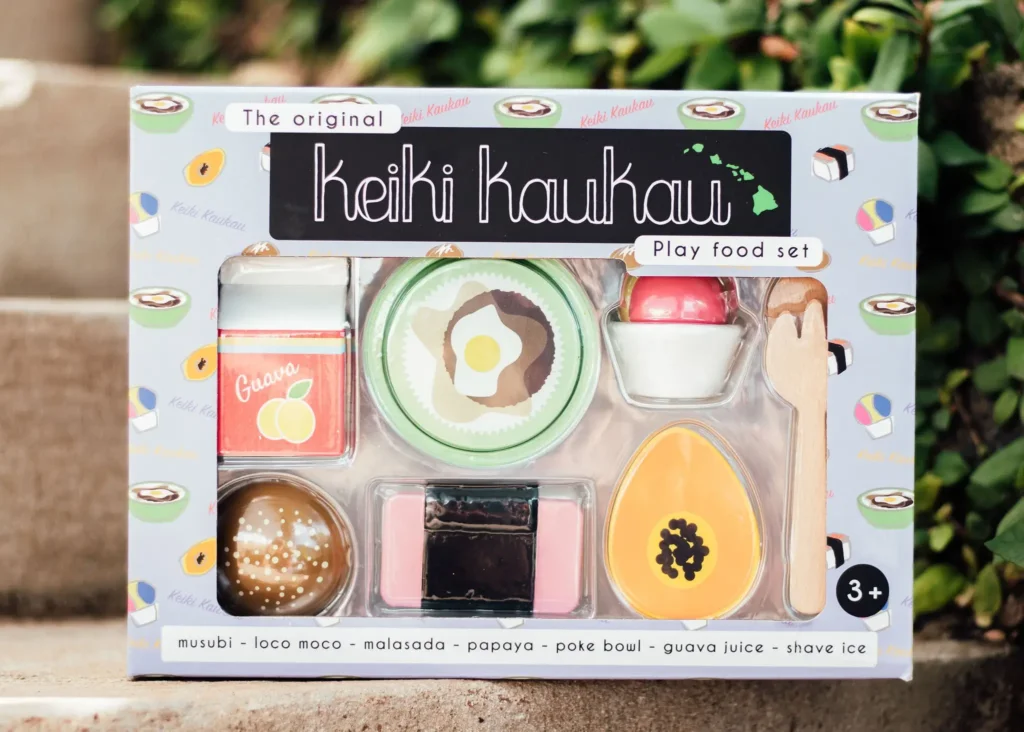 So, I seriously geeked out when I first saw this Hawaiian wooden food play set on Instagram a couple of years ago. It's got all our favorite things to eat in Hawaii!
This wooden play set includes: shave ice, papaya, spam musubi, guava juice, loco moco, poke bowl, and a malasada.
They also released a second wooden play food set that includes: laulau, manapua, soy sauce, passion orange juice, saimin, poi bowl, and chocolate haupia pie!
These are truly some of the best Hawaiian toys for toddlers!
Keiki Kaukau has the CUTEST wooden shave ice toy that is super fun for kids. Basically, they get to "make" their own shave ice with this play set.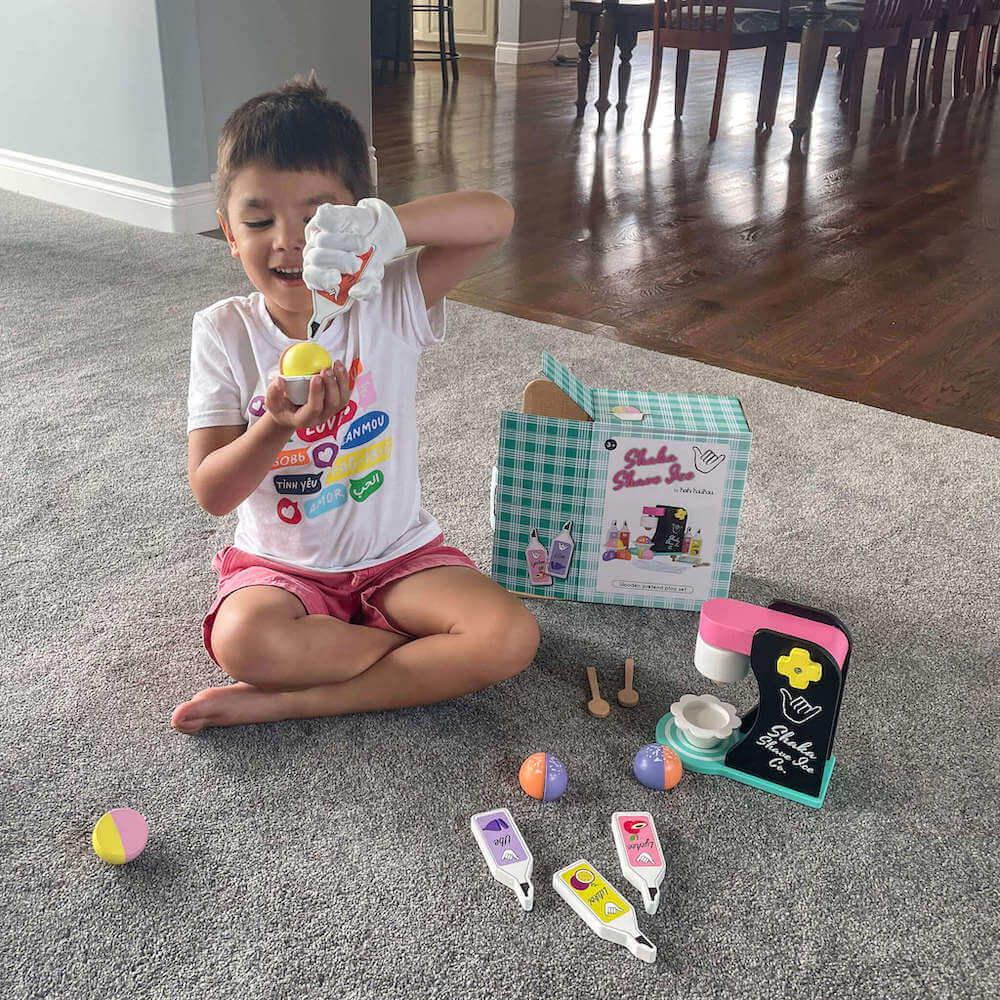 It has a machine, shave ice cups and spoons, and the shave ice itself. Plus, there's even a little white glove!
I was shocked at how long my 4yo played with this not only right after we opened it, but even several weeks later.
It is a great Keiki Kaukau play food item to have for your kids.
Hawaiian Wooden Puzzles for Kids
If you're looking for toddler puzzles that look a lot prettier than what you can find at average Hawaii gift shops, you'll want to check out these Hawaiian wooden puzzles for toddlers.
They have a TON of options that feature all kinds of ethnic cuisines like Hawaiian, Korean, Filipino, Chinese, Japanese, and Vietnamese.
I'll just showcase a couple of my favorites below:
If you're planning on going to a luau in Hawaii (or brought your baby or toddler to one on a past trip), this is an excellent Hawaiian wooden puzzle.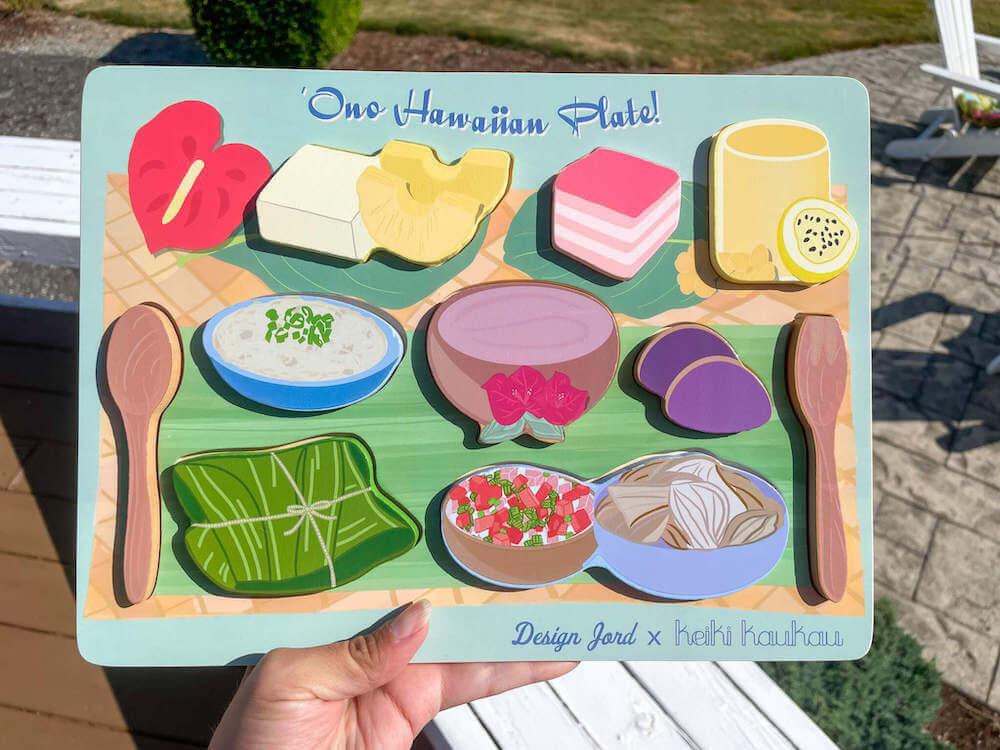 This Hawaiian puzzle includes tasty Hawaiian items like lilikoi juice, guava cake, haupia, pineapple, laulau, lomi lomi salmon, chicken long rice, poi, Hawaiian sweet potato, and kalua pork.
So my kids are half-Chinese and I've always got my eyes peeled for any toys that feature Chinese culture or traditions. Not only is it fun for my kids, but they can talk to their friends about Chinese culture when they play with them on play dates.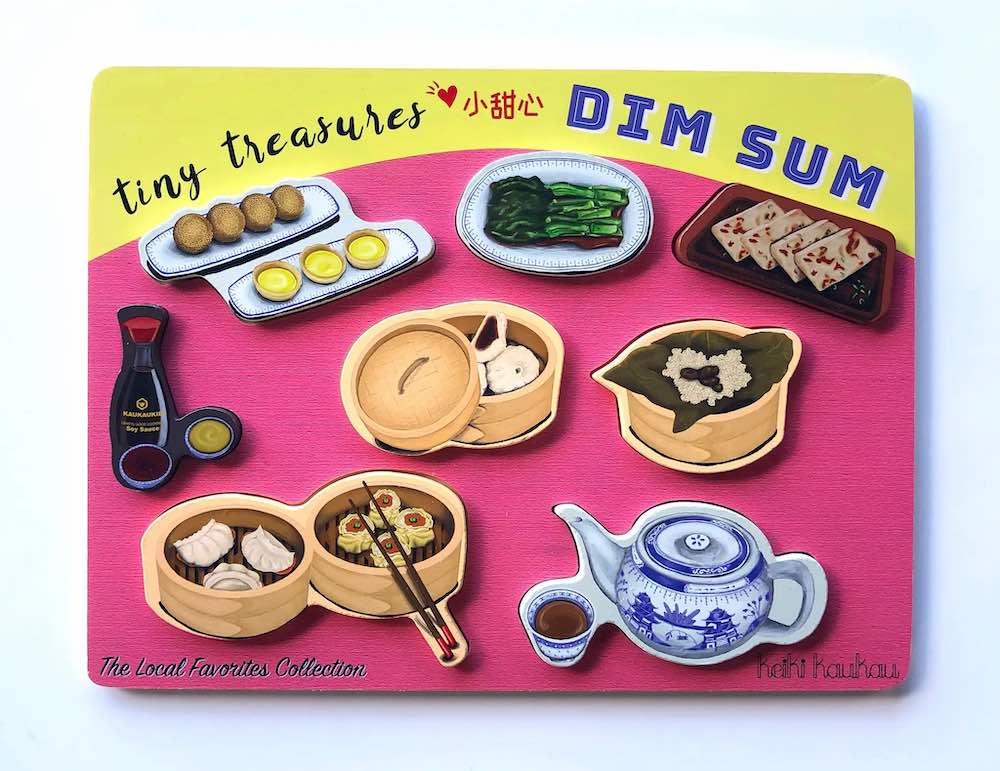 This Chinese wooden puzzle includes some of our favorite dim sum items like har gau (shrimp dumplings), siu mai (shrimp and pork dumplings), char siu bao (BBQ pork bun), egg tarts, loh mai gai (sticky rice in lotus leaves), lo bak gou (turnip cakes) gai lan (Chinese broccoli) and tea.
It's definitely a cute wooden dim sum toy!
Hawaii Wooden Play Sets
Here are some more Hawaiian Keiki toys to enjoy:
One of the newest Hawaiian toys that was just released by Keiki Kaukau is this adorable wooden set of Waikiki.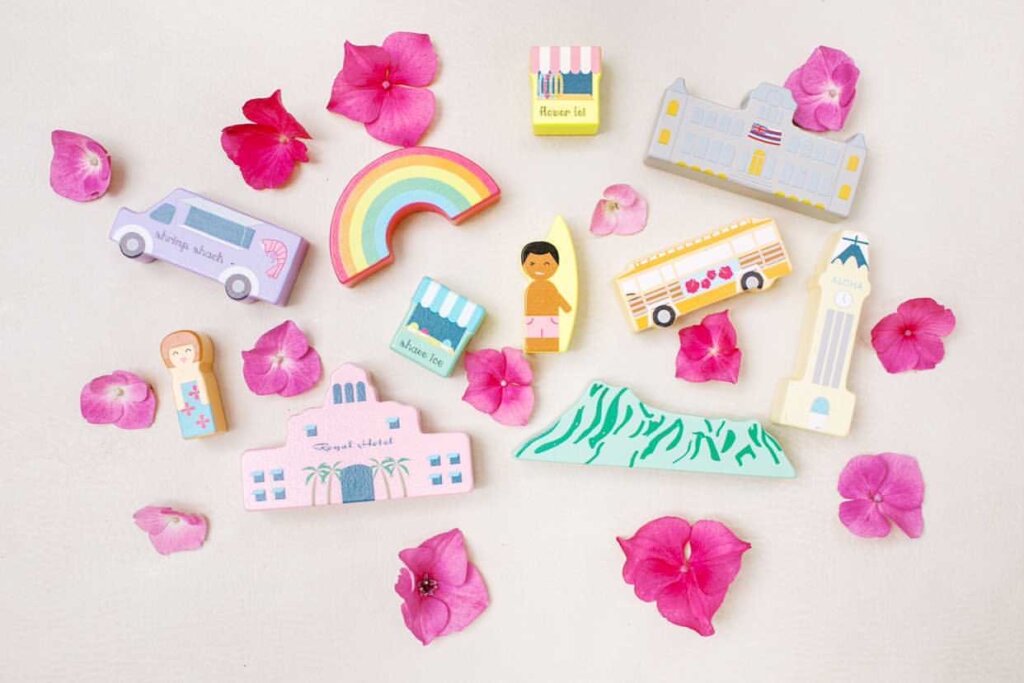 It has lots of top Waikiki attractions like the Aloha Tower, Iolani Palace, Diamond Head, and the Royal Hawaiian Hotel (aka the Pink Palace)!
I think this is going to be my new go-to baby shower gift for friends who love Hawaii as much as I do. I mean, it's just sooooooo cuuuuuute!
When we think about Hawaii, a lot of us picture flower leis. They are synonymous with Hawaii. And now your toddlers and preschoolers can do this lei-making activity while working on their fine motor skills.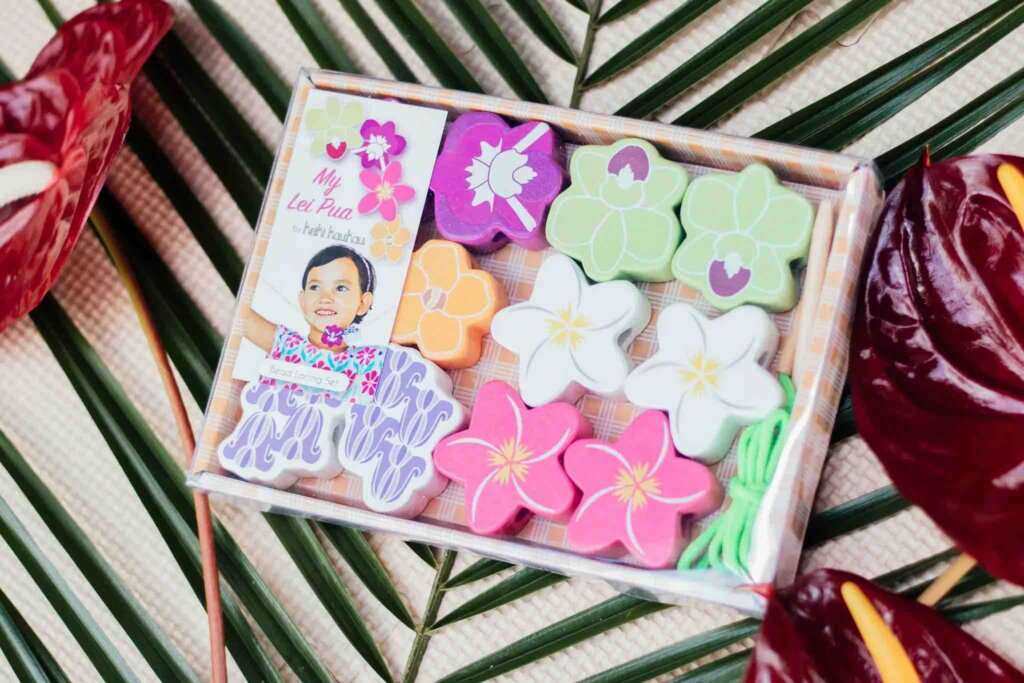 This Hawaiian toy set features wooden beads in the shape of popular Hawaiian flowers. These flowers include pink and white plumeria, purple and green dendrobium, crown flowers, and puakenikeni.
I think this would be a really fun activity when celebrating Lei Day with toddlers and preschoolers! Plus, these Montessori wooden toys would be great for a preschool classroom.
This stacking toy is perfect for little babies!
It comes with 5 different pieces your little one can stack on top of each other. It creates a beautiful pineapple!
This also comes in two different colors, an orange and yellow one and a purple and pink one!
This stacking toy will help build fine motor skills and increase your child's concentration. It's the perfect toy for your little one.
Another one of the cute toys from this Hawaii toy shop is a vehicle set.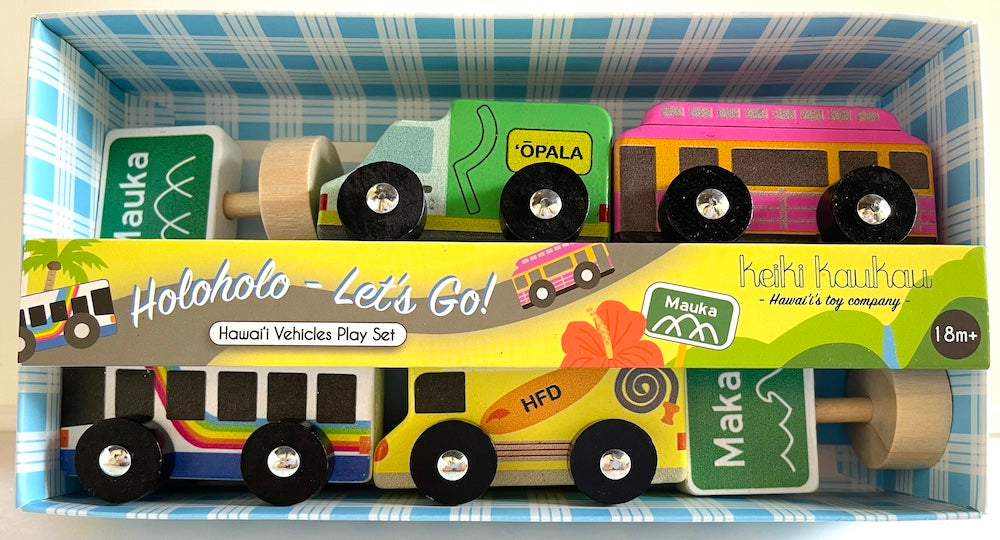 It has four different vehicles that you will see all around Hawaii and two road signs. Mauka sign for the mountains and Makai for the ocean.
This toy set is perfect for babies and toddlers!
Another great baby toy from Hawaii is this Jumping Pegs activity.
I love the colors on this toy! They are so bright and colorful, just like Hawaii.
Babies can have fun just by putting the pegs inside. As they get older, toddlers can match the color with the design on the wooden box.
The Hawaiian colors are even printed on one side so you can all learn some more Hawaiian words!
Hawaiian Children's Books for Toddlers
I may have a slight obsession with kids books. When I was in Hawaii while 5 months pregnant with my oldest, I went a little nuts buying cute Hawaiian board books. But, I quickly learned that only some of them had content I didn't mind reading over and over (and over) again.
Plus, they make perfect Hawaiian gifts for kids!
This is one of the coolest kids books about Hawaii that accurately sums up what family life is like in Hawaii. We have fun pointing out all the things we recognize on each page.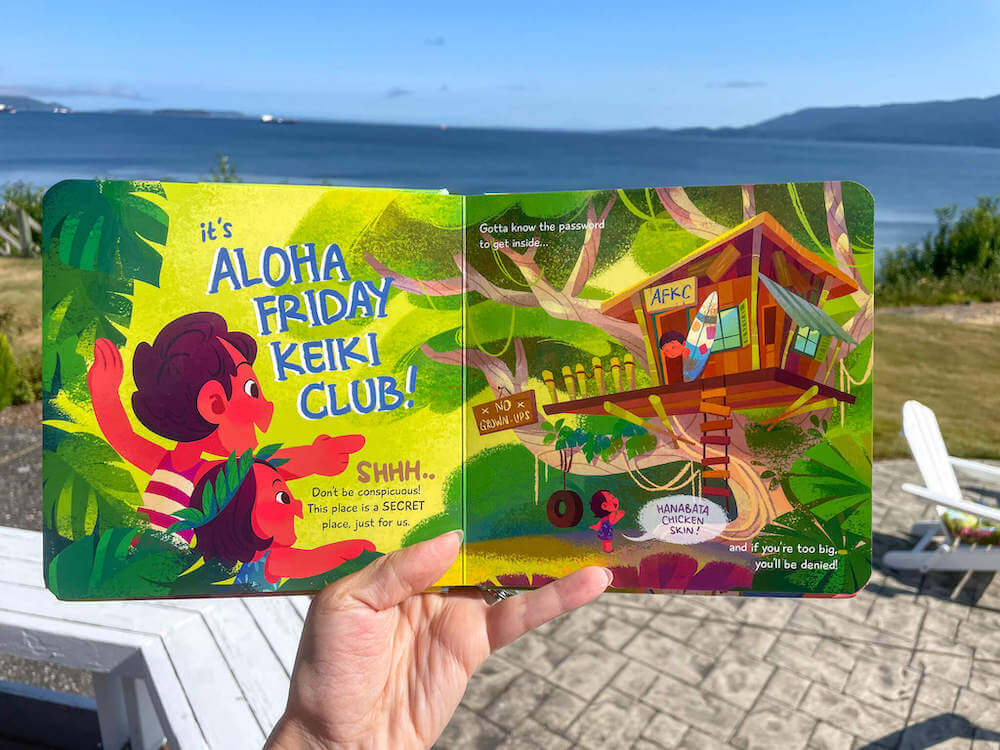 For those who don't know "Aloha Friday" is the day of the week when people wear their aloha shirts and dresses and celebrate the end of the work/school week.
This book is a super cute way to introduce kids to the idea that people celebrate different things in different parts of the world.
This is actually one of my favorite Hawaiian books for toddlers. We recently grabbed a copy to give as a gift to a hula sister expecting her first baby.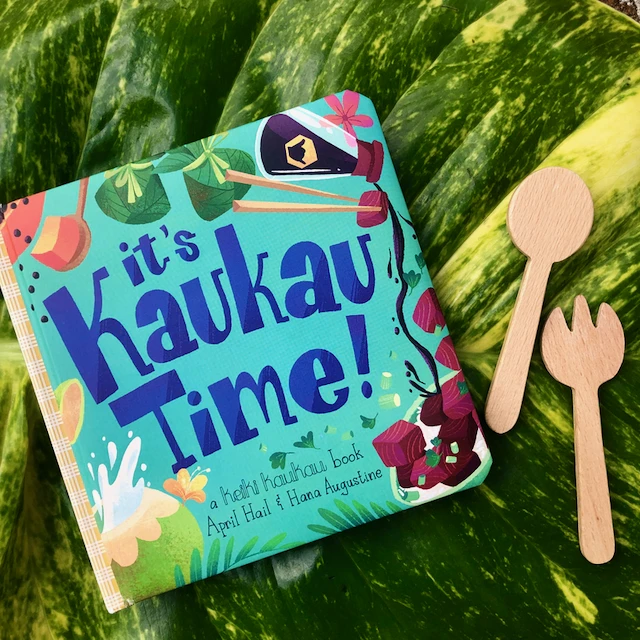 It's all about the tastiest food you can get in Hawaii! I love that it celebrates Hawaiian/local food in a way that will encourage babies and toddlers to want to taste them for themselves.
It's another one of the top Hawaiian baby toys to get.
Anything for Older Kiddos?
While most of the items at Keiki Kaukau are geared for kids 0-5, I did find this cute set of milk caps. My 7yo son actually spotted them at Tini Manini in Haleiwa.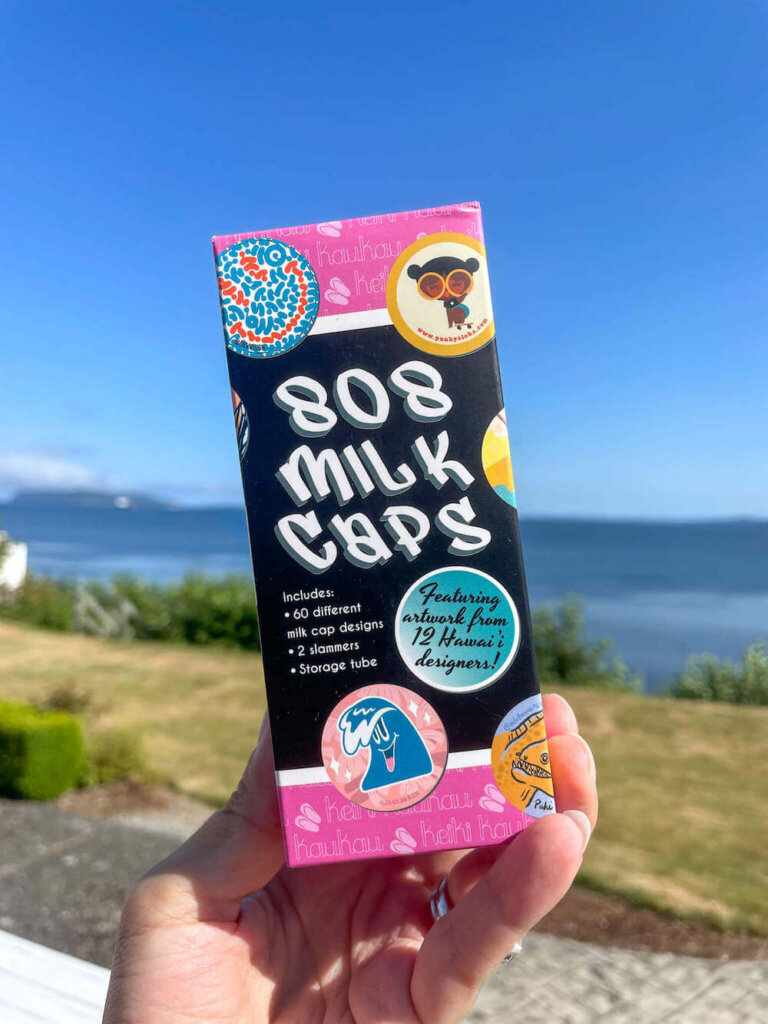 These are from the old-school game POG that most of us grew up playing. Well, the game originated in Hawaii and is one of the more traditional Hawaiian toys.
This pog set is much cuter than the one I had as a kid. It features local Hawaii artists and they are super adorable.
And once your kids outgrow the game, you can repurpose the pogs by creating your own artwork or decorative garland. Or you can glue them on blank cards or gift bags.
Another great older kid toy is this felt sewing kit. It comes with 7 sewing projects for your kids to enjoy making.
It also comes with a rainbow carrying case to store your items when you are finished.
Your kids will learn the basic sewing skills to make a rainbow, dolphin, surfboard and surfer, hula girl, shave ice, and turtle.
Finally, there is also a Hawaii bingo game that will be fun for older kids.
It comes with a spinner, dry-erase markers, and bingo boards you can use time and time again.
The best part is that it is made with recycled materials and responsibly managed forests!
This bingo will be lots of fun for your kids and it's eco-friendly too!
Where Can You Find Hawaiian Toys in Hawaii?
If you're wondering where you can pick up some of these Hawaiian toys on your next trip to the islands, the following retail stores sell Keiki Kaukau products:
Hawaii Toys FAQs
What are some cute Hawaiian plush toys for kids?
You can usually find all kinds of sea animals (like Hawaiian green sea turtles, dolphins, crabs, and sharks) at gift shops in Hawaii. There are also some adorable plush Hawaiian dolls that make great gifts for kids.
Should I get my child a ukulele?
Whether your child is interested in seriously learning how to play the ukulele or just wants to play around with one, there are many great ukuleles for kids. Some are inexpensive and perfect for toddlers while others are much nicer and perfect for elementary and middle school students.
What are the best Hawaiian gifts for babies and toddlers?
There are so many great options! My personal favorites are Hawaiian wooden puzzles because babies can chew on them, toddlers can stack the pieces actually do the puzzle, and learn about the items. It's a Hawaii toy that can be used during the baby-preschool years and is one of the best wooden toys for toddlers.
What is Keiki in Hawaiian?
Keiki in Hawaiian means kid. You will see it on most restaurant menus as the "keiki menu" which just means the kid foods.
What does Kaukau mean in Hawaiian?
Kaukau is Hawaiian pidgin for food or to eat.
Toys From Hawaii Wrap-Up
Keiki Kaukau is a local Hawaiian brand that has been crafting beautifully unique toys for children of all ages. These are great Hawaii gift ideas for baby showers, first birthdays, and holidays as well as souvenirs from Hawaii. They make exceptional Christmas presents or stocking stuffers!
You can buy these lovely Hawaiian toys online or in boutiques across the islands today.
Keiki Kaukau sent me a few products for review purposes but all opinions are my own. I've also purchased several of these products for my kids and as gifts.