Did you just get back from Hawaii and realize you forgot to buy Hawaii souvenirs to bring back home? Scroll to find out where to get Hawaiian souvenirs online for yourself or for gifts!
This guide to buying Hawaiian souvenirs online contains affiliate links which means if you purchase something from one of my affiliate links, I may earn a small commission that goes back into maintaining this blog.
Are you looking for a place to buy Hawaiian souvenirs online?
Today, we're taking a look at some of the best places to purchase Hawaiian souvenirs online. From clothing to jewelry to food and home decor, we've got you covered.
When it comes to buying Hawaii souvenirs, there are so many options out there! You can find everything from t-shirts with funny phrases on them all the way up to expensive jewelry pieces that will be sure to impress your friends, family, and special someone back home.
We've done our research on these companies so that when it comes time for your next trip, or even if you're just looking for an awesome Hawaii gift idea, this list is going to be perfect for helping make those decisions easier!
Whether it's a unique piece of art or something as simple as a magnet with "Aloha" written across it in beautiful calligraphy font – these shops have what you need!
And most of these places ship worldwide too. So no matter where in the world your loved ones live, they'll be able to receive their gifts quickly and easily without any hassle whatsoever!
So sit back, relax, and enjoy our list of top places where you can shop online for Hawaiian gifts today!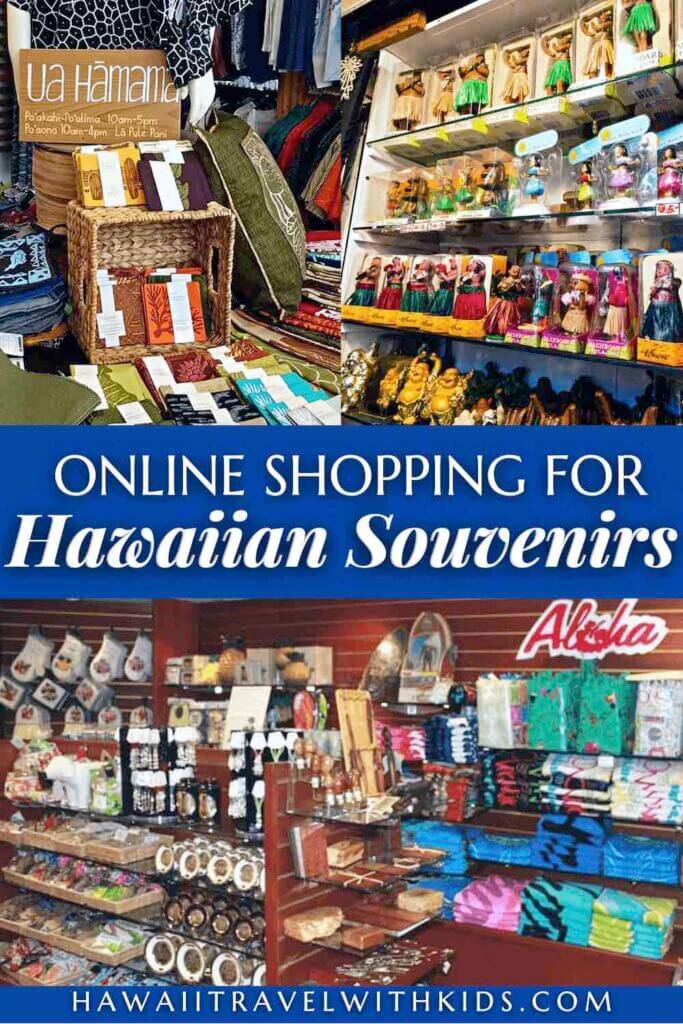 Where to Get Souvenirs from Hawaii Online
The Aloha Outlet was created with the online shopper in mind! Based in Waikiki, Oahu, and founded in 2003, Aloha Outlet aims to deliver "real Hawaii" products directly from the Aloha state across the world.
With free shipping across the United States and an extremely large product catalog, this is a great catch-all place for Hawaiian souvenirs online.
You can also opt to order your own custom-made pa'u skirt with Aloha Outlet. This is one of the most unique Hawaiian items and a great Hawaiian-themed gift for someone about to head to the islands. The pa'u skirt is a traditional Hawaiian hula skirt. Both adult and keiki (aka child) styles are available, with your choice of gorgeous fabric.
Hibiscus, pink palms, birds of paradise, and ocean waves dance across the variety of fabric choices for your custom skirt or at-home project. You can also opt for an all-included package of a pa'u skirt with a matching tube top and skirt case, each with your personally selected fabric.
Aloha Outlet is a great choice for curated Hawaiian clothing, jewelry, decor, and even ukuleles. This is one of the Hawaiian gift shops full of just about anything you could hope for from the islands!
The ABC Store is probably the most famous Hawaii gift shop. They have them on almost all of the islands, and there's one practically on every street corner in Waikiki.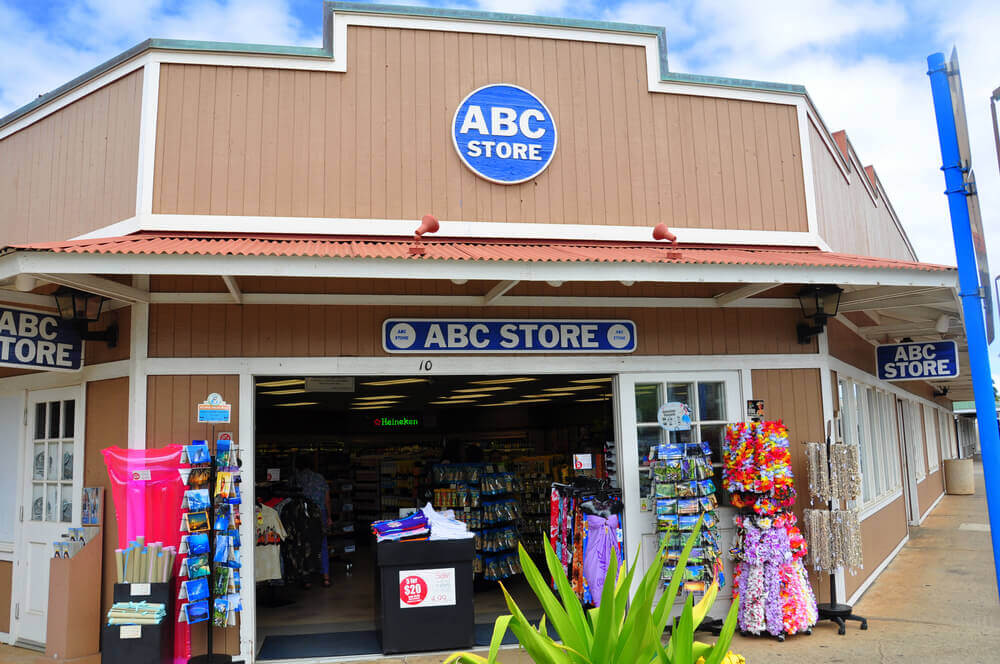 It's almost like a mega Hawaii souvenir shop with gift ideas, snacks, beauty products, home decor, jewelry, and so much more.
Here, you'll find awesome things to buy in Hawaii for all ages and interests. They have a large selection of made-in-Hawaii gifts, too.
This is where most tourists buy gifts from Hawaii. And it's super convenient to have an online option, so you don't need to pack your suitcase with the best gifts from Hawaii.
I think Island Heritage has some of the best souvenirs from Hawaii and the best Hawaiian gifts for kids.
They publish a ton of Hawaiian books for kids of all ages, including board books, activity books, and even Hawaiian paper dolls. Plus, they have an assortment of Hawaiian toys and stuffed animals.
And they make the cutest Hawaiian ornaments featuring Santa in his Aloha shirt. Actually, their whole Hawaii Christmas section is pretty amazing.
If you're looking for adorable Hawaii gifts online, you'll definitely want to check out Island Heritage.
In 1958, the Maui Divers of Hawaii company was founded as an undersea touring company in Lahaina, Maui. Once a whaler's port, local guides would lead excursions into the ocean environment.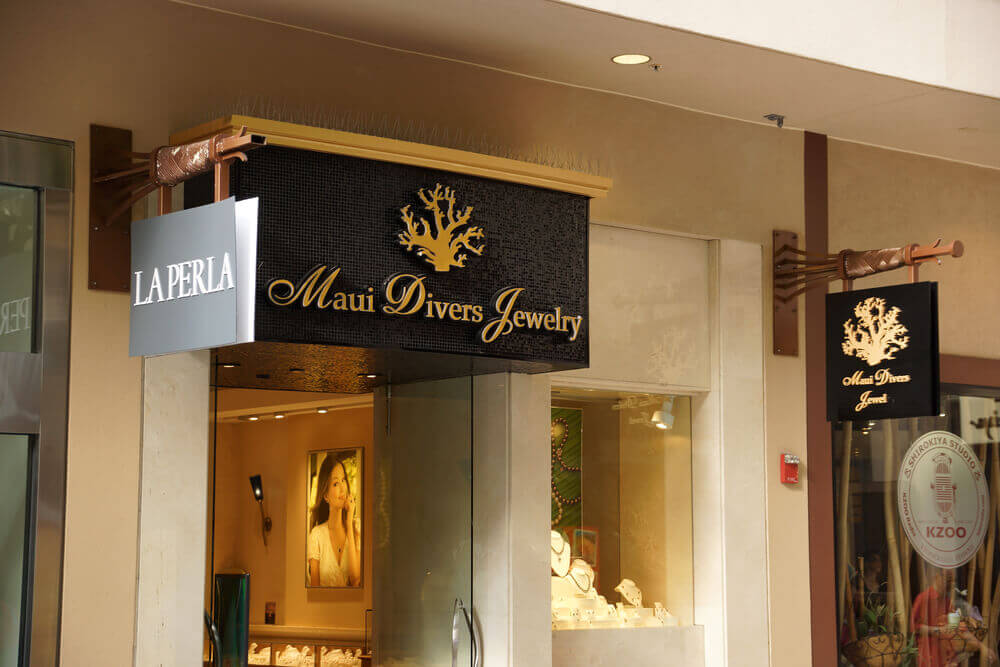 During a fishing expedition into deep waters around Maui, Hawaiian black coral was discovered. With its deep rich color, black coral became a coveted item and treasure. Maui Divers Jewelry was thus founded in 1959 with uniquely designed Hawaiian black coral jewelry.
Today, the company is the largest manufacturer of precious coral jewelry across the globe and one of the best Maui gift shops online to buy Hawaiian jewelry. It is also the largest jewelry manufacturer in the Aloha state and attracts locals and tourists alike to over 20 locations across the islands.
You can shop breathtaking styles from Maui Divers Jewelry from the comfort of your own home. Products available in-store are typically listed online as well, but the company also offers staff availability to help you find any item you may have seen in their shop, too.
It is a great place to get some Maui souvenirs online with the right touch for that special someone.
If you're looking for Hawaii merchandise for teens, this is another one of the Hawaii gift shops online that's a great place to start. It's a pretty cool surf shop with t-shirts, shorts, sweatshirts, and accessories.
They have shops throughout Hawaii filled with stylish Hawaii surf clothing. Everything has a beachy, laid-back vibe.
This is also a great place to shop before your trip to Hawaii. Their sweatshirts are perfect for the chilly plane ride to Hawaii.
Or let your kids check out the website so they can figure out what to buy in Hawaii.
If you're looking for a souvenir from Hawaii for kids, Keiki Kaukau has you covered. It's the best toy store in Hawaii, and you can buy the cutest Hawaii gifts online.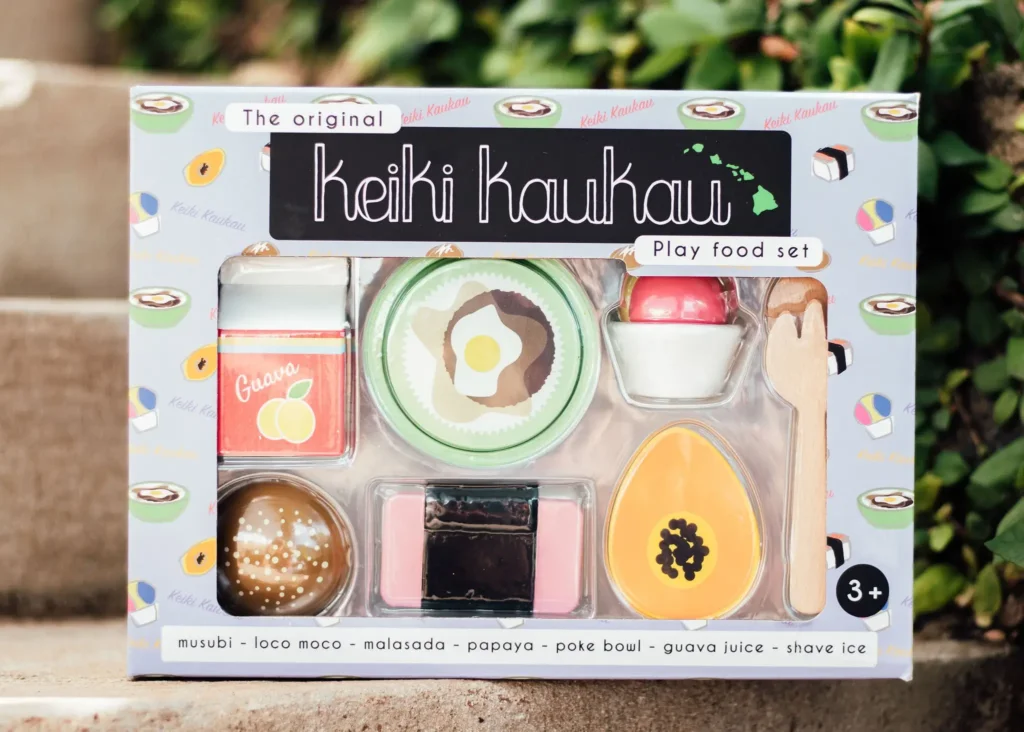 They specialize in wooden toys for toddlers, board books, play food, kids' puzzles, games, and more. You can find their products at Hawaii boutiques, but I like to shop these Hawaiian products online.
It's my favorite Hawaii toy brand, and the owner is super sweet.
Island Style Kona is known for its unique handmade gifts and accessories. From seashell souvenirs to water hyacinth bags & hats and more, you're bound to find something to cherish for the whole family.
You can visit this store in person in Kailua, Hawaii, and previous customers love the unique designs of wind chimes and more that bring Hawaii back home. Island Style Kona's online shop is very robust, with affordable and quick shipping.
Not sure what to pick up here? Take a look at the wide array of sarongs Island Style Kona carries, a traditional tube-shaped skirt or piece of apparel popular in Indonesia and other parts of Southeast Asia.
Island Style Kona carries the largest collection of sarongs within the town of Kona, made from silk and in both strapless and full-body styles.
One of the most popular souvenirs of Hawaii is a pineapple! You can buy them boxed up at the grocery store and even the airport. But, if you don't want to physically lug them home with all the rest of your bags, just have them shipped to your house and buy these Hawaiian gifts online for your entire family. This will definitely save you time and hassle during your vacation!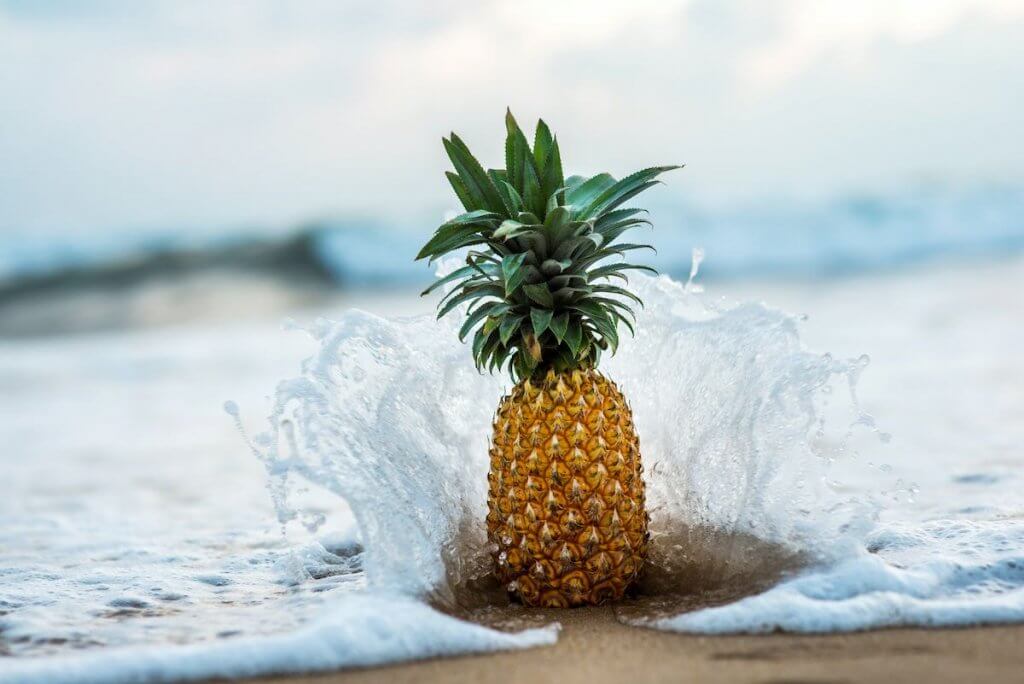 These are some of the sweetest pineapples and taste SO much better than what you can get at the store on the Mainland.
It's definitely cheaper to buy more pineapples in your order because the price goes down as you add pineapples to your cart at checkout. So, I suggest buying the 8-pack and delivering them to friends and family. Don't worry; you'll get shipping updates all along the way.
Lehua Jewelers excels in hand engraving jewelry in the style of original Victorian "Remembrance" bracelets. Historically, these bracelets were gifts from England's royal family to Hawaiian Royalty. Glass enamel and heavier-weight gold are used in each piece with the goal of gifting you a new family heirloom.
Specific designs at Lehua Jewelers depict the Hawaii state flower, the Lehua blossom, as well as the Honu or sea turtle. Bracelets are still the most popular form of jewelry from the company, but rings, pendants, and earrings are also available.
If you're looking for an Aloha state-inspired engagement ring, Lehua is also revered for its longevity and beauty of over 30 years. Custom designs can be ordered in-person, online, or over the phone, with employees happy to help you create your custom "wehilani" or "treasured heirloom" for years to come.
This is our favorite place to discover unique Hawaii products online. In fact, it was one of the few places we could find macadamia nut coffee syrup so we could recreate our Hawaii lattes at home.
House of Mana Up is where you can find cool souvenirs from Hawaii that no one else will have. They are authentic Hawaiian gifts locally made in Hawaii.
They also have a monthly subscription box with Hawaiian-themed gifts made by local artists and entrepreneurs. It's a great way to support local businesses while enjoying some cool Hawaiian merchandise.
No Hawaiian souvenir list is complete without a taste of true Hawaiian delicacies! Big Island Candies has us covered with signature shortbreads, chocolates, and baked goods.
With locations in Hilo and Honolulu, Hawaii, Big Island Candies was founded in 1977 and continues to pride itself in quality over quantity.
All of Big Island Candies' products are handmade, with freshly roasted Big Island macadamia nuts and 100 percent pure Kona and Ka'u coffee from farms on the Hawaiian islands.
Some of the current fall collections include cinnamon white dipped macadamia nut shortbread and cocoa-dusted chocolate almonds. Gift basket options are best for a true variety of flavors.
Delivery takes about 1-2 days within the state of Hawaii and 2-3 days throughout the rest of the United States. So if you're looking for a taste of Hawaii before your vacation or one to remember your trip by, look no further than Big Island Candies.
Personally, I think Hawaii food souvenirs are the best. And we always bring back gift boxes filled with pineapple-shaped cookies from Honolulu Cookie Company.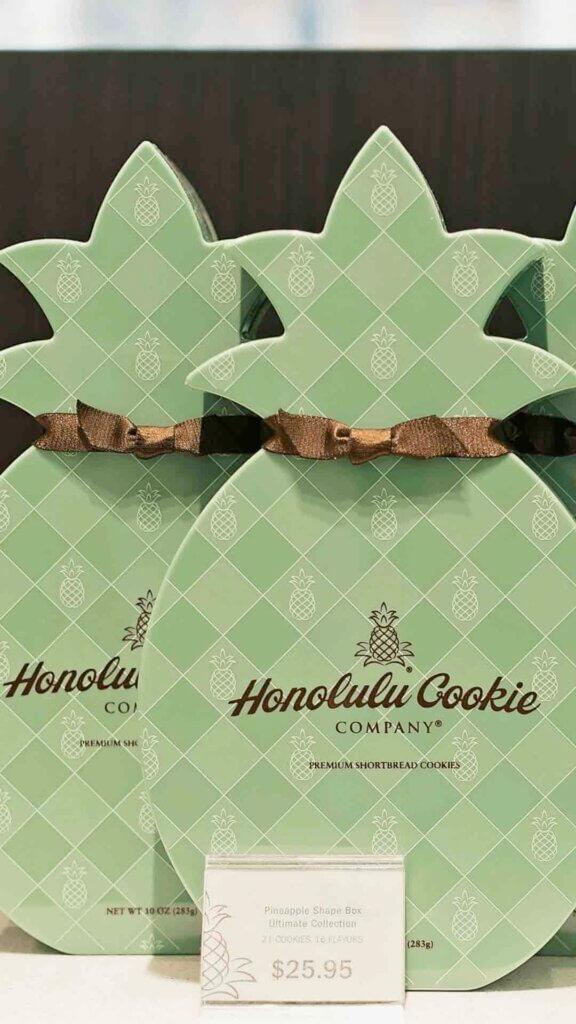 These shortbread cookies come in all sorts of flavors like guava, chocolate chip macadamia, pineapple macadamia, dark chocolate Kona coffee, and more.
Plus, you can buy gift sets that come in pineapple-shaped tins. Since each cookie is individually wrapped, these are great gifts for the office or teachers. And they are perfect for school lunches.
One of the many Kauai souvenirs online is these incredibly delicious cookies. You can find them at the ABC Store as well.
This store offers a ton of different cookie options, all made in Kauai. It is a great way to support the entrepreneurs in this family-owned business. Plus, your family will love all the delicious baked goods from here!
Hawaiian Souvenir FAQs
What are some Hawaiian souvenir ideas?
If you're looking for Hawaiian gift ideas, consider buying a ukulele. They have toy ones for kids, or you can invest in a real one. For cheap Hawaii souvenirs, get some cool decals/stickers that people can put on their water bottles or laptops. And t-shirts or sweatshirts are usually safe options.
What's a good gift for someone going to Hawaii?
One of the best ideas is a few reusable bags. Hawaii has a plastic bag ban, and many tourists don't realize that when they head to the store. Having a few nylon bags really can save the day. Reef-safe sunscreen is another idea. They sell it in Hawaii, but it's usually cheaper to buy ahead of time.
Can you bring a pineapple home from Hawaii?
Absolutely, as long as it's boxed with an approved agricultural inspection stamp. You have to make sure to buy "airport-ready" pineapples instead of bringing one home from the farmers market. Don't worry; it's super obvious which ones you can take on the airplane.
What souvenirs can you bring back from Hawaii?
You can bring back so many unique gifts from Hawaii! From pineapples to your Hawaiian lei, Kona Coffee, and more, there are some great Hawaiian gift stores that you can enjoy both online and in Hawaii!
Purchasing Hawaii Souvenirs Online
When it comes to Hawaii souvenirs online, you want a great balance between quality, originality, and price. This is particularly important when it comes to shipping! Many Hawaiian shops online also have in-person options for your trips.
Consider Maui Divers Jewelry or Lehua Jewelers for your perfect jewelry addition or Big Island Candies for your sweet tooth. Both Aloha Outlet and Island Style Kona can connect you to Hawaiian decor for your home or your perfect beach outfit.
Ready to take a step toward indulging in a few more Hawaiian treats in person? Check out our Hawaii Travel Tips right here on Hawaii Travel with Kids for budget-friendly and exciting family adventures.