Planning a trip to Hawaii and want to know what to bring back from Hawaii? Scroll to find out the best Hawaiian souvenirs to buy on your next Hawaiian vacation.
This post on the Best Hawaii souvenirs was originally written January 13, 2020 and was updated January 13, 2022 and contains affiliate links which means if you purchase something from one of my affiliate links, I may earn a small commission that goes back into maintaining this blog.
A Hawaiian vacation might not be complete if you don't check out the hundreds of gift and souvenir shops on the island that you're visiting.
Having a reminder tucked away may help you reminisce back to your trip, even many years down the road could be the best thing ever!
Souvenirs are a great way to tell someone that you were thinking of them. They aren't usually expensive, but they are a great keepsake. And there are so many cool things associated with Hawaii.
Your family members may not be with you in Hawaii, but you can easily show them you were thinking of them by grabbing one of the best souvenirs from Hawaii.
Now you just have to discover what the right memento might be. Personally, I prefer things you can only get in Hawaii.
Take a look at our list of some of the best Hawaii souvenirs ideas that tourists enjoy and return home with.
Want to skip all the planning and just access my detailed Hawaii Itineraries complete with daily schedules, kid-friendly activities, and travel hacks? Click the button below.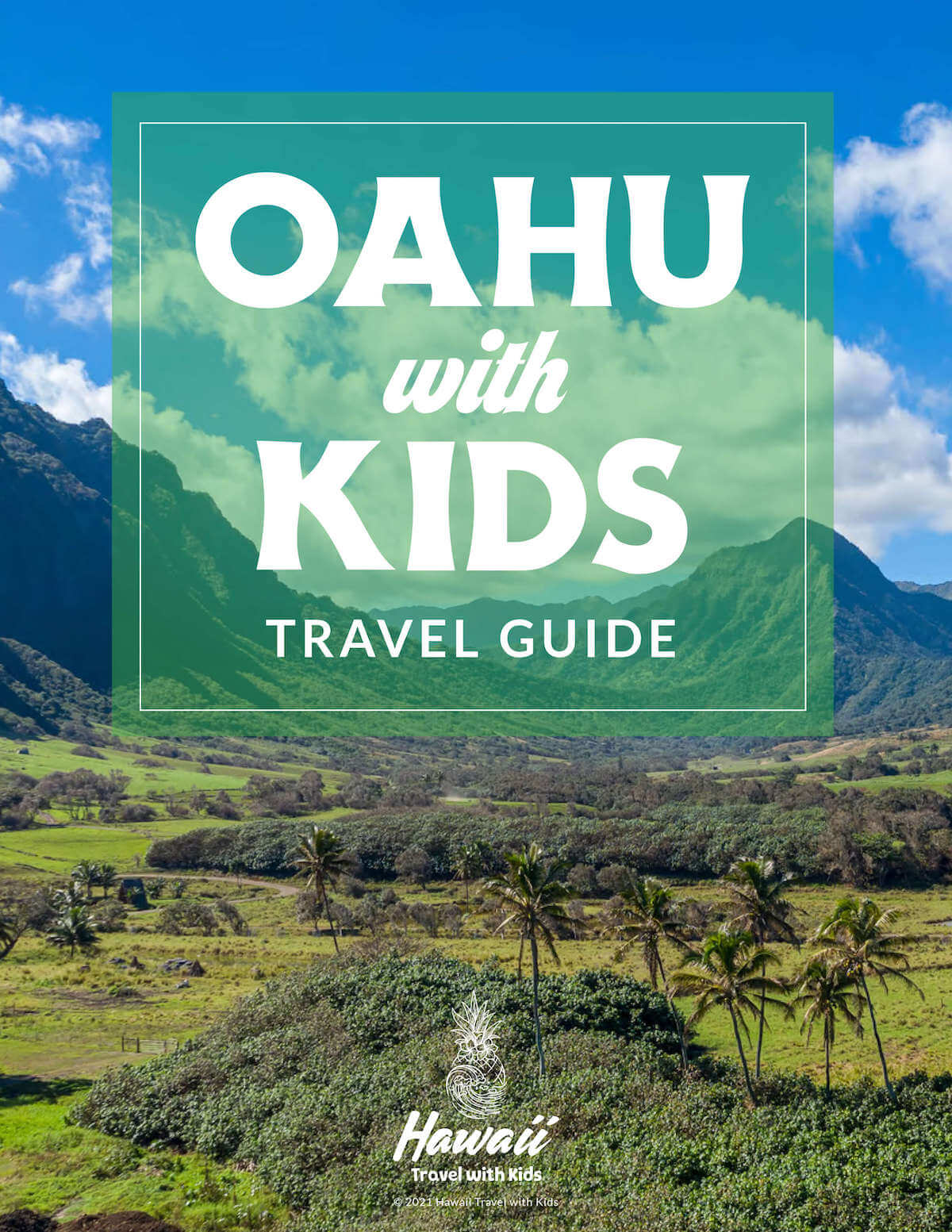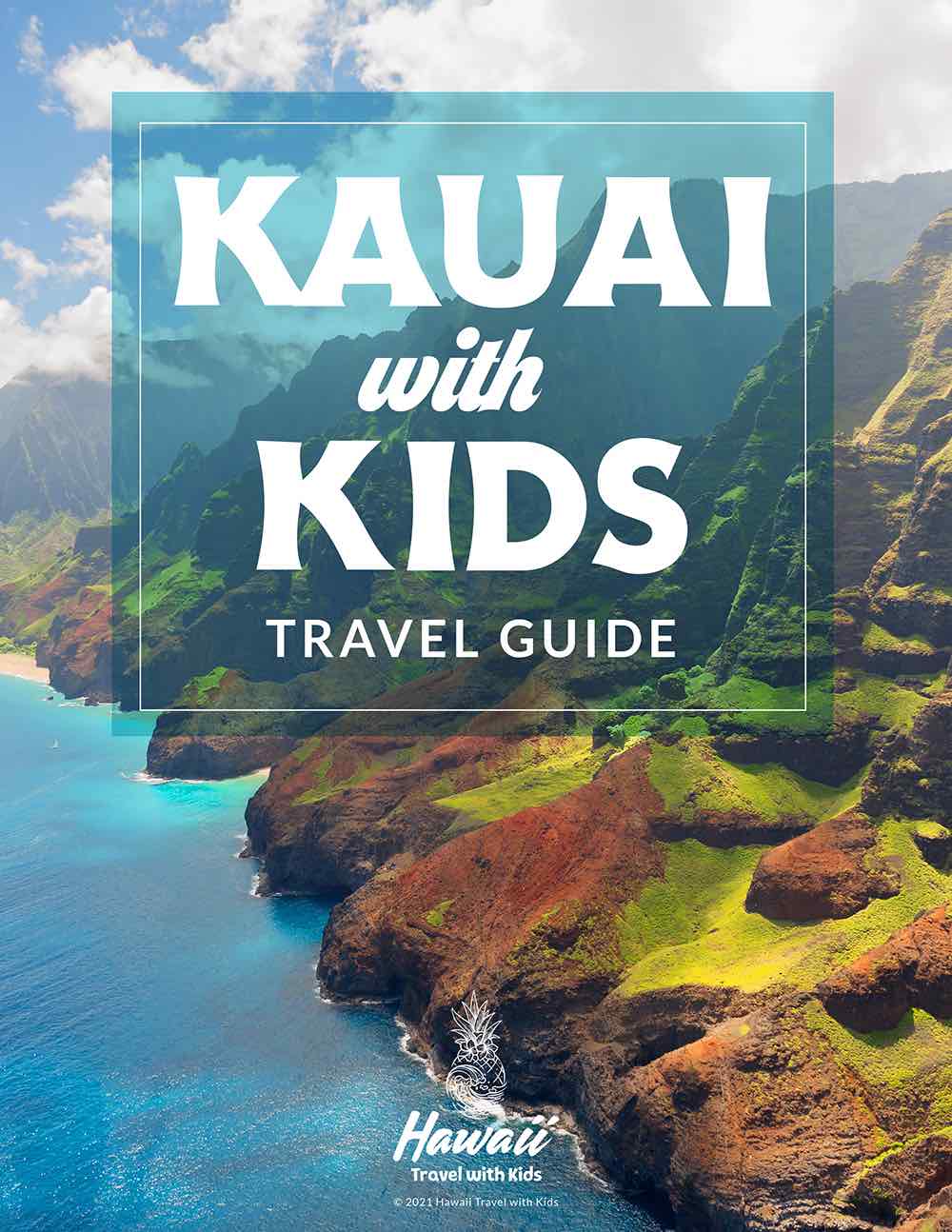 Hawaii Souvenirs FAQs
What are good souvenirs from Hawaii?
While the most popular Hawaiian souvenirs include ukuleles, macadamia nuts, Hawaiian shirts, and Kona coffee, the best souvenirs are the ones that make you think of how much fun you had on your Hawaiian vacation.
What product is Hawaii known for?
Food-wise, Hawaii has been known for producing pineapples, sugar cane, macadamia nuts, and coffee. And there are tasty Hawaiian snacks to bring home. But, many people also think of ukuleles, Aloha shirts, and leis. These are all great things to bring back from Hawaii.
What is a traditional Hawaiian gift?
It doesn't get more traditional than an authentic Hawaiian lei. They come in many different forms, including fresh flowers, kukui nuts, shells, feathers, and yarn. These are the best gifts from Hawaii.
Can you bring fruit back from Hawaii?
Yes and no. Any fruit that you bring back from Hawaii must be cleared through the agricultural inspection at the airport. Usually, the only fruit you can bring back are airport-ready pineapples.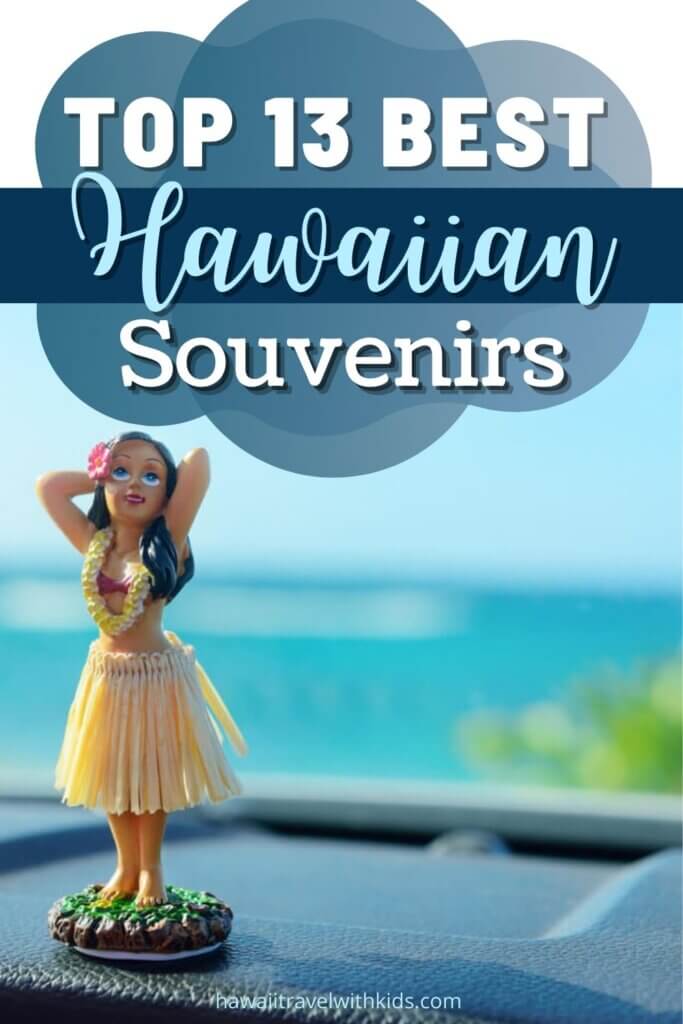 13 Must Buy Best Hawaiian Souvenirs
1. Ukulele
A huge symbol of Hawaiian entertainment resides in the little wooden instrument called the Ukulele. It's pronounced ooh-koo-leh-leh (not YOO-koo-lay-lay.)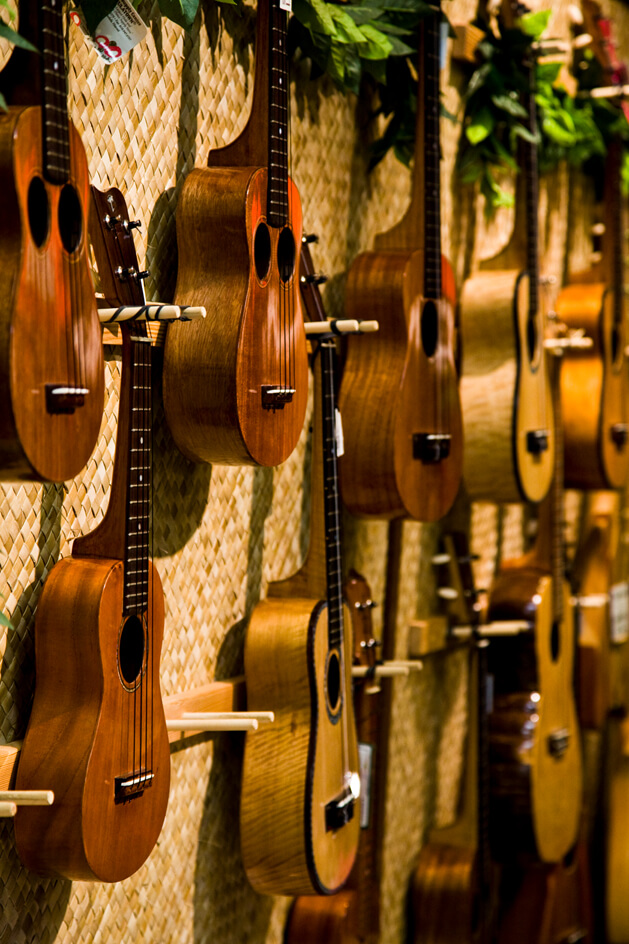 The Hawaiian Ukulele is a very popular Hawaii souvenir that is calming when played correctly, reminding you of the relaxing time you had during your stay.
The best part of a gift like this is that it pleases both the young and the old, and everyone in between.
Playing the ukulele is super popular right now and many schools offer ukulele programs. There are also community groups all over the Mainland where people can practice their ukulele skills.
The biggest thing to look for is whether it's a "real" instrument or a toy. The toy versions can be found at Walmart, the ABC Store, and basically any tourist shop in Hawaii.
Sometimes they are painted bright colors or have designs on them.
The toy versions make the best Hawaii gifts for kids and they can make fun home decor.
But, if you are serious about playing the ukulele, you'll want to invest in a high-quality instrument. Lanikai Ukuleles are based on Oahu and you can visit their store and test out several models.
For a more budget-friendly option (especially if the ukulele is for a child learning to play), I recommend Pomaikai ukuleles.
Not only are they affordable, but they come in a variety of super cute colors and they make an awesome gift. Plus, you can order them on Amazon and save some suitcase space!
Bottom line: Ukuleles are cool things to buy in Hawaii no matter how old or young you are!
Find out my top Kids Ukuleles Worth Buying
2. Hawaiian Lei Necklaces
Flowered necklaces (called leis) are another item that makes for a great Hawaiian souvenir. You can find silk versions or pick up fresh flower leis to bring home.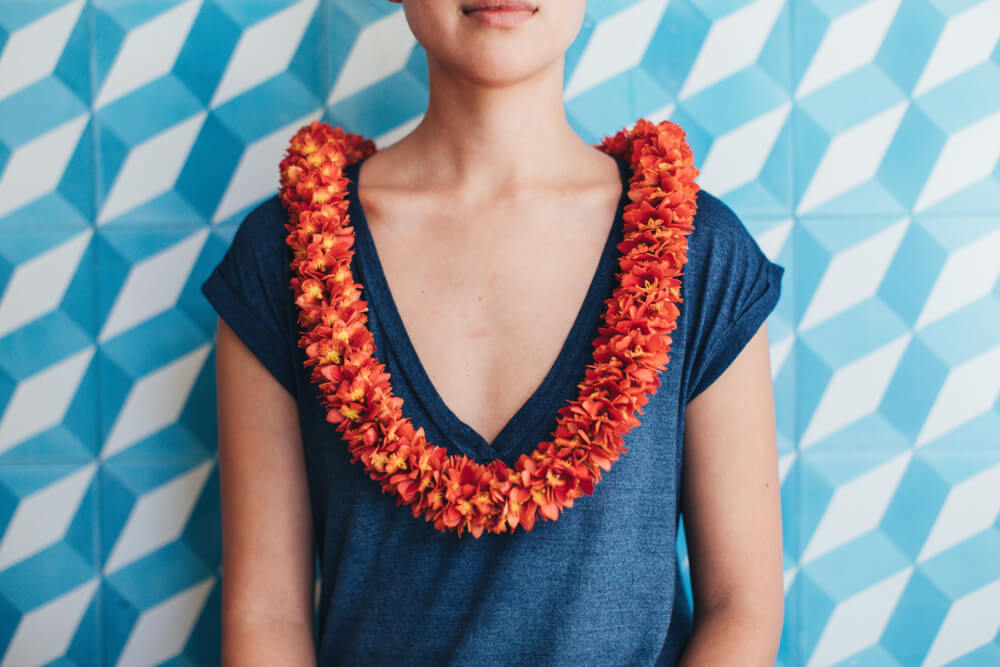 They sell fresh flower leis at the airport, so it's easy to pick one up on your way home. And for silk leis, the best selections are at Walmart, Whaler's General Store, and ABC Stores.
What's really trendy on Instagram this year are haku leis (flower crowns.) You'll see girls wearing long, flowy dresses and a haku lei on their heads in tons of photos.
You can find fresh flower haku leis at lots of local lei stands and at florist shops (although you probably want to order ahead of time.)
The best place to find silk haku leis is at the Aloha Swap Meet or J&L Trading House. They have the best prices and selections to find exactly what you're looking for, plus lots of other adorable souvenirs in Hawaii.
To bring them home, I recommend getting plastic containers so they don't get crushed in your suitcase.
3. Jewelry From Hawaii
If you're wondering what to buy in Hawaii that won't take up much space, consider jewelry.
Taking home some of the finest small bits of Hawaiian jewelry makes for a special gift for him or her.
They have all kinds of handcrafted earrings, bracelets, and rings that have a touch of Hawaii to them. Just be sure you're buying the real thing.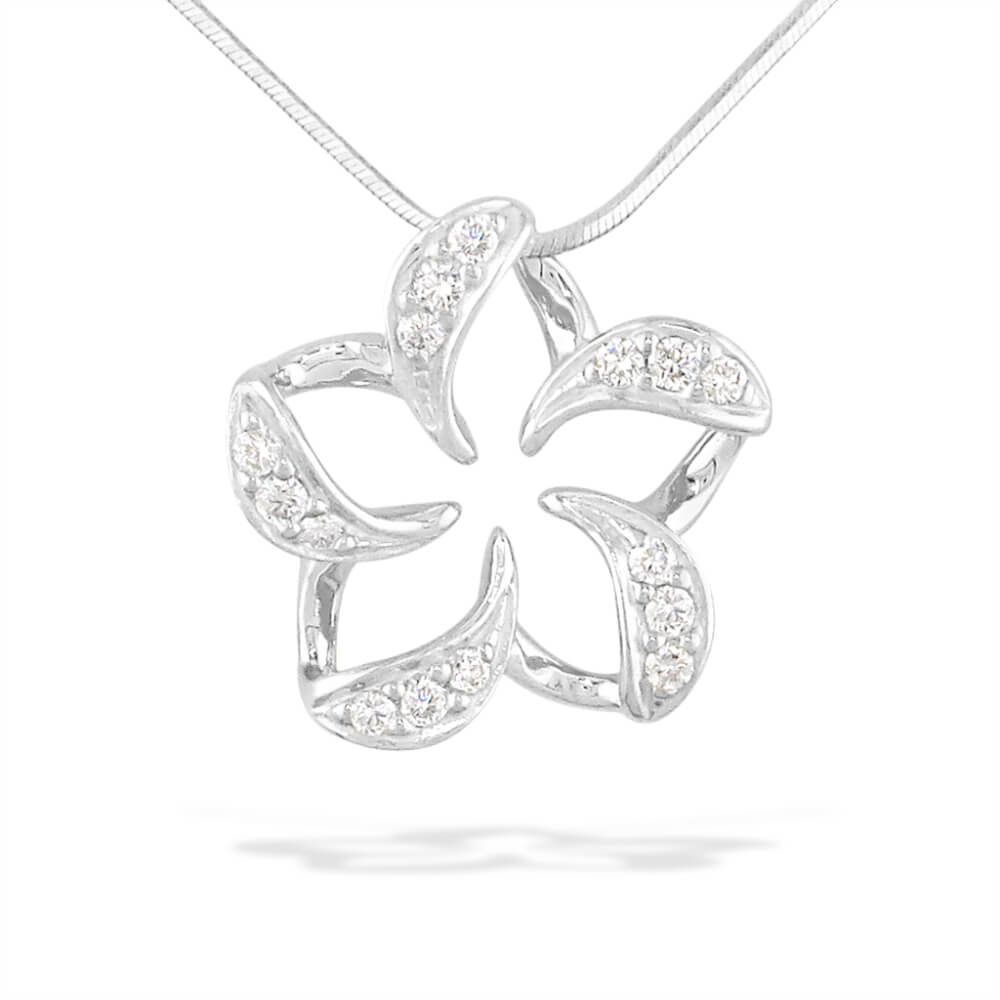 One of the most popular jewelry stores in Hawaii is Na Hoku. They sell nice jewelry at a variety of price points and they are known for stellar quality. It's also a great place to find Hawaiian Heirloom Jewelry.
Koa wood jewelry is gaining popularity right now. Honolulu Jewelry Company has a nice selection of Koa rings, bracelets, and necklaces.
I think jewelry is one of the best things to buy in Hawaii because it lasts forever and can be passed on.
4. Kona Coffee
Consider taking home or giving to your coffee-loving friends some Kona coffee. This is one of the top gifts to bring back from Hawaii.
It's also world-renowned for just how delicious a cup of coffee it makes.
While the best place to find Kona coffee is on the Big Island (especially if you visit one of their Kona coffee plantations), you can find Kona coffee anywhere in Hawaii.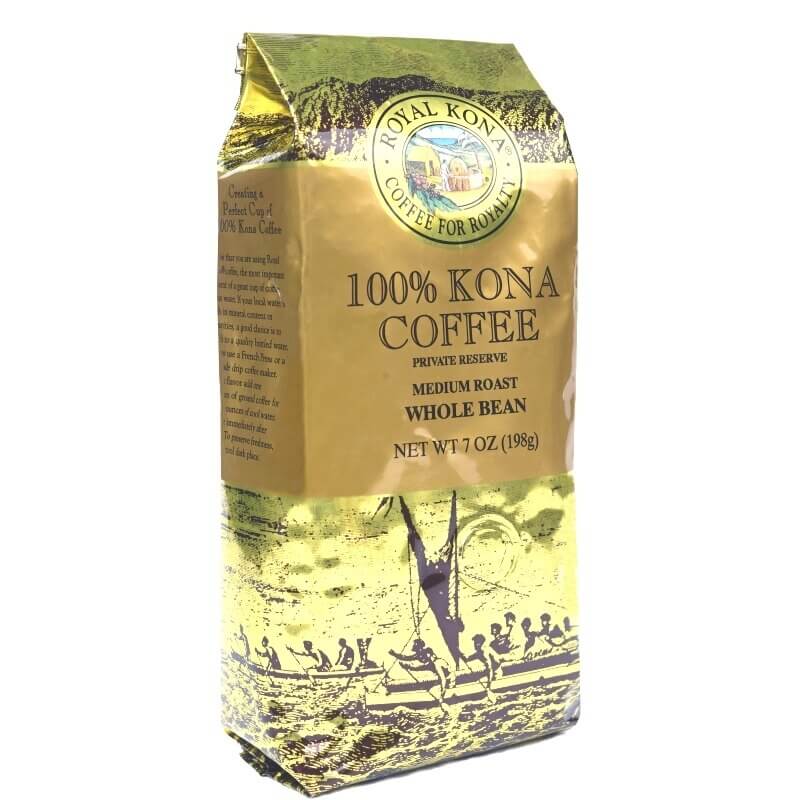 Costco is a great place to find large quantities of Kona coffee (at a fraction of the price.) You can also check local grocery stores, Walmart, ABC Stores, and Long's Drugs.
Some of the best brands are: Kona Coffee, Royal Kona, Kona Coffee & Tea, and Greenwell Farms.
Anytime you visit a new place, coffee is always a great Hawaiian souvenir to bring home to friends and family. It's no wonder it's one of the top things to buy in Hawaii.
5. Pineapple Wine
Do you personally or know someone that loves wine? They probably have never tried pineapple wine before, I would guess. This sparkling wine is not only unique but also delicious.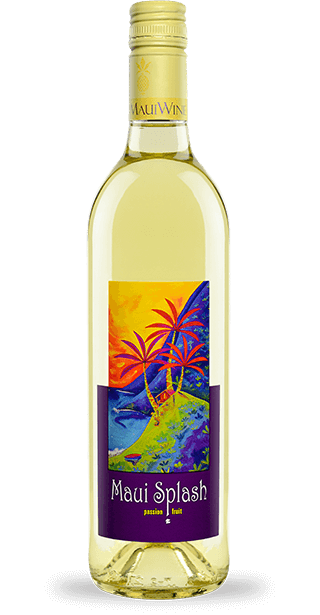 The most popular Pineapple Wine comes from MauiWine on Maui. This wine is made from real Maui Gold pineapple and is a tropical twist on white wine.
Island Mana Wines is another great place to find pineapple wine. They also sell guava wine, mango wine, and passion fruit wine and you can order online.
After you get back from your visit to Hawaii, you can always have everyone over to drink Pineapple Wine.
Find out where to find Pineapple Wine
6. Tropical Fruit Jams
Be sure to check out the local farmer's market on whichever island you may be visiting. Tropical fruit jams and jellies make for a delicious gift from the islands.
You might be more accustomed to strawberry, grape, raspberry, and blackberry as your favorite preserves, yet these jams are made with banana, mango, oranges, passion fruit, pineapple, papaya, and other tropical fruits.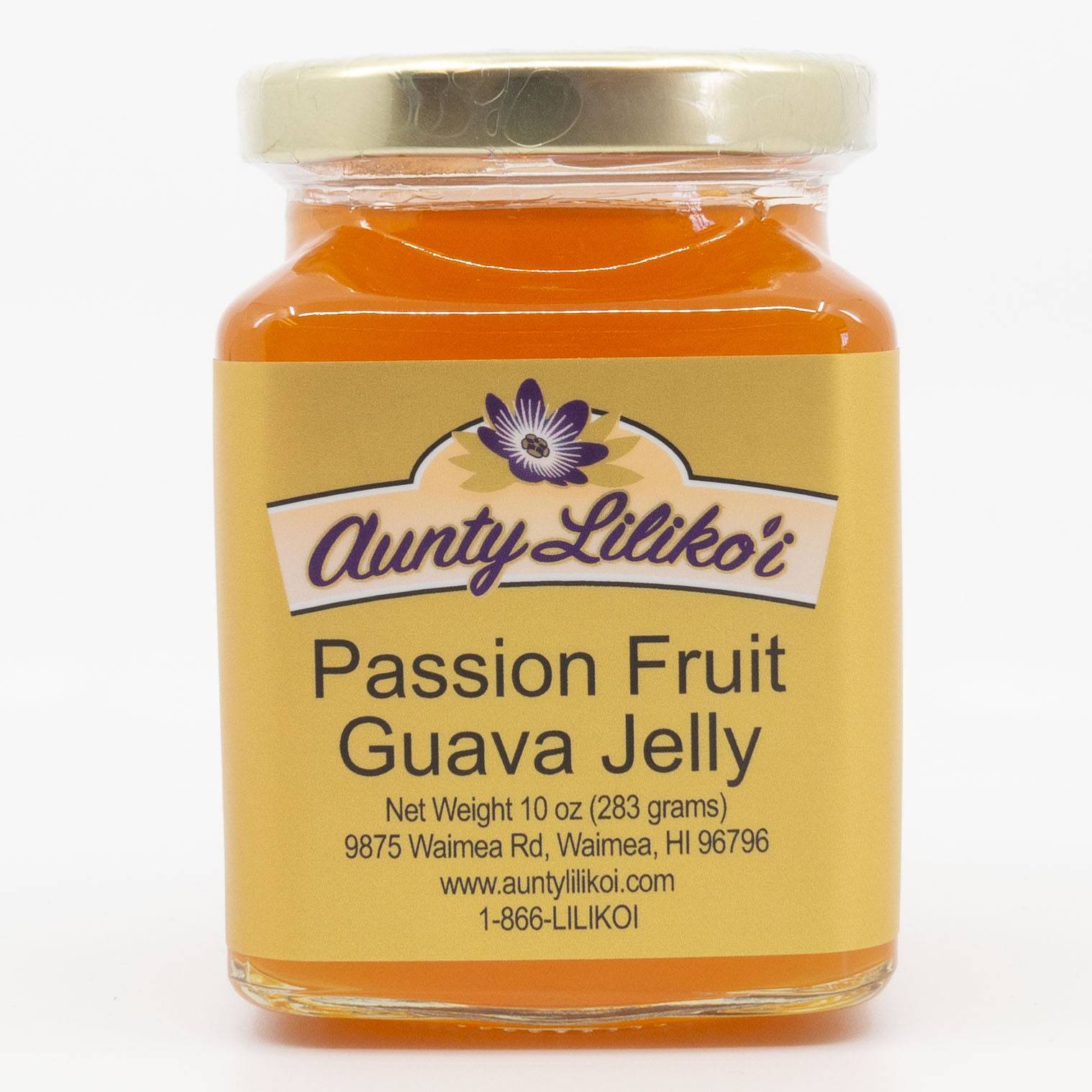 Aunty Lilikoi is hands-down my favorite brand and I stock up every trip to Hawaii. Not only do they sell the best lilikoi jam ever, but they also have incredible mustards, salad dressings, and syrups.
Hawaiian Sun is another great Hawaiian jam brand. They are known best for their guava jam and jelly (both of which are amazing!) They even have "lite" versions that are low-sugar.
Tropical jams are some of the best Hawaiian gifts because people can enjoy them immediately for a taste of the Islands!
These jams all come in glass bottles, so be careful when you are packing them in your suitcase. I like to put them inside socks or wrap them in t-shirts to keep them from breaking.
7. Koa Wood Souvenirs
If you're looking for things to get in Hawaii that are unique, start shopping for Koa wood gifts.
Koa wood can only be found naturally in Hawaii, making it extremely rare. It was originally used by King Kamehameha the Great's warriors for their canoes and weapons.
Then, it was reserved just for the Hawaiian monarchy, making it an elite item.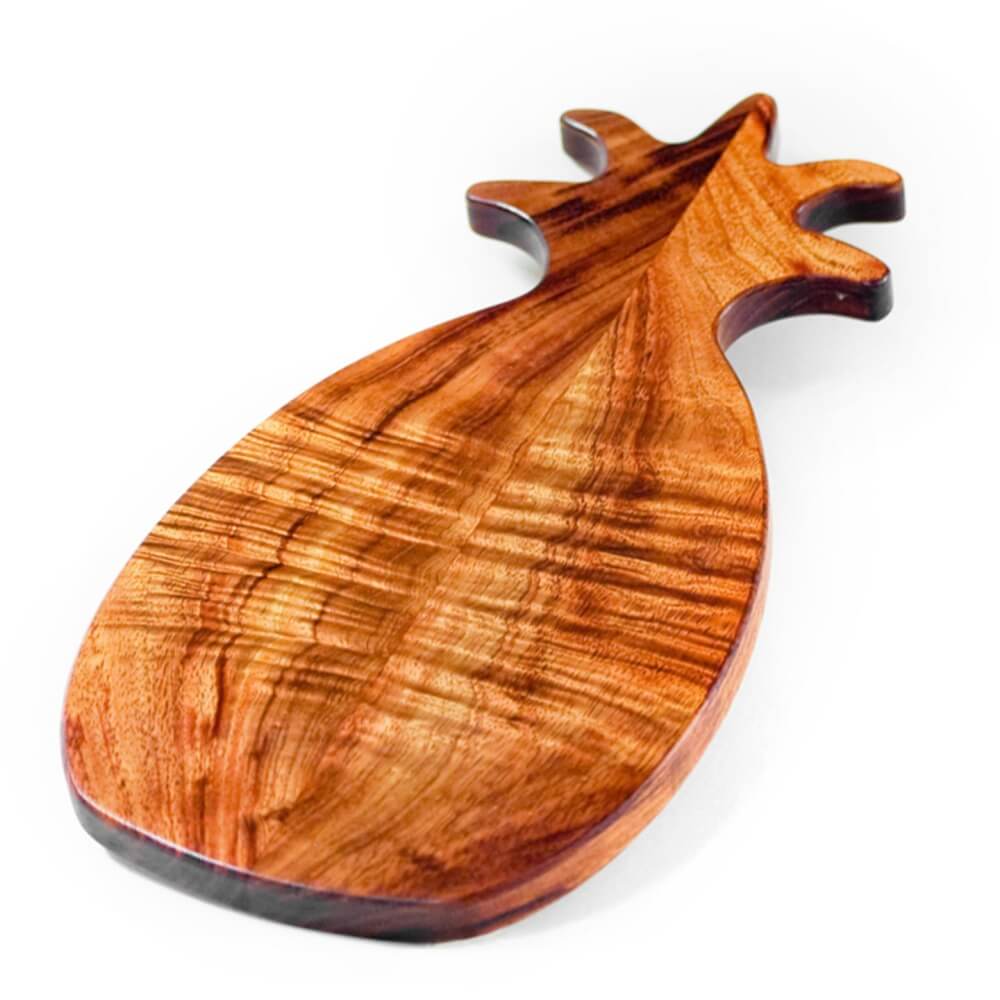 Today, koa wood is available to the masses. Hawaiian farmers have dedicated their resources to maintaining koa wood forests and harvesting the wood is a highly regulated process.
You can find artwork, picture frames, bowls, plates, and flower vases crafted in it.
Track down some of the best craftsmen on the islands that work with koa wood products. Or stop in a Martin & MacArthur store to see the largest selection of koa wood Hawaiian souvenirs, jewelry, furniture, and more.
Authentic koa wood is one of the things you can only buy in Hawaii.
8. Hawaiian Macadamia Nuts
One of the tastiest things to get from Hawaii is flavored macadamia nuts.
Most of the macadamia nuts that you come across while in Hawaii, come from the Big Island.
The most popular macadamia nut brand is Mauna Loa. They offer the classic chocolate-covered macadamia nuts, as well as roasted nuts, flavored nuts, and my personal favorite honey roasted.
You can find Mauna Loa products all over the Mainland (including Costco.)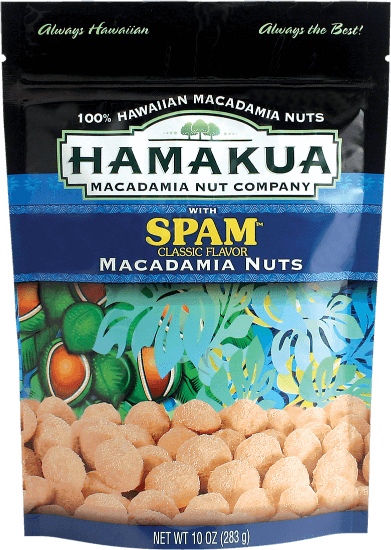 If you are looking for something special to the Big Island, check out Hamakua Macadamia Nut Company. Some of their top sellers include wasabi and spam-flavored macadamia nuts!
They also offer several macadamia nut caramel corn options. These are always good gifts from Hawaii. You can even tour their macadamia nut factory and get free samples!
And for the most decadent macadamia nut treats, head to Big Island Candies. They sell specialty chocolate-covered macadamia nuts, including one with potato chips!
Macadamia nuts are hands down the best Hawaiian snacks to bring home.
9. Hawaiian Shirt
Everybody needs an "aloha shirt." There, I said it. And I think it's the best gift from Hawaii because it spreads joy.
A Hawaiian shirt is very lightweight, cool to wear with bright tropical patterns that may draw a few jealous glances.
I love Hawaiian shirts because they literally go with everything and you can have fun picking them out for your loved ones. You will want to wear these for many years to come!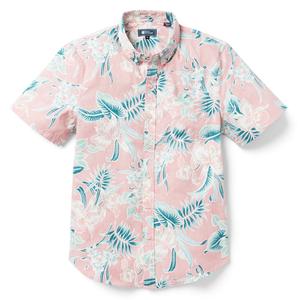 There is a large industry of Aloha wear in Hawaii. Some of the top (and most expensive) brands include Reyn Spooner, Tori Richard, Pineapple Juice, and Avanti Designs.
You can also find affordable Hawaiian shirts at Costco and Macy's. One of the cheapest places for Hawaiian shirts is at the Aloha Swap Meet.
But, you can also head to thrift shops and search for vintage Aloha shirts (which is a fun activity all in itself!)
Everyone needs to have a good Hawaiian shirt in their closet.
10. Hawaiian Quilt
If you are heading to Hawaii and need to bring something back for someone, consider bringing them back a blanket.
Hawaiian quilts are stunning pieces of art that can be used as wall hangings, bedspreads, or blankets.
Missionaries taught Hawaiian women the art of quilt making in the early 1800s and it's transformed throughout the decades into a very distinct style of applique featuring Hawaiian plants and flowers.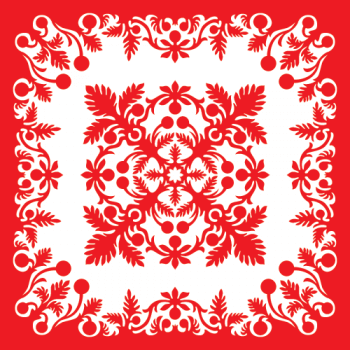 If you want a one-of-a-kind quilt, your best bet is to head to a craft show. That's a great way to ensure you'll be getting unique gifts from Hawaii that aren't mass-produced.
Moana Quilts in Waikiki is another great place to find Hawaiian quilts. They also sell adorable Hawaiian quilts for babies that would make the ultimate baby shower gift!
And Hawaiian Quilt Collection has several locations on Oahu and the Big Island and they sell some of the cutest quilted bags and kitchen accessories.
It gets cold almost everywhere else, so a Hawaiian blanket always comes in handy.
11. Music from Hawaii
Every island in Hawaii is unique, but something they all have is music. If your family loves music and you are looking for something fun to bring home to them, consider Hawaiian music.
One of the most iconic Hawaiian musicians is Israel Kamakawiwo'ole (lovingly referred to a "Bruddah Iz.")
He's the creator of the gorgeous "Somewhere Over the Rainbow/What a Wonderful World" medley that has been in movies, TV shows, commercials, etc.
Keali'i Reichel is another world-famous Hawaiian musician who has won countless awards. He's also behind the music at Aulani, a Disney Resort & Spa. You can find the Aulani soundtrack on Amazon.
You can also discover new talent by listening to live music at restaurants/bars and walking around town. There is always going to be a musician out there that is selling their tunes.
Stock up and bring it home for the whole world to hear. I think this is one of the best gifts to bring back from Hawaii.
Find out the best Hawaiian musicians to add to your Spotify Playlist
12. Hawaiian Keychains
If you are bringing souvenirs back from Hawaii, there is one thing you can't forget and that is a Hawaiian keychain.
What's awesome about keychains is that they hardly take up any space in your suitcase and you can find them almost anywhere.
Check the best Hawaii souvenir shops and stores to find personalized keychains with the Hawaiian version of your name. Or pick up a fun Hawaiian license plate keychain.
There are also some with Hawaiian tikis, hula dancers, scenic photos, and more. These are the most popular souvenirs to bring back from Hawaii.
If you are struggling with what to get someone younger or older, keychains are always perfect. You can use them as a keychain, attached to a zipper pull, put on a backpack or bag, collect them, etc.
Plus, if you are wanting to shop on a budget, this is the perfect gift.
13. Anything Unique
When you are shopping in Hawaii, there is one thing to keep an eye out for and that is anything unique. You may see a vendor selling a piece of jewelry, a t-shirt, or even a painted rock that looks special. These are the souvenirs to get from Hawaii.
Ask around and find out Hawaiian items that you can only get in Hawaii (or the specific island you are visiting.)
There are lots of vendors who don't have an online presence or distribute their products outside their Hawaii gift shop or craft fair.
Bringing things from Hawaii home to your family is what is special. And any things that remind you of Hawaii.
Sometimes you just need to take a look around and see what the most unique option is and bring that home!
What's the One Hawaiian Souvenir to NEVER Bring Back?
Do not, under any circumstances, bring home lava rocks from Hawaii. If you do, you may endure the wrath of Pele.
Pele is the Hawaiian goddess of fire and volcanoes and she's not to be messed with.
Legend has it that visitors who take lava rock or sand away from the Hawaiian islands will suffer bad luck until the items are returned. It's commonly referred to as Pele's Curse.
Tourists who don't listen and bring home lava rock and Hawaiian sand have been known to mail them back to the islands after facing horribly bad luck.
I'm serious. Don't take Hawaiian lava rocks or sand home with you. It's literally the worst souvenir from Hawaii.
What Are the Most Unique Hawaiian Souvenirs and Gifts Out There?
Now you know what souvenirs to buy in Hawaii on your next Hawaiian vacation.
When it comes to gifts from Hawaii, you may be wondering what the most unique gifts out there are. There are Hawaiian gifts out there like leis and music that are so traditional and fun.
Really, there are tons of things made in Hawaii that are unique will be a great gift.
Be aware though, there are places that mass produce made in Hawaii gifts and sometimes these aren't as special.
Read my full post on amazing Hawaiian gift ideas
These are just some of the best Hawaiian souvenirs that would make for a great gift for yourself or for your loved ones.