Are you planning a trip to the Big Island and want to go on a Kona coffee tour? Keep scrolling to find out the best Kona coffee farms worth visiting.
This list of the best Kona coffee farms worth visiting contains affiliate links which means if you purchase something from one of my affiliate links, I may earn a small commission that goes back into maintaining this blog.
Do you want to visit Kona coffee farms on your trip to Hawaii?
The Big Island is famous for growing Kona coffee beans. And one of the best things to do on the Big Island of Hawaii is tour a coffee farm!
I've pulled a list of the best Kona coffee farms to visit during your trip to Hawaii, as well as the best Kona coffee tours. If you're looking to do Hawaii coffee tours, Kona is the place to go!
There's nothing quite like drinking a cup while watching beautiful views from an amazing farm. And tasting some fresh Hawaiian-grown beans at one of the local roasters is a treat.
It's truly a unique experience that you won't find anywhere else in the world! Visiting Kona coffee farms is something that will make your vacation even more special when you get back home with memories from Hawaii.
In this post I'll share all about how these delicious beans are grown, harvested, roasted, and brewed right here in Hawaii.
So, scroll down now and check out my full list of Kona coffee farm tours below. I promise it'll be worth it! 🙂
Don't have time to read a bunch of Hawaii blog posts and reviews? Here are some of our top picks for visiting the Big Island.
Popular Big Island Tours/Activities
Favorite Big Island Resorts/Hotels
Want to Rent a Car in Hawaii?
One of the best places to rent a car in Hawaii is Discount Hawaii Car Rental because they get the best rates from top national companies like Alamo, Dollar, Thrifty, Avis, Enterprise, Budget, and Payless.
Want to skip all the planning and just access my detailed Big Island Itinerary complete with daily schedules, kid-friendly activities, and travel hacks? Click the button below.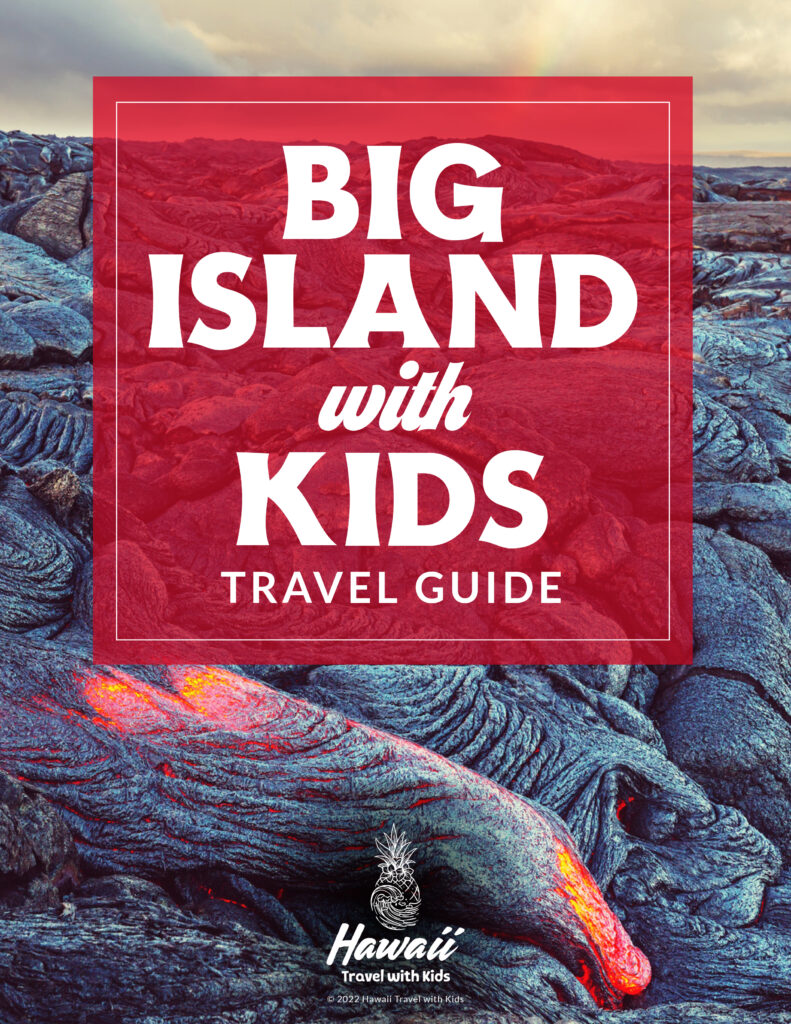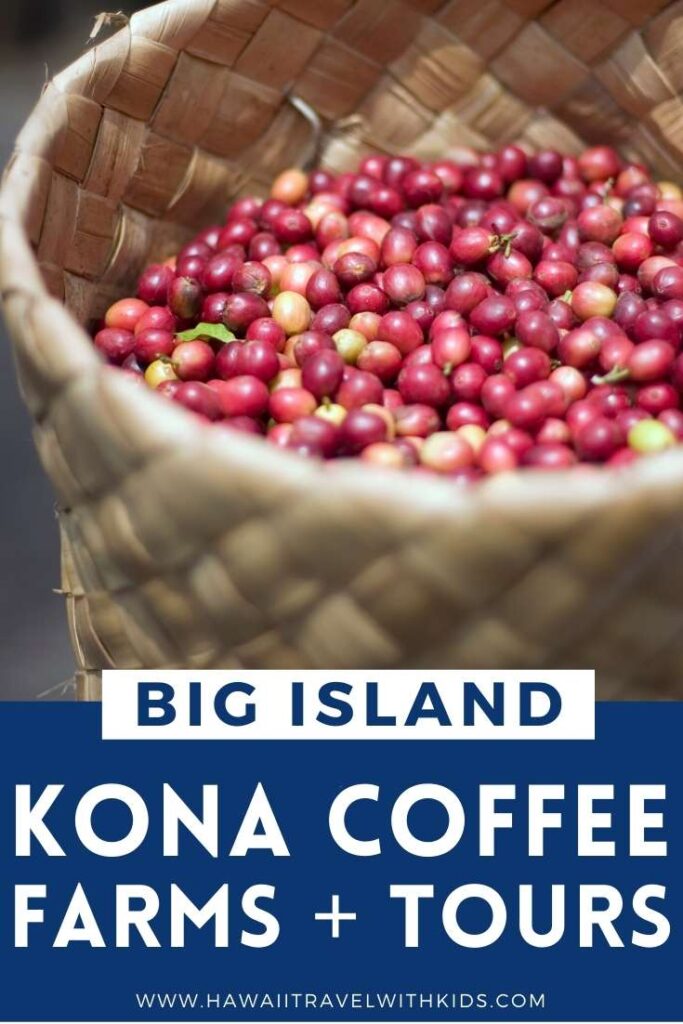 A Brief Kona Coffee History
Coffee was once a rare commodity in Hawaii. But that all changed when Reverend Samuel Ruggles brought coffee trees to Hawaii in the late 1820s.
He originally planted them in Oahu's Manoa Valley. Then he took seedlings from these early plantations over to Kona. It turns out that the Kona coffee plants thrived best under volcanic soil conditions.
The full story of Kona coffee is a long story that I can't tell here. It's worth reading into. But long story short, it took decades for Kona coffee to gain worldwide attention. Finally, at the 1873 World's Fair in Vienna, it got that attention.
Now, Kona coffee has been growing and thriving on the Big Island for nearly 200 years!
A Few Kona Coffee Facts
The Coffee Beans Must Be grown in Kona on the Big Island of Hawaii
Kona coffee is the product of a specific micro-climate in Hawaii.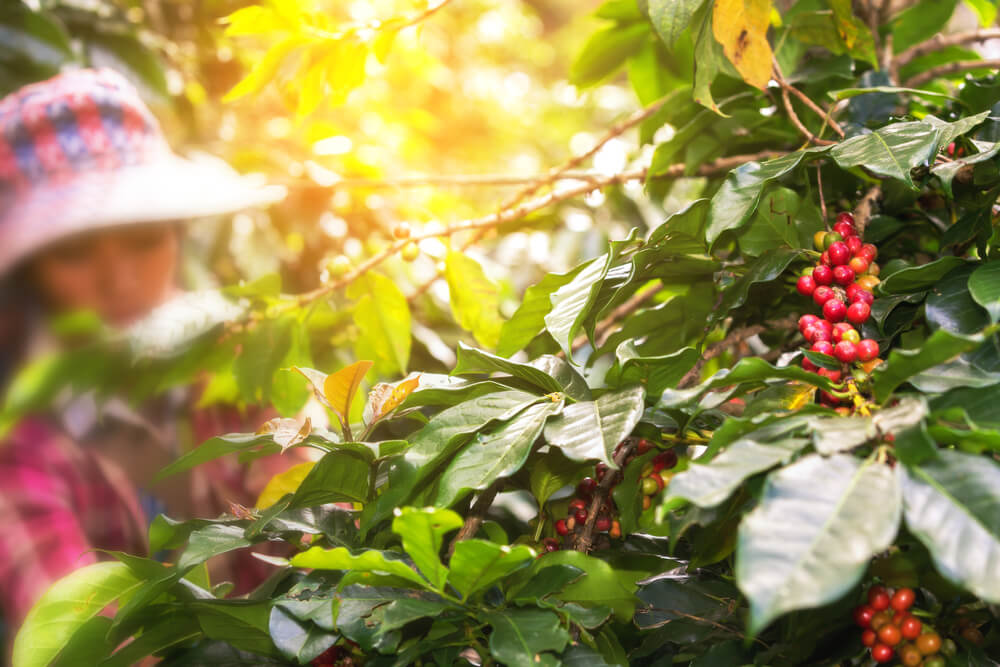 In the Kona region, mornings are usually sunny and cloudless, while afternoons are rainy. When it's not raining, there's a thick fog till well after nightfall.
The area also experiences light winds you won't find elsewhere on the island. All of this make the perfect and unique conditions that produce Kona coffee.
It Grows in Volcanic Soil
Kona coffee is world-renowned for its unique flavor. A major reason for that flavor is the island's volcanic soil. The Big Island of Hawaii is the youngest of the islands and has an especially high volcanic soil content because of this.
Volcanic soil is enriched with minerals from ash deposits over time. This makes a huge impact, not only on taste, but also quality!
It's Actually from Brazil!
Kona coffee is a well-known crop in Hawaii, but it's not actually from there! Reverend Samuel Ruggles brought cuttings it from Brazil to the island in 1828!
Where are the Coffee Plantations on the Big Island?
Kona coffee is a rare and cherished commodity. To produce the award-winning beans, you need a specific environment.
The high elevation and constant cloud coverage from Hualalai Volcano in the upland slopes of North Kona result in ideal environment for harvesting Kona coffee!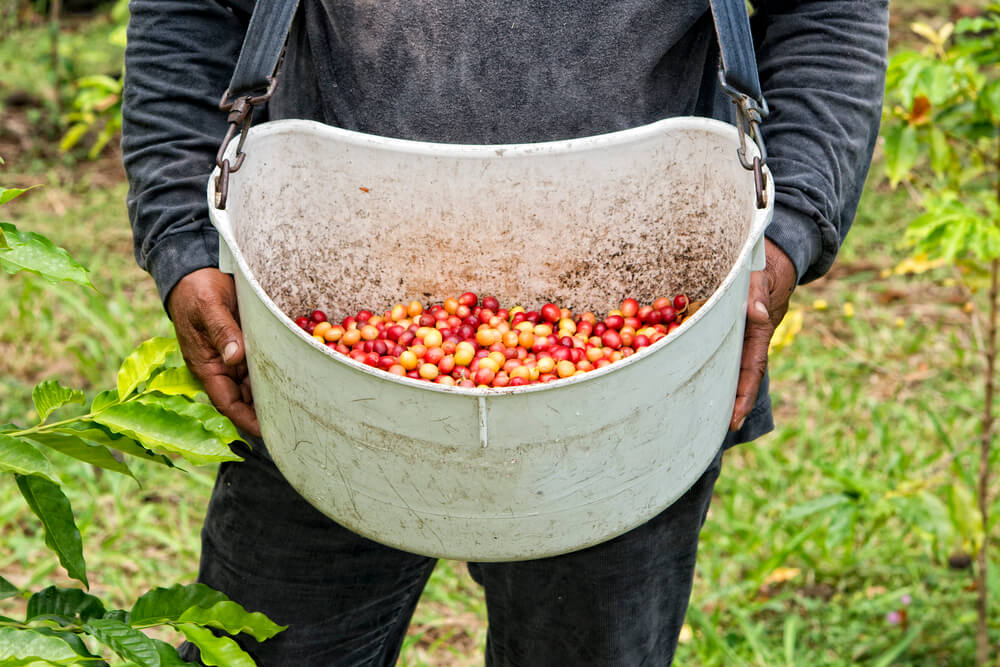 You can find hundreds of small farms throughout the area but most of them don't offer tours to the public. For tours, your best bet is farms in the greater North and South Kona areas.
I suggest looking in Kau and Puna. And you can even find some cool coffee plantations in Hilo.
And if you're visiting the Big Island in November, check out the Kona Coffee Cultural Festival! It's held in the Historic Kailua Village in Kailua-Kona.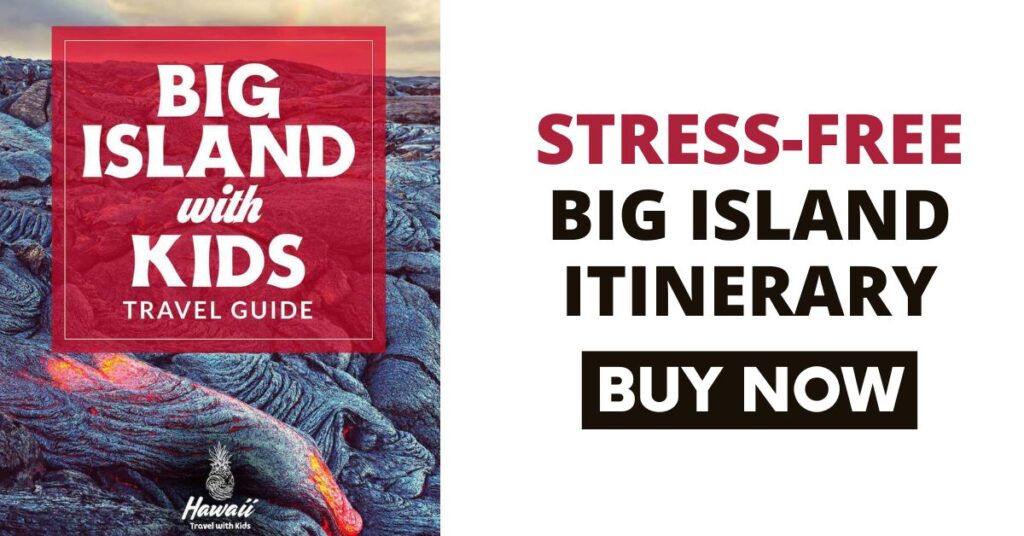 What's So Special About the Kona Coffee Plant?
True Kona coffee is highly prized throughout the world for its full-bodied flavor and pleasing aroma. And this is a direct result of the grading process.
Kona Coffee Grading System
First, workers handpick the Kona coffee berries. Then, they are pulped, dried, and hulled.
Next, the coffee beans are graded before they're processed. The coffee mill machinery sorts the coffee beans into different grades based on size and shape.
The creme de la creme is the peaberry. These unique beans are formed when one side of the coffee flower merges with the other resulting in a single bean inside the coffee cherry. This gives it a super concentrated flavor. However, this only happens in 5%-10% of all Kona coffee.
The other (more common) grades of Kona coffee include extra fancy, fancy, No.1, and prime.
Roasting Process
Kona Coffee is handcrafted and sun-dried, then custom roasted depending on desired results and differences in moisture. A good processor can make all the difference for an excellent cup!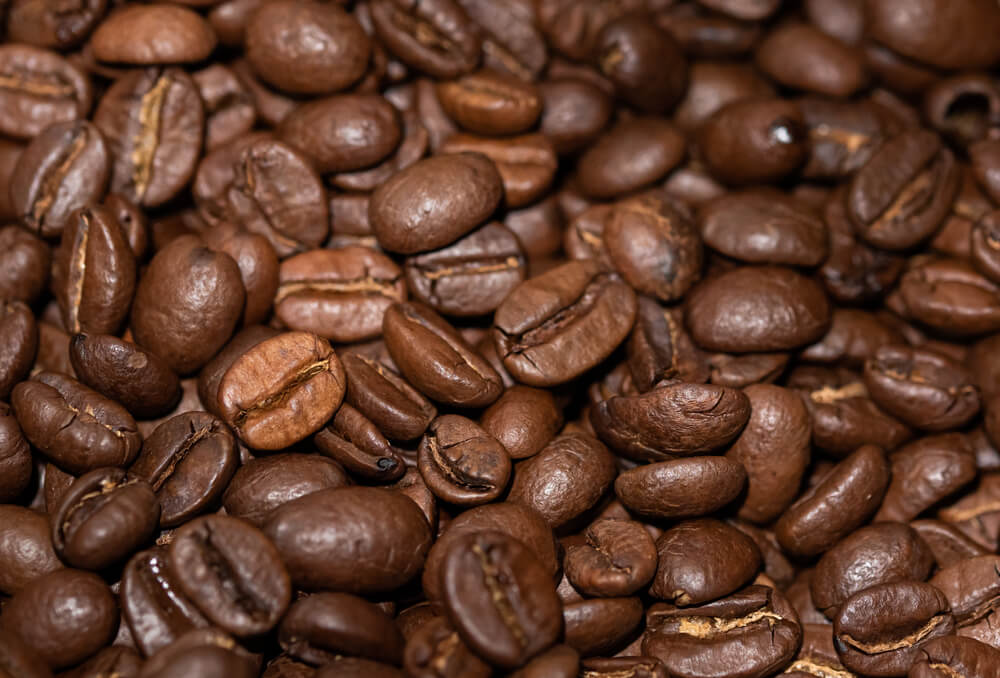 The art of roasting coffee beans is considered to be a science by many in the trade. Dark roasts are typically called French, Italian, or Espresso. The medium roasts could be Full-City or Vienna.
Is It Genuine Kona Coffee?
You'll definitely want to check the label to see if it says 100% pure Kona Coffee.
Otherwise, it might say Kona Blend. This means it only contains the minimum 10% Kona beans legally required to be considered "Kona Coffee."
Usually, that means producers mixed Kona beans with other blends. These other coffee bends might be from Central America, Brazil, Africa, or Indonesia.
But if you're on the Big Island and visiting a Kona coffee farm, you should have no problem finding and tasting 100% pure Kona coffee!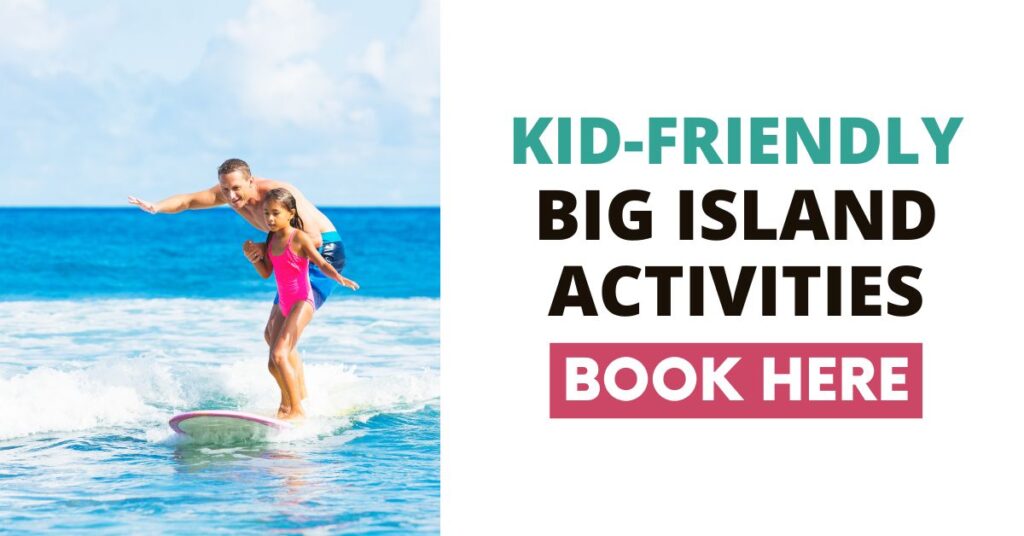 Which Kona Coffee Farms Should You Visit?
There are a lot of options for Kona coffee farms on the Big Island. Here are some of my family's favorites.
Greenwell Farms
81-6581 Mamalahoa Highway Kealakekua, Hawaii 96750
Want to know what goes into making your favorite cup o' joe? Come experience the deliciousness of Greenwell Farms' 100% Kona Coffee firsthand with their free 45-minute guided tour.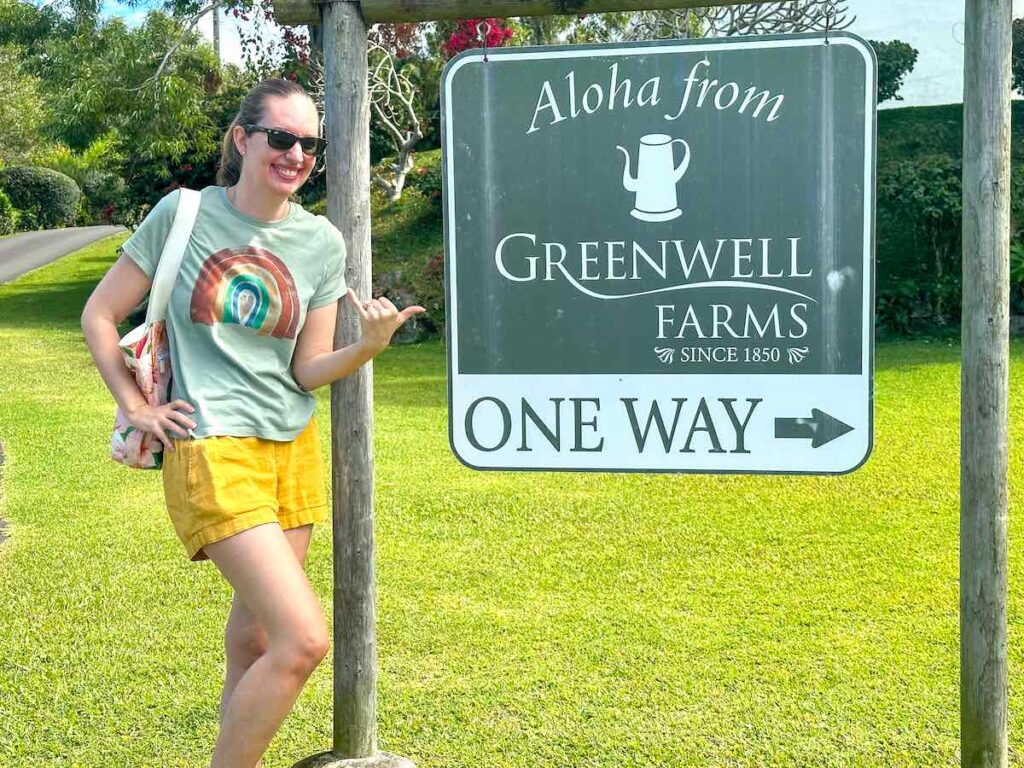 Get an inside look at how they harvest and process these high-quality beans. Then you'll get a tour of the farm.
Go off on some dirt paths that might be difficult for those not used to. But the adventure will surely make you feel like a veteran explorer!
The best part about this Greenwell Coffee tour is that there are no reservations required. The complimentary tours start every hour on the hour from 9 AM to 3 PM. Just arrive 10 minutes early.
Read below to find out a few Greenwell Farms coffee tours that also make other cool stops.
Heavenly Hawaiian Coffee Farm
78-1136 Bishop Rd Holualoa, HI 96725
There are actually 3 different Heavenly Hawaiian coffee farm tours. You can read a full review of the Heavenly Hawaiian Coffee Farm tour. Or you can purchase tickets HERE.
The first one is a 1-hour tour where families can learn all about how to grow, maintain, and roast Kona coffee beans. This is just $8/person.
There's also the Paniolo Roasting tour, which is 45 minutes long. It's quite a bit pricier but kids under 13 are free. On this tour, you'll learn about Hawaiian cowboys (called paniolos) as well as the history of Kona coffee and the traditional way to roast it.
Finally, they have a Brew Your Best Cup tour, which is 60-90 minutes long and is the most expensive for people ages 13 and older. This tour is all about learning how to brew the ultimate cup of coffee.
Hula Daddy
74-4944 Mamalahoa Hwy Holualoa, HI 96725
You can experience a private Hula Daddy coffee tour. Learn all about how Kona coffee is grown, processed, and roasted. Plus, you can talk to the owners, the roasters, and even tour the orchard.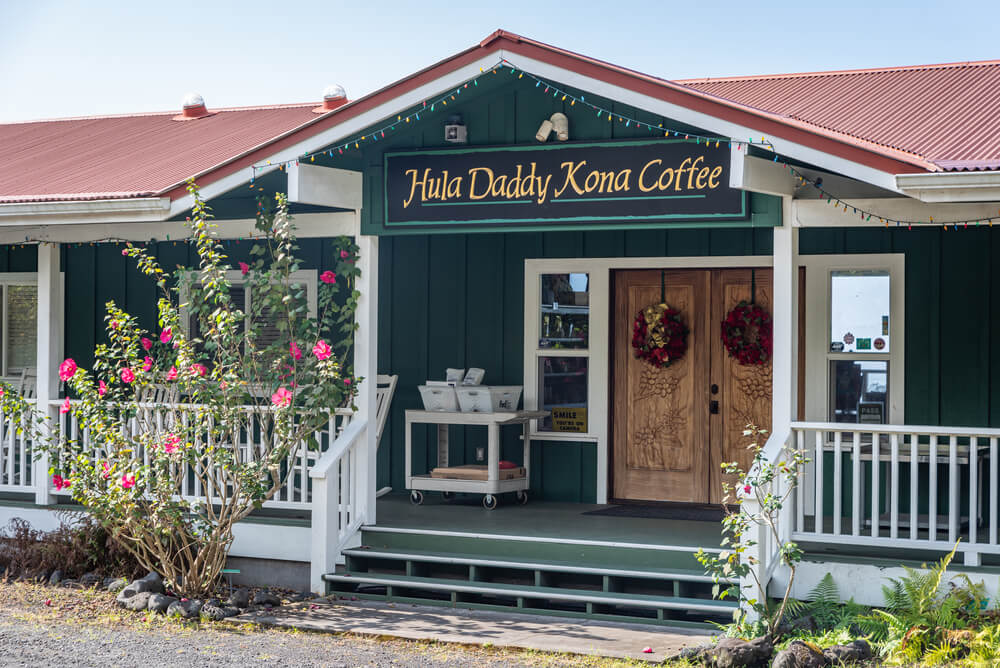 Something cool about Hula Daddy is that they are an eco-friendly Kona coffee plantation. They've reduced their carbon footprint by planting 17,000 new trees. And they make their own compost from green waste they get from local restaurants.
The Hula Daddy Kona coffee tours last for 60 minutes and cost $30/person.
Kona Joe
79-7346 Mamalohoa Highway, Kealakekua, HI 96750
Visit another fun Kona coffee plantation called Kona Joe. You can choose from several different Kona Joe coffee tours.
They have a free self-guided tour that includes a 5-minute video. They also have their Standard Guided Tour that has quite a few perks. You'll get a cup of coffee, the video, a guided tour of their entire farm, tastings of both chocolate and coffee, plus a free coffee gift.
If that's not enough, they also have their Coffee Roasting Experience where you can roast 10 ounces of Kona Coffee yourself! Create your own custom roast while learning tips for how to come up with the perfect blend.
They even offer a Combined Tour where you can do their Standard Guided Tour plus the Coffee Roasting Experience. This is the most popular tour and you'll save $15/person.
And coffee fanatics will want to check out their Ultimate Tour, which lasts 2 hours and you'll get to roast 5 pounds of 100% Kona Coffee. Wow!
But, the most unique Kona coffee tour has to be their Coffee Picking Experience. It only happens during the harvest season that runs from August 1-November 30.
You'll get all the gear you need to go into the farm and become a coffee picker for as long as you like. You can't do this anywhere else in the US!
Keep scrolling to see how you can tour Kona Joe on a circle island tour.
Mountain Thunder
73-1942 Ha'o Street Kailua-Kona, HI 96740
Mountain Thunder is a Kona coffee farm that's in a really cool location. It's located on the slope of Hualalai volcano, more than 3,000 feet above sea level. And it's right next to a cloud forest!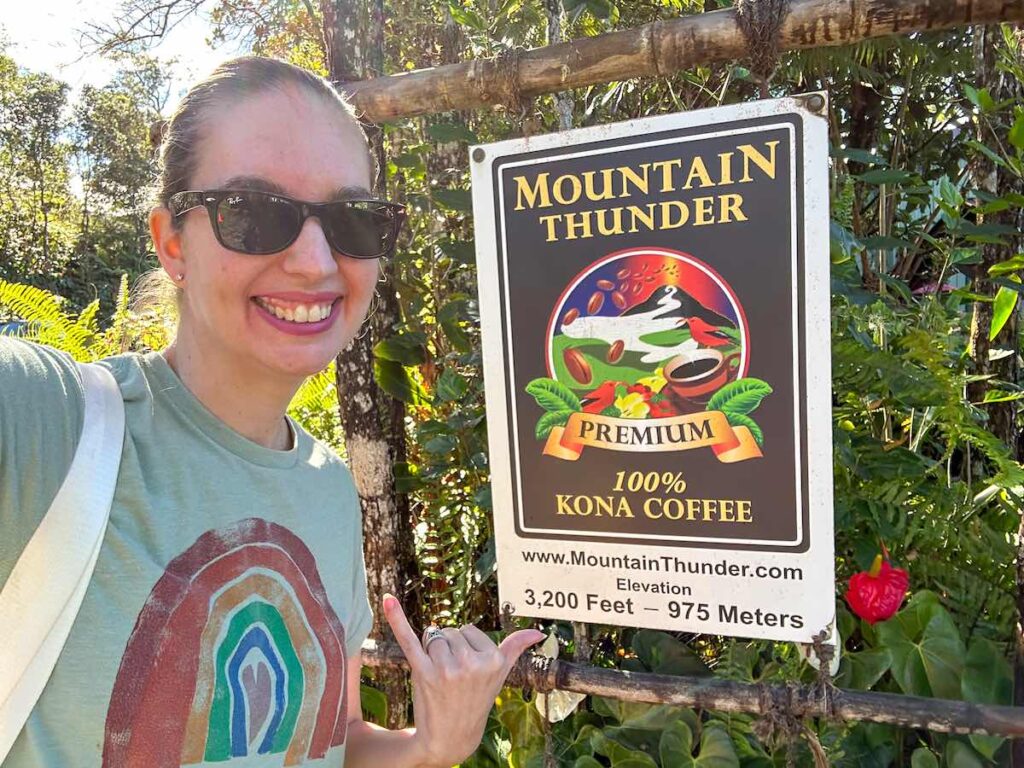 You can take a free Mountain Thunder coffee tour of their mill. Here, you'll learn exactly how they grow, process, and roast their Kona coffee beans.
They also have a cool Nature Trail Walk where you can explore their coffee plantation. You'll see native plants, hang out on their observation deck, and even check out a lava tube. This is just $10/family.
And they usually have 4X4 Plantation Tours and an awesome RoastMaster Experience, but they are on hiatus right now.
Keep scrolling to see how you can do a Mountain Thunder coffee plantation tour along with checking out a cloud forest!
Royal Kona Coffee Center
83-5427 Mamalahoa Hwy, Captain Cook, HI 96704
You can visit the Royal Kona Coffee Center in Captain Cook. They have a processing plant where you can see how they separate the bean from the pulp and how they dry the coffee beans.
You'll even see how they grade their coffee beans. Then, watch how they pack it up to be sent to their roasting facility in Honolulu.
During the Royal Kona coffee tour, there's usually an opportunity to walk through a real lava tube and see some carved tiki statues. However, this is currently closed due to COVID-19.
Best Kona Coffee Tours Worth Booking
Greenwell Farms Coffee Tour & Hawaii Volcanoes National Park Small Group Tour
This is an unforgettable tour where you travel from Kona to Hawaii Volcanoes National Park. You'll stop at Punaluu Beach Park, where there's a black sand beach before heading to the farm.
At Greenwell Farms you'll tour the farm, taste freshly brewed Kona coffee, and enjoy a picnic lunch.
Finally, you'll venture into a lava tube that was formed by volcanic activity. Plus, they give you iPads to use for even more information during the entire tour! Check the latest rates and availability.
Kona Soap, Coffee, and Chocolate Tour
This is one of the most comprehensive tours on the Big Island. Learn all about coffee and chocolate production, from when it blooms all its way through roasting. You'll even get a chance to do a Kona coffee tasting and enjoy some delicious treats!
On the last leg of the tour, you'll take an interesting walkthrough a botanical garden used for making soap. a product without any fragrance so no worries there 😉 Check the latest rates and availability.
Kona Joe Coffee Tour & Circle Island Tour
Spend the day exploring all that Big Island has in store for you, from waterfalls and beaches to tropical valleys. You'll also get an exclusive look at Kona Joe's coffee farm where they mix Award-winning locally grown beans into delicious cups of joe!
You'll also keep an eye out for Hawaiian green sea turtles at the famous Punalu'u Black Sand Beach. This tour also includes lunch and several photo stops. Check the latest rates and availability.
Greenwell Farms, Kealakekua Bay, Kaloko-Honokohau Park, and Bee Farm Tour
Take your Big Island vacation to the next level. Book a guided tour with an expert in local history and culture!
Take this informative tour through some sacred sites (like Kaloko-Honokohau National Historic Park). You'll see petroglyphs that date back thousands of years. And look for green sea turtles nests along this shoreline!
Finally, you'll get to sample fresh Kona coffee at Greenwell Farms and taste local honey from Big Island Bees. Check the latest rates and availability.
Kona Cloud Forest Sanctuary, Coffee Farm Tour & Brewery Experience
Kona is a hidden treasure trove of natural wonders and cultural experiences, like a hidden cloud forest in the mountains!
You'll head to Mountain Thunder Coffee Farm where they grow beans that go into making some of the world's most delicious coffees. Then, eat lunch there and try Ola Brew Company's amazing Hawaiian beer.
Afterwards, check out the Kona Cloud Forest. It's a nature sanctuary filled with native species of plants, Hawaiian flowers, and tropical birds. Check the latest rates and availability.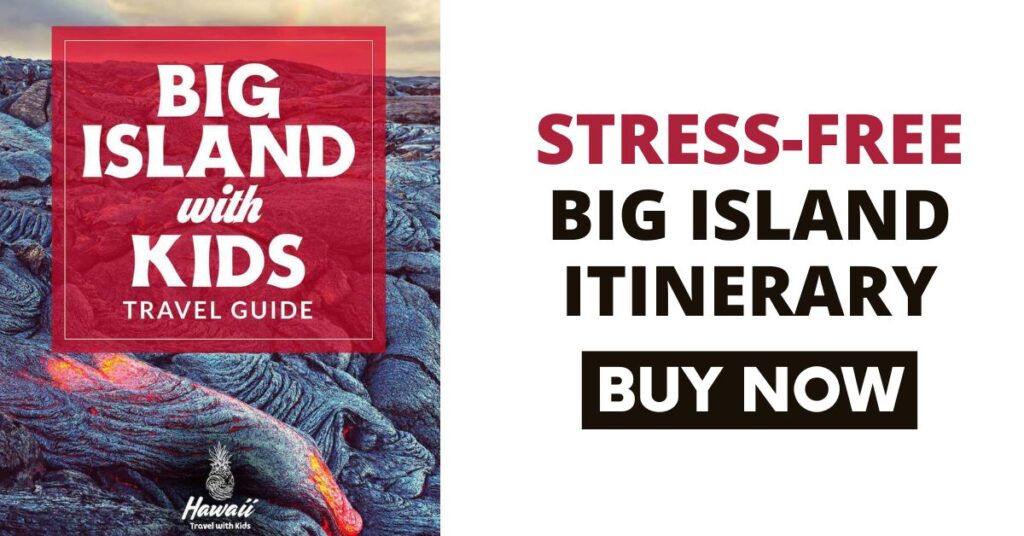 Kona Coffee Farms FAQs
How many coffee farms are in Kona, Hawaii?
There are more than 600 coffee farms Within the 20-miles of each other up and down the roads along the Hualalai and Mauna Loa volcanoes. Some of these are really small and others are larger and offer tours to the public.
Where are Kona coffee plants grown?
As the name implies, Kona coffee is a specific type of coffee plant grown in the Kona area of the Big Island of Hawaii. These Hawaiian coffee beans are unique because they grow in volcanic terrain. The coffee beans take on a flavor from the soil that's hard to find anywhere else.
Does Costco sell Kona coffee?
Yes, but they mainly sell Kona blends. A blend is made up of beans other parts of the world, so it's not 100% Kona. If you're going to be on the Big Island anyway, you might as well support a local farm and get the real deal!
Kona Coffee Tours and Tastings Wrap Up
I hope you've enjoyed reading about the best Kona coffee farms on the Big Island of Hawaii. Now you know a lot about Kona coffee plantation tours at different price points.
It's an amazing experience to taste this exquisite coffee in Hawaii on a Kona coffee farm tour. Plus you can meet real Kona coffee farmers.
I hope you found this post about the best coffee tours Kona has helpful and that I've given you some new information to share with your friends or family members who are planning a trip to Hawaii!