Are you looking for the best things to do on the Big Island with kids? Keep scrolling to read my honest review of the Big Island Bees tour in Captain Cook to see if it's right for your family.
This Big Island Bees Tour Review contains affiliate links which means if you purchase something from one of my affiliate links, I may earn a small commission that goes back into maintaining this blog.
Whenever I visit Hawaii with my kids (which is several times each year), I always try to do at least a couple of Hawaii farm tours.
That's because Hawaii grows so many incredible products!
On our last trip to the Big Island, we made a point to tour Big Island Bees. This is one of the top places in Hawaii that produces honey.
Keep scrolling to read my full Big Island Bees tour to see if you should add it to your Kona itinerary!
Don't have time to read a bunch of Hawaii blog posts and reviews? Here are some of our top picks for visiting the Big Island with kids.
Best Kid-Friendly Big Island Tours/Activities
Best Kid-Friendly Big Island Resorts
Save Money with Points
My favorite credit card for travel is Chase Sapphire because it offers the best value on flights and hotels. Check out the latest sign-up bonus deal.
Want to Rent a Car in Hawaii?
One of the best places to rent a car in Hawaii is Discount Hawaii Car Rental because they get the best rates from top national companies like Alamo, Dollar, Thrifty, Avis, Enterprise, Budget, and Payless.
Want to skip all the planning and just access my detailed Big Island Itinerary complete with daily schedules, kid-friendly activities, and travel hacks? Click the button below.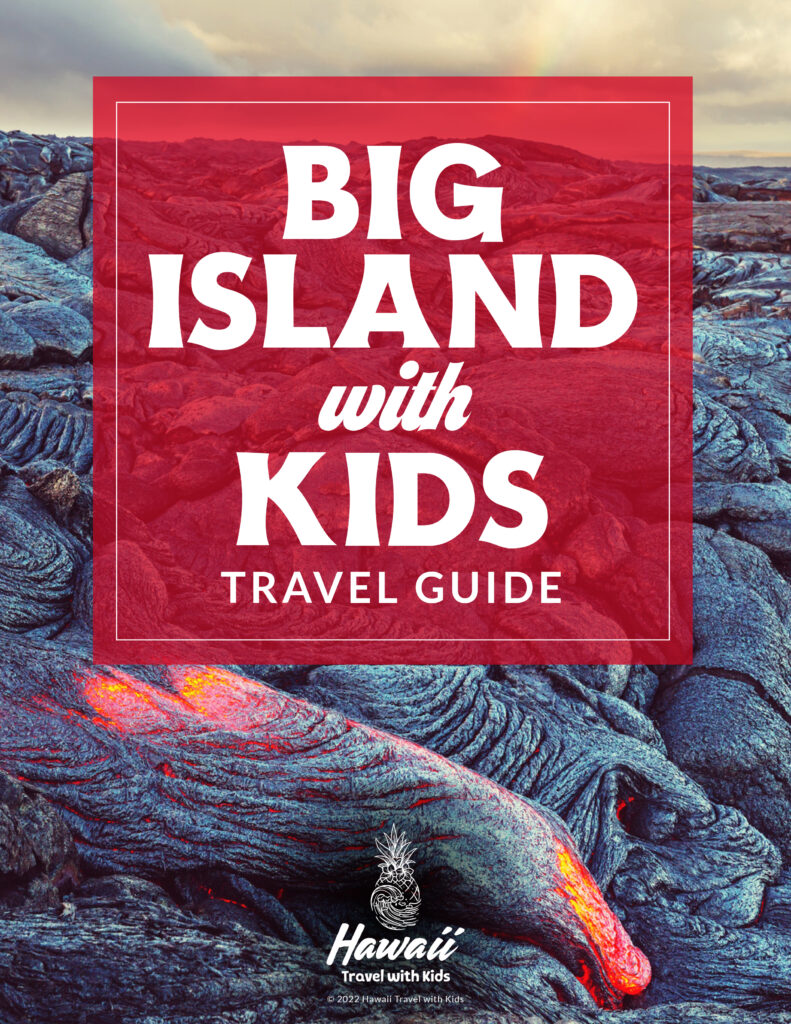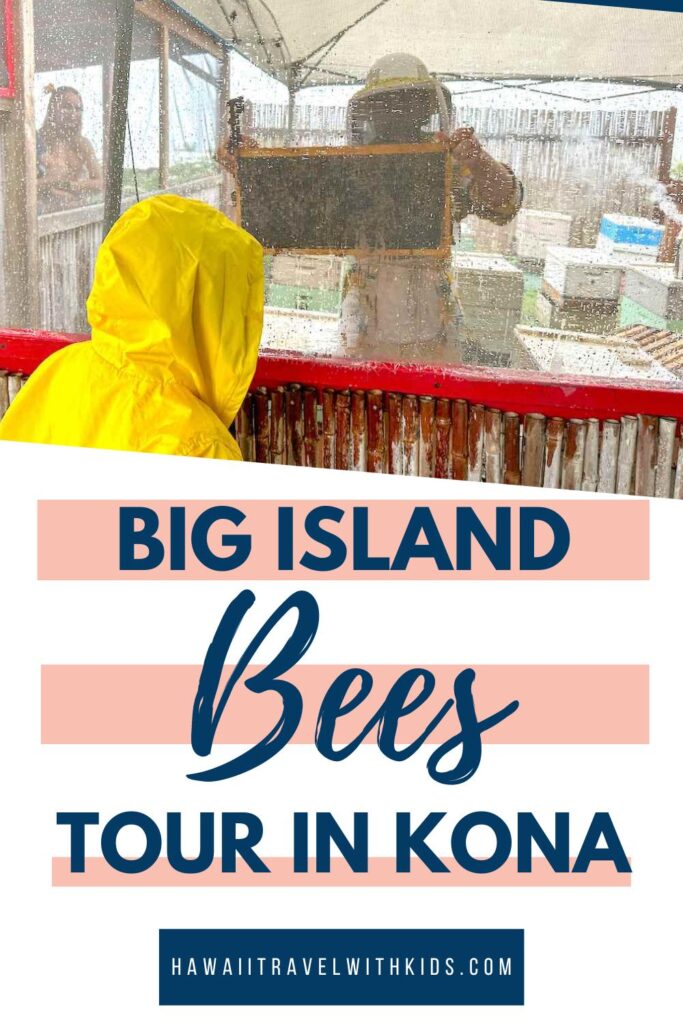 Brief History of Big Island Bees
Big Island Bees is a family-owned and operated honey farm located on the Big Island of Hawaii.
The company was founded in 1972 by Jim Powers, a beekeeper who relocated to Hawaii from Georgia in search of a more sustainable and natural way of life.
In 1987, Whendi and Garnett took over the family business, bringing a new generation of innovation and sustainability to the farm.
They expanded the farm and modernized the beekeeping process while still maintaining the traditions and values established by past generations.
Today, Big Island Bees is recognized as one of the premier honey producers in Hawaii, known for their commitment to sustainable beekeeping practices and their unique, artisanal honey products.
The Big Island Bees farm has also become a popular destination for visitors to the island, offering educational tours and tastings that allow visitors to learn about the fascinating world of bees and taste the delicious honey produced on the farm.
Overall, Big Island Bees is a testament to the power of family traditions and sustainable practices in creating a successful and thriving business.
What to Know about the Big Island Bees Tour Before You Go:
Arrival
The night before our tour, we were emailed a waiver to sign. It was super easy and quick and it saved us time when we arrived for our tour.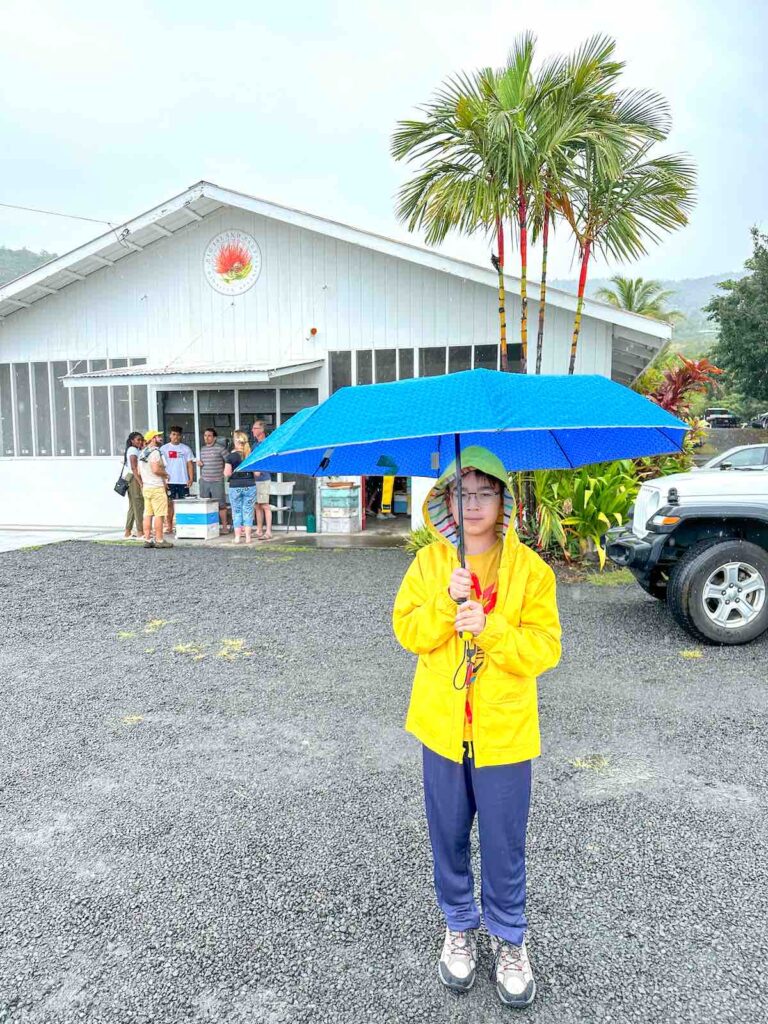 When we arrived at the shop, we didn't have to worry about filling out the form. Instead, we were greeted with iced tea and a little slice of a honey, caramel, and macadamia nut tart.
Video
As soon as everyone in our tour group arrived, we headed into a little room to watch a video about the history of Big Island Bees.
The video was about 10 minutes long and gave a really nice overview of how the farm started and the process of making tasty honey.
After the video ended, our tour guide answered all our questions and gave more details about the farm. Plus he explained why we don't have to worry about honeybees going extinct.
A Few Facts About Honeybees in Hawaii
Hawaii's warm and sunny climate makes it an ideal environment for honeybees, allowing them to thrive and produce high-quality honey.
Honeybees play a crucial role in Hawaii's ecosystem, pollinating a variety of crops and wildflowers that are essential to the island's biodiversity.
In addition to producing honey, honeybees are also used for pollination services in Hawaii's agriculture industry, helping to ensure healthy crop yields for farmers.
Honey produced in Hawaii is known for its unique flavors and is highly prized by chefs and foodies around the world.
Tour of the Bee Hives
Next, we all walked over a few yards to the bee hive demonstration area. I want to emphasize that this is set up just for the tours.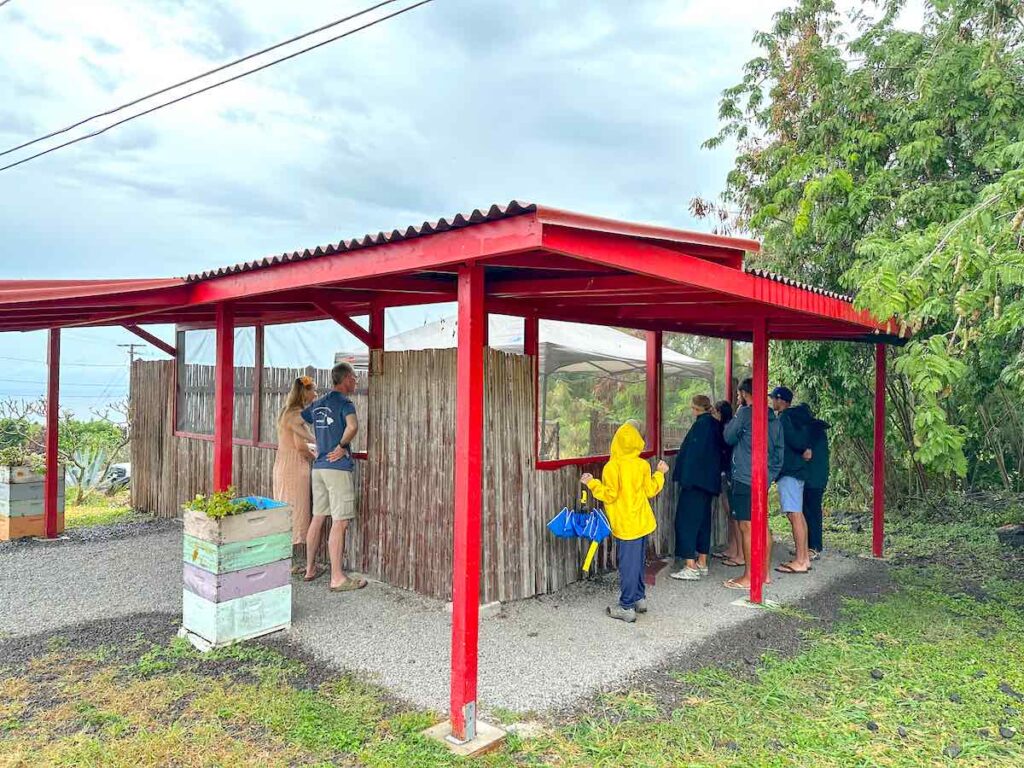 These hives aren't set up next to the three types of flowers they use to produce their honey.
Our guide went inside the netted-off area and put on his bee headgear. Then he opened up a bee hive and spent a long time showing us the bees and what they were up to.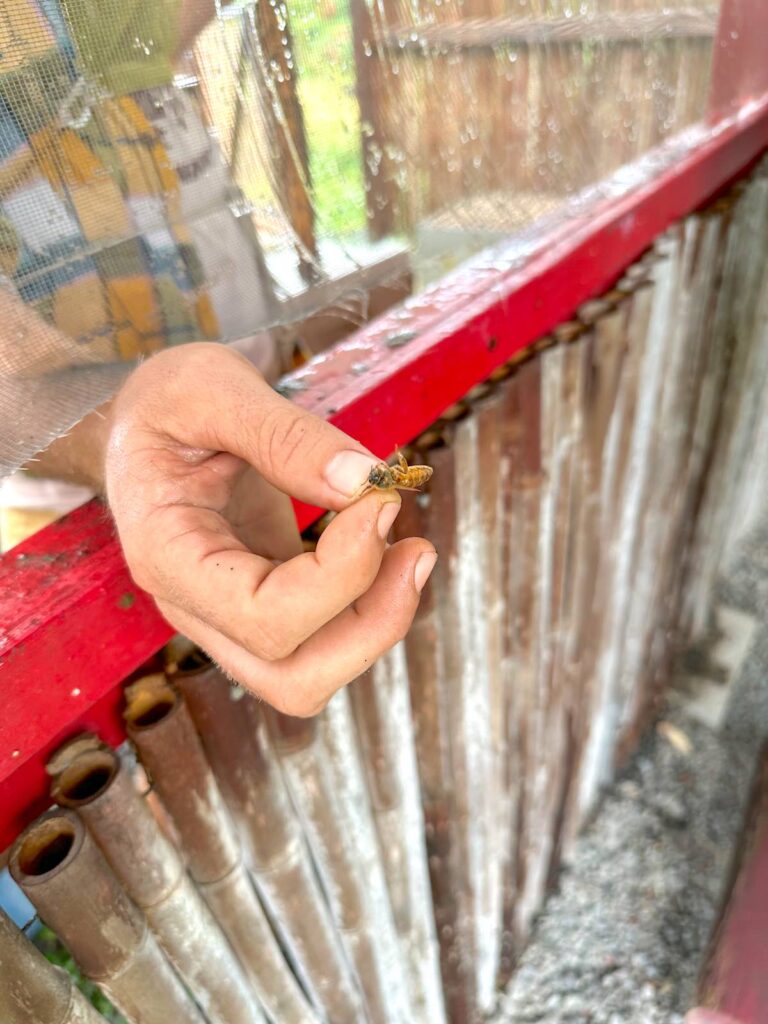 Near the end of the demonstration, we actually got to see two baby bees being "born." Well, they came out of their cocoon thing to transform into full bees. It was cool!
Big Island Bees Honey Tasting
This was our favorite part of the tour! It was amazing to taste just how different all the honey flavors were.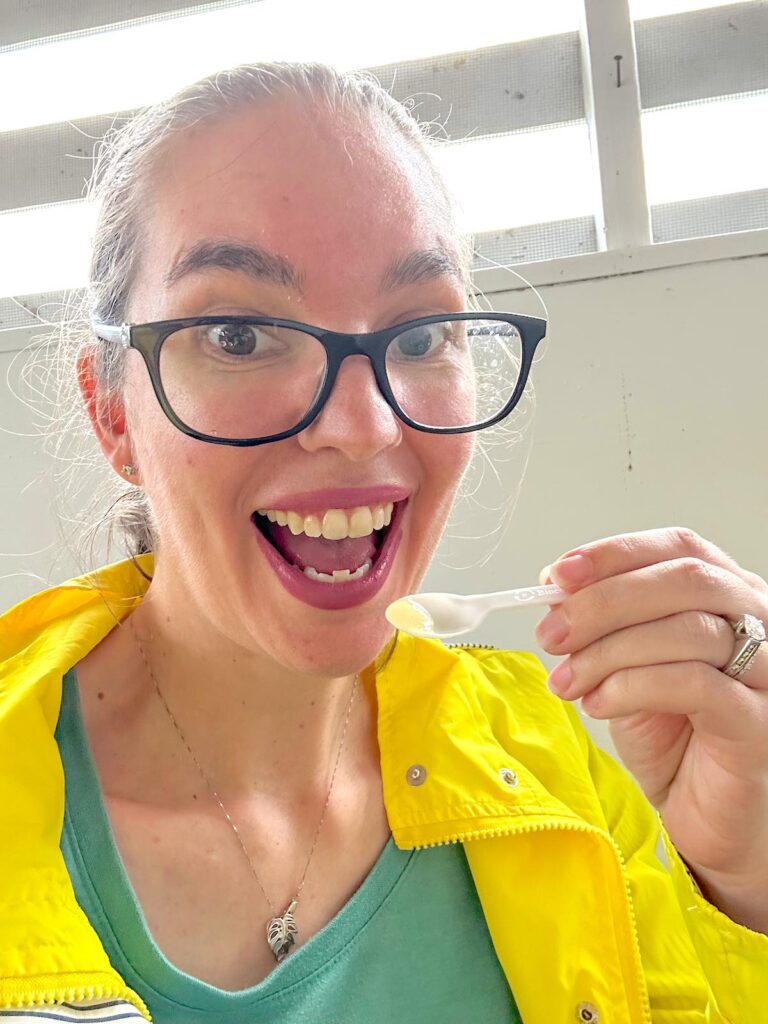 Each honey either picked up the flavors of the flowers the bees were living near or they were mixed with other natural flavors to create new concoctions.
There was even one that had chili pepper that had a nice kick!
Gift Shop & Museum
Like any good Kona tour, this one ended in the gift shop where we could buy jars of our favorite honey.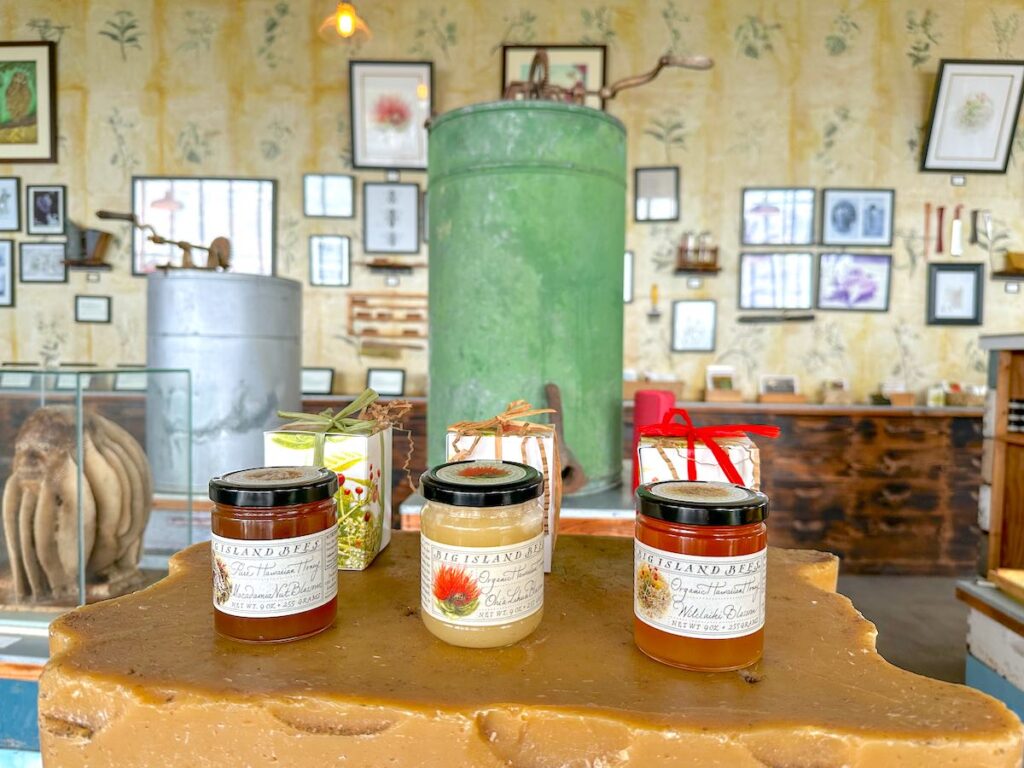 There were some gift packs with their most popular jars. Plus, they offered a variety of sizes of other honey blends.
The gift shop is also where you'll find the museum with all kinds of cool Hawaii honey tools and implements from over the years.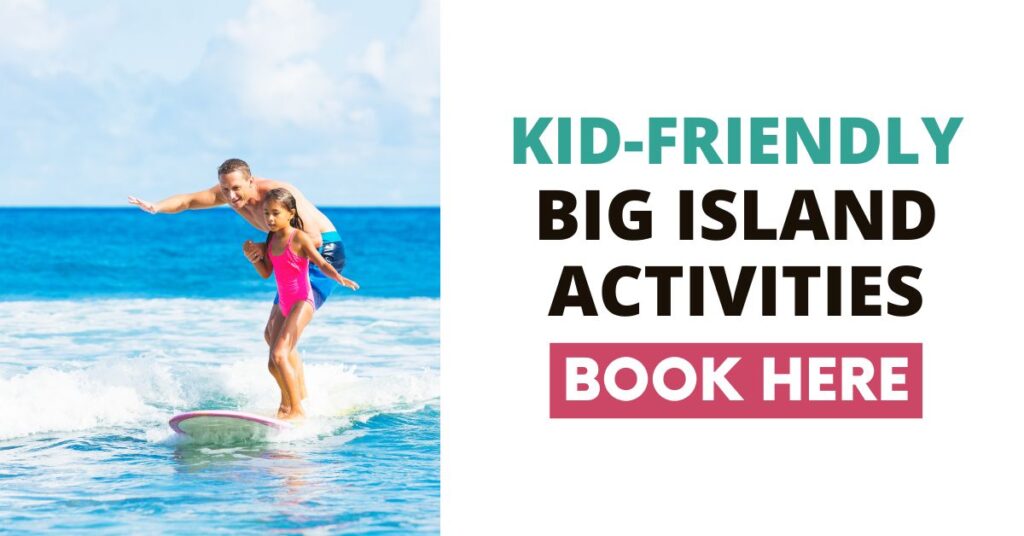 The Highlight of this Kona Tour and What You Should Look Out For
The bee hive demonstration area is really cool! It's a great time to ask questions and get to see bees in action without feeling in danger of getting stung.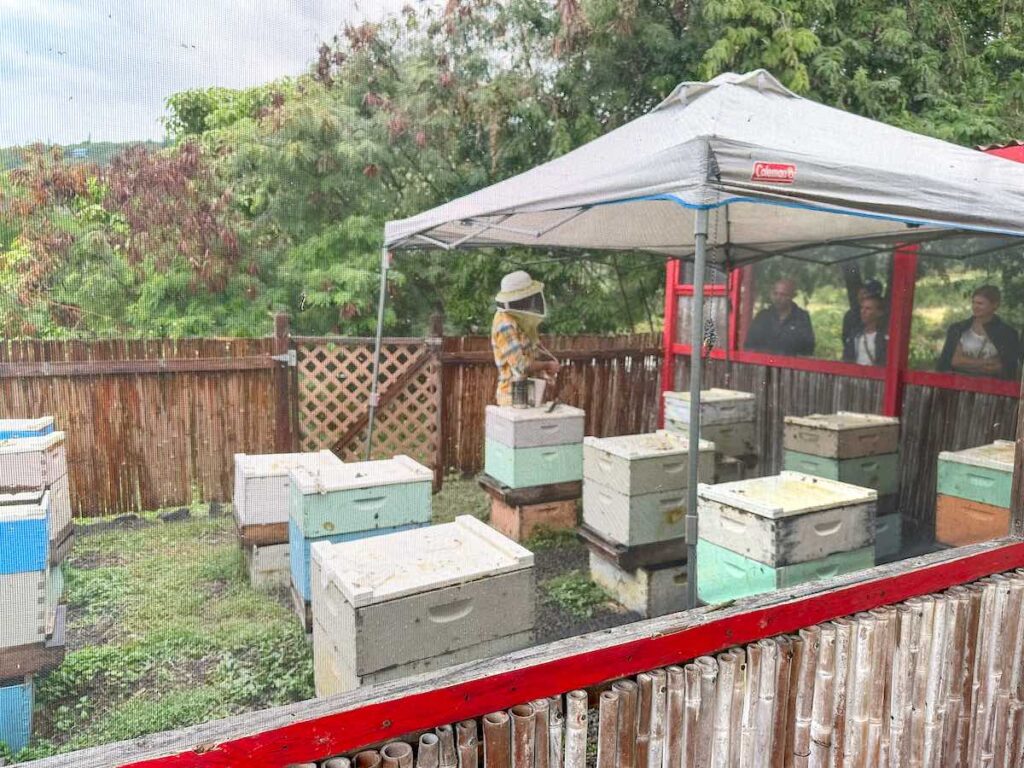 But, the real highlight was getting to taste tons of varieties of honey! It was especially meaningful after learning that bees only produce about 1/4 teaspoon of honey in their lifetimes.
Tips for Families
If you're planning to do the Big Island Bees tour, here are some tips to help make the most of your experience:
Dress Appropriately
The tour takes place on a working farm, so we wore shoes and clothing that could get dirty. The weather was also iffy, which is why we dressed this way.
We saw people wearing dresses and sandals and they looked cute, but they also seemed a bit uncomfortable out in the elements.
Bring Sunscreen, a Hat, and Possibly an Umbrella
The tour takes place outdoors, so it's important to protect yourself from the sun.
It was raining when we visited in February, so we were thankful to have our umbrellas.
Make a Reservation
The Big Island Bees tour is a popular attraction, so it's a good idea to make a reservation in advance to ensure availability.
There is no guarantee you'll get a spot if you just show up at this Kona bee farm. These are really popular tours.
Listen to the Guide
The tour guides are knowledgeable and experienced, and they'll provide valuable insights into the beekeeping process and the importance of honeybees to our ecosystem.
Taste the Honey
The tour includes a honey tasting, so be sure to try the different varieties of honey produced on the farm.
Buy Honey Products
Big Island Bees offers a variety of honey products for sale, including raw honey, honeycomb, and honey-based skincare products.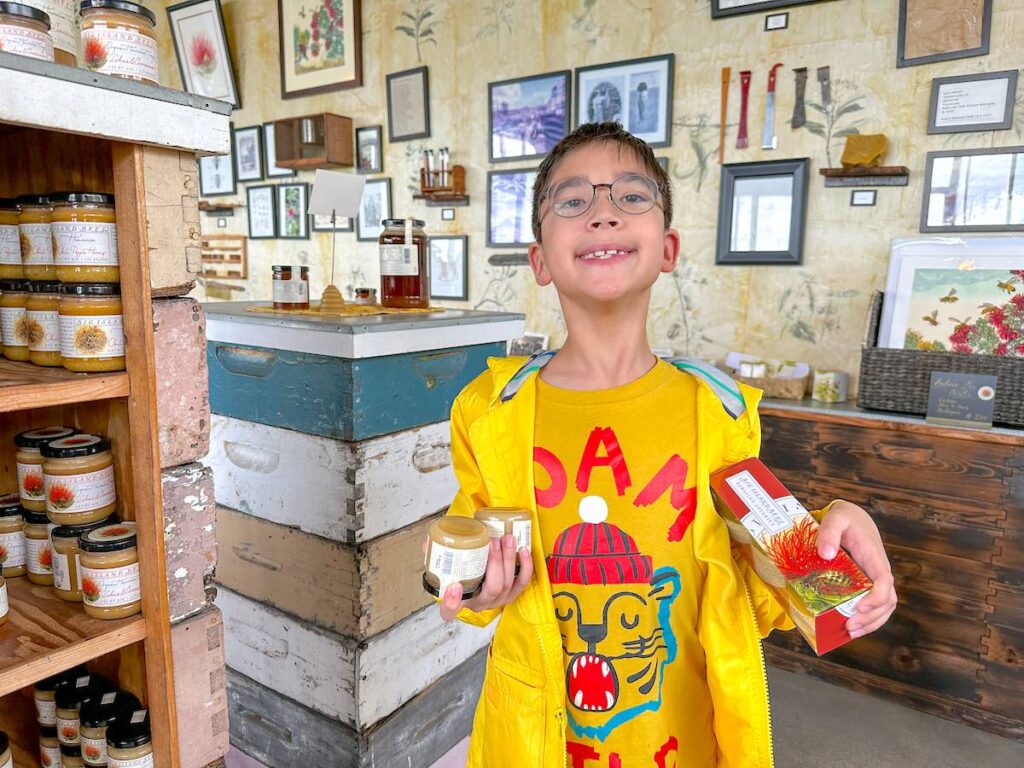 Consider purchasing some to take home as a delicious souvenir. We bought SO much and I wanted to grab more!
By following these tips, you'll be sure to have a memorable and enjoyable Big Island Bees tour experience.
How Much Does it Cost and Where is it Located?
This Big Island farm is located in Captain Cook about 35 minutes south of Kailua-Kona.
It's near the Painted Church and Pu'uhonua o Honaunau National Historic Park.
Tickets are really affordable, making it a cheap thing to do in Kona with kids. Adults are $25, kids ages 13-18 are $15, and kids ages 12 and younger are just $5.
Are There Any Other Bee-related Activities or Experiences Available on the Big Island?
Many of the local Big Island farmers markets and specialty food stores on the Big Island offer honey-tasting experiences. Visitors can sample a variety of different types of honey produced on the island, including rare and exotic varieties.
If you're heading to the Hilo side of the island, you might check out Bird and Bee Hawaii. They offer a tour of their farm and hives.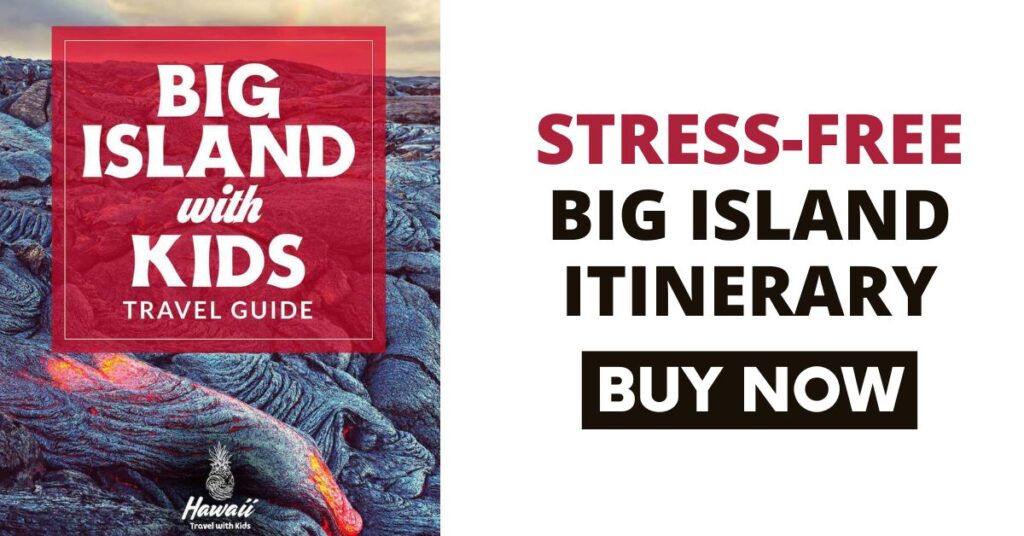 Big Island Honey Farm FAQs
Can I taste the honey during the tour?
YES! That was a highlight of our Big Island Bees tour. We got to sample a variety of honey and they were all so different and delicious.
Is the tour suitable for children?
We think so! My 9-year-old really enjoyed it and he asked a lot of questions. I'm not sure if toddlers or preschoolers would have the patience for the full tour, but they would probably have fun seeing the bees.
Is the Big Island Bees farm open year-round?
Yes! You can always stop in to check out their museum or gift shop, but you'll need to make reservations if you want to do the bee tour.
Is the tour wheelchair accessible?
Most of the tour is outside and you'll need to go on grass. Some of the tour takes place inside and there is a small step to get into the room. The room is fairly small and I'm not sure if it would accommodate a wheelchair.
Can I buy honey products at the farm or online?
They have a really great gift shop where you can buy lots of different honey products. Some of these items are only available in store. But you can also purchase their honey and honey-related products online.
So, is the Big Island Bees Tour Worth It?
I thought that the Big Island Bees tour was fascinating!
I didn't know much about honeybees before the tour and I left feeling like I had a really solid understanding of the whole process and what to look for when buying locally-made honey.
My 9-year-old son thought that the observation of the hives went a little long and he started to lose interest after about 45 minutes. I think our tour actually ended up being 90 minutes long.
Overall, we both learned a lot and really enjoyed tasting (and then purchasing) honey! It was one of our favorite Big Island farm tours!