Are you thinking about heading to Hawaii for Christmas? Keep scrolling to find out the best hotels to spend Christmas in Hawaii that really know how to get into the holiday spirit!
This post about the best hotels for a Hawaii Christmas vacation contains affiliate links which means if you purchase something from one of my affiliate links, I may earn a small commission that goes back into maintaining this blog.
Want a hotel in Hawaii that will make your Christmas vacation unforgettable?
If you're looking to stay at the best family hotels in Hawaii, then look no further than these top-rated hotels. They offer plenty of activities and events year round, so they are perfect for any type of traveler! Whether you want to go on an adventure or relax by the pool, these hotels have it all.
And if you plan to be in Hawaii during Christmas time, they even decorate their lobbies with festive lights and trees! You won't find another place like this anywhere else.
Imagine waking up on Christmas morning and seeing beautiful decorations everywhere around you as soon as you walk out of your room. Your kids will love exploring every inch of the hotel lobby because there is always something new to discover!
Plus, there are plenty of fun activities happening throughout the day so everyone can enjoy themselves while still having lots of time together as a family.
If you plan to be in Hawaii for Christmas, you have to stay at a hotel that offers gorgeous Christmas decorations and plenty of Christmas activities for everyone to enjoy. These hotels are often the best family hotels in Hawaii, with all the fun activities and events they offer year-round.
If you are staying in Hawaii at Christmas time, check out these hotels for a Hawaii Christmas vacation you'll remember forever!
Want to skip all the planning and just access my detailed Hawaii Itineraries complete with daily schedules, kid-friendly activities, and travel hacks? Click the button below.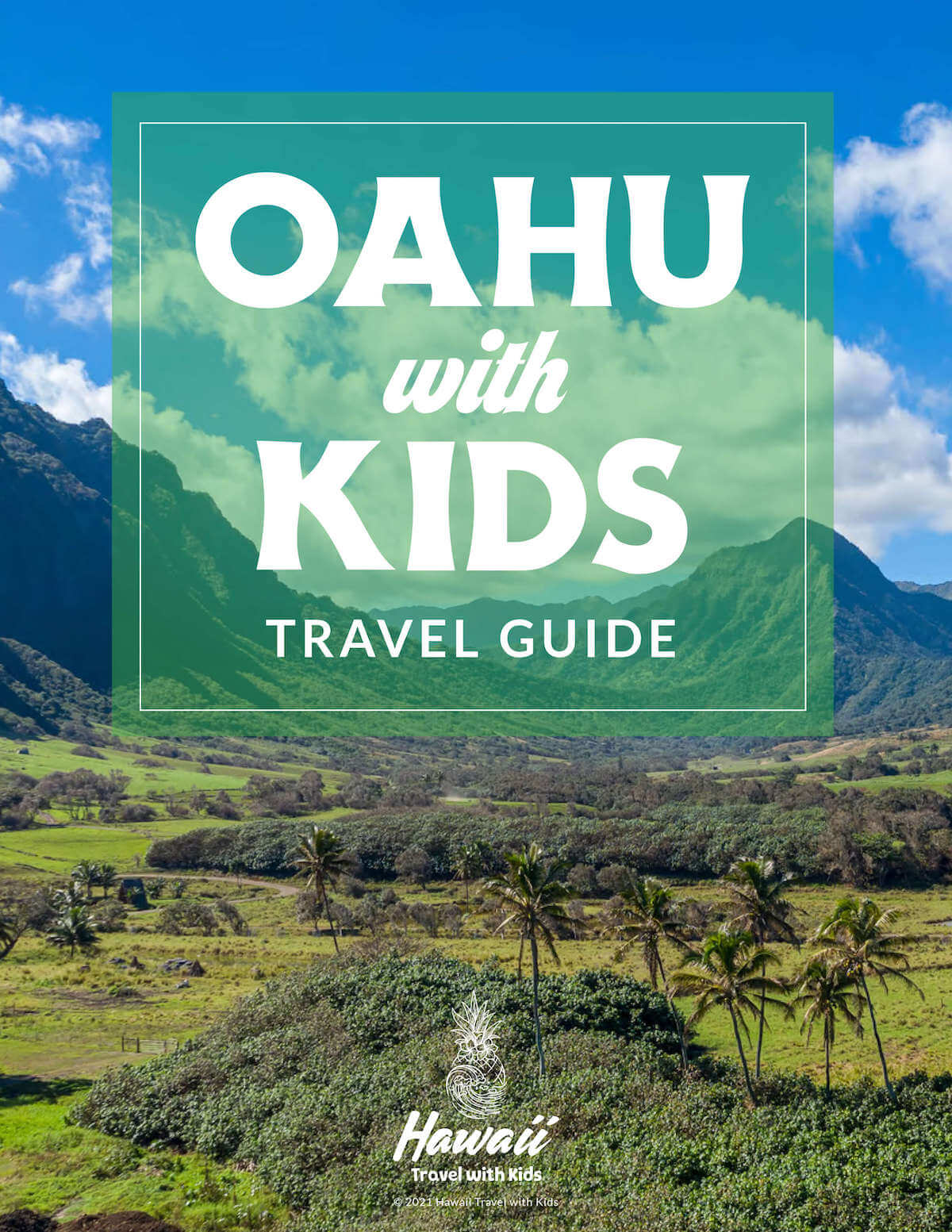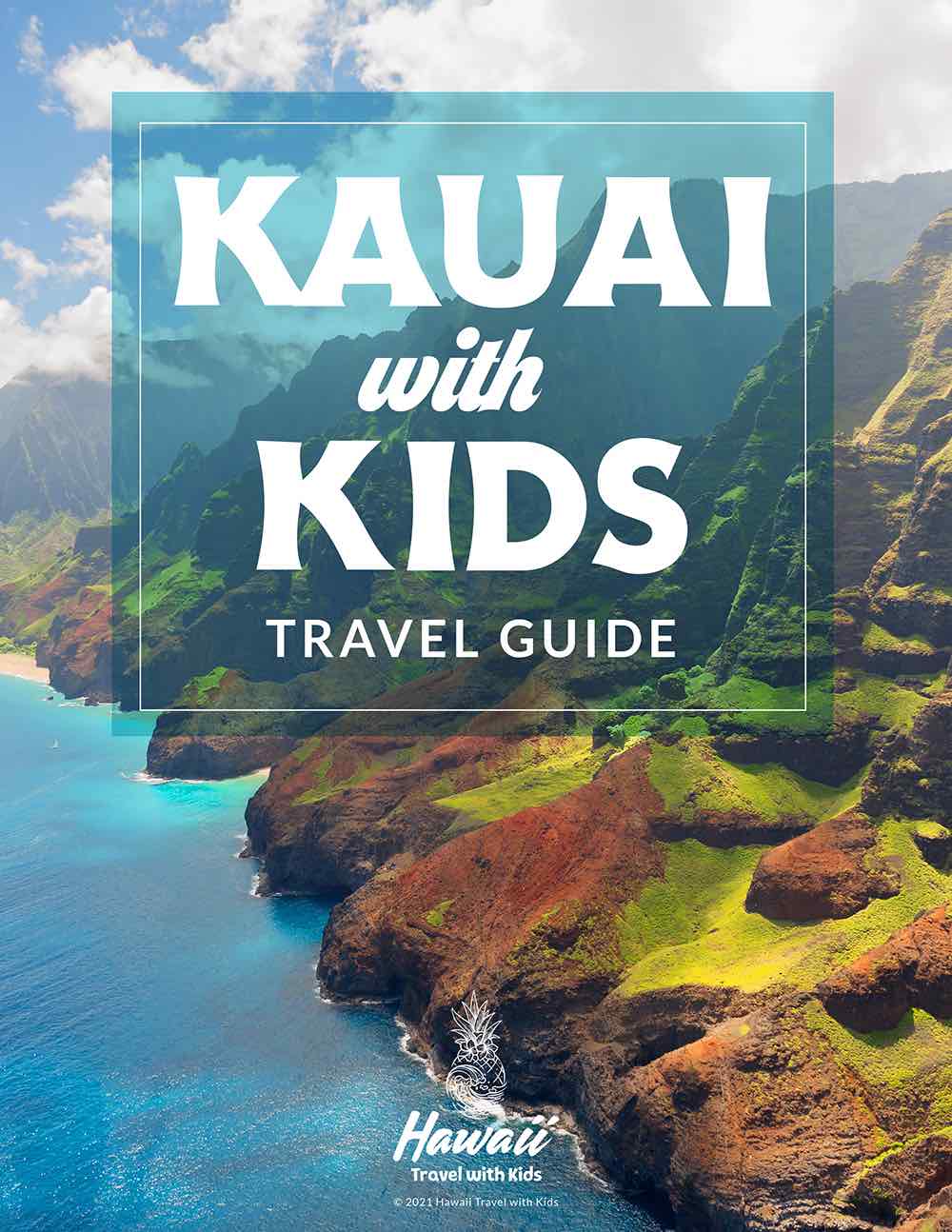 Hawaii For Christmas FAQs
Is it worth going to Hawaii in December? 
Yes, absolutely! Get away from the cold weather, snow, and ice and feel the warmth of the sun on your face. A Christmas vacation in Hawaii is one your family will remember forever! 
Do hotels get more expensive the closer to Christmas in Hawaii? 
Yes, generally, hotels get more expensive the closer to Christmas in Hawaii. You might be able to find good deals if you watch where you plan to stay. Booking way in advance may also help lower the costs. 
What part of Hawaii is best to visit in December?
Oahu is said to be the best island to vacation on during Christmas time. It is usually cheaper and has many fun Christmas activities to do all over the island. It also is a tourist island, so you know there will be plenty of things to do and see while you're there!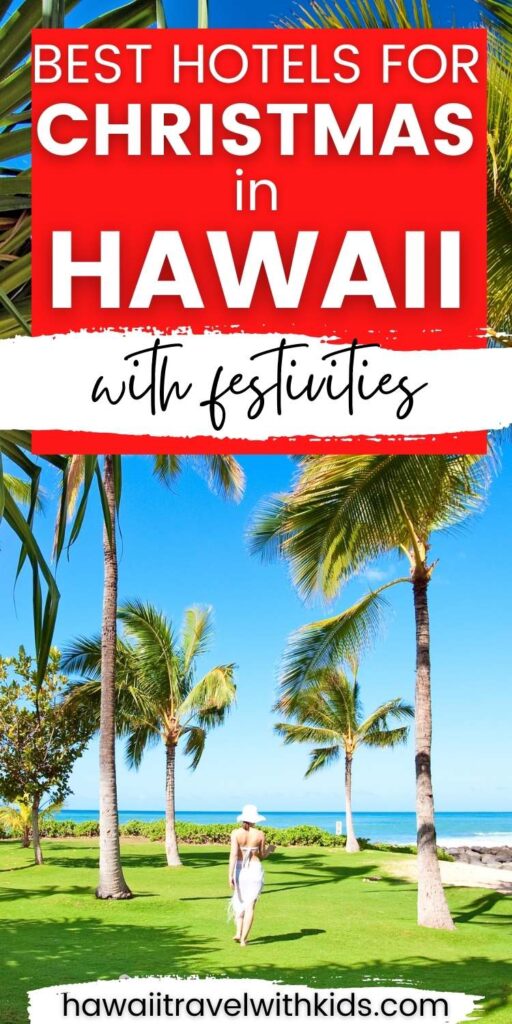 Is Christmas a Good Time to Visit Hawaii?
Visiting Hawaii in December is such a great time!
While things may be more expensive, the joy you feel during this holiday is worth it! Your kids have to see what a Hawaiian Christmas is all about at least once in their life!
It's a great opportunity to escape the cold and snowy weather of much of the Mainland and head somewhere a bit warmer and balmier.
Plus, Hawaii really knows how to get into the holiday spirit!
Best Hotels for Christmas on Oahu
Now that you're sure you want to visit Hawaii at Christmas time, here are the best places to stay for families during this holiday season!
All of these hotels have plenty of fun Christmas activities to do close by and decorate for Christmas! Your kids will love any of these hotels, as they are all kid-friendly too!
Moana Surfrider
Moana Surfrider is owned by Marriott and is located in Waikiki. This hotel goes completely all out when it comes to Christmas decorations. Every nook and cranny is filled with holiday decorations that are simply stunning.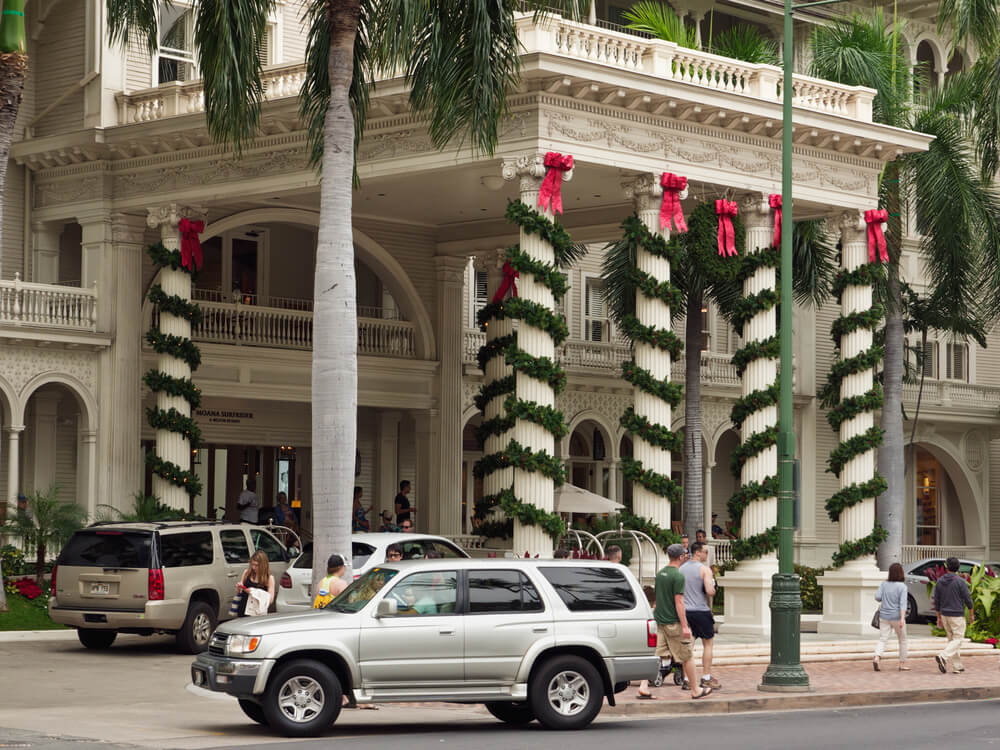 You'll want to take plenty of Christmas pictures with all the gorgeous decorations! Check the latest rates and availability.
During your stay at the Moana Surfrider, you can have breakfast with Santa Claus! You will also find a Christmas-themed afternoon tea service.
If you are in Hawaii during Christmas Day, you can enjoy a delicious brunch buffet at the Beachhouse as well as a tasty Christmas dinner.
You will also find Santa's Pen, the Hawaii Christmas store in Waikiki, at the Moana Surfrider! This store is open all year round and offers super fun Christmas decorations, all Hawaii-themed! Grab some decorations to take home with you to remind you of your island Christmas vacation!
Royal Hawaiian Hotel
Another stunning hotel filled with Christmas decor is the Royal Hawaiian Hotel. This is usually called the "Pink Palace," which is fit for royalty.
But don't let that fool you; it is one of many kid-friendly hotels in Hawaii to stay in as there are many keiki programs here to explore.
Here you will find Christmas decorations that are pink, of course! Check the latest rates and availability.
During your Christmas stay, you can eat dinner at the Azure both on Christmas Eve and Christmas Day. You will also find a fun Christmas cookie decorating class.
If cookies aren't your favorite dessert, check out the Christmas cupcake wreath-making class for another fun event during your Christmas trip.
Here you will find a stunning 34 foot Christmas tree all lit up during December. It is a beautiful sight to see and a great place to get family pictures for the holiday!
Sheraton Waikiki
The Sheraton Waikiki is one of my favorite hotels to stay in during December. They have the coolest Christmas decorations I've ever seen!
Not only are there plenty of trees filled with beautiful ornaments, but they created their own Christmas sandcastle exhibit. Even if you end up not staying here, you'll have to go visit just to see this sandcastle!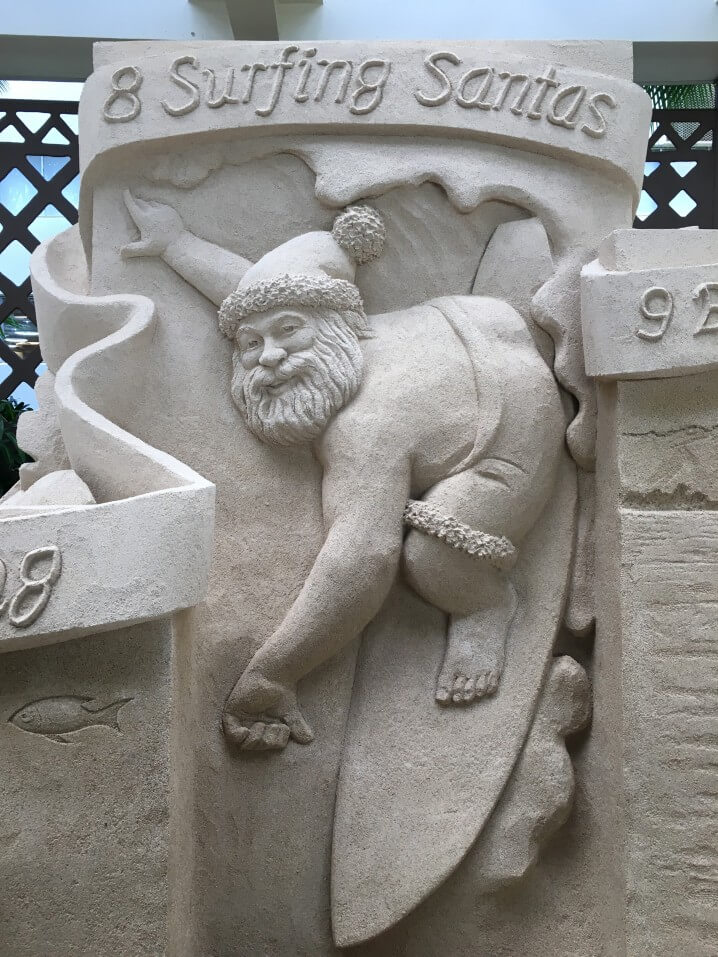 Since 2007, Sandsational has created these sand sculptures in Sheraton Waikiki Hotel. The sand sculptures are quite stunning. There is a variety all around this hotel. Check the latest rates and availability.
You might see a Santa sculpture with Mrs. Claus by him. Or a family of snowmen with Santa. Sometimes they do Santa with a naughty and nice list. Every year they do something different!
The Christmas festivities do not end there! The Sheraton Waikiki Hotel has been known to do a 12 Days of Christmas program.
Every day there is a fun new activity or musical performance to enjoy that is all Christmas-themed. From making a lei, craft, hula lessons, and more, this is a super fun place to enjoy some Christmas events!
You can also enjoy a delicious Christmas dinner at Kai Market.
Hilton Hawaiian Village
The Hilton Hawaiian Village is one of the best hotels for kids in Hawaii! It is a super fun place to stay with all the Christmas decorations and holiday activities they plan every year.
Christmas events start on December 20th, all until Christmas Day! There is a fun keiki ornament making where your child can make and keep one Christmas ornament. Check the latest rates and availability.
You can also enjoy holiday musical performances and many family Christmas movies to enjoy. If your child wants, they can also write a letter to Santa to place in Santa's mailbox!
You can also enjoy a fun holiday photoshoot on Santa's sleigh. There will also be holiday-themed lei-making and hula lessons.
Enjoy a luau on the lawn outside under the stars on Christmas Eve and Christmas Day. There will also be Christmas food, lunches, and dinners to enjoy.
You can't go wrong staying at the Hilton Hawaiian Village! It's truly one of the best Hawaii hotels for families. Read my full Hilton Hawaiian Village review.
Prince Waikiki
Another fun place to stay in Hawaii with kids is Prince Waikiki. For the adults, you will find an awesome holiday-themed tiki bar to spend some time relaxing. That is just the start of Prince Waikiki's "Holidaze" events this year.
Enjoy a Holly Jolly Waikiki Trolley to look at the Honolulu lights! The ride begins at Prince Waikiki and goes through the town. Enjoy viewing them with your loved ones. It is a great kid-friendly activity to experience during Christmastime!
During this holiday season, you can find many unique gifts that local artists have created! It is always nice to find fun souvenirs and support small businesses at the same time! You'll find these pop-ups throughout the hotel lobby. Check the latest rates and availability.
These are just some of the Holidaze fun Prince Waikiki Hotel offers this year! Check them all out during your stay as you have a blast creating, dancing, learning, and more this holiday season. This is the perfect Christmas vacation spot for families.
Kahala Resort
You will find the entire resort decked out at the Kahala Resort. This is located in Honolulu and is a great place to stay with kids.
There are tons of Christmas festivities in Honolulu, so this is the perfect resort to stay at during December. Get some freshly baked Christmas stollen or enjoy a relaxing day at the spa. Check the latest rates and availability.
You'll find plenty of amazing activities here as they fill the holiday event calendar for everyone to enjoy! There is a super fun Christmas tree contest that your kids will love to participate in, along with enjoying some teddy bear tea.
You will be close by to the Honolulu City Lights that are amazing to see! Enjoy a delicious dinner event: Hoku's Christmas Dinner. This is a seven-course dinner filled with tasty delights your entire family will love!
Aulani Resort
Of course, the Aulani Resort is one of the best family-friendly hotels in Hawaii that your kids would be thrilled to stay in during your Christmas vacation.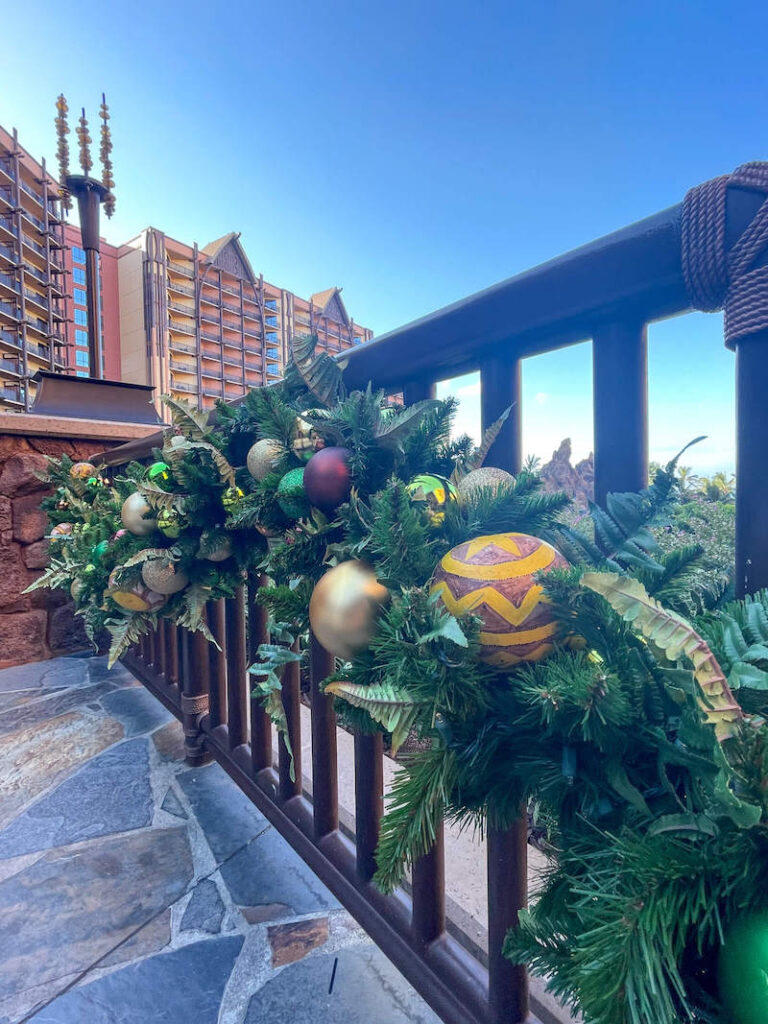 The halls are decked out in Christmas gear, as are Mickey, Minnie, Donald, and all the other characters! Your entire family can make delicious Christmas cookies and treats with Santa Goofy. Check the latest rates and availability.
You will also find plenty of Christmas movie nights out under the stars. All movies are holiday-themed and family-friendly too! Be sure to listen for carollers throughout the resort, and listen as they sing carols full of holiday joy.
On Christmas Eve, Santa will visit all the little children! There is a special Christmas Luau on Christmas Day as well. There are countless things to do during Christmas at the Aulani Resort!
This is one of the best places to stay with kids in Hawaii, as every kid loves Disney. They will love everything this resort offers, especially during Christmas time.
It's definitely one of the best hotels for families in Hawaii. You can read my full Aulani resort review HERE.
Best Family Hotels in Hawaii for Christmas Wrap Up
These are some of the best hotels for a Hawaii Christmas vacation. Each of these welcomes kids of all ages and has plenty of activities for everyone in your family.
Christmas is such a special season; if you plan to visit Hawaii during Christmas time, be sure to stay at one of these hotels or resorts to feel this holiday spirit! These are some amazing best places to stay in Hawaii for families.