Everything you need to know to plan a trip to spend Christmas in Waikiki. Celebrate in Oahu with events, lights, parades, and more.
This Waikiki Christmas activities post was written by Hawaii travel expert Marcie Cheung and contains affiliate links which means if you purchase something from one of my affiliate links, I may earn a small commission that goes back into maintaining this blog.
Are you taking a Christmas vacation in Hawaii? Start here with the Best Hotels for a Hawaii Christmas Vacation. They really know how to get you in the holiday spirit!
There are so many things to do in Oahu during Christmas, especially in Waikiki. From the Waikiki Christmas parade to the Christmas lights and tours, there are so many things to do when you go to Hawaii for Christmas.
So what are you waiting for? Come celebrate with us this year in Honolulu at Christmas! We have everything you need right here. It's going to be an unforgettable experience. Let us help you plan your Waikiki Christmas vacation today!
Keep scrolling to find out the coolest Waikiki Christmas events and activities for the ultimate Hawaii Christmas!
Want to skip all the planning and just access my detailed Oahu Itinerary complete with daily schedules, kid-friendly activities, and travel hacks? Click the button below.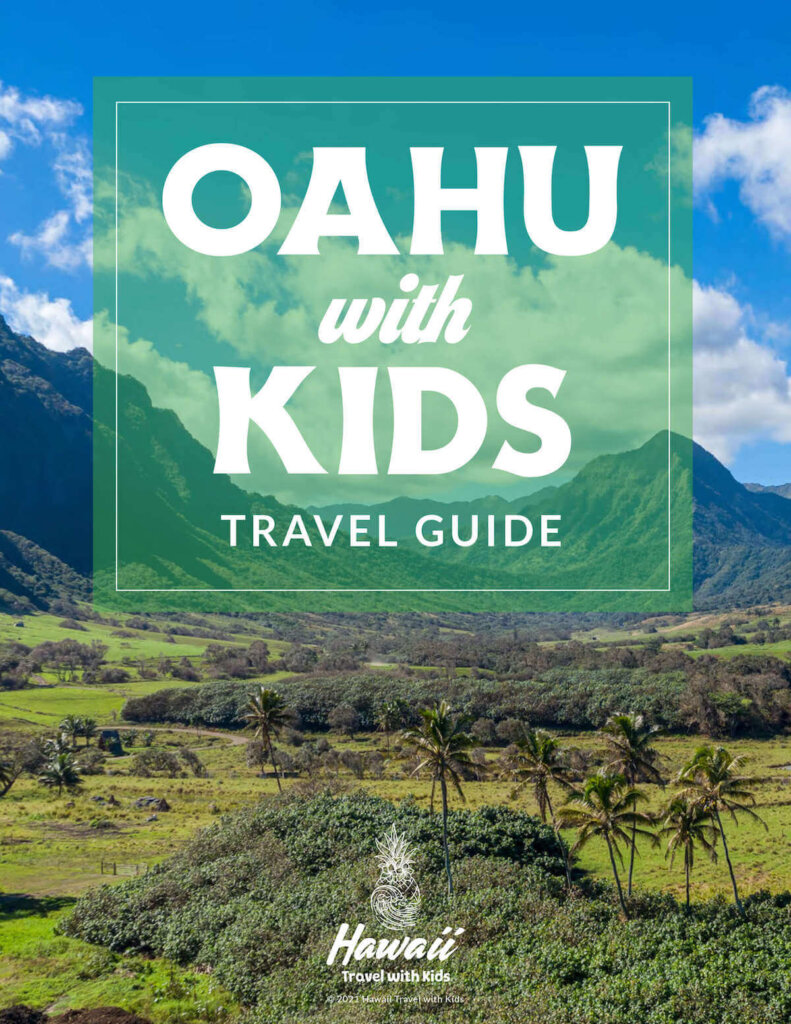 What is the Weather Like During Christmas in Hawaii?
Christmas weather in Hawaii is slightly different from the summertime. While it is still sunny, it does tend to be a bit cooler, especially at night. During the day, you will still experience the low 80s, but sometimes the temperature will drop at night. Many nights will get to the high 60s, which is freezing for the locals!
Christmas Day in Hawaii is usually full of sunshine, which is quite different from the mainland!
Make sure to bring jeans and a sweatshirt to be comfortable while you do all the fun Christmas activities in Hawaii at night. The drop in the temperature throws many tourists off; don't let that be you! Check out my Christmas packing list for Hawaii HERE.
Can you Find Christmas Trees in Hawaii During Christmas?
Yes, you can! A few places will sell Christmas trees on Oahu for families to enjoy and feel the holiday spirit a little more. You can find some at Helemano Farms.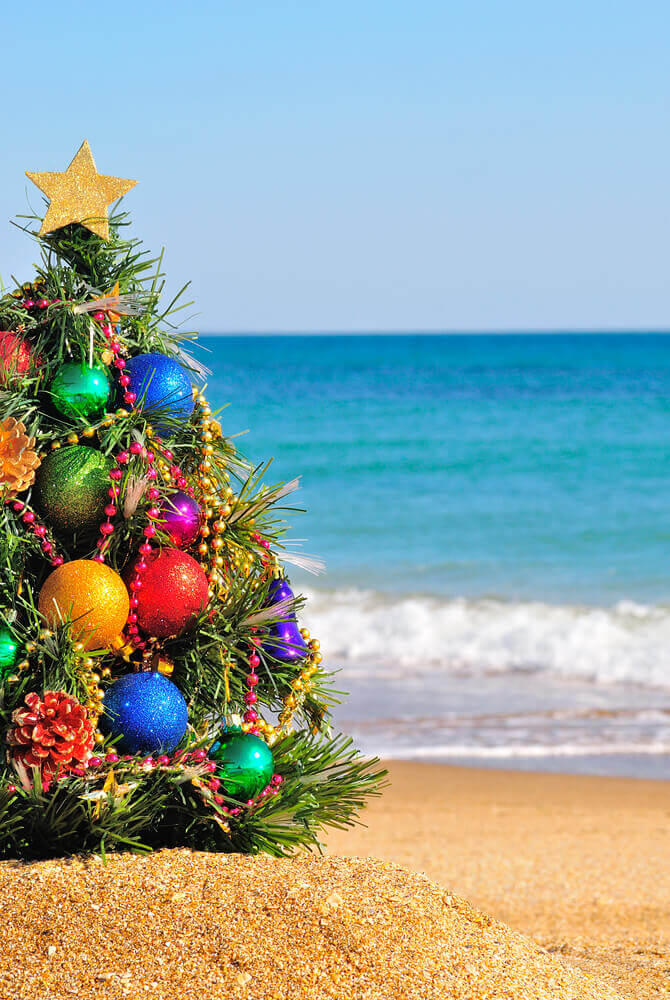 While there are Oahu Christmas trees, they are a lot more expensive than on the mainland since there is not as big of stock on hand. So, if you want one, get yours quickly!
Hawaii in Christmas is so much more than a traditional Christmas tree. You can easily decorate a palm tree in Hawaii!
Are Things Open on Christmas in Oahu?
Yes! Because Hawaii, especially Oahu, is such a big tourist place, many places choose to remain open on Christmas Eve and Christmas Day to help you have Christmas fun and enjoy the holiday to the fullest!
So many tourists come during this holiday season, and many things must stay open! Check out the list below to see some of the best places to visit during your Christmas trip to Hawaii!
If you are wondering what to do in Oahu on Christmas Day, don't worry. There are so many things to do on Christmas so you can easily enjoy your Oahu Hawaii Christmas!
Hawaiian Christmas Lights in Waikiki
Christmas lights in Waikiki are so much fun! There are many places to see the Hawaiian Christmas lights. The best one is on Auahi Street in Ward Village.
To see these lights, take the Waikiki Christmas trolley! It is a 45-minute tour and so worth it! The price for children is $15.00. Adults are $20.00, and lap children are free.
The Waikiki Trolley Holiday Lights Tour is so fun, especially for the kids! The trolley itself is decorated with Hawaii Christmas wreaths, lights, and fun Christmas decorations. You will also be able to explore downtown Honolulu and see all the beautiful light displays there as well.
This is definitely one of the top things to do in Waikiki in December.
There will be singing and some good ole' Christmas spirit. This is one of the best Honolulu Christmas activities to share with your family!
The Royal Hawaiian Center is very decorated during Christmas time as well. There you will find a 34-foot-tall Christmas tree all decked out in holiday spirit.
Sometimes the Royal Hawaiian Hotel sand sculpture is Christmas-themed too!
At the center, they also have Santa Saturdays where you can meet Santa and Mrs. Claus. Kids will love this place to look at the Christmas lights and see Santa even when they are far from home!
Book a Family Photo Shoot
Whenever we travel to Hawaii, we almost always book a family photo shoot with Flytographer. They are super easy, affordable, AND it guarantees that I'll be in some photos. You can get $25 off if you book through this link or use the code HAWAIITRAVEL.
Waikiki Christmas Parade
This parade takes place on the Friday after Thanksgiving each year to get us into the holiday spirit.
However, it is so much more than that. The parade is put on to commemorate the anniversary of the attack on Pearl Harbor.
It features local bands, marching bands from the mainland, military units, local officials, and dignitaries. Following the Waikiki Holiday Parade is a wreath-laying at Pearl Harbor on the boats.
It is another one of the things to do in Honolulu in December.
Waikiki Christmas Events
Here are some other fun Waikiki Christmas events you and your family will enjoy. Many of these Honolulu Christmas events are free and great for families traveling together for the holidays.
Waikiki Beach Walk
There are always fun Christmas events on the Waikiki Beach Walk. This is a fun and relaxing way to spend your Christmas vacation in Oahu, from live music to Christmas decorations. Enjoy a stroll in Waikiki and see all the fun Oahu Christmas events.
Christmas on the beach at Waikiki is wonderful and one of the best things to do in Honolulu on Christmas Day.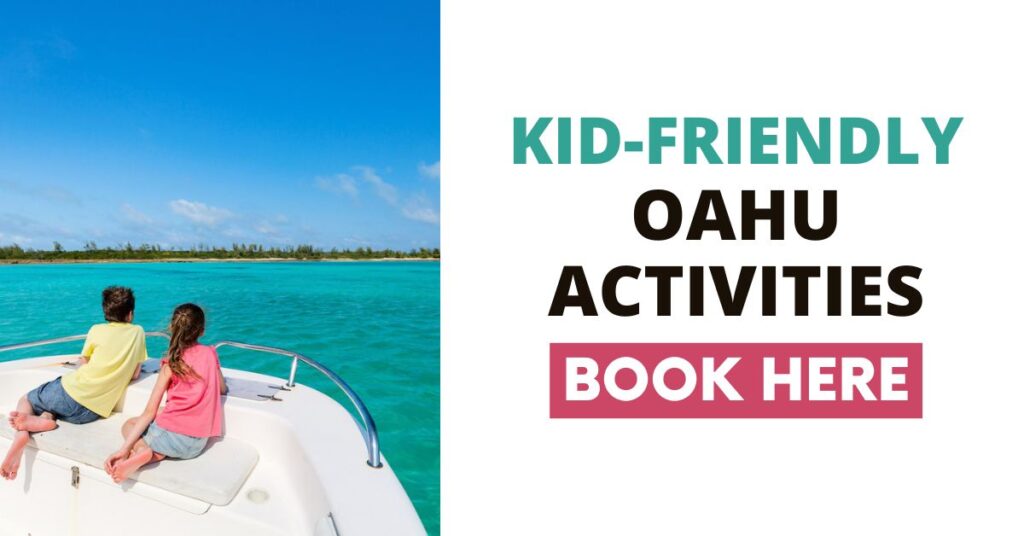 Meet Santa
Ever seen a Santa on the beach? This Waikiki Santa comes right from the ocean!
One of the favorite Hawaii Christmas traditions in Waikiki is meeting Santa. But this is not your typical Santa. Here in Hawaii, Santa comes to greet you from a canoe in the ocean!
If your kids wonder "How does Santa travel in Hawaii?", this is a great way to show them Santa Claus in Hawaii!
Kids love this interaction as they see Santa in a different light who still brings the Christmas spirit. You'll see Santa on his canoe at the Outrigger Waikiki Beach Resort.
It is one of the best places to get pictures with Santa Oahu has to offer too! Make sure to see this Hawaiian Santa Claus!
Seeing Santa at the beach is one of the best ways to spend Christmas in Hawaii for kids.
Waikiki Christmas Store
Be sure to check out the Waikiki Christmas Store during your Christmas vacation in Oahu! This store has so many fun Christmas decorations, all with a Hawaiian spirit.
If you love all the magic that comes from Christmas, this if one of the Christmas Waikiki activities you will love!
Grab some fun beach-themed decorations to share with family and friends and keep for yourself to decorate your place! What I love about this Christmas store is that you can get your ornaments personalized for free!
Visiting Hawaii during this time, you will want to go to the Waikiki Christmas Store. It is one of the top Christmas things to do in Waikiki!
Because it is open all year long, it is one of the things to do in Oahu in December even if you aren't there on Christmas Day.
Sheraton Waikiki Sand Sculptures
While you cannot make a snowman, why not make a sandman? Making a sandman is one of the fun things to do in Oahu on Christmas, and at the Sheraton Waikiki, they go all out.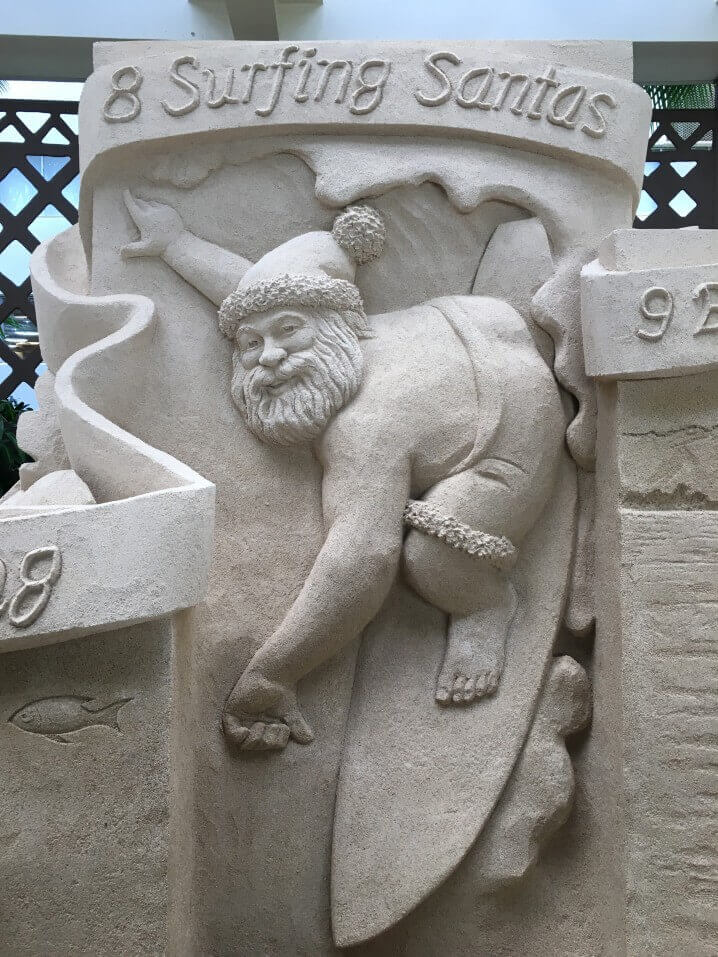 Each year they create a Christmas-themed sand sculpture that takes over 200 hundred hours to make and tons upon tons of sand.
Be sure to check out the Christmas sand sculpture in the lobby, and then go create your own on the Waikiki beach!
Many people make a sandman and put on a red Santa hat on top. It is one of the most fun things to do in Oahu on Christmas Day.
You can get some pretty cool Hawaiian Christmas pictures with your creations!
Rock-A-Hula Christmas Luau
This is one of Waikiki's biggest shows, and their Oahu Christmas luau is so much fun! You can get delicious premium drinks and food, along with a hula show that does not disappoint.
There is special Christmas music to keep you in the holiday spirit. There are several packages to choose from, and all include a delicious special Christmas dessert.
It is one of the best things to do in Honolulu for Christmas. Read my full Rock-A-Hula review.
Where to Eat Christmas Dinner on Oahu
Even though many places close for Christmas, there are still some restaurants where you can enjoy a Christmas dinner on Oahu!
Hula Grill Waikiki
This Hula Grill Waikiki is open on Christmas and has brunch and dinner options. Enjoy some fresh-caught fish and other locally grown foods here. They are open every day from 7 am to 9 pm. It is a Hawaiian restaurant that will satisfy all your taste buds for Christmas dinner in Waikiki.
Paradise Cove Luau
Enjoy another luau close to Waikiki as one of the fun Hawaii Christmas activities! The Paradise Cove Luau is one of the most popular luaus for tourists! Read our full Paradise Cove luau review.
Not only can you enjoy the delicious Hawaiian food that will melt in your mouth, but you will also see amazing live entertainment. From fire knife dancing to hula dancers and musicians, they have it all with this experience.
This is one of the best Christmas luau Oahu has to offer!
Prince Waikiki
Prince Waikiki plans to be open on Christmas day and will even have a special Christmas menu that will be delicious and Hawaii-inspired. View the ocean as you eat your Christmas dinner with your family. What could be better?
It is another one of the best Christmas dinner Waikiki has to offer.
Duke's Waikiki
If you want a more laid-back Christmas dinner, check out Duke's Waikiki. This is a very casual restaurant that will be open on Christmas Day. Enjoy delicious and simple foods. They even have a barefoot bar too!
The Duke's Waikiki Christmas menu is top-notch!
Royal Hawaiian Azure Restaurant
For another Waikiki Christmas dinner, check out the Azure Restaurant at the Royal Hawaiian Center.
This Royal Hawaiian Christmas dinner has a beautiful oceanfront option too. With their three-course meals, this fine-dining option is a wonderful way to enjoy Christmas Day.
Other Christmas Events in Oahu
During your Oahu Christmas vacation, be sure to check out all these other Christmas events all over the island of Oahu!
Honolulu Christmas Lights
This is considered one of the best Christmas lights in Oahu! A nonprofit has run these lights and festivities for 37 years. This is one of the best Hawaii Christmas events and it is completely free too!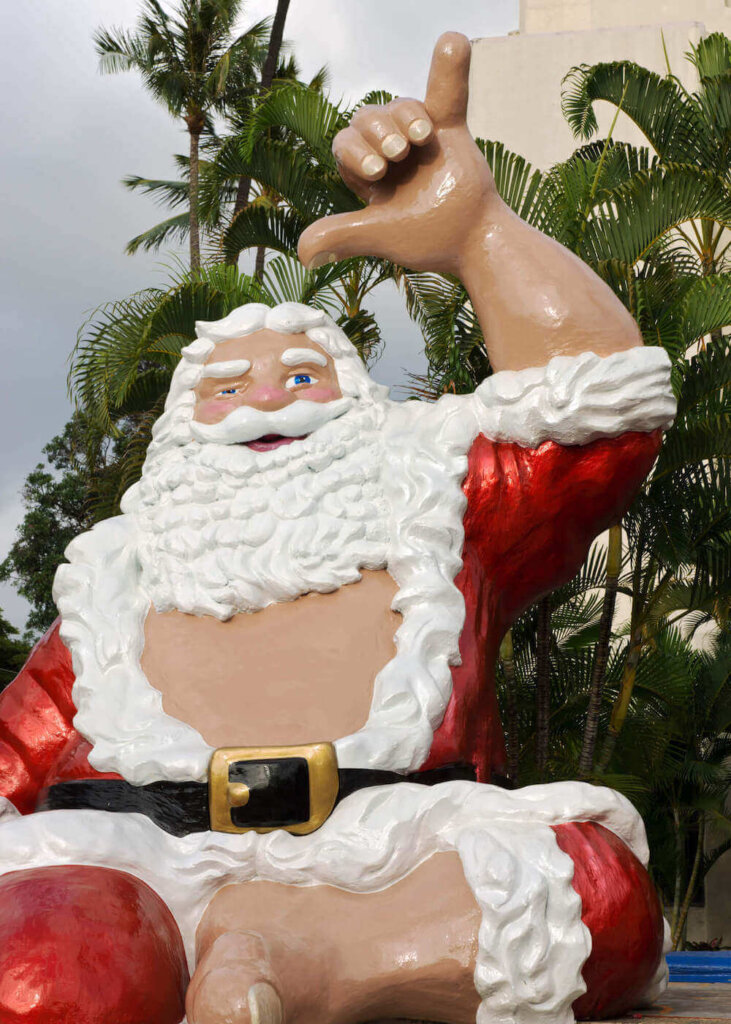 Honolulu Hale, or the city hall, is where you will find all the decorations and thousands of lights. A huge Shaka Santa and Mrs. Claus are the main features of this Honolulu Hawaii Christmas event.
Winter Wishes Holiday Festival
This holiday festival is at the Hawaii Convention Center and is spectacular. Enjoy ice skating, doing Christmas crafts, live holiday music, and meeting Santa. You can even help decorate the Winter Wishes Christmas tree!
It is one of the Christmas things to do in Honolulu that everyone will love.
Christmas in Polynesia
Explore a fun night at the Polynesian Cultural Center in Laie, Hawaii. Here you can take a canoe lagoon ride and see a live nativity scene.
There is also a train ride throughout the villages for kids and a scavenger hunt. If you are traveling with kids, be sure to come here!
The Hukilau Marketplace also has some fun holiday events too. Enjoy live Christmas music from various local artists and get some fun selfies with a Hawaii Santa Claus. It is another great place to see Santa in Hawaii.
There is even a fun snow day where your kids can enjoy the snow for a few hours!
The PCC is one of the top Oahu Christmas activities to enjoy!
The Nutcracker
Do you love ballet and the theater? What better way to celebrate Christmas than to watch The Nutcracker?
Enjoy this beautiful ballet for three days in December, right around Christmas time. Take your little girls with you and watch their excitement as they see the dancers!
It is another one of the fun things to do in Honolulu during Christmas.
Festival of Lights Boat Parade
At the Hawaii Kai Towne Center, enjoy this Christmas tradition! Locals decorate their boats with Christmas lights and other holiday decorations and show off their creations on the water.
The best-decorated ones win prizes! This is another fun Christmas light showing to see! This is another one of the Christmas events in Hawaii that is free and family-friendly.
Hawaii for Christmas FAQs
Where can I see Oahu Christmas lights?
One of the best ways to see Christmas lights on Oahu is at the Honolulu City Lights event that happens throughout December on Oahu. They have lots of beautiful light displays and other fun festivities.
Are there Christmas parades on Oahu?
Yes! Right after Thanksgiving is the Waikiki Holiday Parade. The main focus is to commemorate the survivors of Pearl Harbor. There are a bunch of marching bands from across the mainland who participate.
Is Hawaii more expensive at Christmas?
Yes! Christmastime is one of the most expensive times to visit Hawaii. Expect to pay higher airfare and hotel costs. But, it's also a really magical way to spend the holidays and Christmas on Oahu.
What is there to do on Christmas Day in Waikiki?
There are lots of things to do in Hawaii for Christmas Day. You can enjoy a meal at your Hawaiian hotel, enjoy the beach, attend a luau or a Christmas show, and so much more.
Is Christmas in Hawaii fun?
Spending Christmas in Honolulu is so much fun! There are plenty of things to do in Hawaii during Christmas that are different from the mainland which makes Christmas so much fun on the islands.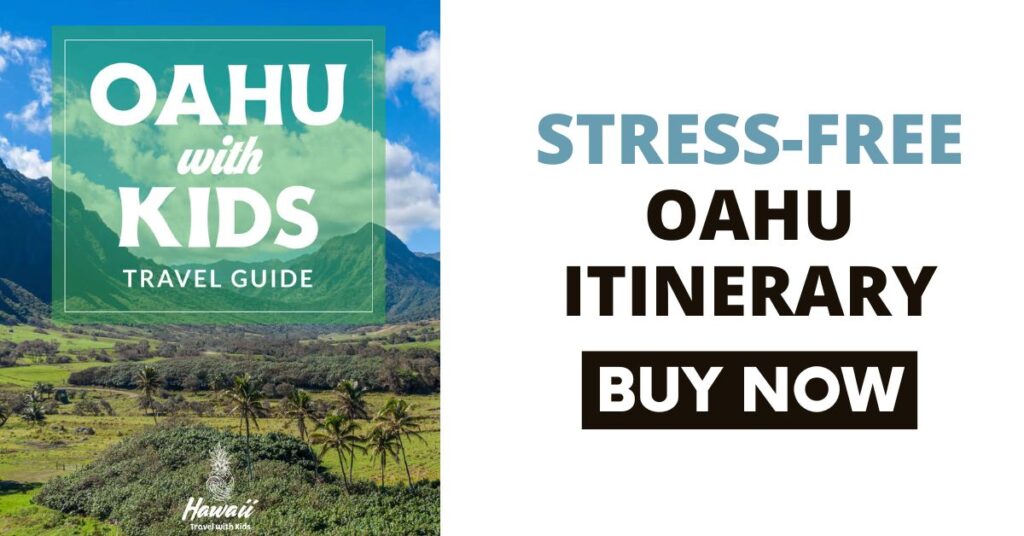 Things to do in Waikiki at Christmas
As you can see, there are so many things to do in Oahu for Christmas, especially in Waikiki! Choose from a number of these Hawaiian Christmas traditions and have a unique Christmas experience you won't find anywhere else.
Your entire family will love Hawaii at Christmas time! There are so many Christmas events in Waikiki that you will love, and Oahu at Christmas is truly magical, so make the most out of your Honolulu Christmas vacation.