Are you looking for a way to get around Waikiki without renting a car? Keep scrolling for my honest Waikiki Trolley review and whether or not it's worth the cost.
This Waikiki Trolley review contains affiliate links which means if you purchase something from one of my affiliate links, I may earn a small commission that goes back into maintaining this blog.
Do you want to know how to get around Waikiki without renting a car?
The Waikiki Trolley has several different lines that all leave from Waikiki and take you to different areas of Oahu.
In this post, I'll detail what our experience was like and whether or not I think it's a good way to get around Waikiki with kids.
You can read on below to find out more about my experience with using the trolley in Waikiki with kids. If you're interested in finding out how much it costs, where you can catch it from, and what lines are available – keep reading!
Keep scrolling to find out more about getting around Waikiki with kids on the trolley!
Don't have time to read a bunch of Hawaii blog posts and reviews? Here are some of our top picks for visiting Oahu.
Popular Oahu Tours/Activities
Favorite Oahu Resorts/Hotels
Want to skip all the planning and just access my detailed Oahu Itinerary complete with daily schedules, kid-friendly activities, and travel hacks? Click the button below.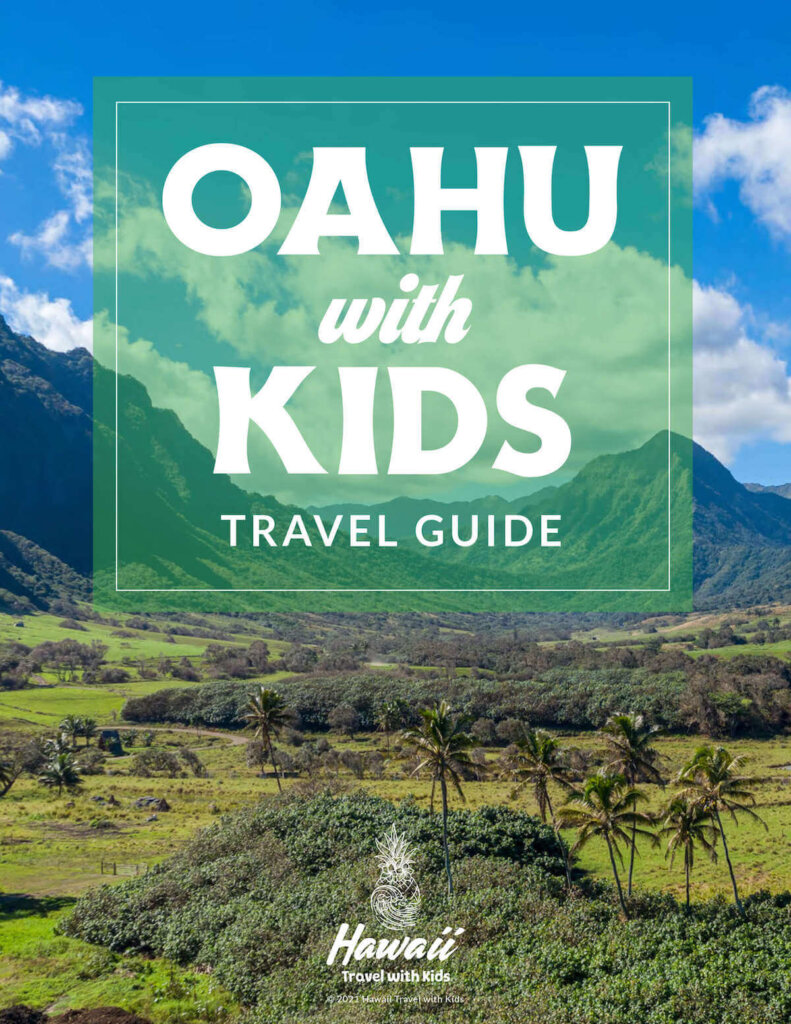 Waikiki Trolley FAQs
Is Waikiki in Oahu?
Waikiki is a section of Honolulu which is the capital city on the Hawaiian island of Oahu.
Is this an Ala Moana shuttle bus?
The Waikiki Trolley Pink Line is your best bet for a shuttle to Ala Moana Center. It stops at several hotels in Waikiki and drops you at Ala Moana Center. Plus this Ala Moana trolley is only $5, so it's a pretty good deal.
Is there a Pearl Harbor shuttle from Waikiki?
The Waikiki Trolley Purple Line used to go to Pearl Harbor and it was a great option. As of October 2021, the Waikiki Trolley is still just offering its Pink, Red, and Blue lines. But there are many easy ways to get from Waikiki to Pearl Harbor.
What are some things to do in Waikiki beach?
Since all of the Waikiki Trolley lines stop in Waikiki, it's a great opportunity to explore! Check out some of the many boutiques, food trucks, restaurants, and entertainment options in Waikiki. I've got a full list of things to do in Waikiki Hawaii HERE. And be sure to spend some time relaxing at Hawaii's most famous beach: Waikiki Beach!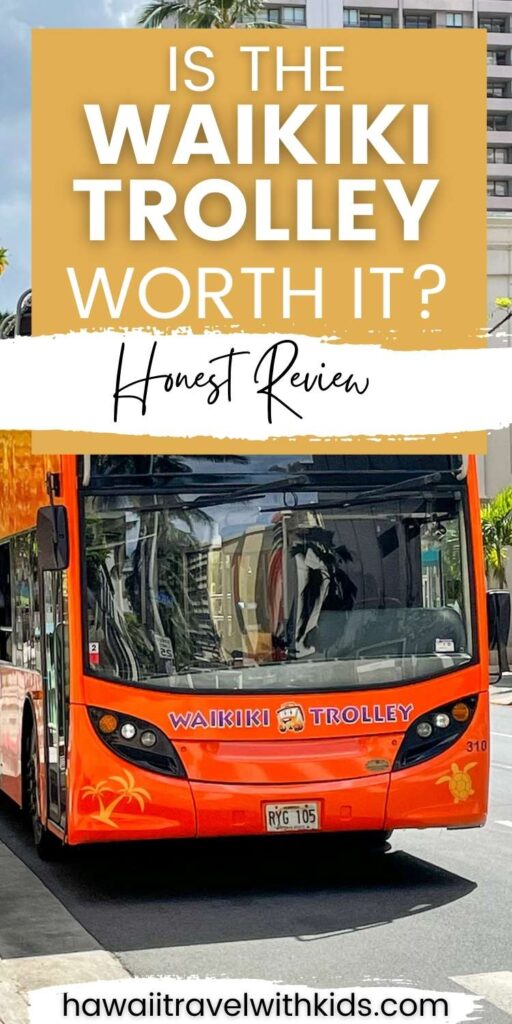 Do You Need to Rent a Car in Waikiki?
One of the top questions I get from families staying in Waikiki is whether or not they will need a rental car. It really depends on what you'd like to do.
If you are planning on spending several days in the Waikiki area, you really don't need a car. Parking in Waikiki is tricky (and expensive) and there are other ways to get around.
And if you are doing any big tours, attending a luau, or heading to the Polynesian Cultural Center, you can always use their transportation.
But, if you want to explore Oahu on your own, you can always rent a car for just a few days instead of your entire trip.
Hop on Hop Off Honolulu Tour Bus
This is the most famous Waikiki Hop on Hop Off Bus that has been around for years and years.
As of October 2021, the Waikiki Trolley is only running three of its trolley lines. I'll explain each of the lines and the Waikiki Trolley stops below.
Waikiki Trolley Pink Line
If you're looking for an easy way to get around Waikiki and/or head to Ala Moana Center, you'll definitely want to grab tickets for the Pink Line.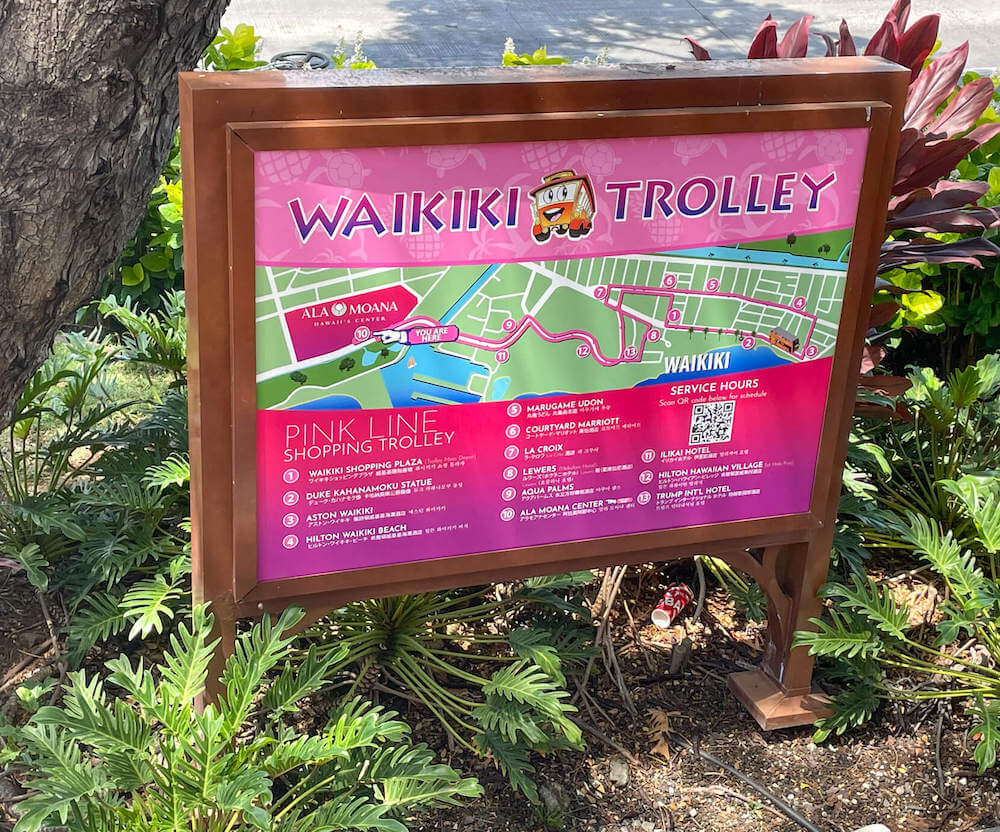 They are only $5 and it stops at several points along Waikiki so you can take advantage of all the shops and restaurants (and give your feet a break)!
When we were there, it was a double decker bus. We sat up top and it had a sunshade for the roof but everything else was open for fresh air.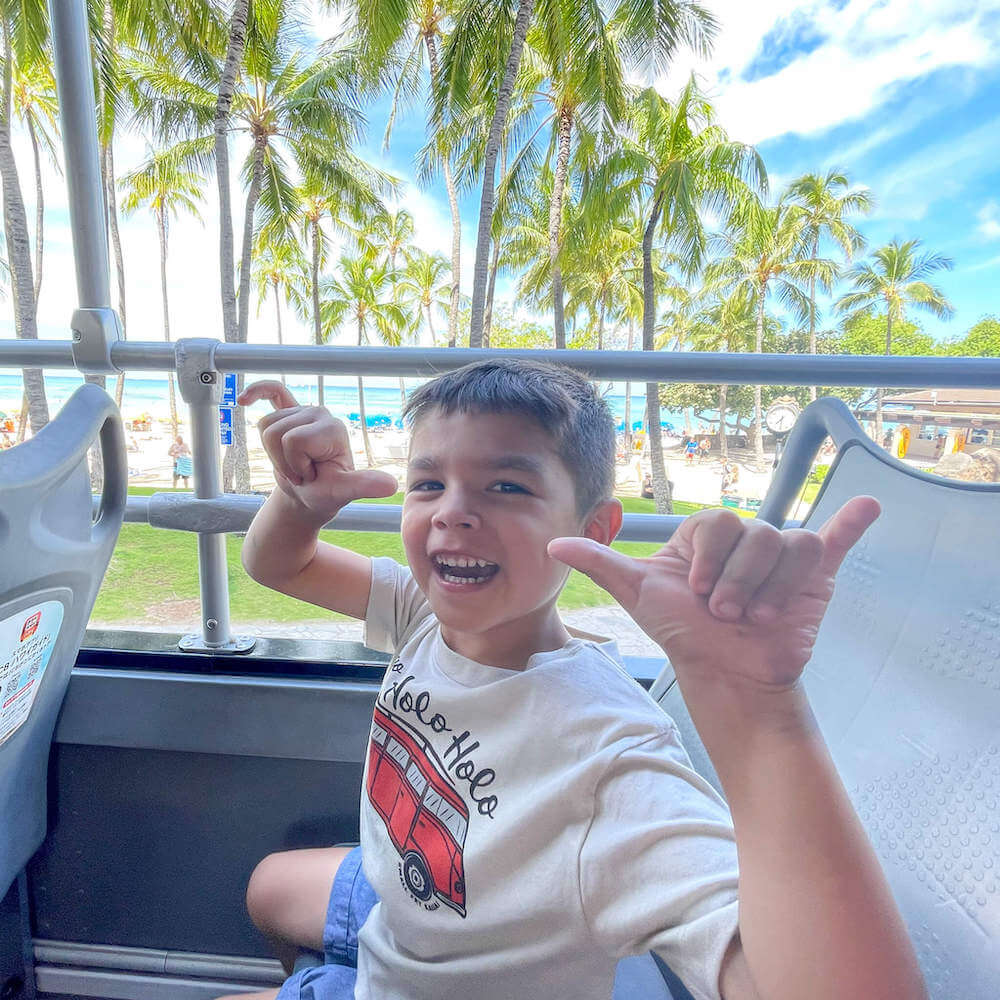 If you plan on just riding it around Waikiki as a scenic tour, you'll definitely want to sit up top. And it's even better if you can sit in the front row because you'll get an unobstructed view of Waikiki.
It's definitely a great Waikiki shuttle option!
Waikiki Trolley Blue Line
This was my favorite trolley ride! It takes you from the hustle and bustle of Waikiki to Diamond Head, the coastline, and all the way to Sea Life Park.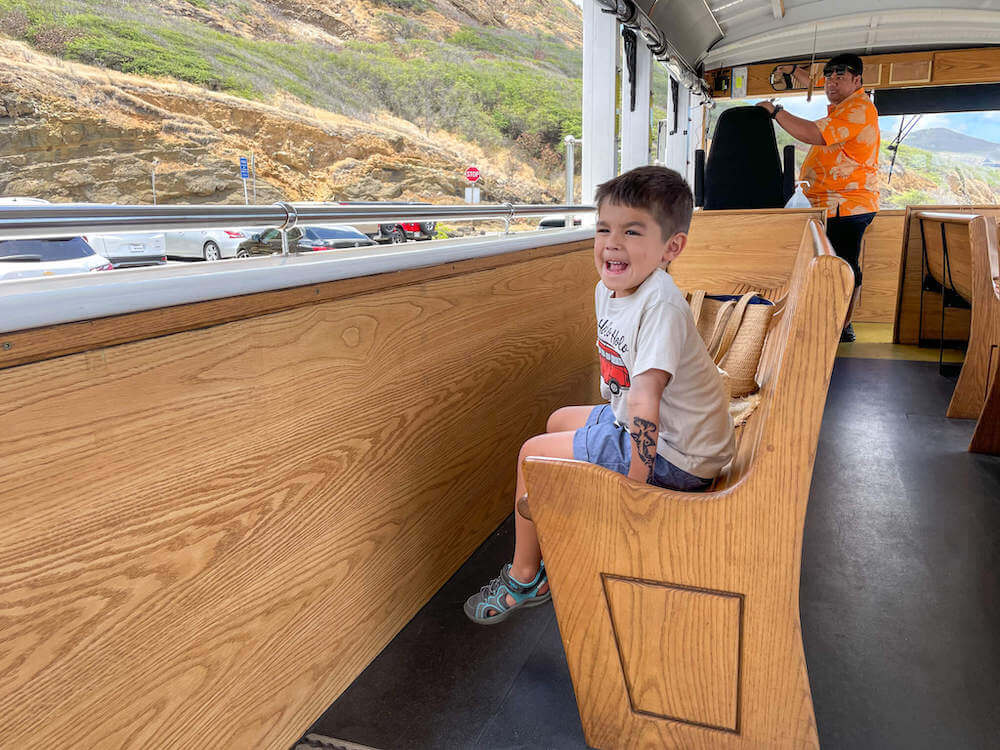 Our trolley was completely open air and it was amazing to feel the wind on a hot summer day. The views were epic!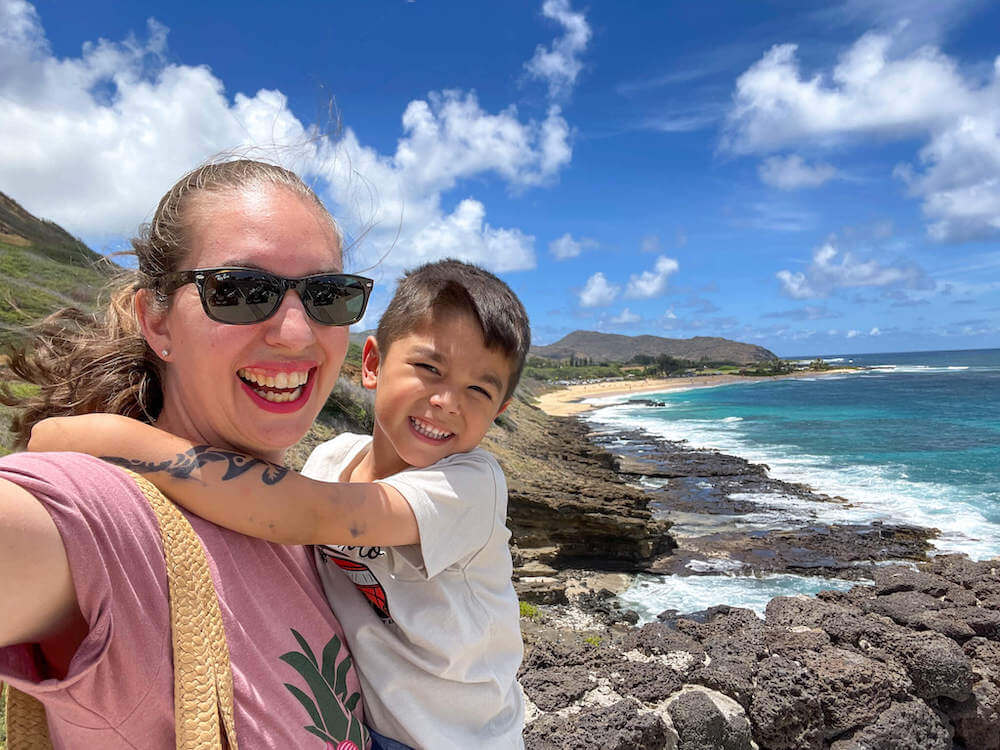 Plus, there's time to get off at Halona Blowhole to take photos and walk around before hopping back on.
And there's enough time at Sea Life Park to get out and use the restroom if you aren't planning on actually getting off to visit Sea Life Park.
This whole ride takes 120 minutes if you just stay on the whole time. This is a fun way to get to Sea Life Park, but it also makes a nice half-day excursion out of Waikiki. Read our guide to Sea Life Park HERE.
Waikiki Trolley Red Line
While we didn't have a chance to ride the Waikiki Trolley Red Line, I do think it's a great way to see some of the historic/cultural sites in Honolulu.
It starts off in Waikiki where you can see the famous Duke Kahanamoku statue. Then you'll head to Iolani Palace, which is the only royal palace in the United States. There's a scenic drive through Punchbowl Crater and a stop in Honolulu's Chinatown.
You can also get off at Ala Moana Center to do some shopping or grab lunch/dinner.
Our Waikiki Trolley Review
I want to first put out a disclaimer that we rode the Waikiki Trolley 2 weeks after it started operating again after an 18-month hiatus. So, I think there were a few kinks to work out and they ran a limited schedule.
I didn't realize how limited the schedule was and we arrived at the ticketing desk 10 minutes after the Blue Line left. And it was going to be about 3 hours before the next one. Total planning fail on my part for not checking the schedule first.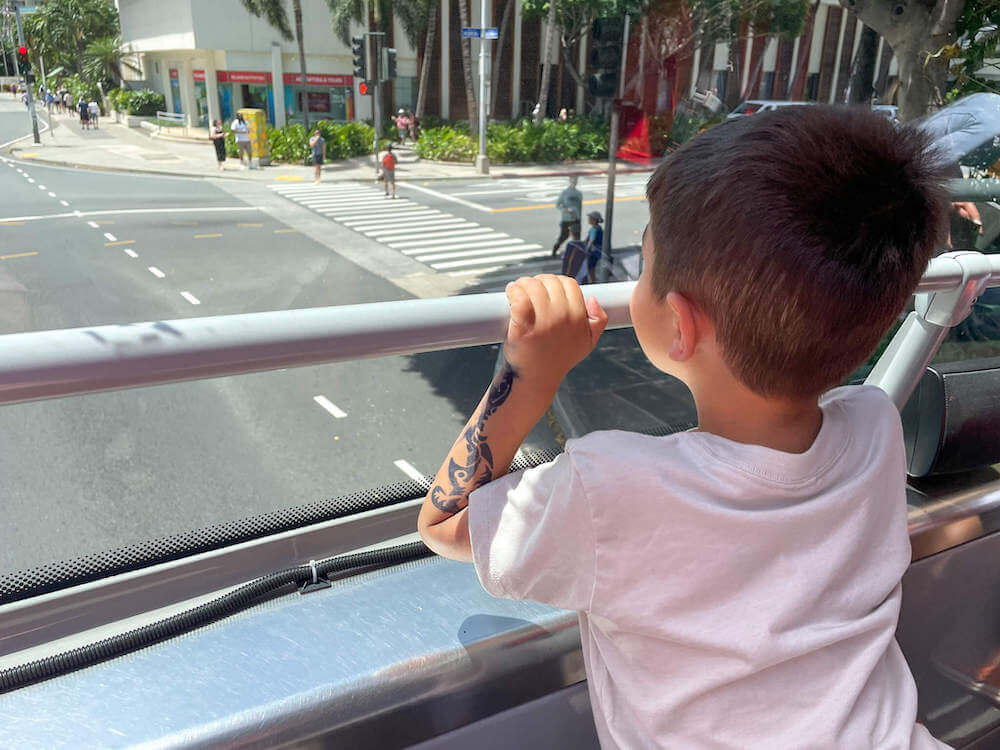 However, they were so sweet and offered us complimentary tickets on the Pink Line so my son and I could still have a mini-adventure while we waited.
What's great about these Waikiki tours is that they are hop on hop off. So, you don't have to get off at stops you're not interested in. That's what makes it better than other Honolulu city tours.
Pink Line Review
We had a total blast on the Pink Line and it's one of the easiest ways of getting around Waikiki, especially with kids. Next time we stay in Waikiki, we'll definitely get tickets for the whole family as an easy way to get around town without dealing with parking.
We didn't get off at any stops because we just wanted a scenic view.
I would highly recommend this for people visiting Oahu for the first time because it's a great way to get a layout of Waikiki and familiarize yourself. Plus, it's much faster than walking around town.
Blue Line Review
I think this is the ultimate trolley ride to get people out of Waikiki. It goes to Diamond Head and then up the coast a bit for gorgeous ocean views. You'll even be able to get off at Halona Blowhole to take photos.
We paired it with a few hours at Sea Life Park and it was the ultimate adventure. My 4yo was so tired that he ended up sleeping on my lap for the ride back to Waikiki. It was definitely more fun than driving!
How do you get Waikiki Trolley tickets?
You can either order tickets online or stop by the Waikiki Trolley Ticket Booth at the Waikiki Shopping Plaza.
So, is the Waikiki Trolley Worth it for Families?
Absolutely. If you want to get around Waikiki without worrying about car seats or taking the bus, the Waikiki Trolley is an awesome option.
There's a bit of narration so you know what you're passing, but it's not constant talking (which usually annoys me).
Kids will love being able to see out of the windows really easily and being able to hop on and hop off at different stops on this Oahu trolley.
My 4yo loved it so much that he wanted to get back on it at the Halona Blowhole stop just to soak in a few more minutes of being on a trolley!