Are you thinking about planning a trip to Oahu in December? Find out some of the best things to do in Oahu in December that are worth adding to your itinerary!
This list of things to do in Oahu in December contains affiliate links which means if you purchase something from one of my affiliate links, I may earn a small commission that goes back into maintaining this blog
Visiting Oahu in December is a fabulous way to enjoy a getaway.
If you live somewhere the cold and blustery weather is putting a damper on your mood, planning a trip to Oahu in December is a great way to get away from that. 
There are many exciting and fun activities to participate in when you travel to Oahu.
From many events and attractions to the warm and inviting Oahu temperature in December, your trip is sure to be a treat.
If you are looking to spend Christmas on Oahu, or celebrate New Year's Eve in Oahu, there are several ways to do that too. 
Don't have time to read a bunch of Hawaii blog posts and reviews? Here are some of our top picks for visiting Oahu.
Popular Oahu Tours/Activities
Favorite Oahu Resorts/Hotels
Want to Rent a Car in Hawaii?
One of the best places to rent a car in Hawaii is Discount Hawaii Car Rental because they get the best rates from top national companies like Alamo, Dollar, Thrifty, Avis, Enterprise, Budget, and Payless.
Want to skip all the planning and just access my detailed Oahu Itinerary complete with daily schedules, kid-friendly activities, and travel hacks? Click the button below.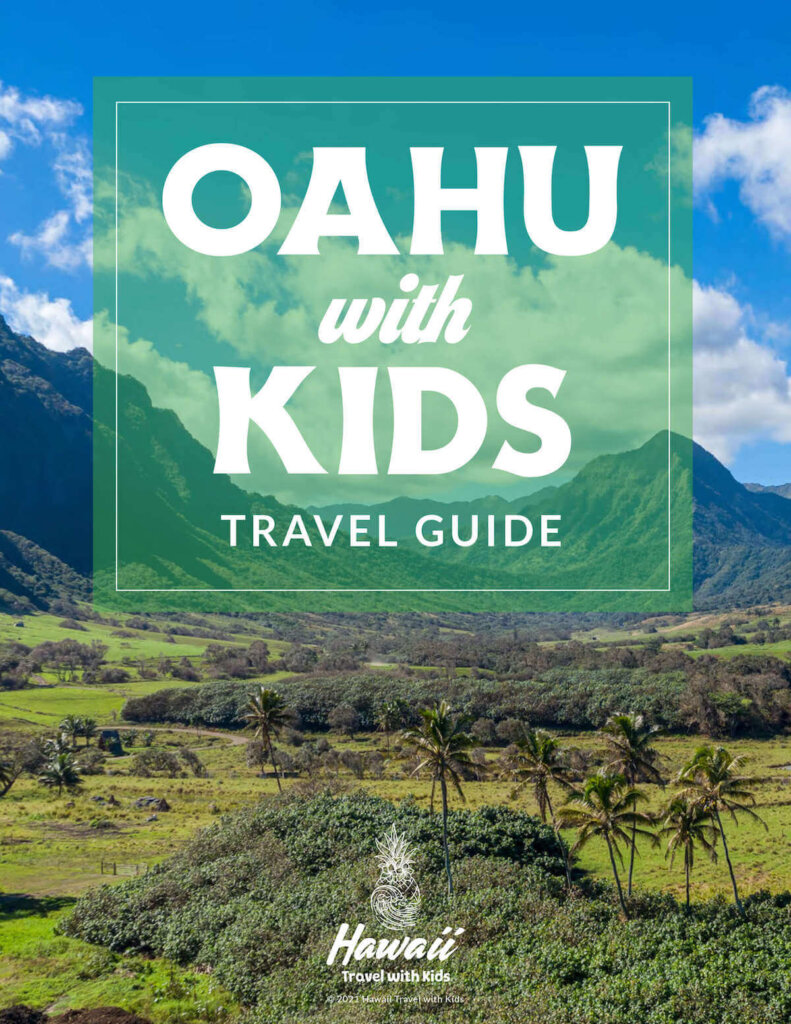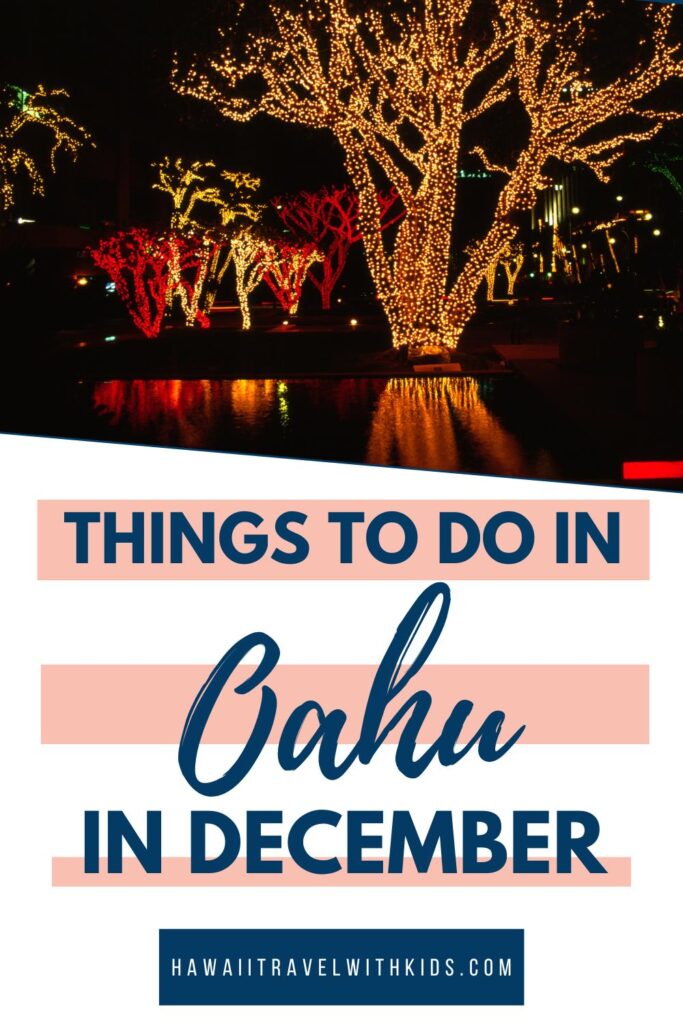 Oahu Weather in December
The December weather in Oahu still permits swimming, beach days, and lots of outdoor activities. The temperature in Honolulu in December is much the same as on the entire island.
It is important to note that it is the rainy season in Oahu. In fact, it is the wettest month of the year on the island, so pack some rain gear.
While it is the rainy season, the weather in Honolulu Hawaii in December is still much warmer than in many other parts of the country. 
Temperature in Hawaii in December
Visiting Oahu in December offers up wonderful temperatures. The average temperatures in Oahu in December remain nice and warm, making it easy to enjoy outdoor activities.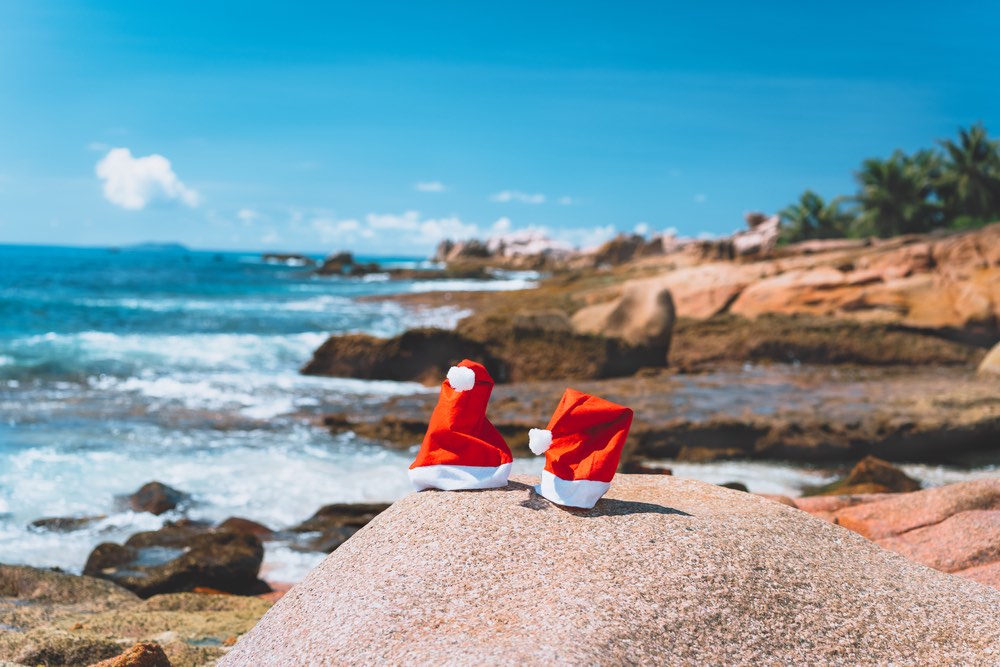 The average Oahu temperature in December is a high 81 degrees Fahrenheit. The average low temperature is around 67 degrees Fahrenheit.
The water temperatures in Oahu hit about 77 degrees Fahrenheit in December. Which means swimming is imminent. 
Waikiki Weather in December
December is a windy month on the island of Oahu. In December the trade winds pick up, making the air cooler and the waves higher.
Plan to pack a light sweater and some rain gear just in case. The weather in Waikiki Hawaii in December is still sure to impress.
Visit Winter in Hawaii to learn more.
Things to do on Oahu in December
There are so many great things to do in Hawaii in December that you are sure to find something that everyone will enjoy. Whether you choose to celebrate Christmas in Honolulu, New Years eve in Oahu, a Wakiki Christmas, or participate in other various events, there is something here for everyone.
Christmas on Oahu
Spending Christmas on Oahu is a great way to celebrate the season. Whether you choose to attend a Christmas event in Honolulu, Waikiki or any other part of this beautiful island, it is sure to create long-lasting memories. 
Annual Honolulu City Lights
Every year, starting at the beginning of December, this iconic holiday event takes place. If you are spending Christmas in Honolulu this is not to be missed.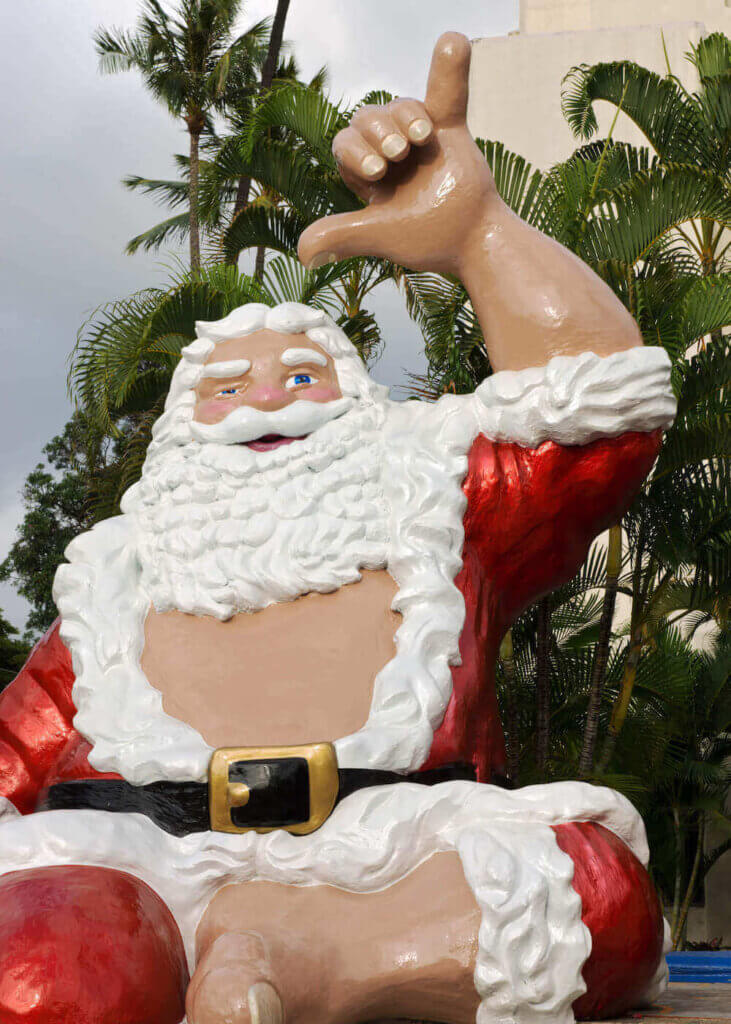 If you are on the island at the start of the month, be sure to take in the opening ceremony that includes an electric light parade and tree lighting ceremony. 
Visit the Honolulu City Lights Website for more information. 
E Noa City Lights
This is yet another fun Christmas festival that is not to be missed. Hosted by Symmetry labs, you are going to want to experience this level of excitement over the holidays.
This display is an abundant amount of beautifully lit flowers that dance to the music with their movement and changing colors. Get on a double-decker bus, decked out with holiday lights, and enjoy the festivities. 
There will be live music, a holiday market, art displays, drinks and food, and more. Purchase tickets and take a ride on some of their carnival rides as well. 
For more information visit the Ward Village Events Website. 
Holiday Lights Trolley Tour
If you are looking for a great way to spend a Waikiki Christmas, you are not going to want to miss this Holiday Light Tour.
During this wonderful tour, you will take a 30-minute ride through the Honolulu parade of lights. Not only this but you will pass by the Shaka Santa. You can purchase candy canes and more on this tour to make it even more festive. 
After your 30-minute drive, you can walk around and enjoy the festivities. 
For more Christmas events check out Waikiki Christmas Activities.
Visit How to Spend Christmas with Kids in Hawaii to learn more.
New Year's Eve Celebrations on Oahu
If you plan on ringing in the New Year on Oahu, there are several fun events that you can participate in.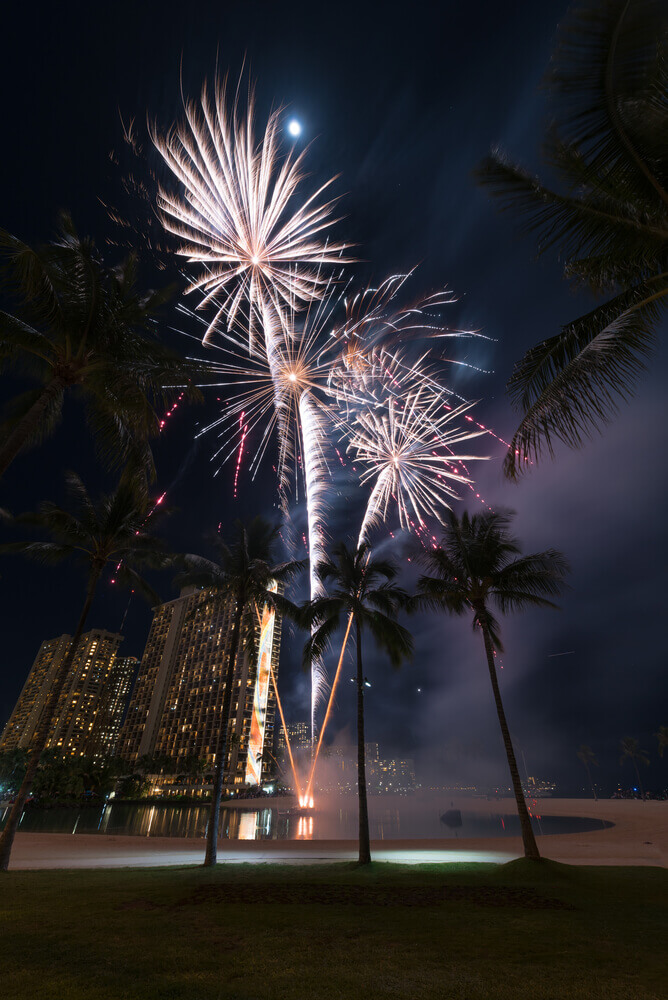 Waikiki New Year's Fireworks
Bring a picnic basket and get ready to see a stunning fireworks display. Sponsored by the Waikiki Improvement Association, this is a great evening to be had by all.
Visit the Waikiki Improvement Association Website for more information.
New Year's Eve Midnight Cruise
Celebrate New Year's Eve aboard a beautiful ship. On the Star of Honolulu New Year's Eve Cruise, you will get a gourmet dinner, party favors, champagne, and more.
Enjoy some gorgeous Hawaiian music, a pier-side hula, and an ocean view of the fireworks show. 
Mililani's New Year's Eve Pineapple Drop
For a truly unique experience visit Mililani's New Year's Eve Pineapple Drop. This is a great family-friendly event that has live performances and more.
Watch as the 12-foot pineapple drops. It is synced perfectly to the Times Square Ball Drop in New York. Yell Happy New Year, participate in events, enjoy some giveaways, and more. 
For more great ways to party check out How to Celebrate New Years Eve in Hawaii.
Pearl Harbor Anniversary Events
There are a number of events taking place on the island from the beginning of December. That's because Pearl Harbor Day is December 7th.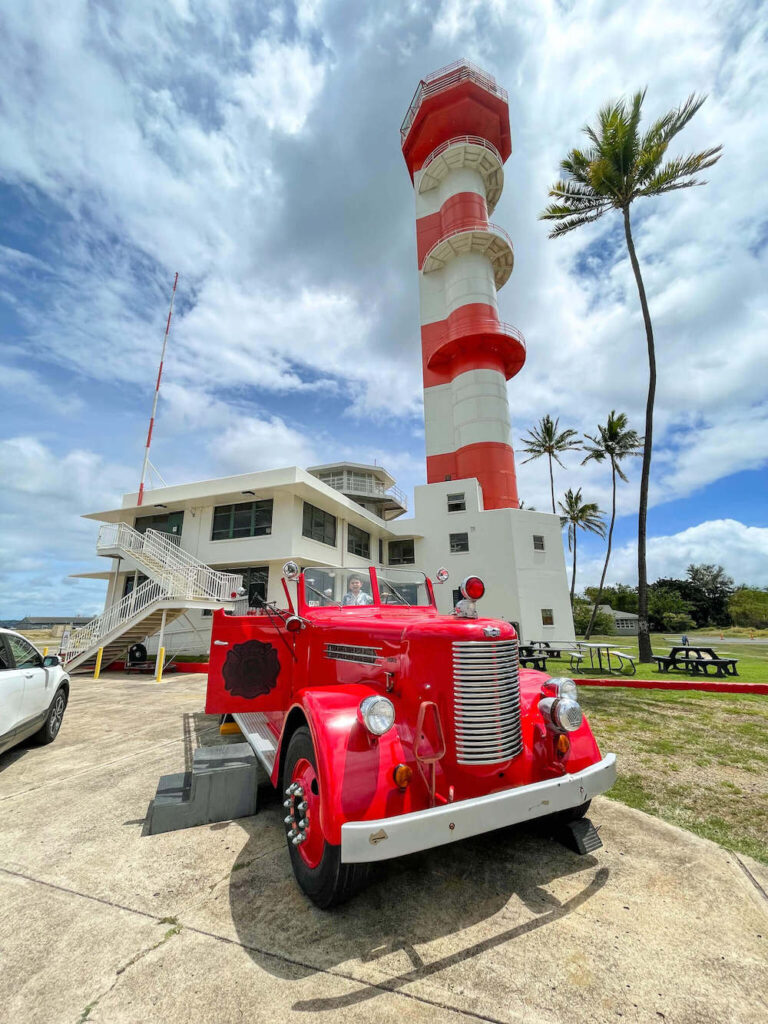 There are Blues and Jazz performances, reef laying ceremonies, outdoor movie nights on Waikiki Beach, nights at the museum, an opening gala and block party, and more. 
Check out the Pearl Harbor Events Schedule for more.
Top 10 Oahu Attractions in December
There are so many things to do on Oahu in December. From fantastic outdoor attractions to some great indoor activities, you are sure to find something that the entire family will enjoy.
Whether you are looking for things to do on Oahu with kids, or simply want to plan a trip to Oahu, rich with activities, there is something on this beautiful island for everyone.
1. Whale Watching 
Whale watching on Oahu in December is a fabulous experience. There are so many different places where you can view these gorgeous creatures in their natural habitat.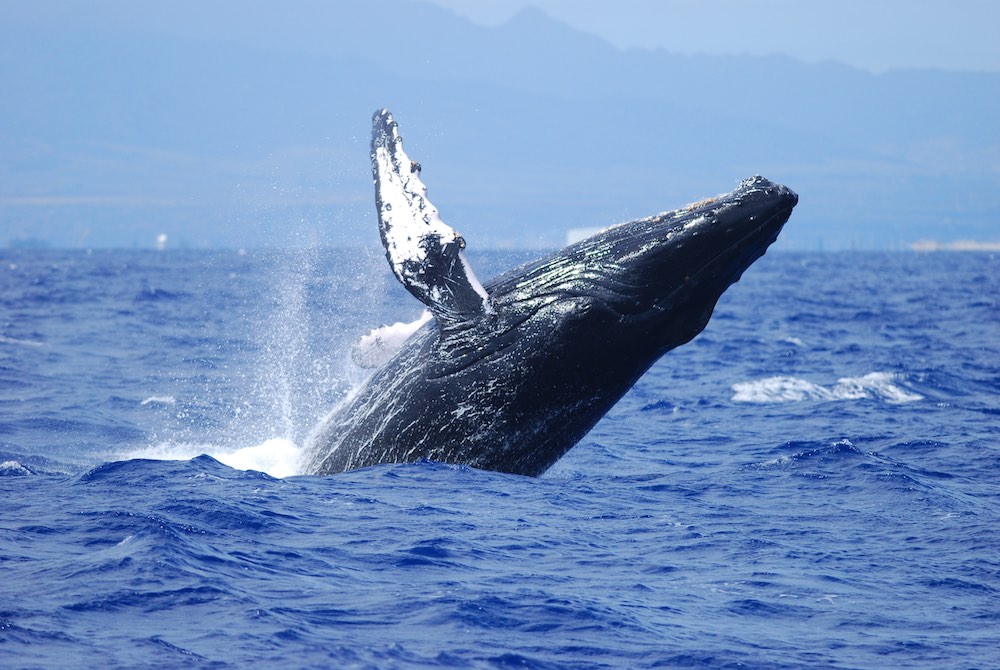 During the winter in Hawaii, Whales are starting to migrate into the area. This is because they want to begin the breeding process. Hawaii is host to around 10,000 Humpback Whales throughout the winter months, making them easy to spot. 
You can take a whale-watching tour or view the humpback whales from the shoreline. The tours are a fabulous way to learn more about the whales themselves, so consider taking one if you want to get up close and personal with these beautiful creatures.  
2. North Shore Oahu 
If you want to go surfing on Oahu, the North Shore is the place to go. The North Shore Oahu waves in December are huge. In fact, the North Shore is host to some of the best surfing competitions in the world.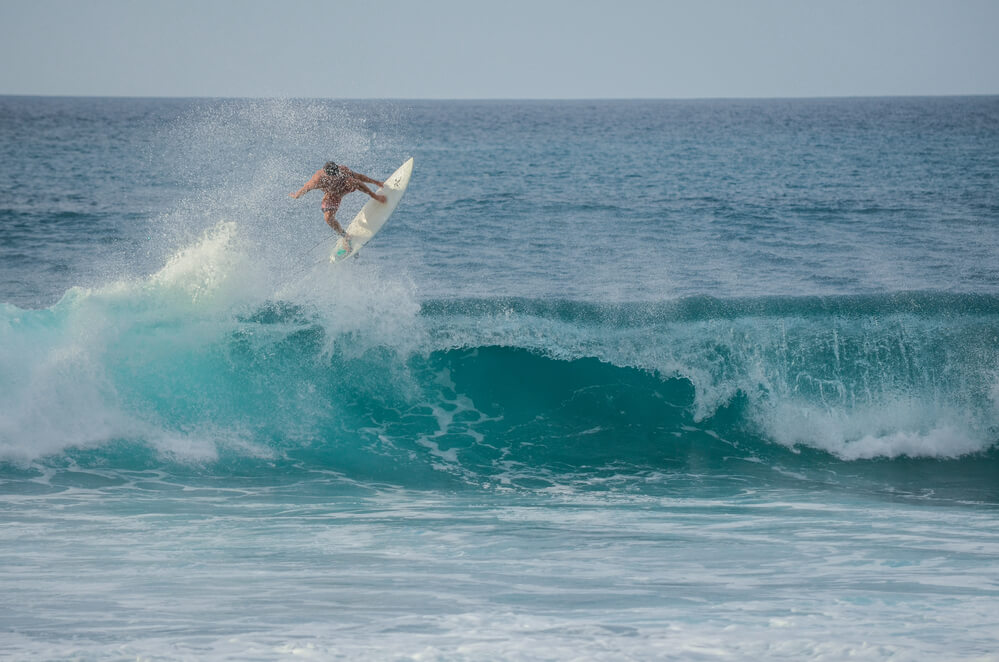 Just make sure that you leave surfing the gigantic waves to the professionals. If you want to watch some big wave surfing, there are plenty of spots on the North Shore to do it.
3. Snorkeling 
Snorkeling in Oahu in December is a fantastic activity to participate in. There are so many opportunities to experience a snorkeling adventure in Oahu.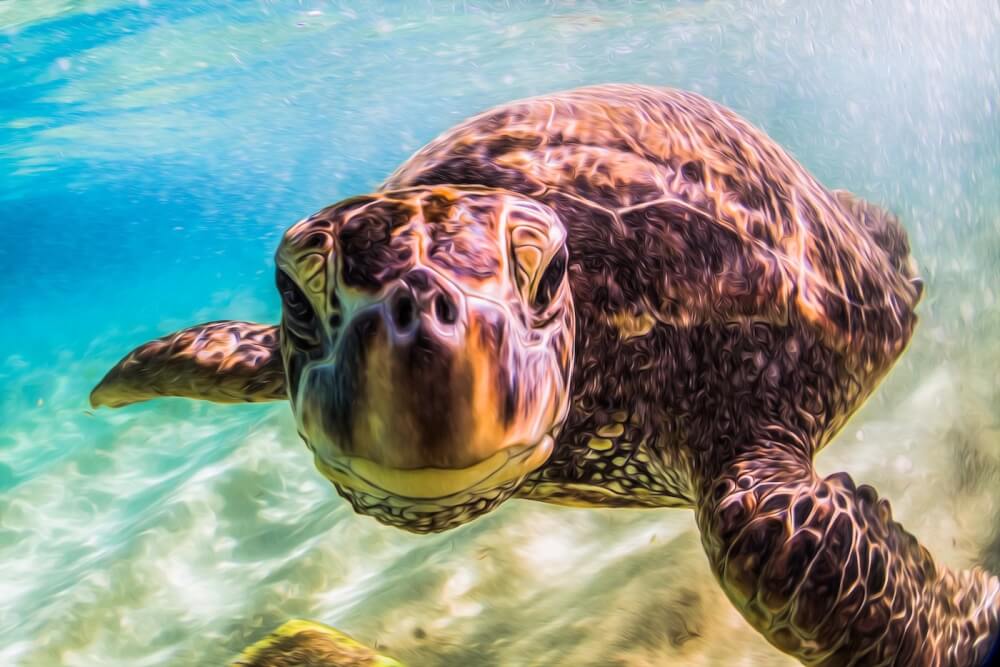 Take advantage of the gorgeous waters with an Oahu Snorkel Tour. You will see some of the world's most unique and exotic marine life. From gorgeous aquatic flora to stunning tropical fish, booking a snorkeling excursion is sure to impress.
4. Waikiki Beach 
Located in Honolulu on the beautiful island of Oahu, this beach is a must-visit. Waikiki Beach in December is especially gorgeous.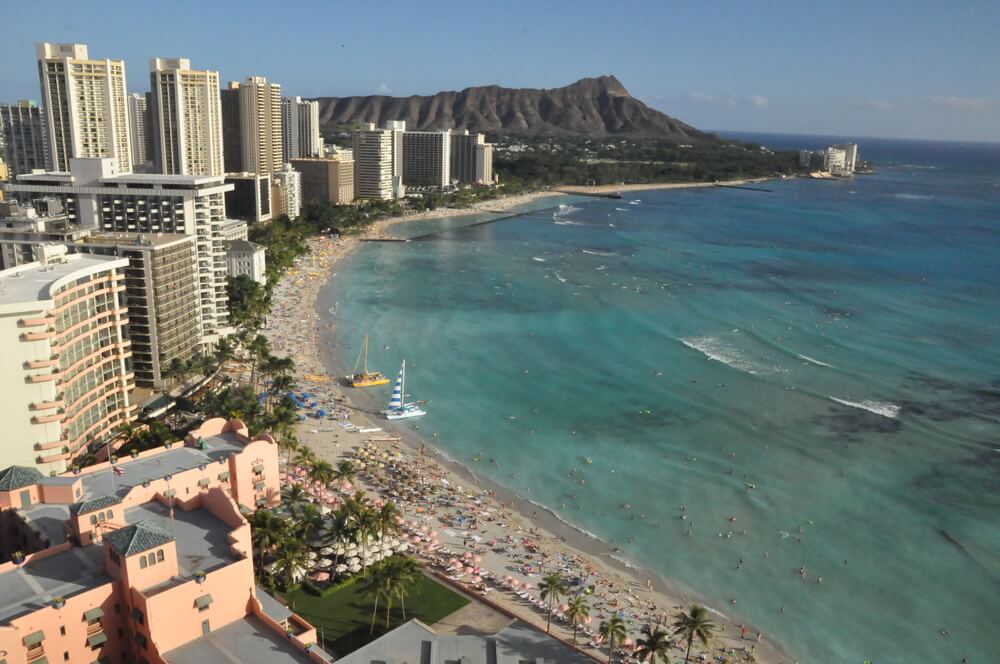 Here you can experience gorgeous views of Diamond Head, find everything you need within walking distance, and sunbathe in the gorgeous sands.  
The beautiful turquoise blue water and stunning white sands are the perfect places to relax, take a swim and enjoy the local culture. 
5. Waikiki Aquarium 
Check out the fascinating, engaging, and colorful exhibits at the Waikiki Aquarium. You can see so many different amazing sea creatures.
From Bluefin trevally to Hawaiian Monk seals, you can learn so much about the gorgeous underwater life of Hawaii.
This is possibly one of the best things to do on Oahu with kids. Especially since it provides so many great opportunities to learn and interact with the exhibits. 
6. Hawaiian Railway Society Train Rides
Take in the beautiful scenic views all while learning about the Railroad and it's history in Hawaii. The Hawaiian Ra
ilway Society is committed to preserving the railroading history in Hawaii. Through this non-profit organization, you will have the chance to ride on the track that runs along old Ewa. 
Whether you are a train lover, or simply want to learn more about Oahu's history, this experience is a fantastic one. There is a toy train museum, as well as an ice cream shop where you can purchase a delicious treat.
7. Ala Moana Center
This breathtaking open-air shopping mall is sure to impress everyone who visits. Featuring over 350 services, shops and restaurants, 11,000 parking spaces, and more, this mall is a great place to get your shop on.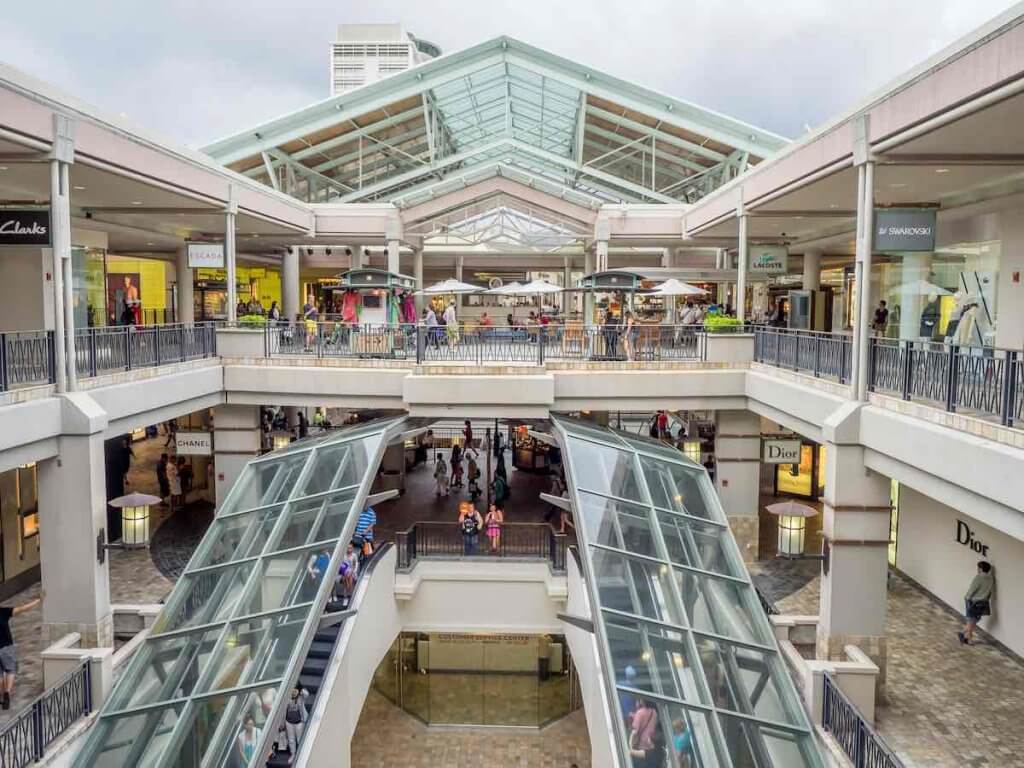 There are even opportunities to watch live entertainment. There are hula shows, orchestras, dance recitals, Hawaiian bands, and more. 
Check out the Ala Moana Center and enjoy a fantastic shopping experience. 
8. Nu'uanu Pali
If you are looking for great things to do in Oahu with kids, this is a great choice. Visit Nu'uanu Pali and take in endless panoramic views of the Northeast Coast.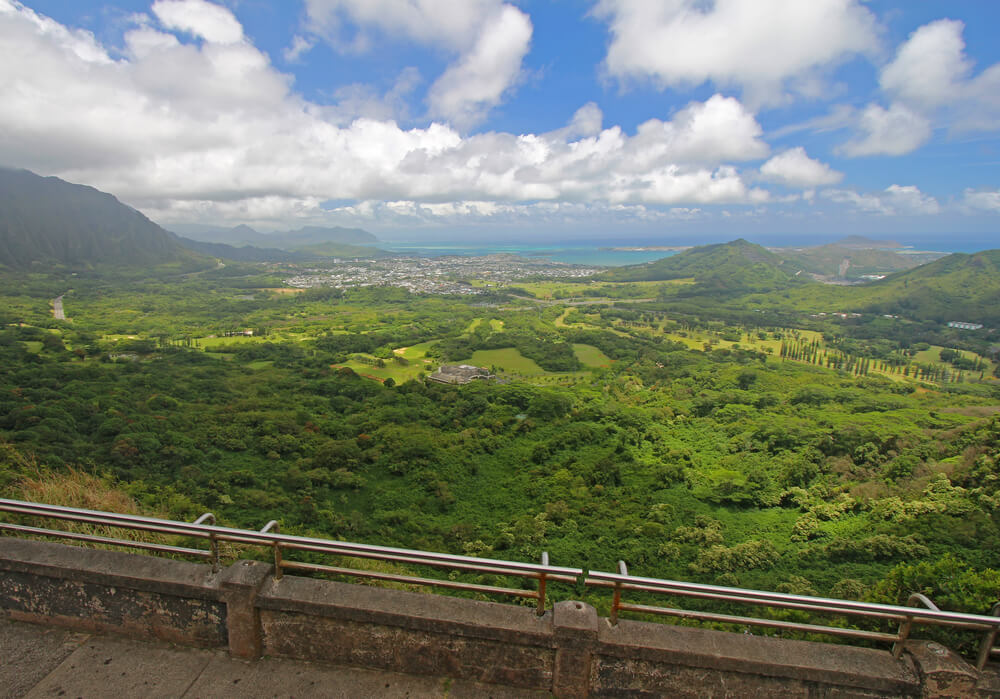 With several scenic trails, amazing natural landscapes, and more, this iconic island landmark is to impress. 
9. Hawaiian Luau
Peppered throughout the island, these family-friendly events are not difficult to find. There are several Hawaiian luau experiences to be had on Oahu in December, so make sure to find one that you will enjoy.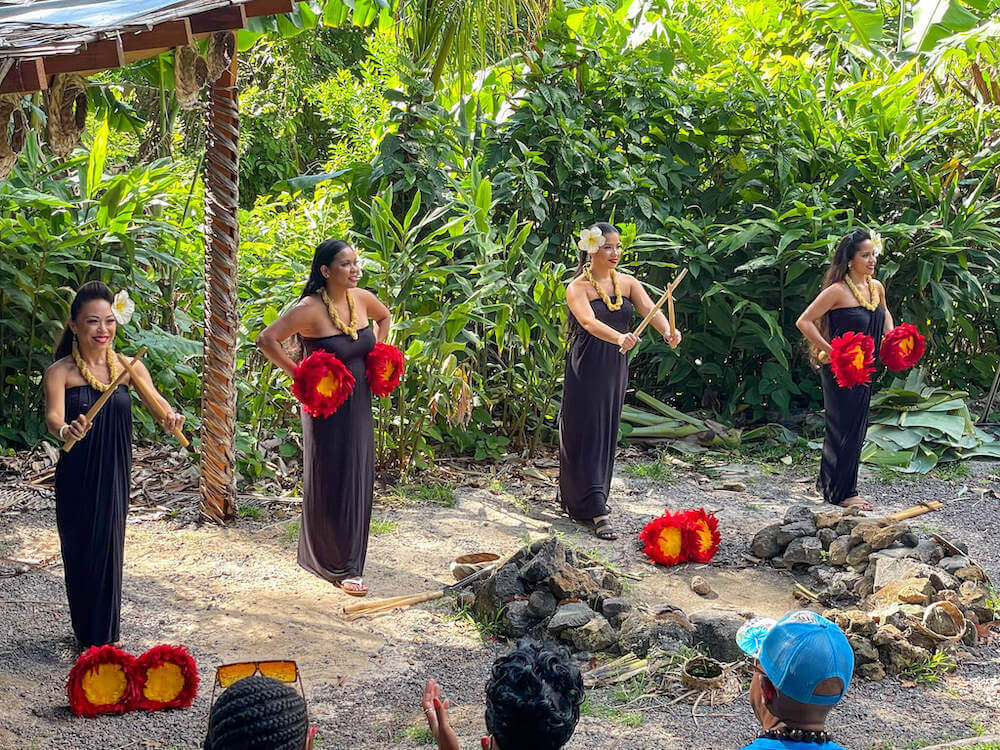 These luaus will give your littles a chance to learn all about the vibrant and rich culture of Hawaii all while experiencing exciting dances and traditional entertainment. They may even be able to participate as well. 
There are several different luaus to choose from. Check out the Toa Luau or Experience Nutridge Luau as they offer some fantastic entertainment options.
10. Hanauma Bay State Park 
This is a great place to view the rich marine life of Hawaii in its natural habitat. This protected marine life conservation and underwater park is a must-visit on Oahu.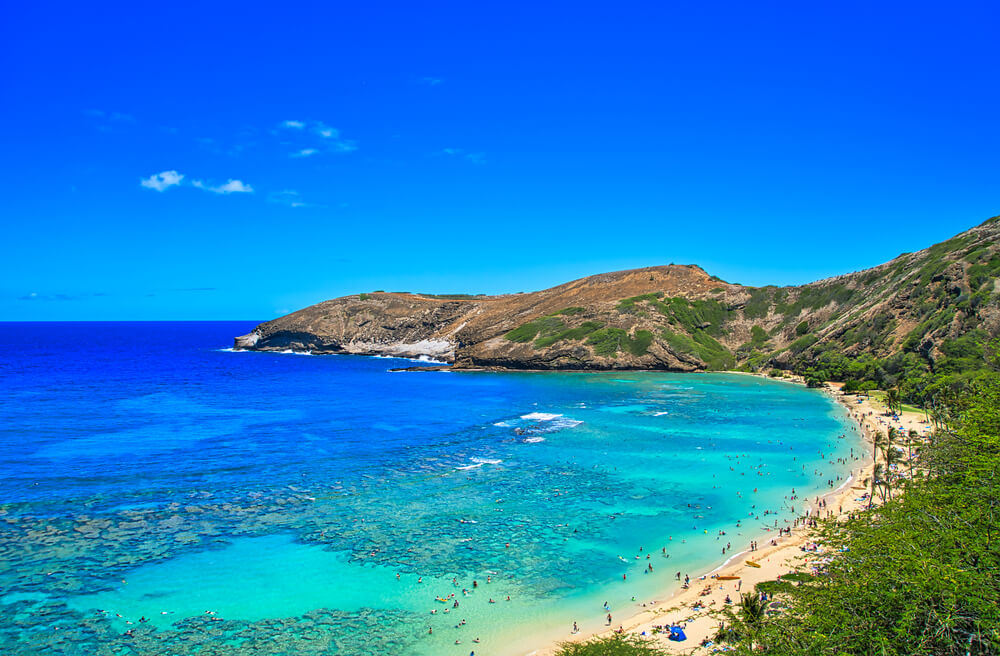 Inside the cone of an ancient Volcano, Hanauma Bay is a gorgeous place to view various species of marine life, along with a diverse ecosystem.
You can go snorkeling here, enjoy a Spinner Dolphin Excursion, and more. 
Oahu Hawaii in December Wrap Up
There are so many exciting things to do in Oahu in December. Whether you choose to celebrate Christmas on the island, enjoy New Years Eve or simply take part in one of the amazing attractions, you are sure to remember this vacation. 
Visiting Oahu in December is a great choice when it comes to experiencing great weather and more. Don't delay, get your exciting vacation booked today. 
Looking for more Oahu travel content? Find out the most beautiful places on Oahu, surprising facts about Oahu, how to get around Oahu, and how many days on Oahu you really need!