Are you looking for things to do in Hawaii for New Years? Keep scrolling for my top picks for how to celebrate New Year's Eve in Hawaii this year.
This guide to how to celebrate New Year's Eve in Hawaii in 2023 was written by Hawaii travel expert Marcie Cheung and contains affiliate links which means if you purchase something from one of my affiliate links, I may earn a small commission that goes back into maintaining this blog.
Are you heading to Hawaii for New Years?
The pandemic drastically changed things last year for any big New Year's Eve celebrations, especially in Hawaii.
Now that things are slowly opening up more, read on to find out which events are happening this year, so if you are going to Hawaii for New Year, you can know how to celebrate New Year's Eve in Hawaii this year!
There is still a lot of fun stuff planned throughout the islands as well as some great deals at hotels and resorts. So don't miss out on all of these amazing activities!
There is no better way to ring in the new year than with a celebration of epic proportions. And there's no place that does it bigger or better than Hawaii!
So get ready because we have everything you need right here, including tips on where to stay and things not to miss when visiting Hawaii during December 31st. It's time for some fun in the sun and we can help make sure it happens!
Keep scrolling to find out the best things to do in Hawaii for New Year's Eve.
Want to skip all the planning and just access my detailed Hawaii Itineraries complete with daily schedules, kid-friendly activities, and travel hacks? Click the button below.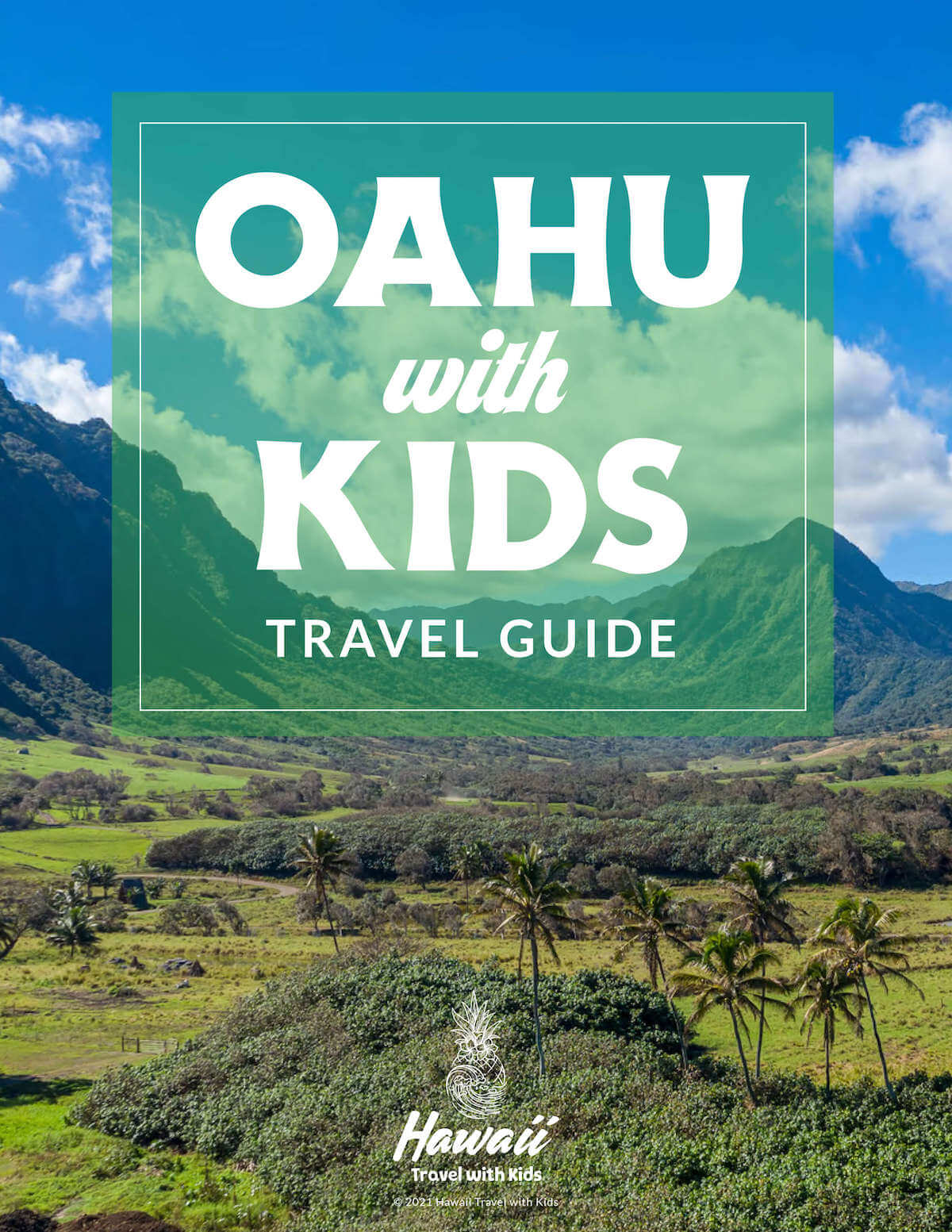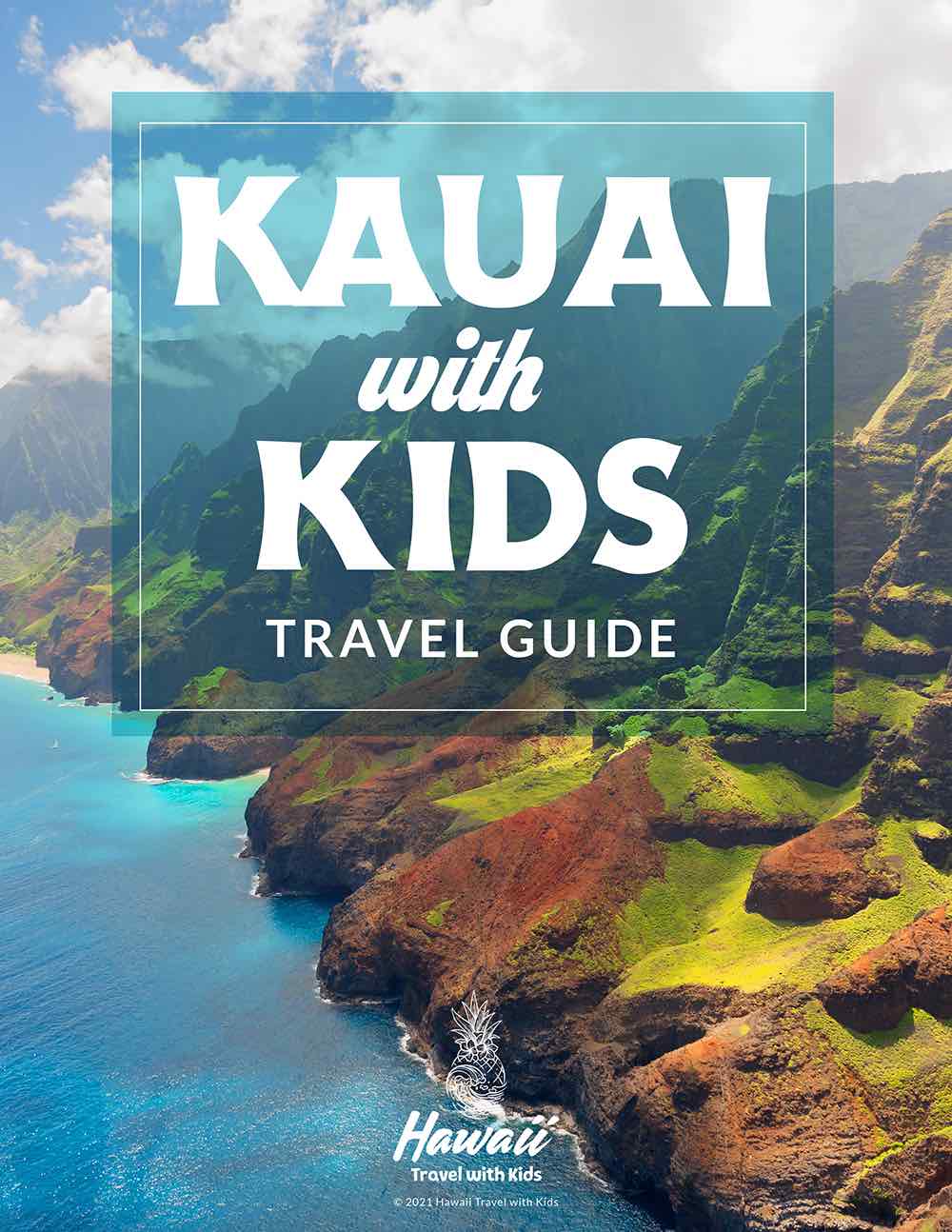 Hawaii in December FAQs
What is the weather in Hawaii during December?
The Hawaii weather in December is a bit cooler and rainier than in the summer months. It's helpful to bring a pair of long pants and a light sweater or rain jacket for the evenings. But, you'll still be able to enjoy the beach and your hotel pool.
What are the best things to do in Hawaii in December?
The absolute best thing to do in Hawaii in winter is going whale watching. Maui is the best island for whale watching, however, there are boat tours on all the islands that will get you close to humpback whales. Another fun thing to do in Hawaii for Christmas is checking out the Christmas lights and going shopping.
What should I add to my Hawaii packing list for December?
It's helpful to bring a pair of pants, a rain jacket, closed-toe shoes, and a large-brimmed hat. This will help you during rainy/muddy weather. It's also helpful if you do any adventures like horseback riding or an ATV tour.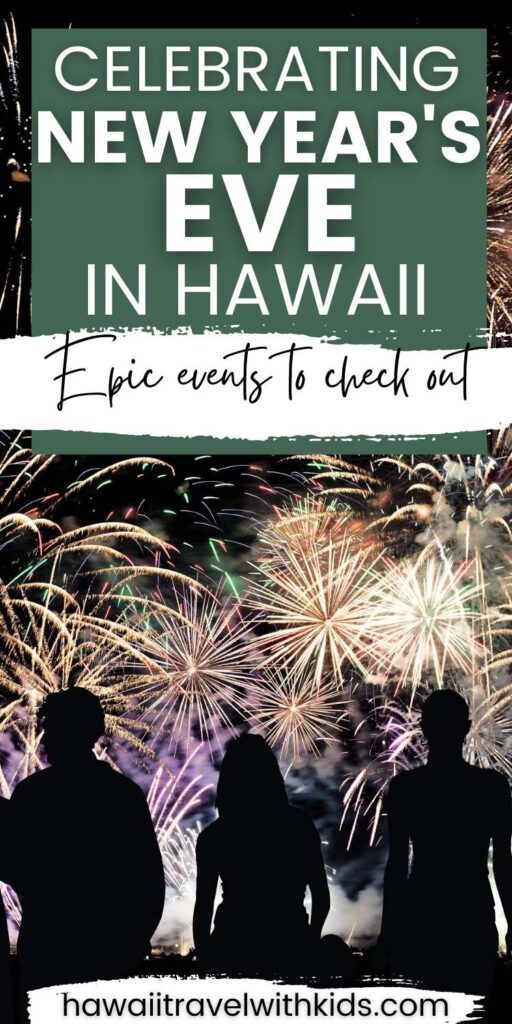 Will There Be Any New Year's Eve Events in Hawaii for 2021?
Many bars and clubs are still unfortunately closed due to the pandemic. Hawaii is taking a very slow, careful approach to opening up. However, some bars, restaurants, clubs, and other places are open and are preparing for New Year's celebrations.
While they may not be as big or glamorous as they have been in the past, here are some great things to do for a happy New Year in Hawaii! This guide will go through each of the main islands in Hawaii with a list of the fun Hawaiian New Year traditions and fun events.
You'll have a blast celebrating New Years Hawaii-style!
New Year's Eve on Oahu
Here are a few events happening all over Oahu that you enjoy and celebrate a Hawaii New Year's in 2021!
Waikiki Beach Fireworks
On New Year's Eve in Waikiki, you will find a beautiful firework display. The fireworks begin right at midnight and are set up on boat out on the ocean. The Waikiki firework show is between 8-10 minutes.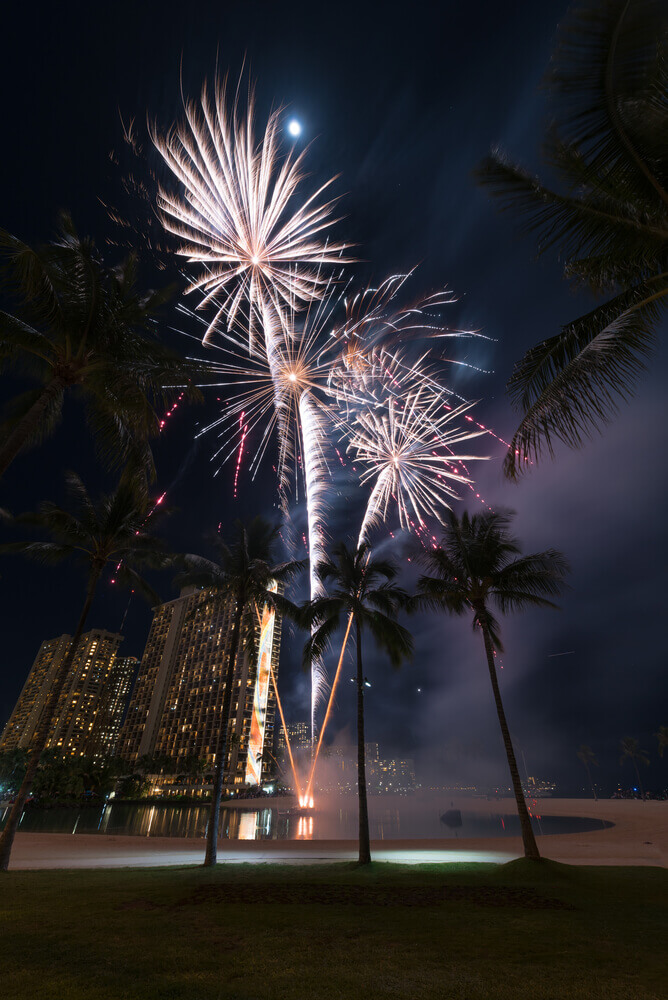 This firework show will have palm trees, colorful leaves, willows, and many cooler Hawaiian-style designs. This is a firework display you may not have seen before!
You will be able to see the fireworks all along Waikiki Beach. Around 100,000 people usually come to watch these fireworks. It is one of Oahu's biggest New Year's Eve shows, but with COVID, it may be on a smaller scale.
Even if you can't go to the beach in person, you will still be able to see the fireworks from afar to enjoy.
Waikiki Starlight Luau
Also on Waikiki during New Year is the Starlight Luau at the Hilton Hawaiian Village. It is the only outdoor luau in Waikiki. Enjoy the sunset and beautiful skies while watching the hula and fire knife dancers. This starts at 5 pm.
Enjoy the dancers and a delicious Hawaiian dinner for this Hawaii New Years tradition.
New Year's Eve Around the World
If you are spending New Year's Eve in Honolulu in 2021, be sure to check out Tiki's Grill and Bar. They usually have a little celebration called New Year's Eve Around the World.
This celebration includes a 5-course meal with some of the most delicious food you'll ever taste on the island. The meal also has special wine-paired as well to add to your celebration.
While you eat dinner, you can enjoy some beautiful live music as well as New Year's countdowns from all over the world. You must reserve your tickets and table well in advance, so I would start right away! This is a calm New Year's Eve event in Hawaii that you don't want to miss.
TBD Hawaii New Year's Countdown
Another fun Honolulu New Year's Eve celebration to enjoy is at TBD Hawaii. There are two main settings to enjoy countdowns from either Los Angeles or New York City. This celebration comes with a champagne toast to drink at midnight in your desired location.
For the New York celebration, seating begins at 5:00 pm. For the L.A. celebration, seating will be at 7:30 pm. Enjoy delicious food and wine at either seating arrangement. TBD Hawaii is right by Diamond Head.
The Star of Honolulu Dinner Cruise
Try the Star of Honolulu Dinner Cruise for their New Year's Eve Celebration Cruise if you want to enjoy your fireworks out on the ocean. During your cruise, you will enjoy wonderful hula dancing, live jazz, and a beautiful 60 Years of Aloha show.
You will also get a champagne toast and see the fireworks on the ocean. Dinner features a delicious 3-course meal along with premium beverages. Kids and adults are welcome on this cruise. Private seating and additional enhancements are also available.
Rock a Hula
We are so excited this event is once again happening for 2021! There are three different dinner and champagne packages to choose from for this event. There will be a countdown with visual fireworks on a video screen during Rock a Hula as well.
This is a show that includes live music, dancing, and a show. It is a lot of fun that both adults and children can enjoy. Rock a Hula starts at 9:00 pm and goes on until midnight. Enjoy a delicious dinner and show this New Year's Eve in Honolulu 2021 at Rock a Hula.
Maui New Year's Eve 2021
Are you spending New Year's Eve on Maui? Here are all the fun celebrations to enjoy on New Year's Eve in Maui this year!
Cocktail Cruise
In Lahaina, located in Maui, you can take a beautiful cruise to take in the New Year. This cruise leaves the Lahaina Harbor at 10:00 pm so you can enjoy a two-hour cruise experience unlike any other.
During this cruise, you can eat, drink, and enjoy the relaxing ocean. You will also be able to see a beautiful firework display as well. There will also be music and dancing to enjoy your night!
Pacific Whale Foundation
Many other cruises celebrate New Year's Eve in Maui. The Pacific Whale Foundation helps organize these cruises. Cruises usually sell out very early, so be sure to book in advance to enjoy a unique way to start your New Year on a great foot.
New Year's Eve in Big Island
Check out some of the main New Year's Eve events that you can enjoy during your vacation on the Big Island!
Hilo Bay Fireworks
On Hilo Bay, you will be able to enjoy seeing some fireworks. This show will start around midnight and will be around 15 minutes long. Luckily, you can see the fireworks from far away, so you can still enjoy it if you aren't able to go to the bay physically.
Grand Naniloa Resort
The Grand Naniloa Resort has a big party for New Year. This year will be their third year hosting this fun celebration. They were still able to carry through with their celebration last year, so there is high hope it will happen again this year!
There is a coconut ball drop right at midnight. You can then enjoy the Hilo Bay fireworks mentioned above. Enjoy a free movie night on the lawn before the fireworks show. Or grab a ticket to have fun with their Big Island NYE concert.
There will also be live streams of the other firework celebrations to enjoy while at this party. There will be a live concert and some good food!
At 10:30 pm, you can also enjoy a unique paddleboard experience. Some spectators will be able to ride on a paddleboard under the moonlight and then enjoy the fireworks out on the ocean! A complimentary champagne toast is also given.
This is one of the biggest Hawaii New Year events on the Big Island, so be sure to get your tickets ahead of time.
Mauna Lani Resort
The Mauna Lani Resort has plenty of fun New Year's Eve celebrations to enjoy. These celebrations start on December 26th and go until January 1st. Some activities include morning yoga, paddle boarding, luau's, and hula dancing, and so much more.
On December 31st, enjoy a special 7-course meal at Canoe House. Then at 8 pm, enjoy fireworks and live music along the beach.
New Year's Eve in Kauai
Here are our top choices of fun places to spend your New Year's Eve in Kauai. This smaller beautiful island still has many fun options!
Poipu Beach Fireworks
Every year there is a free New Year's Eve celebration at Poipu Beach in Koloa, Hawaii. This event is also family-friendly making it a great place to visit if you have little ones during your vacation.
First off, bring your lawn chairs and blankets to enjoy a movie. Then, at 8:15 pm, the firework show will begin. Food trucks will also be around to enjoy some delicious food during the show and fireworks. You can also enjoy some nice live music.
Lihue Fireworks
At the Vidinha stadium, you can typically see some pretty awesome fireworks. What is nice about this event is that you enjoy the fireworks right from your car. It is usually $10 per vehicle, and all the proceeds go to the Hawaii Food Bank.
Bring your own food and drinks and enjoy beautiful fireworks from the comfort of your car. This event is perfect during COVID as well!
Hawaii New Year's Events Wrap Up
This Hawaii's New Year will be different, but hopefully, you will still be able to enjoy ringing in the New Year on this beautiful island. If all else fails, who wouldn't love to relax under the sun at the beach to start off their year? I know I sure would!
Please note that things are likely to change, and some events may even be canceled from now until New Year's Eve. We are still in a pandemic, and things could take an unforeseen turn. We will do our best to update to keep this current!