Are you looking for where to stay in Kona with kids? Keep scrolling for my honest Fairmont Orchid in Kona review so you can decide if it's one of the best hotels on the Big Island for families.
This Fairmont Orchid in Kona review was written by Hawaii travel expert Marcie Cheung and contains affiliate links which means if you purchase something from one of my affiliate links, I may earn a small commission that goes back into maintaining this blog.
I travel to Hawaii a LOT (more than 40 times so far) and I always try to stay somewhere new so I can review it for this site.
I've stayed at Fairmont hotels on the mainland and the Fairmont Orchid on the Big Island has been high on my list for years.
This year, I was finally able to book a few nights here with my son and my mom so we could see if it was really worth all the hype.
Keep scrolling to check out my honest review of the Fairmont Orchid resort on the Big Island of Hawaii.
Don't have time to read a bunch of Hawaii blog posts and reviews? Here are some of our top picks for visiting the Big Island with kids.
Best Kid-Friendly Big Island Tours/Activities
Best Kid-Friendly Big Island Resorts
Save Money with Points
My favorite credit card for travel is Chase Sapphire because it offers the best value on flights and hotels. Check out the latest sign-up bonus deal.
Want to Rent a Car in Hawaii?
One of the best places to rent a car in Hawaii is Discount Hawaii Car Rental because they get the best rates from top national companies like Alamo, Dollar, Thrifty, Avis, Enterprise, Budget, and Payless.
Want to skip all the planning and just access my detailed Big Island Itinerary complete with daily schedules, kid-friendly activities, and travel hacks? Click the button below.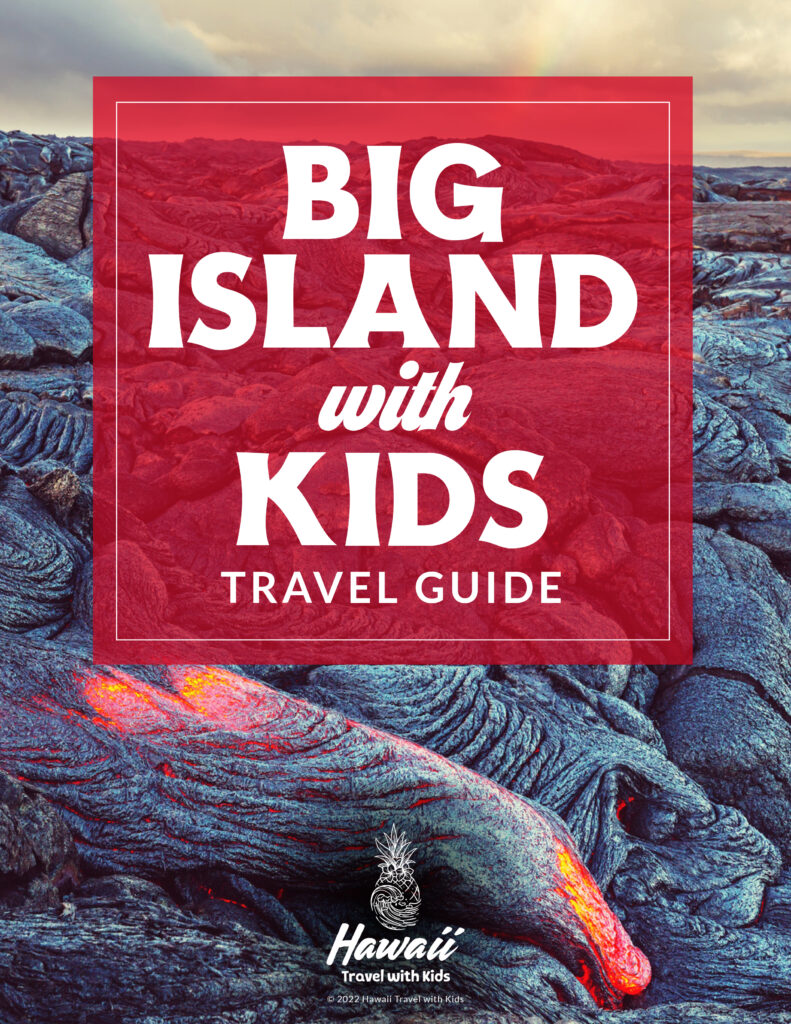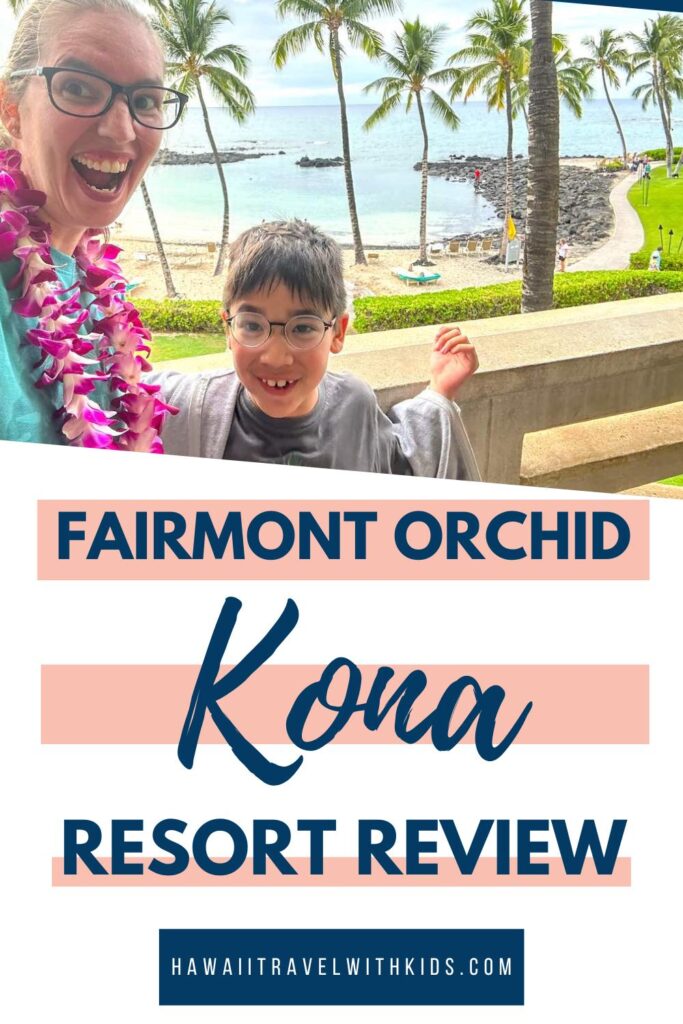 Where is the Fairmont Orchid on the Big Island?
The Fairmont Orchid is located on the Northwest side of the Big Island, in Waimea. It's about 30 minutes from the Kona Airport (without traffic). The address is 1 N Kaniku Dr, Waimea, HI 96743.
You'll need to either book your own taxi or shuttle from the airport or rent a car.
Because of its location and amenities, we think the Fairmont Orchid is one of the best places to stay on the Big Island for families looking for relaxation and a true resort vacation.
Does the Fairmont Orchid have an airport shuttle?
No, right now you'll need to book your own transportation to and from the resort.
Honest Fairmont Orchid in Kona Review
I've had the Fairmont Orchid on my radar for the past few years. There are lots of cool places to stay on the Big Island and this one seemed the most luxurious.
I can be a hotel snob and I've never met a Fairmont hotel that I didn't like.
Save Money with Points
Here are the best credit card offers for families who travel and want to use points to pay for airfare and hotels in Hawaii.
Arrival
When we pulled into the hotel, the bell services people greeted us with complimentary leis. I got an orchid lei and my son got a kukui nut lei.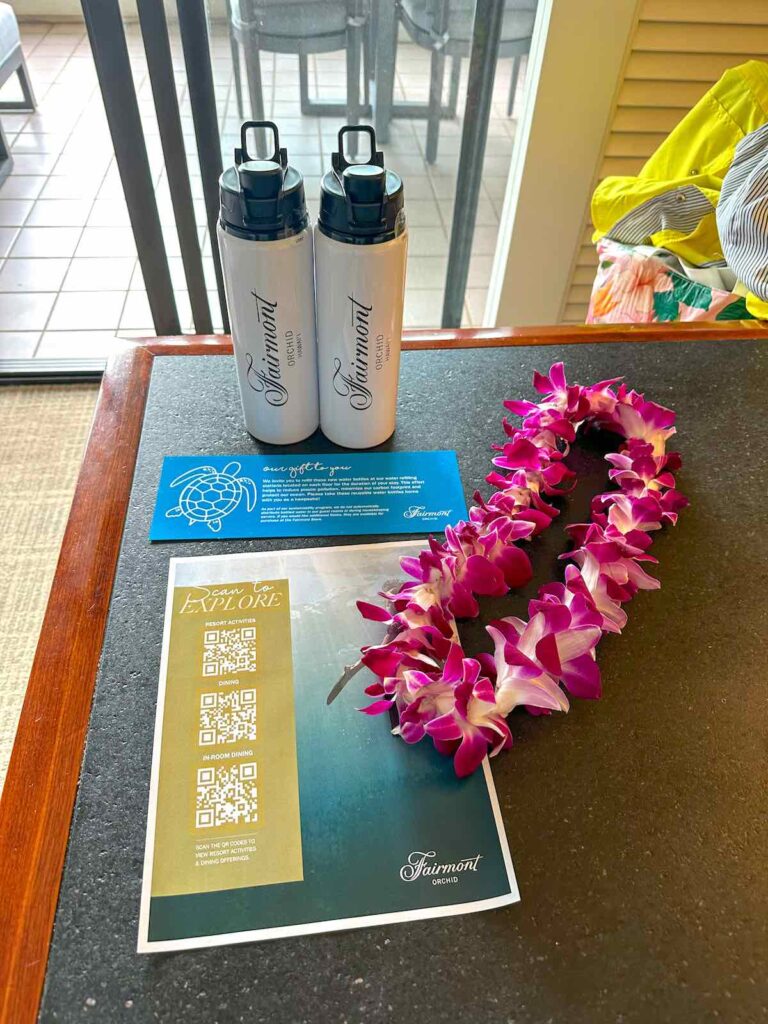 The people at the check-in desk gave us a map of the property as well as our keycards.
Once we go into our room, we found two complimentary water bottles as well as a flyer with QR codes to find out about the resort activities and our dining options.
What was our room like?
About a week before we checked in, I got an email from the Fairmont Orchid asking if I'd like a stand-by upgrade to an oceanfront room for an extra $84/night.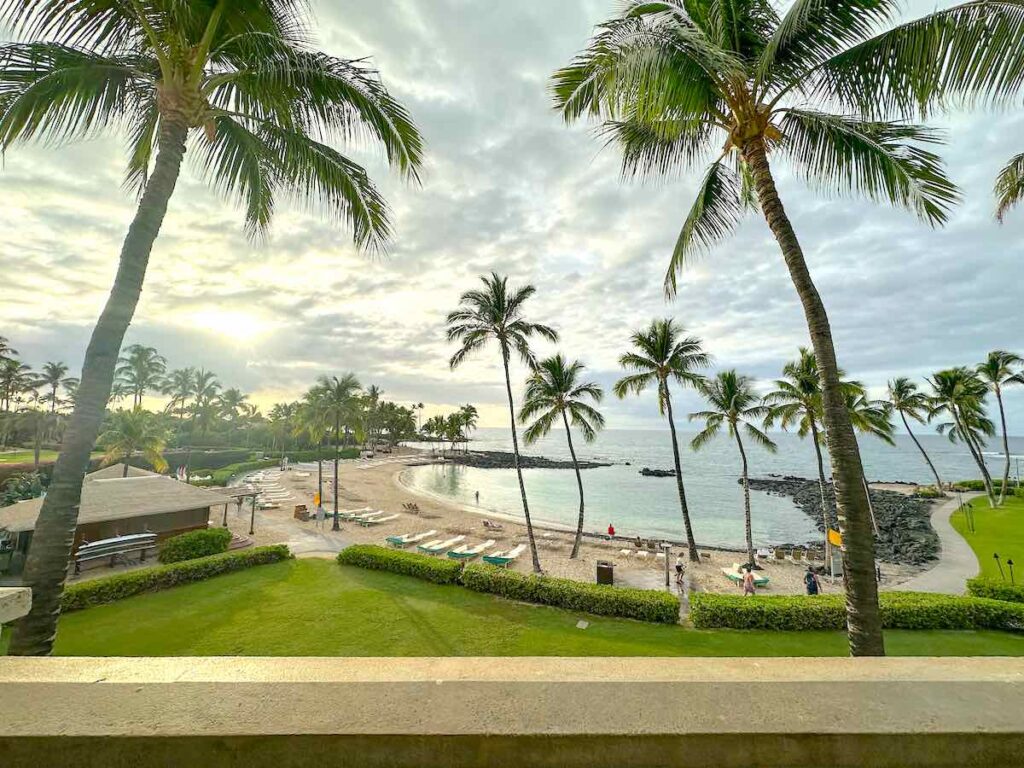 I figured since I was already spending a LOT to stay here, I might as well throw a little more money at it to get the best view possible. It was totally worth it!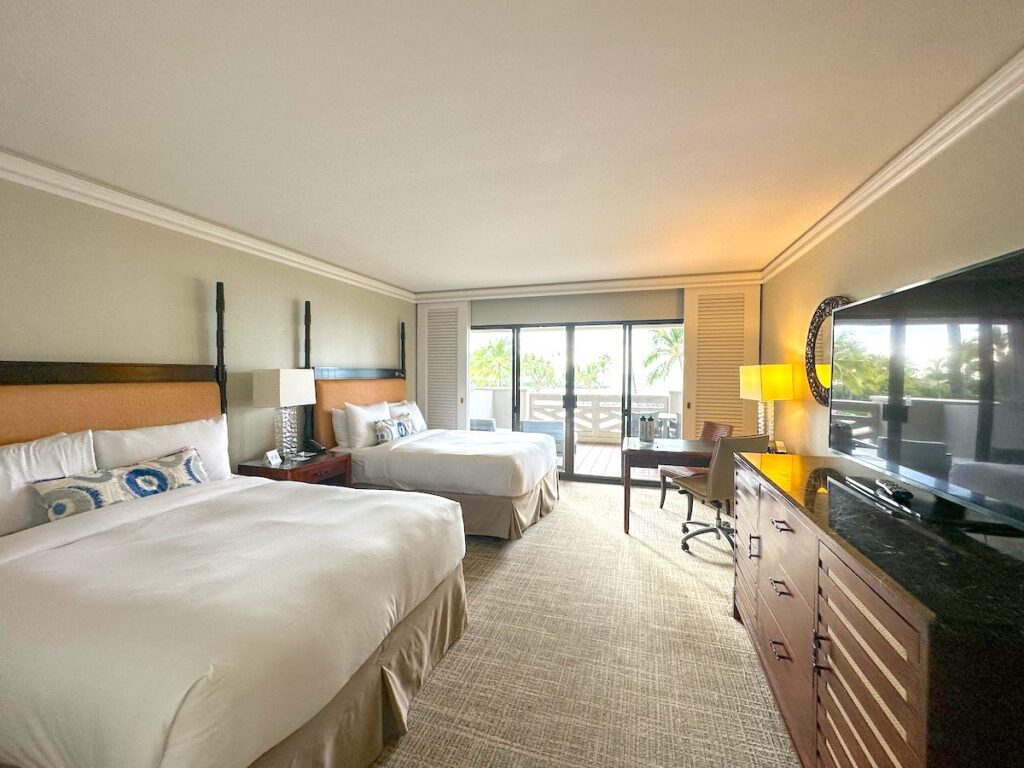 The hotel room itself was fairly standard but it was a lot more spacious than other places we've stayed in Hawaii.
There were plenty of places to store our suitcases and our random bags of stuff.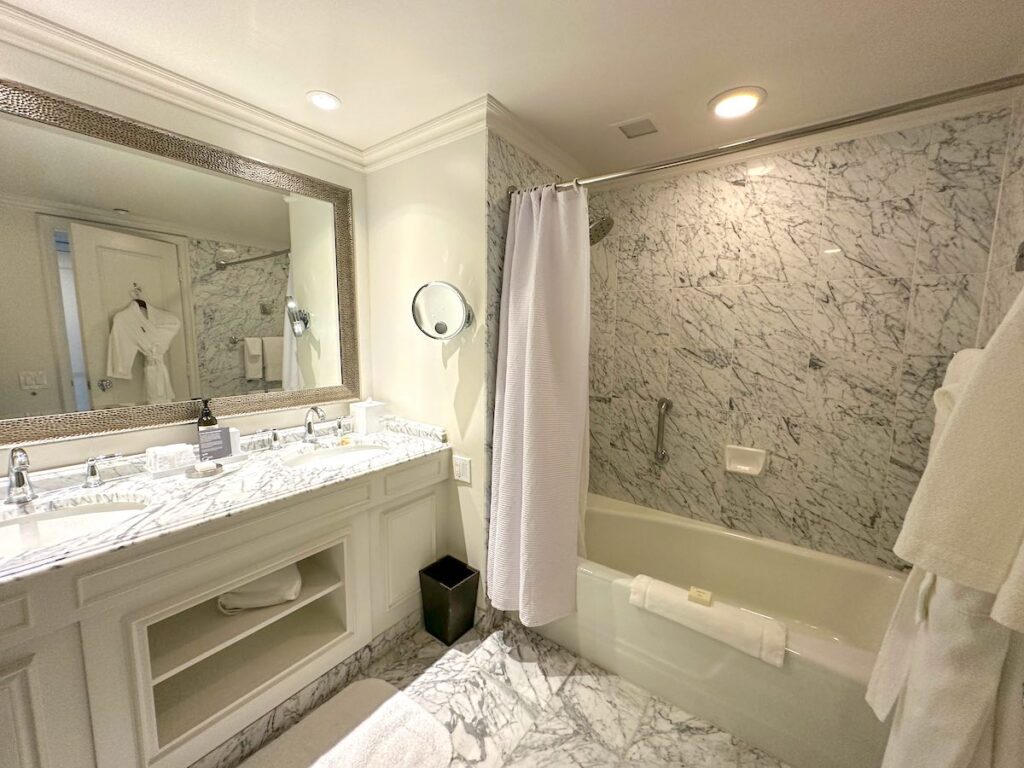 I'm pretty particular about hotel bathrooms and I was thoroughly impressed with how much space there was in this one!
There was a long countertop that had an assortment of toiletries and a double sink. There was also a full bathtub (great for kids) as well as a separate shower stall near the toilet.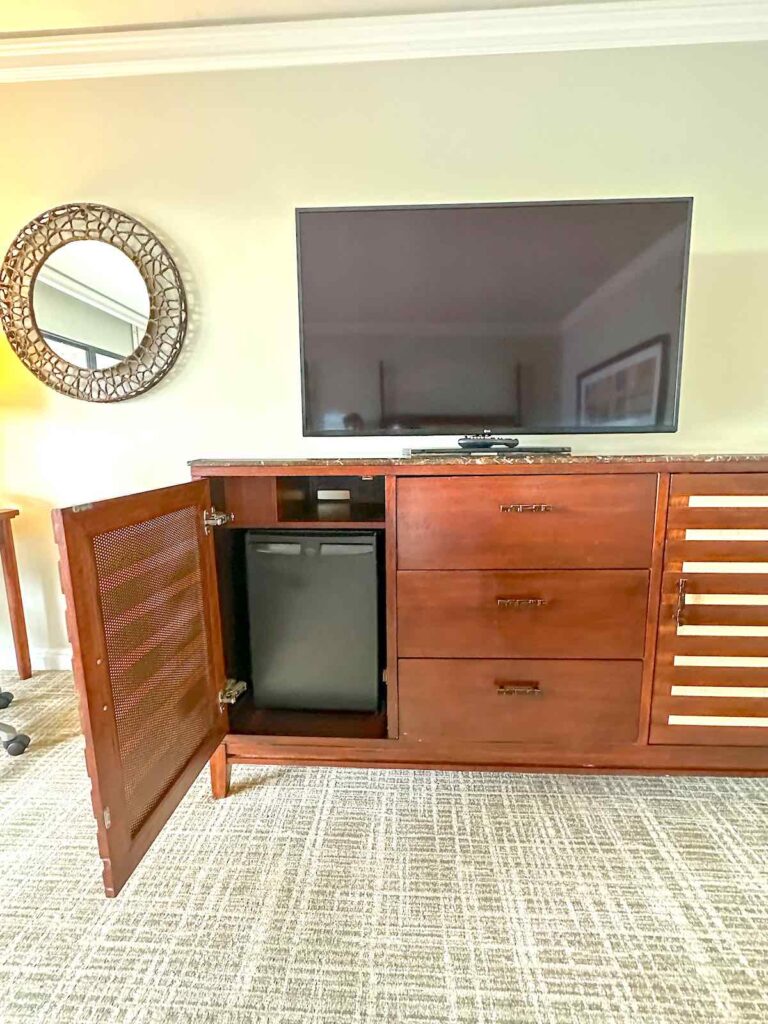 The cabinet under the TV is where you'll find a minifridge, coffee maker, glasses, and even a hot water pot.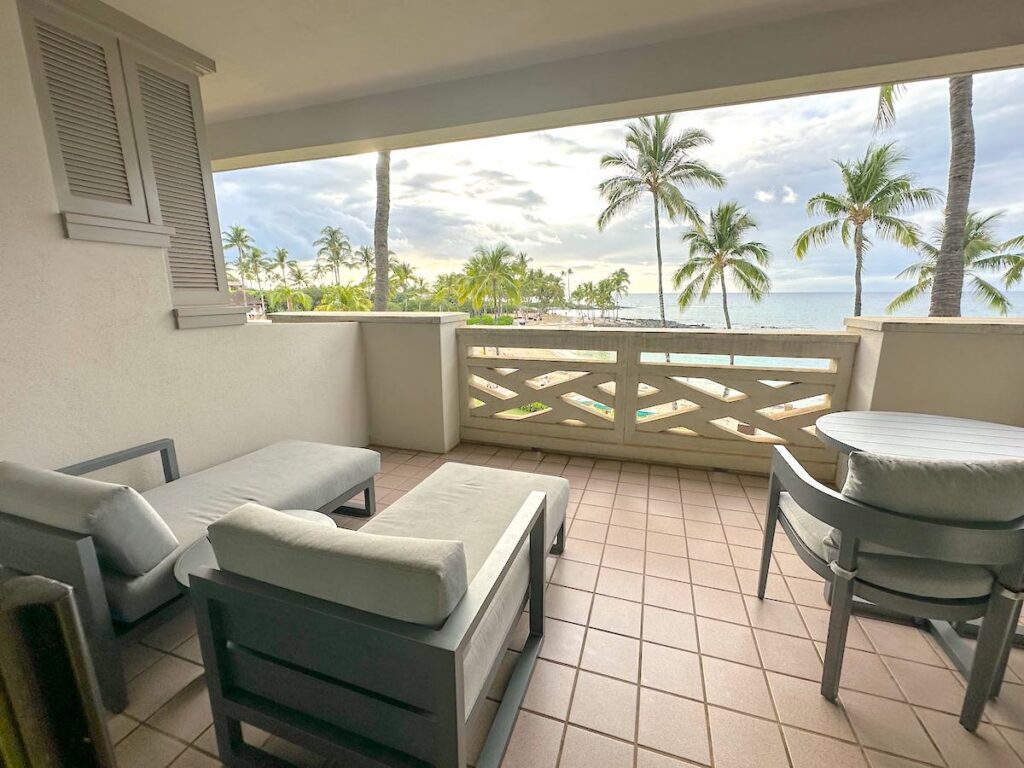 But I think my favorite part of our room was the lanai. Not only did it have an epic view, but those lounge chairs were the perfect place to work on my laptop or read a book when I needed a break from the sun. Check the latest rates and availability.
What did we think of the dining options?
Hotel dining can be hit or miss for sure. However, I was pretty impressed with everything available at the Fairmont Orchid. It was a bit pricey, but the food quality was really good.
Brown's Deli
Being from Seattle, I'm always on the hunt for coffee each morning. I don't do drip coffee so I look for a place to get a latte.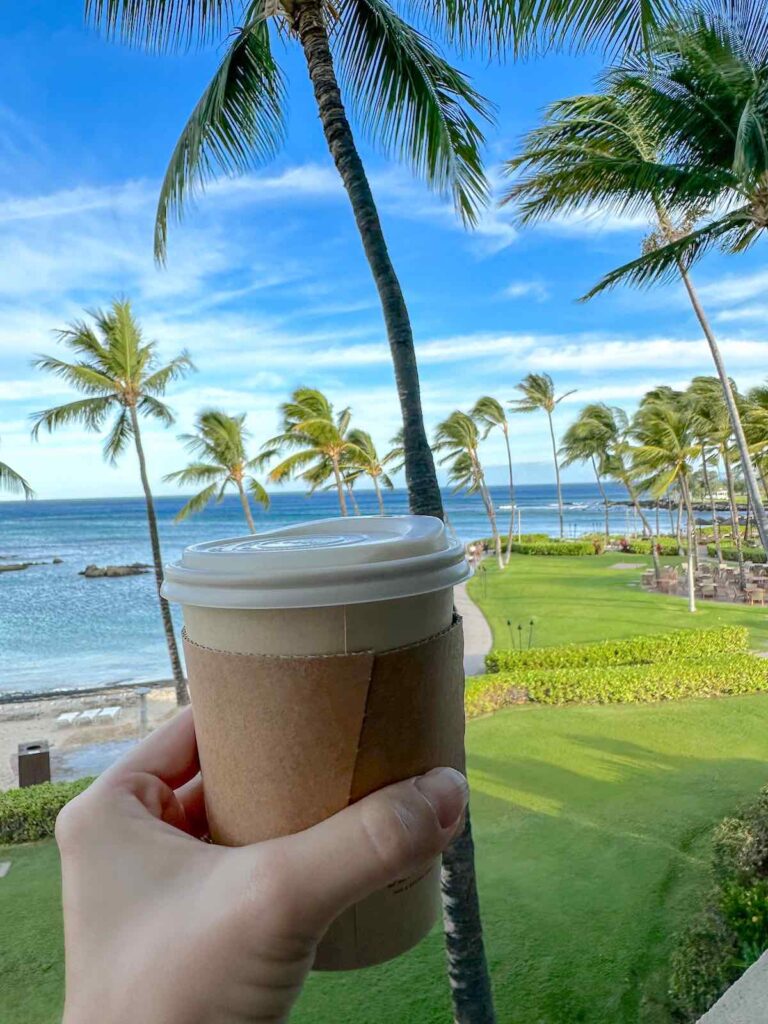 Brown's Deli has specialty coffee drinks as well as fresh malasadas, fruit and veggie smoothies, and easy grab-and-go breakfast items.
We grabbed breakfast and lunch here several times. Their turkey sandwich was MASSIVE and I could only finish half.
This is also where you'll find shave ice with a variety of fun syrups.
Brown's Beach House
This is a nice, sit-down restaurant where you'll need reservations. It's right next to the beach and has an epic view of the ocean and it's gorgeous at sunset.
We chose not to eat here because there were crazy winds during our trip and most of the dining area is understandably outdoors.
Hake Kai Restaurant
We actually ate here twice because it was so tasty! It's a beachfront grill right next to Brown's Beach House.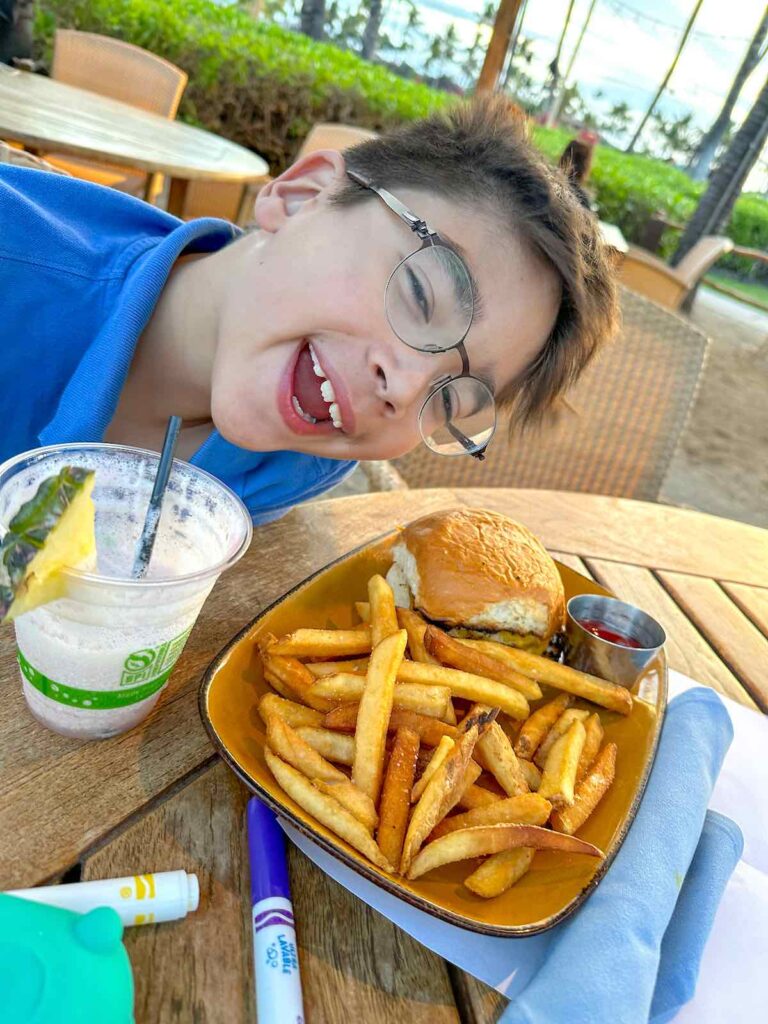 On the first night, we did drinks and appetizers. I'm still dreaming about that macadamia nut hummus. OMG it was so good!
We went back for lunch on our last day and it was still a fabulous experience. They have kids' menus and even provide markets and coloring sheets for kids.
Binchotan
We had dinner here on the last night and I admit that I needed the waitress to explain the menu to me.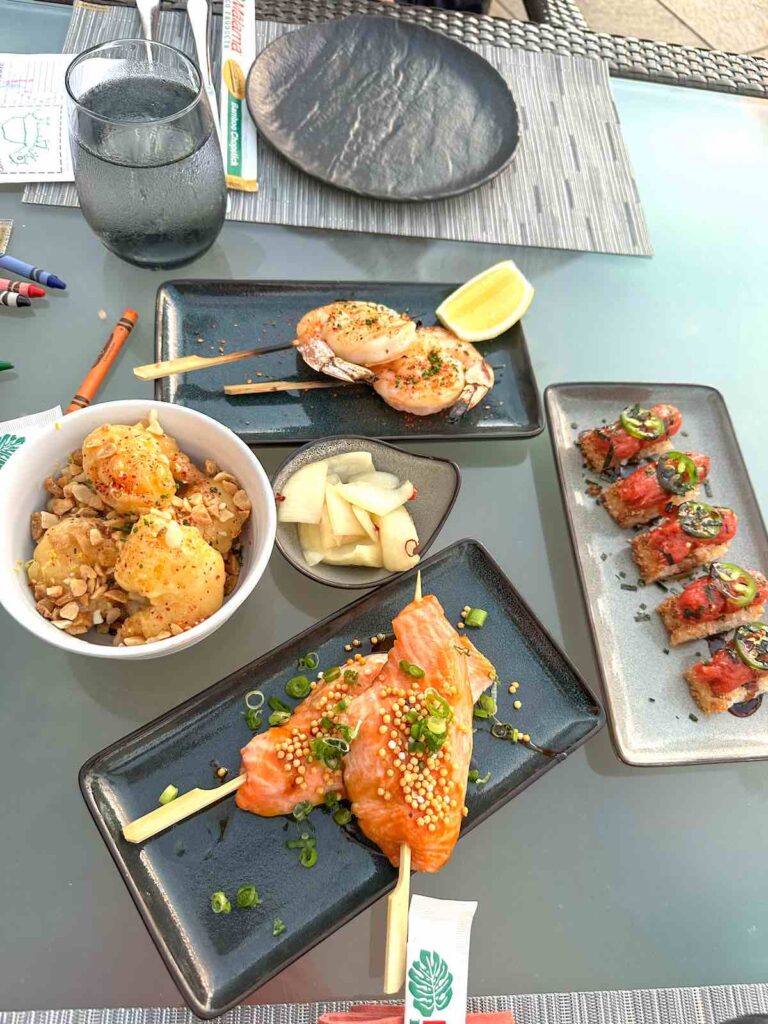 Most things are ordered family-style. They have a bunch of skewers and small plates for sharing. But they also have an option where they will bring a little grill to your table with an assortment of skewers.
We ended up just doing some skewers and small plates and everything was really delicious! The stand-out dish was the macadamia nut shrimp.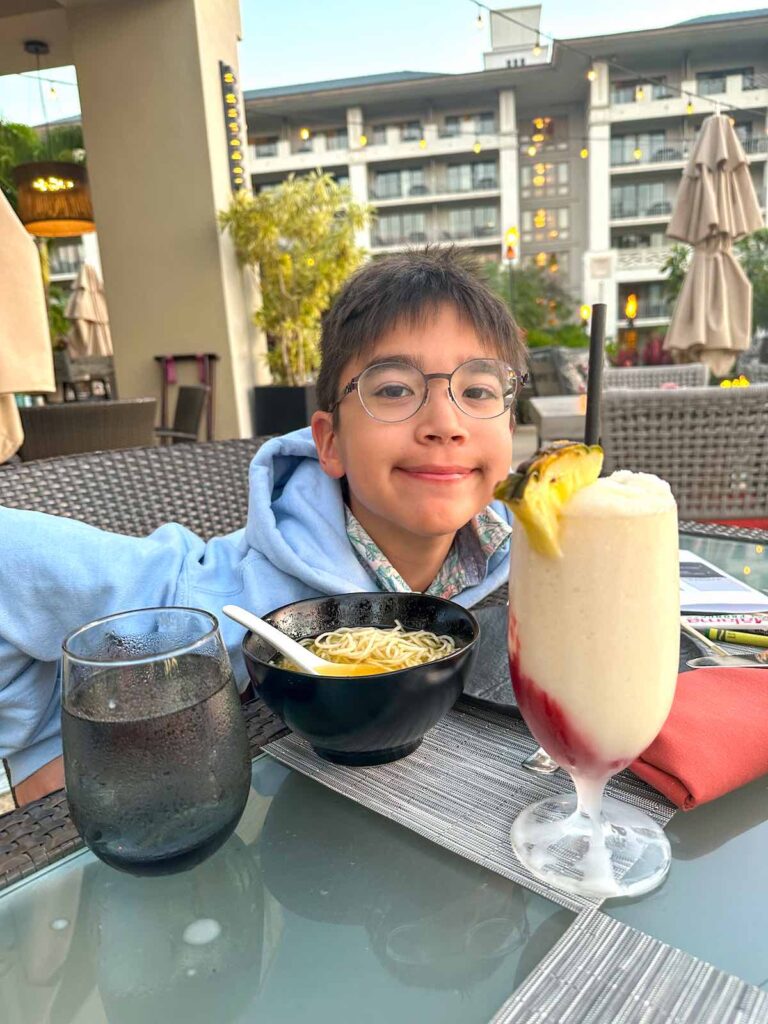 My son ended up doing the kids ramen for dinner. We thought about getting the potstickers as well, but the ramen was enough for him.
They also have a few amazing dessert options. I highly recommend the Japanese cheesecake!
Luana Lounge
We almost ate here one evening. It's located right off of the lobby and they have a bunch of tropical drinks and fresh Japanese sushi.
It's more of a small bites and drinks sort of place. And the view is fantastic!
Orchid Court
If you're looking for a full breakfast spread, you'll want to do the Orchid Court. They have a bunch of hot and cold breakfast items.
Kahakai Bar
This is mainly an outdoor bar but they do have some appetizer dishes that are good snacks for hanging out near the pool.
In-Room Dining
We took advantage of in-room dining on our first night because we were WIPED.
It's a pretty small menu and it features a handful of dishes from the on-site restaurants. My son had macaroni and cheese and I had shortribs. Plus we got dessert.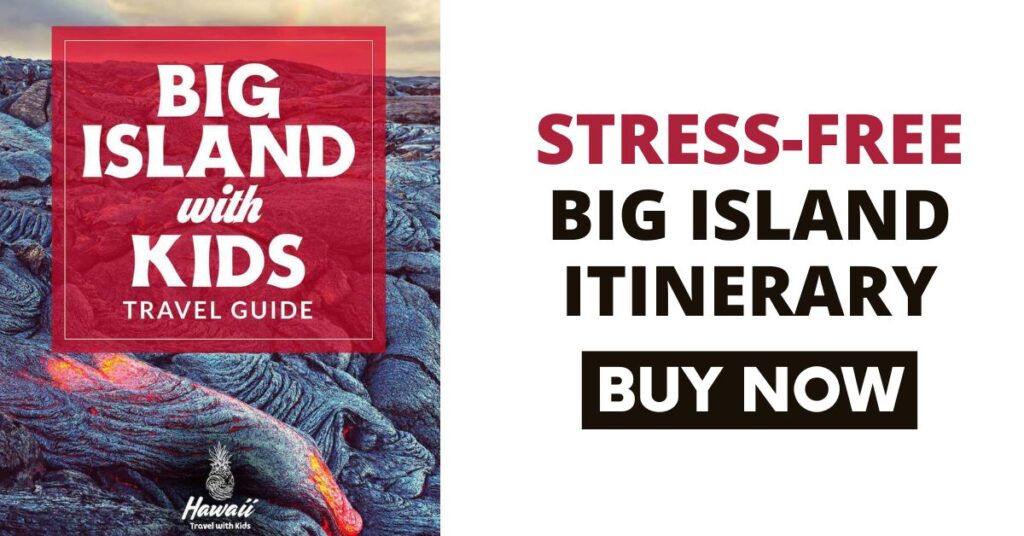 Fairmont Orchid Pool Area
The Fairmont Orchid Resort pool area is really beautiful. There are lounge chairs set up all around the pools, on the grassy area near the ocean, as well as at the lagoon.
Family Pool
We spent hours each day at the main pool at the Fairmont Orchid in Kona. There were tons of cushioned lounge chairs set up and plenty of umbrellas.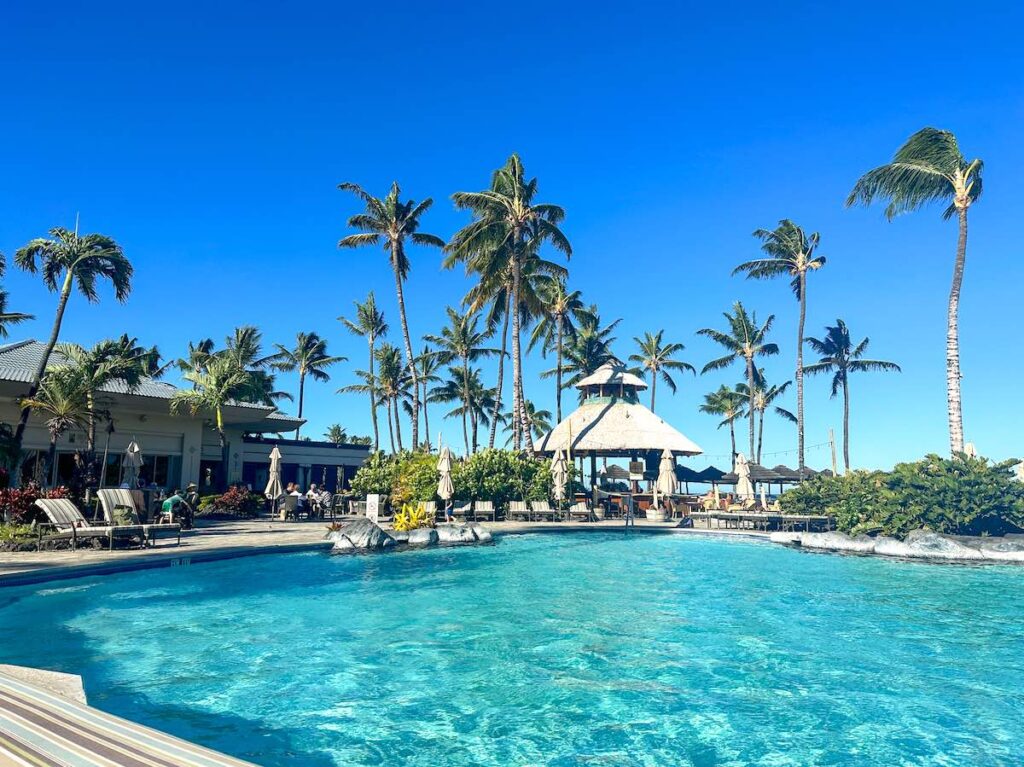 The pool sort of wraps around and it's quite large. We saw lots of kids playing games in the pool. We even saw a girl swimming with a mermaid tail!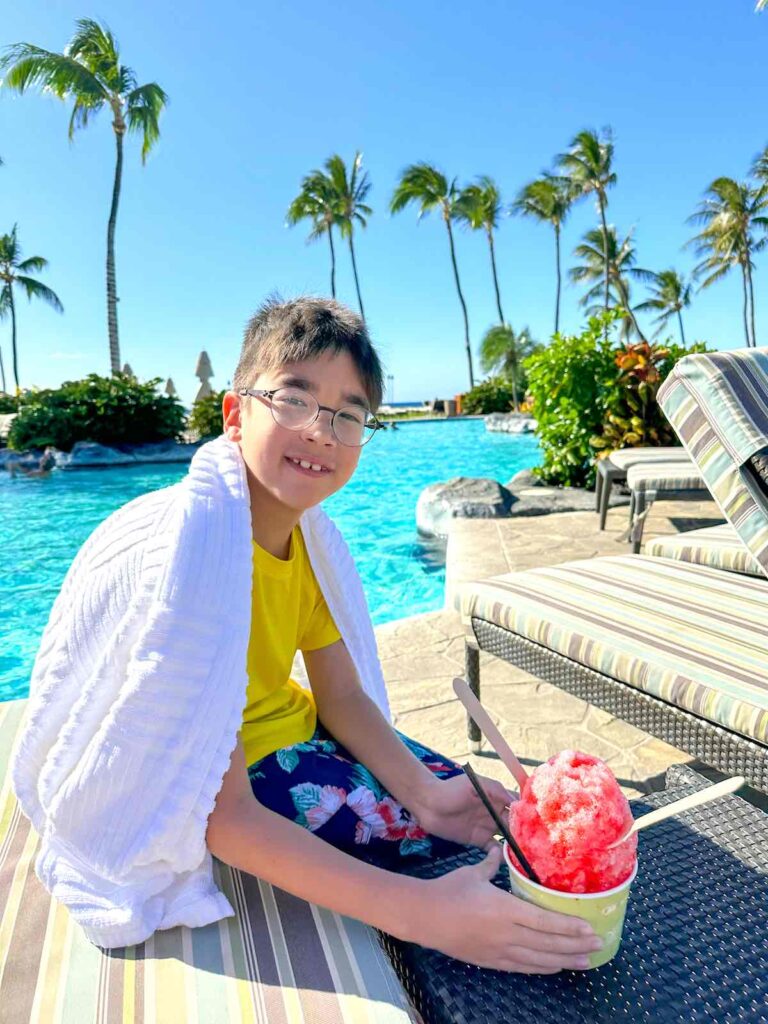 This pool was also really just steps from Brown's Deli where they sell shave ice. It's the ultimate after-swim treat!
Adult Pool
Since I had my 9-year-old with me, I didn't spend any time in the Palula adult pool area. But I was able to snap a quick photo to show you what it looks like.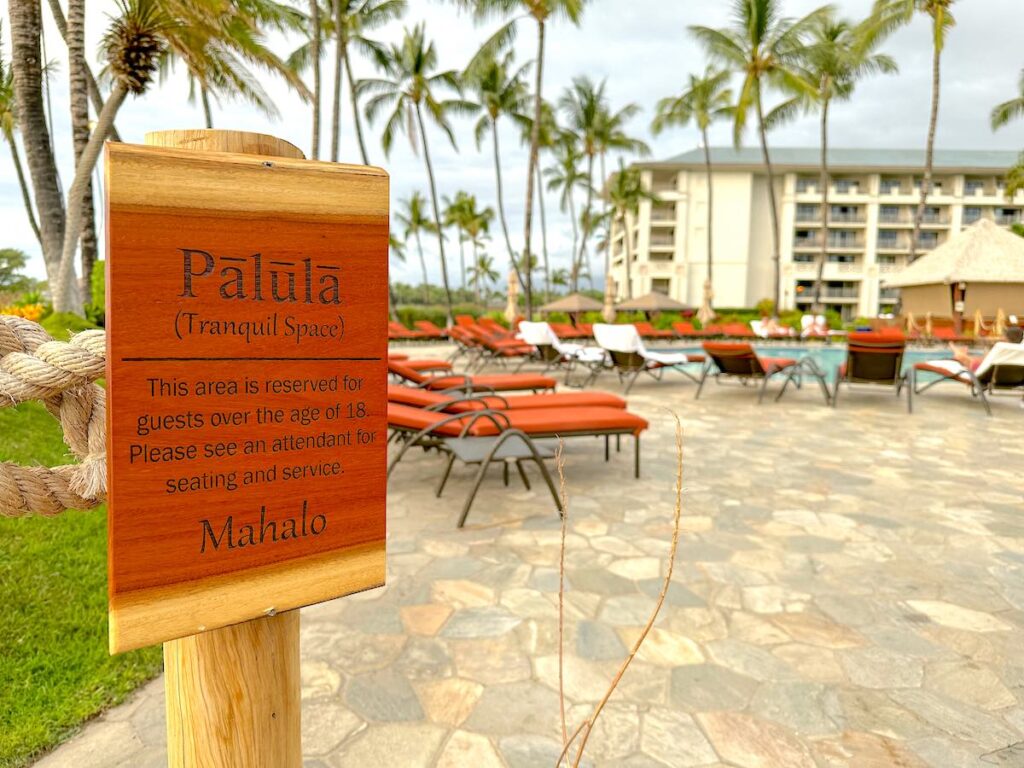 The lounge chairs have orange cushions on them so it's really easy to see which area is the adults-only section. It was truly peaceful and quiet over there.
Lagoon
I couldn't pull my son away from the pool long enough to check out the lagoon. But, I could see tons of families enjoying it from our lanai.
The water was really calm for little kids and we even saw people snorkeling.
Cabanas
There are TONS of cabana options at the Fairmont Orchid in Kona. We saw a lot of poolside cabanas, both full cabanas and smaller lounge-chair cabanas. These would be great for families, especially during peak seasons.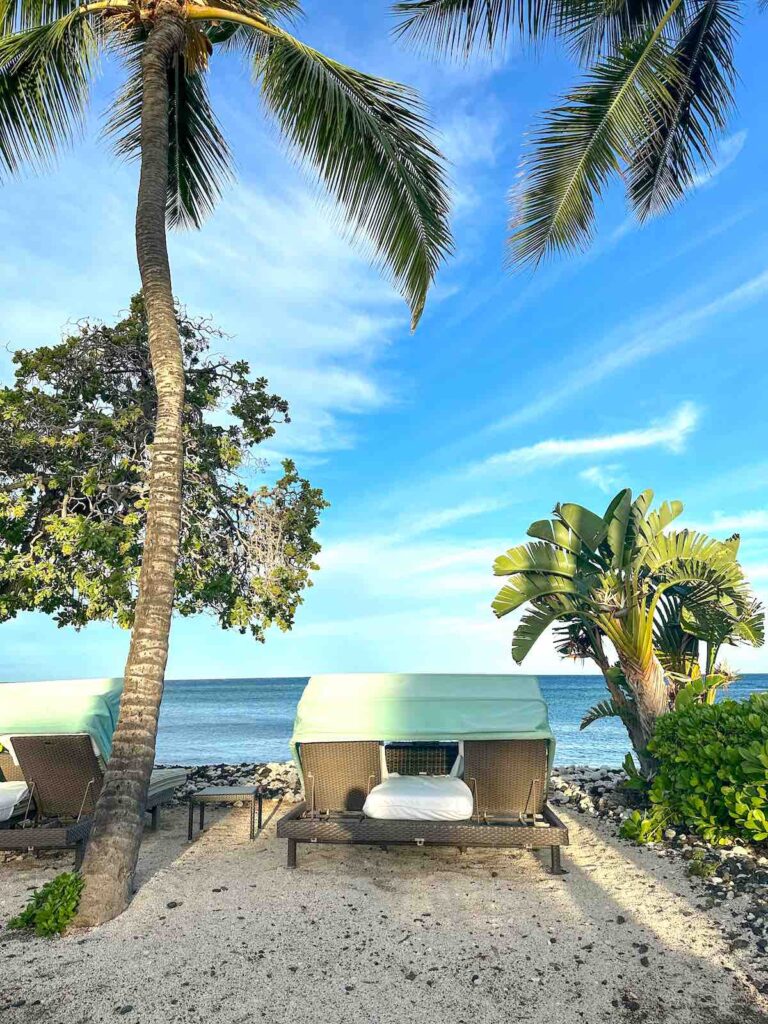 The ones that really stood out to me were the beach cabanas overlooking the ocean. These would be great for people looking for tranquility or to read a book and enjoy the view.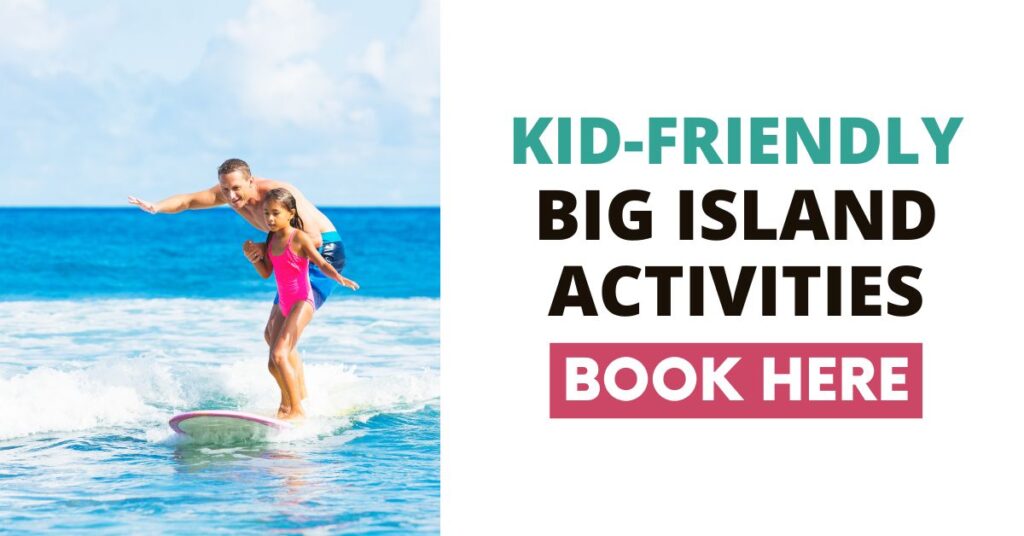 Other features/amenities
Kids Activities
I didn't realize that we could have booked activities online before our trip. And by the time we arrived, I was too lazy to take a look at the activities schedule. We had so much fun just relaxing and enjoying the resort.
But I took a look at the activities schedule while writing this review and I'm kicking myself for not doing any of these!
The coolest activities are the complimentary Hawaiian canoe ride, seaside yoga, coconut frond weaving, hula lessons, and haku lei making.
Hawaii Loa Luau
One of the selling points of staying at the Fairmont Orchid in Kona is that they have an on-site luau.
We did VIP seats and this was hands-down the best Big Island luau we've been to! Read our full Hawaii Loa Luau review.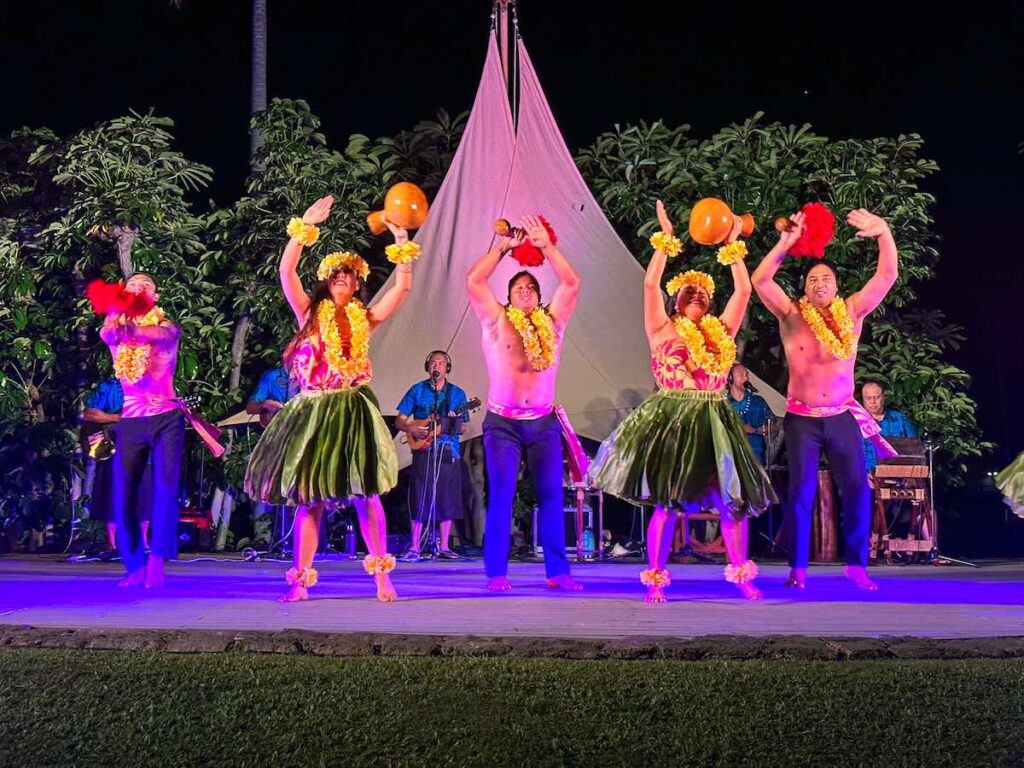 Not only did they greet us with cocktails and fruit punch as soon as we entered, but they also had several fun pre-show activities.
The food was really outstanding. They had a HUGE array of options including fresh poke, lots of Asian food, American-style food, and even a kalua pig carving station.
The show was also super fantastic with incredible dancing and storytelling. And it ended with a mesmerizing fire knife dance. Check Hawaii Loa Luau rates and availability.
Spa Without Walls
While I didn't have an opportunity to partake in spa services on this trip, it's on my list for next time!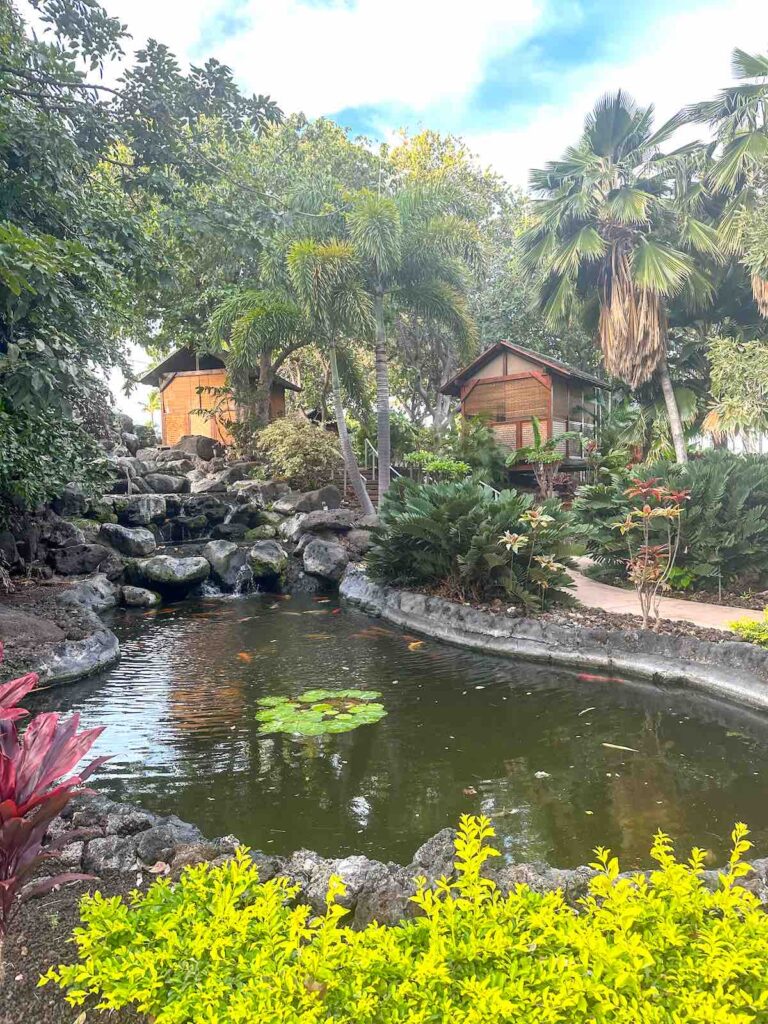 They have 8 outdoor huts that are nestled between little waterfalls in the middle of the property. They also have 6 private oceanfront cabanas as well as 3 indoor treatment rooms.
They use a bunch of local products that feature tropical aromas, Hawaiian sea salt, and even lava rocks!
Golf at Mauna Lani
If my husband had joined us at the Fairmont Orchid, he definitely would have headed over to the award-winning 45-hole championship Mauna Lani Golf Course.
It's home to two distinct 18-hole complexes that are supposedly great for golfers of all skill levels.
Fairmont Orchid Parking
Parking at the Fairmont Orchid is really easy. They offer valet parking for $25/night (which is cheap compared to other Fairmont properties).
But they also offer FREE parking in their lot. The lot is just steps away from the hotel entrance so it's a great option.
Filtered Water Stations
It's becoming super trendy for Hawaii resorts to offer filtered water stations. Usually, they are just in the lobby.
However, the Fairmont Orchid has them all over the property including on each floor near the elevators as well as at the pool area.
As I mentioned earlier, they provide free reusable water bottles to guests which makes it easy to stay healthy and hydrated all day long.
Are there any things we didn't like?
After visiting Hawaii more than 40 times, I consider myself a shave ice snob. The shave ice here is much more like a snow cone with chunkier ice vs. finely shaven ice. But it was still refreshing and my son still loved it.
I was also a little surprised that the pool area didn't have a little water slide or something.
Things Families Should Know About the Fairmont Orchid
Your kids will fall in love with the Fairmont Orchid and they might never want to stay anywhere else!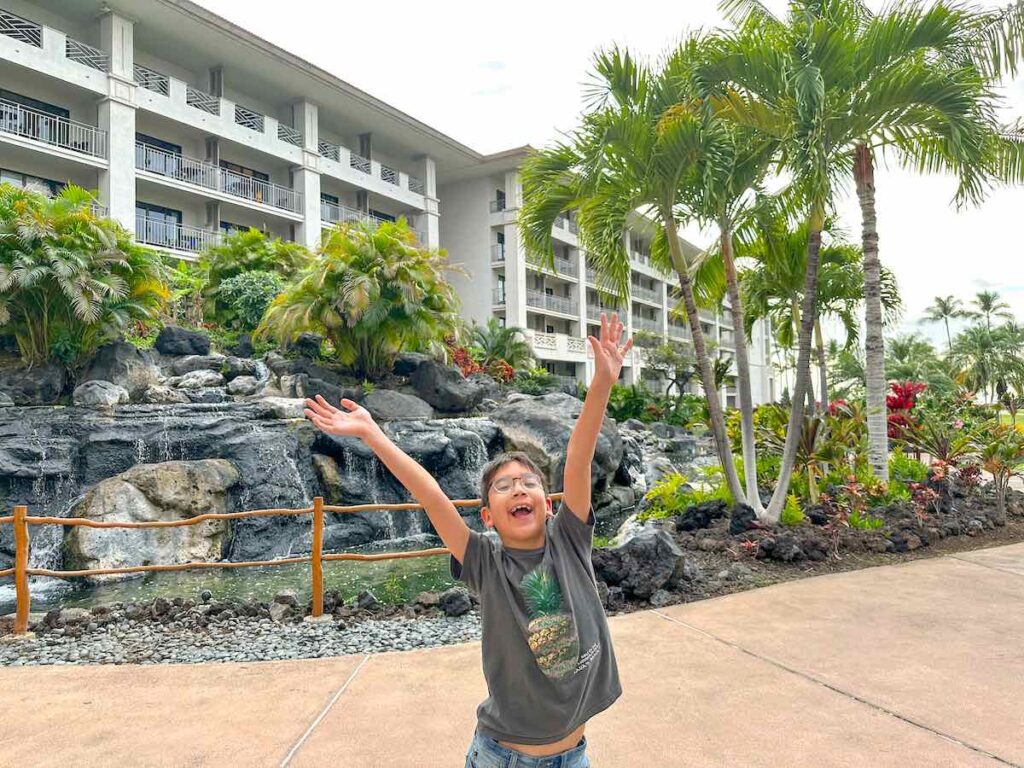 The Fairmont Orchid offers a variety of room types and suites to accommodate families of different sizes, including connecting rooms and suites with kitchenettes. Check the latest rates and availability.
We found their double queen room to be quite spacious.
Each restaurant offers some sort of kids' meal, which can be really helpful. You can also get virgin pina coladas and lava flows.
The hotel offers a range of family-friendly activities, such as hula dancing lessons, lei-making classes, and snorkeling tours.
There are also several nearby attractions, including ziplining in Kohala and swimming with dolphins.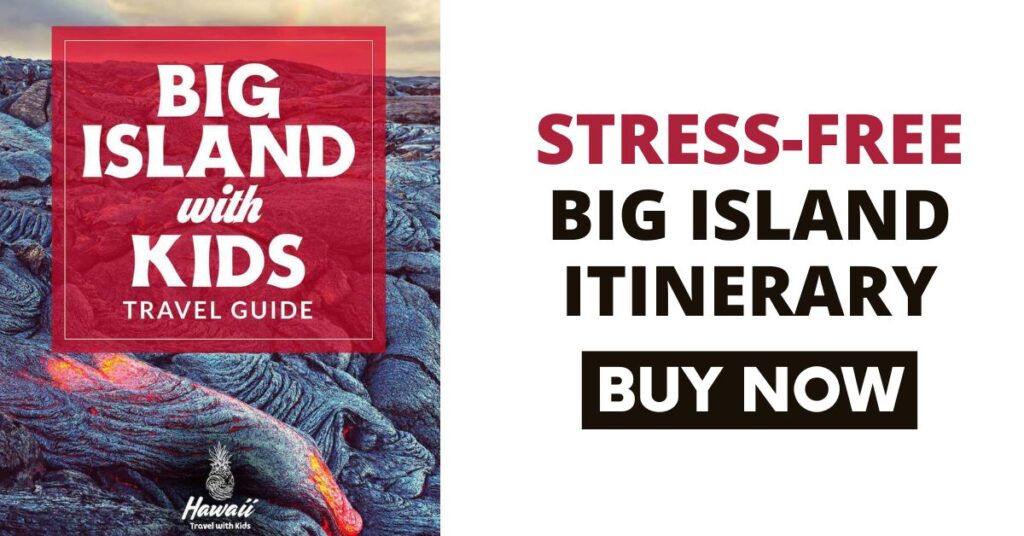 Would We Recommend the Fairmont Orchid for Families?
This is now one of our favorite places to stay on the Big Island with kids. I mean, WOW! What a gorgeous resort and the views never get old.
If you are looking for a luxury resort in Kona that caters to families, the Fairmont Orchid Resort is the perfect fit! Check the latest Fairmont Orchid rates and availability.