Are you looking for the best place to stay in Kona for families with kids of all ages? Keep scrolling to read my honest Royal Kona Resort review.
This Royal Kona Resort review contains affiliate links which means if you purchase something from one of my affiliate links, I may earn a small commission that goes back into maintaining this blog.
Are you planning a trip to the Big Island with kids?
The Big Island of Hawaii is an amazing place for families. There are so many fun things to do and see on this island, but it can be hard to know where to start.
That's why I've written this honest review of the Royal Kona Resort – one of the best places to stay in Kona, Hawaii!
You won't find another hotel that offers as much value for your money as the Royal Kona Resort. It's got everything you need for a great family vacation at an affordable price point.
Plus, they have some really cool amenities like an on-site luau and a fabulous spa! This hotel has something for everyone – whether you're looking for relaxation or adventure!
Keep scrolling to read my Royal Kona Resort review to see if it's one of the best hotels on the Big Island of Hawaii!
Ready to book? Get the best rate HERE.
Want to skip all the planning and just access my detailed Big Island Itinerary complete with daily schedules, kid-friendly activities, and travel hacks? Click the button below.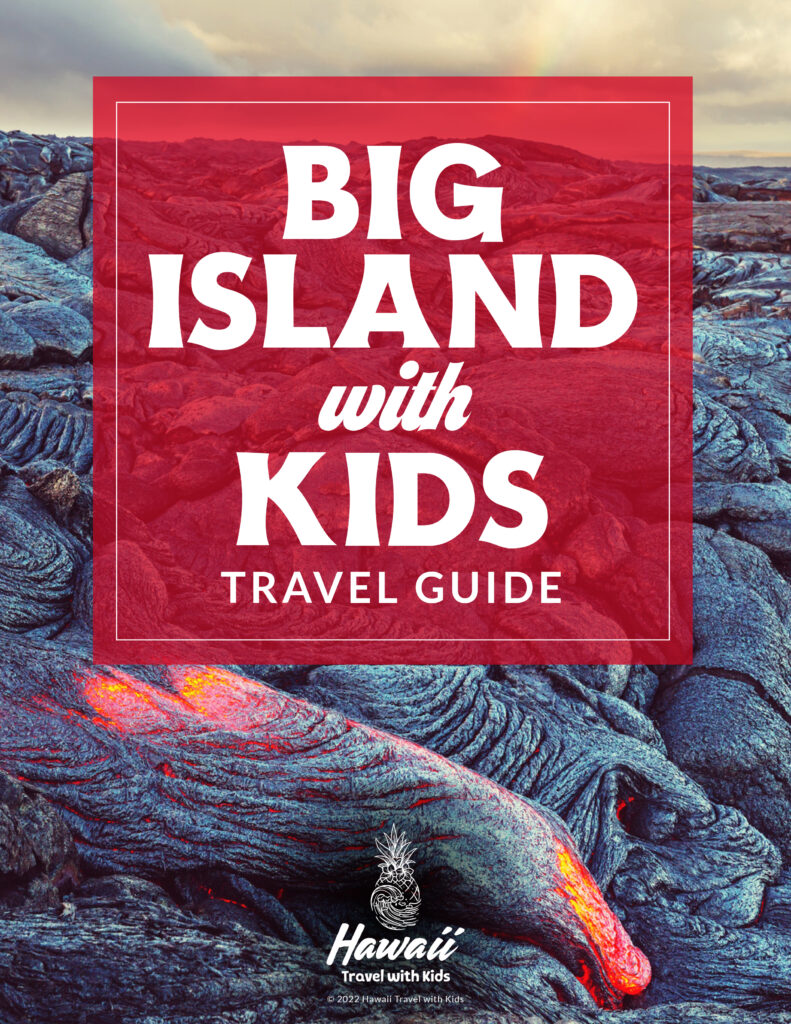 Where to Stay in Kona FAQs
Is it better to stay in a condo or resort in Kona Hawaii?
It really depends on how you like to travel. Condos are great if you plan on cooking a lot of your own meals or would like separate bedrooms. Otherwise, there are lots of great Kona resort options located on Ali'i Drive so you can easily walk to shops, restaurants, and attractions.
What are some of the best places to stay in Kona Hawaii for families?
The Royal Kona Resort is a great option because of the on-site luau, close distance to Huggo's and their on-site laundry. Another option for Big Island Hawaii hotels is the Courtyard by Marriott's King Kamehameha Beach Hotel, on the other end of Ali'i Drive.
What is the best area to stay on the Big Island?
The Big Island is HUGE so I always suggest people stay a few different places if they plan on exploring the island. Kailua-Kona is a popular option because it's near a ton of Big Island attractions. There's also Waikoloa that is just north of Kona. This is great if you want a resort vacation. There's Volcano House or Volcano Village near Hawaii Volcanoes National Park if you'd like to fully explore Hawaii volcanoes. Or head to Hilo if you'd like to see some amazing rainbows and waterfalls.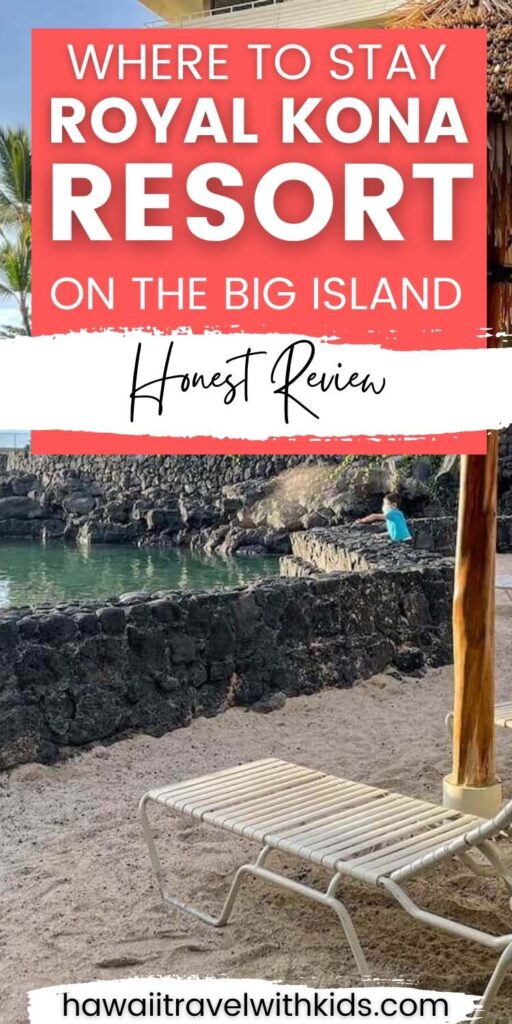 Where is the Royal Kona Resort?
The Royal Kona Resort is located right in the heart of Kona on the famous Ali'i Drive. It's really easy to walk to tons of restaurants and shops.
Their address is 75-5852 Ali'i Dr, Kailua-Kona, HI 96740.
Honest Royal Kona Resort in Hawaii Review
It's always hard to tell what a resort is like when you just see photos on its website. The Royal Kona Resort was different than I expected in many ways.
It's definitely a bit older than it looked in the photos. I heard they are currently renovating rooms. The pool area is also really small and fills up quickly.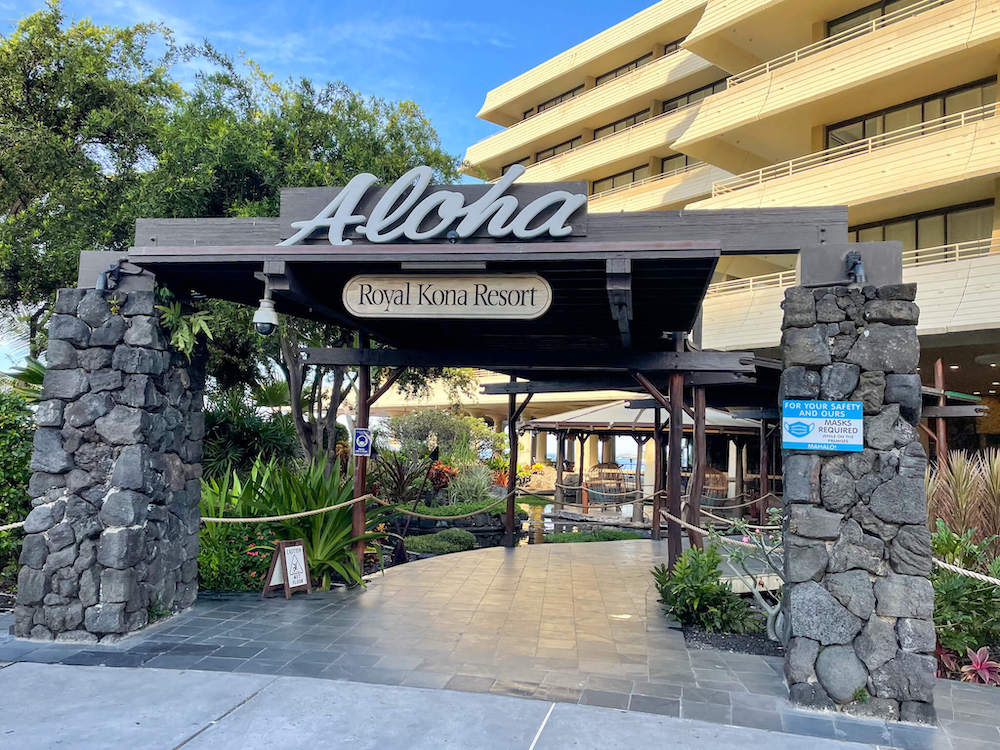 We were in the Lagoon Tower and all the rooms there face an outdoor courtyard. This means that you access your room from outside, like you would a condo or motel.
The ground floor of the Lagoon Tower had a laundry center where you could wash/dry your clothes. You need to download an app in order to pay for it, but it's not too tricky.
Fun fact: there are two radio stations located in the ground level of the Lagoon Tower and you can watch the DJs from the big windows.
What was our room like?
We got a room on the 5th floor of the Lagoon Tower overlooking the parking lot and right next to the elevator. It had two full-size beds, a wet bar with mini-fridge, and a desk.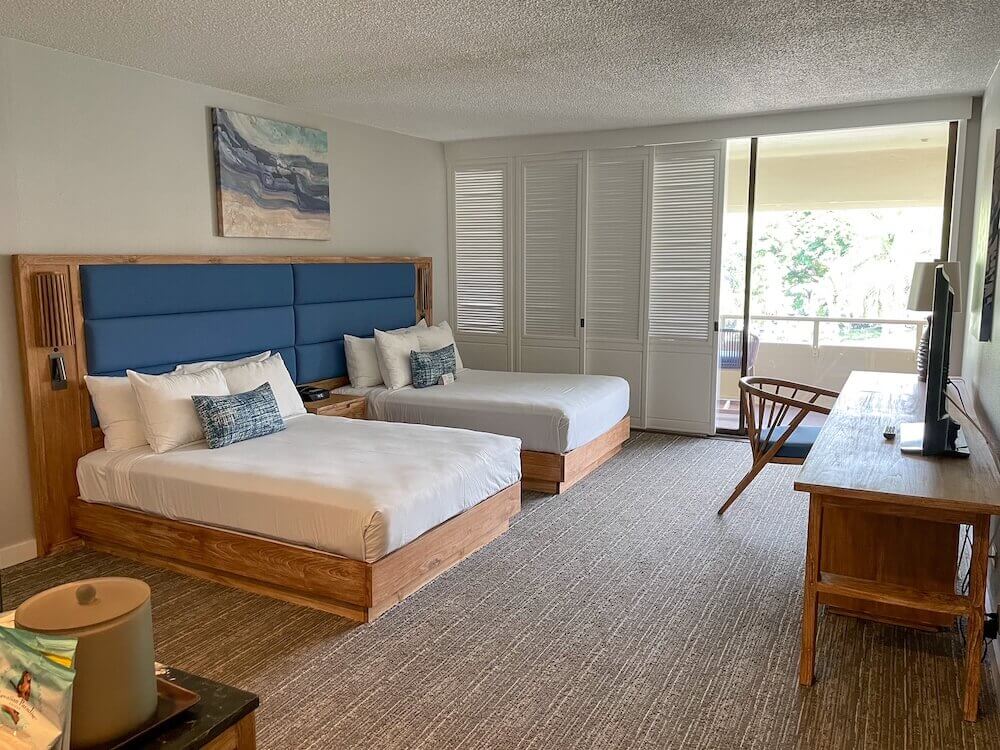 The bathroom was pretty standard, but it does have a bath tub. This is always helpful to have when traveling with little kids.
Our favorite part of the room was actually the lanai. It had a set of cocktail chairs and cocktail table out there and it was perfect for eating outside.
The room felt really spacious. We had plenty of room for our luggage and it didn't feel like we were tripping on things moving around the room.
And the views of sunrise every morning were incredible! It was definitely one of the more comfortable places to stay in Kona Hawaii.
What did we think of the dining options?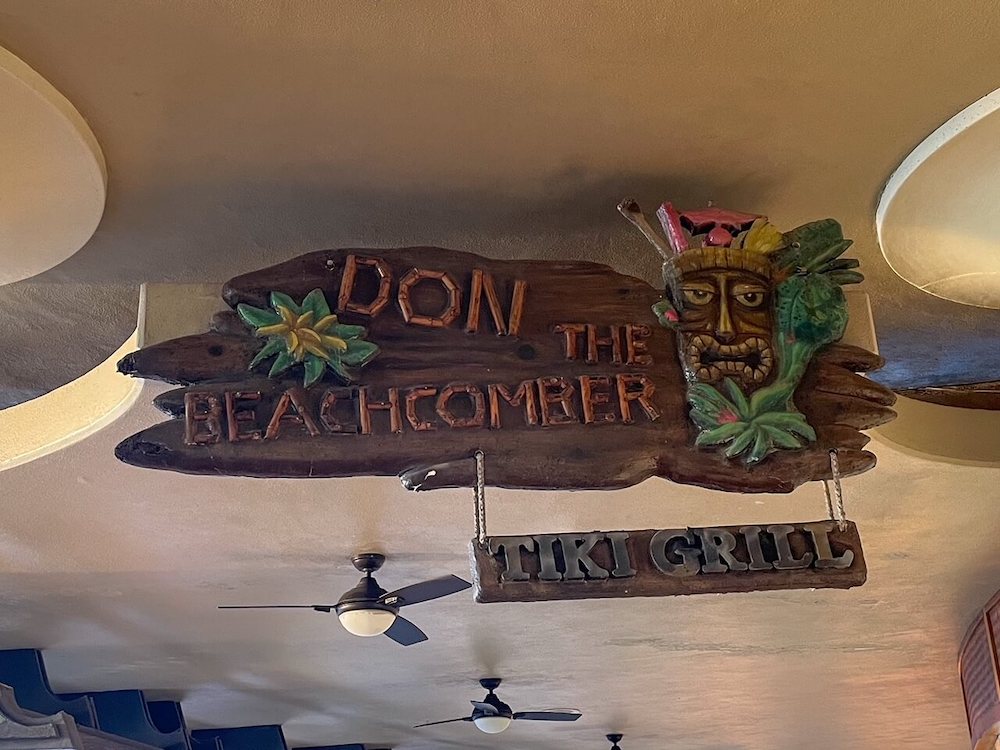 Don's Mai Tai Bar & Restaurant
We tried eating here for dinner one night but it was a 2-hour wait. Supposedly, this is where the Mai Tai was invented so I really wanted to try it.
They do have an option where you can order your food ahead of time and pick it up. We didn't realize this until we were checking out.
Don's Breezeway Lounge
We also didn't have a chance to eat here or even grab drinks. It's located right next to the pool and we saw tons of people going to get fancy cocktails and non-alcoholic drinks there.
Nearby Dining Options
Since the hotel is located on Ali'i Drive, there are tons of places that are within walking distance. The most famous is Huggo's and Huggo's on the Rocks. They have an amazing selection of freshly made poke, meat items, and they even have a kid's menu.
There's also Island Ono Loa Grill that has the 9th best cheeseburger in nation according to Yelp. They have an easy kids menu and super tasty fish tacos.
Royal Kona Resort Pool Area
The pool area at the Royal Kona Resort is a lot smaller than other resorts. It's a simple pool surrounded by chairs.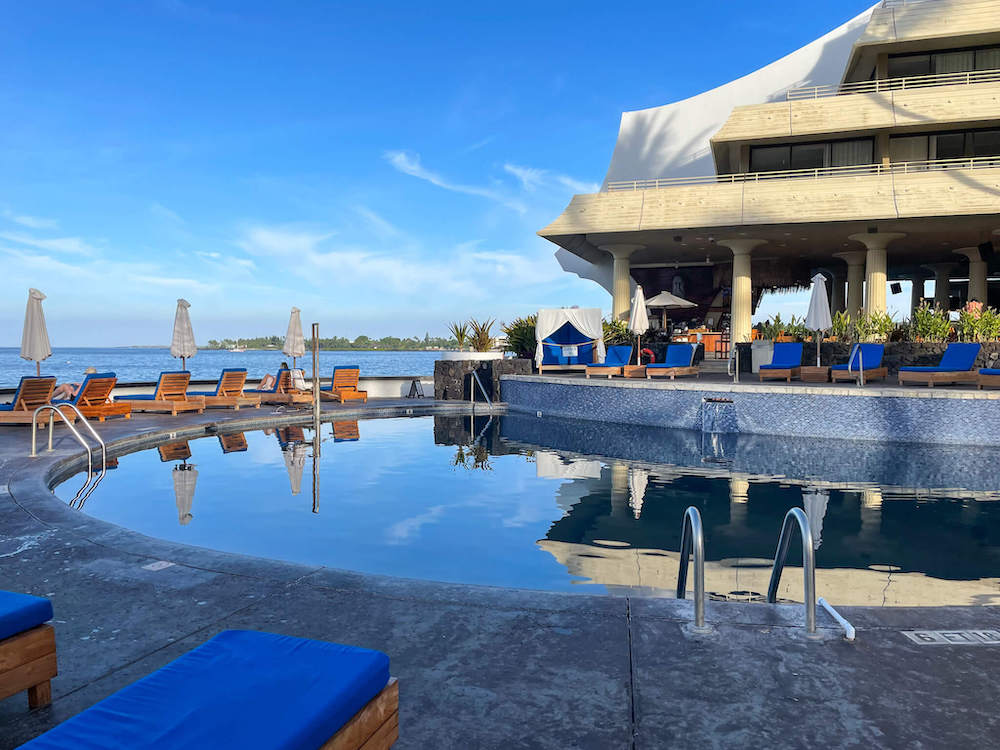 There's actually a kids pool right next to the main pool in the upper deck. This pool is only 2 feet deep. It's also really small and we found that a lot of adults like to just lounge there.
One cool thing about the pool area is that it's right next to where they do the luau. So, in the evenings you can listen to the music and see part of the show.
Is it worth renting a cabana?
The cabana rentals at the Royal Kona Resort are really affordable. It's only $35 for 2 hours. That's one of the cheapest cabana rentals in Hawaii.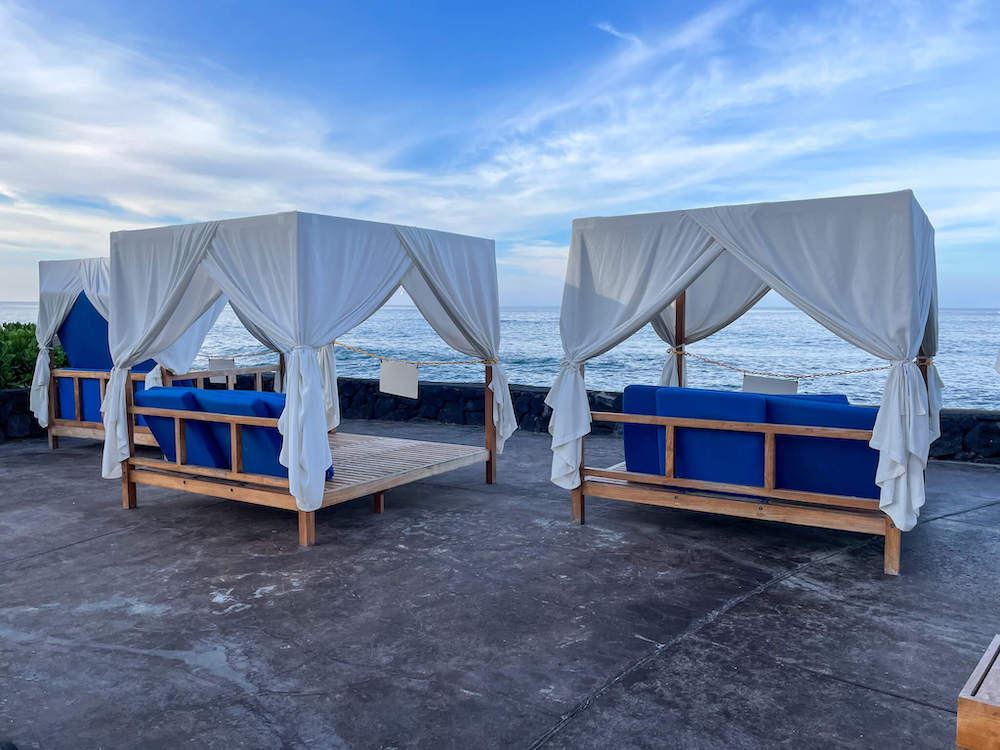 They have some that face the pool area and some that face the ocean. They are mostly grouped together in areas, so it's great if you want to rent out a couple for extended family or a big friend group.
Lagoon
Before we arrived here, I thought the lagoon was just something in front of the hotel we could walk to. I was totally mistaken.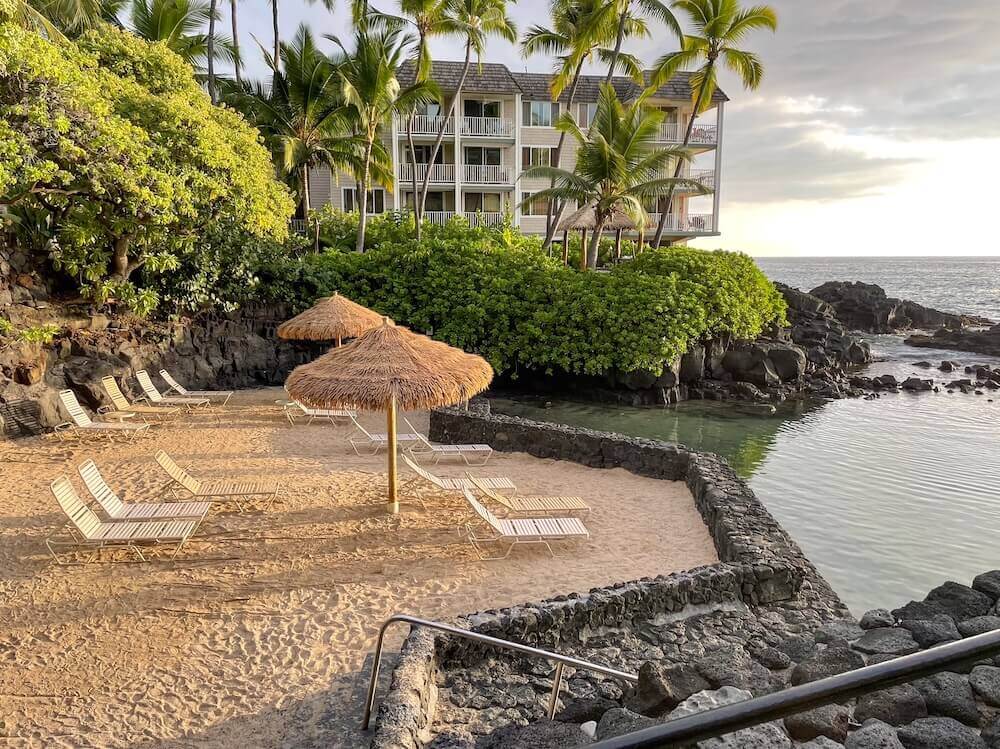 It's actually part of the hotel property and it's located right next to the Lagoon tower. They have lounge chairs and umbrellas set up so it's an easy place to play in the ocean with kids.
You will definitely want to wear reef shoes here. One of my friends suggested that before we arrived and I'm so glad I packed them. It's all lava rock, so water shoes will protect your feet. Plus, the rocks are extremely slippery.
What's cool about the lagoon is that it's a great place to snorkel. There are lots of tropical fish and some people mentioned even seeing turtles there.
Voyagers of the Pacific Luau
One of the perks of staying at the Royal Kona Resort is that you can just walk to their on-site Voyagers of the Pacific Luau. It's located right next to the hotel entrance between the pool and the Lagoon Tower.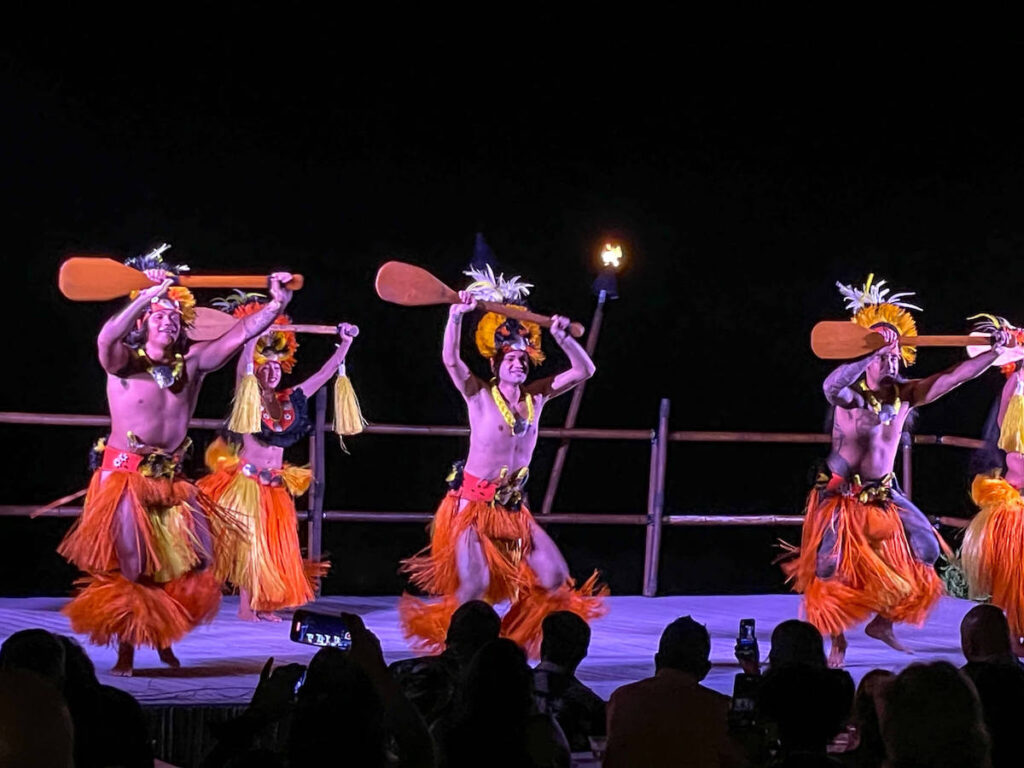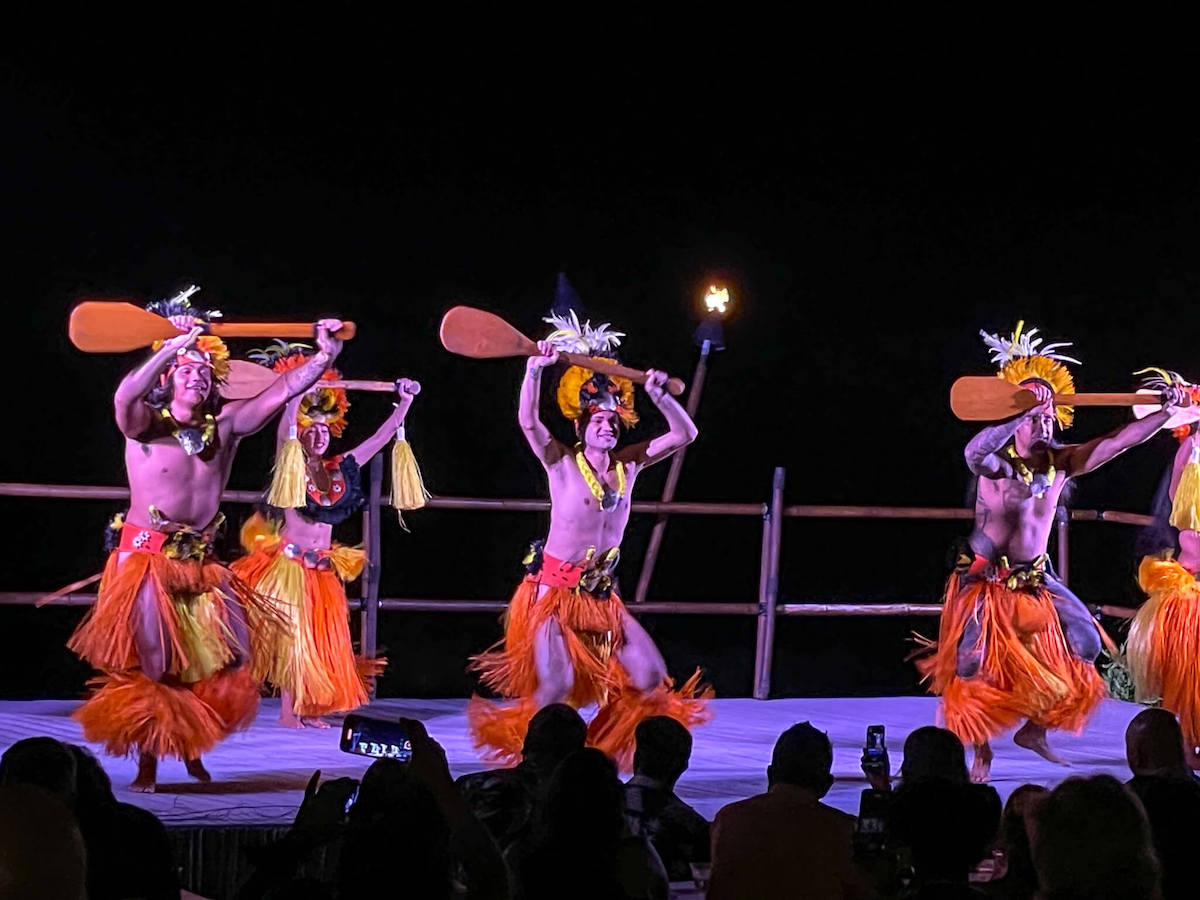 The food at the Royal Kona luau is AMAZING! It's seriously some of the best luau food in Hawaii. Plus, there's a complimentary bar with tasty mai tais and other tropical drinks.
The show is also really nice and they include many Polynesian islands including the Cook Islands, Tuamotus, New Zealand, Samoa, Tahiti, and Hawaii.
You can read my full Royal Kona Resort luau review HERE.
Are there any things we didn't like?
The walls are pretty thin so we could hear our neighbors as soon as they woke up each morning. And their light came into our room under the adjoining door.
A super weird thing we discovered is that there's a Hawaiian burial ground in the parking lot. There's signage so you know it's there. I'm a bit curious about how they were able to build a parking lot on a Hawaiian burial ground, but mainly it made me feel a bit sad.
Would we recommend the Royal Kona Resort?
We spent 5 nights at the Royal Kona Resort and I can honestly say that we really enjoyed our time there. I appreciated how easy it was to get to from any direction in Kona. Plus, we always found parking.
The location was fantastic. It was so easy to walk along the coast to see sweeping sunsets. Plus, there are lots of places to grab coffee, shave ice, snacks, meals, and even pick up souvenirs.
Our room was fairly large, there was a bathtub, plus a mini-fridge to keep our drinks cold. And the sunrises were amazing. I think it's one of the top resorts in Kona Hawaii. Check the latest rates and more information.