Are you looking for the best Hawaii Volcanoes National Park hotel? Keep scrolling for my honest Hawaii Volcano House review so you can decide if it's right for your family.
This Hawaii Volcanoes National Park hotel review contains affiliate links which means if you purchase something from one of my affiliate links, I may earn a small commission that goes back into maintaining this blog.
Are you looking for a hotel at Hawaii Volcanoes National Park on the Big Island of Hawaii?
You're in luck! While there are lots of camping options, there's actually only one hotel located inside the park. We recently stayed at Volcano House, which is a historic hotel right on the crater.
Keep scrolling to read my honest Volcano House review so you can decide if it's the best Hawaii Volcanoes National Park hotel for your trip.
The views from Volcano House are absolutely stunning, but what really makes this hotel special is its history.
You'll get amazing views of Kilauea from your room or balcony, which makes staying here worth every penny. The location can't be beat either – there are trails right outside your door and you won't have to drive anywhere if you want to go hiking or visit other parts of the park.
Keep scrolling to learn more about this Hawaii Volcanoes National Park hotel!
Where to Stay at Hawaii Volcanoes National Park FAQs
What is the closest city to Hawaii Volcanoes National Park?
The closest city/town is Volcano. It's about 10 miles from the park and it will take you about 20 minutes to get there. Hilo is about a 45 minute drive and Kona is more than a 2 hour drive from the park.
Are there hotels near Volcano National Park?
The Hawaii Volcano House is the ONLY hotel near Hawaii Volcanoes National Park. In fact, it's located inside the park. Most of the other accommodations are camping or vacation rental homes. If you'd like a chain hotel, you'd need to look at Hilo.
Is it worth staying at the Hawaii Volcanoes National Park Hotel?
Absolutely! The views from the hotel are amazing (as long as there is clear weather). Plus, it's right across the street from the visitor's center and there are food options on the main level. It's the best place to stay at Hawaii Volcanoes National Park.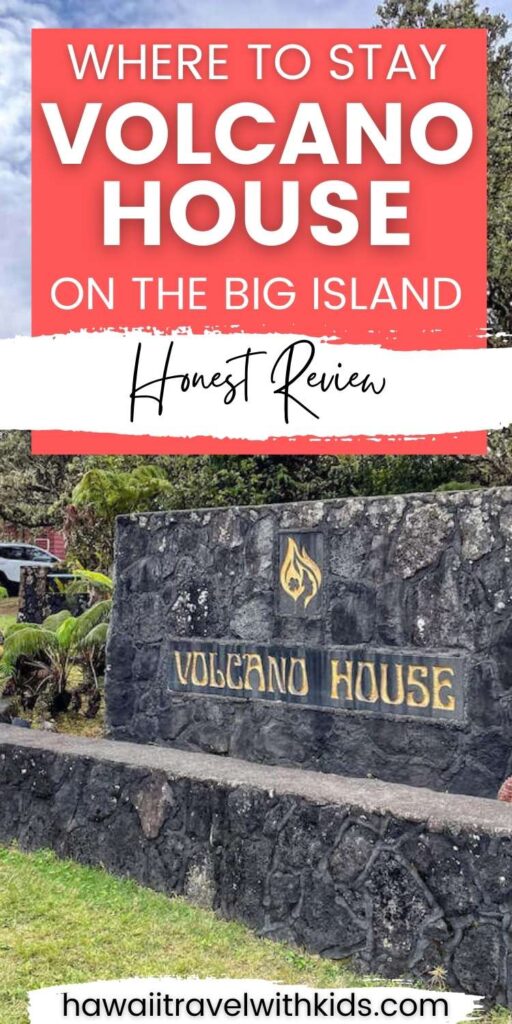 Where is the Volcano House?
The Volcano House is literally across the street from the Hawaii Volcanoes National Park Visitor's Center. There's even a short pathway through the trees to get there.
It's the only hotel located inside this Hawaii national park and there is plenty of signage so you won't get lost finding this volcano hotel.
Hawaii Volcano House History
The historic Volcano House sits on the rim of Kilauea caldera in Hawaii Volcanoes National Park on the Big Island and has a fascinating history.
Hawaii's Volcano House was originally built in 1846 by Benjamin Pitman, Sr. It was a small structure made of grass and wood.
In 1866, they tore down the original shelter and replaced it with a wooden hotel with 4 bedrooms. They actually moved this and it's now the home of the Volcano Art Center near the visitor's center.
Two of the most famous guests who stayed here include Mark Twain and Robert Louis Stevenson.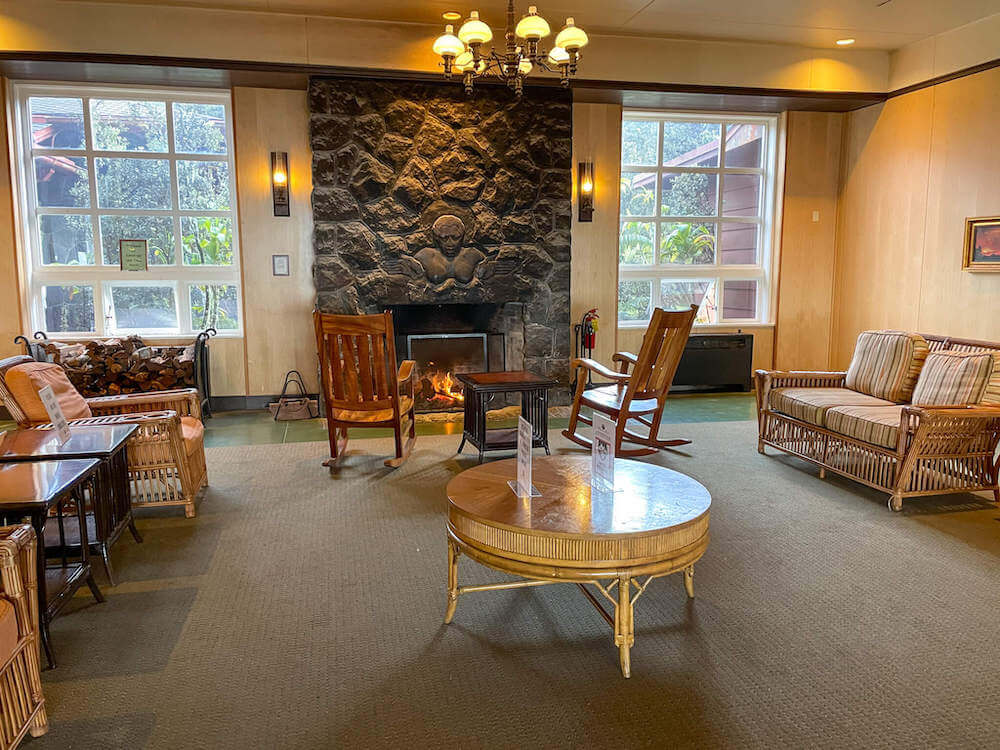 In 1895, George Lycurgus bought the Volcano House, updated it to be a 2 story Victorian-style hotel. This is where President Franklin D. Roosevelt and Amelia Earheart stayed.
Unfortunately, a big fire burned the place down in 1940. However, George Lycurgus rebuilt the entire hotel and re-opened it in 1941.
Today, Volcano House is owned by the National Park Service. It was completely upgraded in 2013. Check the latest rates and more information.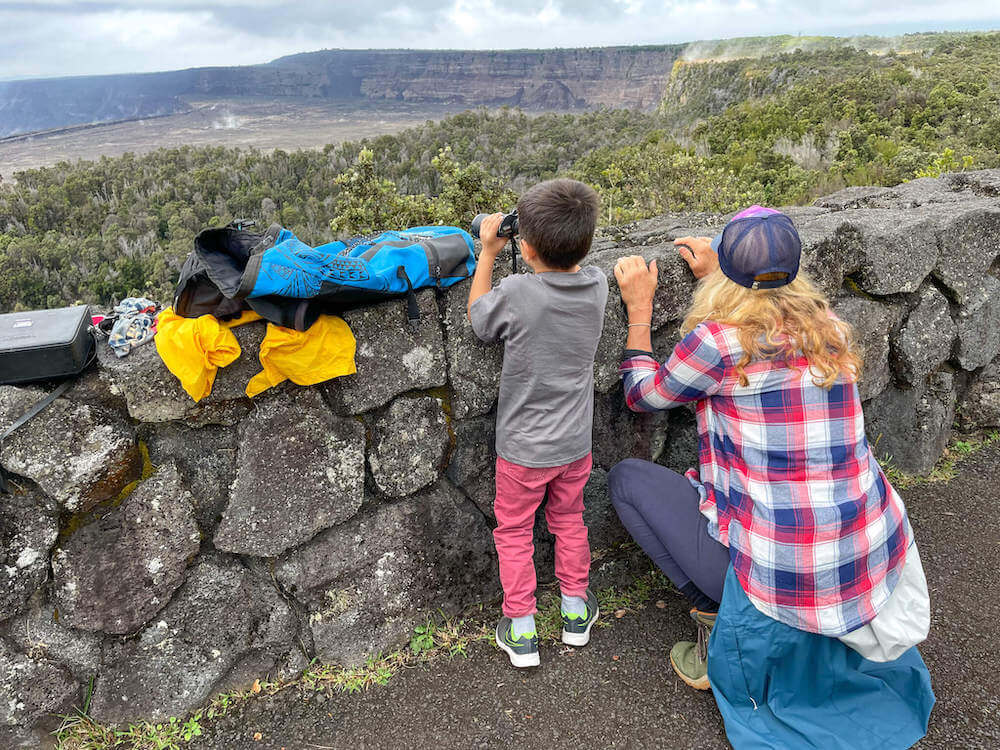 Honest Volcano House Review
What was our room like?
Our room felt…historic. We had a king-size bed and a roll-a-way bed. There was a separate, cozy bathroom with a shower stall. And a closet with drawers. Plus, there was a vanity/desk area.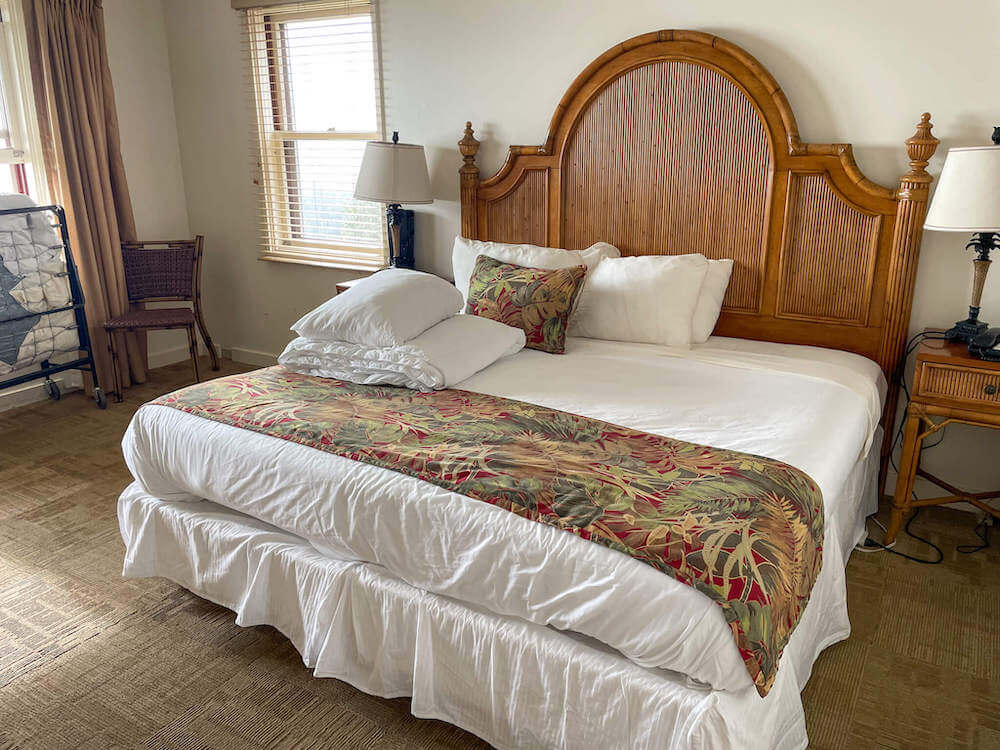 Since it's a historic hotel, there were only a couple of electrical outlets. And you'll need to use the windows instead of air conditioning.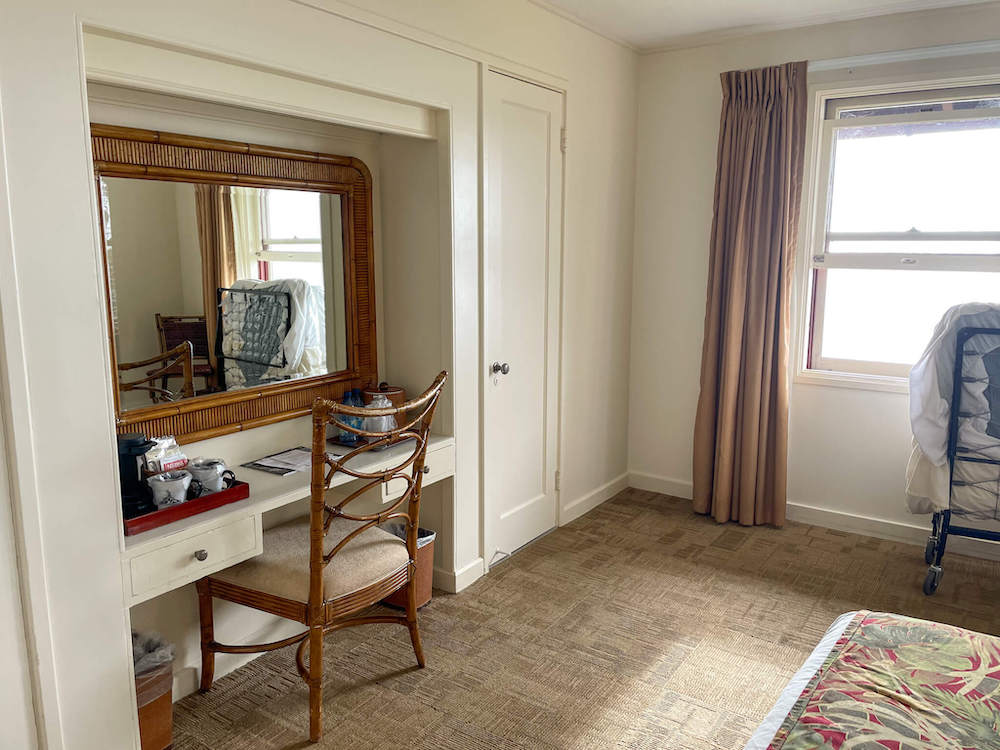 There is complimentary wi-fi (perfect for uploading those amazing volcano photos) and it's one of the few hotels in Hawaii to have a heater.
What did we think of the dining options?
There are three dining options at Volcano House and they all use the same kitchen.
The Rim at Volcano House
This is the fine dining option at Volcano House. Since I was visiting with my 5-year-old, we didn't try it. Reservations are highly recommended and you don't need to stay at the hotel in order to eat here.
Uncle George's Lounge
We ate here on our first night and the food was great! It's their casual dining and it's first-come-first-served. We arrived at 5:30 p.m. and had to wait an hour. The wait was 90 minutes for people who arrived at 6:30 p.m.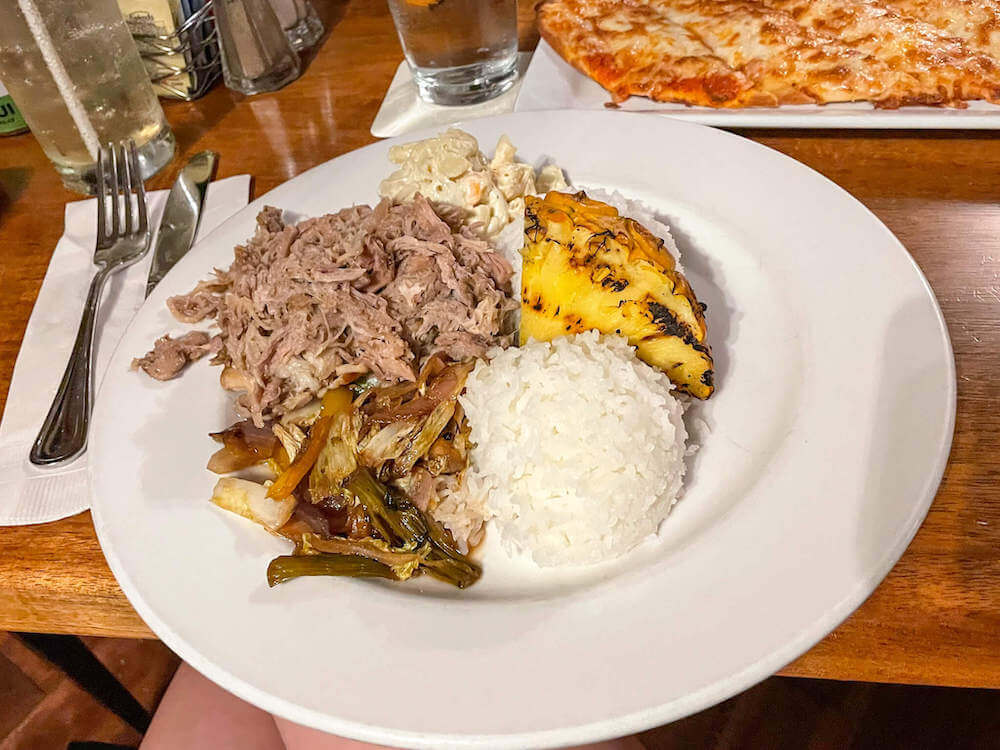 But, there are only a few tables. We got a premium spot right next to the window and we could see the glow.
They have a kids menu with a few items. Plus, they have a high chair and a booster seat, which is always helpful with little ones.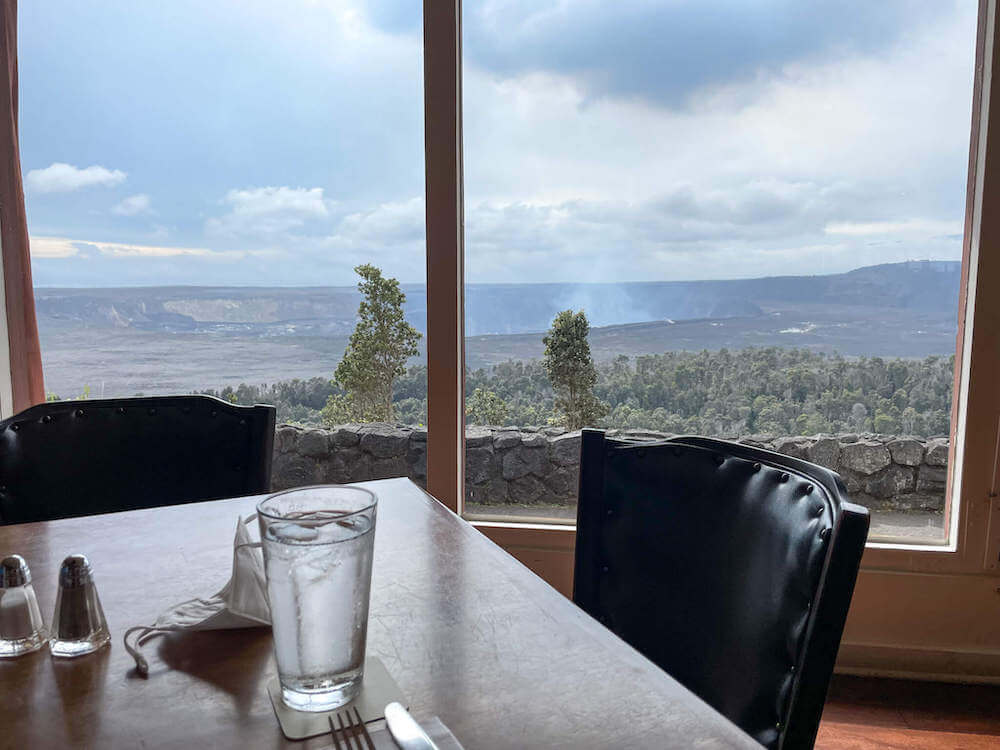 We liked it so much that we went back for lunch the next day. This is also where you can go to pick up sandwiches to take with you on a hike.
And in the morning, they have a FULL coffee bar! It recently opened in September 2021 and they also have grab-and-go items like pastries and bagels.
In-Room Dining
They also offer in-room dining, which is perfect for after a day of exploring the park.
Other features/amenities
I highly recommend getting a crater view room. That's the main perk of staying at Volcano House versus staying at a vacation rental in Volcano Village.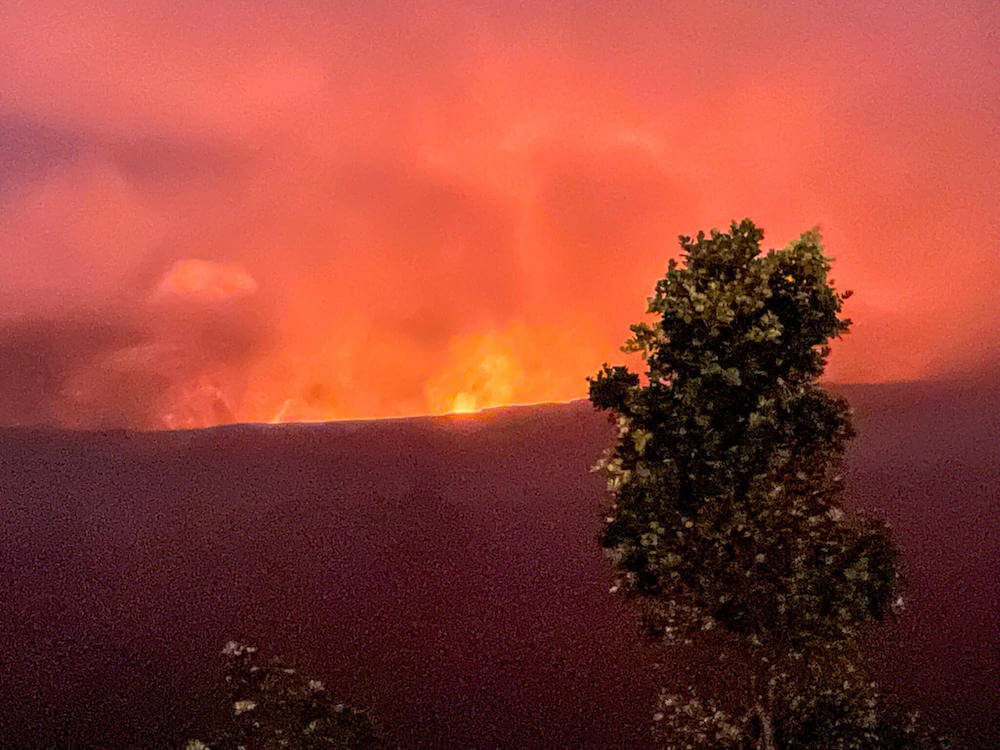 Another feature is simply the location. You can walk to the Visitor's Center, the steam vents, and even the Kilauea lookouts on paved paths from the hotel.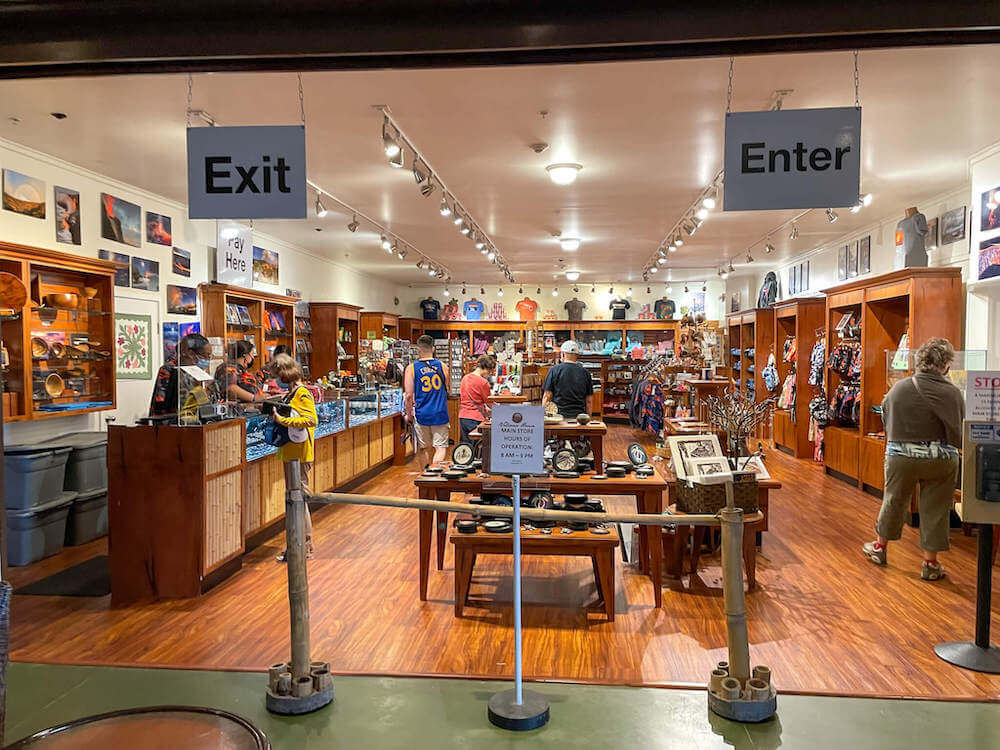 And they have two amazing gift shops. If you're looking for Hawaii Volcanoes National Park souvenirs, you'll definitely want to stop at Volcano House. They had WAY more items than at the visitor's center.
There's also a cool smashed penny machine at the hotel entrance. This makes a great (and cheap) Hawaii souvenir.
Are there any things we didn't like?
Since this is a historic hotel, there are no elevators. That means you'll need to haul your luggage up a few stairs if you are on the ground level or a full flight of stairs if you are on the second floor.
It also means that there is zero counter space in the bathroom. However, you can use the desk/vanity area in the main area of the room for all that stuff.
There also isn't a lanai. But, there's a nice lobby downstairs where you can sit and enjoy the view.
Would we recommend the Volcano House?
This is definitely one of the most unique places to stay in Hawaii. I mean, I got to see lava glowing from my hotel room window! It's perfect for visiting Hawaii Volcanoes National Park with kids!
Usually I prefer more modern hotels to historic hotels, but this is a one-of-a-kind Hawaiian hotel. There is so much rich history here and it's pretty incredible.
I'd highly suggest staying two nights here. The weather up at the volcano can be unpredictable. The first day we arrived, it was completely overcast and we couldn't see anything at the scenic lookouts. The next day, BAM, it was super clear!
Since there are only 33 rooms, you'll definitely want to make reservations since they book up early (especially during an eruption). If you can't snag a room, they also have cabins available.
Other Lodging in Volcano Hawaii
In case the Hawaii volcano hotel is booked up, there are a few vacation rental homes available in Volcano, Hawaii just outside of the park.
There's a really cool 3 bedroom cabin that can sleep 4 people comfortably. It's one of the places to stay in Volcano Hawaii. Plus, there's a kitchen so it's easy to make your own meals. Check the latest rates and more information.
If you need something larger, there's a 3 bedroom home that can sleep up to 8 people in 6 different beds. Check the latest rates and more information.