Heading to Kauai on a budget? Find out the top cheap places to stay in Kauai, scroll down for all the info!
These cheap places to stay in Kauai contains affiliate links which means if you purchase something from one of my affiliate links, I may earn a small commission that goes back into maintaining this blog.
How many times did you visit your grandparents' house while you were growing up? Did you grow up next door? Or did they live half a world away?
I was lucky enough to get to visit my grandma while I was growing up.
Oh, and she just so happened to spend part of her year on Kauai!
My mom lives there now, so we still have a reason to visit – which we take advantage of as much as possible!
We are able to use her home as our base of operations as we explore waterfalls, try new beaches, and take in all the beauty that Kauai has to offer.
If you're looking for more of what we do on Kauai, check out my Kauai Family Guide!
Having mom living there has been wonderful for my boys and me, but we often take for granted that we have built-in lodgings!
I was looking into just how much we end up saving every trip, and it's a pretty decent amount!
If mom were to ever kick us out (with two growing, rambunctious boys, it's a distinct possibility!) we would be looking for somewhere nearby that wouldn't break the bank.
I have been doing my research in anticipation of just such an occurrence, and have come up with 10 Cheap Places Places to Stay in Kauai.
Don't have time to read a bunch of Hawaii blog posts and reviews? Here are some of our top picks for visiting Kauai on a budget.
Best Budget-Friendly Kauai Tours/Activities
Best Budget-Friendly Kauai Hotels
Want to skip all the planning and just access my detailed Kauai Itinerary complete with daily schedules, kid-friendly activities, and travel hacks? Click the button below.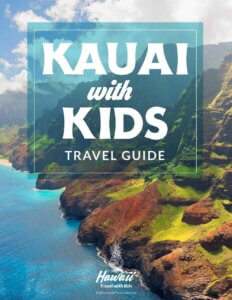 Cheap Places to Stay in Kauai FAQs
What is the cheapest area of Kauai to stay?
The East Shore is definitely the cheapest side of Kauai and you'll have the largest range of budget Kauai hotel options. Plus, it's centrally located and you can easily access grocery stores and Costco.
How many days do I need in Kauai?
If you are island hopping, many people choose to spend 4-5 days on Kauai. However, many hotels offer discounts or free nights if you stay at least 5-7 days on Kauai.

10 Cheap Places to Stay in Kauai
1. ASTON ISLANDER ON THE BEACH
440 Aleka Pl, Kapaʻa, HI 96746
(808) 822-7417
Aston Islander on the Beach is a hotel I have brought up before, but it's worth bringing up again! Check out the latest prices and more details.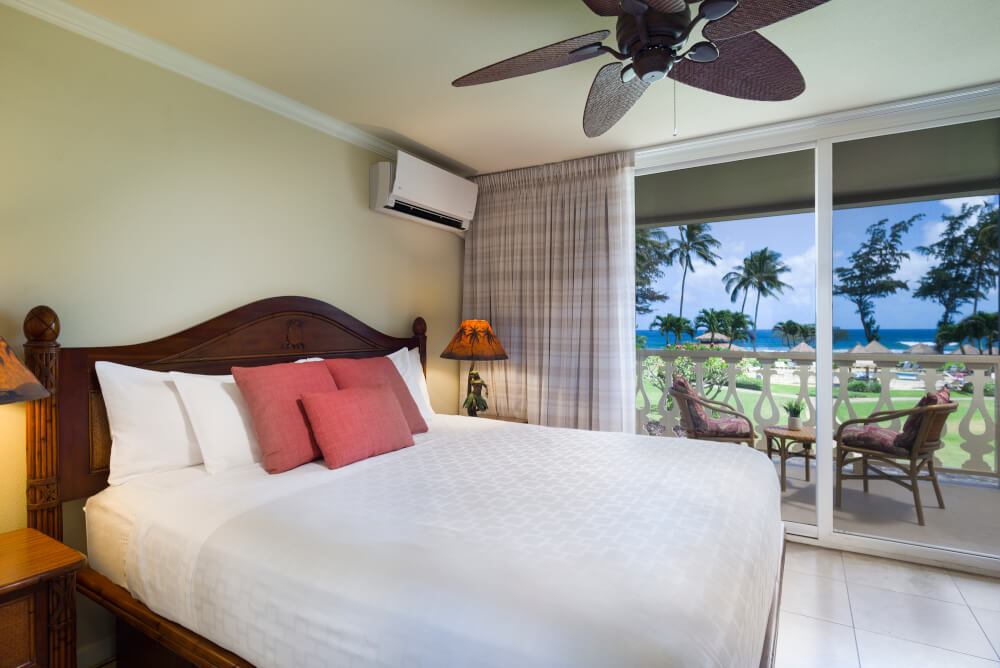 Located on Wailua Bay, you are less than 7 miles from the airport, and right in the middle of some of the most gorgeous scenery you will ever see!
Rooms start at $169 per night for a room with a garden view. Most rooms offer lanais (or balconies.)
There is an "amenity fee" of $20 per day added on before taxes, which pays for WiFi, one beverage per day, an airport shuttle, and more.
Kick back and relax by the pool bar, or walk the short 5 minutes and enjoy the ocean in all its glory!
2. PLANTATION HALE SUITES
525 Aleka Loop, Kapaʻa, HI 96746
(808) 822-4941
I know I have mentioned Plantation Hale Suites before, so if you have not gone there yet, you are missing out! Check out the latest prices and more details.
This is the place to be for a quick walk to the beach or close proximity to all things wonderful and beautiful in nature.
Rooms all have a full kitchen included (AMAZING when staying with little ones!) and will vary in price mostly due to the view outside your window.
If you are ok with a standard, garden view room, you are looking at around $182 per night.
As the view gets nicer, the cost gets higher.
Don't worry about the view from your room though, get out there and walk 3 minutes to see the view of the WHOLE ocean right in front of you – for free!
Save money on food by cooking on vacation.
3. BANYAN HARBOR
3411 Wilcox Rd, Lihue, HI 96766
(808) 245-7333
With a condo-like feel, Banyan Harbor is a hotel that reminds you of home. Check out the latest prices and more details.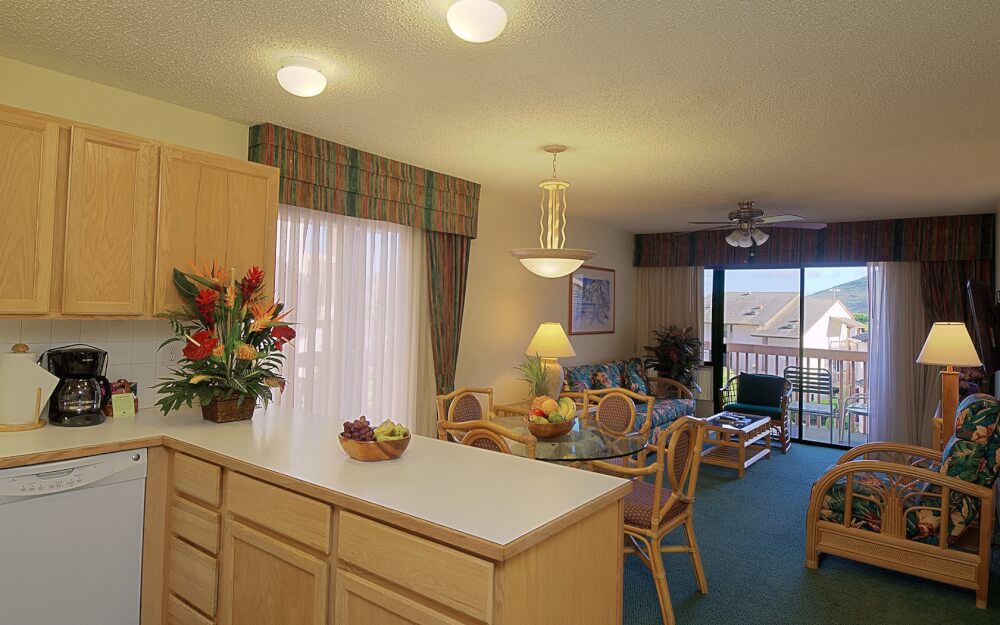 The one-bedroom condos have a full kitchen, a pull-out sleeper sofa, and a washer/dryer.
I LOVE having a washer and dryer in my space – because we all know how messy beach towels and swimsuits can get.
I would much rather stick everything straight in the wash just like at home. HUGE bonus points!
The rooms start at $149 per night, depending on the day of the week or the time of year.
If I can't stay with Mom, I would love to be somewhere like this, welcoming, useful and reasonably priced.
4. SHERATON KAUAI COCONUT BEACH RESORT
650 Aleka Loop, Kapaʻa, HI 96746
(808) 822-3455
You will love the fun, ocean-themed artwork that rooms at the Sheraton Kauai Coconut Beach Resort have! Check out the latest prices and more details.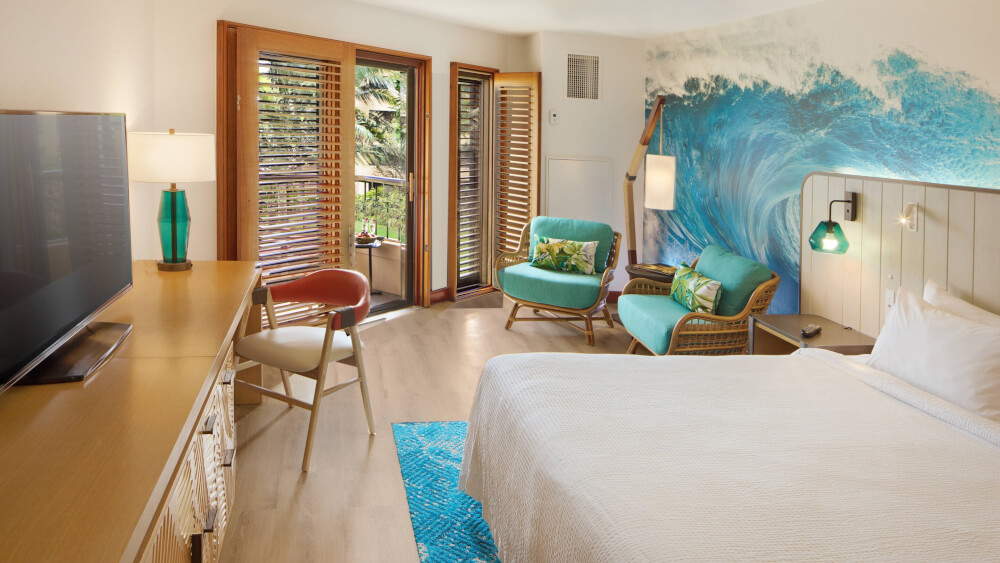 The blue hues remind you of the ocean just steps from your door, and the lush furnishings help you relax after a long day of swimming or sunbathing.
Rooms start at $129 per night, but be sure to look around online and adjust your dates to get the best rate.
At only six miles from the airport, on a beach, and within 5 miles of some of the best hiking trails on the island, I'm sure you'll agree that this is a wonderful place to look into!
5. HOTEL CORAL REEF
4-1516 Kuhio Hwy, Kapaʻa, HI 96746
(808) 822-4481
This recently remodeled hotel was built in 1956 and is still going strong!
Hotel Coral Reef Resort claims to have "the best view on the garden island", and is located within walking distance of Kapaa's shops, farmers markets, and restaurants. Check out the latest prices and more details.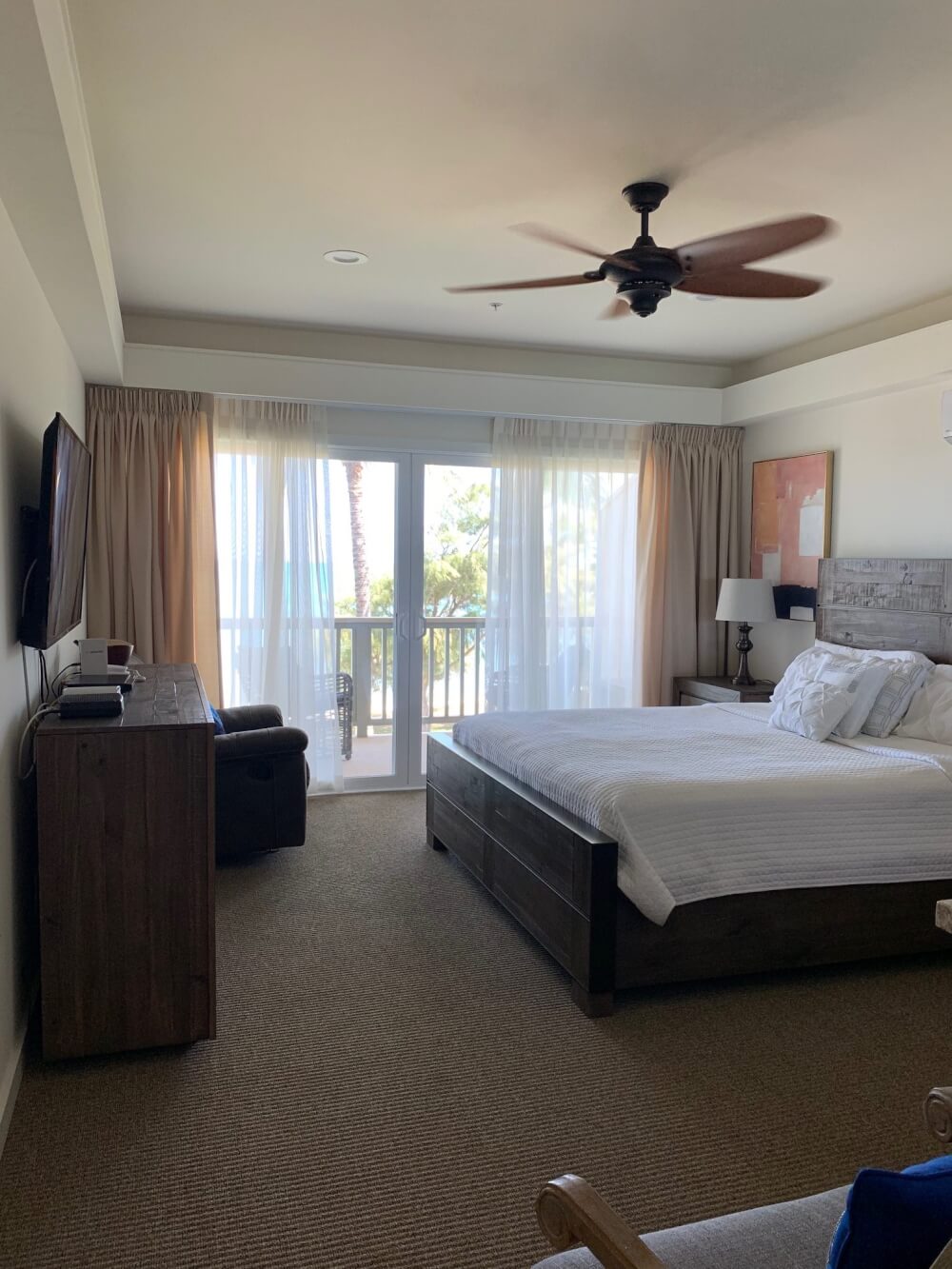 A standard city-view room with a pull-out sleeper sofa will start at about $159 per night.
Call the number above to make sure you have the best rate before you book, sometimes working directly with the hotel will get you better (less expensive) results!
What sets this place apart is probably its location and the lagoon-style pool with a waterfall.
What could be more relaxing than floating around in your own private waterfall-fed pool?
If floating isn't your thing, they also have bikes that you can borrow to ride the nearby coastal bike path. There is literally something for everyone!
It's also just a 5-minute walk from the amazing Kauai Juice Co. which has incredible kombucha plus the most Instagrammable wall on Kauai.
6. THE ISO
4-796 Kuhio Hwy, Kapaʻa, HI 96746
(808) 822-3971
The ISO was once named Castle Mokihana and is located in the middle of the "Royal Coconut Coast" – or the eastern side of Kauai. Check out the latest prices and more details.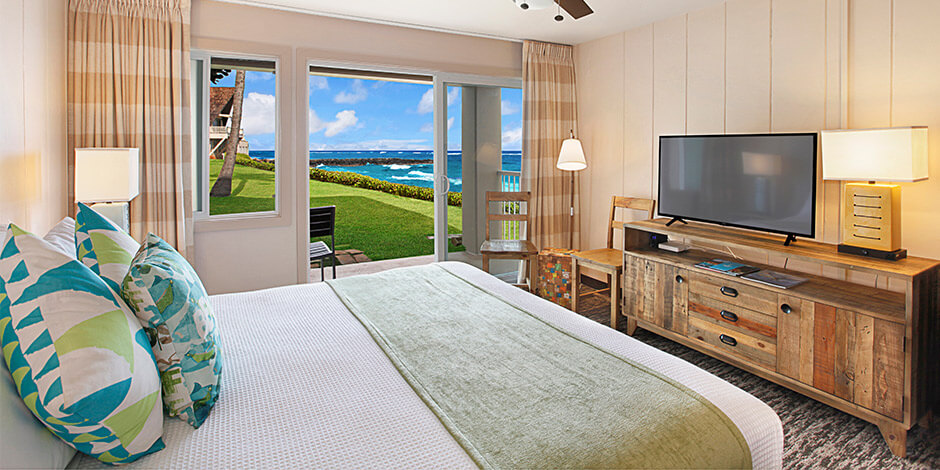 ISO stands for "Where Island, Sky , and Ocean meet."
Room packages for two adults and two children start at $179 per night, and each has its own balcony or lanai.
You are within walking distance of either the beach or shopping, and bikes are available if you feel like going for a ride.
One-room suites are available as well, and if your kiddos go to bed early like mine do, you will appreciate a door between your sleeping area and theirs.
No more sneaking around terrified of waking a sleeping babe!
7. HILTON GARDEN INN – WAILUA BAY
3-5920 Kuhio Hwy, Kapaʻa, HI 96746
(808) 823-6000
Hilton Garden Inn, Kauai Wailua Bay location is right next to Lydgate Beach Park between Lihue and Wailua. Check out the latest prices and more details.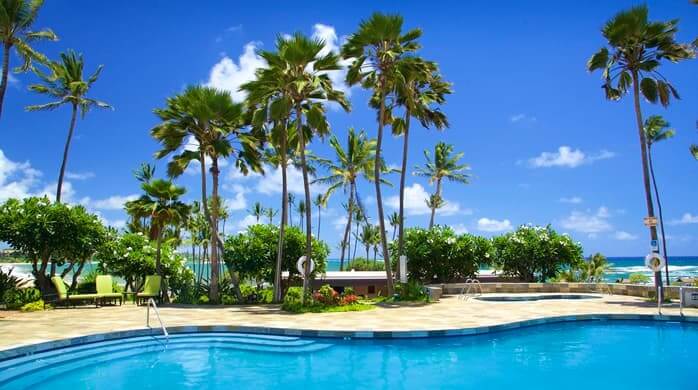 There are a playground and a play bridge within walking distance, which would be perfect for an after-dinner excursion for my boys when I don't want to have to wash yet another set of swim trunks.
Lydgate Beach Park also has a kids swimming area that can be a great place to practice snorkeling before heading to one of the less-sheltered beaches.
Double queen rooms start around $169 per night (in low season) but know that there is a $25 per night resort fee added to the cost of the room before taxes.
Still, for the proximity to all things Garden Island, I feel like this is a steal of a deal! Check out my full Hilton Garden Inn Kauai review.
8. THE KAUAI INN
2430 Hulemalu Rd, Lihue, HI 96766
(808) 245-9000
Located directly in Lihue, The Kauai Inn is probably one of the island's oldest hotels. Check out the latest prices and more details.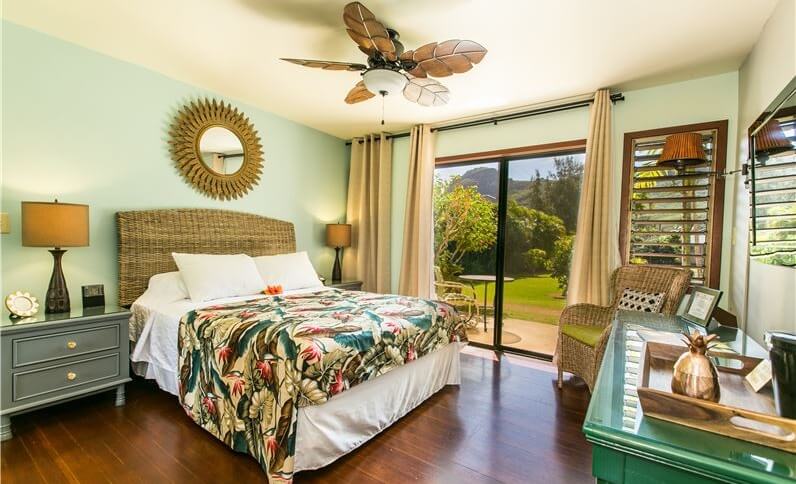 The Inn is situated on Nawiliwili Bay, about 3 miles from the Lihue airport.
My boys would LOVE the number of outside things to do here. There are hammocks, outdoor games, a pool, and only about a three-minute walk to Niumalu Beach Park.
Rooms start at $191 per night for a double queen bedroom.
If you are looking for a hotel with lots of history in a prime location, this is it!
9. WYNDHAM KA EO KAI
3970 Wyllie Rd, Princeville, HI 96722
(855) 421-4785
Up on the northern part of Kauai, there are some wonderful sights, attractions and opportunities you can't find anywhere else! Check out the latest prices and more details.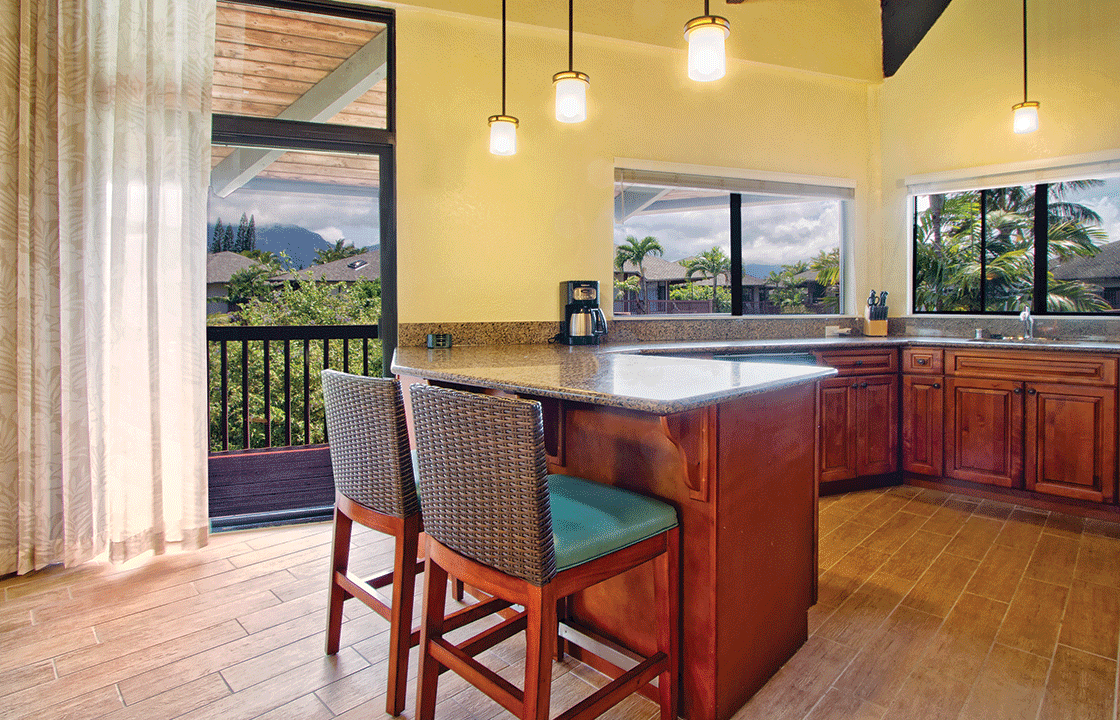 To stay closer to the Na Pali coast, consider Wyndham Ka Eo Kai as an option.
These are condo-based suites that have all the amenities of home – including a clothes washer and dryer!
Rooms start at $154 per night for a suite-based stay for two adults and two children.
There is a pool for the little ones, and the Makai Golfcourse nearby if you want to work on your handicap.
This wonderfully situated hotel would be a great home base for any of your northern coast activities!
10. PARRISH KAUAI
Various Locations
(800) 325-5701
Don't let the mention of "Luxury Vacations" scare you away, the Parrish Kauai rental company has properties all over the island, at many different price points.
You have your choice of homes, condos, and cottages in north or south Kauai, and with any number of room combinations.
One-bedroom condos in the southern part of the island start at $100 per night, whereas one-bedroom condos up north start at $165.
Because each rental is different, make sure you know what you are looking for, and get the amenities you need.
The ability to choose from so many different options is amazing, and really allows you to customize your vacation to you and your family!
No matter where you stay on Kauai, you are going to have fun and be near something interesting to do.
The Garden Island certainly lives up to its name with gorgeous waterfalls, state parks, reserves, and of course, the ocean!
We know the day is coming soon when we will no longer be able to stay at my mom's when we visit, so I plan on using this list of 10 Cheap Places to Stay in Kauai very soon.