Are you planning a trip to Hawaii's Big Island and are confused which side of the island you should find a hotel? Let me break down whether you should stay in Kona or Hilo when traveling to the Big Island. Scroll for all the info!
This post about where to stay on the Big Island: Kona or Hilo contains affiliate links which means if you purchase something from one of my affiliate links, I may earn a small commission that goes back into maintaining this blog.
Because the island of Hawaii has so much to offer, couples, families and those looking for a sense of adventure may have a difficult narrowing down where to stay on the Big Island.
Both Kona and Hilo offer a wide range of activities for all ages, so booking the best Big Island hotel for your needs will depend on your travel goals.
Kailua Kona and Hilo each have their own dedicated airport so getting to both areas is easy.
If you're wondering where to stay on Big Island, whether you're leaning toward Hilo or interested in heading to Kona, let this breakdown can help.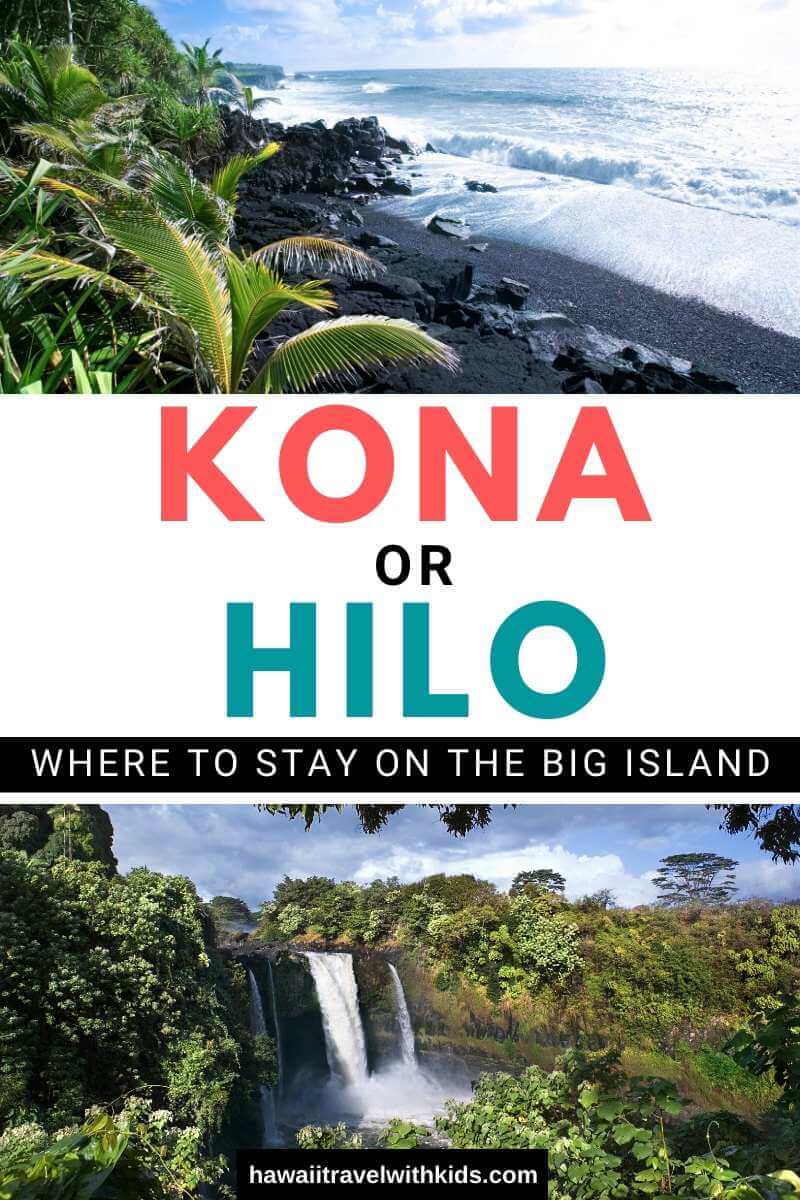 Kona or Hilo FAQs
What side of the Big Island is best to stay?
They are both good options, depending on what you want to do. The Big Island is pretty massive and chances are, you'll want to do a split stay if you plan on truly exploring the island. That will save you hours of driving time each day.
What's the difference between Kona and Hilo?
They have a completely different vibe. Kona is definitely the resort area with tons of tourists and it's much drier and rockier than Hilo. Hilo feels a lot more laid back and local, with more greenery and college students.
How long is the drive from Kona to Hilo?
It's about a 3 hour drive along the coast (which is 125 miles) if you don't stop. You can technically drive straight across the island in less time, but most rental car companies discourage tourists from doing that as you might damage the rental car.
Where to Stay on the Big Island of Hawaii: Kona or Hilo?
With its white-sand beaches, Kona, located on the west coast of Big Island can be considered the heart of the Big Island.
Kona enjoys warm weather year-round and is a welcomed respite for sun-seeking tourists the world over. Visitors come for the wide variety of annual events held in Kona, including the annual Kona Coffee Festival.
Things to do in Kona
If you're looking for things to do in Kona you won't be disappointed. If you're interested in going on a submarine ride, swimming with dolphins, snorkeling, ziplining, and scuba diving, Kona is the place to go.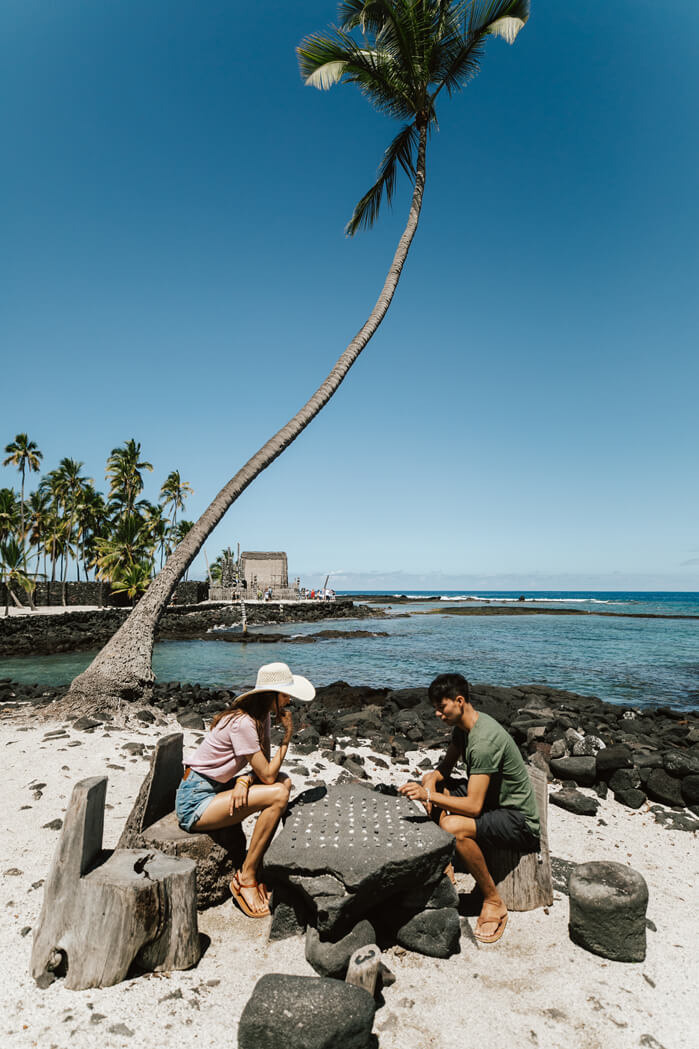 For those less adventurous If you're seeking some rest and relaxation on the beach, you can't go wrong. You can start your day with a tour of a working Kona coffee plantation to see how this famous coffee is grown and harvested.
Spend an afternoon strolling through plentiful botanical gardens or set up camp and enjoy nature in this lush paradise.
Kona's landscape provides a wide variety of activities for all ages. Step back in time and learn about the unique history of Hawaii at one of two area petroglyph fields. Both the Pukao Petroglyph Field and Waikoloa Petroglyphs are easily accessible from central Kona.
Finally, it truly wouldn't be a Hawaiian vacation without at least one luau. Enjoy a traditional luau for the ultimate Hawaiian food and cultural experience.
Read my full post on things to do in Kona
Best places to stay in Kona
For the ultimate in luxury, consider the Four Seasons Resort Hualalai at Historic Ka'upulehu in Kona. Featuring a well-appointed spa, shops and a golf course, the resort boasts stunning guest rooms dotted along the perimeter of the beach and golf course.
Similarly, the Mauna Lani offers a wide variety of activities for guests of all ages. Immerse yourself in the beauty of mountain views from this luxurious resort.
Families will enjoy centrally located, Courtyard by Marriott King Kamehameha's Kona Beach Hotel. Located near the Kamakahonu National Historic Landmark, this beachfront hotel is perfect for families.
The hotel is close to restaurants, shopping, and the Kailua Pier. It provides the perfect home base for exploring the Big Island.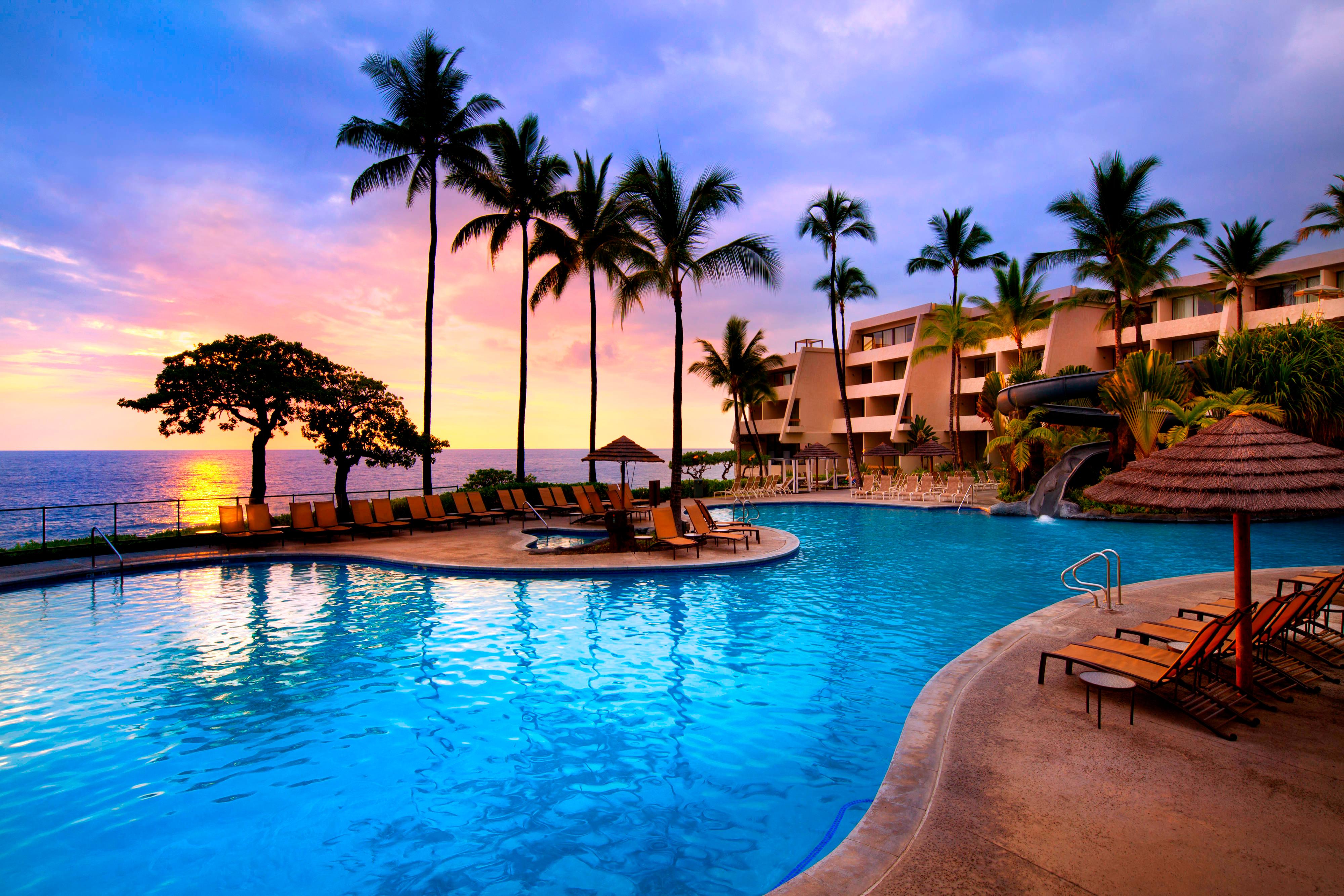 Another family-friendly hotel is the Sheraton Kona Resort & Spa at Keauhou Bay. Perfect for families of all sizes, this 4-star, kid-friendly resort features 4 restaurants and is located near the Kahalu'u Beach Park.
For budget-minded travelers wondering where to stay on the Big Island, the Kohala Village Inn in Kona offers family-friendly accommodations. This eco-friendly inn, with its upbeat but rustic decor, is a warm, welcoming respite for a Big Island vacation.
The Kona Seaside Hotel is a contemporary, beachfront property in a quiet, serene setting just minutes from the heart of Kona.
Where to Stay on the Big Island: Kona or Hilo?
The rain forests of Hilo provides a mixture of sunny weather and refreshing rainfall. Each year Hilo experiences about 132 inches of rain which leads to some of the lushest landscape on the Big Island.
Home to the University of Hawaii Hilo, the town is the epicenter of regular life and is less 'touristy' than other parts of the Big Island.
Things to do in Hilo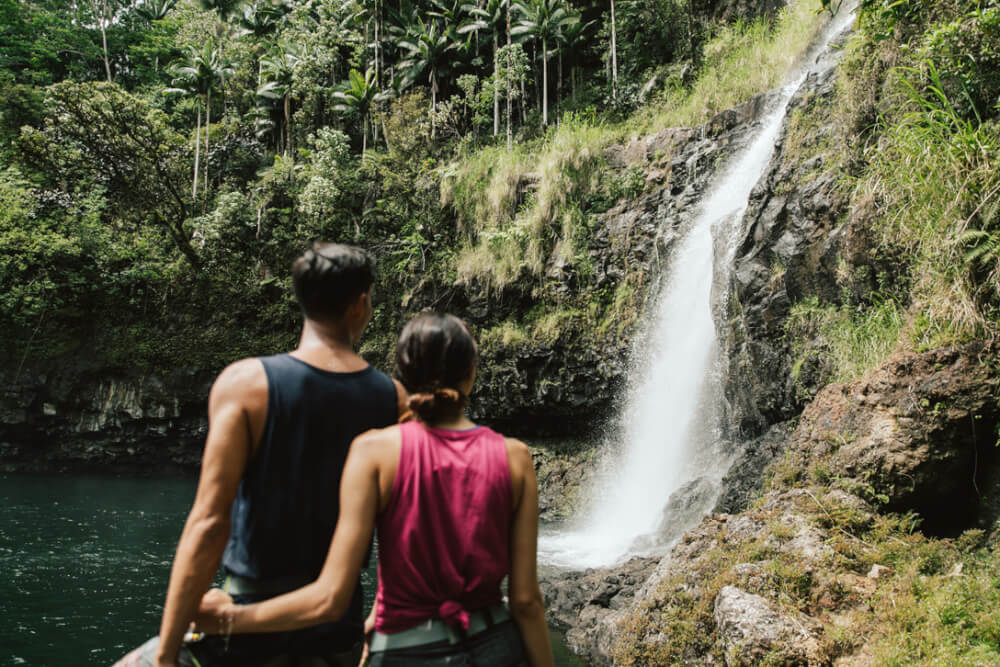 If you're looking for waterfall hikes, you'll want to visit Hilo. Both Rainbow Falls and Alaska Falls are popular area waterfalls that are the perfect day trip activity on the Big Island.
Among the most popular things to do in Hilo, are helicopter tours, especially ones that go over Hawaii Volcanoes National Park.
For those interested in astronomy, Mauna Kea provides fun, educational and cultural exhibits for all ages. The planetarium is also a huge draw and a great way to spend an afternoon.
Read my full post on things to do in Hilo
Best places to stay in Hilo
The Grand Naniloa Hotel Hilo is a DoubleTree by Hilton hotel in downtown Hilo. Centrally located to shopping, restaurants and the airport, the waterfront hotel features a golf course, outdoor pool. It also offers free amenities for all ages.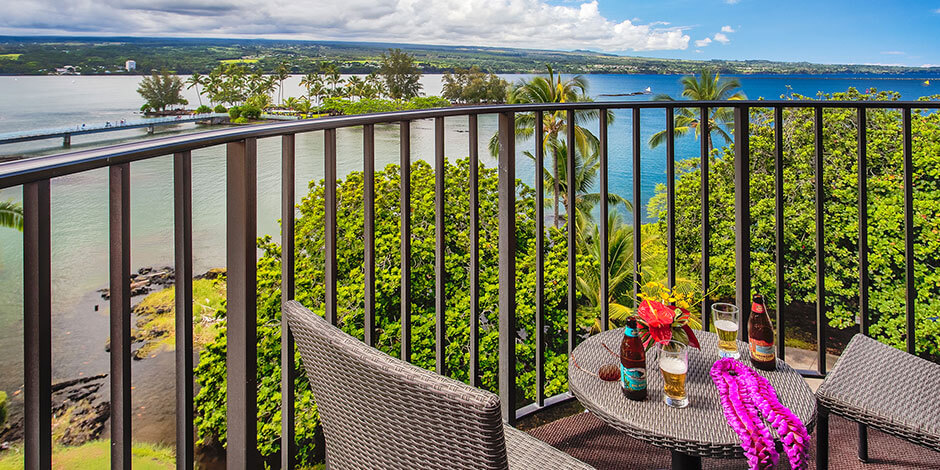 Castle Hilo Hawaiian Hotel is a full-service hotel near Hilo Town. Featuring stunning ocean views and the Mauna Kea, the hotel is the perfect home base for visiting Hawaii Volcanoes National Park.
Budget-minded travelers wondering where to stay on the Big Island, may wish to consider Hilo Seaside Hotel. This Hilo Bay hotel is the ideal location for a relaxing beach vacation away from the hustle and bustle.
Much like the Hilo Seaside Hotel, Hilo Bay Hale Bed and Breakfast is an affordable and cozy alternative to hotels and resorts. Each room has its own private lanai and the property is dotted with koi ponds and stunning landscape.
The historic home is not to be missed if you're looking for budget-minded accommodations with personalized service.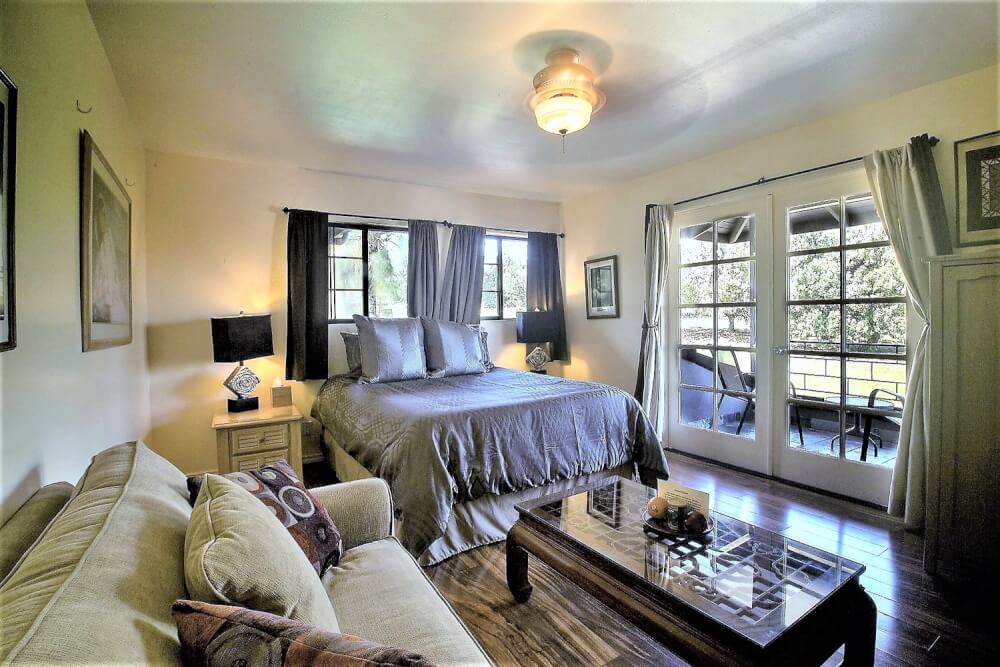 The Inn at Kulaniapia Falls is a short drive from Hilo Town and offers a wide variety of family-friendly activities including waterfall rappelling.
The resort offers several family-suites with stunning views of the Kulaniapia Waterfalls as well as private cottages and a guest house for larger groups.
So, Should You Choose Kona or Hilo?
Consider a Split Stay and Visit Both Hilo and Kona
For travelers seeking the best of both worlds, consider a split stay and visit both Kona and Hilo on your trip to the Big Island. This is a great 7 day Big Island itinerary that will help you figure out how best to split your days.
Traversing the Hawaii Island generally takes an hour and a half. Visitors may consider renting a car in Hawaii or taking advantage of public transportation.
The Hele-On Bus runs from Kona to Hilo but typically takes just under 3-hours.
Whether you're trying to decide what to do in Kona or creating an itinerary of things to do in Hilo, the Big Island offers plenty of activities for everyone.