Are you planning a trip to Hawaii in winter and want to whether or not it snows in Hawaii? Keep scrolling to find out how to go skiing in Hawaii this winter with your family.
This post about how to go skiing in Hawaii in winter contains affiliate links which means if you purchase something from one of my affiliate links, I may earn a small commission that goes back into maintaining this blog.
Do you want to go skiing in Hawaii?
Did you know that the Big Island has a ski resort and it's actually one of the most popular resorts on the island? It's called Mauna Kea, and it offers some incredible views. You can also find snowboarding trails here as well!
If you love winter sports, then this guide is for you.
We will tell you everything about how to get there, what gear to bring, where to eat and stay while visiting Mauna Kea Resort.
So if you are looking for an adventure during your next trip to Hawaii or just want something fun and different from all those tropical beaches we have here in Hawaii, then read our detailed guide on how to ski in Hawaii!
We promise that after reading this article, your mind will be racing with ideas of things that you could do when visiting Mauna Kea Ski Resort. This is going to be so much fun! Let's get started.
Learn how to go skiing in Hawaii this winter with this detailed guide!
Want to skip all the planning and just access my detailed Big Island Itinerary complete with daily schedules, kid-friendly activities, and travel hacks? Click the button below.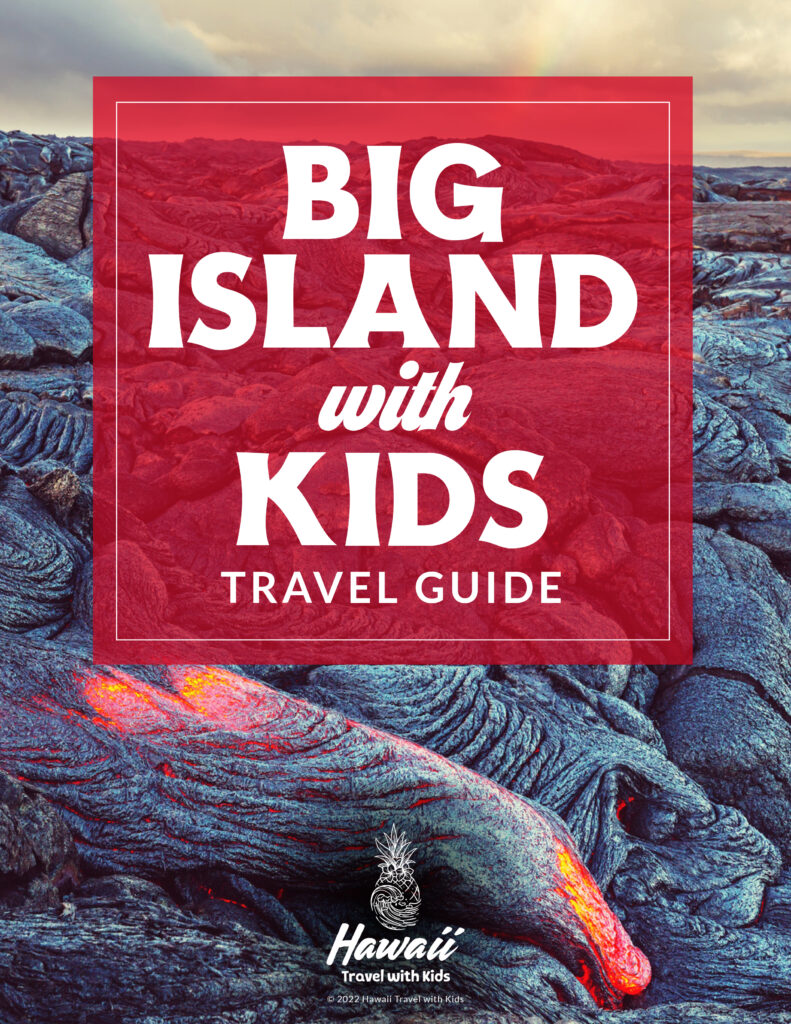 Visiting Hawaii in Winter FAQs
Does it snow in Hawaii?
Many people wonder if it really snows in Hawaii, and that truth surprises a lot of people. It does indeed snow in Hawaii, but only mostly just on one island. The Big Island is the island that gets snow. Every once in a while there's snow at Haleakala Crater on Maui.
Can you ski in Hawaii? 
While it does snow in Hawaii, many also question if it snows enough to ski? Yes! You can actually enjoy the morning sunrise on the ocean and then make your way to the top of the mountain to go skiing by the end of the day. Hawaii is definitely the dream vacation on so many levels! You can ski and snowboard in Hawaii, who would have thought? 
What's the weather like in Hawaii in winter?
The weather is typically a bit rainier during the winter months and the temperatures can drop into the 60s. If you go up into the mountains, it gets quite cold and you'll want to bundle up.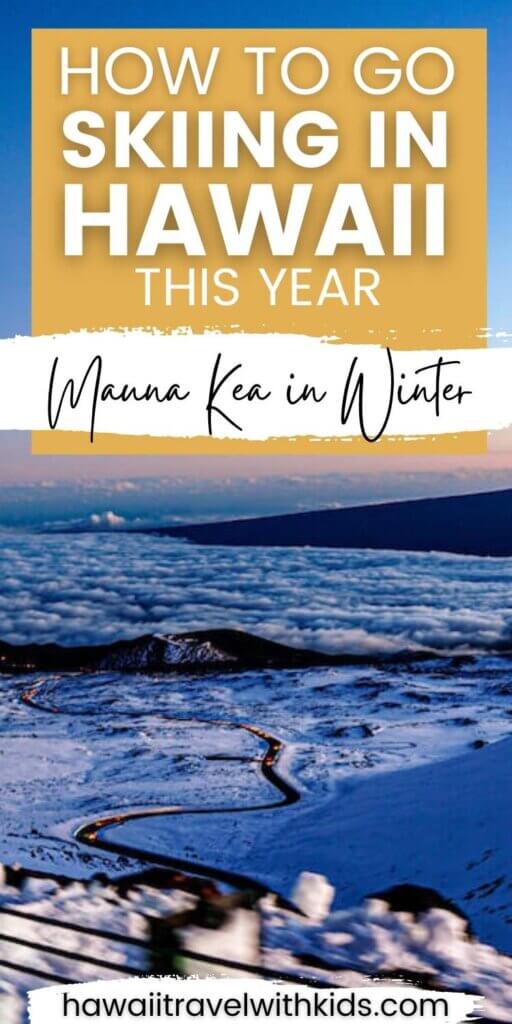 How to Go Skiing in Hawaii This Winter
Now that you know you can ski and enjoy the snow even on the island of Hawaii, here is your guide on how to go skiing in Hawaii this winter.
Here you'll find the best ski resort in Hawaii along with tips to have the best skiing experience while on your Hawaii vacation!
Mauna Kea Hawaii Ski Resort
Mauna Kea is located on the Big Island of Hawaii and is a dormant volcano. The name "Mauna Kea" actually means "white mountain" in the Hawaiian language. It is around 13,500 feet high. It is one of the tallest island mountains in the world.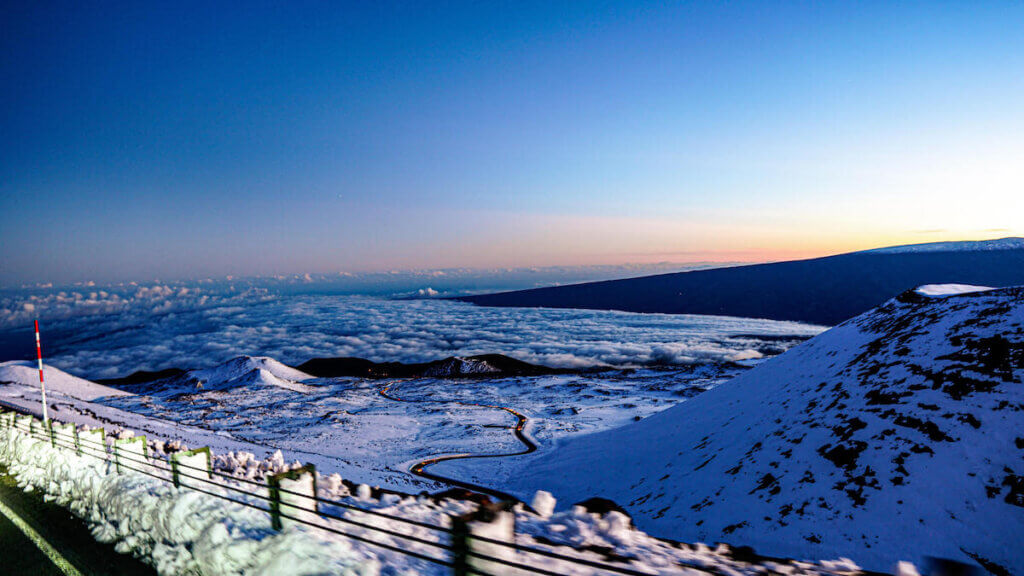 You can find snow during the winter months at Mauna Kea. This mountain has about 100 square miles where you can ski and snowboard. Some have claimed it has the best snow in the whole world. You'll have to go and see for yourself!
Best Time to Go Ski in Hawaii
It all depends on the weather to go skiing in Hawaii. Typical ski seasons in Hawaii are November through July, but it all depends on how much snowfall occurs during these months. Many have found that between January and March is typically the best time to go skiing in Hawaii at Mauna Kea.
Hawaii snow is pretty unpredictable. Some days there is no snow, while others can get a huge dump of snow to ski on. But, even if you go when you cannot ski, you can actually see Mauna Loa and Haleakala, two other volcanoes in Hawaii on clear days.
No Ski Lift
One of the biggest issues with skiing in Hawaii is there are no ski lifts. This means you either have to use a guide or rent a vehicle with four-wheel drive. With no ski lift, you are doing this all by yourself. However, some believe the view at the top is worth it!
Many find it best to switch drivers. One skier drives everyone to the top and then changes the next time. Going back and forth like this helps everyone out to be safe, but also ski more often. Make sure to drive carefully, so you don't get stuck, though!
Rentals
You are always welcome to pack your snow gear along, but most people don't have enough room in their luggage. If you do want to bring your own equipment, don't bring your best or super fancy items. You may go from snow right to lava rock which can damage your gear.
Most people like to rent gear at the base of Mauna Kea. It is usually $50 to rent boots, skis, and ski poles. If you want to snowboard, the boards and boots will also cost $50. Before renting, you will need to have a $100 deposit for either.
Be Prepared
While it does snow on Mauna Kea, and you can ski or snowboard there at times, it is not without precautions. It is not a place dedicated to these activities, so it is not well maintained. There are lava rocks all around that you can get hurt on if you are not careful.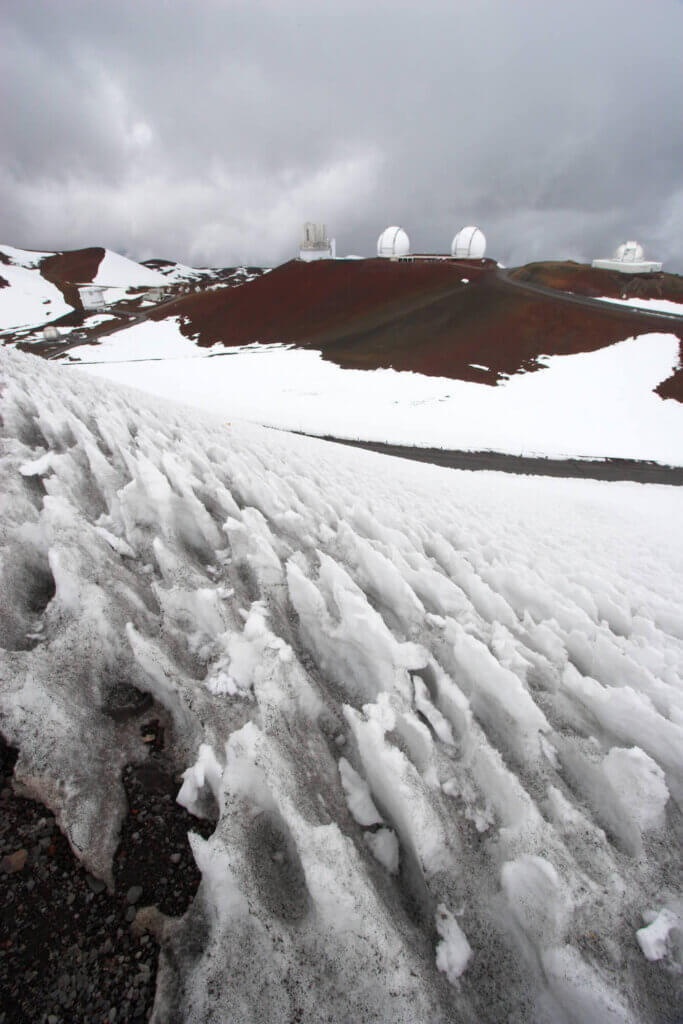 You can also never predict the weather. Some days it may not snow much, making it extremely difficult and dangerous to ski there.
This will be unlike any other skiing experience you've ever had because of these conditions, so be extra careful while you are there.
If there is any wind, more than likely, the road to Mauna Kea will be closed. The wind makes it unbearable and extremely cold. You also can hardly see anything, making it even dangerous.
Since the weather can change at any moment, be sure to bring essentials; you don't want to get stranded there without anything. Keep a bag with water, clothes, sunscreen, food, and other necessities if the weather quickly becomes terrible.
At the visitor's station, you will not find any food or water. There also isn't any gas or bathrooms available so prepare accordingly. Be sure to drink plenty of water beforehand and while you are in the Hawaii snow. This helps your kidneys and other organs to work properly, so you don't get dehydrated.
In order to best prepare, check out the forecast to see the current weather and conditions on Mauna Kea to see if it is even a good idea to go skiing. Many websites show you what it looks like and the snow levels, so be sure to check beforehand to prepare best!
Safety
On top of the safety precautions mentioned above, you also need to be aware of the air pressure and quality before going. You must be healthy to snow ski in Hawaii.
The air pressure at the summit is vastly different from sea level. It is extremely hard to breathe on top, so you probably shouldn't go skiing in Hawaii if you struggle with your health already.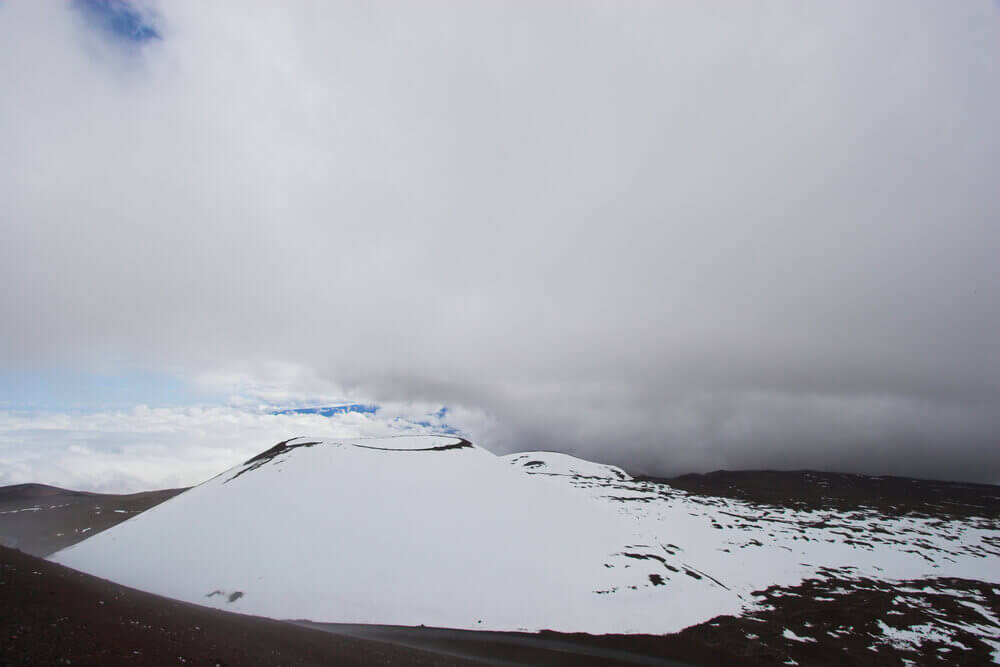 Typically the temperature at the top is between 25 and 40 degrees Fahrenheit. But if there is any wind at all, it will feel a lot colder.
If you have a heart condition, it is advised that you do not go to Mauna Kea to ski. The experience and the view are not worth your health and safety.
If you smoke, you should also stop smoking 48 hours before to help prepare and protect your lungs. You will have to deal with the altitude and the sickness that comes from it, but you also have to deal with the sun.
Because you will be so high up, you won't have any extra protection from the sun and the ultraviolet rays, you can get severe sunburns. Be sure to cover up and put on plenty of sunscreen. Sun exposure and high altitudes mixed together can be very dangerous if you are not physically healthy.
One last safety note is to avoid scuba diving and skiing during the same trip. If you want to do both during your vacation in Hawaii, be sure to space them 48 hours apart. Breathing at or below sea level creates more nitrogen levels in your body. This process is reduced when you are at high levels.
So if you experience both of these activities on the same day, you can experience nitrogen bubbles in your body, causing something known as "the bends." It is best to space them apart to ensure your health and safety. Enjoy scuba diving at the beginning of your trip and skiing at the end!
You can learn more safety precautions to take from the astronomers that frequently visit Mauna Kea.
Be Respectful
While you can ski on Mauna Kea, there is so much more to this volcano. Mauna Kea is considered a sacred space to Hawaiians and is very important to their culture. While you are there, you need to have the utmost respect for the mountain and the people.
The Hawaii Ski Club was created in 1936 with some of the first people to ski at Mauna Kea. Nowadays, they are prohibited from organizing ski trips to the volcano anymore, along with all travel agencies. This is a huge part because of the sacredness of this volcano to their culture.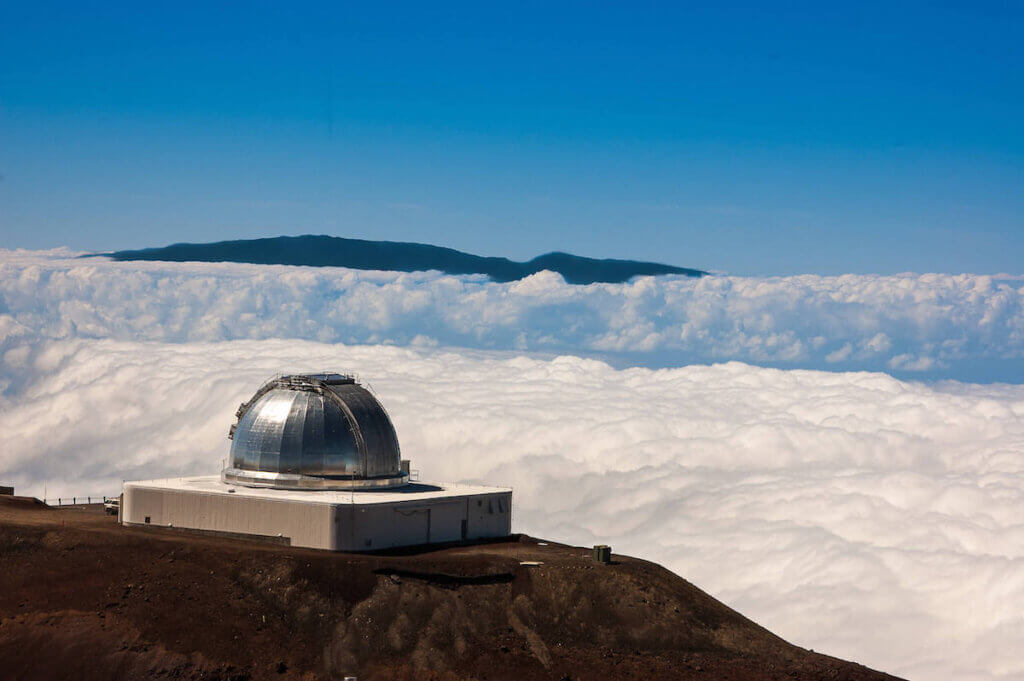 Mauna Kea is also an amazing place for astronomy. In fact, some consider it to be one of the best places to observe in the entire world. There will be many observatory staff while you are up on the mountain who also deserve respect.
Make sure not to take away from their time studying and working. If you get stuck or need help while you are there, be sure to ask the other skiers and not the astronomers.
Hawaii Skiing Wrap Up
While it may be entertaining to snow ski in Hawaii, be sure to know what you are getting yourself into beforehand! Skiing in Hawaii is one of the fun things to do in Hawaii during the winter if you can handle it. Skiing or snowboarding in Hawaii will definitely be a memory you'll never forget!
Mauna Kea skiing can be so much fun if you are in shape and prepared for this adventure. If you are up for a fun challenge and have Mother Nature on your side while it is snowing in Hawaii, this is definitely a unique ski experience you may never get elsewhere!