Looking for Hawaii gift ideas for someone who loves hiking? We have you covered! Keep scrolling for my list of the best hiking gifts for someone going to Hawaii!
This list of the best hiking gifts for someone going to Hawaii was written by Hawaii travel expert Marcie Cheung and contains affiliate links which means if you purchase something from one of my affiliate links, I may earn a small commission that goes back into maintaining this blog.
Hawaii offers any number of fun, relaxing, or exciting activities. Seemingly endless numbers.
But there is one activity that can encompass all these qualities at once. Namely, hiking.
A good hike can be relaxing and peaceful, but also an adventure. And there are all sorts of fun to be had along the way.
Hiking is one activity any visitor to Hawaii shouldn't miss out on.
So here is a list of the best hiking gifts for someone going to Hawaii to make sure they don't skip this experience.
Use this as your hiking gift guide!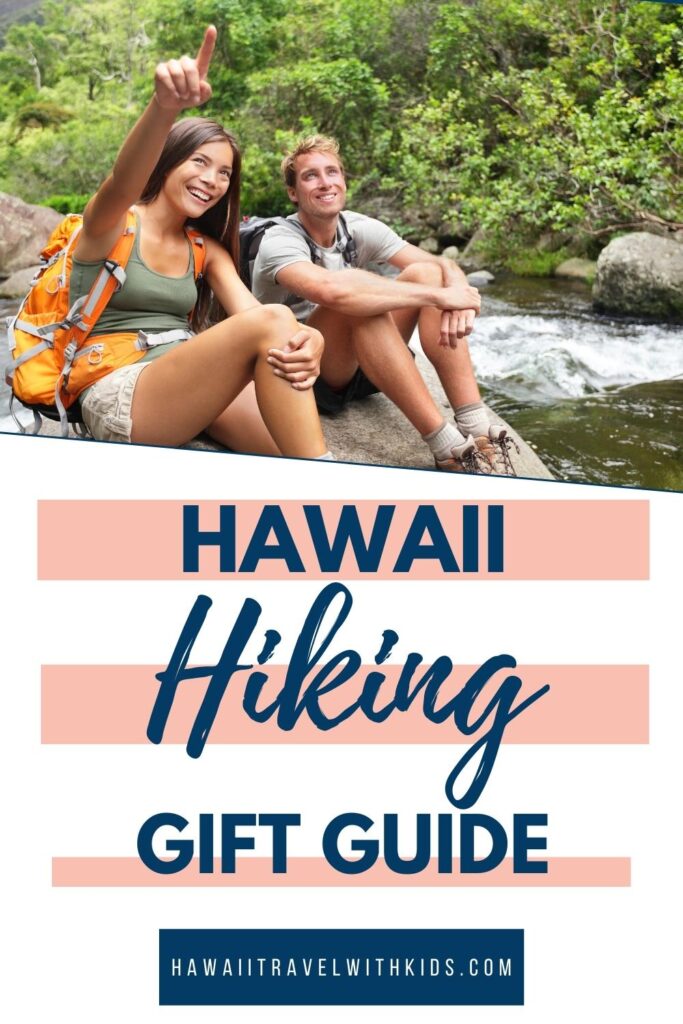 Hiking Gifts for Couples
Hiking is a fantastic way for a couple to spend time together. Just the two of them, alone, experiencing nature with each other.
Add in the natural beauty of Hawaii, and it becomes a guaranteed event that will stick with them for a lifetime. This section lists several hiking gifts for couples.
Two Way Radios
Hiking together doesn't mean they will literally be together every minute of it. These Long Range Two Way Radios with Earpiece are the perfect way to keep in touch.
They have a range that tops out at 5km with no obstructions. They come with earpieces so that you can maintain contact while keeping your hands free.
It is one of the best gifts for hiking couples! Check the latest prices.
Picnic Basket Backpack
One great thing about a hike is lunch. No, really. A picnic in a remote location can be a real bonding experience. And with the Picnic Basket Backpack, it can be taken to the next level.
This has multiple compartments, a cooler, a blanket, and multiple other storage pockets for anything you need.
There's even a dedicated pocket for a wine bottle. The main part fills with ice to keep food and drinks cold too, making it the perfect gift for hiking couple. Check the latest prices.
Two Person Hammock
Of course, all that hiking (and the wine) can be tiring. Luckily, the 2 Person Hammock from Legit Camping is there to save the day.
Big enough to fit two people, so you only need to bring one hammock. It's the ultimate gift for hiking lovers. Get a little rest while still surrounded by natural beauty. Check the latest prices.
Sun Hats
One piece of gear that the couple will find themselves very glad of is the Wide Brim Sun Hat for Men and Women.
The sun is a mighty adversary, always sneaking into places we thought were safe. This hat helps keep it off. This prevents sunburn, but also heat stroke, since you stay cooler.
It is one of the best gifts for hiking enthusiasts! Check the latest prices.
Backpacking Adventure Mug
Now, of course, you're going to need some type of dish for food/drinks. But this Backpacking Adventure Mug can fulfill both of those needs.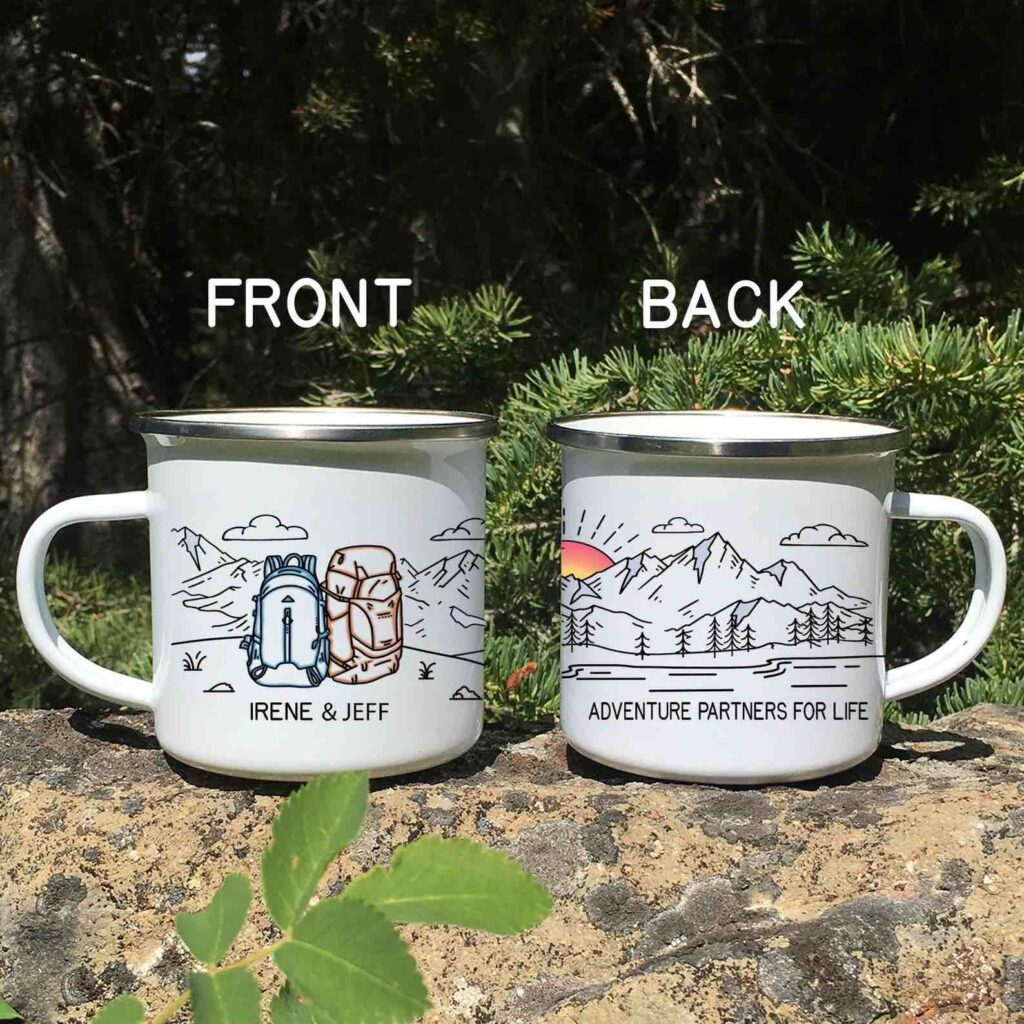 If you get a big enough size, you can use it for soups and such, so it will serve multiple purposes. Plus, you can get the outside customized with the names of the couple. It's another one of the cute hiking couple gifts to give! Check the latest prices.
Personalized Hiking Gifts
And speaking of personalized gifts, we have a whole section dedicated to nothing but that.
While a cute ornament, decoration, or water flask is a great souvenir, one of those things engraved with the date and their names, or a personal message will really put it head and shoulders above.
It makes for a fun gift for hikers.
Travel Compass
Let's start things off with a compass. But this Personalized Engraved So You Can Always Find Way Back to Me Compass comes with the message "So you can always find your way back to me."
And while this may sound a little on the nose, that's only because it is. But this isn't a bad thing. After all, another way of saying "on-the-nose" is "perfect."
You can also use this as one of the couples hiking gifts too! Check the latest prices.
Hikers Logbook
The Hikers Logbook is a bit different from the rest of the personalized hiking gear. While each one will end up being unique, this is only because the users will fill in their own info about their own hikes, customizing it themselves. Just by using it.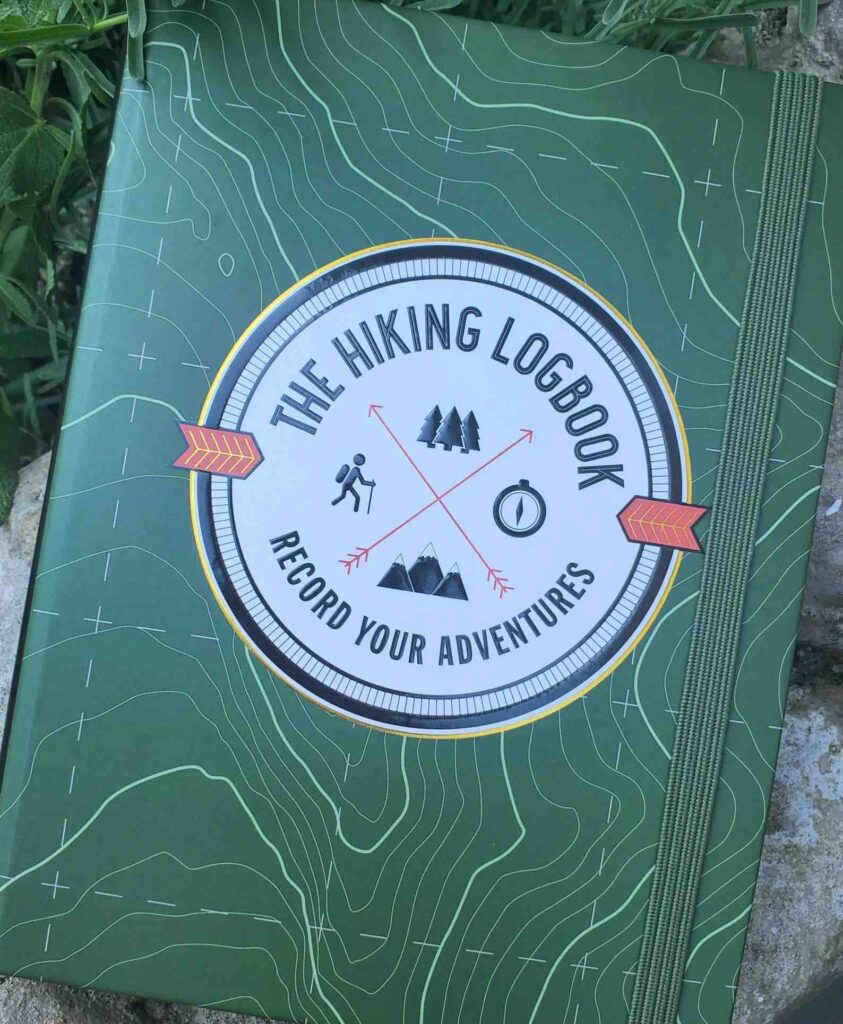 Anyone who receives this logbook gets to make it totally their own. Also, you can add personalization before giving this gift to its intended recipient. It makes a fantastic gift for a hiker.
You can add this to a hiking themed gift basket too! Check the latest prices.
Walking Cane
This handy walking cane is a great gift just by itself. Sturdy and attractive, the cane does what it does and does it well. But the customization option takes this up to the next level.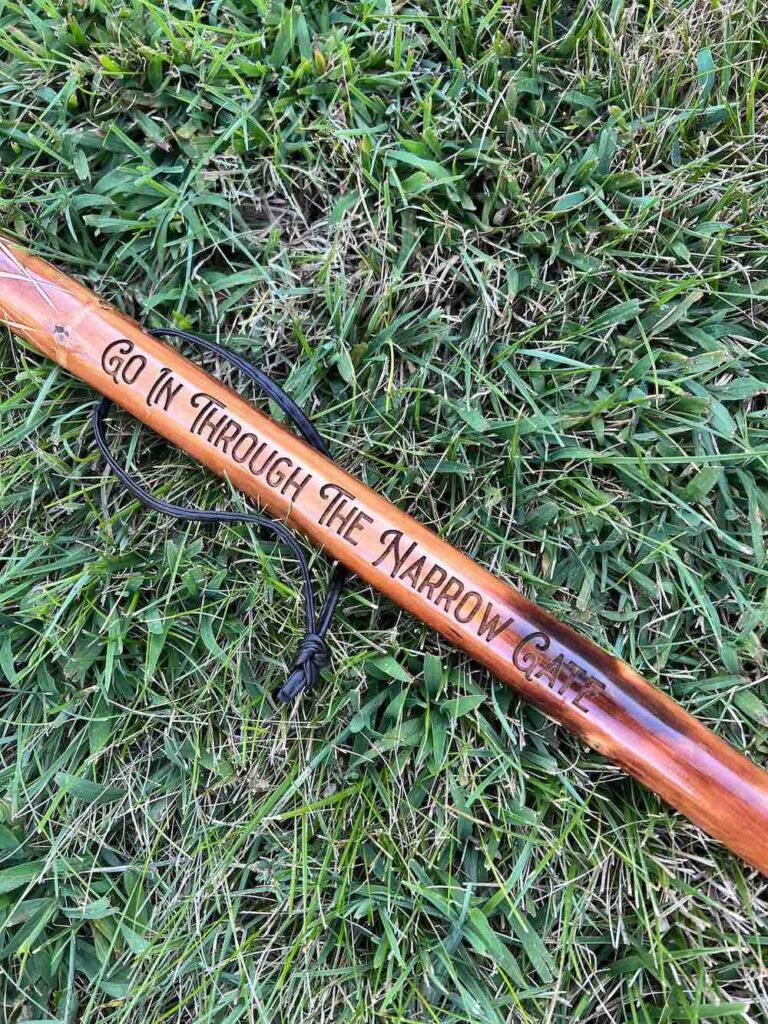 The purchaser gets to determine just what message will inspire the recipient to hike to new heights.
It's the perfect gift for someone who likes hiking. Check the latest prices.
Personalized Shoe Tags
This next item is a neat one. Personalized shoe tags, that fit right over the boot laces of the hiker.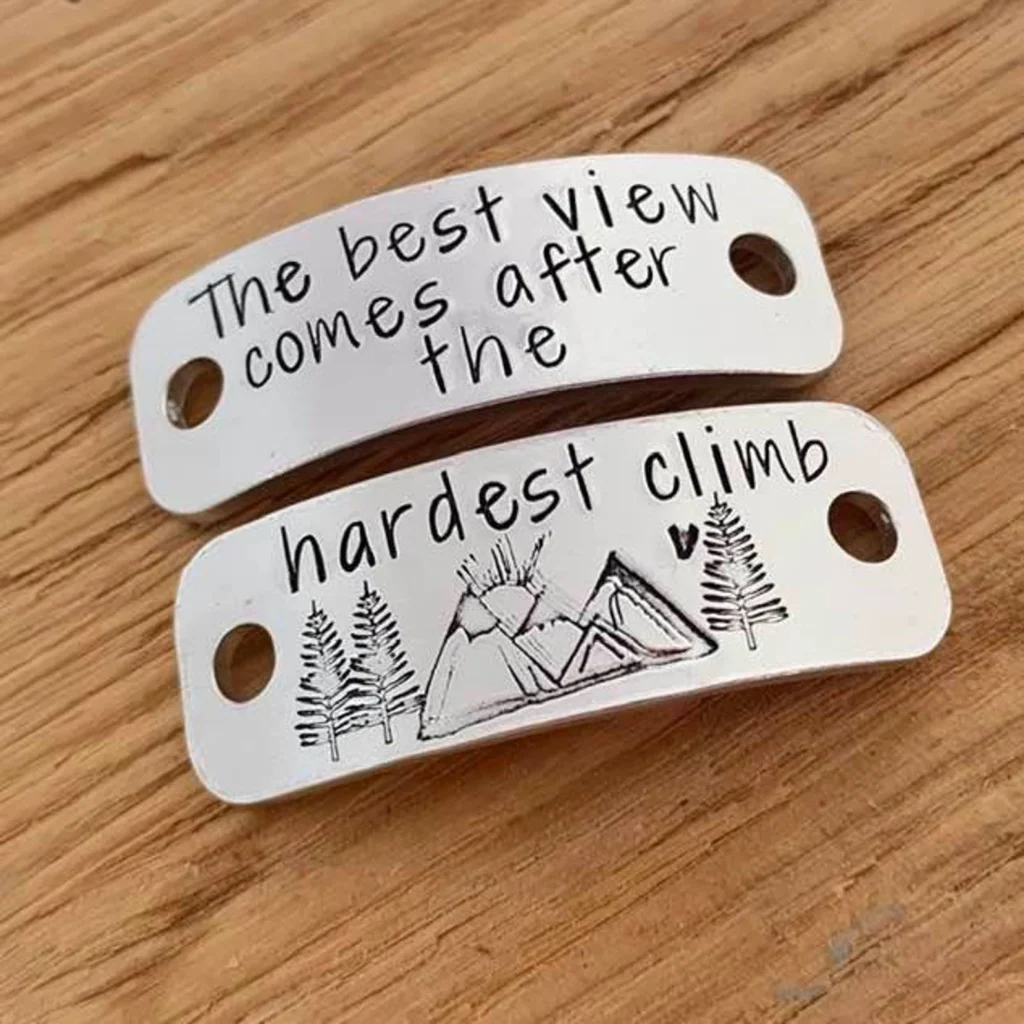 And they can impart a custom message, complete with pictures if so desired, right there on the reader's shoes.
I think it's one of the best hiking gear gift ideas! Check the latest prices.
Gifts for Female Hikers
If there are any ladies on your shopping list, sometimes it's nice to have something just for them. The following is a list of items that would be the best hiking gifts for her:
Sun Protection Hoodie
Starting things off is the Womens UPF 50+ Sun Protection Hoodie Shirt Long Sleeve Shirt. This shirt features thumb holes in the sleeves, a quick-drying polyester fabric, and UPF 50+ sun protection.
Some type of protection from the sun is more important than one might realize, since sun damage can occur, even on a cloudy day.
So, I think it is one of the best gifts for female hikers. Check the latest prices.
Headband
Another great option is this Half Headband with a Grey Heart Pattern. This headband will keep a lady's hair out of her face while hiking.
And since it's made of polyester microfiber, it will help keep sweat from dripping into her eyes, as well, making it one of the top hiking gift ideas for her. Check the latest prices.
Hiking Socks
Also, there are these Athletic Hiking Socks. Made of mostly cotton, they blend comfort with durability.
They offer cushioned soles and come in a variety of eye-catching colors. Add some to your hiking gift basket! Check the latest prices.
Sling Backpack
Lastly, there is the Crossbody Sling Backpack. This handy pack is lightweight and comes with multiple pockets beyond just the main storage space.
Great for a day trip, this pack will allow a hiker to carry some water, a few snacks, and an electronic device or two.
It is one of the hiking gifts for women that we would all love! Check the latest prices.
Gifts for Male Hikers
Of course, not just women go for hikes. Men also enjoy hiking and could use some gear tailored toward their needs. These hiking gifts for men will inspire them to get out there and explore Hawaii.
Rash Guard
The sun is always a major factor to consider when spending time outdoors.
Even though it might not seem like much is going on, the sun is a powerful force even when it's overcast outside. A proper rashguard can be the difference between a fun day of hiking and a nasty sunburn.
This Men's Long Sleeve Rash Guard Shirt is just the thing. It will help keep the sun levels manageable.
It makes for a great gift for hiker man in your life. Check the latest prices.
Hiking Socks for Men
Another oft-neglected body part is the feet. Obviously, feet are going to take the brunt of hiking, so why not pamper them a little with this 3 Pack of Men's Full Cushioned Hiking Socks?
With cushioning all along the bottom, and a 50% cotton construction, these socks will help the wearer get the most out of the day's hike. They might actually be the best gift for hikers. Check the latest prices.
Running Shoes
And it doesn't just stop with the socks, either. Compliment them with these Trail Running Shoes.
Lightweight, durable, water-resistant, and nonslip, these shoes can handle whatever the trail can dish out. They make for a perfect gift for hiking enthusiasts. Check the latest prices.
Polarized Sunglasses
Another area that needs some focus is his eyes. Even when staying out of direct sunlight, good clear vision is essential for safe hiking.
A durable pair of polarized sunglasses with a lanyard to keep them from getting lost makes a fantastic Hawaii gift idea for a hikers gift basket. Check the latest prices.
Small Gifts for Hikers
Whether you just need to add a little something extra or are looking for a stocking stuffer, these small hiking gift ideas might be just what you need.
Tactical Pen
So, your hiker packed everything else, but did he remember his… pen? He won't soon forget it if it happens to be this 8-in-1 Tactical Pen. This might just be one of the best hiking gifts for someone going to Hawaii.
With functions ranging from writing to having a flashlight, this pen is useful in a wide variety of situations.
A handy and compact tool, the tactical pen could spell the difference between tragedy and success under the proper circumstances. Check the latest prices.
Camping Towels
Another item most people wouldn't think about ahead of time when preparing for a hike is towels.
While any towel could come in handy on a hike, they are so large and bulky that bringing one along is just not practical. At least, it wasn't until the advent of microfiber camping towels.
This set contains a full-size quick-drying towel that will find all sorts of use when on the trail. Talk about cool gifts for hikers! Check the latest prices.
Paracord Bracelet
Last on the list is another survival multi-tool option. These always make great gift ideas for hikers.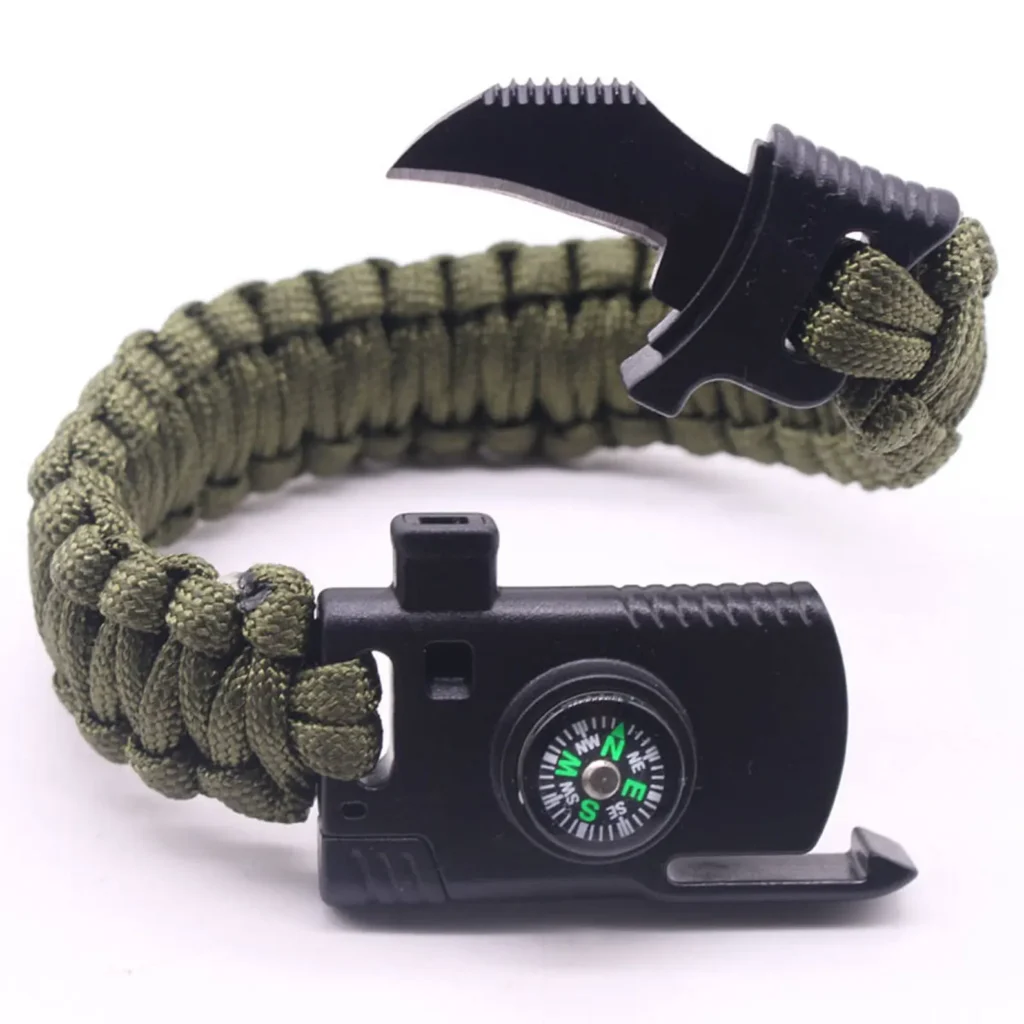 This one comes in the form of a paracord bracelet that can be unwoven in the event of an emergency to give a good amount of paracord to use for survival.
There's also a knife, compass, and several other survival tools, making it another one of the top gifts for people who love hiking. Check the latest prices.
Gifts for People Who Like Hiking FAQs
What are the best Hawaii hikes?
Some of the best Hawaii hikes include Kaena Point, Diamond Head, Lanikai Pillbox, and Kalalau Trail.
Which island of Hawaii has the best hiking?
Kauai has so many amazing hiking trails, I think it has some of the best hikes in Hawaii to enjoy. Oahu also has tons of easy hikes that are just as beautiful.
What to get someone who loves hiking and Hawaii?
You can get a Hawaiian walking cane, hiking socks, camping towels, or anything mentioned above that would make for some cool hiking gifts. You can also create a Hawaii themed hiking gift set too!
Best Gifts for Hikers Going to Hawaii Wrap-Up
Now you know some of the best gift ideas for hikers who plan to visit Hawaii.
A hike through the lush trails of Hawaii is a once-in-a-lifetime experience; it shouldn't be missed.
A nice collection of gear such as what is listed in this gift guide for hikers might just coerce someone into taking that first step. And all the ones that follow.
So grab any of these best hiking gift ideas and enjoy!