Looking for Hawaii gift ideas for your teens? Keep scrolling for my list of the best travel gifts for teens going to Hawaii!
This list of travel gifts for teens going to Hawaii contains affiliate links which means if you purchase something from one of my affiliate links, I may earn a small commission that goes back into maintaining this blog.
Are you looking for the perfect gift for a teenager?
Hawaii Travel with Kids has got you covered! We've gathered some of the best gifts for teens so that they can enjoy their trip just as much as you will.
From practical items to must-haves for any adventure, we have everything you need to make your vacation a success.
With these great gifts, you can relax and know that your teen is taken care of.
Let them explore on their own while you take in the beauty of Hawaii – they'll have everything they need right at their fingertips.
Shop now and get your Hawaiian vacation started off on the right foot!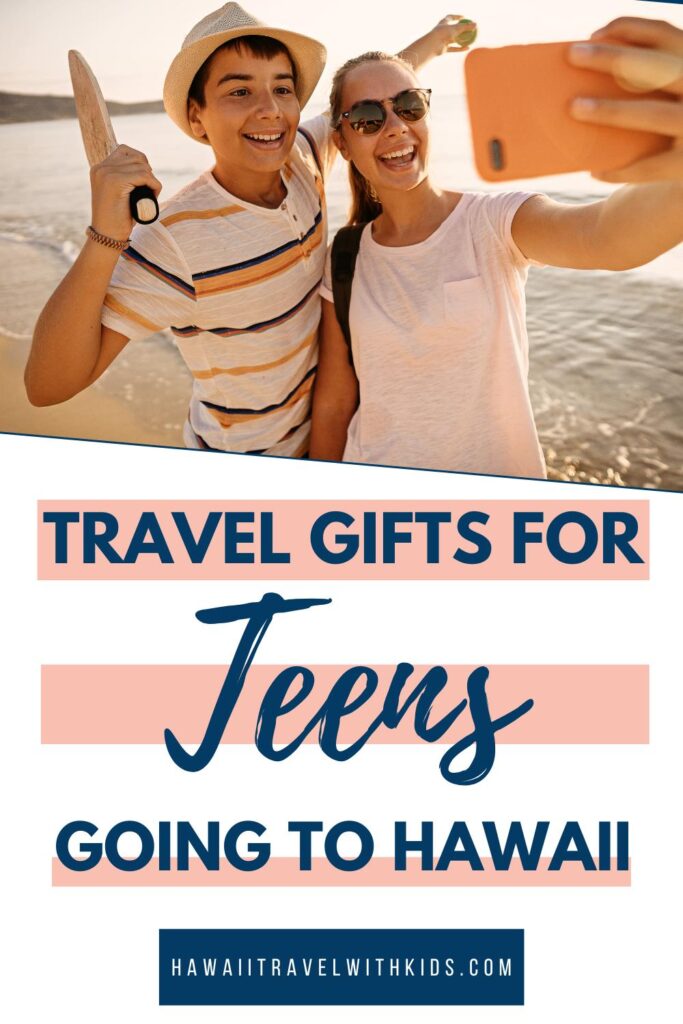 Need Teen Gift Ideas?
Things for Teens to Wear in Hawaii
One good way to get your teen into the spirit of things is with a new shirt or some new jewelry. Some Hawaii-themed gifts will get the teens excited about wearing them on the island.
The following Hawaiian gift ideas are all things that he or she can wear when they are hanging out in paradise. Most of them will even stay in the regular rotation after you return home.
Stackable Bracelets
Of course, no great outfit is complete without accessories. These Summer String Bracelets are a great teen gift idea.
The set comes with a variety of different bracelets/anklets to mix and match. They are made for stacking, and work great as adjustable bracelets or anklets. Check the latest prices.
Cute Hair Ties
One of the most important style rules when on the beach is as follows "Beach hair, don't care." Your teen can embrace this philosophy with these 8-Piece Hawaiian Hair Ties.
Instead of wasting time doing her hair each day, she can just tie it back, and fit right in with the island vibes. So, she's happy, and you save time getting everyone ready. Talk about great gift ideas for teenage girls!
There are four styles, and two of each to make an 8-pack. Which is also nice because when she invariably loses one, there's another in that style, just in case it was a favorite. Check the latest prices.
Hawaii Watercolor Shirt
The best way to brand yourself as a tourist anywhere is to wear a shirt with that place's name or picture on it.
It's also been said that Hawaiian locals can tell you aren't from the islands, no matter what you wear. This seems likely, so why not just embrace it?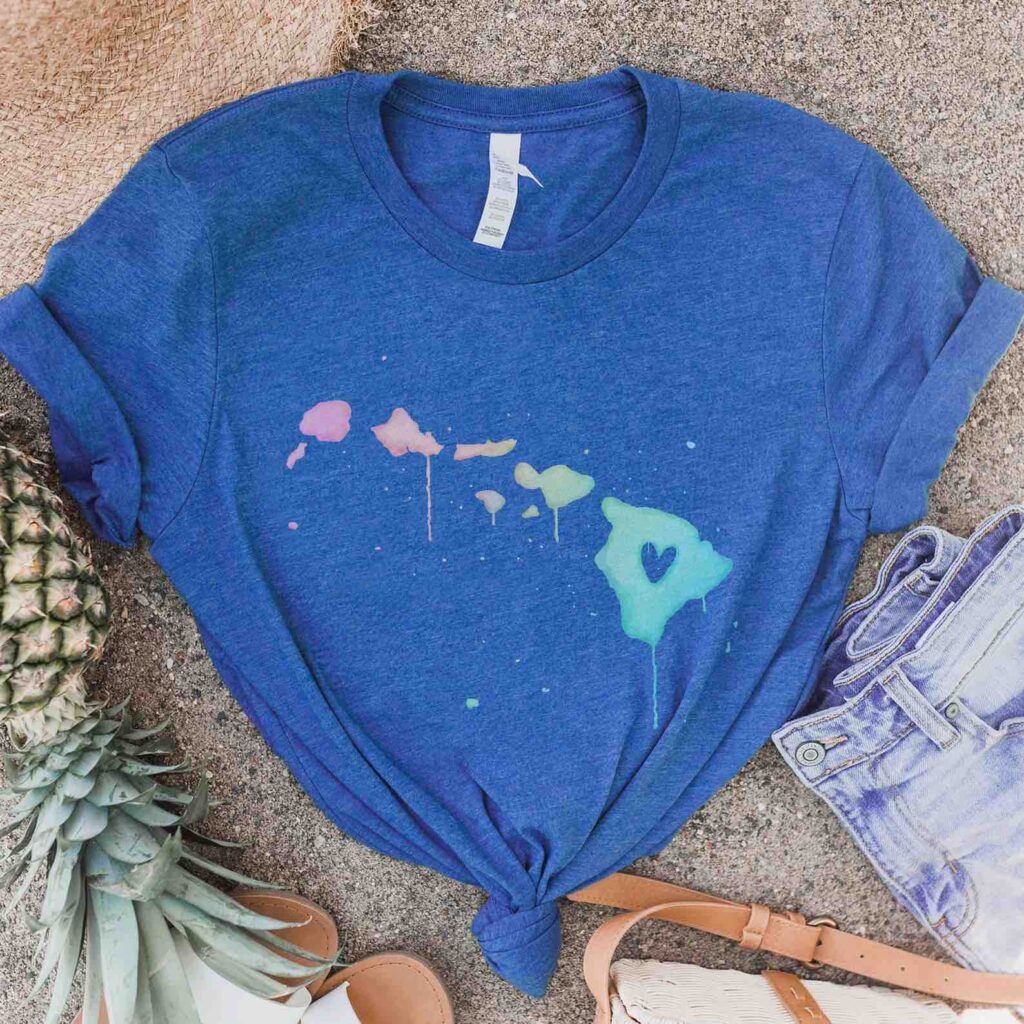 One of the greatest Hawaiian gifts for her, this Hawaii Watercolor Shirt is too cute to pass up, even if it outs her as a mainlander.
And she's sure to want to keep wearing this one once you head back home, if only to show off that she's been to Hawaii. Check the latest prices.
Puka Shell Necklace
Next up, we have one of the most classic Hawaiian gifts made in Hawaii. Yes, they are making a comeback!
The Hawaiian Authentic Puka Shell necklace says "island wear" more than almost anything. These make perfect Hawaiian souvenirs.
Puka shells are naturally formed shell "beads" that come from worn-down cone snail shells.
Finding one on a beach was thought to bring protection to sailors, and luck to everyone else. The more symmetrical the shell, the better the luck. Check the latest prices.
Hawaiian Keychain
Speaking of Hawaiian gift ideas, one or more of these hand-made Hawaiian Print Wristlet Keychains are fantastic gift ideas for teenage boys.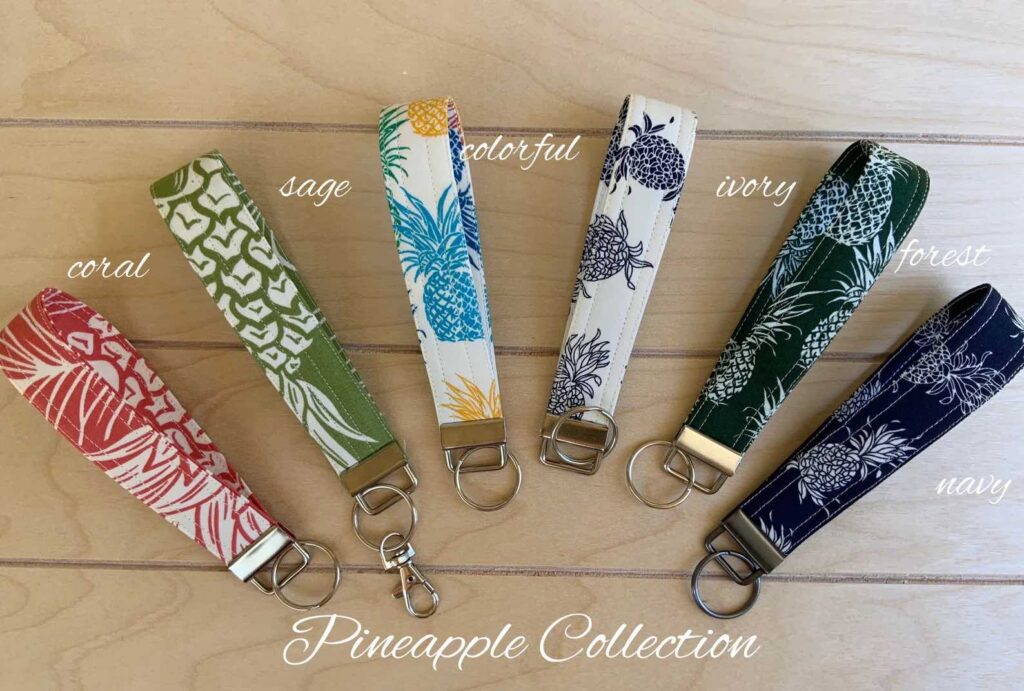 He gets an easy way to keep track of his keys, and some authentic gifts from Hawaii. Available in multiple different patterns. Check the latest prices.
Maui Baseball Cap
Another item that shows up on most lists of Hawaii gifts is a good hat.
This Maui Hawaii with Palm Tree Embroidered Unstructured Baseball Cap is pre-weathered, and already set for a trip to the beach. This hat just shouts beach. Check the latest prices.
Swimsuit Coverup
If you're planning a tropical trip with a teenage girl, a coverup should definitely be on your list.
These Sleeveless Swimwear Coverups make great Christmas gifts for teens.
The coverup can be worn around town or kept on only long enough to make it to the beach. It's handy to have in a pinch. Check the latest prices.
Aloha Shirt
Any list of Hawaiian gift ideas absolutely must include at least one Hawaiian shirt. It's an incontrovertible fact.
This Hawaiian Button Down Shirt is a great option, as it's not too loud, but still shows great Hawaiian flair.
Basically, you get the best of both worlds. Classic Hawaiian flair, but understated style as well. Check the latest prices.
Travel Gifts for Teens
While your teens might not have all the same responsibilities you do on a trip to Hawaii, they do share a lot of the same needs. This means that travel gifts for teens are something you want on your list.
Besides taking some of the burden off you, it gives them a little autonomy, which is essential for becoming a complete person.
Hibiscus Phone Case
Just try to catch your teen without a phone in their hand. It's not going to happen. But having something happen to that phone while on a trip could spell disaster.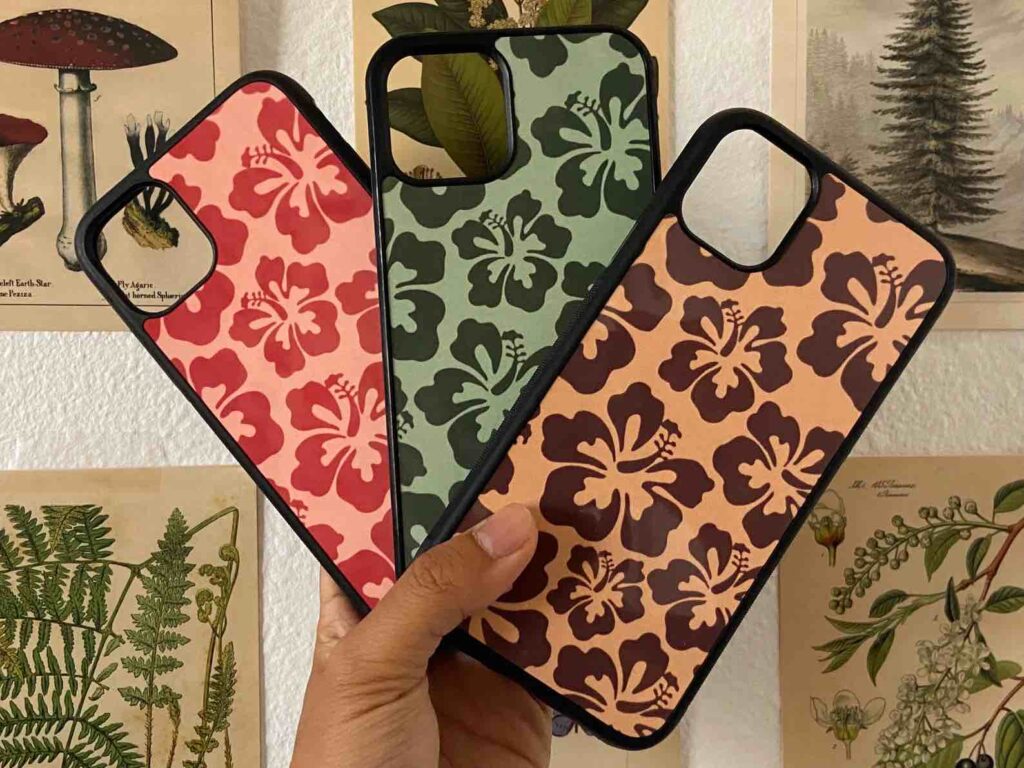 That's why a phone case is a must-have teen Christmas gift idea. This Hibiscus Phone Case goes right along with the tropical theme.
Multiple iPhone and Galaxy options are available; check to make sure her model is provided. Check the latest prices.
Luggage Tags
Luggage tags also make perfect travel gifts for tweens and teens. These And So the Adventure Begins Luggage Tags are still classy and elegant, but tropically festive at the same time.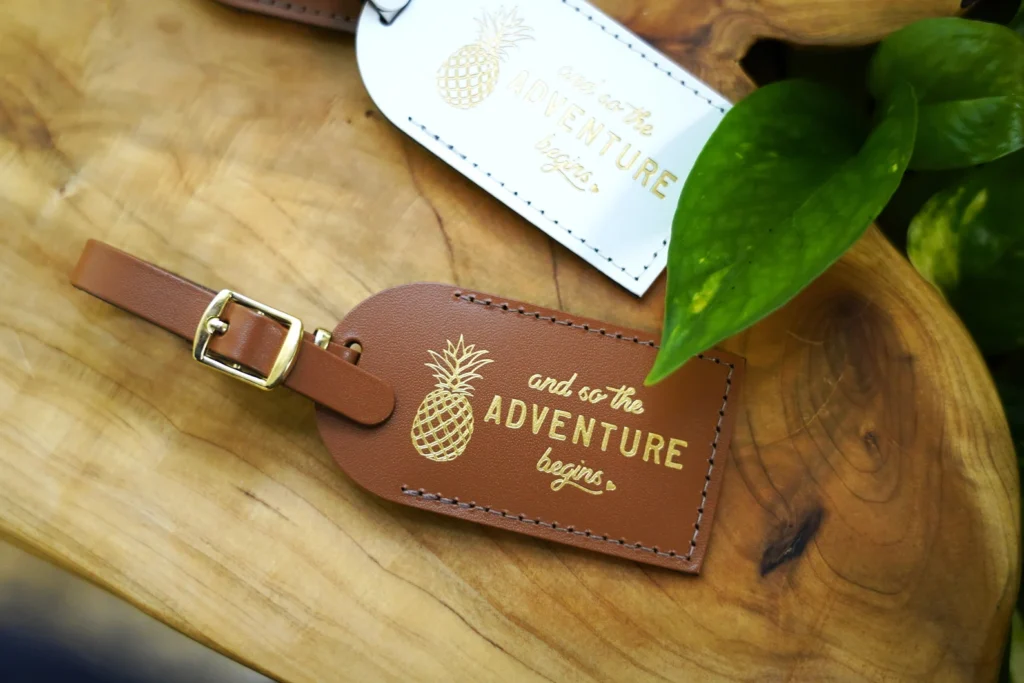 Plus, it will help him spot his bags, since I can guarantee he already forgot what color they are. Check the latest prices.
Hawaiian Flower Makeup Bag
Another thing that falls under the category of non-optional travel accessories for teenagers are good makeup and toiletry bags.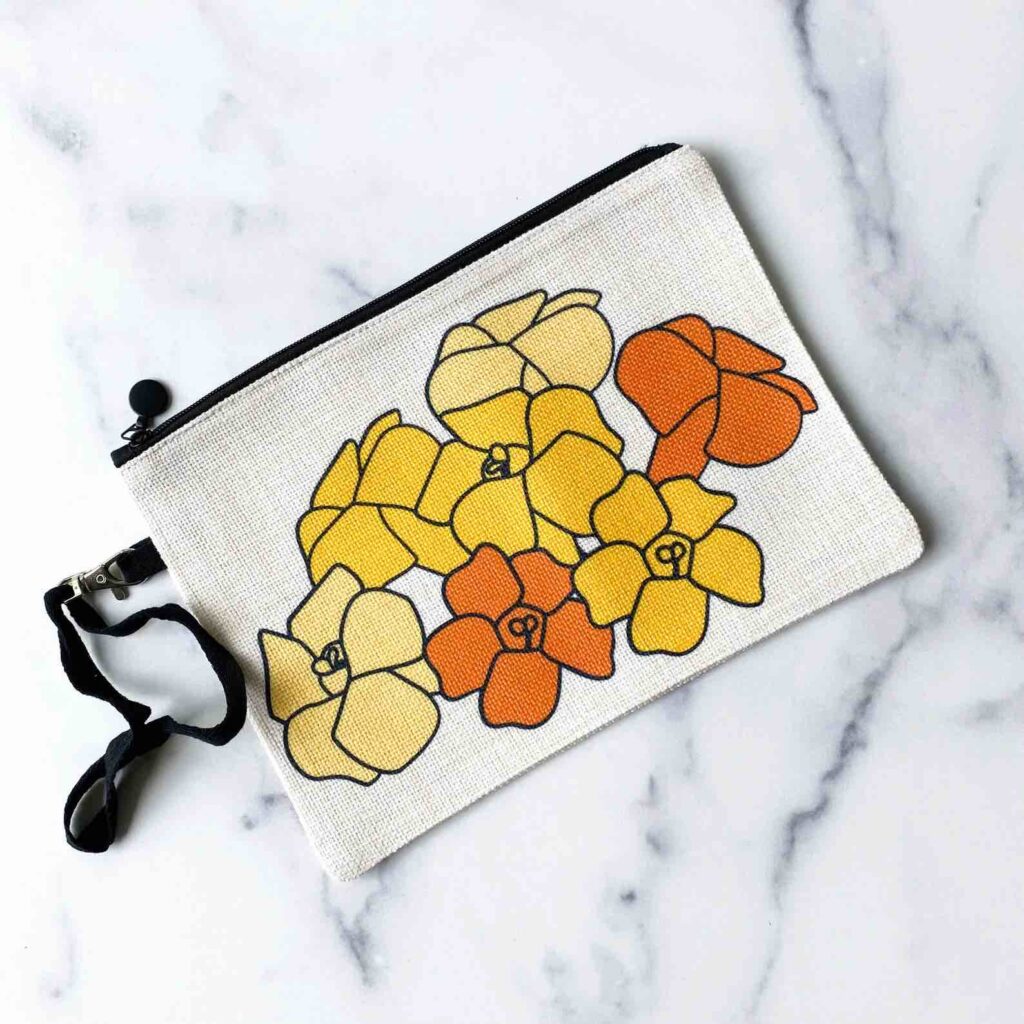 This Puakenikeni Flower Makeup Bag is something she'll probably keep right on using after you get back. The puakenikeni flower print on the bag is pretty without being over the top. Check the latest prices.
Travel Duffel Bag
The best luggage for teens is usually something durable, easy to carry, and easy to stuff full of whatever they bring.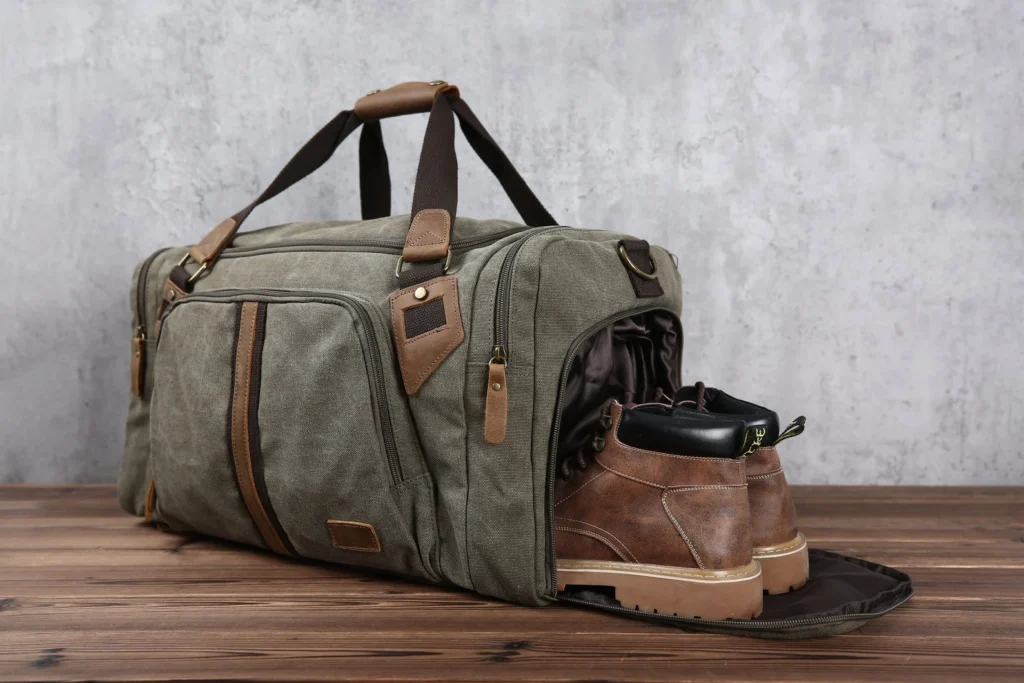 This Travel Duffel Bag checks all three boxes, and it looks good while doing it. It can handle whatever is thrown at it. (Or in it.) Check the latest prices.
After Sun Lotion
Now, Hawaii isn't the only place you can get Hawaiian products, of course. You can always find Hawaiian products online, but that's no fun.
Which is why you purchase the practical ones, like this Hawaiian Tropic Lime Coolada After Sun Treatment online, and save yourself time once you're there to shop for other gifts from Hawaii. Check the latest prices.
Crossbody Bag
Once you've touched down, and are out exploring the Islands, your teen is going to need someplace to keep her stuff together.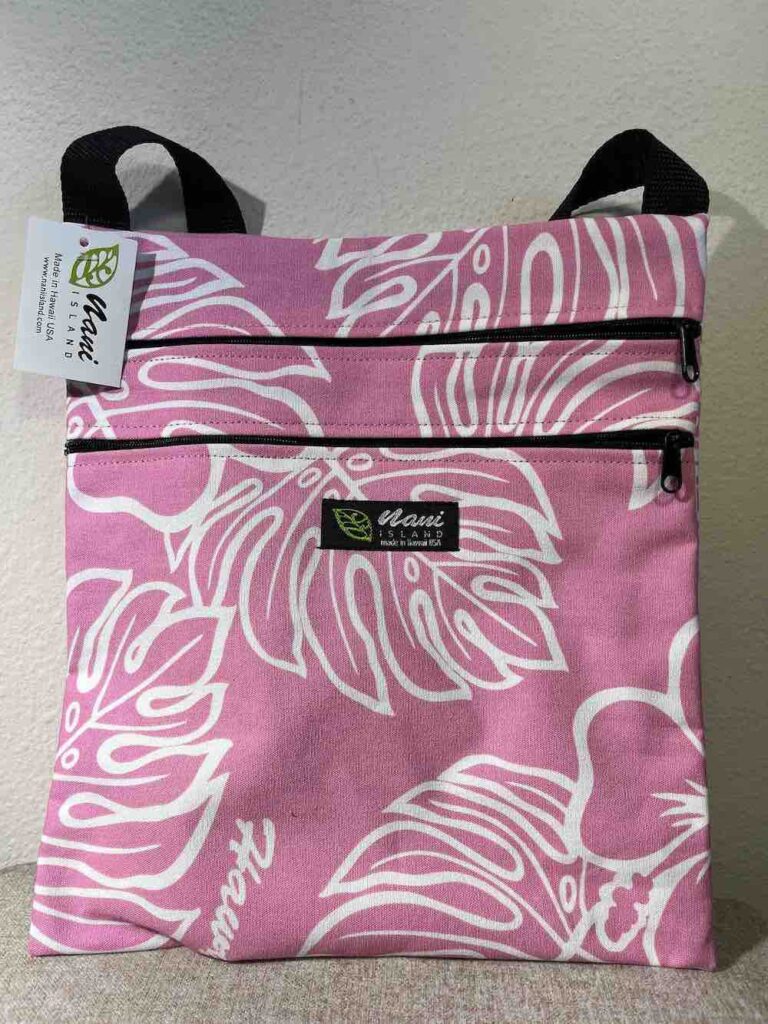 These Hawaii Crossbody bags are cute as well as being a safe place to keep valuables; phone, wallet, etc. They can be worn across the body to make them more difficult to snatch. Check the latest prices.
Spinner Luggage
It can be hard to find the right travel bags for teens. They have to be functional, durable, and look good, too.
This Hardside Expandable Spinner Luggage, Rose Gold, 3 Piece Set handles those requirements quite nicely.
The three different bags mean there are lots of options to stow or carry on, and the rose gold color is quite eye-catching. Check the latest prices.
Countdown Blocks
At the end of the day, the anticipation is half the fun. These Countdown blocks, days (weeks) until Hawaii will let your teens or tweens keep up with exactly how much time remains before you fly off to paradise.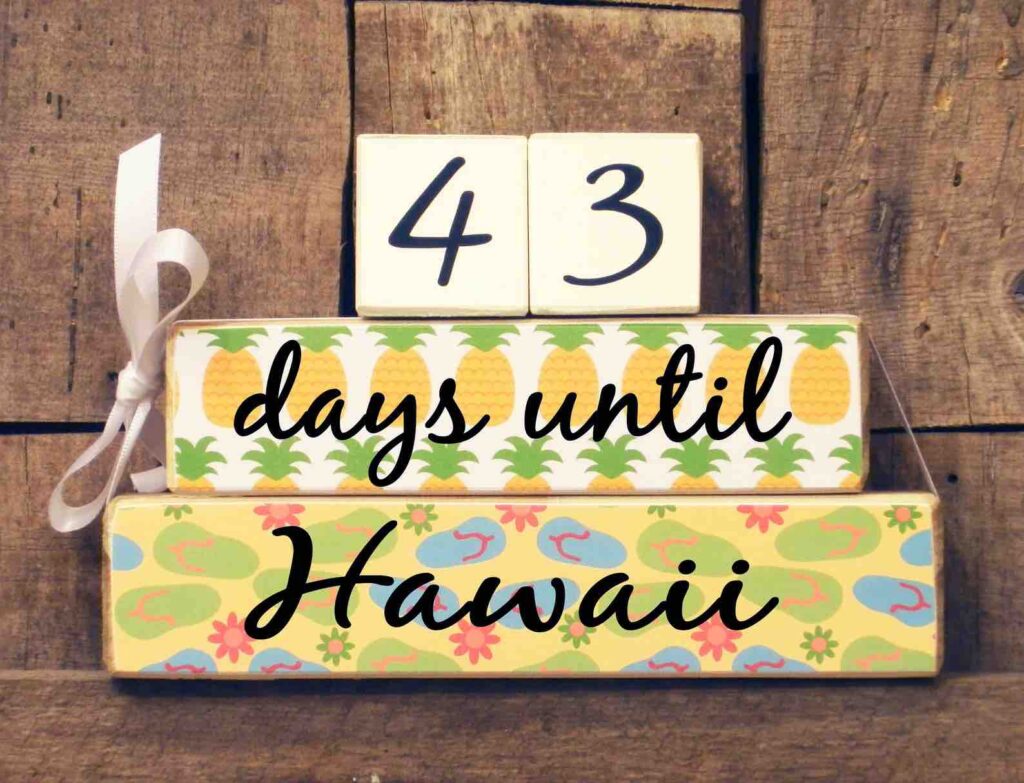 Just don't be surprised if they set them back up once you are back home and expect you to honor the countdown. Check the latest prices.
Scrapbooking/Journaling
While bumming around, shopping, and spending time at the beach are all going to be on your activities list, there are plenty of other things to do and see in Hawaii.
And your teen just might love the idea of keeping some sort of record of what all happened on the trip. These gifts are all about just that.
Hawaii Stickers
Scrapbooking is a fun activity that can record fond memories. And one thing scrapbookers always need are stickers.
This pack of Stickers for Water Bottles is perfect. The stickers are island themed, and can go in scrapbooks, on laptops, on phones or cases, even water bottles. Check the latest prices.
Nat Geo Book
Few names carry as much weight in terms of the natural world than National Geographic.
This National Geographic Traveler: Hawaii, 5th Edition guidebook is a key item to have on a trip. It's full of trivia, history, and even covers activities that you can take part in on the island.
And you can give it to your teen ahead of time so that he/she can brush up on the islands, and maybe even pick out some activities he/she wants to try out.
It will get them excited before you even step foot on a plane. Check the latest prices.
Adventure Journal
This journal has vintage style, and an island flair. It's the perfect journal to document island adventures in.
The Adventure and Explore Travel Journal For Teens might just end up being their constant companion. You can get one for each of your teens, so they all can record memories. Check the latest prices.
Hawaii Gifts for Teens
And there we are, an extensive list of Hawaii gifts for teens. Whether boy or girl, younger or older, active or bookish, there is something here that they will love.
And a happy teen will make a more pleasant vacation for everybody. You'll thank yourself when you see that happening.