Looking for Hawaii gift ideas for someone who loves the beach? We have you covered! Keep scrolling for my list of the cutest gifts for beach lovers!
This list of gifts for beach lovers contains affiliate links which means if you purchase something from one of my affiliate links, I may earn a small commission that goes back into maintaining this blog.
Close your eyes for a moment. Feel the sun warming your skin, the sand between your toes, and the wind blowing through your hair.
Those feelings are the best gifts for the beach lover. They can't always spend their time at the beach, but you can help them recapture that joy with the perfect gift.
This guide to gifts for beach lovers will point you in the right direction to find a unique present that helps them recall that feeling of peace that comes with being in the best place they know.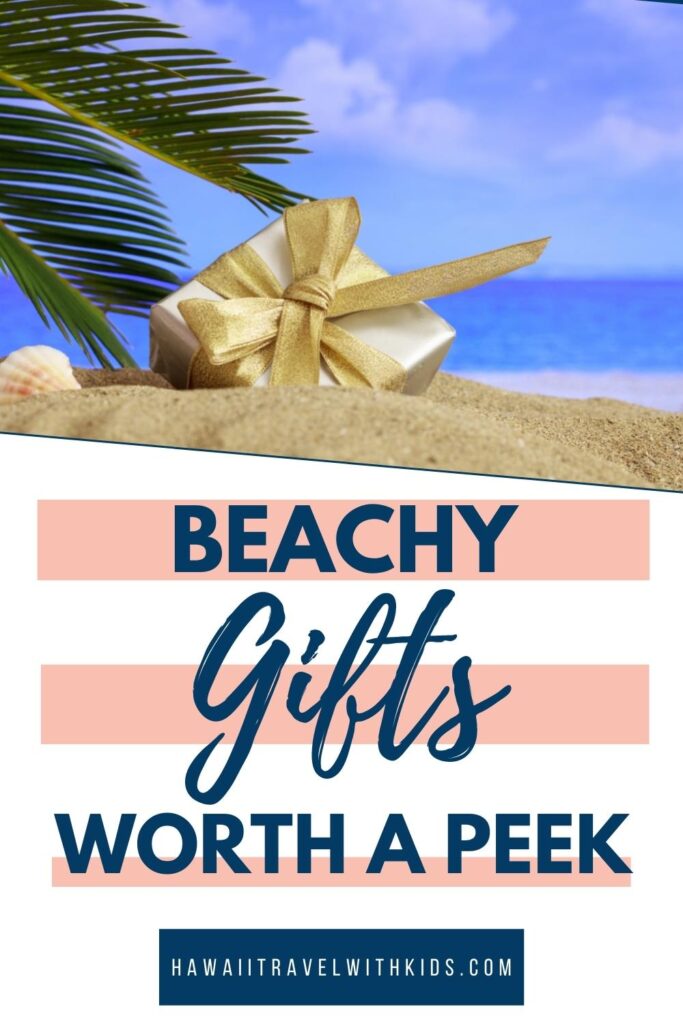 Home Décor Gifts for Ocean Lovers
The oceanfront has its own set of rules when it comes to décor. But a lot of it would seem odd or out of place anywhere else.
Just random seashells laying around? Perfectly okay at the beach, but weird in the suburbs.
However, just the right item can recall that casual ocean motif without seeming too odd in your beach lover's home.
Seashell Holder
Speaking of seashells, beach lovers always come back with loads of seashell souvenirs. This slat wood seashell holder is the perfect place to store them.
The relatable sentiment on the front reads, "Every Sea Shell Has a Story." Check the latest prices.
Pillow Cases
This next gift idea will brighten up the room with the vibrant coastal colors. Life's a Beach, Enjoy the Waves Throw Pillow Case is an 18×18" reminder to enjoy the waves.
It only comes with the pillowcase. You will need to get the pillow inserts separately.
The best thing about this is that the subdued color palette can fit into all sorts of decorating schemes nicely. Check the latest prices.
Nautical Wall Decor
Does your beach goer love to sail the open seas? This nautical wall hanging décor will be perfect for the wall in need of some beach décor.
The steering wheel features a fishing net, some fish, and seashells. Check the latest prices.
Handmade Presents for Beach Lovers
The next set of unique gifts for beach lovers features handmade designs from talented artisans. These artists use or recreate different elements from the beach to create beautiful one-of-a-kind masterpieces.
Baby Sea Turtle Wood Bowl
Sea turtle fans cannot pass up this opportunity to own an original baby sea turtle wood beach bowl.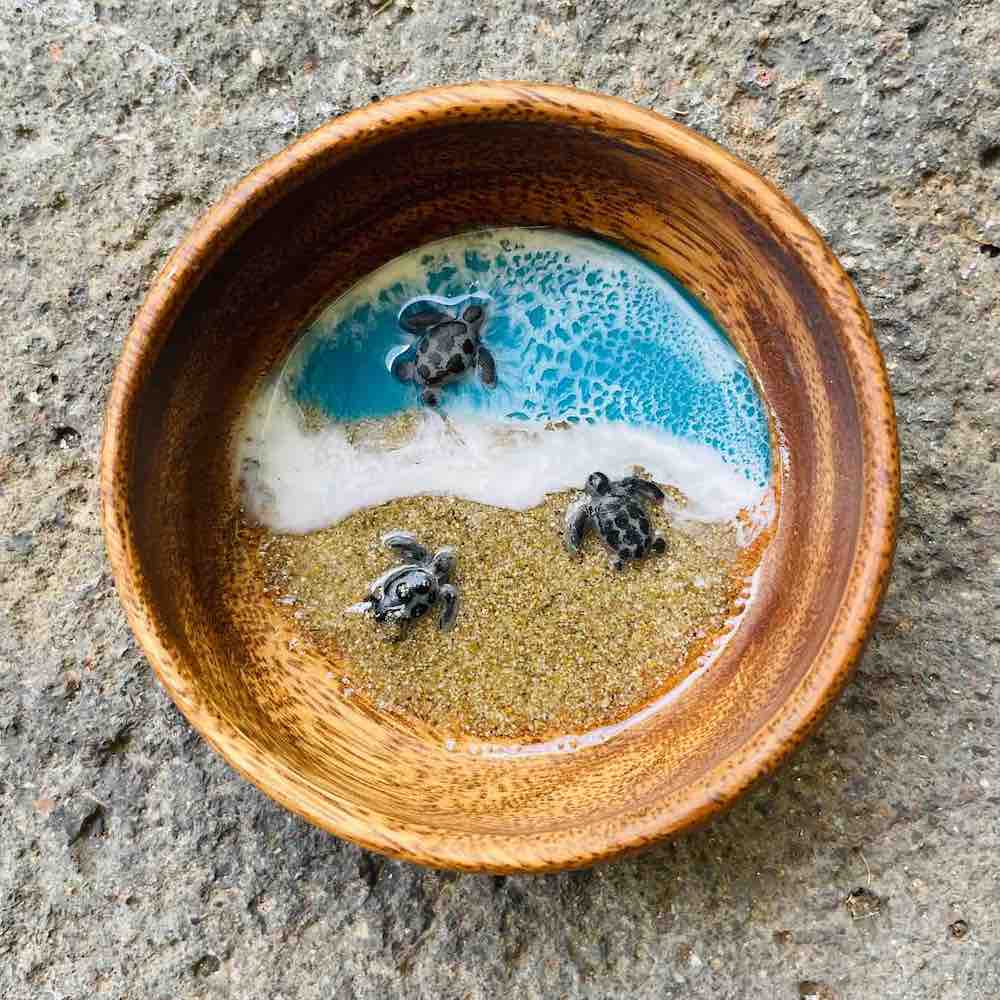 This stunning acacia wood bowl was made in Kailua, Hawaii and is the perfect size for small collectibles and jewelry.
Sure to collect compliments as well as whatever small items the owner stores inside. Check the latest prices.
Sea Turtle Night Light
That isn't the only sea turtle option on this list. Next is a beautiful Sea Turtle Night Light.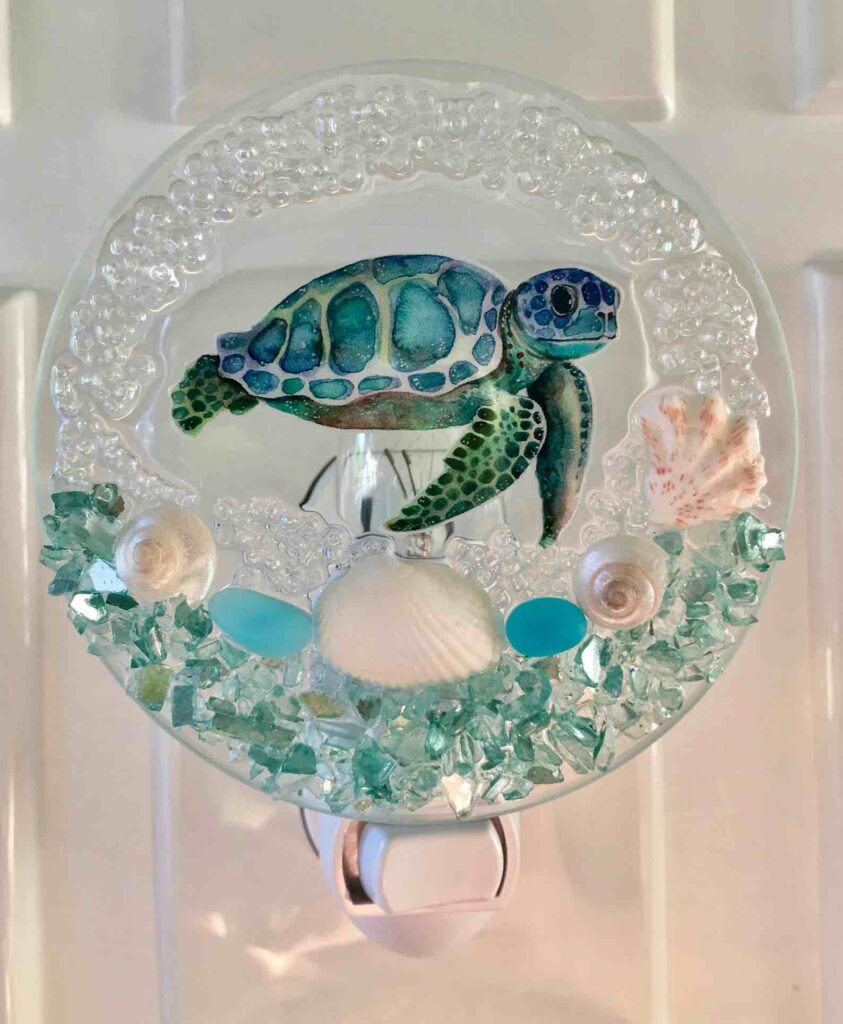 These nightlights are handmade and guaranteed not to fade, whiten, or bubble. The soft light would be perfect for a bathroom or hallway to light up the way at night. Check the latest prices.
Beach Glass Windchime
The next gift idea is made using sandblasted glass and driftwood. This handcrafted windchime creates a gentle, tranquil sound that will remind beach lovers of that peaceful beach feeling.
And the beautiful colors will enchant the owner as well as company who comes to visit. Check the latest prices.
Personalized Christmas Ornament
If you are looking for Christmas gifts for beach lovers, then a personalized ornament might be just the thing.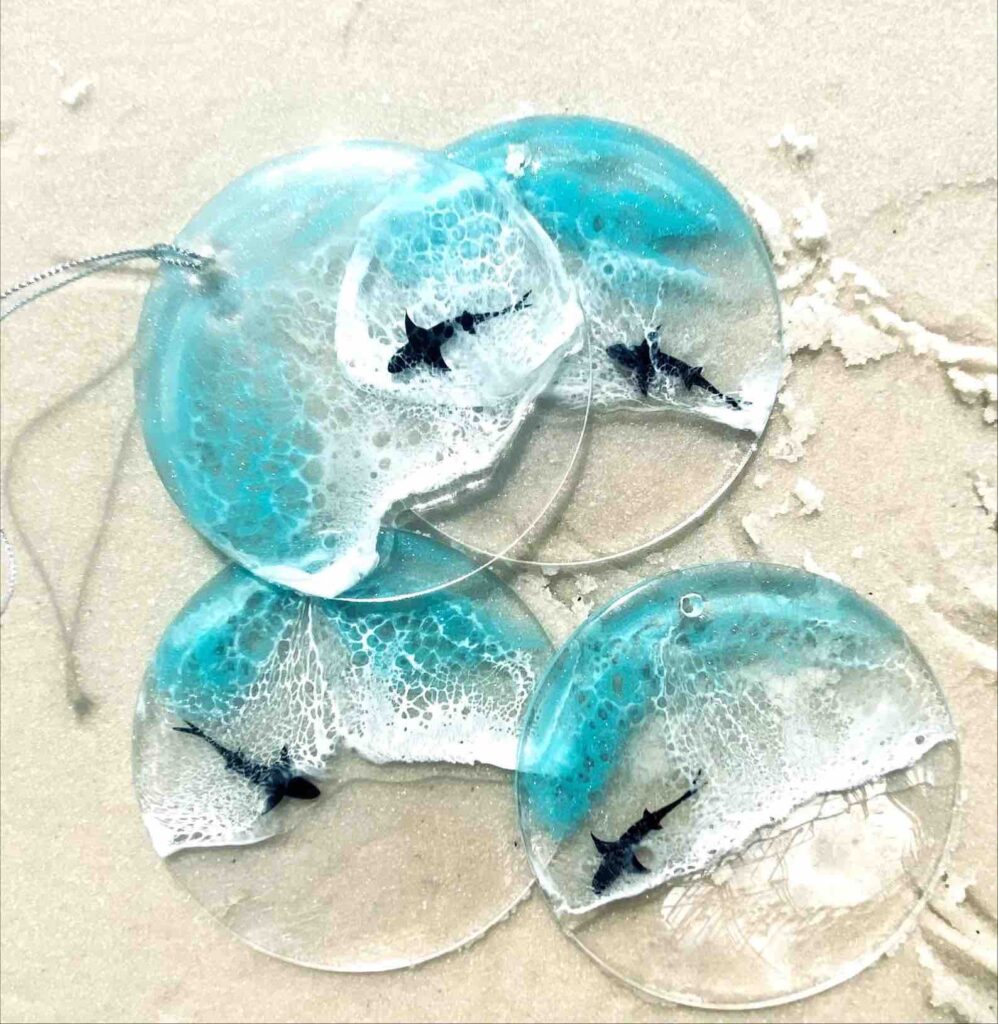 Choose between a shark or turtle and add the option to personalize it for only $2 more.
Backlighting this ornament with Christmas lights is sure to make it shine and add a little beach flavor to the tree. Check the latest prices.
Ocean Wave Candleholder
Last on the list of handmade presents for beach lovers is an ocean wave candleholder. The beautiful fused glass resembles the ocean waves and sits on a natural wood stand.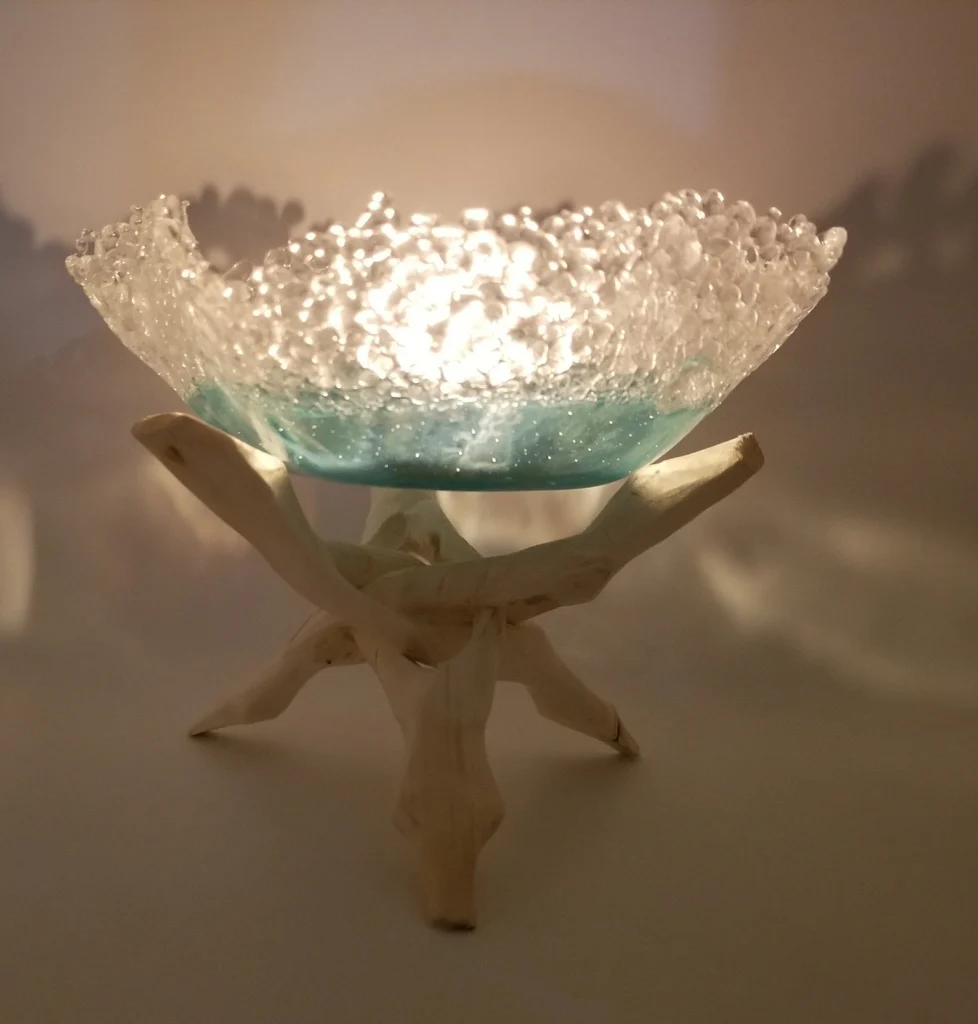 This handcrafted glass bowl is one of a kind and would fit perfectly in any beachgoer's home. A candle burning inside would add the perfect touch of serenity. Check the latest prices.
Wearable Gifts for Beach Lovers
It isn't only home décor that can declare a love for the beach. There are plenty of wearable items that can be used to indicate a fondness for the salt life.
There are plenty of garments that can be worn every day, but still fit in on the sand.
Beachy Sweatshirt
This sweatshirt bears the slogan "Weekends. Coffee. & the Beach." Let everyone know that you have your priorities in order while keeping warm.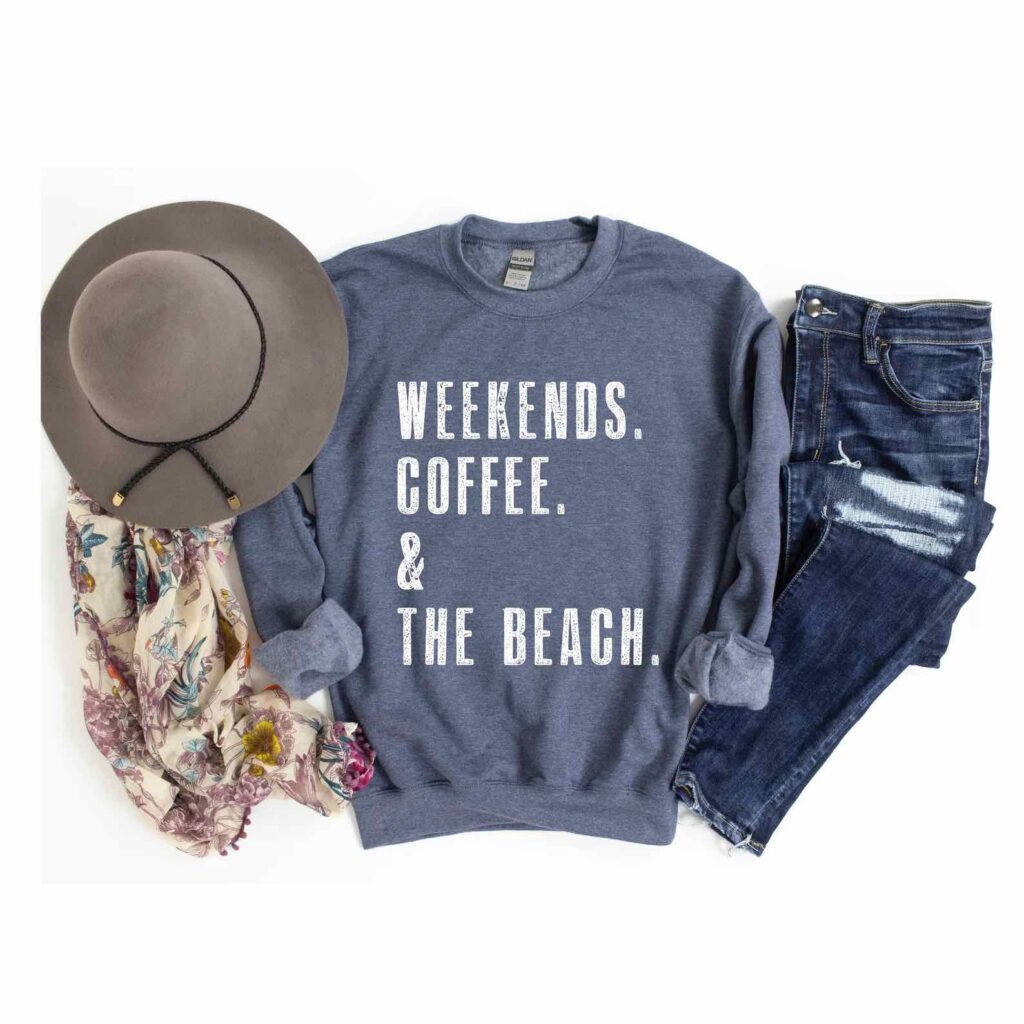 And if it's a windy day at the beach, hey, you could even wear it there. There's no rule against sweatshirts at the beach, or against going in sweatshirt weather. It comes in a variety of colors. Check the latest prices.
Charm Bracelet
Then, we have the Life is better at the Beach charm bracelet, which offers up the sentiment "I'm a toes in the sand kind of girl."
This bracelet is pretty and elegant enough to be able to be worn with more casual or even somewhat fancier outfits.
Show off to anyone who cares to notice what type of girl you are. Check the latest prices.
Beachy Cap
Another great item for the beach or for everyday is the "Beach Hair Don't Care" ball cap.
Pre-weathered, this cap is just the thing to throw on any time you're heading to the beach, to keep your hair out of your face. Or just around town. Really anywhere that casual dress is okay.
Show off the fact that you know what your hair looks like, and don't care what others think. Check the latest prices.
Swimsuit Coverup
Now, no trip to the beach would go well without a good coverup.
The secret is to find something that will make you presentable enough to run into town if needs be, but also casual enough that you won't worry about just how much sand is getting embedded in it when you are at the beach.
The White Halter Dress Coverup fits all those needs. If you need beach gifts for women, a coverup is a sure thing. Check the latest prices.
T-shirt
Then we have a t-shirt to complement the other pieces here. It bears the slogan "Not all who wander are lost. Some are just looking for the perfect seashell." And it's true.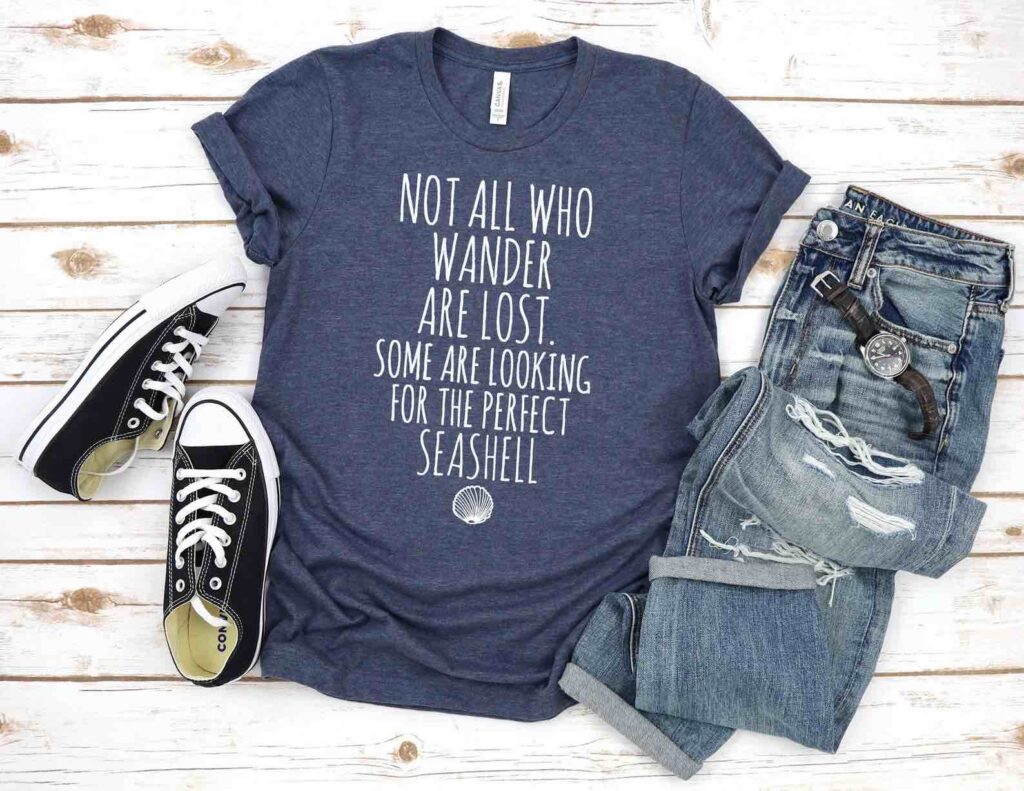 The perfect seashell is out there. Let everyone know you have dibs. Definitely one of the best gifts for beachgoers of all ages. Check the latest prices.
"Aloha" Shirt
This next shirt is a bright, colorful, and cheery hello to whomever you might see. Actually, it's an "Aloha" shirt with a hibiscus blossom.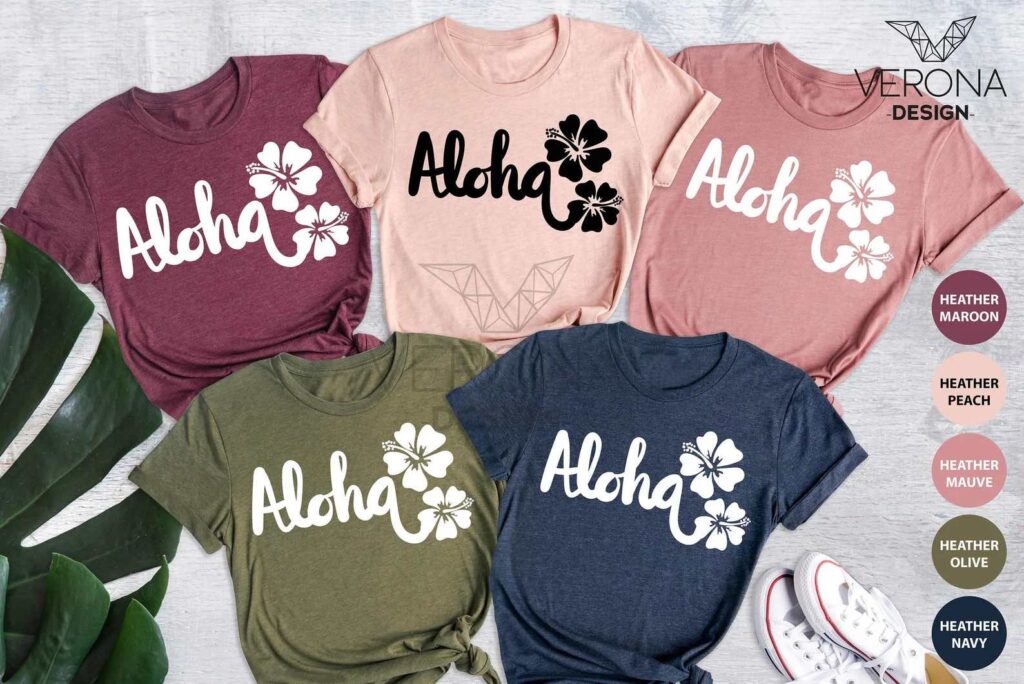 It's really the perfect sentiment for the beach. If you can't be friendly there, you probably can't be anywhere. Plus, you can personalize it! Check the latest prices.
Gifts for Someone Going to Hawaii
Not everyone who goes to the beach goes to Hawaii. But everyone who goes to Hawaii goes to the beach.
This paradise is like a magnet to beachgoers everywhere. And while your standard beach apparel would work, a special beach deserves special beach gear.
Beach Towel
One of the most essential pieces of beach gear is a good towel. And this XL Pineapple Core Sand Resistant Beach Towel is more than good; it's perfect.
With a pineapple motif, it recalls a Hawaiian staple food, plus it's an attractive sunny yellow color. Check the latest prices.
Hawaii Luggage Tags
Airports are generally pretty dreary places. Bring a little pop of color and joy with these Meet Me in Hawaii Luggage Tags.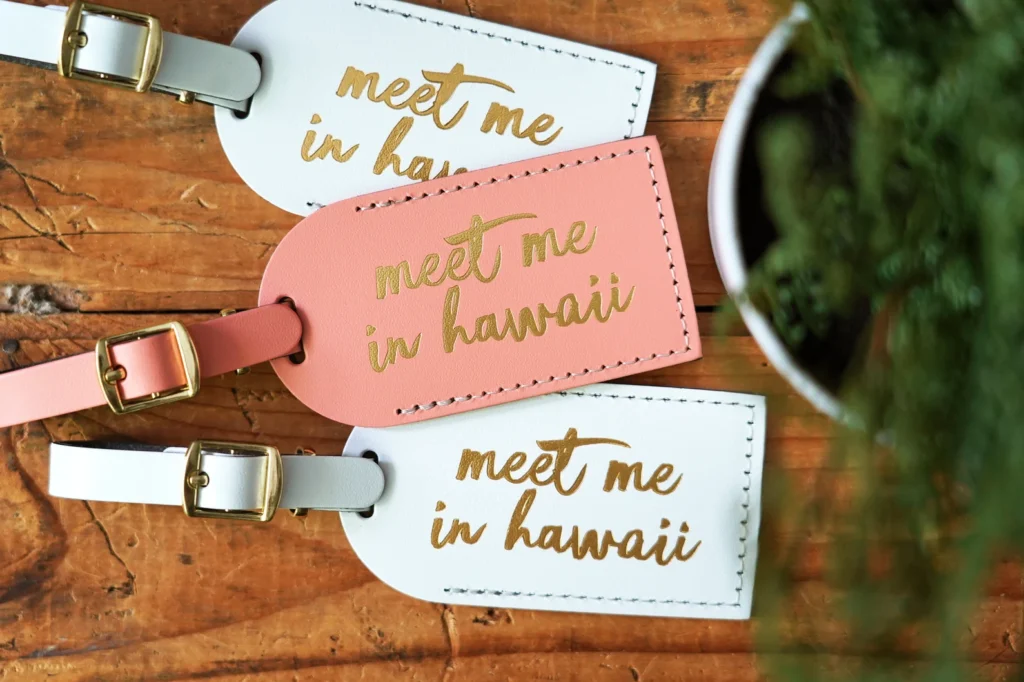 It's sure to draw attention (and a little envy) from all the people heading to places that aren't Hawaii.
If you need birthday gifts for beach lovers, a luggage tag will help remind them where they really belong. Check the latest prices.
Beach Pillow
So sand isn't always the most comfortable thing to lay on. It's mostly fine, but a good pillow is a necessity.
However, normal pillows are bulky, and air-filled ones tend to blow around.
Luckily, the Ballast Beach Pillow solves both of these issues. Inflatable, its design still allows it to stay put, even on a windy beach. Check the latest prices.
Waterproof Phone Pouch
Now, of course you're bringing your phone to the beach. How else are you going to get one of those viral shark videos? The problem is, both sand and water are terrible for phones.
That's where the Universal Waterproof Case, Hiearcool Waterproof Phone Pouch comes into play.
This clear pouch allows full access to your phone, while protecting it from the harmful elements. Check the latest prices.
Sun Shade
Of course, the Sun is a major part of why you head to the beach. But too much sun brings its own problems. That's why a good umbrella or beach tent is crucial.
The Pop Up Umbrella/Shelter from Sun Squad serves both functions. It can be just a sunshade, or a full tent. Check the latest prices.
Reef-Safe Sunscreen
Of course, you aren't just going to hide out in a tent the whole time. But the sun will still be there. Which is why you need to invest in a good sunscreen.
Reef Repair SPF Sunscreen combines good coverage and protection with the convenience of liquid sunscreen. Check the latest prices.
Water Shoes
Finally, while walking on the beach can be very relaxing, stepping on lava rock generally isn't.
So, a good pair of water shoes, like the Speedo Women's Surf Strider Water Shoes are essential. They slip on and off for convenience but will offer protection during walks. Check the latest prices.
Gifts for Beach Lovers
So, there we have it, a whole list of great gifts for beach lovers. You're sure to find something ideal for the beach lover on your list; maybe even for yourself.
Make sure your beach lovers are all ready for their next excursion. It could be coming up any weekend.