Looking for Hawaii gift ideas for someone who loves to cook (or eat)? Keep scrolling for my list of Hawaiian Christmas gifts for foodies!
This list of Hawaii Christmas gifts for foodies contains affiliate links which means if you purchase something from one of my affiliate links, I may earn a small commission that goes back into maintaining this blog.
When one thinks about Hawaii, many vibrant images come to mind.
There are the beaches, the surfing, volcanoes, an adorable little guy called the Happy Face Spider, and on and on.
But there is one thing that anyone who has been to the Islands will tell you really stands out, and that is the food.
Hawaii may be a paradise for anyone, but doubly so for a foodie. Use this gift guide to help you find just the right thing for your favorite island-hopping foodie.
And while this list of the best food souvenirs from Hawaii is a list of Christmas gifts, nothing is locked to that season, so you are in luck if you need to find non-holiday birthday gifts for foodies.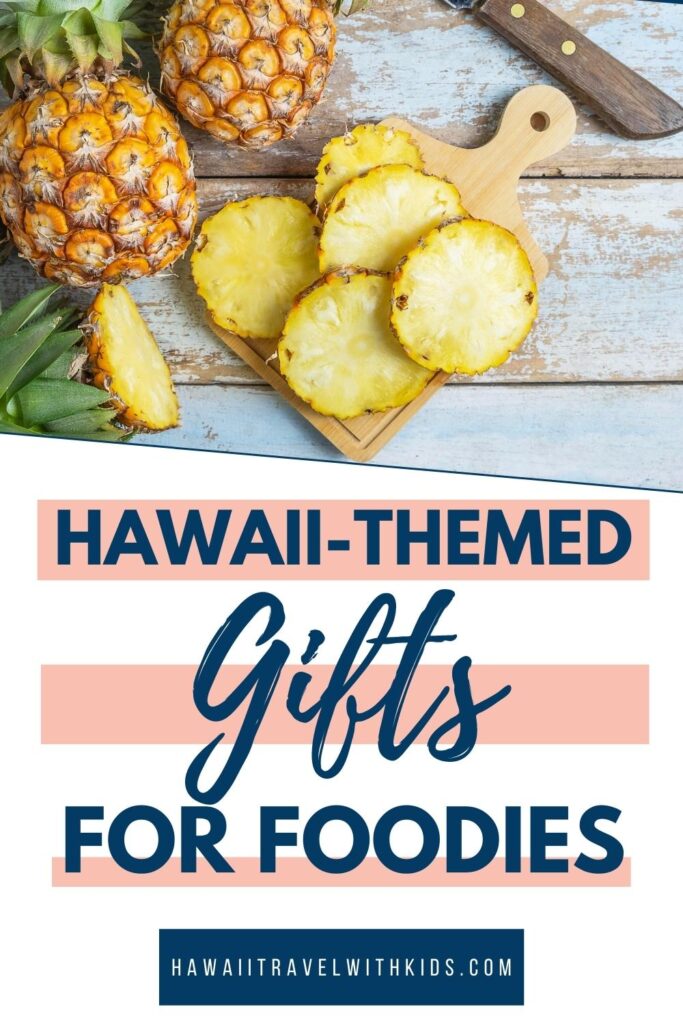 Create Your Own Hawaiian Foods
The term "foodie" is a fairly recent one. Its meaning can feel a little nebulous, but it serves an important purpose.
A foodie is someone who appreciates food more than your average Joe, but is able to appreciate foods from all walks of life. The perfect gift for them doesn't need to be fancy or ornate; it just needs to capture their attention.
For some foodies, experiencing new foods is great, but recreating those experiences is even better. You can't go wrong with a great food gift from Hawaii.
SPAM Musubi Kit
It's maybe the worst-kept secret on the islands, but still comes as a surprise to most who hear about it for the first time.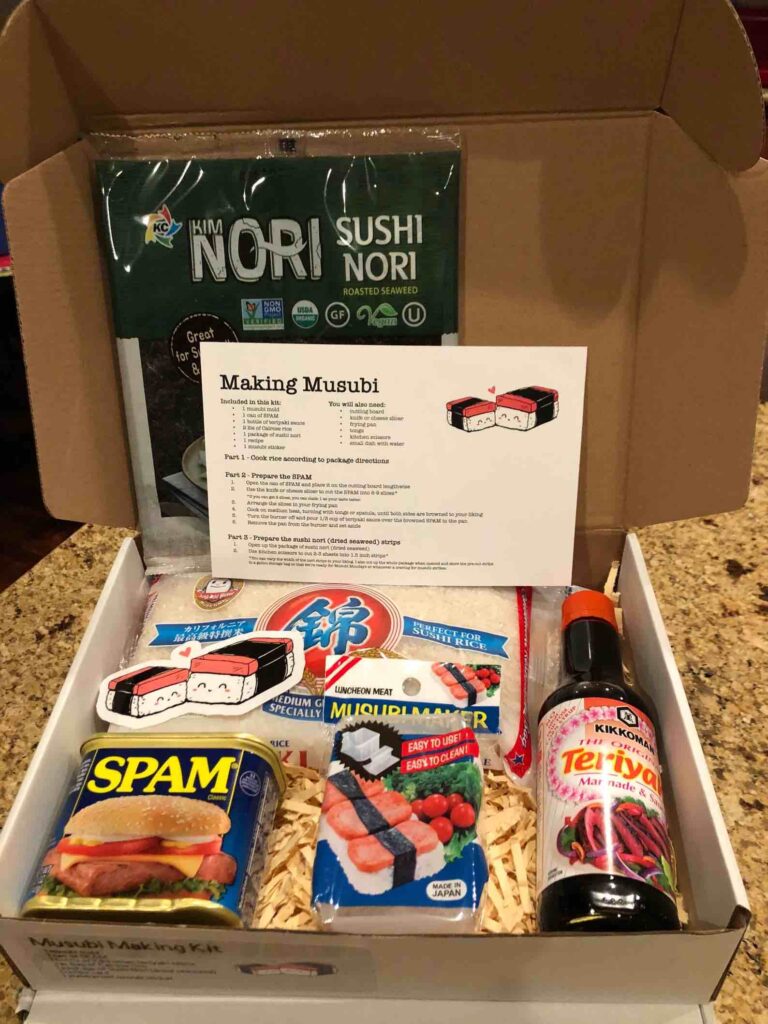 SPAM is huge in Hawaii. They love it, and cook with it regularly. They even have SPAM dishes that are on the "must try" list for visitors. One such dish is this musubi.
Your foodie can relive the experience with this SPAM Musubi kit. For the uninitiated, it's something very much like sushi, but with SPAM as the main protein instead of some kind of fish or seafood.
It's surprisingly easy to recreate this dish at home, especially with a handy kit that puts all the ingredients in one place for you.
It's one of the lesser-known Hawaiian food gifts, but still sure to be popular. Check the latest prices.
Hawaiian Pancake Mixes
A Hawaiian breakfast isn't just any breakfast. While fresh fruit is always a popular option, it's typically very hard to impossible to bring fruit back from a trip.

But another staple food has become oddly popular over that way, in the form of pancakes. And with these Hawaiian Pancake Mixes, one gets the best of both worlds.
With a range of flavors that encompass the fruit varieties available in Hawaii, these mixes will let your foodie take their pancakes to the next level. Check the latest prices.
Hawaiian Sea Salt
Okay, so this last entry to this category is a bit of a cheat. But it still counts. Hawaiian sea salt is unique to that area, and any cook knows that it imparts something extra to any food you cook with it.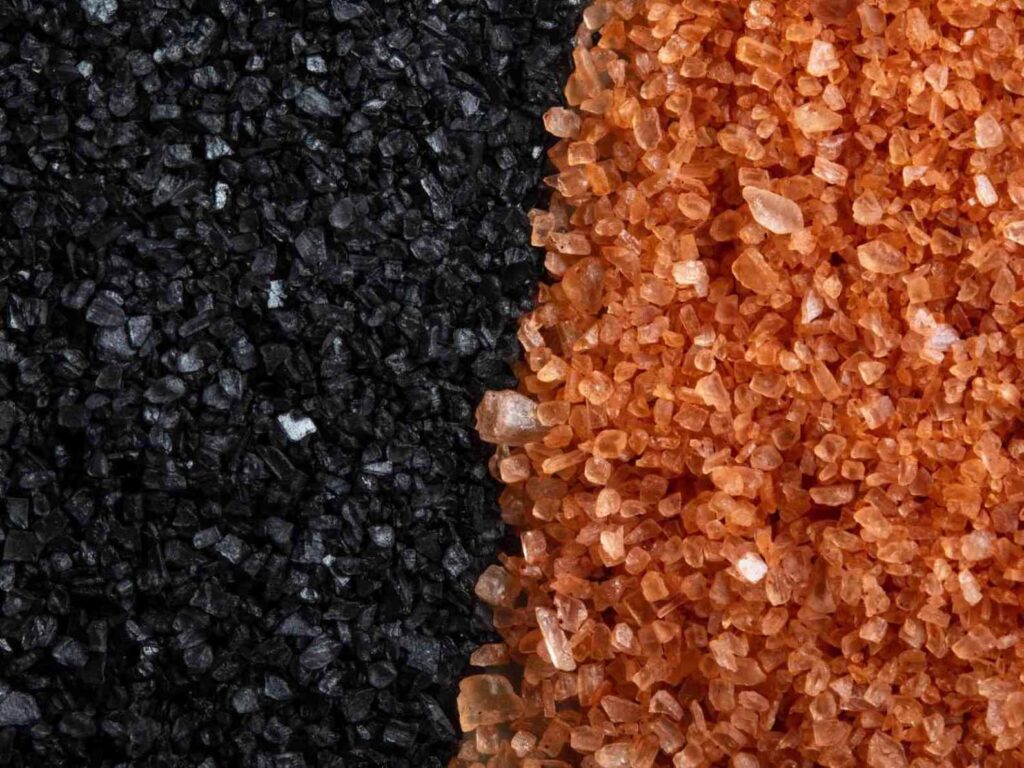 You can order some Hiwa Kai Black or Red Alaea Hawaiian Sea Salt.
The seller also has offered a two-pack with both types in the past, but it's not available at the time of this writing.
This attractive salt truly makes for one of the most unique gifts from Hawaii. Check the latest prices.
Classic Hawaiian Snacks
Now, while recreating their favorite recipes is right up some foodie's alley, others want nothing to do with making it, and only want to eat it. Which is just fine.
For some, making a dish is part of the experience. For others, it's just time that could be better spent actually eating the dish.
For that second category, we have a wide range of must-have Hawaiian snacks. These Hawaii food gifts will make any foodie's day.
Macadamia Nuts
Leading things off is maybe the most Hawaiian snack of all time. Macadamia nuts are a staple in Hawaii and make one of the best gifts from the Big Island.
While they are grown here and there across the globe, almost all of the commercial growing occurs in Hawaii.
And when flavored with sea salt, well, can you get more Hawaiian than that? These have a great flavor and make for truly excellent snacking. Check the latest prices.
Hawaiian Coffee
Speaking of things that are pretty much exclusive to Hawaii, some of the world's best coffees come from its rich volcanic soil.
For the coffee lover on your list, the Hawaiian Paradise Coffee Hawaiian Roast Coffee is one of the best souvenirs from Hawaii.
They offer a whole variety of coffees, from Kona blends to traditional roasts. Most are available in K-cups or just ground, as well. Check the latest prices.
Hawaiian Jam
As mentioned earlier, one of the best things about Hawaii is all the fresh fruit available. One of the worst things about leaving Hawaii is that you can't take any of it with you, due to agricultural concerns.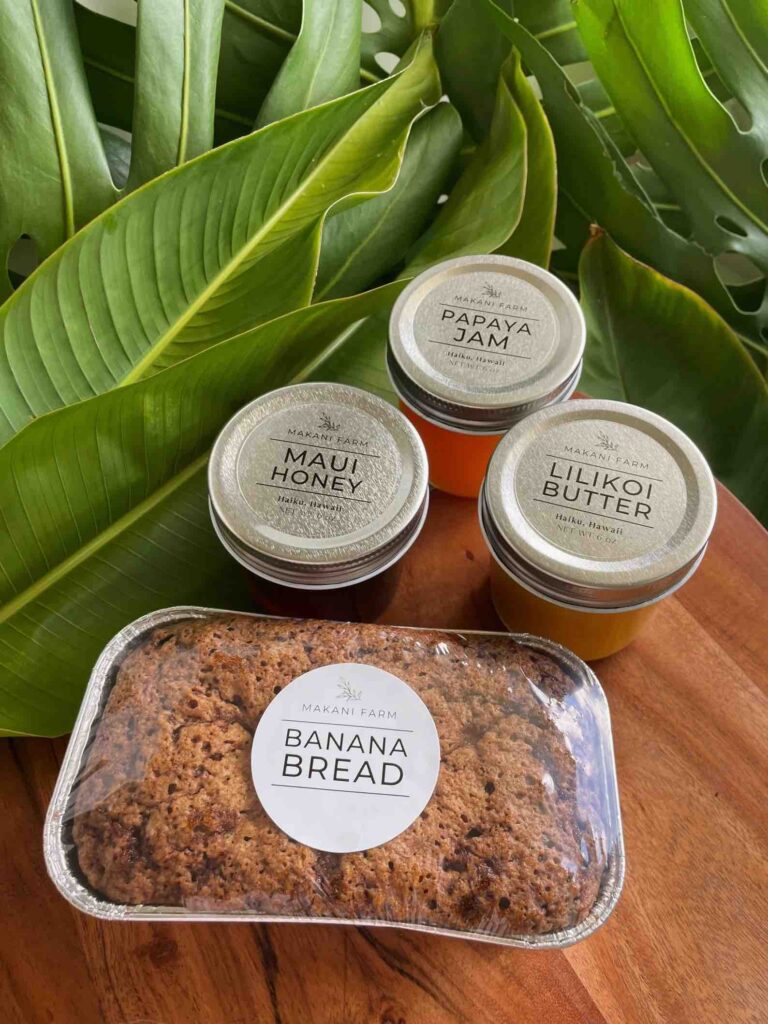 But one delicious way around that is by bringing fruit in jam form. This Banana Bread and Fruit Jam Kit will let your foodie relive some amazing fruits while not endangering anyone's livelihood.
These tropical jams make great gifts for foodies. Check the latest prices.
Hawaiian Chocolate
Another uniquely Hawaii experience involves the local chocolate. They craft some amazing chocolate there, and it's certain to be a favorite of anyone who's had the chance to experience it.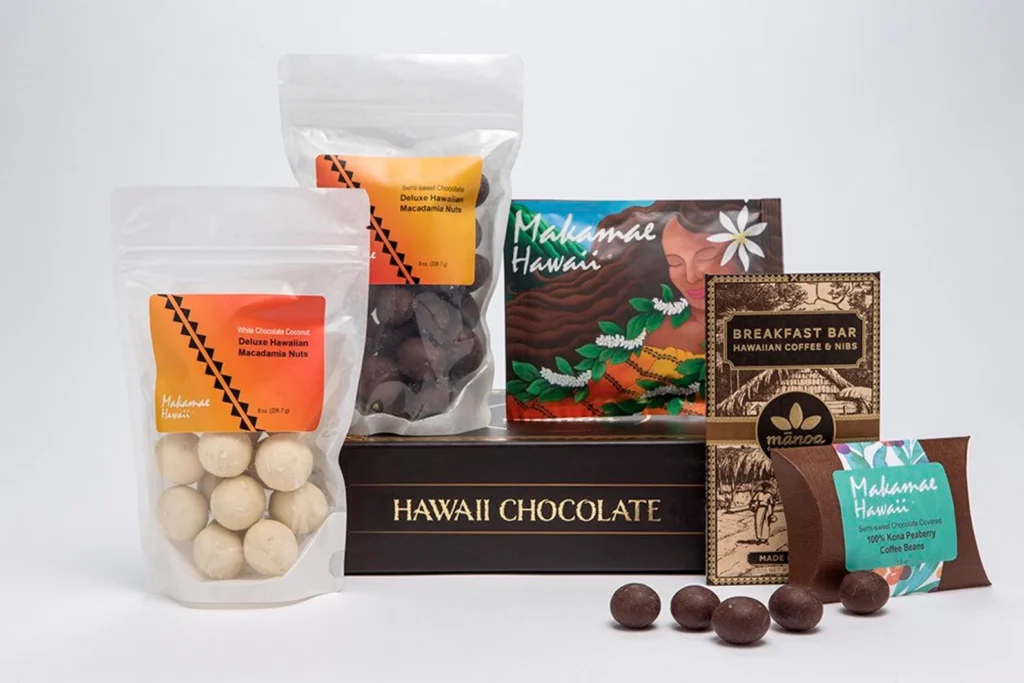 This assortment of Hawaiian Chocolates offers a nice range of choices from the many types that are available there. Check the latest prices.
Foodie Gift Baskets from Hawaii
Want to hit a home run, but not totally sure what your foodie's favorite thing from Hawaii was? The Big Kahuna Gift Basket has you covered.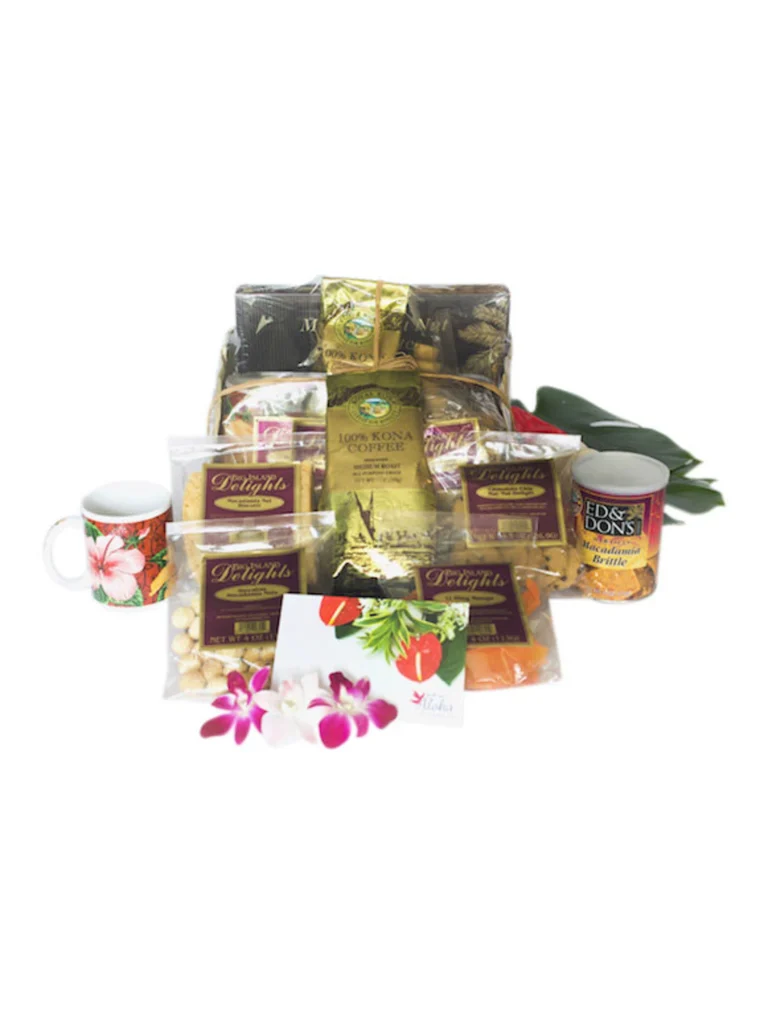 This one has a bit of almost everything from the best gifts from Hawaii. Coffee, nuts, fruit, chocolate? You can't go wrong with this basket. It is packed with goodies from Hawaii.
So for the person you weren't listening as closely to as you should have, but really need to nail the gift, this is a great choice. Check the latest prices.
Pineapple Gummies
Bringing things back to the arena of fruits, these 3D Gummy Pineapples are a very "Hawaii" snack.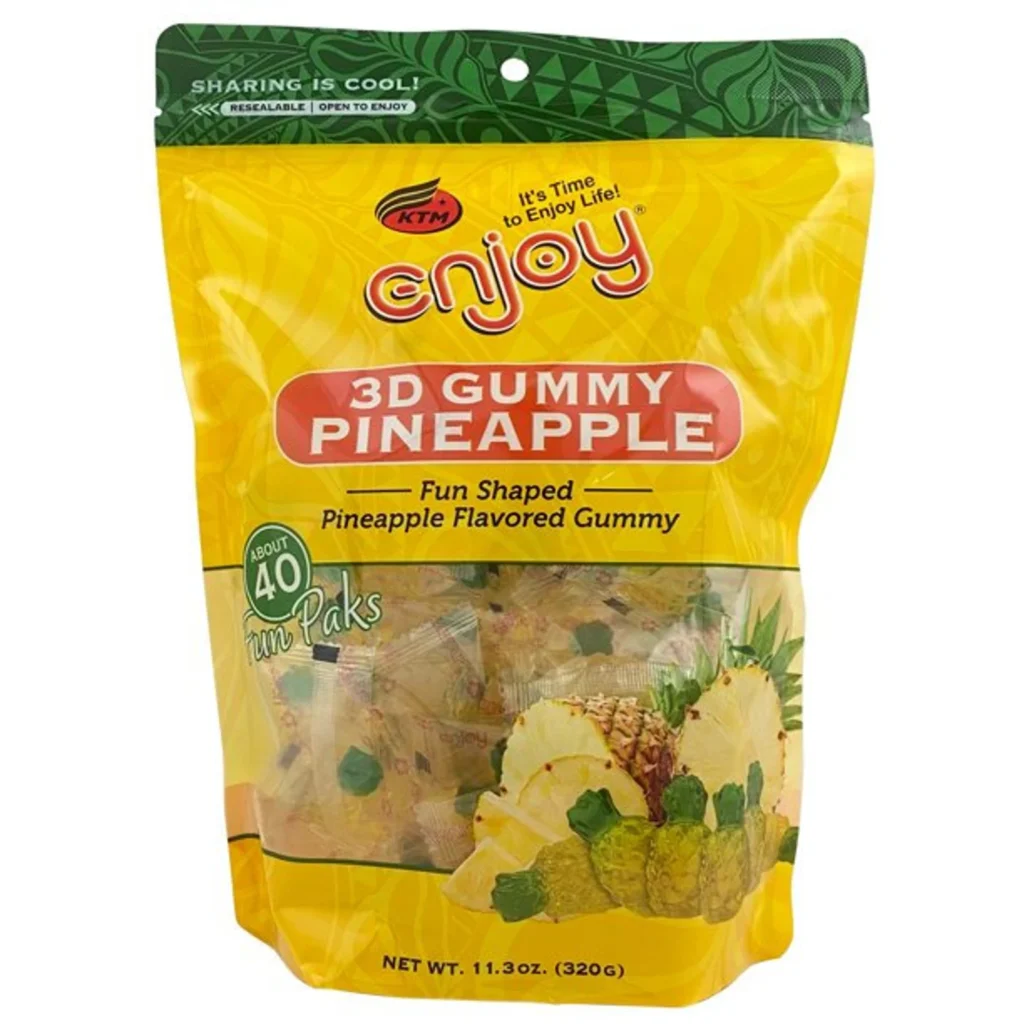 Pineapple is a staple there, and the gummies are a lot easier to transport and snack on than an entire pineapple. Not to mention easier to prepare.
For a quick tropical fruit hit, you can't beat these gummies. Absolutely one of the best food gifts from Hawaii. Check the latest prices.
Li Hing Mui Candy
Now for something a bit less common, but still well known on the islands, Li Hing Mui Sour Mango Belts are a popular treat.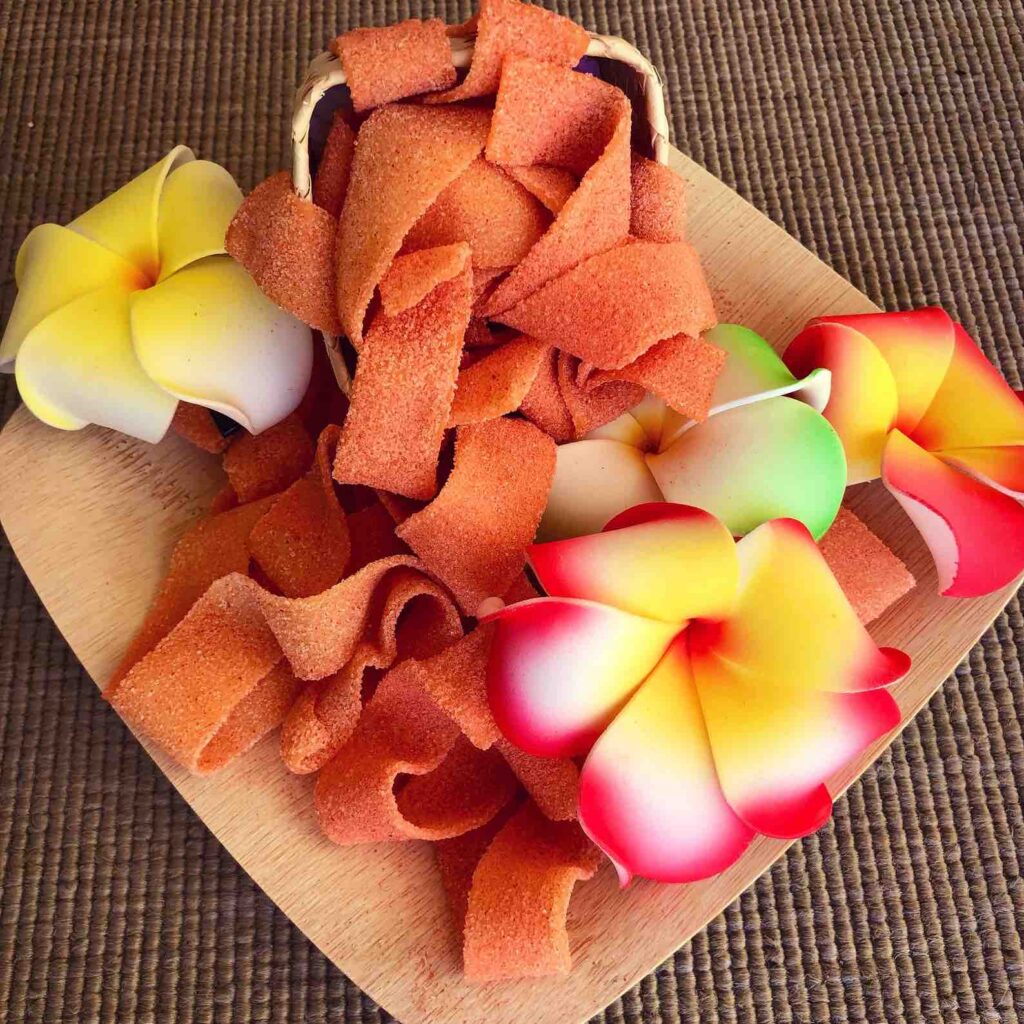 Basically fruit-by-the-foot, but significantly better. And the sour mango flavor is certainly less common in the continental US than in Hawaii.
This Hawaiian treat will recall fond memories with every bite. And while they may seem unfamiliar, they are definitely one of the best food souvenirs from Hawaii. Check the latest prices.
Hawaiian Paradise Candies
Our last entry in this category is less a specific food item, and more a specific brand.
Hawaiian Paradise Candies makes a variety of tasty treats that all recall an island trip.
You can pick and choose items to suit the tastes of your giftee, but be careful. All of it looks amazing. Check the latest prices.
Food Preparation Gadgets
Of course, just having the ingredients is only half the battle when making food. Ask anyone who lost their whisk at a crucial moment. You can cook with almost anything, but it's so much easier with the proper tools.
Here are a number of kitchen/cooking implements to complement the Hawaiian cooking style.
Pineapple Corer
Now, with all this fruit on the menu, prepping it is a major part of cooking Hawaiian. But well, putting it gently, prepping fruit can be a real pain.
But this pineapple corer helps assuage that pain.
Just chop off the pineapple crown and twist this gadget into the pineapple. When it reaches the bottom, simply pull it up and you have fresh pineapple rings. This can save so much work.
And the bonus is that you have a hollow pineapple perfect for a tropical drink! Check the latest prices.
DANDY ScooperDuper
There are multiple recipes that include making and using dough. Manapua leaps to mind.
The DANDY ScooperDuper makes working with dough significantly easier, and will be a welcome addition to any foodie's kitchen. Check the latest prices.
Olive Oil Sprayer
Prepping cooking surfaces, and even food itself often calls for a lot of oil. While cooking sprays can usually handle the job, that doesn't mean it's the best option.
Many people prefer something a little more healthful, such as olive oil. But it's a major hassle to get it coating a pan properly.
That's where this Olive Oil Sprayer comes in. Just load it up with your favorite olive oil, and it will spray it wherever you wish. Check the latest prices.
Grill Scraper
Of course, cooking outdoors, over flame, or slow heat are all very common in Hawaii. Which means a grill, if you don't want to dig a pit.
But keeping a grill clean can be a lot of work. Take some of the work out of things with this Grill Scraper.
Formed with all sorts of different cutaways, it can take the effort out of cleaning a huge range of grills. Check the latest prices.
Bamboo Cooking Set
Another necessary implement for cooking is the actual implements. And while you can make most of this food with any utensils, why not make things a bit more authentic?
This Bamboo Cooking Set is attractive, durable, non-marking, and uses a Hawaiian staple, bamboo.
Fun fact, bamboo is not actually native to Hawaii but is still extensively used there due to its proliferation. Check the latest prices.
Napkin Rings
And of course, it isn't all just food prep. Sometimes, we need help with presentation, too.
These Water Hyacinth Napkin rings help give a little Hawaiian flair to your table setting. Check the latest prices.
Odds and Ends
Here are a few other Hawaii-inspired items for your island-hopping foodie.
If nothing else on this guide seems to do it for you, or maybe if you just need a little something extra, this is the spot to look. These fun gifts for foodies are sure to please.
Respect the Dumpling Mug
As big as coffee is, it's not much use if you have nothing to drink it from.
This adorable Respect the Dumpling mug makes sure the recipient's feelings toward dumplings are known.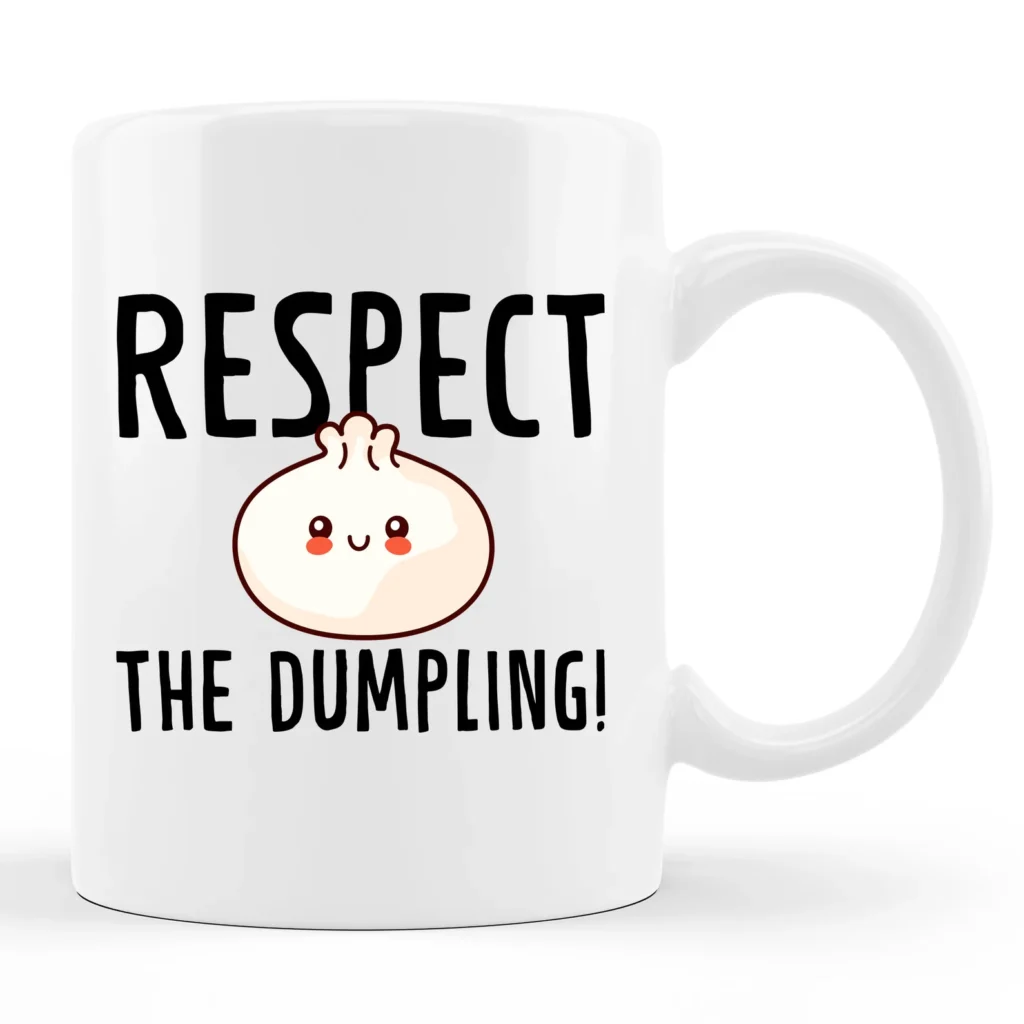 And with as classic and tasty a dumpling of Manapua as an option, it should be no surprise. Check the latest prices.
Paddle and Surfboard Serving Trays
After making (or opening) all this food, you definitely need a unique way to serve it.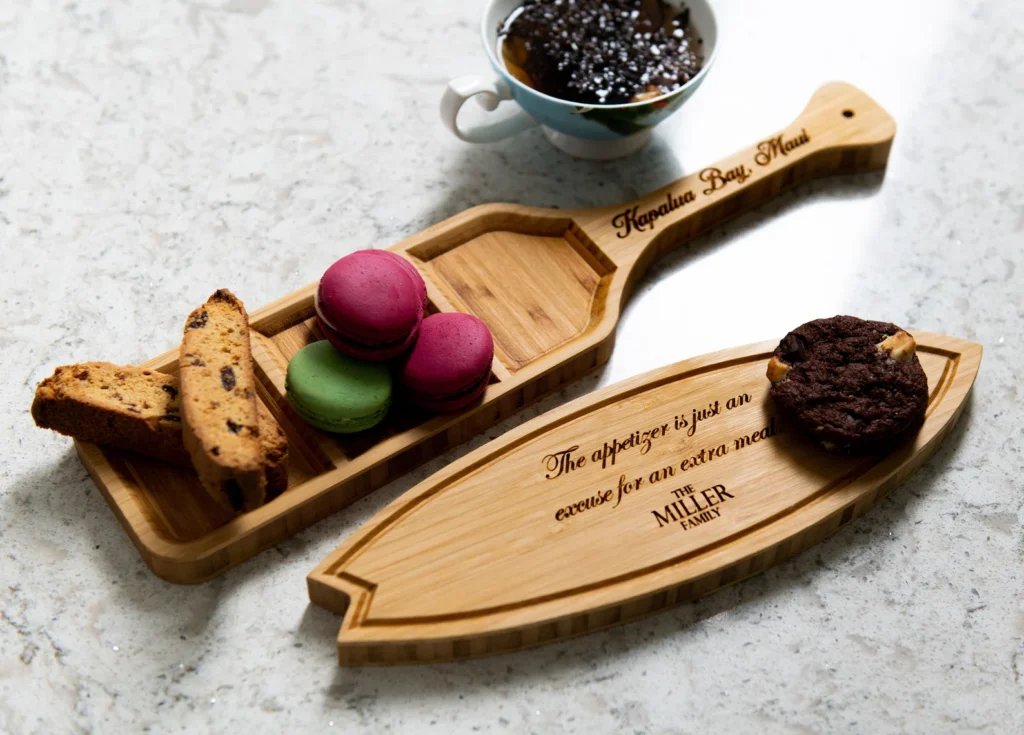 This wood-carved Paddle and Surfboard Serving Trays set are attractive, yet positively scream island life. It's the perfect thing to serve a perfect SPAM Musubi on. Check the latest prices.
Hawaiian Foodie Pins
In a non-food setting, but still want to flex your love for classic Hawaiian dishes? These Hawaiian Foodie Pins are just the thing.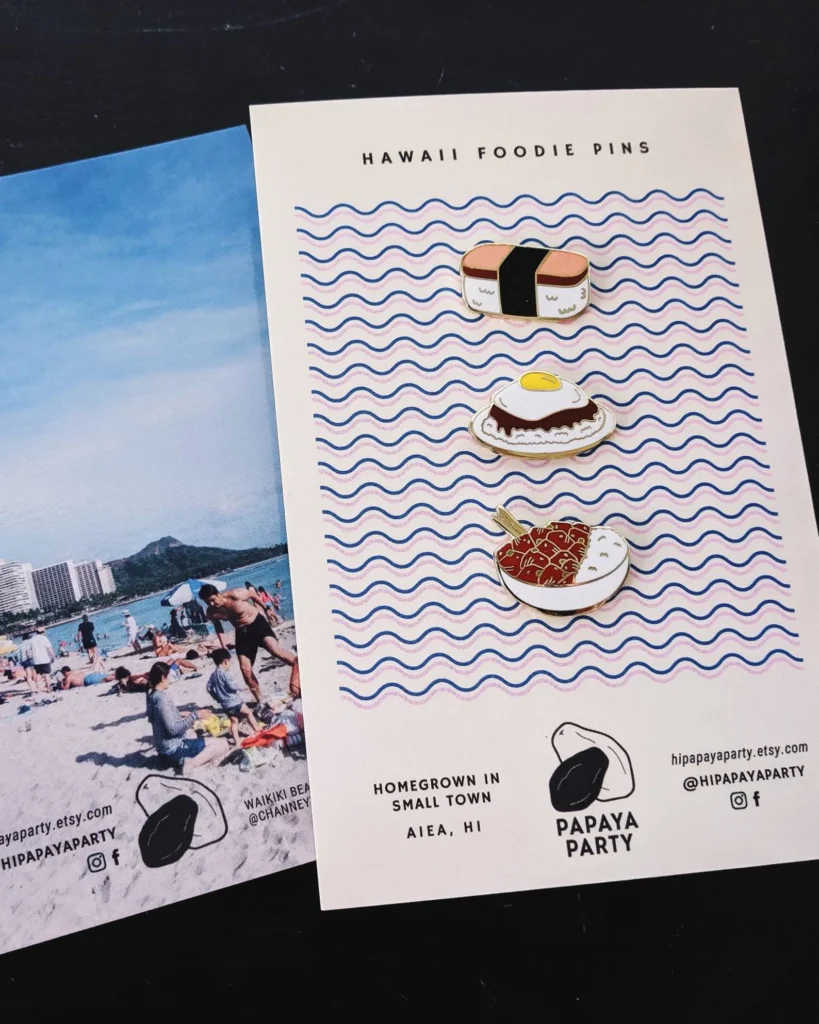 These hard enamel pins feature Poke Bowl, Loco Moco, and Spam Musubi in a sort of "if you know, you know" way. Anyone familiar with the dishes will recognize them immediately. Check the latest prices.
Great Gifts for Foodies
So there you have it. Between the DIY food kits, the snacks, the cooking implements, and the food-adjacent products, there is bound to be something that hits the spot for Hawaii-loving foodies on your list.
These holiday gifts for foodies are the perfect way to go. And who knows, you might even end up ordering something for yourself. No harm in that. Happy shopping.