Are you planning a trip to Hawaii and wondering about the top things to pack for Hawaii? Sometimes it's better to buy things when you get there. Keep scrolling to see the best things to buy in Hawaii vs helpful things to bring to Hawaii!
This list of things to bring to Hawaii vs things to buy in Hawaii was written by Hawaii travel expert Marcie Cheung and contains affiliate links which means if you purchase something from one of my affiliate links, I may earn a small commission that goes back into maintaining this blog.
Packing for Hawaii can be a daunting task, but we're here to help!
We want you to have the best time possible and that means packing everything you need. From what clothes to bring and how much reef-safe sunscreen is necessary, we will cover it all in this ultimate guide. You won't regret taking our advice on what items are must-haves when traveling with kids.
No matter what Hawaiian island you are going to, you will want to pack basically the same thing no matter what.
However, what should you bring and what is better off buying when you arrive?
Here is your ultimate packing list for Hawaii, filled with Hawaii trip essentials you cannot forget to bring, along with cool things to buy in Hawaii to save you money, time, and an extra piece of luggage!
Our goal is for your family vacation in paradise to be stress-free and fun-filled from start to finish. Let us help make sure nothing goes wrong while you're away from home so all you have left is good memories!
Keep scrolling to find out the best things to pack for Hawaii islands AND the most helpful things to buy in Hawaii.
Want to skip all the planning and just access my detailed Hawaii Itineraries complete with daily schedules, kid-friendly activities, and travel hacks? Click the button below.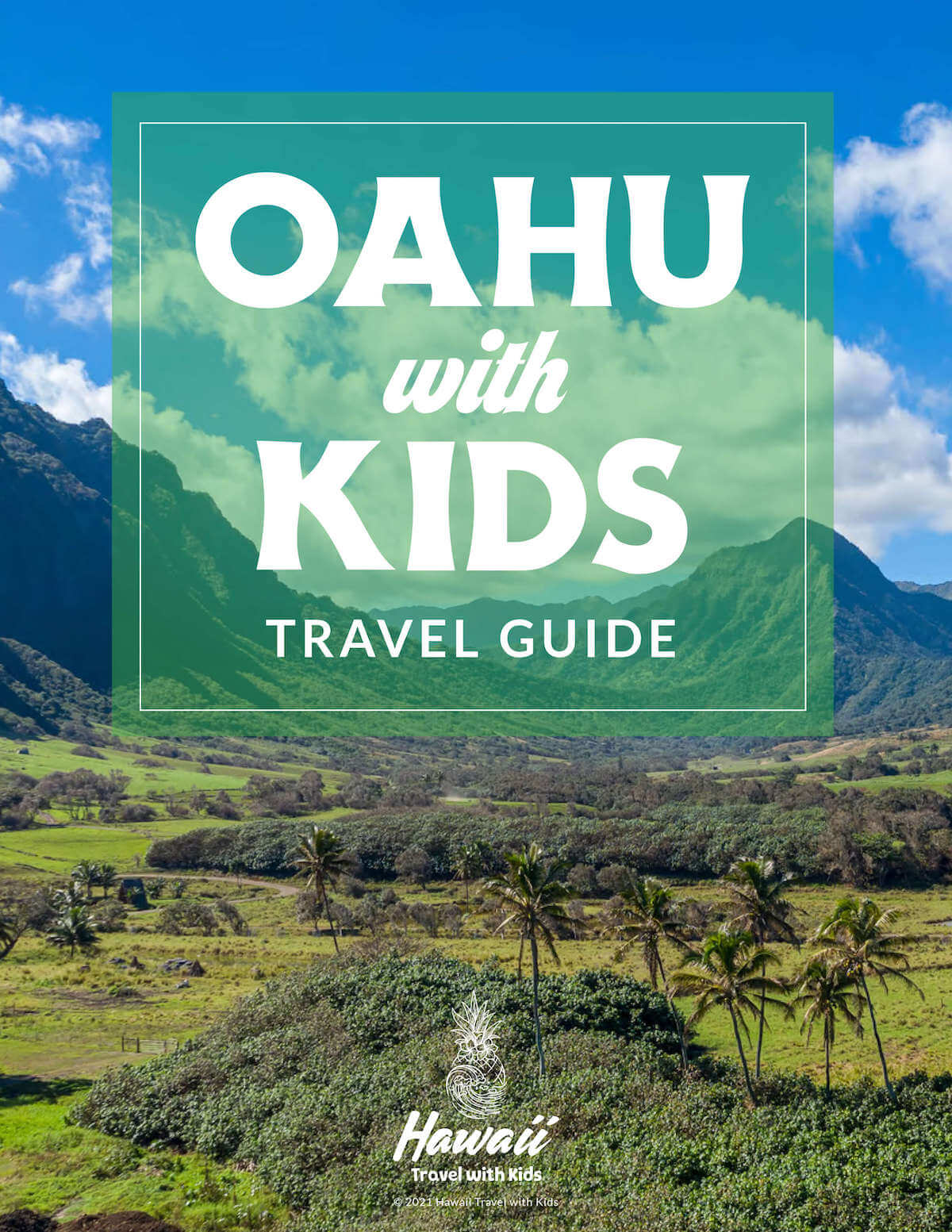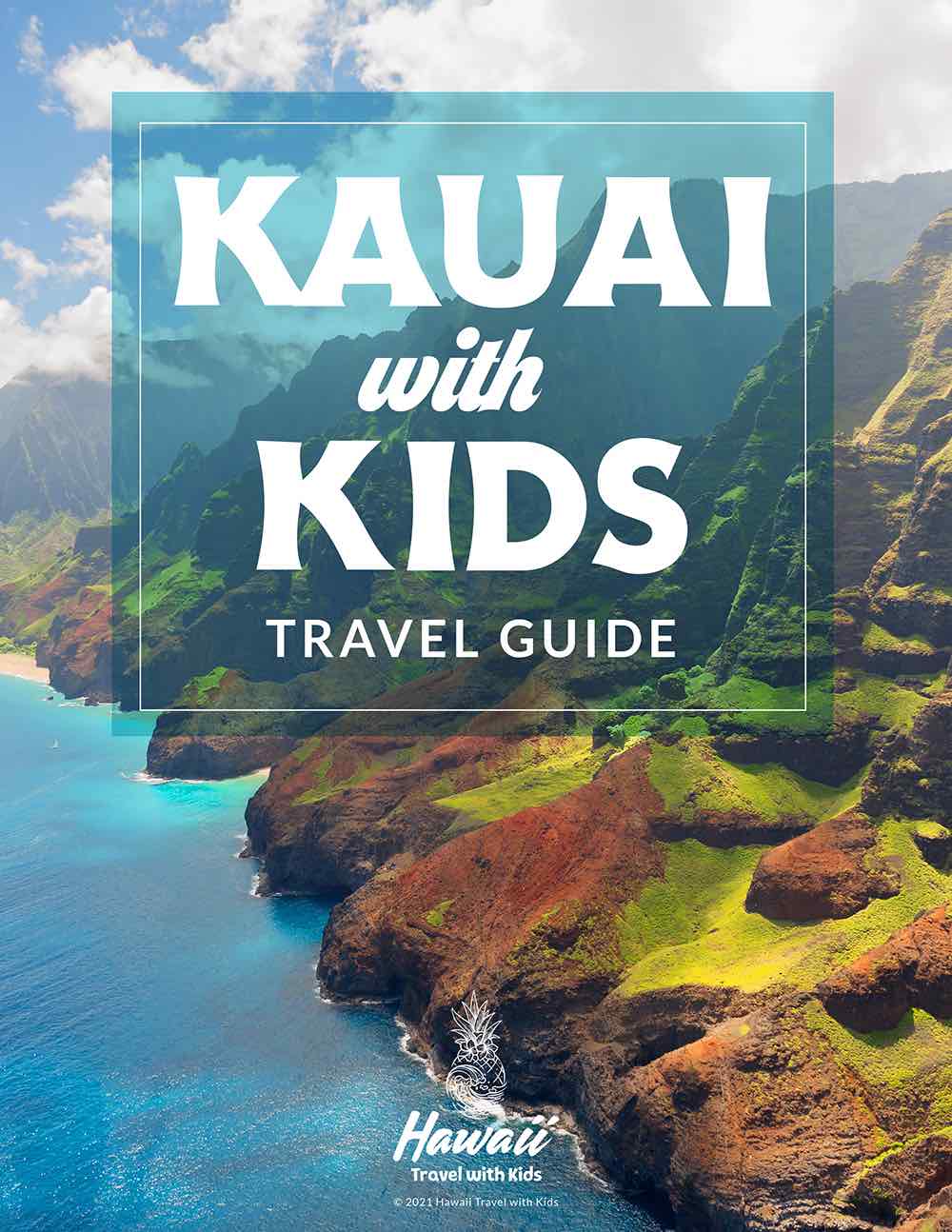 Hawaii Packing List FAQs
Can you wear jeans in Hawaii?
You bet! In the winter months, the temperatures dip down into the 60s. Jeans are also helpful if you're going horseback riding, heading to Haleakala Crater, or exploring Hawaii Volcanoes National Park. However, if you're heading to Hawaii in the summer, leave the jeans at home.
Do you need bug spray in Hawaii?
Yes, bug spray is definitely helpful if you'll be hiking in the jungle or sitting near pools of water. There are lots of mosquitos in Hawaii, so if you normally get bit on the mainland, make sure to add bug spray to your packing list for Hawaii.
What do you wear to a luau in Hawaii?
While there isn't a strict dress code, most families choose to dress up a bit for their luau. Wearing Hawaiian print dresses and Aloha shirts is a really popular option. Otherwise, men usually wear a polo shirt or short-sleeved button-down shirt and either nice shorts or khakis. Women usually wear a dress or a tropical blouse and pants. And kids basically wear whatever they want.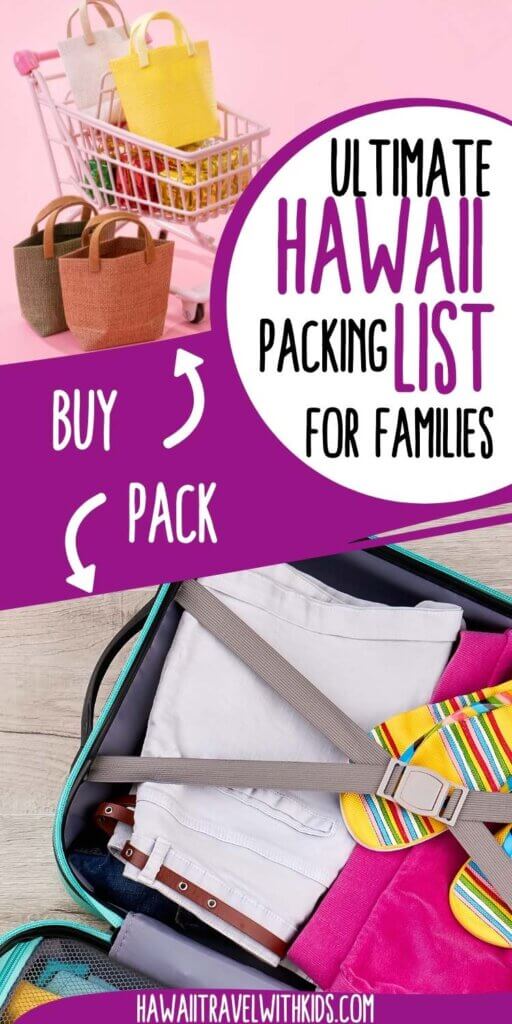 What Things Should I Bring to Hawaii?
Of course, you will want to bring enough clothes and swimsuits to last you through your vacation stay. Bring things to wear in Hawaii like shorts, breathable clothes, and plenty of swimsuits.
You should bring all the things you would normally bring to any vacation. However, you should bring a few things, especially for Hawaii, while other things that are best to just buy while you are there. Keep reading to find the best things to pack for Hawaii!
What Should I Not Bring to Hawaii?
You shouldn't have to bring any shampoo, conditioner, or body wash. Most hotels will have that already, but to be safe, double-check beforehand. You might also not have to bring towels either.
I always check with where I am staying for certain accommodations and then alter my Hawaii packing list as needed.
What to Pack for Hawaii for a Week?
No matter if you stay a week or for just a few days, you will typically have the same Hawaii packing list, but just bring more of the same items. If where you are staying has laundry options, you could do laundry during your stay to save room in your luggage.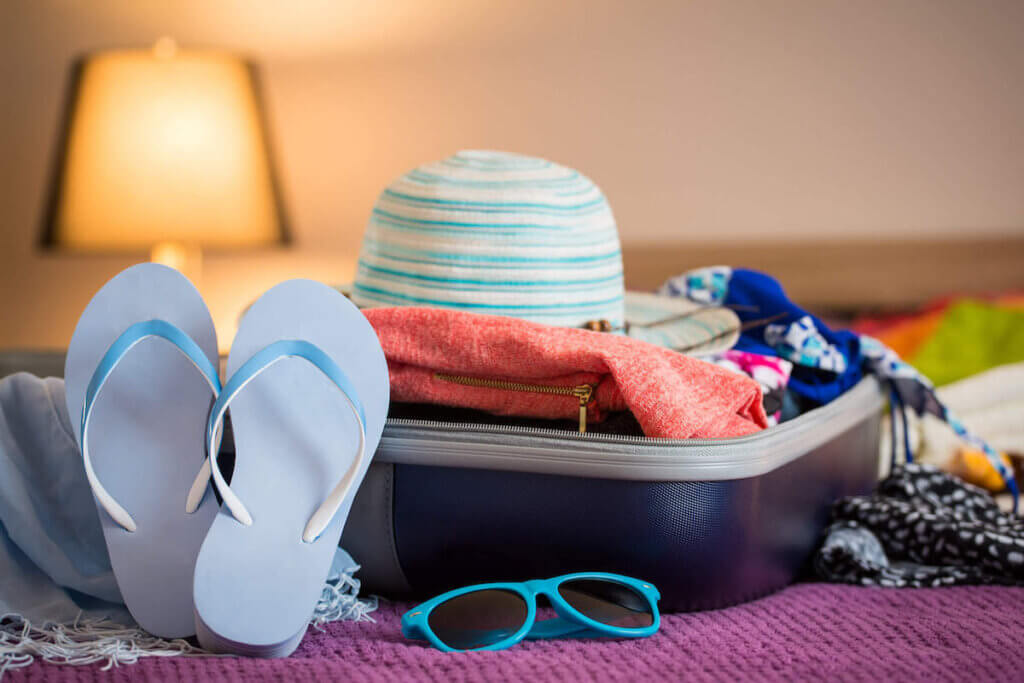 Best Hawaii Packing List
Here are some of the best packing tips for Hawaii. Include these on your Hawaii travel packing list, and you will have an amazing vacation!
Mesh Beach Bag
Bringing along a mesh beach bag will help you not to carry sand home with you for the next four months. Plus, a mesh bag is usually very easy to pack and is lightweight enough it is better to bring one. Beach bags are typically more expensive in Hawaii because the demand is higher.
THIS is my favorite mesh beach bag to bring to Hawaii. It's got tons of pockets so you can stay organized. Check latest prices.
Shoes for Hiking
If you plan on doing some of the most amazing hikes during your vacation in Hawaii, bring your own hiking shoes. That way, you don't buy shoes and then suffer from sore feet the rest of the trip to Hawaii.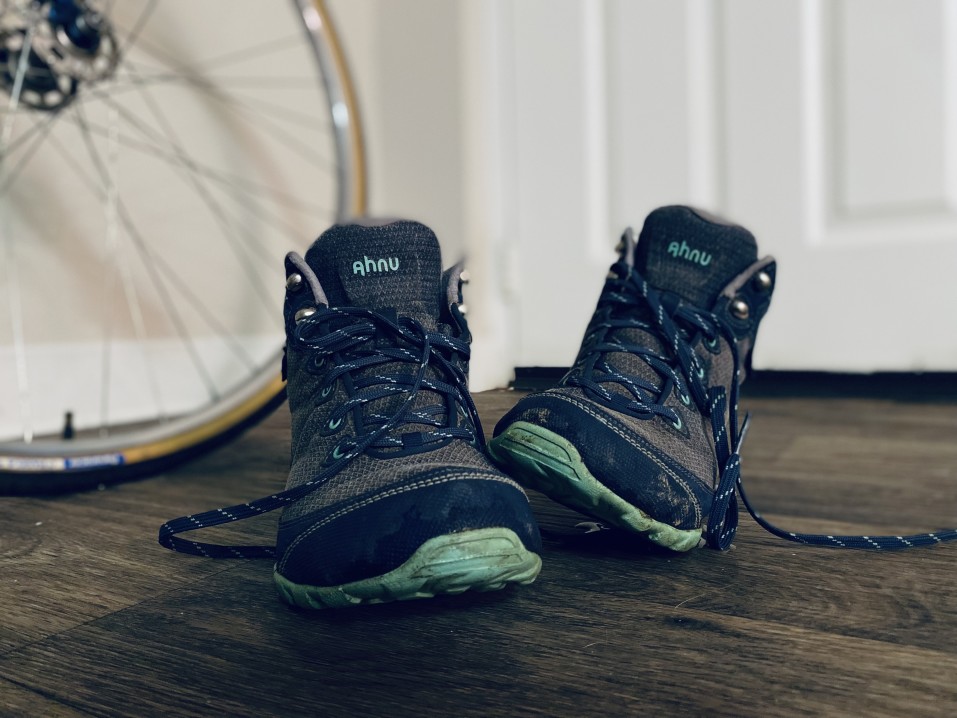 Bringing your own shoes will mean your shoes are broken in a ready for hiking! Tennis shoes are usually sufficient for hikes in Hawaii. It's also great to bring shoes you are okay getting dirty. The red dirt in Hawaii will stain your shoes and socks.
Sunscreen and Bug Spray
Bring your own reef-safe sunscreen, as sunscreen is more expensive in Hawaii. Even a small travel size sunscreen should be enough for your trip unless you are here for more than a week and have a larger family.
Be sure to also bring some bug spray. There are plenty of mosquitos, and you don't want to get bitten on vacation! Mosquito Bands also work amazing in Hawaii and do a really good job of protecting you.
My favorite brand of bug spray is Babyganics. It's DEET-free and doesn't smell as bad as other bug sprays. Plus, it works really well on my kids who usually get eaten alive by mosquitos. Check the latest rates here.
Hat and Sunglasses
Another key essential on your Hawaii trip packing list is a sun hat. While you can find plenty of hats there, they may be priced higher than normal. Bringing a simple ballcap or sunhat will help avoid sunburn on your scalp and protect your face as well. It is another smaller and easier item for packing.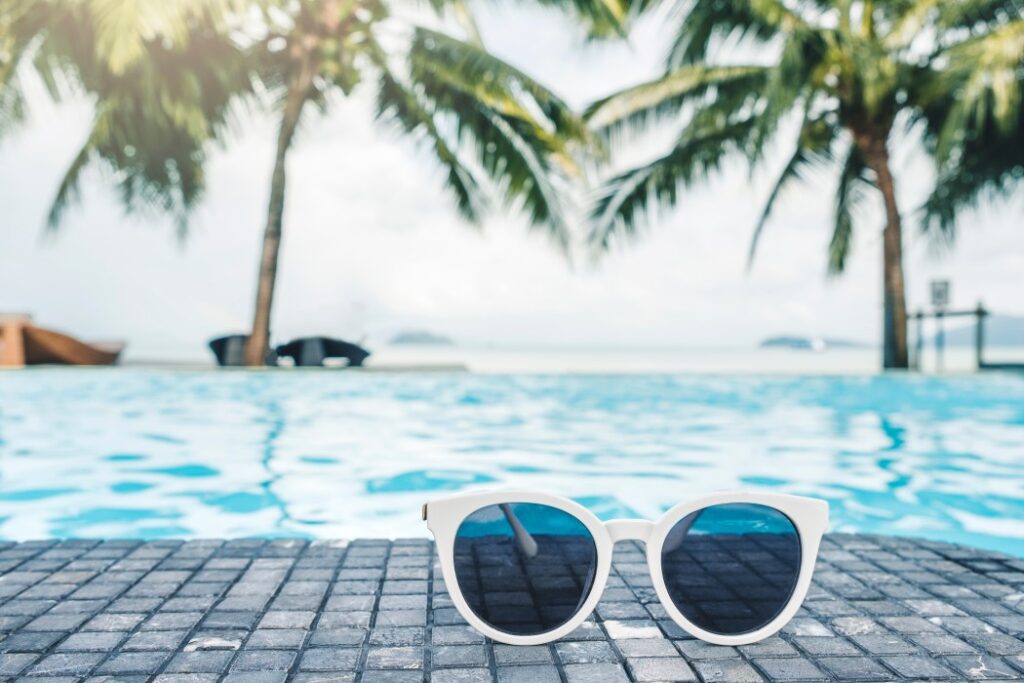 You definitely don't want to buy sunglasses in Hawaii, as they will be more expensive. Bringing your own will save you money and is one less thing to find during your vacation.
Water Bottle
Instead of getting bottled water wherever you go, bring a reusable water bottle. A Hydro Flask is usually the best option, so it will keep your water cool as well, even if you leave it out in the sun. You will also be saving a lot of waste by using a reusable water bottle.
We usually bring two large hydro flasks that we share with our kids. But, you could easily give them smaller ones. The water truly stays really cold all day without having to add ice. Check the latest rates here.
Best Things to Buy in Hawaii
Here are some things that are easier and cheap enough you can simply buy as soon as you arrive in Hawaii. Usually, Walmart or other big brands will have these items for cheap, so be sure to plan accordingly, so you don't have to make too many trips!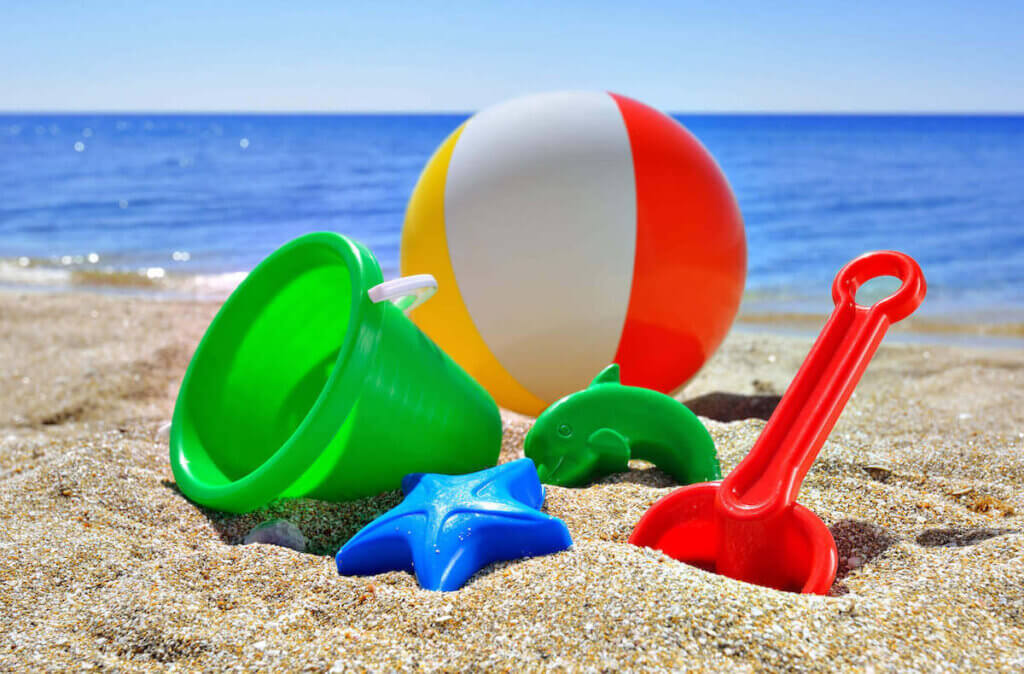 Beach Mats
Beach mats are super cheap in Hawaii. You can find some for only $2! Instead of the hassle of bringing your own or getting your towels all sandy, grab a beach mat when you first arrive.
Many hotels won't let you bring their towels to the beach, so go for a beach mat instead of buying a more expensive beach towel. Plus, it's so much easier to shake the sand off a mat vs a towel.
Swim Accessories
If you are traveling with kids, grab your swim accessories at Walmart, the ABC store, or Target. You will find many floaties, beach balls, and other beach gear for very little at these stores. If you buy the blow-up kind, you can also bring them home with you if you want!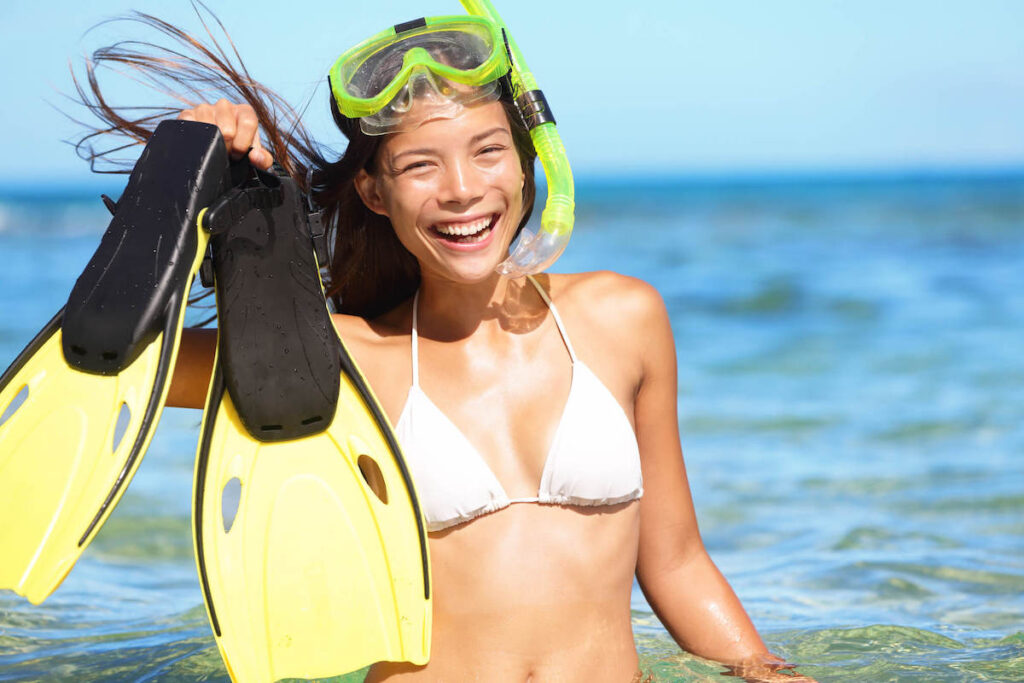 This also includes boogie boards or snorkeling gear, in some cases. If the place you are staying at doesn't have them already, it could be cheaper to buy your own, instead of renting them out daily.
It all depends on where you are staying, of course. Do your research so you know exactly what to buy in Hawaii as soon as you arrive.
Things that you do end up buying, if you don't plan to take them home with you, you can always give them away. Many college students or locals along the beach would love to have your extra boogie boards or snorkeling gear!
On our last trip to Waikiki, my kids gave their inflatable inner tubes to another family to enjoy and they got a big kick out of "paying it forward."
Pareos
Sarongs, lava lavas, pareos, or whatever you want to call them are great things to buy in Hawaii. These are long cuts of lightweight fabric that you can use as a swimsuit coverup, beach blanket, wrap, etc.
Many local shops or vendors will sell them for cheap as well. Plus, buying one while you are there makes for a great and useful souvenir!
Ziploc Bags
Instead of buying those super expensive waterproof bags for your phone, just grab some Ziploc bags. You can also bring a couple in your luggage as well. Ziploc bags will do the job for a lot less money.
These are also really helpful if you buy a lot of crunchy snacks (like chips). The humidity in Hawaii makes snacks soggy so it's great to put opened bags inside a Ziploc bag to keep it fresh.
And we usually put our wet swimsuits in a Ziploc bag for the plane ride home.
Plus, you will probably end up using Ziploc bags for other reasons as well, so they can come in handy during your vacation.
Coolers
While you can bring a foldable cooler bag, you can also buy a cooler during your stay. Coolers are great for the beach to keep your snacks and beverages cool.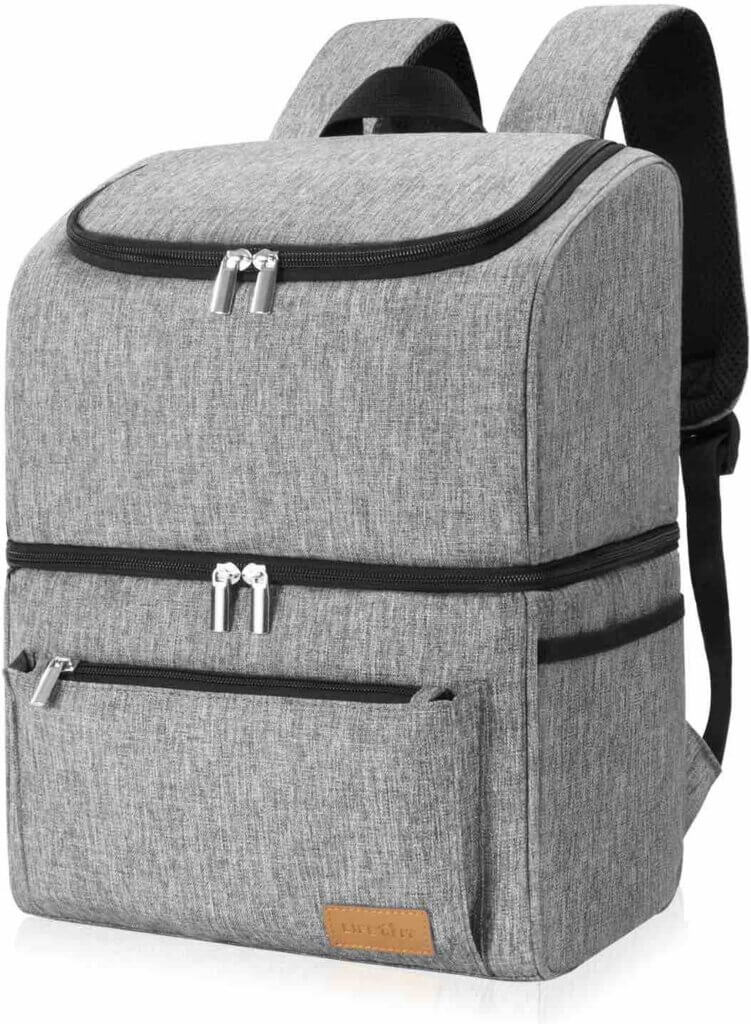 A Styrofoam cooler is cheaper and is a lot less hassle than bringing a hard case cooler. Again, instead of throwing it out, give it to someone on the beach to have, or leave it at your vacation rental for the next renter.
Unique Things to Buy in Hawaii
Here are some cool things to buy in Hawaii. With online shopping nowadays, you can probably buy many of these items without going to Hawaii. But it definitely means a lot more if you buy these souvenirs or cool things during your Hawaii vacation.
Most people find it way cooler when it is physically bought in Hawaii vs. bought online. Regardless, don't leave Hawaii without buying these cool things!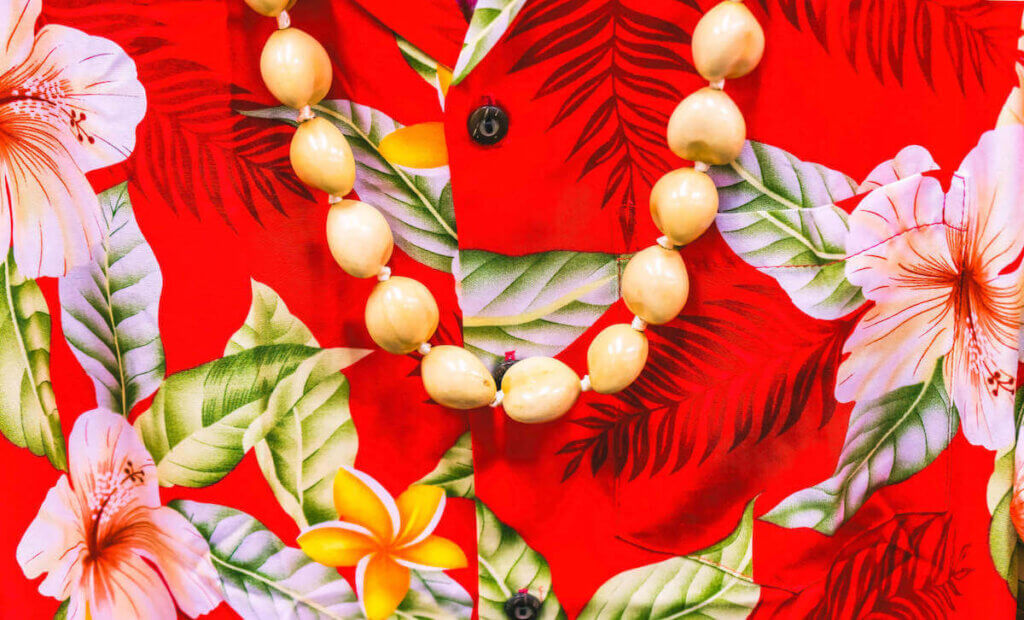 Hawaii Christmas Ornament
Christmas ornaments are sold pretty much year-round. Be sure to choose one to put on your Christmas tree. It will remind you of your wonderful vacation and bring some sun during a cold winter!
There are some incredible deals on the Island Heritage ones if you happen to be visiting Hawaii during Winter Break.
I'm so obsessed with Hawaiian Christmas ornaments that I've listed my favorite ones HERE.
Coffee
There is just something about the coffee in Hawaii. While I'm sure you can find some of the brands online, it may be much more expensive.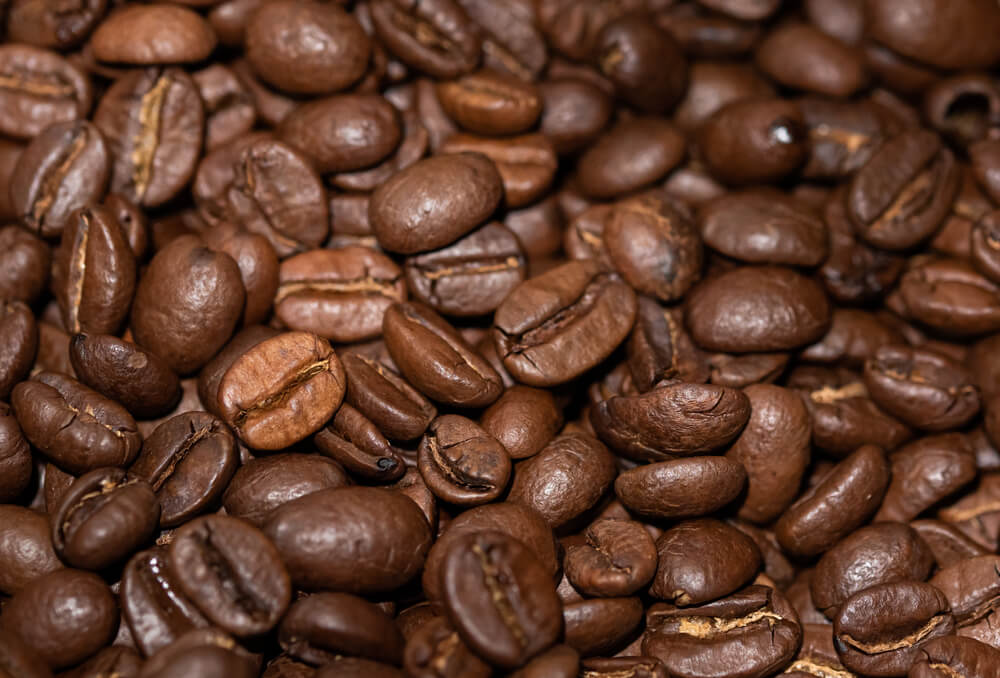 Grab a bag or two, and give it away as gifts, or keep it for yourself to enjoy some Hawaiian coffee when you return home.
Leis
The Hawaiian leis are simply gorgeous. You can choose from a huge variety. Grab a kukui nut lei, flower lei, or braided lei.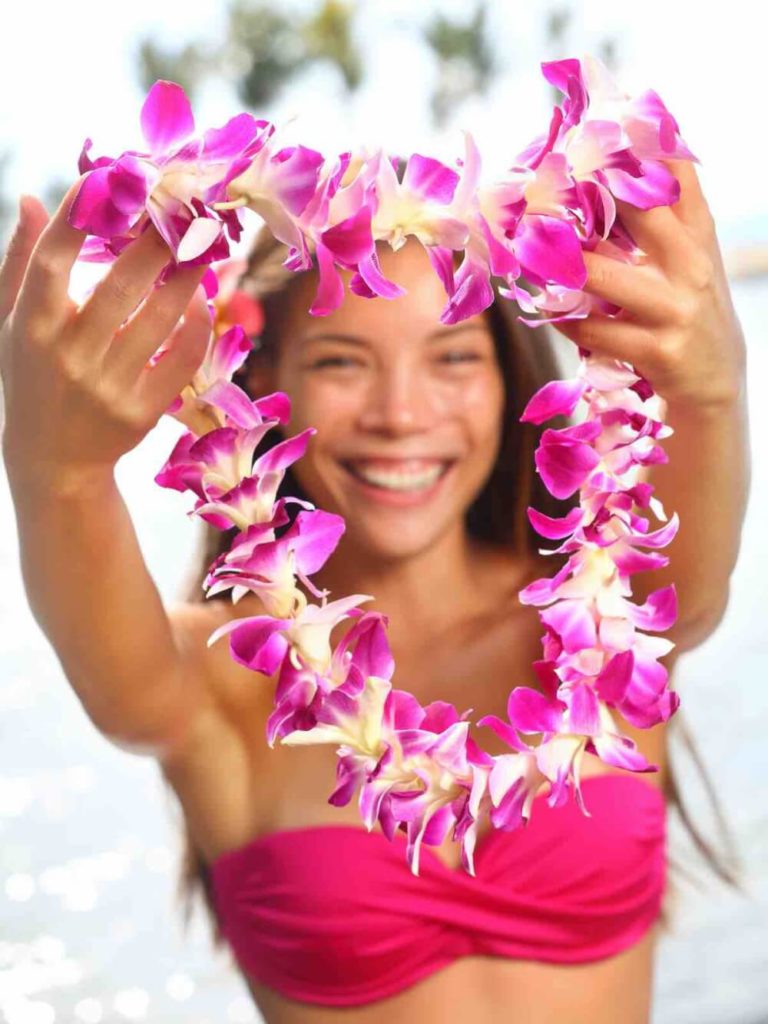 At the Polynesian Cultural Center, you will find leis for your favorite sports teams, feather leis, and so much more. Be sure to grab at least one as a souvenir or to give as gifts. Everyone loves to receive a lei!
Koa Wood
Hawaiian Koa wood is another beautiful and elegant thing to buy while you're in Hawaii. Choose from a Koa wood ring, jewelry, or kitchenware.
Koa wood bowls are some of my favorite dishes to use because they are just so beautiful! Anything made out of Koa wood would make for a great Hawaiian gift. These are things you can only buy in Hawaii.
Macadamia Nuts
Hawaii's macadamia nuts do not disappoint. Everyone loves to receive chocolate-covered macadamia nuts as Christmas gifts, and for a good reason! If nothing else, at least grab some to eat as a snack while vacationing there to enjoy this delicious Hawaiian treat.
Matching Aloha Wear for Family
If you are traveling with your family, why not grab some matching aloha outfits? Many stores purposefully have aloha shirts and dresses that match in both men and women because everyone loves to match their family!
Grab some beautiful Hawaiian floral outfits and have a fun family photoshoot. If you really want to go all out, book a Flytographer photoshoot in Hawaii for the cutest family photos you'll treasure forever! Check latest rates and more information.
Hawaii Packing List Wrap Up
The best part of packing for a trip to Hawaii is the anticipation! You can't wait to pack up your suitcase and head out on an adventure. But it's also reassuring to have a checklist in hand, knowing you've got all the essentials covered so nothing gets left behind.
While packing for Hawaii, use this Hawaii checklist to learn what to take to Hawaii and the best things to buy during your stay. Whether you stay for a week or just a few days, these are Hawaii trip essentials you don't want to forget!
We hope this list has helped make your Hawaii vacation planning easier by showing you what not to forget while packing for your stay- at least if you want to enjoy yourself without any worries.