Are you planning your first trip to Hawaii and want to avoid Hawaii mistakes? Find out the most common tourist mistake people make in Hawaii (and how to avoid them!)
This post about Hawaii mistakes was first published February 23, 2021 and was updated February 26, 2022 contains affiliate links which means if you purchase something from one of my affiliate links, I may earn a small commission that goes back into maintaining this blog.
Have you gone on an epic vacation only to realize later that you could have saved a lot of time, money, or stress had you done things a little differently?
This post is all about how to avoid making Hawaii mistakes that will make you stand out as a tourist.
I've visited Hawaii more than 35 times over the past 20 years and believe me when I say that's I've seen it ALL.
So, I basically did a brain dump of all the mistakes I've seen people make over the years. And yes, some of them I've made myself.
But, I want you to learn from them and plan your Hawaii vacation like a pro! Here are a few things to know before going to Hawaii.
Want to skip all the planning and just access my detailed Hawaii Itineraries complete with daily schedules, kid-friendly activities, and travel hacks? Click the button below.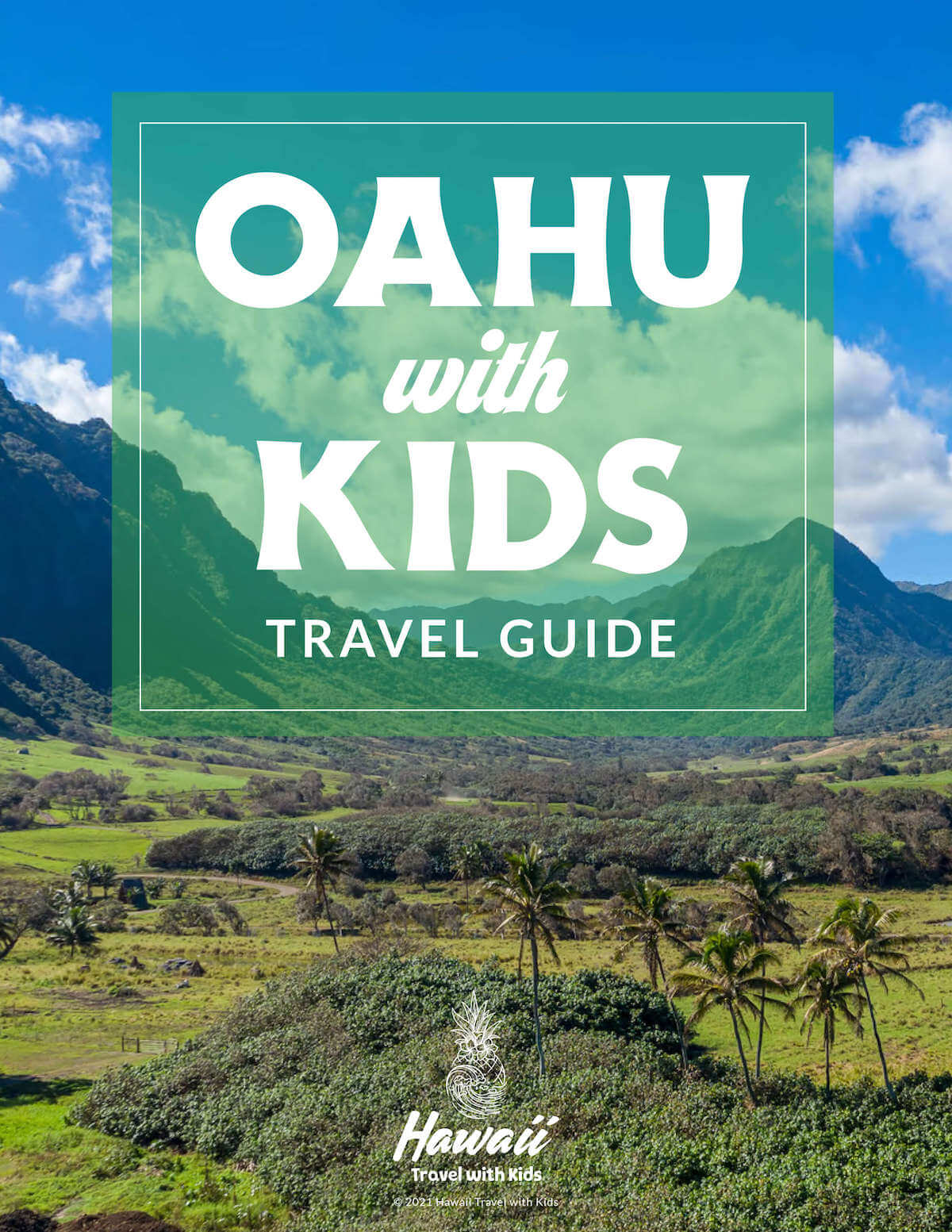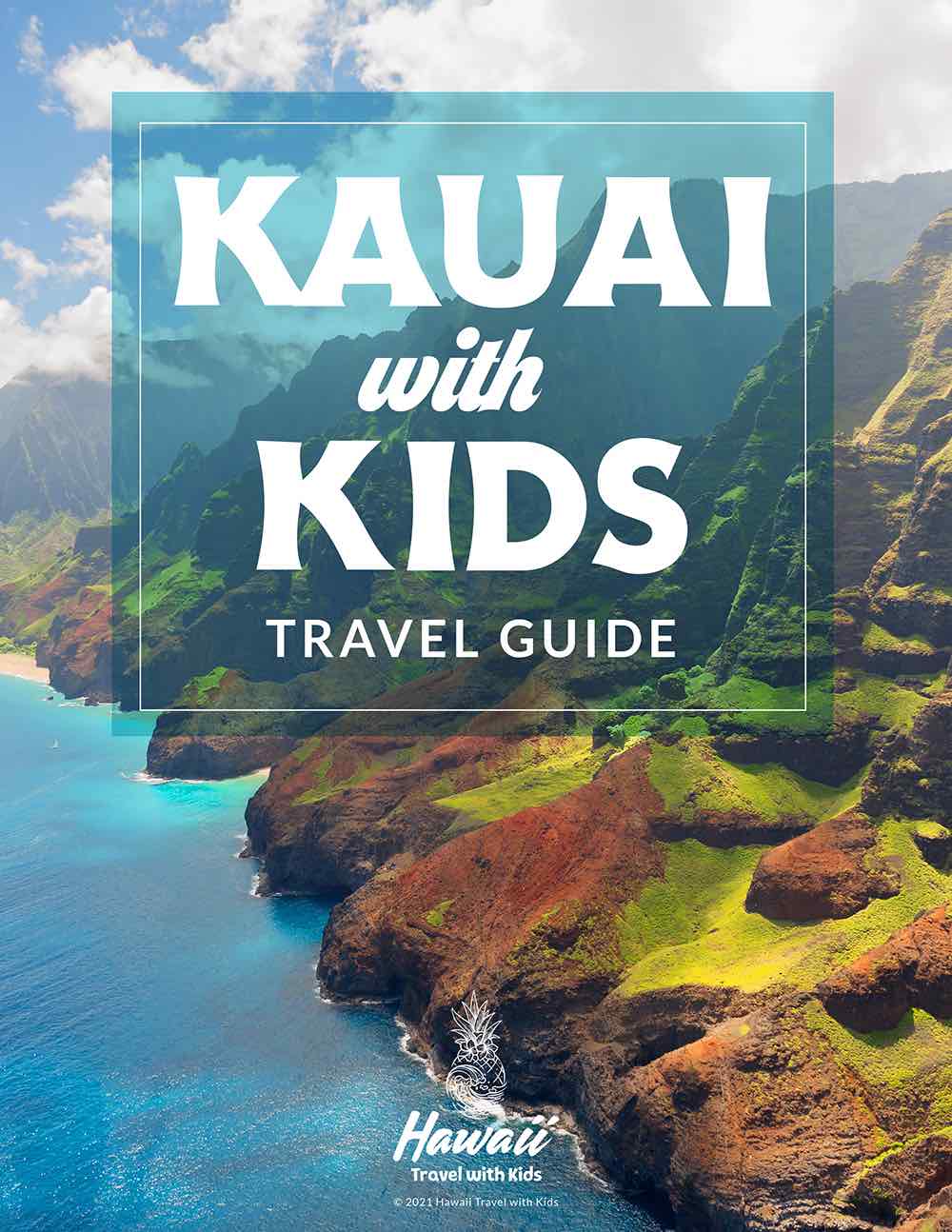 Hawaii Mistakes FAQs
What are some bad things about Hawaii?
The cost of living in Hawaii is pretty high and that can affect tourism. Because of a high population and the influx of tourists on a small island, traffic can be pretty brutal. There's also a big problem with illegal drugs.
What should I avoid in Hawaii?
The biggest thing to avoid in Hawaii is not going anywhere but the big tourist spots, chain restaurants, or only staying at your resort. There are so many cool things to do in Hawaii that are totally worth it.
How common are shark attacks in Hawaii?
They really aren't as common as people might think. There's a reason they make the news when they do happen. There are actually a lot more shark attacks in Florida than Hawaii. The most deadly shark attacks lately have been on Maui because sharks like the environment there. The risk is slightly higher between October-December and they mostly happen during daylight hours.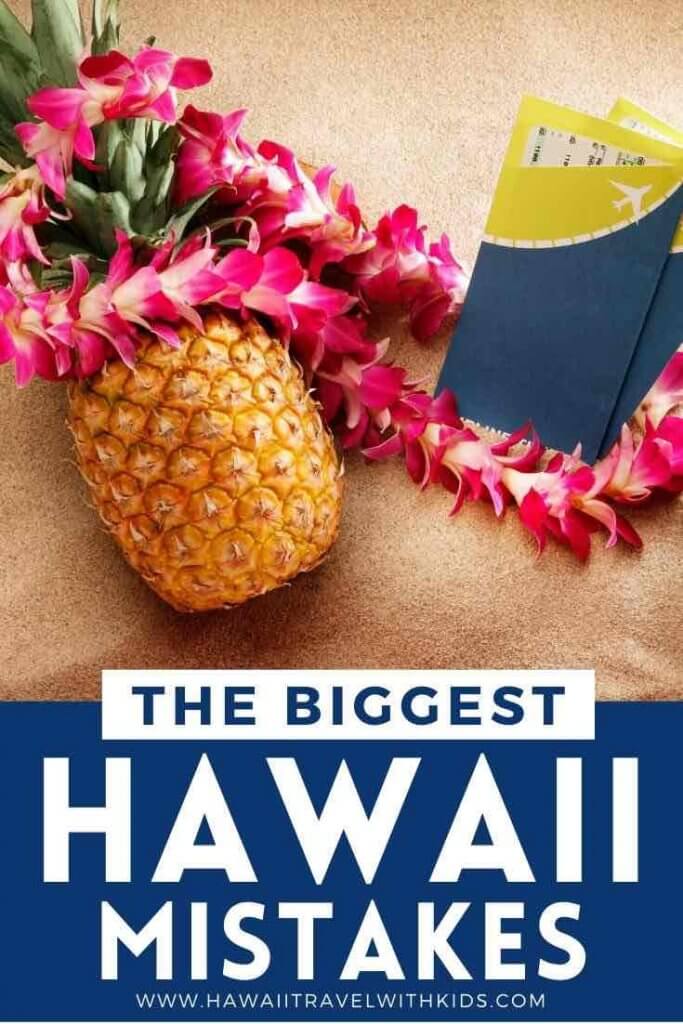 25 Tourist Mistakes Everyone Has Made in Hawaii
1. Scheduling too many activities
If you're visiting Hawaii for the first time, you probably are trying to squeeze as many activities as you can into your trip.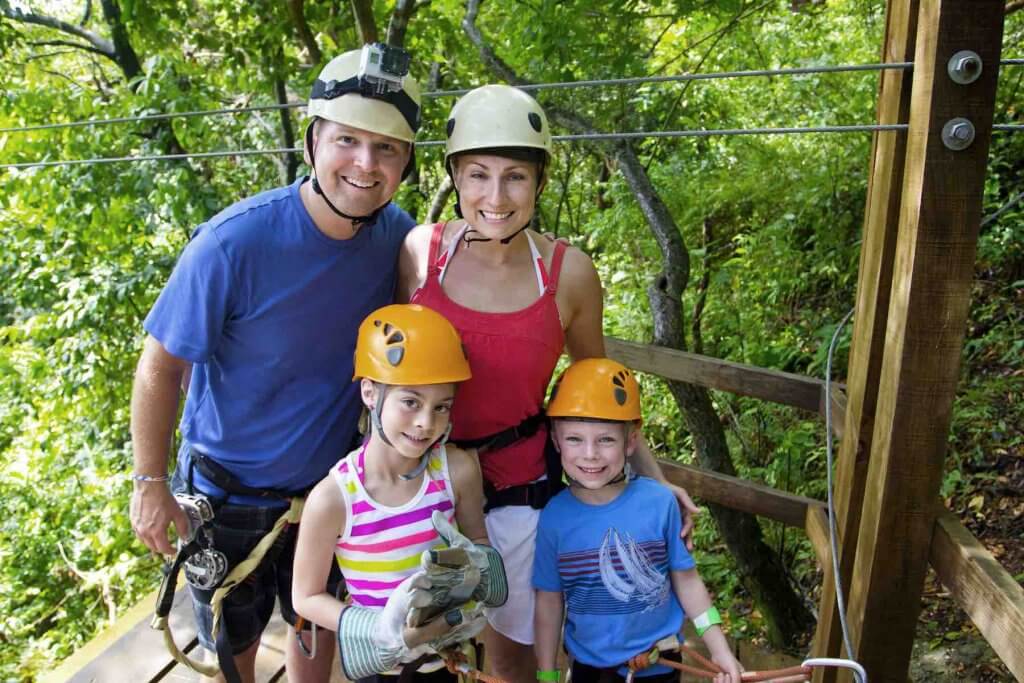 And that totally makes sense. It's easy to fill up a Hawaii itinerary with a luau, snorkeling tour, scenic drive, beach time, sightseeing tours, surfing lessons, boat excursion, etc.
Honestly, no matter how much you schedule, you won't be able to do it all. It's better to tell yourself that you'll be back someday and just enjoy what you are able to do.
Here's a sample 5 day Maui itinerary for families that has lots of room to just enjoy your vacation.
2. Paying for an expensive resort just to sleep
This is a Hawaii travel mistake I've definitely made. There are so many lovely places to stay in Hawaii that it's easy to splurge a bit on one with awesome amenities.
But, if you'll be spending most of your day away from the resort exploring the island, it might not be worth spending the extra money.
I'm a big fan of doing split stays in Hawaii.
We like to spend the first half of our Hawaii trip at an affordable hotel or condo. That way we don't feel bad about being out and about all day long and just coming back to sleep.
Then, we head to a nicer resort (like Disney Aulani) to just relax and enjoy Hawaii resort amenities like awesome pool areas, kids clubs, on-site luaus, restaurants, room service, etc. Check out the latest prices and more details.
Heading to Maui with kids? These are the top Maui family resorts!
Save Money with Points
Here are the best credit card offers for families who travel and want to use points to pay for airfare and hotels in Hawaii.
3. Forgetting about resort fees/parking fees
It's super important to read all the fine print when booking your Hawaii accommodations.
Most hotels and resorts in Hawaii have a resort fee and those can be pricey. Just make sure you're factoring that in when you are researching the best Hawaii resorts for your family.
And the sneakiest fee is the parking fee, especially in Waikiki. It's insanely expensive to park a car at many Waikiki hotels.
If you are staying in Waikiki and thinking about renting a car, you might consider renting a car for just part of your stay to save on parking fees.
4. Trying to visit too many islands in a trip
I'm in a lot of Hawaii groups on Facebook and I always cringe when I see people planning on visiting Oahu, Maui, Kauai, and the Big Island all in a one-week trip.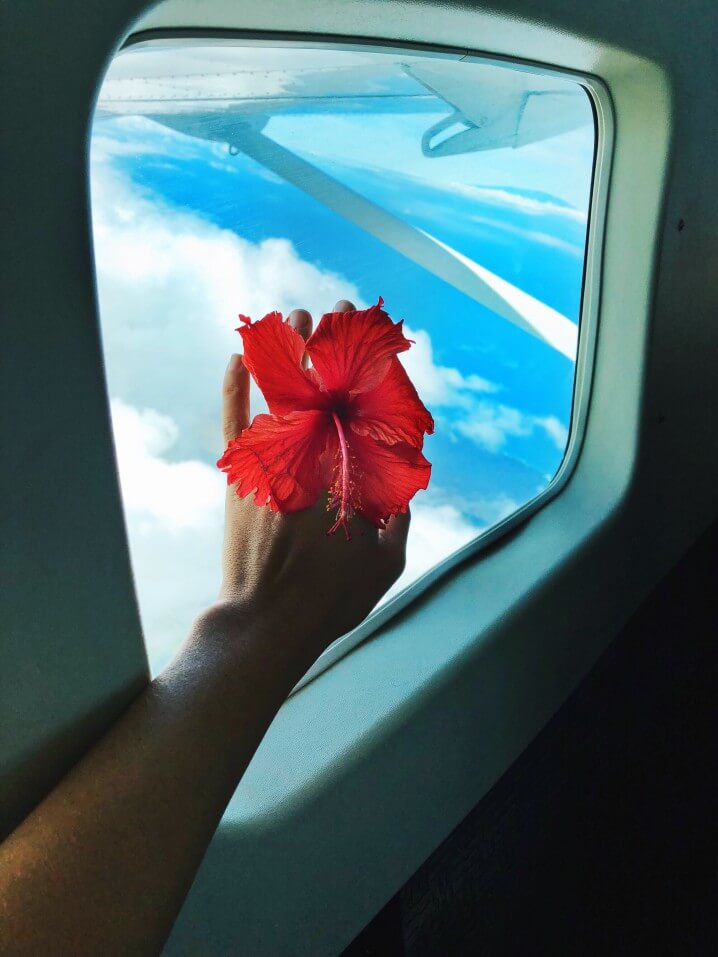 The only way to get to these islands is by taking an inter-island flight. That means every other day is spent at the airport, dealing with car rentals, and packing (and unpacking) at the hotel, which wastes valuable vacation time.
And you won't really be able to see much on each island with such a short time.
My rule of thumb is to plan at least 3-5 days per Hawaiian island. That way, you have a chance to do the top attractions on each island, explore a bit, and even have time to relax.
Personally, I think the best Hawaiian island hopping trips are 10 days long where you spend 5 days on two different islands.
Find out how to Hawaii island hop successfully!
5. Choosing the wrong island
I know, I know. All the islands in Hawaii are pretty awesome and they all make great vacation spots.
But, some people don't do their research ahead of time and wonder where they can see lava on Maui or think Pearl Harbor is on the Big Island.
Or they plan a trip to Kauai or the Big Island and get disappointed when they realize everything shuts down pretty early in the evening.
So, what's the best island to visit in Hawaii?
It seriously depends on what you'd like to do on your Hawaii vacation. Each island is pretty awesome and brings something unique. Do your research before you book anything!
You can read my comparisons of Maui vs. Oahu and Kauai vs. Oahu!
6. Visiting during high season
While I totally understand that many families can really only visit Hawaii during school breaks (which is high season), it's amazing how many other people plan trips during that time without realizing.
I've been in Hawaii and overheard families with toddlers not realize it was Spring Break and that they could have saved a lot of money if they had just waited a few weeks.
Hawaii's shoulder season runs mid-April to June in the Spring (between Spring Break and Summer Break) and September to mid-December in the Fall (after school starts until Winter Break.)
If your vacation dates are flexible, try to avoid high season. That's when airfare and hotels are the most expensive. Plus, it's harder to book activities and attractions are usually pretty crowded.
7. Not budgeting enough
Hawaii vacations can get expensive quickly. Not only is there the airfare, car rental, and hotel, but there's also food, attractions, and activities.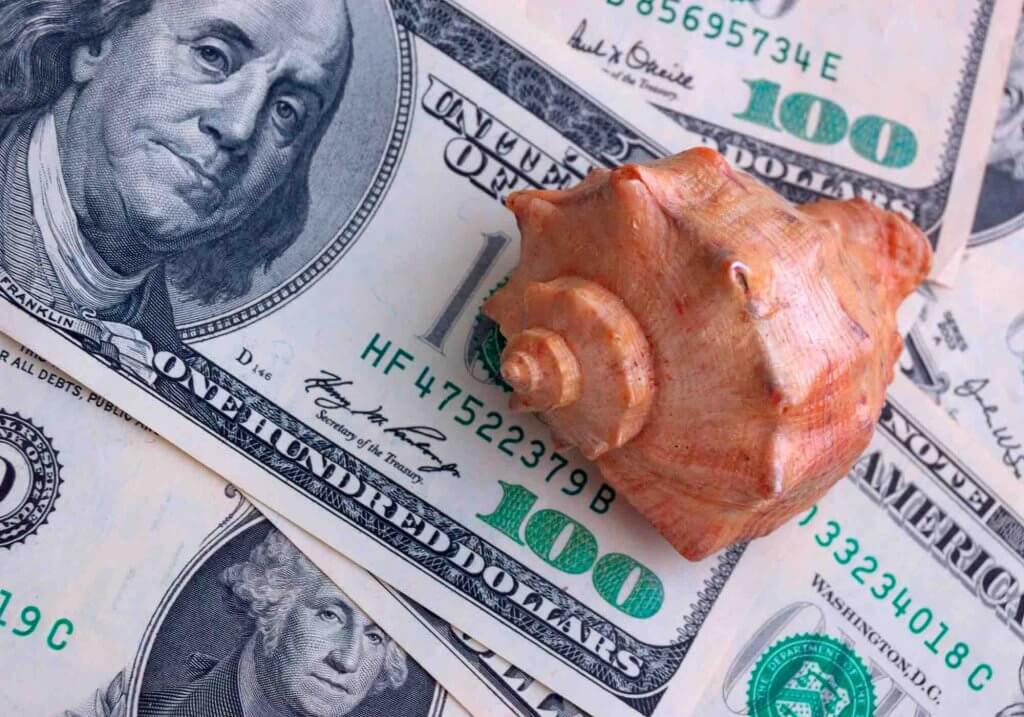 Food is pretty expensive in Hawaii and if you're going to eat all your meals at restaurants, it's going to add up. Even getting groceries is probably more expensive than at home.
But the real budget killer is the activities. There are so many cool things to do in Hawaii that it can be hard to stick to a Hawaii travel budget, especially when you're on the island and are having fun.
That's not to say you can't do Hawaii on a budget. There are plenty of ways to slash the cost of a Hawaii vacation if you know what you're doing.
Here's a realistic Hawaii budget for a family of 4!
8. Skipping a packing list
I understand that not everyone is a fan of packing lists and they would rather just wing it. But, that's also when mistakes get made.
In the past, we've forgotten swimsuits, medications, my husband's C-PAP machine, and other random items.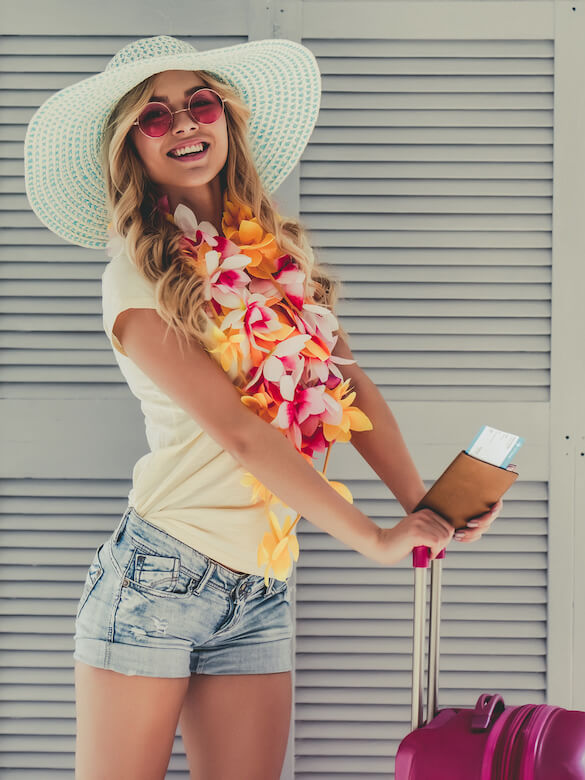 While you can buy things in Hawaii, they don't always carry the right brand or have the same selection as at home.
Plus, do you really want to spend your vacation time running boring errands?
Instead, write out your packing list several weeks in advance so you have time to order any items you don't have.
And make sure to try on any clothes you are planning on packing. You might be surprised that things don't fit the same.
See the 17 items you're probably forgetting on your Hawaii packing list!
9. Not applying strong enough sunscreen (or using tanning oil)
Just about every tourist has made this crucial Hawaii travel mistake. They want to come home with a nice suntan, so they opt for a lower SPF sunscreen.
And then, they get a major sunburn on their first day in the sun and have to stay in the shade the rest of their trip. That's a major bummer.
You'll definitely want a higher SPF sunscreen in Hawaii to keep your skin protected. And a new law requires sunscreen to be reef-safe in Hawaii.
Also, if your skin tends to burn quickly, avoid being in the sun between 10am-2pm. That's when it's the strongest in Hawaii.
Your best bet is to only spend an hour or two out in the sunshine at the beginning of your trip in order to avoid spending your entire vacation with a sunburn.
And if you do end up getting sunburned, Maui Vera is our favorite sunburn relief.
10. Only bringing shorts and tank tops
One of the common things I hear from people traveling to Hawaii is that they don't need anything other than shorts and tank tops.
Sure, that's fine if you are really just hanging at the beach all day for your vacation.
But, if you'll be attending a luau, going out for a nice dinner, playing golf, visiting Haleakala, exploring Hawaii Volcanoes National Park, etc you'll want some additional clothing options.
Same goes with shoe options. Some activities require closed toe shoes, water shoes, or something besides flip flops.
My pro tip is to make a list of all the Hawaii activities on your itinerary. Then, check to see if you'll need to wear anything specific.
11. Renting snorkel gear
I know it's really popular to rent snorkel gear in Hawaii and people think they are saving money. But it's only a deal if you renting it for a short amount of time.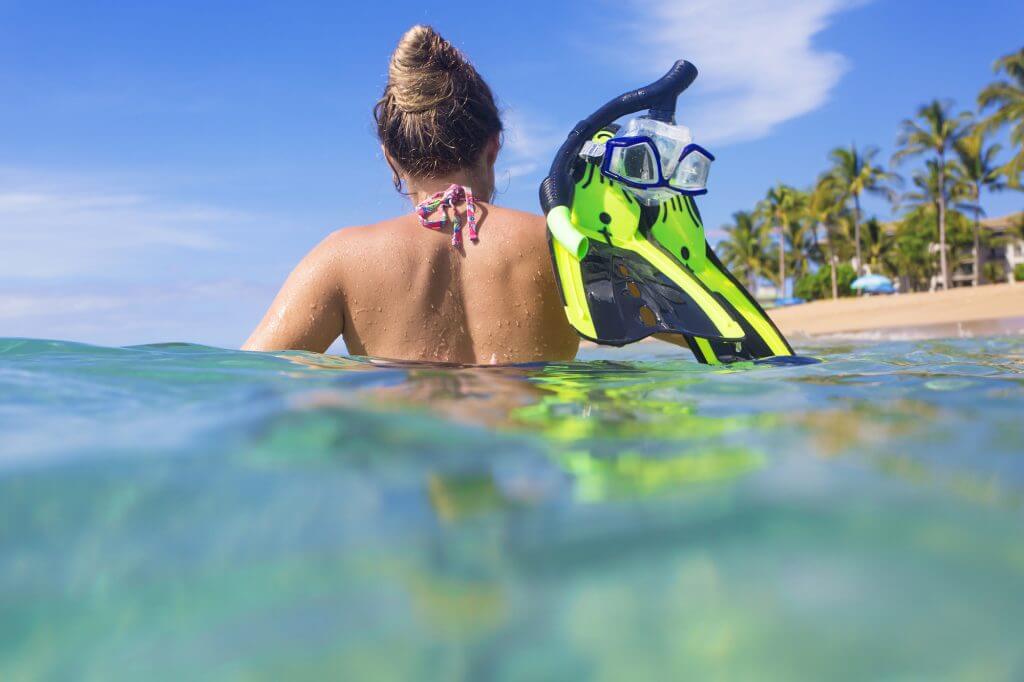 If you are really interested in snorkeling in Hawaii, it will probably make the most sense to just buy snorkel gear in Hawaii.
You can find cheap sets at the ABC Store, Target, or Walmart that work great for casual snorkeling.
Just keep the snorkel set in your rental car and then you can take it out anytime you're at the beach.
Find out the best places to snorkel on Kauai, Oahu, and Maui!
12. Not trying local food
Unless you have really specific dietary restrictions, I'm flabbergasted when people only eat at chain restaurants in Hawaii.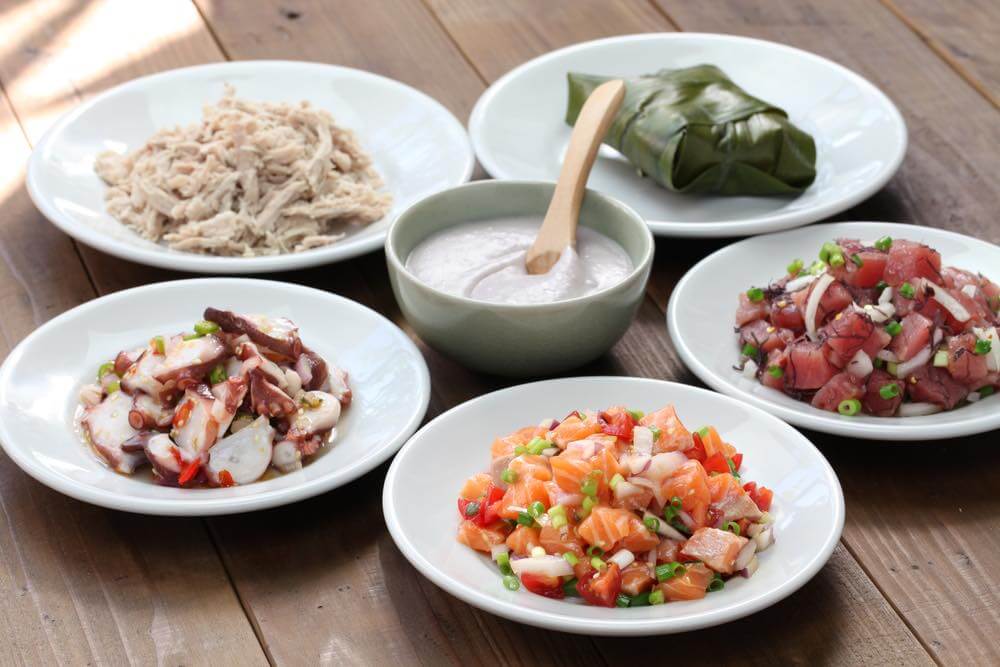 So much of what makes Hawaiian culture so amazing is all the tasty food! And it's such a foodie destination.
Some favorites include Kalua Pork, Garlic Shrimp, Kalbi Ribs, Beef Stew, and so much more!
What's extra awesome is that Hawaii is a true melting pot and you'll find all kinds of Asian and Polynesian influences in all kinds of local food.
And you'll definitely want to try shave ice!
These are the best foods to try in Hawaii!
13. Planning to have a late dinner
Even though Hawaii is a top beach vacation destination, things close down super early.
We've forgotten a few times and have had to run to the grocery store in order to have food for dinner.
It's hard to find places open past 8 p.m.
So, if you want to go out for dinner, make sure you either make reservations for the latest time or plan on eating early.
Of course, if you're staying at a condo or vacation rental home, you can always get groceries and cook dinner yourself.
14. Ignoring beach warnings
Hawaii beach safety is a big deal. And they put up beach warnings so that tourists and locals know when it's not safe to be on the beach or in the water.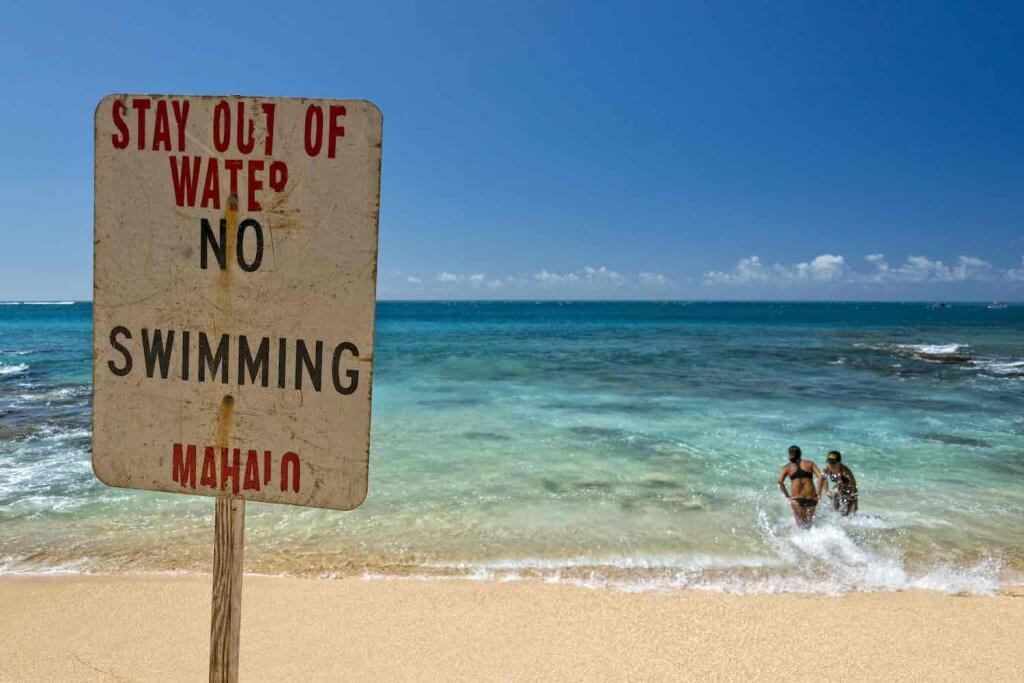 Sometimes the signs are just alerts to say that the beach or ocean might be inaccessible in the future do to testing or something.
But, sometimes it's a high surf advisory (meaning it's dangerous to go swimming) or to warn that there is bacteria in the water (like with sewage spills.)
And sometimes it's to warn that there are jellyfish or Portuguest Man-o-War that might sting you.
Please protect yourself and always read the beach signs so you're informed.
15. Getting too close to wildlife
Hawaii has some awesome sea life, including the famous Hawaiian Green Sea Turtle and Hawaiian Monk Seals.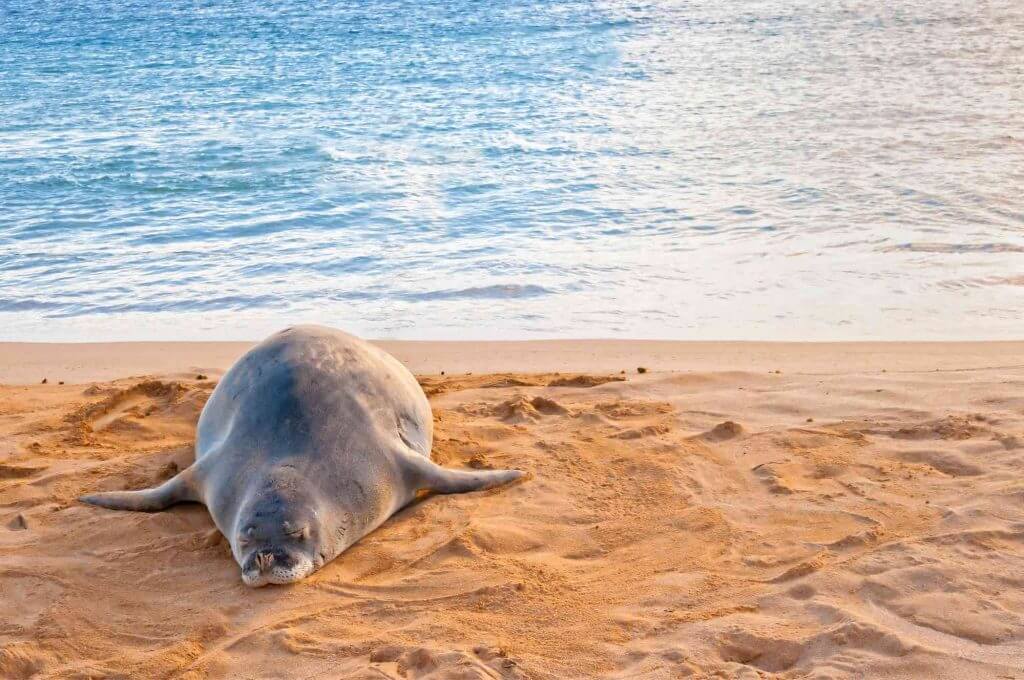 They love tanning themselves on the beach and it can be super tempting to go right next to them to grab a selfie.
But, it's actually against the law to get too close to wildlife in Hawaii and definitely illegal to touch them.
We've seen tourists try to sit their kids on a sea turtle to take a photo. Please don't do that!
Instead, just appreciate them from a distance.
16. Not renting a car
There are tons of places in the world where you don't need a car. Hawaii is not one of them.
They do have bus service on the islands, but it's not super fast and it's a cumbersome way to get places. And there aren't a lot of Ubers or Taxis.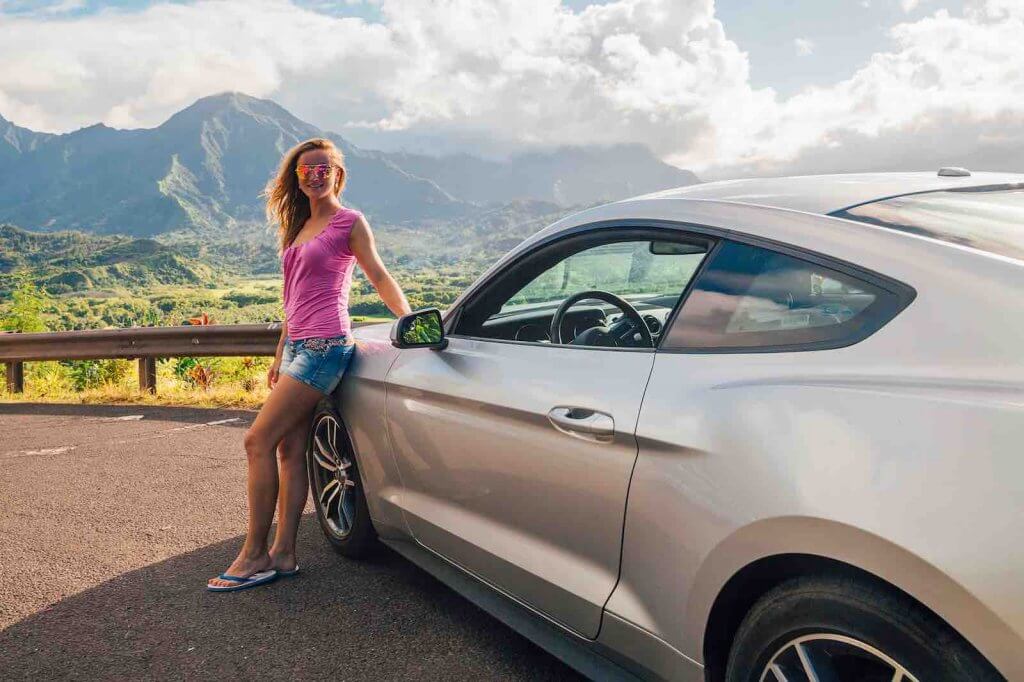 Instead, just plan on getting a rental car so you can drive to all the best places to visit in Hawaii.
The only exception is if you are staying in Waikiki and are doing activities with shuttles and hotel pick ups.
Otherwise, the best way to see Hawaii is by rental car.
The cheapest place I've found to rent a car in Hawaii is Discount Hawaii Car Rental. They have the best rates for top national brands like Alamo, Budget, Dollar, Avis, Thrifty, Enterprise and Payless. Check out the latest prices and more details.
Find out everything you need to know about renting a car in Hawaii!
17. Driving too fast (or honking)
One of the biggest ways to stick out as a tourist is to drive faster than the speed limit or honk your horn.
People in Hawaii are on "island time" and you'll find a lot of courteous drivers who let people merge in front of them.
And you really won't hear people honking their horn.
Part of the reason that tourists drive so fast in Hawaii (besides doing it at home) is that they don't realize Hawaii has traffic so they are running late.
That's why it's super important to take travel time into consideration when planning your Hawaii itinerary (instead of the distance.)
And take a deep breath and throw a shaka before hitting the road.
18. Getting car sick
Yes, you can get car sick in Hawaii. And sometimes it affects people who don't usually get car sick.
The two drives that really stick out for me is the drive up to Waimea Canyon (and beyond) on Kauai and Haleakala National Park on Maui.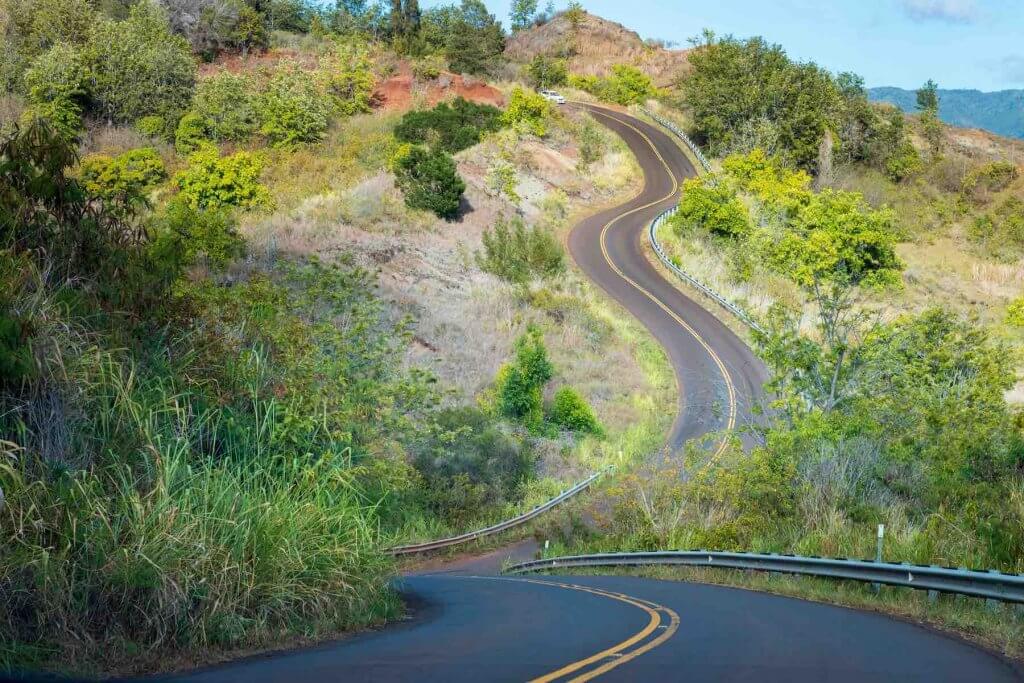 Both of these drives have a big altitude change and feature some switchback roads. It's common to feel a bit sick halfway into the drive.
And then there's the famous Road to Hana, with hairpin turns and one lane bridges along a twisting highway.
If you know you are doing a scenic drive with a change in altitude (or a windy road), it's worth packing some Dramamine.
19. Leaving valuables in the car
One of my biggest Hawaii tips is simple: lock your car doors no matter where you are and don't leave valuables in your car.
Hawaii tourists are notorious for leaving fully packed suitcases, fancy camera equipment, and valuables in their rental car while they go on a hike or eat at a restaurant.
You will see signs all over parking lots urging you to not leave valuables in your car. Listen to them!
If it's a travel day, see if you can get an early or late check out or store your belongings at your hotel until it's time for your flight.
Otherwise, put your valuables in a smaller bag and plan to take it with you wherever you go.
20. Visiting illegal places
If social media has taught me anything, it's that people love going illegal places in Hawaii in order to get the ultimate Instagram shot.
But, this is actually one of the top dangers in Hawaii.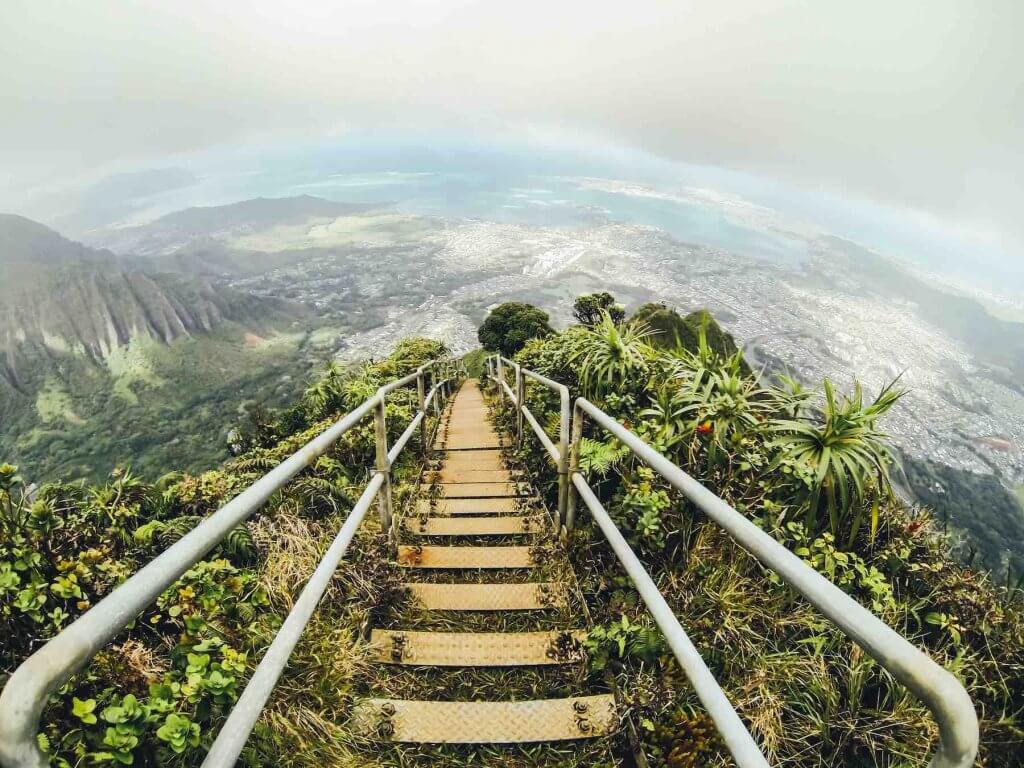 The Stairway to Heaven is a totally illegal hike that people love taking selfies on. There are no trespassing signs o it because the stairs were damaged during a storm and no one fixed them.
There are also lots of hikes/waterfalls that take place on private property where tourists don't have permission to visit.
If you're caught, you'll have to pay a fine. But, you also risk your own health and safety.
Just stick to the legal spots.
21. Bringing lava rocks and shells home
Another rookie Hawaii mistake I see frequently is that people bring shells and lava rock back to the Mainland.
The problem with bringing shells home is that if everyone does it, there won't be any shells left on the beach for everyone to enjoy.
And it's bad luck to bring lava rock home because you'll risk the wrath of Pele, Hawaiian goddess of fire and volcanoes.
But, the main reason to not bring either of these home is that it's considered disrespectful.
Instead, leave these where you found them. You can also take a photo with them.
22. Not learning a few Hawaiian words
Whenever we travel, we always try to learn a few words in the local language. Not only is it helpful, it also shows respect.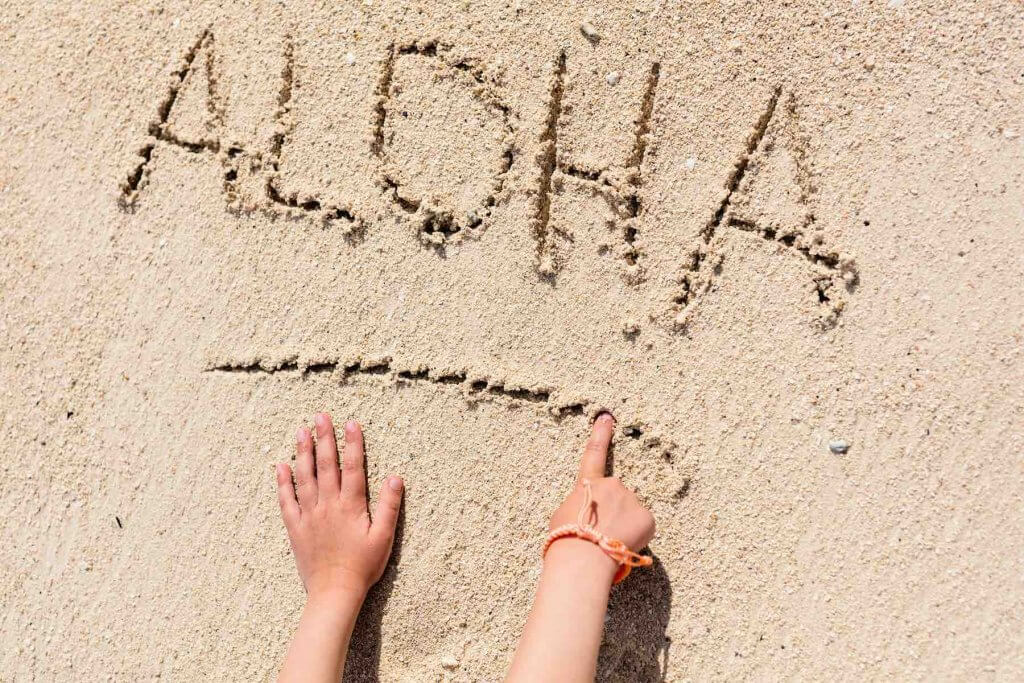 Most people know that "Aloha" means hello/goodbye and "Mahalo" means thank you.
But, it also helps to know that "Mauka" means toward the mountains and "Makai" means toward the ocean. Locals will use those terms when giving directions.
And you'll see the word "Kokua" on trash cans. Nope, that's not the Hawaiian word for trash. It actually means help.
And families will definitely want to know that "Keiki" is the Hawaiian word for children. You'll see that for admission prices, kids menus, and kids activities across Hawaii.
23. Calling all people who live in Hawaii "Hawaiians"
Usually when you travel somewhere, you refer to the people as being from the state/country.
I'm from Washington State and we're called Washingtonions. People in Italy are Italian and people in Egypt are Egyptian. You get it.
But, it's different in Hawaii.
Only Native Hawaiians should be called "Hawaiian." People from other ethnic backgrounds who are born and raised in Hawaii are called "Locals."
Everyone else who lives in Hawaii is a "Hawaii Resident."
It's a big faux pas to refer to everyone in Hawaii as Hawaiian.
24. Referring to the Mainland as "the States"
When you plan a trip to Hawaii for the first time, it can feel like you're going to another country. But you're not.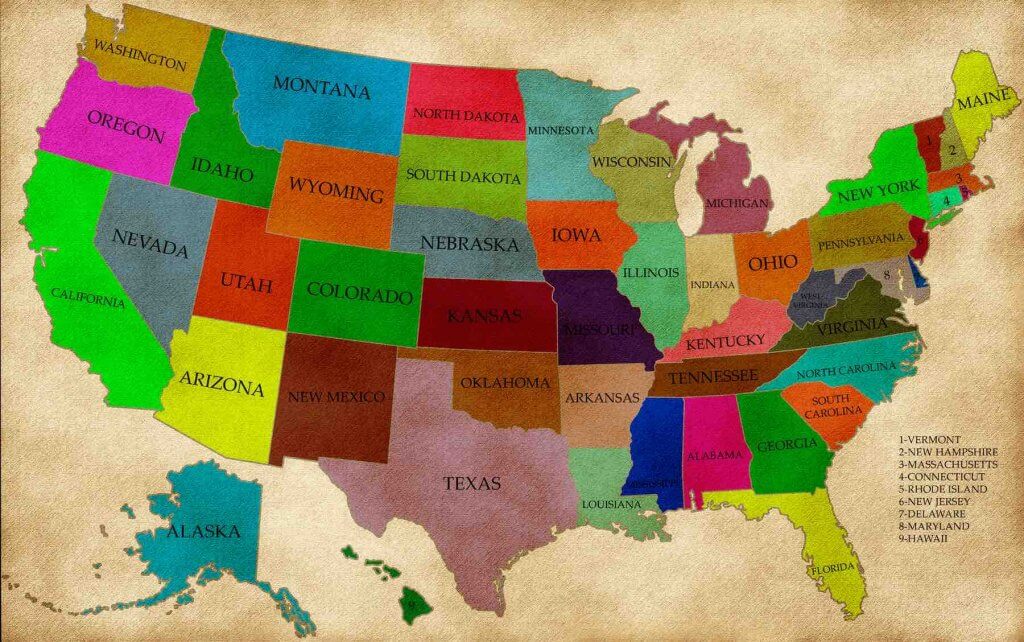 So, don't tell people in Hawaii that you're from "the States" or say things are more expensive in Hawaii than "the States."
Hawaii is the 50th state and that makes it part of the United States. It's important to recognize that.
Hawaii residents refer to the Continental United States as the "Mainland."
25. Not learning a little Hawaiian history
Even though this is last on my list, it's certainly an important Hawaii tip.
Hawaii is so much more than a beach destination where you can sip mai tais while watching hula dancing and listening to ukulele music.
A lot of people don't realize how the United States annexed Hawaii in 1898 as a political move and why there are groups pushing for Hawaiian sovereignty today.
One of the best books I've read is Hawaii's Story by Hawaii's Queen, which was written by the last queen of Hawaii, Queen Liliu'okalani.
It talks about this time period and it will help you understand a bit about current tensions in Hawaii.
And if you want to go back further, it's helpful to know a few Hawaiian myths and legends because they are a huge part of Hawaiian culture.
Wrap Up
Okay, hopefully now you know how to visit Hawaii like a pro! These Hawaii mistakes are easy to avoid now that you know what to do!
There are so many amazing reasons to visit Hawaii! I hope you have the best trip ever!