Are you planning a trip to Hawaii and keep coming up with questions about Hawaii vacations? Keep scrolling to find the answers to the top Hawaii questions tourists ask.
This post about Hawaii questions contains affiliate links which means if you purchase something from one of my affiliate links, I may earn a small commission that goes back into maintaining this blog
If you've never been to Hawaii before, you probably have a million questions running through your head.
A lot of people don't know much about the Aloha State and that can make planning a Hawaii vacation a little bit stressful.
So, I'm here to give straight answers (and dispel a few rumors!)
Keep scrolling for some of the top questions about Hawaii I hear from newbies!
Want to skip all the planning and just access my detailed Hawaii Itineraries complete with daily schedules, kid-friendly activities, and travel hacks? Click the button below.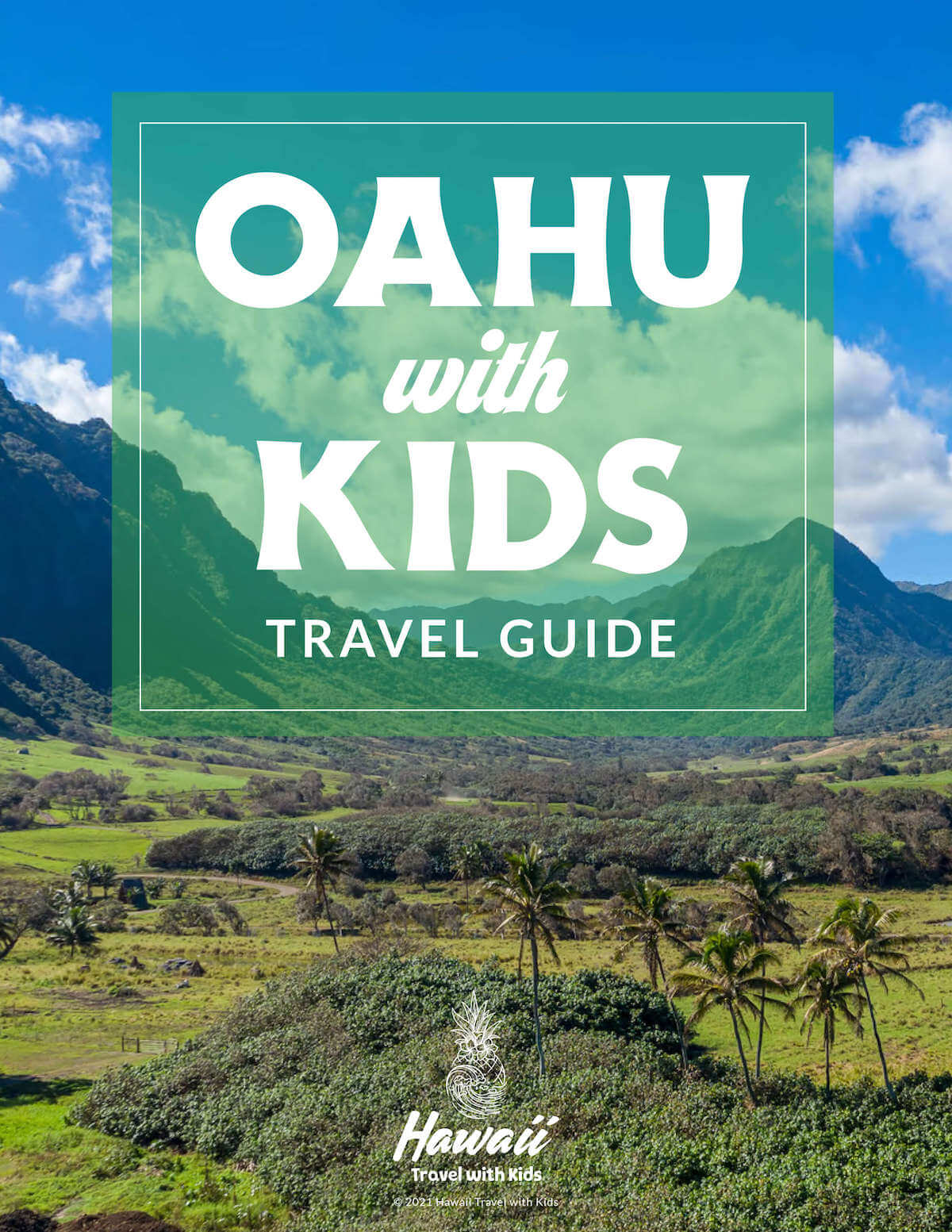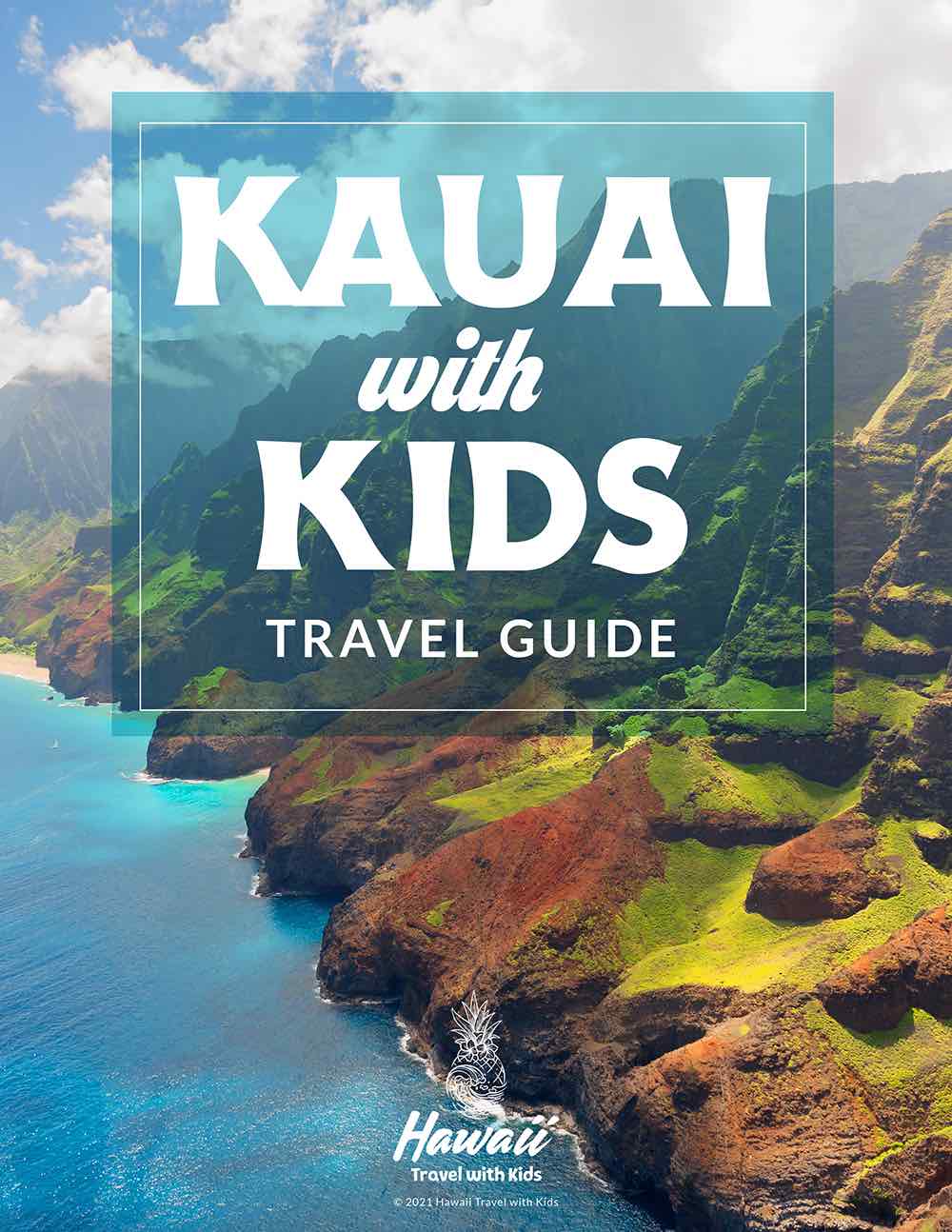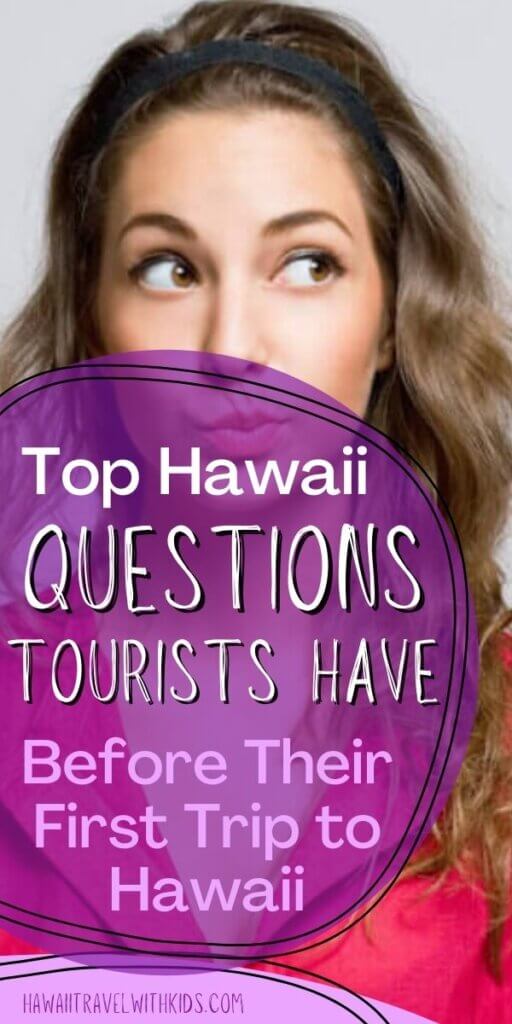 36 Hawaii Questions You Might Have Before Your Trip to Hawaii
1. How far in advance should you buy airfare to Hawaii?
This is probably the top question about Hawaii, which is why I listed it first. I'd like to say that there's a specific formula to this, but the price of airfare fluctuates a lot. And that's especially true in 2021.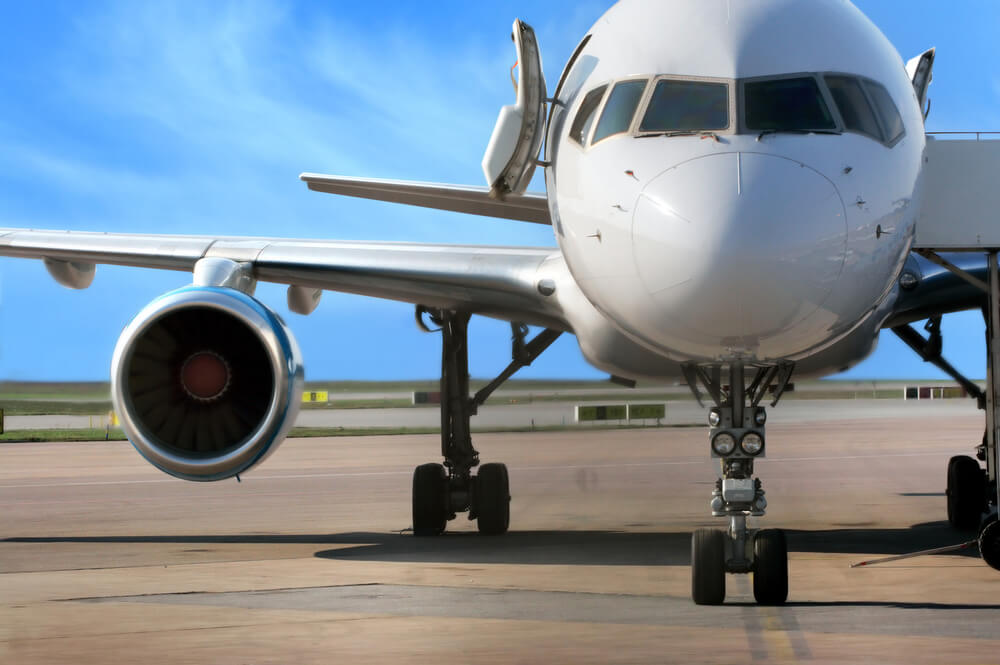 Instead, I recommend signing up for Google flight alerts as well as getting on the email list for your favorite airlines. We almost always fly Alaska Airlines and they always send me emails when they have a Hawaii flight deal.
Southwest Airlines also started routes to Hawaii. Sign up for their email list to see what types of deals they are running.
Save Money with Points
Here are the best credit card offers for families who travel and want to use points to pay for airfare and hotels in Hawaii.
2. What's the Hawaii time zone difference from the Mainland?
Hawaii has its own timezone called Hawaii Standard Time (HST) and they do not participate in Daylight Savings Time. That means the time difference changes by one hour for half the year.
Hawaii is 2-3 hours behind the West Coast (PST), 3-4 hours behind Mountain Time, 4-5 hours behind Central Time, and 5-6 hours behind the East Coast (EST).
3. Do you need a passport to visit Hawaii?
If you are visiting Hawaii from the Mainland, you do not need a passport as Hawaii is a part of the United States.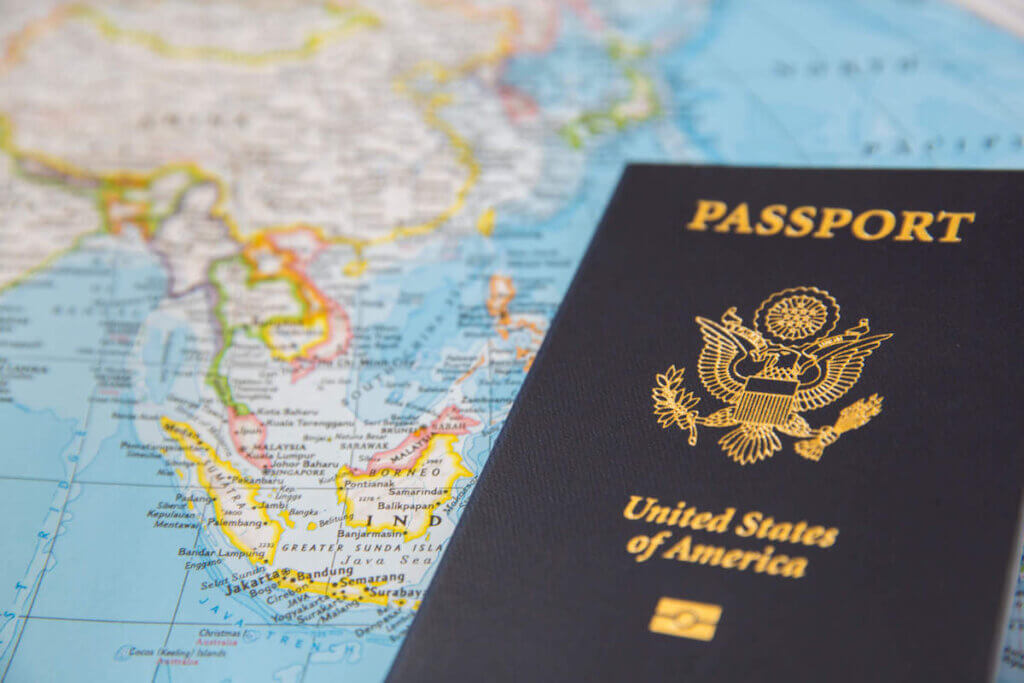 However, if you are visiting from a country outside the United States, you will definitely need one for all members of your party. This also includes kids of all ages (yes even babies)!
4. What should you wear in Hawaii?
This can really vary from person to person. However, it's important to note that Hawaii is a super casual place that's usually warm. So, t-shirts, tank tops, shorts, and flip flops can be worn just about anywhere.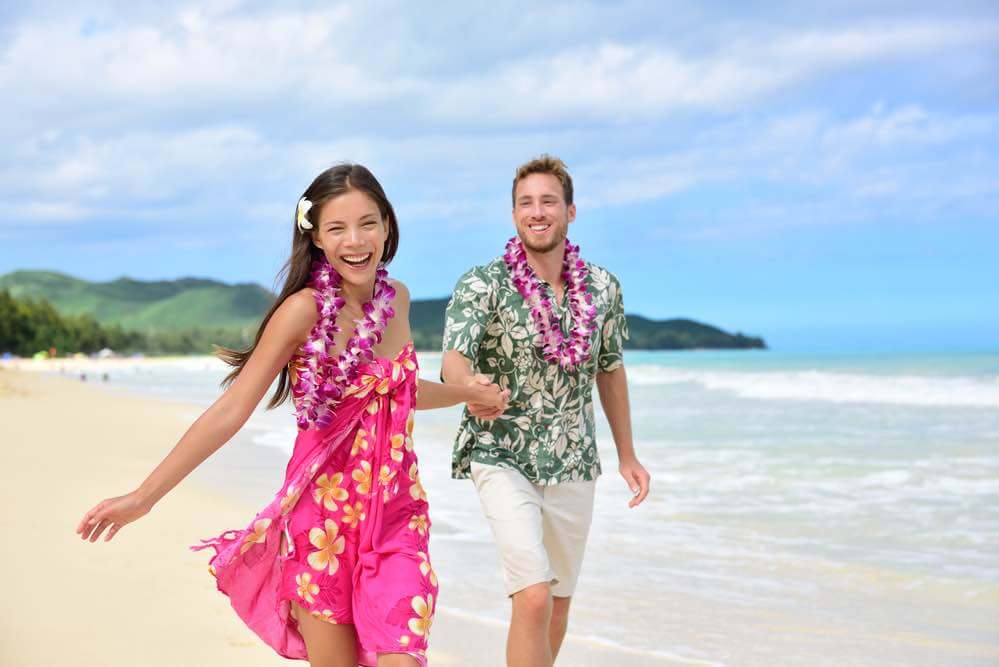 However, it's super important to read the fine print for any activity you have booked (or plan to) so you can be sure to pack the appropriate items.
If you're planning on doing adventures like ATV tours or horseback riding, you'll probably need to wear closed-toe shoes and long pants. And if you're going hiking, you'll want to make sure to wear sturdy shoes and breathable clothing.
The sun is also really strong, so I recommend finding a good sun hat and possibly wearing SPF clothing/rashguards in addition to reef-safe sunscreen.
5. Where is the main airport in Hawaii?
Each main island actually has its own airport, however, most flights to Hawaii will take you to Honolulu International Airport on Oahu. It's located about 20 minutes from Waikiki, depending on traffic.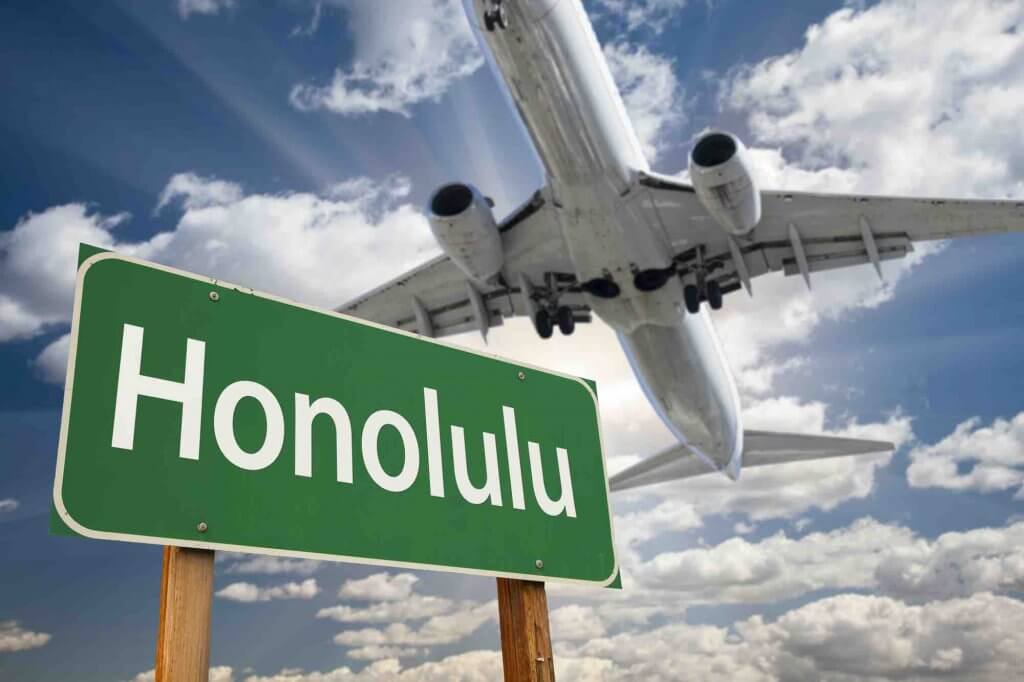 This is also the main airport for flying in and out of other countries.
6. What island is Honolulu on?
Honolulu is the main city on the island of Oahu. Waikiki is an area of Honolulu, so Waikiki is also located on Oahu. Oahu is the most populated island in Hawaii.
7. How long should I stay in Hawaii?
Um, as long as you can! But seriously, I usually recommend people visit Hawaii for 7-10 days and stick to one island. That way, you have time to get over jet lag, do a few tours, go on some Hawaii adventures, find a few beaches, eat lots of yummy food, and still have time to relax.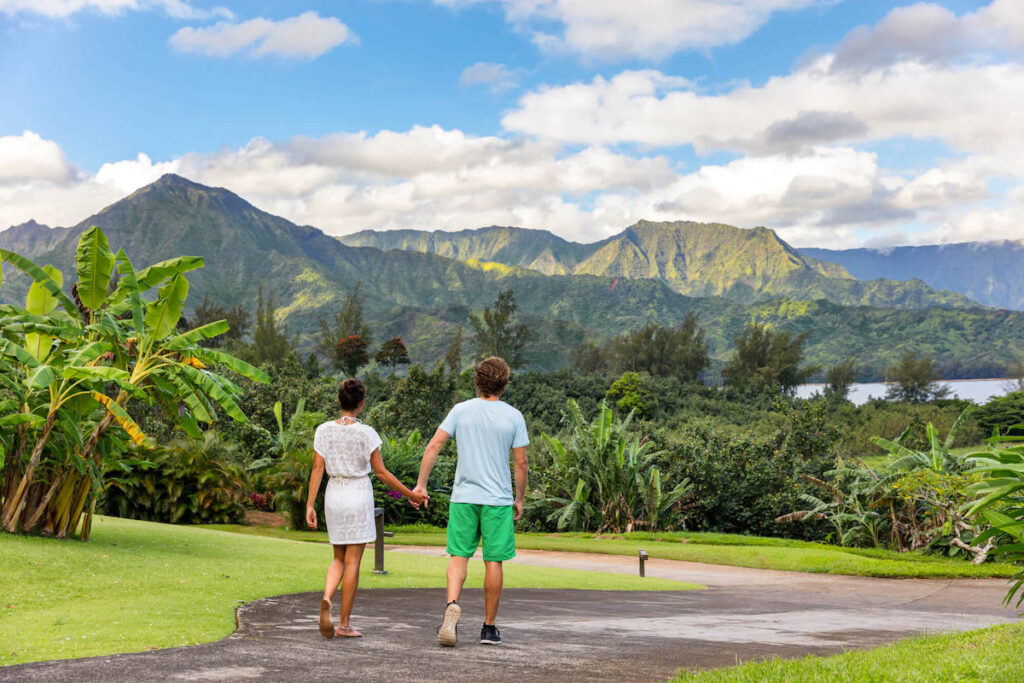 If you're wanting to visit more than one island, I recommend 5-7 days per island. That way, you aren't wasting too much vacation time sitting in airports.
8. What's the best way to travel between Hawaiian islands?
So, the only way to travel between most Hawaiian islands is by taking an inter-island flight. These are offered by a couple different airlines (the most popular being Hawaiian Airlines and Southwest Airlines).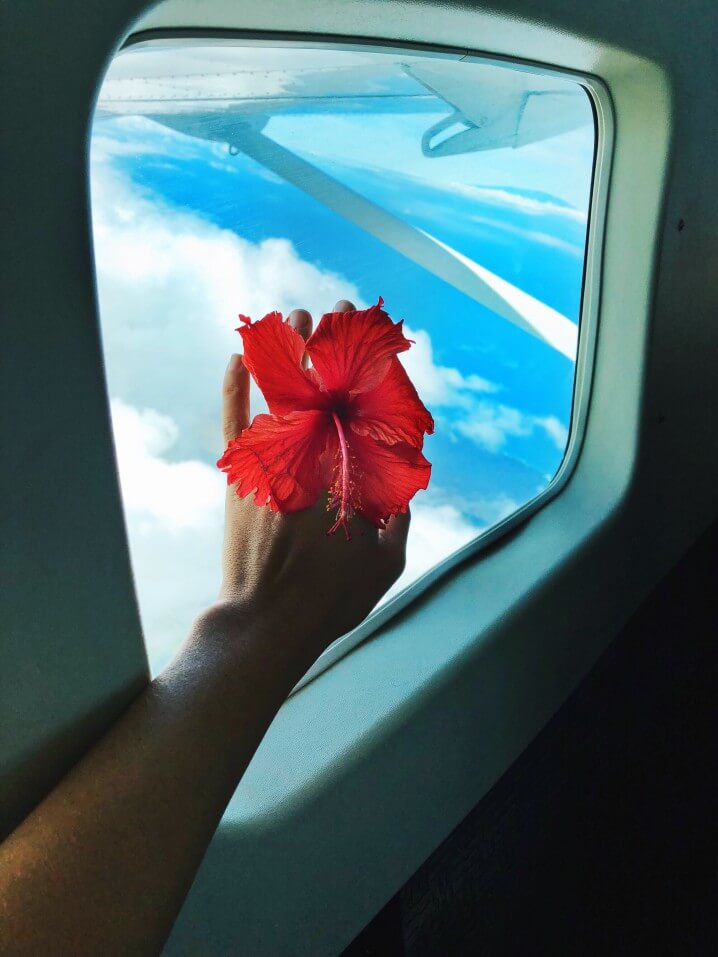 You'll still need to arrive at the airport early, go through security, etc. This is especially true for Oahu and Maui. But the airports on Kauai, Molokai, Lanai, and the Big Island are pretty small and easy to navigate.
There is also a ferry you can take from Maui to Lanai with a limited schedule.
Get my full Hawaii island hopping guide!
9. What should I avoid in Hawaii?
I'm going to be blunt here. Please avoid being an "entitled" tourist. This means treating everyone with respect and Aloha, obeying local customs/laws, and having a lot of patience. Not everyone in Hawaii is on vacation.
And because you'll be interacting with lots of different people in the service industry (at your hotel, restaurants, during tours, etc) please remember to tip! That's one of the biggest Hawaii mistakes tourists make.
10. What's the biggest problem in Hawaii?
When you arrive in Hawaii, you might be surprised to see homeless people. Most of the islands have a transient population somewhere. In 2019, an estimated 9.4% of the state's population reported living below the poverty level.
Going along with this, one of the reasons homelessness is prevalent is because housing costs are incredibly high. Additionally, Hawaii has a high cost of living.
11. Where can I see an active volcano in Hawaii?
While all the Hawaiian islands were created from volcanic eruptions, the Big Island is the only place to visit an active volcano in Hawaii. You'll want to head to Hawaii Volcanoes National Park to check out Kilauea.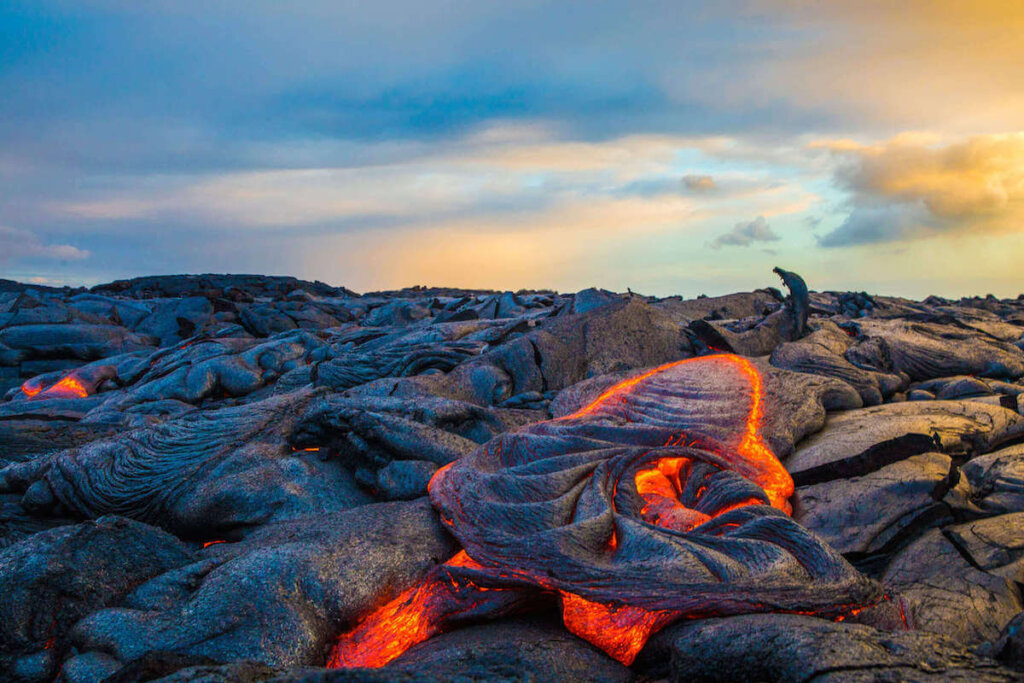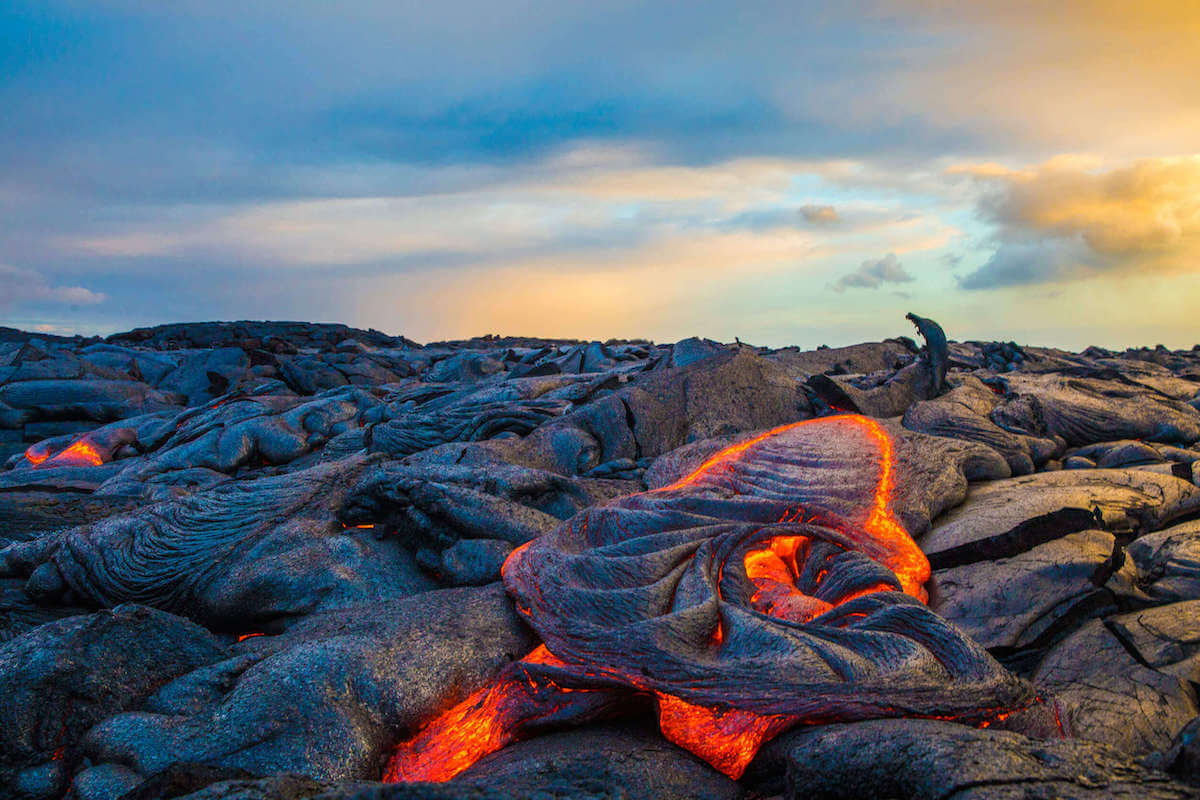 However, you'll want to check to see if Kilauea is still erupting if you want to see lava. As of May 2021, there is no current volcanic activity.
Get the inside scoop about what to do at Hawaii Volcanoes National Park!
12. Can I take a ferry between islands in Hawaii?
So this question is asked ALL THE TIME. The answer is no, you cannot take a ferry between Hawaiian islands.
I think a lot of the confusion stems from the fact that there used to be a (very short-lived) Super Ferry so people could drive on and visit other islands. It was a total mess and was discontinued in 2009. However, you can still find information about it online and it confuses tourists.
13. Can I drive between islands in Hawaii?
This is another common question. The answer is also no. The islands in Hawaii are too far apart for this to be a realistic option. This isn't the Florida Keys.
For instance, it's 63 miles from Oahu to Kauai and 26 miles between Maui and the Big Island. And there's a raging ocean in between!
14. What's the best island in Hawaii for a honeymoon?
While a lot of people immediately think of Maui, I'd say the best Hawaiian island for a honeymoon really depends on what you're hoping to do on your Hawaii vacation.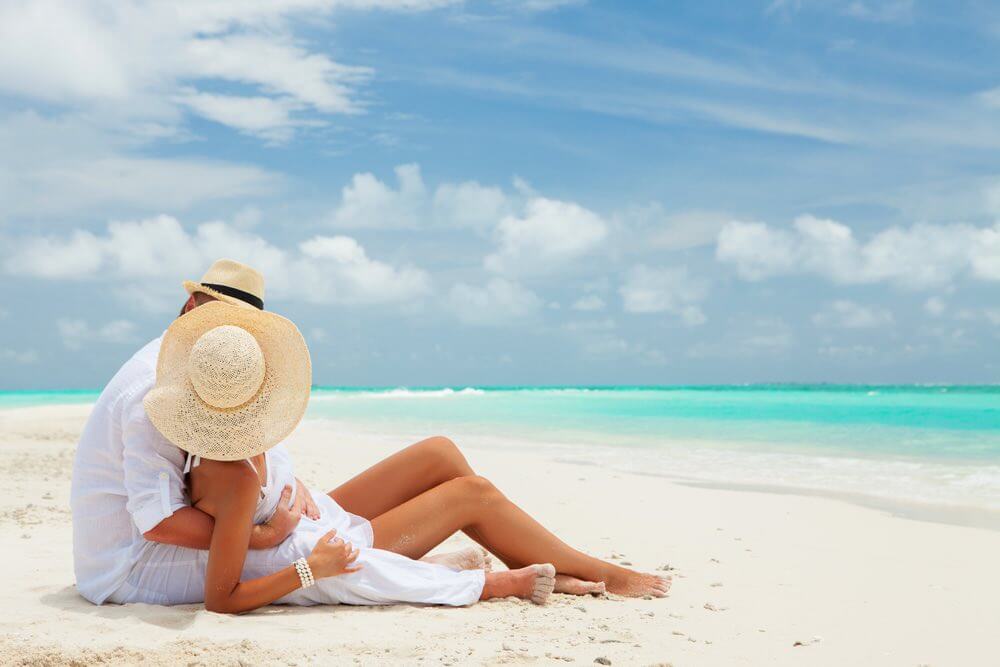 If your main goal is to relax but do a few adventures, Maui has a ton of fabulous resorts and cool day trips like the Road to Hana and snorkeling at Molokini Crater.
If it's your first trip to Hawaii and you want to do as many tourist attractions as possible, you'll definitely want to head to Oahu. That's where you'll find Pearl Harbor, Waikiki, Diamond Head, Kualoa Ranch, and the famous North Shore.
For those who want to escape to a gorgeous island with a slower pace of life, head to Kauai. They have a fantastic food scene, stunning beaches, and secluded resorts.
And if you really want to unplug and get away from city life, head to the Big Island. They have options for a Hawaii honeymoon on a budget as well as 5-star luxury resorts. Plus, there's a volcano and incredible waterfalls!
Find out the best Hawaii honeymoon activities!
15. What's the best Hawaii island to visit with kids?
Again, the answer varies from family to family. You can have an amazing trip to Hawaii with kids on any of the islands. I do have a full post about the best Hawaiian island for kids that's worth checking out.
However, let me break down a few of the kid-friendly highlights for each Hawaiian island: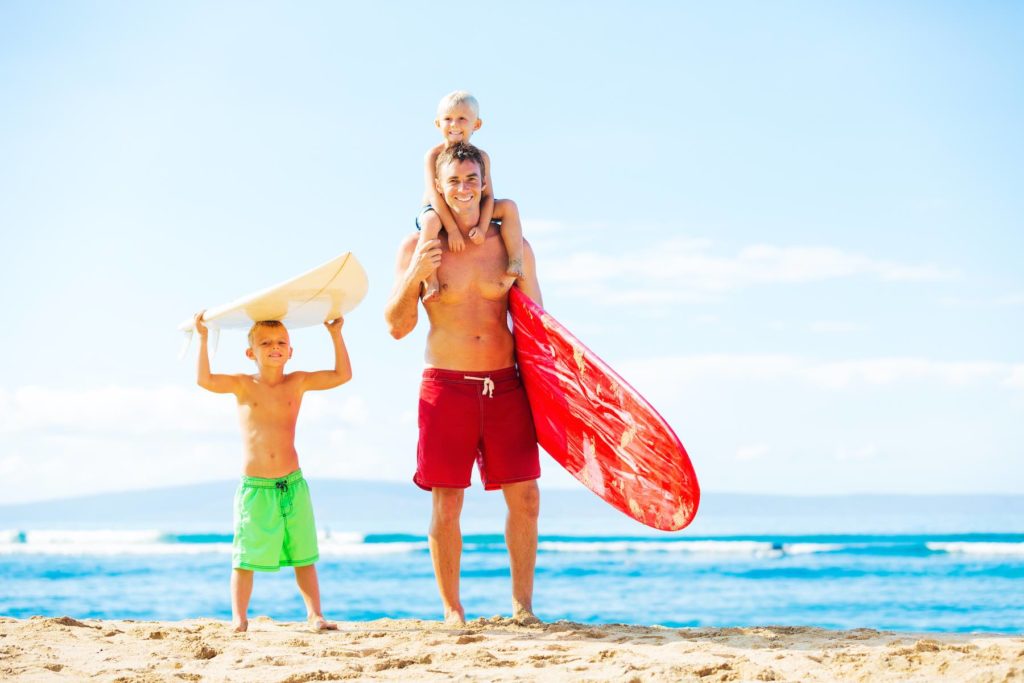 Oahu with Kids
Oahu is one of the most popular places in Hawaii for families. That's because there are tons of Waikiki resorts and it's home to Disney's Aulani Resort. Plus, you can do the Waikiki Submarine, the Polynesian Cultural Center, Dole Plantation, see Pearl Harbor, and so much more.
Maui with Kids
Maui is another popular Hawaiian island for families. They have some amazing kid friendly resorts with cool kids clubs, on-site activities, and epic pools. Plus, there's the Maui Ocean Center, I'ao Needle, the Surfing Goat Dairy, boat tours, and more.
Kauai with Kids
Kauai is starting to become a hot destination for families who have already been to Oahu and/or Maui and are looking for something more laid-back. This is the perfect Hawaiian island for families who love hiking, snorkeling, ziplining, fire dancing, etc. Plus, there's Waimea Canyon!
Big Island with Kids
Finally, the Big Island is another island that's slowly being discovered by families looking for an "authentic" Hawaii experience. It's great for outdoorsy people who want to go snorkeling with Manta Rays, explore Hawaii Volcanoes National Park, check out a Hawaii chocolate farm, and just relax.
16. Where are the big waves in Hawaii?
Did you see Carissa Moore become the first Olympic Gold Medalist when surfing debuted at the Olympics in 2021? Then you're probably wondering where to see the big waves in Hawaii that surfers dream about.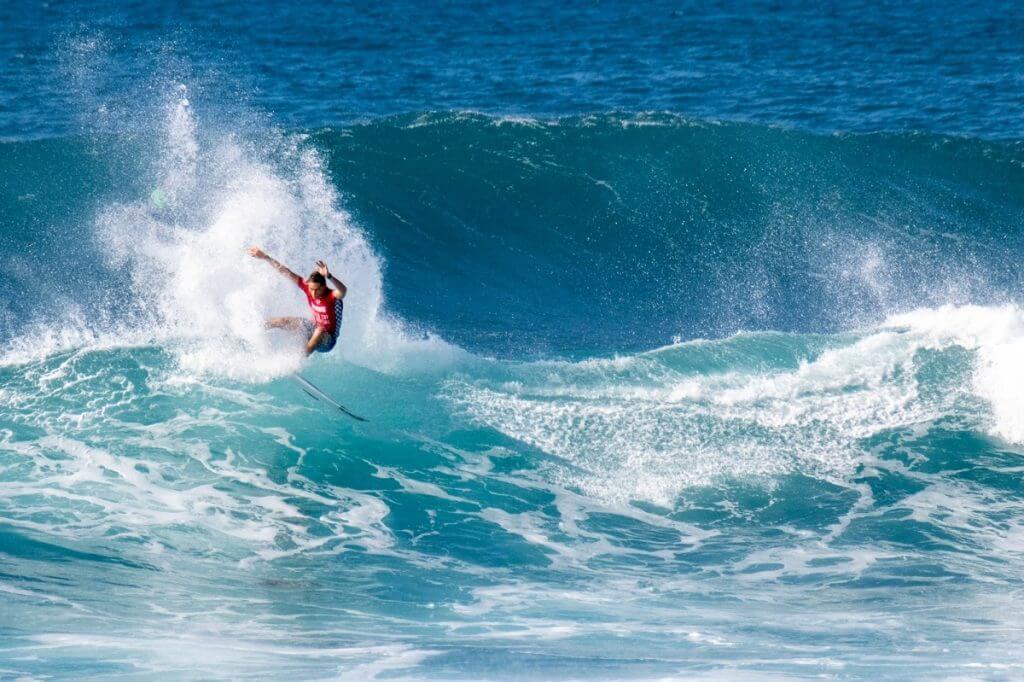 Well, your best bet is to head to the North Shore of Oahu, especially during winter time (like November-February). Head to a North Shore beach and watch some of the best surfers in the world show what they've got.
Find out more about surfing on Oahu!
17. What's the best time to visit Hawaii?
There's really no bad time to visit Hawaii. Weather-wise, it's a little bit rainier during the winter months. But, the rain doesn't usually last all day. And it can get a bit hot/humid during July and August.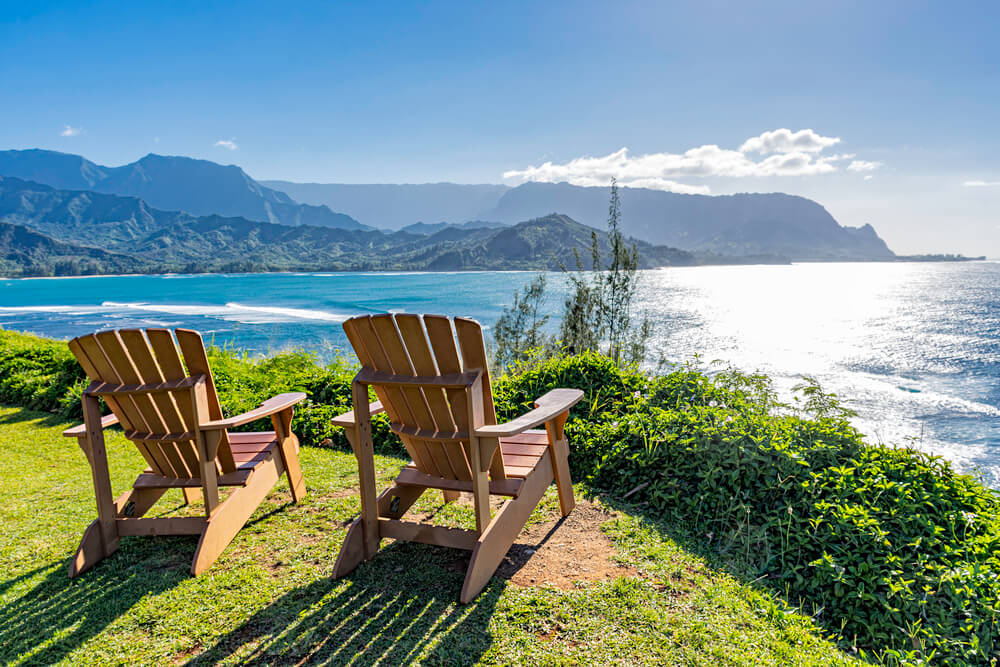 Honestly, I think the best time to visit Hawaii is when you have enough vacation days where you won't feel rushed and can really explore the islands.
18. When is high season in Hawaii?
High season in Hawaii is mostly during school breaks. It's super busy (and expensive) during the summer, around Thanksgiving and Christmas, and during spring break.
Hawaii's shoulder season runs mid-April to June and September to mid-November. It's also usually reasonable to travel the first two weeks in December.
19. Do I need to rent a car in Hawaii?
Unless you're staying in Waikiki, I highly recommend getting a Hawaii car rental. That's because ride-share programs like Uber and Lyft aren't as common as the mainland. And the public transportation system isn't super-efficient.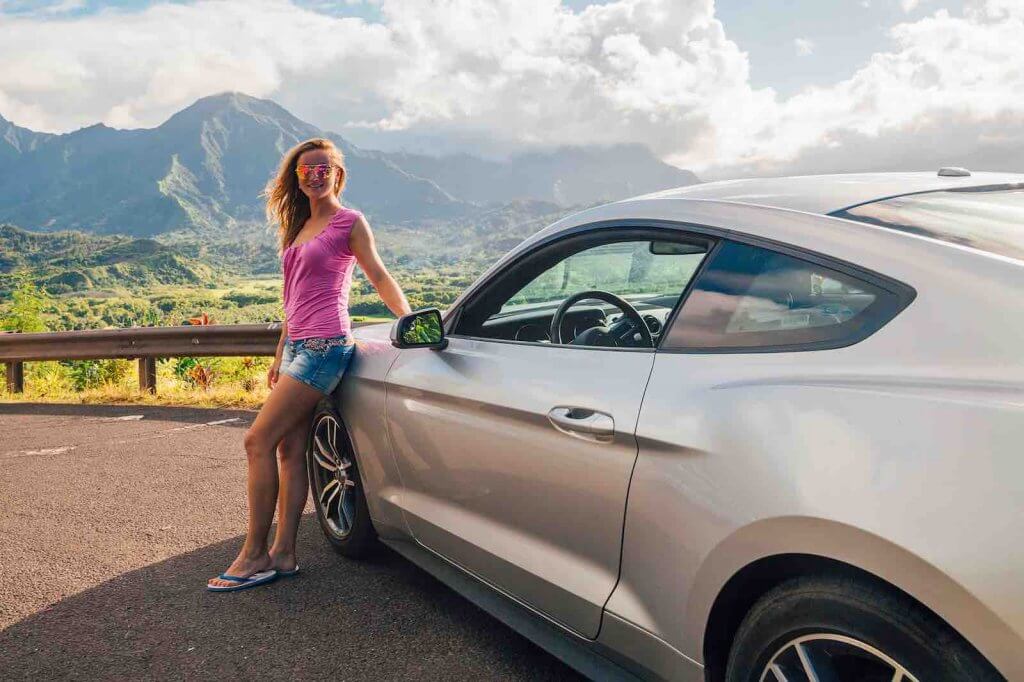 The cheapest place I've found is Discount Hawaii Car Rental. They get the best rates from top national companies like Alamo, Dollar, Thrifty, Avis, Enterprise, Budget, and Payless. Check out the latest prices and more details.
See everything you need to know about renting a car in Hawaii!
20. Are things expensive in Hawaii?
Pretty much everything in Hawaii is more expensive than the mainland. That's because so many things have to be shipped to the islands, like food, gas, and everyday supplies. So yes, you might end up paying $6-$8 for a gallon of milk.
Another reason why Hawaii vacations feel so expensive is that many people book pricey activities for every day of their trip. If you do a helicopter ride, snorkeling boat tour, swimming with dolphins, and a luau, you may get sticker shock.
One way to cut expenses is by shopping at local farmers markets and roadside fruit stands. And doing just a few paid activities balanced with beach time and hiking (which are free).
Save Money with Points
Here are the best credit card offers for families who travel and want to use points to pay for airfare and hotels in Hawaii.
21. Do I need to tip in Hawaii?
Absolutely. While it's customary to tip in the United States, sometimes people forget to tip in Hawaii. Don't be one of those people!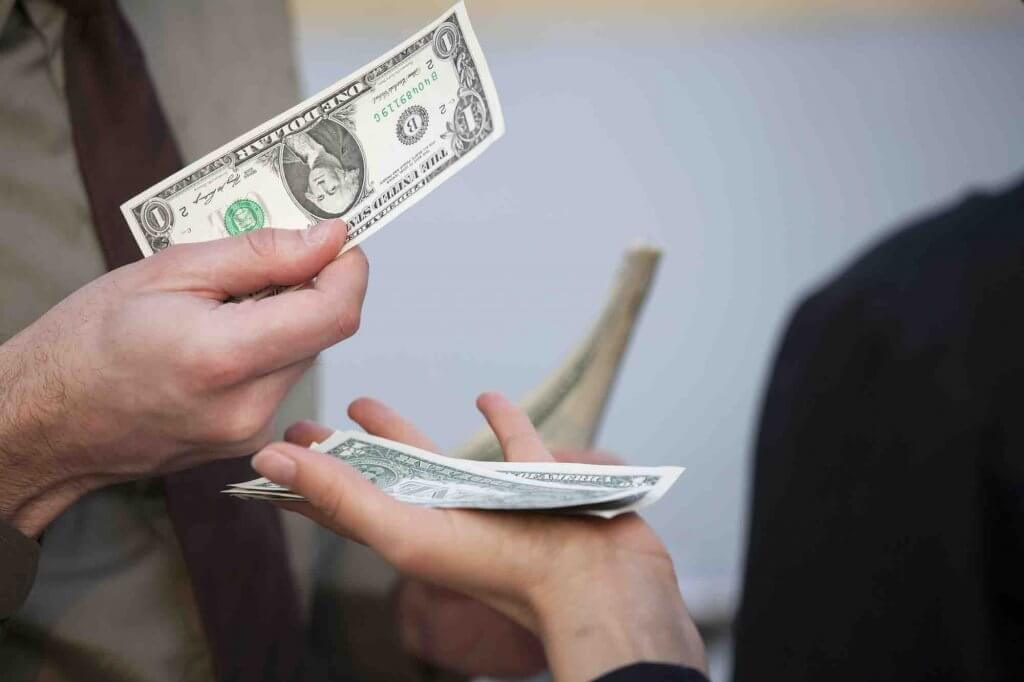 You'll want to tip anyone who does a service for you. I'm talking about hotel staff, tour guides, restaurant workers, photographers, etc. And it's typical to tip anywhere from 15%-20%. We usually tip in cash whenever possible.
Find out how much to tip in Hawaii!
22. Are there restrictions on buying alcohol?
The legal age to buy alcohol in Hawaii is 21 years old. And you can buy beer, wine, and spirits at grocery and convenience stores as well as liquor stores. Sometimes retail stores can only sell alcohol until 11 p.m. And there are some towns (like Laie) where they don't sell alcohol at all.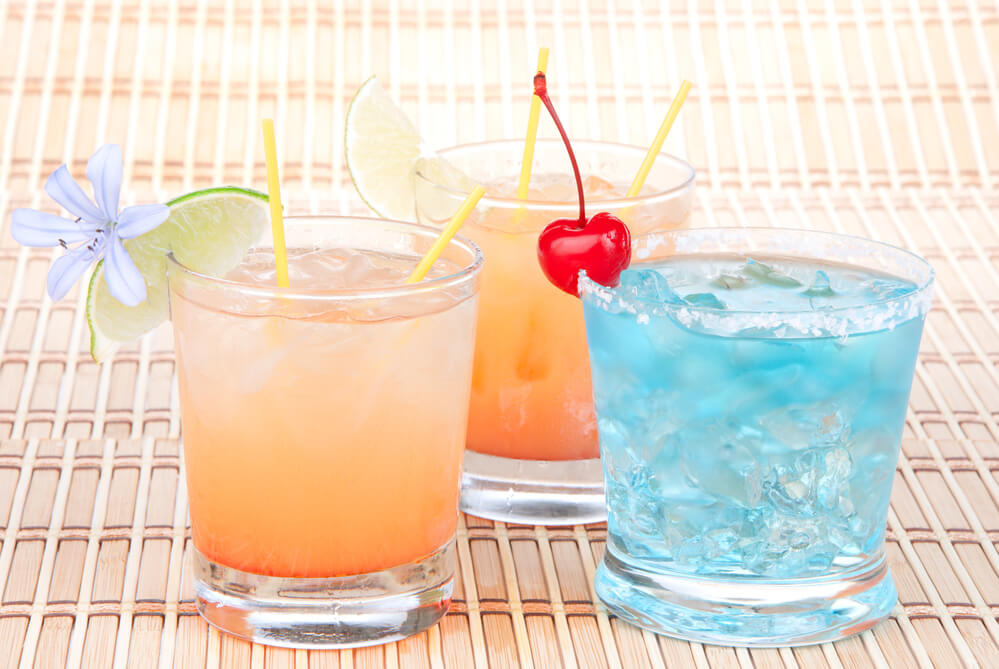 For people ordering alcohol at restaurants and bars, the age limit still applies (21 years old). Most places stop serving alcohol at 2 a.m.
23. What is the currency in Hawaii?
Hawaii is part of the United States and they use U.S. dollars as their currency. You can find currency exchanges throughout the islands. You can also head to Bank of Hawaii to exchange your currency for U.S. dollars.
24. What's the average temperature in Hawaii?
Hawaii is typically in the 70s-80s year-round. In the winter, temperatures can dip into the low 60s (especially at night). And in the summer, it can get up to the high 80s during the day.
It's usually pretty dry during the summer but can get a bit rainy in the winter. Sometimes there are tropical storms or hurricane watches, as well.
25. How long is the flight to Hawaii?
Well, that really depends on where you're coming from. Most flights from the West Coast of the Mainland are about 5-6 hours long. But, it can be 11 hours from Chicago and 14-15 hours if you're flying from the East Coast.
If this is your first time flying, it might seem like a lot. But there are many ways to make the flight more comfortable.
26. Are there sharks in Hawaii?
You bet there are sharks in Hawaii! In fact, there are an estimated 40 different species of sharks in Hawaii, including the whitetip reef, sandbar, scalloped hammerhead, and sometimes even a tiger shark!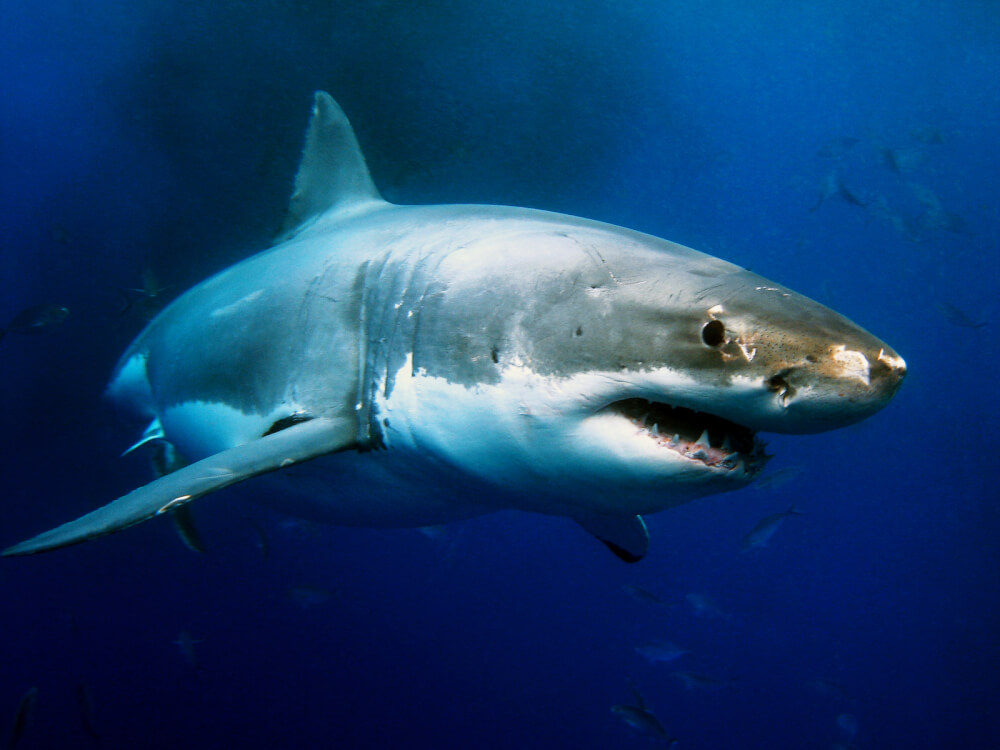 And if you're feeling brave, you can even go swimming with sharks on Oahu! They have experiences where you can do a cage dive to get up close to the sharks.
27. How common are shark attacks in Hawaii?
I know a lot of people are scared of sharks because they hear about shark attacks in Hawaii. However, it's not as common as people fear.
According to the Division of Aquatic Resources, Hawai'i Department of Land and Natural Resources, there have been about 164 shark attacks from 1980-2020. Out of those, there were only 10 fatalities).
Some tips for avoiding a shark attack include not swimming at twilight or night (that's when sharks are most active) and not swimming in murky water (or right after it rains). Additionally, avoid peeing in the water as that attracts sharks (just like blood).
28. Are there snakes in Hawaii?
Technically, yes. Although there are no native snakes in Hawaii (and it's illegal to own them as pets), Hawaii did import 4 brown tree snakes in 2018 so they could help train dogs in detecting snakes entering Hawaii.
The reason it's illegal to bring snakes into Hawaii is that they have no natural predators in the island and it could become a huge environmental issue.
However, in 2013, two species of snakes were found in Hawaii: the Island Blind snake and the Yellow-Bellied Sea Snake. The former is a pretty harmless snake that's the size of an Earthworm. The latter is poisonous but rare.
29. What language is spoken in Hawaii?
Hawaii actually has two official languages: English and Hawaiian. There are even Hawaiian language immersion schools for kids to become fluent in Hawaiian.
In addition to English and Hawaiian, many people in Hawaii speak "pidgin." This is the Hawaiian creole language which originated on plantations and incorporates words from languages like Hawaiian, Portuguese, Japanese, Cantonese, and Korean.
And as if that weren't enough, there are actually more than 60 other languages spoken in Hawaii including Chinese, Japanese, Spanish, and Tagalog.
30. Where is Pearl Harbor?
Pearl Harbor is located on the island of Oahu just a few miles from the Honolulu Airport. Here, you'll find the USS Arizona Memorial, the USS Battleship Missouri, the USS Bowfin Submarine, and the Pearl Harbor Aviation Museum.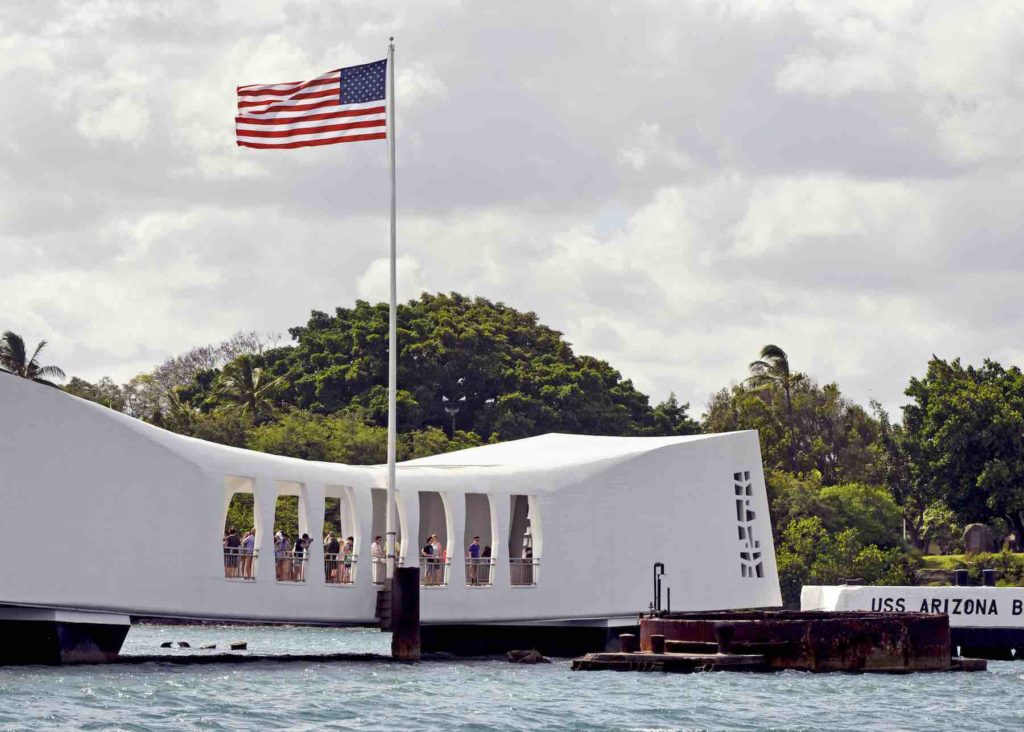 Many people plan a trip to Oahu specifically to pay their respects at the Pearl Harbor Memorial. You can either incorporate it as part of your Oahu itinerary or you can do a day trip to Oahu from another island.
If you want to see everything at Pearl Harbor, you will need to plan a full day here.
Find out whether or not it's worth visiting Pearl Harbor with kids!
31. Can I take fruit home from Hawaii?
Sort of. You can only bring back packaged fruit that has gone through an agriculture inspection and is approved for the airport. That basically means boxed pineapple (which you can find at the airport or at some grocery stores).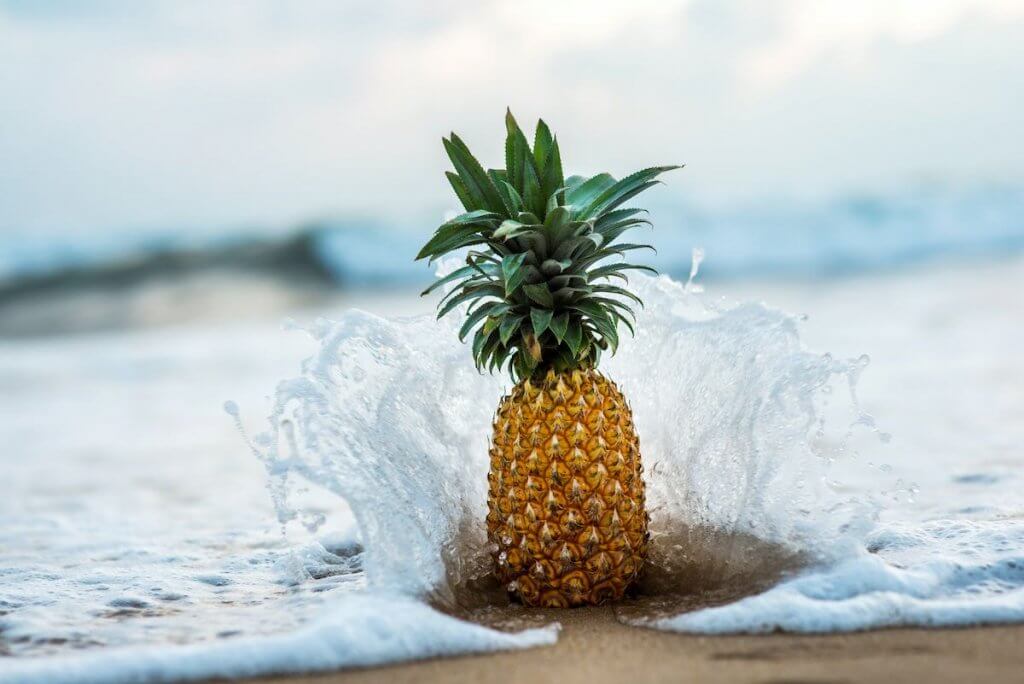 Sometimes you can bring back coconuts, as long as they are agriculturally inspected.
But, don't expect to bring home any fresh Hawaii fruits like mango, lychee, papaya, lilikoi, or guava. They won't make it through the inspection to go to the mainland because of disease and plant pests and they will get thrown out. However, you can often take these items on an inter-island flight.
32. Can I bring pets to Hawaii?
You can bring dogs and cats to Hawaii, but they have to do an extensive quarantine (minimum of 30 days) and it will cost you money. It really only makes sense to bring pets to Hawaii if you're moving over there or visiting for many months. Find the latest rates and more information.
If you're visiting Kauai and you miss your dog, you can always head to the Humane Society and borrow a shelter dog for the day. This is a fun way to give back to the community and help a sweet dog out.
33. Do you still get a lei at the airport?
No. It's been decades since people danced hula at the airport and handed out fresh flower leis to arriving tourists.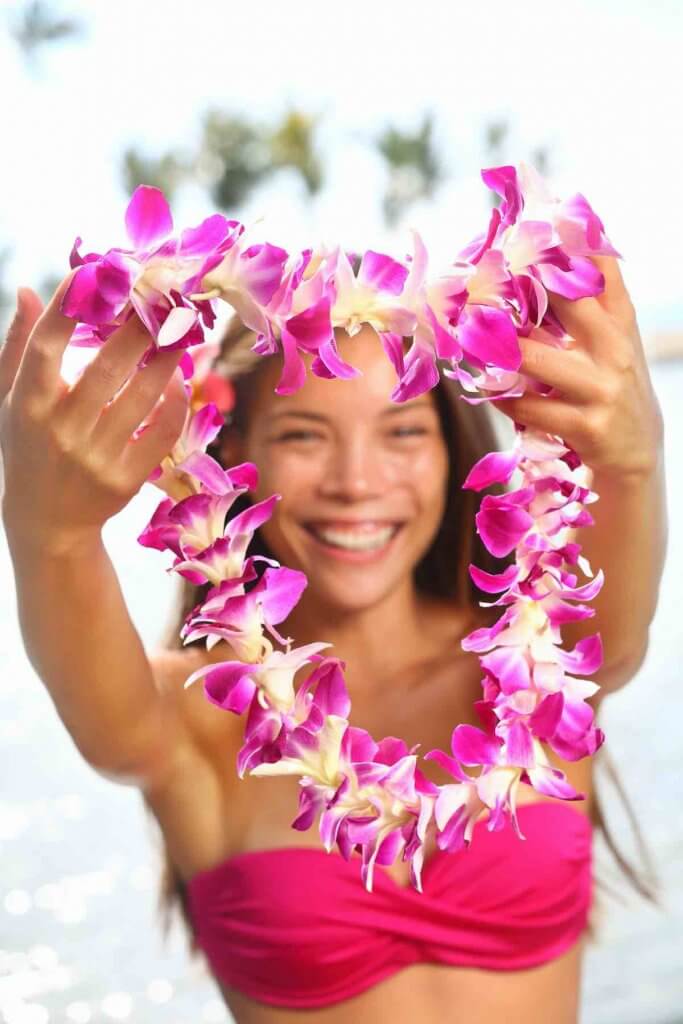 However, you can totally arrange to have a lei greeting for your party. You'll just need to pay for it ahead of time. This can really kick off your Hawaiian vacation in a special way! Check latest rates and more information.
34. Does Hawaii have all inclusive resorts?
Not really. I mean, there is the Hana-Maui Resort (formerly Travaasa Hana) where you can add on a dining package to make it into an all-inclusive resort on Maui.
Otherwise, there are no all-inclusive resorts in Hawaii. Instead, there are some pretty gorgeous Hawaii resorts with epic pool areas, kids clubs, on-site luaus, and fabulous restaurants. You'll just need to pay separately.
35. Is it okay to take lava rock home?
NO NO NO NO NO! I seriously can't emphasize this enough. Not only is it disrespectful to Hawaiian culture, but it's being an irresponsible tourist. If everyone who visited Hawaii took lava rocks home with them, there wouldn't be any left.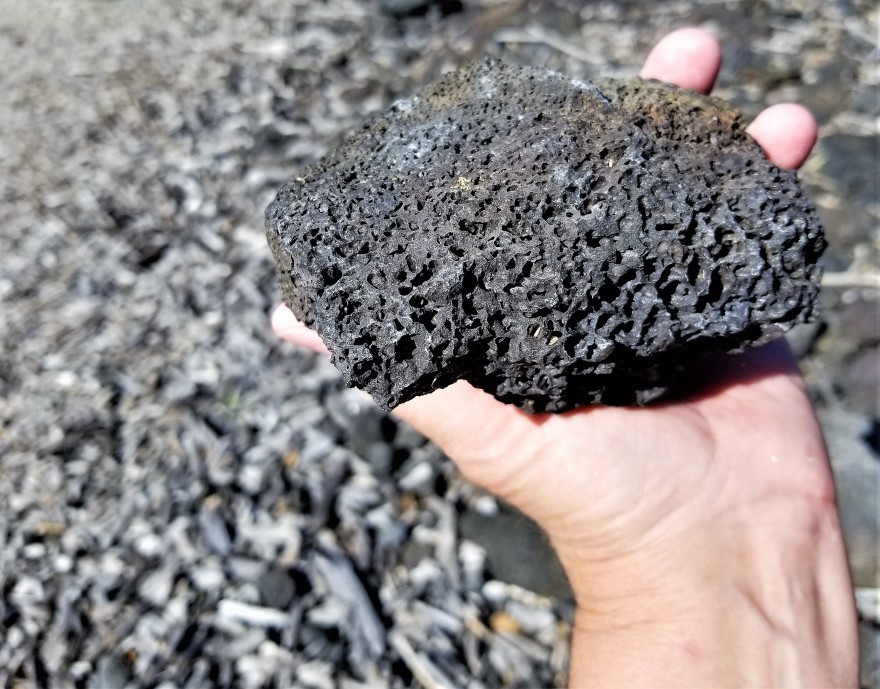 This also applies to sand, sea glass, shells, coral, and just about anything else that's natural in Hawaii. Please enjoy them while you're there and leave them for others to also enjoy.
36. Is there really a royal palace in Hawaii?
This is absolutely true! King Kalakaua built Iolani Palace in Honolulu in 1882 and it was the official residence of the Hawaiian royal family until the illegal overthrow in 1893.
During this time, it was used to throw lavish parties, host many events, and it even had electricity before the White House!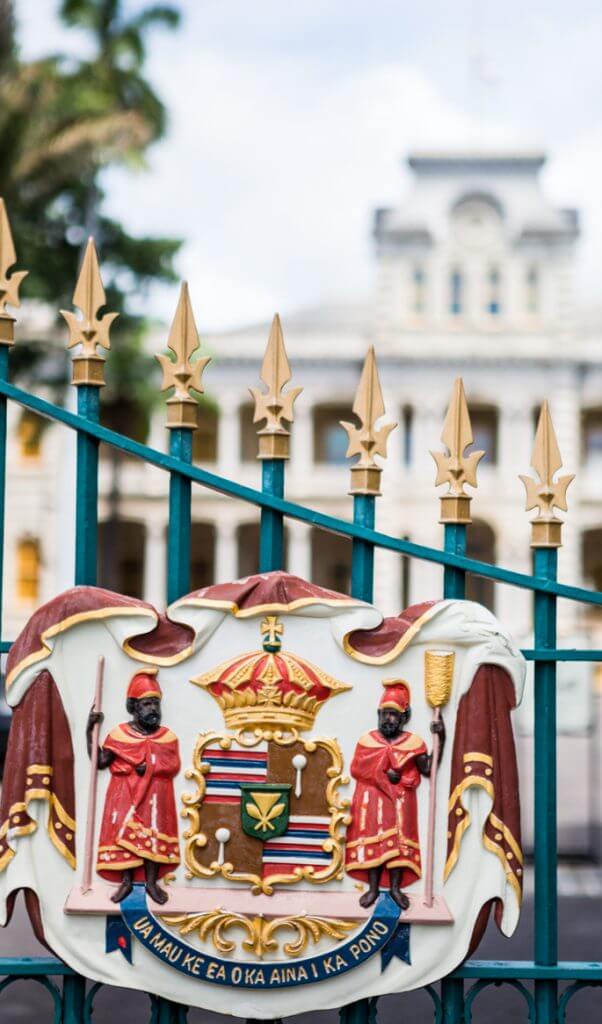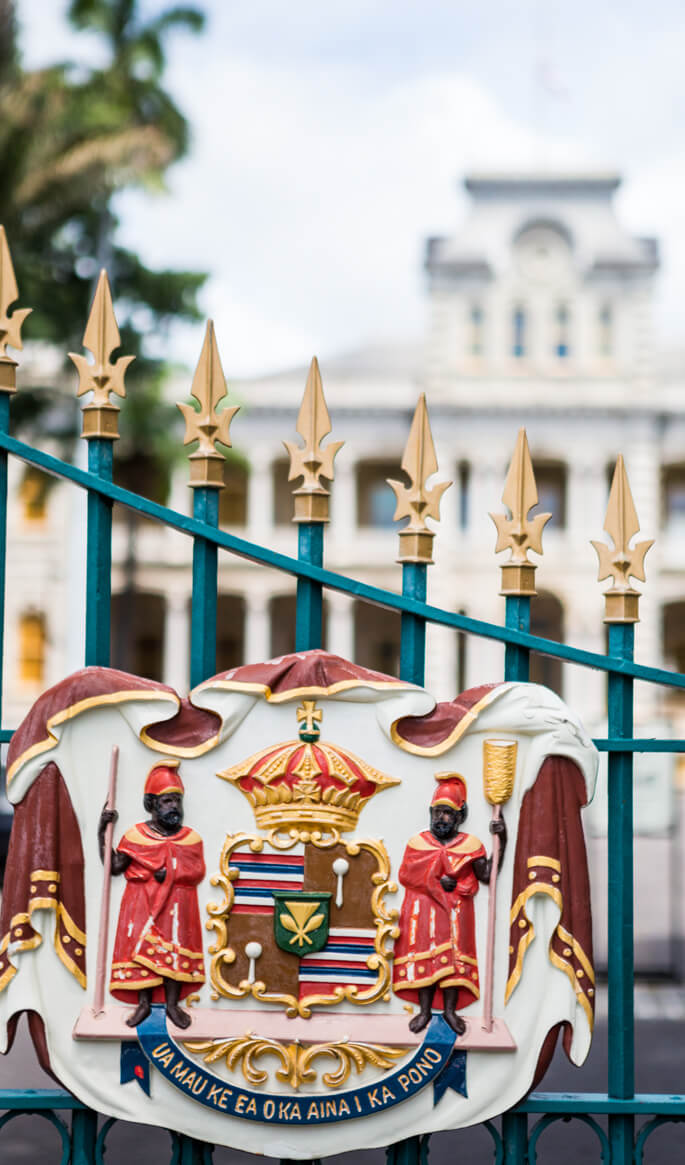 When Hawaii became a state in 1959, Iolani Palace was used as the capitol building. And in 1978, Iolani Palace became a museum highlighting Hawaiian history.
You can visit Iolani Palace today on your trip to Oahu. They offer pretty amazing guided tours and it's a great way to learn about Hawaiian culture and history. It's the stuff you never learned in school!
Wrap Up
I hope this article has answered any questions you may have had about visiting Hawaii.
Whether you're a first-time visitor or a seasoned traveler, it's important to know the common mistakes people make by not being prepared for their journey and what they can expect from traveling in paradise!