Are you thinking about booking a Kauai helicopter tour but still have a lot of questions? Keep scrolling to find out whether or not it's worth booking a helicopter ride in Kauai.
This post about planning a helicopter ride in Kauai, Hawaii contains affiliate links which means if you purchase something from one of my affiliate links, I may earn a small commission that goes back into maintaining this blog.
Guest post by Dani of Diapers in Paradise
If you have ever considered splurging on a helicopter tour, you are not going to find a better place in the world to do it than Kauai.
Kauai is known for the lush, verdant jungle that covers most of the island, but it is largely inaccessible to vehicles.
In fact, some of the most iconic landmarks of the Garden Island are only visible from the water… or the air.
There are many helicopter tour companies set up on the island, ready to show you around the side of Kauai that you will not be able to experience any other way.
If you are wondering whether a Kauai helicopter tour is a worthwhile part of your trip, read on to learn more and to hear about my experience with it.
Don't miss my top Things to do in Kauai with Kids!
Don't have time to read a bunch of Hawaii blog posts and reviews? Here are some of our top picks for visiting Kauai.
Popular Kauai Tours/Activities
Favorite Kauai Resorts/Hotels
Grand Hyatt Kauai (this Poipu resort has a luxurious pool area, romantic restaurants, and a stunning ocean view)
Koloa Landing Resort (this is a luxury resort with an amazing pool area and truly spacious rooms)
Royal Sonesta Kauai (we LOVE the pool here because it's the largest one in Hawaii)
Want to Rent a Car in Hawaii?
One of the best places to rent a car in Hawaii is Discount Hawaii Car Rental because they get the best rates from top national companies like Alamo, Dollar, Thrifty, Avis, Enterprise, Budget, and Payless.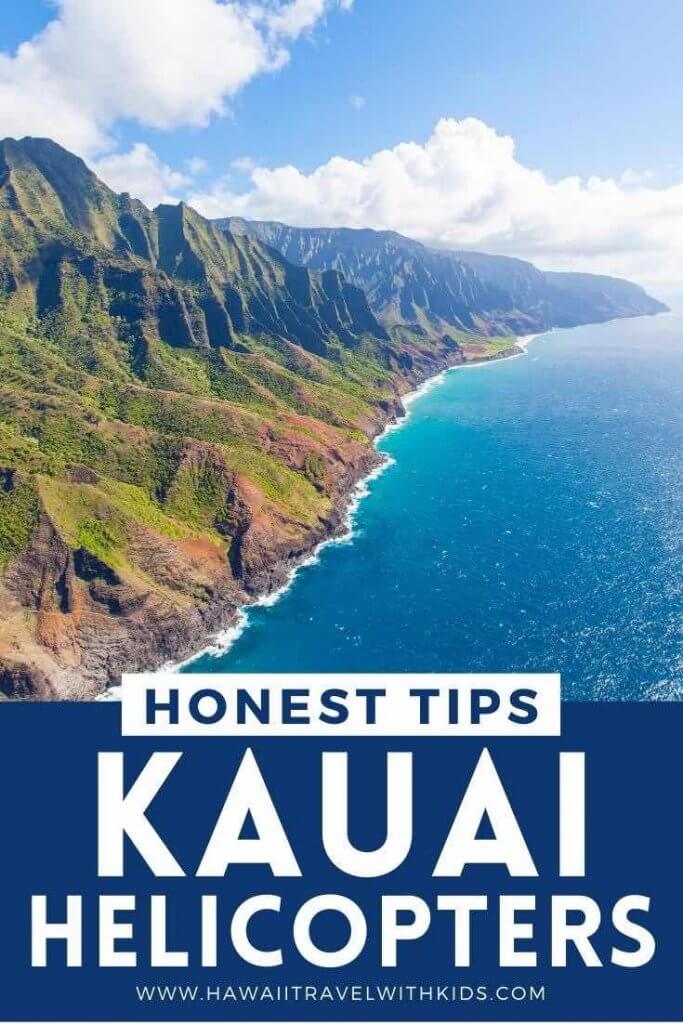 What is it like to take a helicopter tour of Kauai?
Do you remember that iconic moment in the original Jurassic Park movie when they are approaching the island in a helicopter, and the dramatic theme music plays as they fly along the prehistoric-looking coast?
That's exactly what it feels like during helicopter tours of Kauai.
Because that is exactly what you are doing!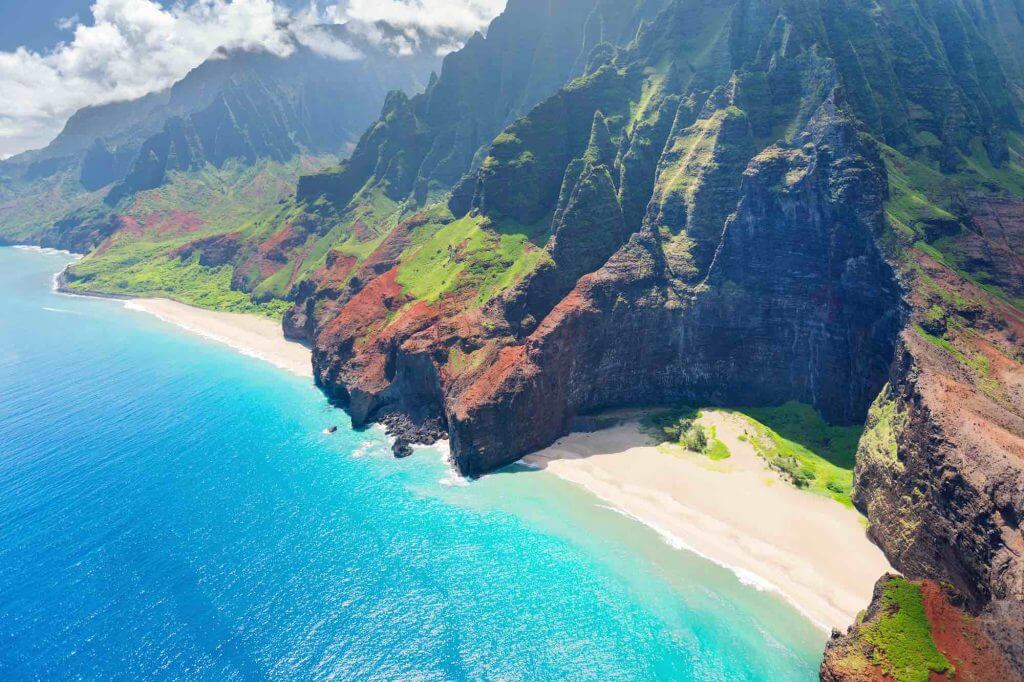 That scene from Jurassic Park was actually filmed on the approach to the Na Pali coast, on Kauai's North Shore, which is one of the two main reasons to take Kauai helicopter tours.
Na Pali is only viewable by boat or by Kauai helicopter rides, and if you want the most epic view of the landscape, a helicopter is the way to go.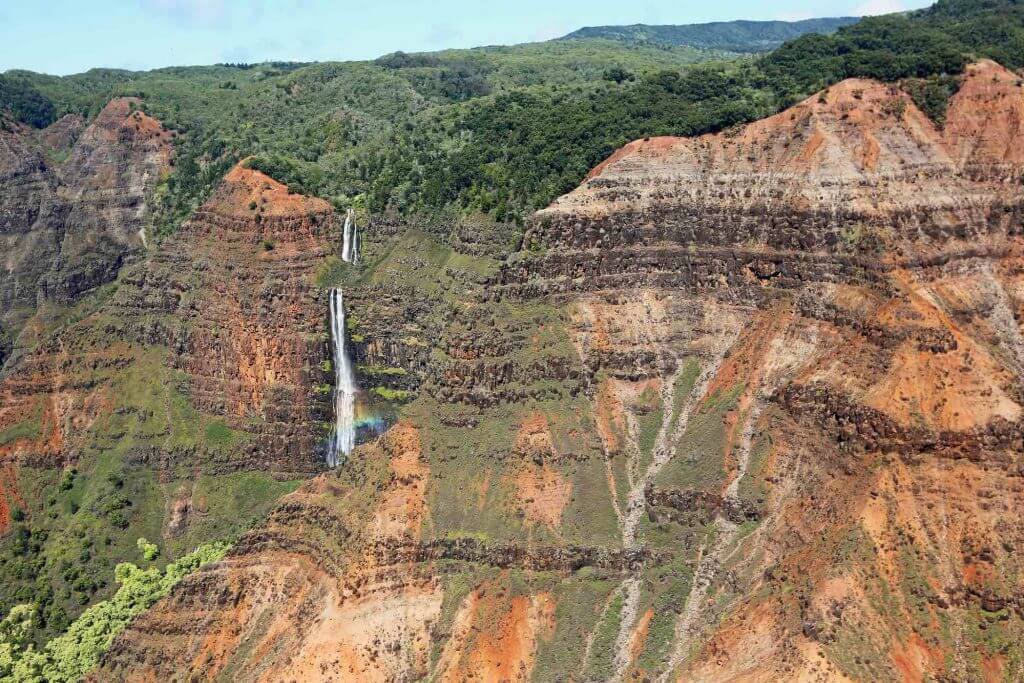 The other reason to take a helicopter tour? Waimea Canyon. The "Grand Canyon of the Pacific."
It is possible to see parts of Waimea Canyon by a combination of driving and hiking, but you will only get a hint of the wonder of this ten-mile-long canyon.
But flying through the canyon, past countless waterfalls, and seeing the jungle sprawled out below you – that is how you truly come to appreciate the sheer size and grandeur of Waimea Canyon.
Taking a tour of Kauai by air is an experience that you will not forget.
What is the process for taking a Kauai helicopter tour?
First, you will want to book it ahead of time for your Kauai vacation.
Yes, there are plenty of tour operators that you can find around the cruise ship terminal in Lihue that are happy to take same-day bookings.
But you will really want to do your research ahead of time and choose a reputable operator.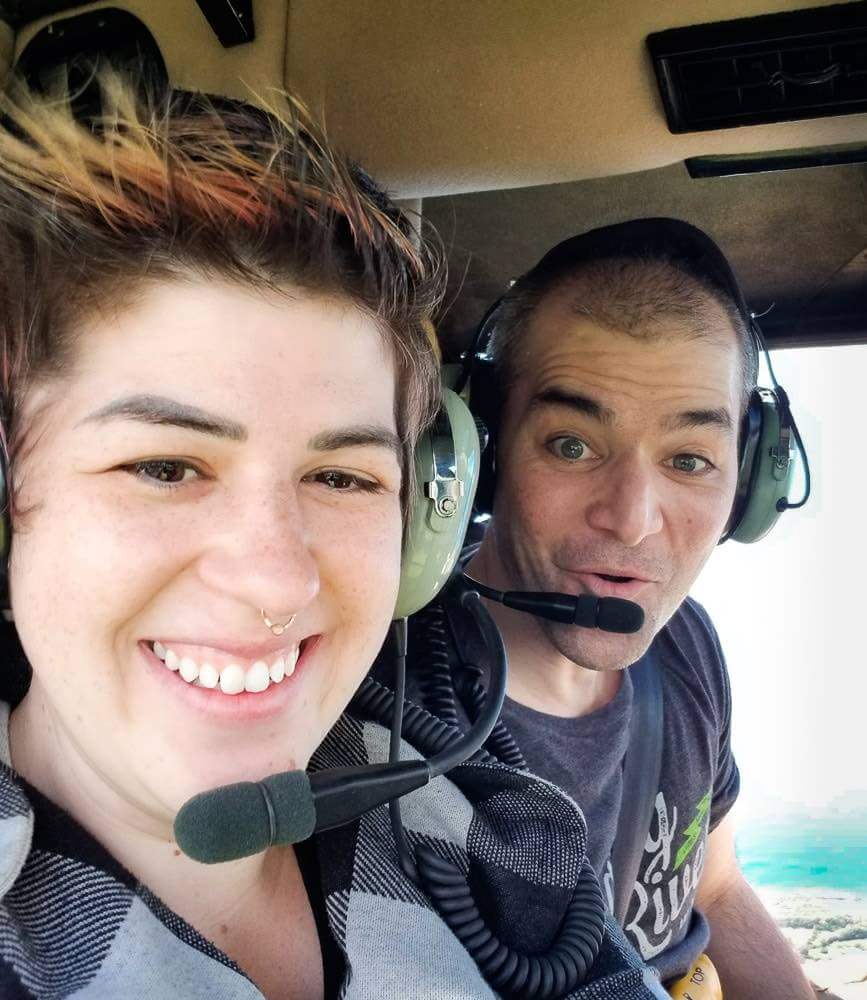 We went with Mauna Loa Helicopter Tours for their vast experience and impeccable safety record and because they are one of the very best helicopter tours for private tours.
When you arrive, you'll go through a safety briefing, and then you'll head out to meet your pilot at the airfield.
They will get you all buckled up, go over any last-minute safety reminders, and then you're off! The vertical take-off is thrilling and nerve-wracking, but within minutes you are out over the jungles of the island.
Most Mauna Loa helicopter tours are in the 45-60 minute range, although you can find longer ones.
While some of the sites that they visit may vary, you can bet that every tour is going to show you Waimea Canyon, the rugged Na Pali Coast, and Manawaiopuna Falls.
There are even tours available that stop midway through for a picnic and photo op!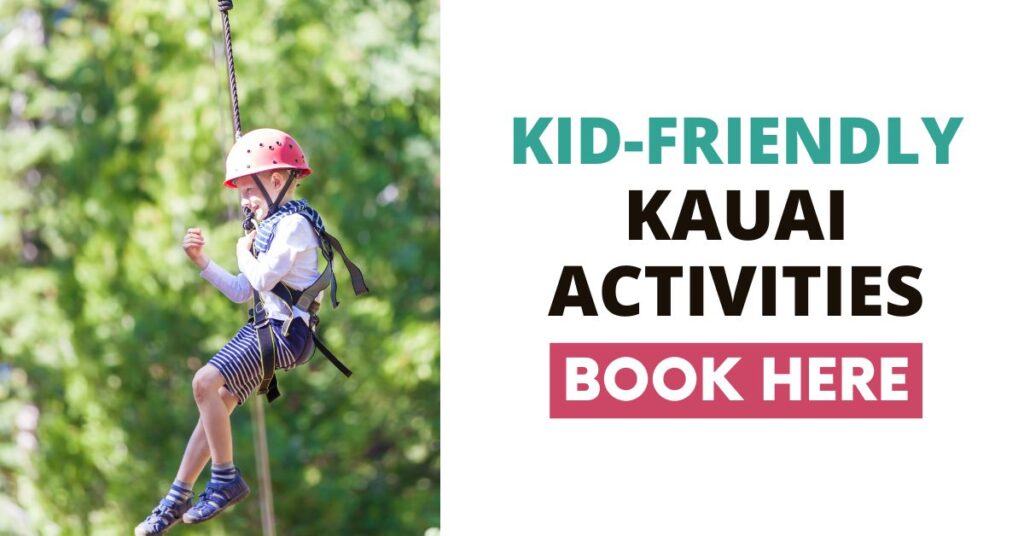 What are the types of Kauai helicopter tours available?
When you are looking to book a helicopter tour, you will have a few options. You'll first need to choose if you want to share the helicopter with other people or book a private tour.
Shared tours usually have 6 passengers. And while this doesn't seem like much, it is possible that you will have your view impaired by another passenger.
If you are hoping to get good photographs of this for your Kauai vacation, this is particularly worrisome.
Some of the best Kauai helicopter tours are better than others for visibility, so read about the particular helicopter for any flight you are considering booking.
You also might not get seated next to your travel partner. They balance the helicopter for weight, so you will not have any say in where you sit.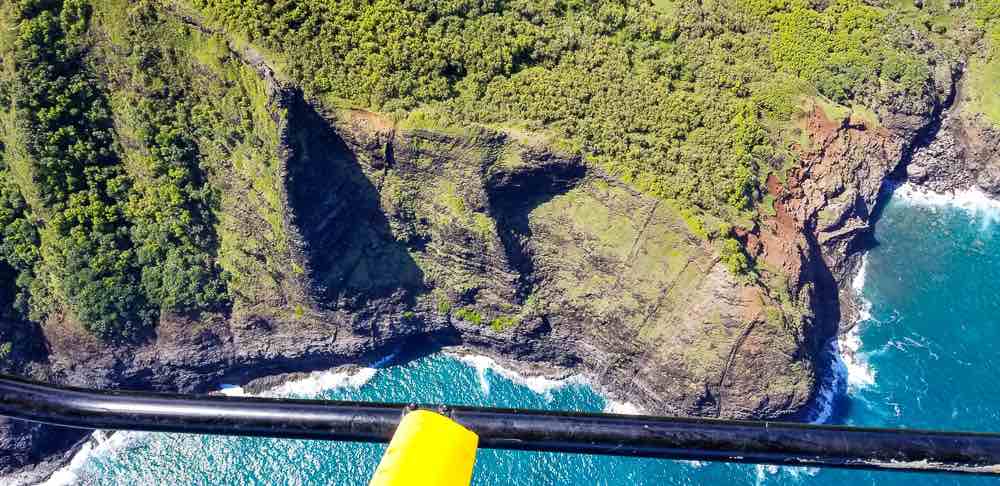 The next thing you'll need to choose is whether or not you want doors on your helicopter.
Opting for a Kauai doors-off helicopter tour gives you the advantage of having a better view and not getting any glare on your photos. It's windier and sometimes a bit wet!
But Kauai doors off helicopter tours give you an unparalleled view of the scenery and make you feel much closer to the landscape.
If having the doors off seems inherently scarier, remember – it is not the doors that are keeping you safe. It is your seat harness and the skills of your pilot.
It will be imperative that you do not have any loose items on you when you fly. Cameras will need to be strapped to your body.
We opted for the private, doors-off tour.
While this was a splurge for us, we figured it was probably the only time we would ever do a helicopter tour, and we wanted to do it the best way we could.
We have not regretted this decision once! The best Kauai helicopter tours are pricey either way. May as well make the most of it on this stunning Hawaiian island!
Can you bring kids on a Kauai helicopter tour?
Yes, although the age requirements will vary by the tour operator.
Some operators have a minimum age of around 7, while others will allow children of any age, including lap infants (under 2), for free. Lap infants will not have a seat belt, however.
If you are traveling with young children, you will really want to think about if they will be able to handle sitting buckled into an adult-sized harness for an hour, especially considering they might not even be able to see past other passengers.
You also might not get seated next to your child, depending on the weight distribution, although most operators will try to seat families together when possible.
When we visited, we were traveling with a baby and a toddler. We ended up using a local babysitter agency and turned it into a wonderfully memorable half-day date.
Are Kauai helicopter tours safe?
This is undoubtedly a question that has crossed your mind if you are considering helicopter rides in Kauai.
And given a few high-profile helicopter crashes in the last few years – including one on Kauai – it is only natural to be nervous.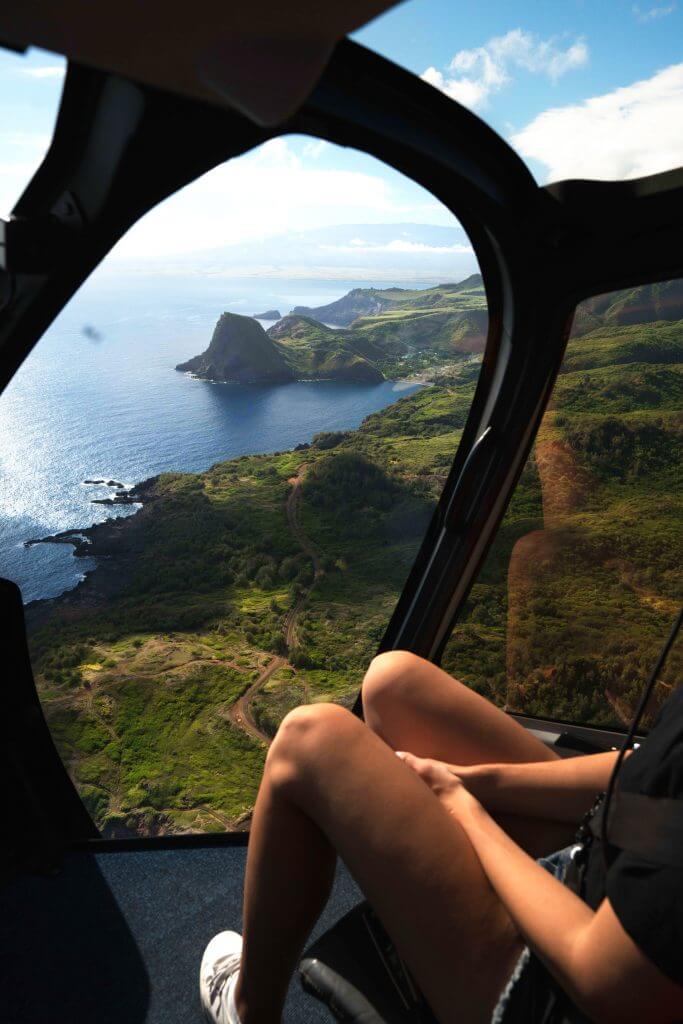 Of course, there is always risk in something like a helicopter flight. They are statistically more dangerous than a commercial airplane flight, although they are less dangerous than flying in a private plane.
Tour-operated helicopters are significantly safer than private helicopters, as well.
Helicopter flight has become much less risky over the past few decades, but there are occasional incidents.
Of the Hawaiian islands, Kauai has seen the highest number of helicopter crashes, although they are still incredibly rare.
Ensure that you choose a reputable tour operator that adheres to the highest level of safety standards. Expect that if there is adverse weather, your tour will be canceled.
For this reason, it is a good idea to book your helicopter flight early in your trip so that you can reschedule if needed!
We never felt unsafe during our helicopter tour. The flight was smooth, and we were impressed with our pilot's level of experience.
Is a Kauai helicopter tour worth the money?
Without a doubt, yes!
The breathtaking scenery of the NaPali Coast and Waimea Canyon are best viewed from the air, especially a bird's eye view!
There is no better way to experience the natural wonder of the Garden Isle than by flying above the jungle in a Kauai island helicopter.
It is a once-in-a-lifetime type of experience that you will treasure, along with incredible photos, especially if you choose a doors-off tour.
If you are coming to Kauai, I highly recommend taking a few hours out to see the beauty that this island has to offer!
Top Helicopter Tours on Kauai
This is a 50-minute Kauai helicopter ride in a new Eurocopter Eco-Star, which is much quieter than other helicopters on Kauai. Check out the latest prices and more details.
This Kauai helicopter tour is about 1 hour and 15 minutes, and the major perk is that only your party participates, AND everyone gets a good window seat. Check out the latest prices and more details.
For another fun ride on one of the island helicopters, try this Hughes 500 helicopter tour! No middle seats, and up to four guests can enjoy this ride. You will pretty much see the entire island with this experienced pilot. Check out the latest prices and more details.
Best Kauai Helicopter Tours FAQs
Is it worth doing a helicopter tour in Kauai?
Absolutely! You will get to see stunning views of the island that you would not see otherwise. It is the perfect way to explore Kauai's finest places and is an excursion you don't want to miss out on.
How long is the helicopter ride in Kauai?
The flight tie is different for each tour. Some are 30 minutes long, while others go over an hour. It all depends on who you book with.
What are some of the best places to see during your ride?
Manawaiopuna Falls, the NaPali coast with its sea cliffs, where they filmed Jurassic Park, Waimea Canyon, Hanapepe Valley, Olokele Canyon, and so much more of Kauai's natural beauty!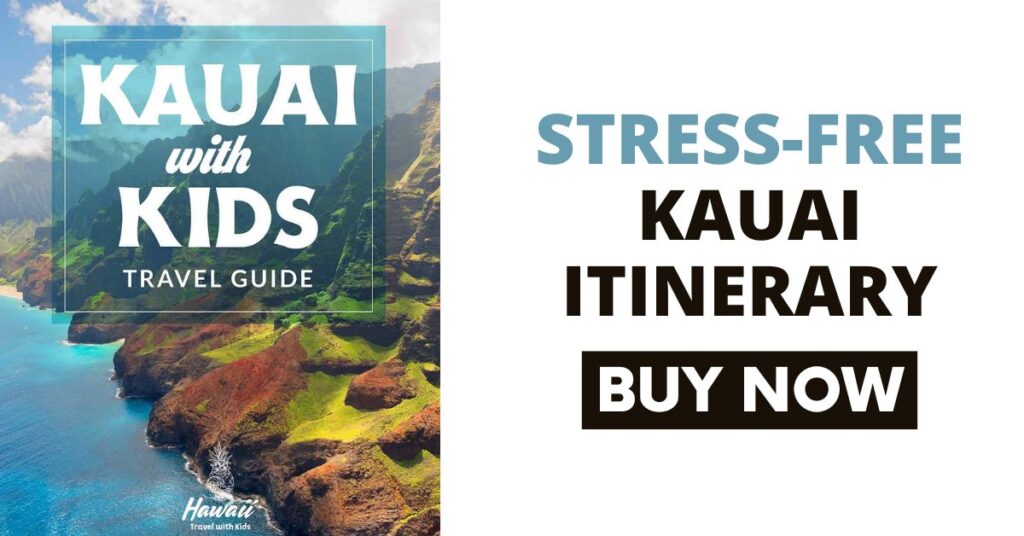 About Dani
Dani runs things over at Diapers in Paradise, a family travel blog focused entirely on travel with babies and toddlers. With destination guides that center around the needs of parents of little ones, and a library of helpful tips and tricks for minimalism-inspired travel with babies, her goal is to help you prepare to have the best trip ever, because of (not in spite of) bringing the baby.