Looking for a Kauai photographer for your upcoming Hawaii vacation? One of the most unique Kauai photography experiences is the Kauai Jungle Tub photo shoot. Keep scrolling to learn more and find out how to save $100!
This Kauai photography post was written by Hawaii travel expert Marcie Cheung and contains affiliate links which means if you purchase something from one of my affiliate links, I may earn a small commission that goes back into maintaining this blog.
I've been visiting Kauai for the past 25 years and I'm always on the hunt for something I haven't already done on a previous trip.
Every time I plan a trip to Kauai, I start searching for unique things to do on Kauai with kids, couples, or even solo.
That's how I came across the coolest Kauai photography experience: the Kauai Jungle Tub! It features one of the best photographers in Kauai.
Of course, I booked it immediately and stalked their Instagram account every day until my trip.
Keep scrolling to find out exactly what to expect from this Kauai photoshoot and my top tips for getting the best photos!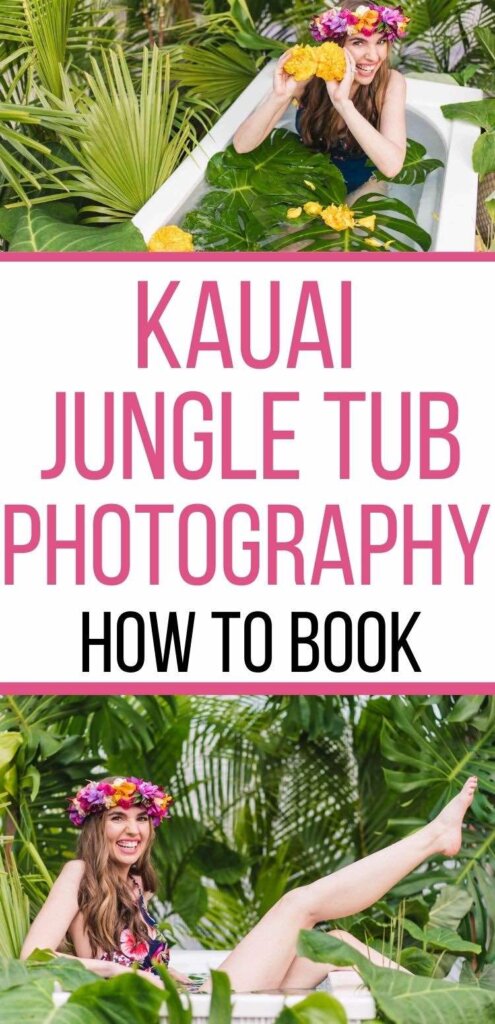 What is the Kauai Jungle Tub?
The Kauai Jungle Tub is the brainchild of Nicolette from FOTOPOP Kauai and Meghan from Kauai Wedding Hair.
Together, they've created an amazingly positive, empowering photography experience on Kauai.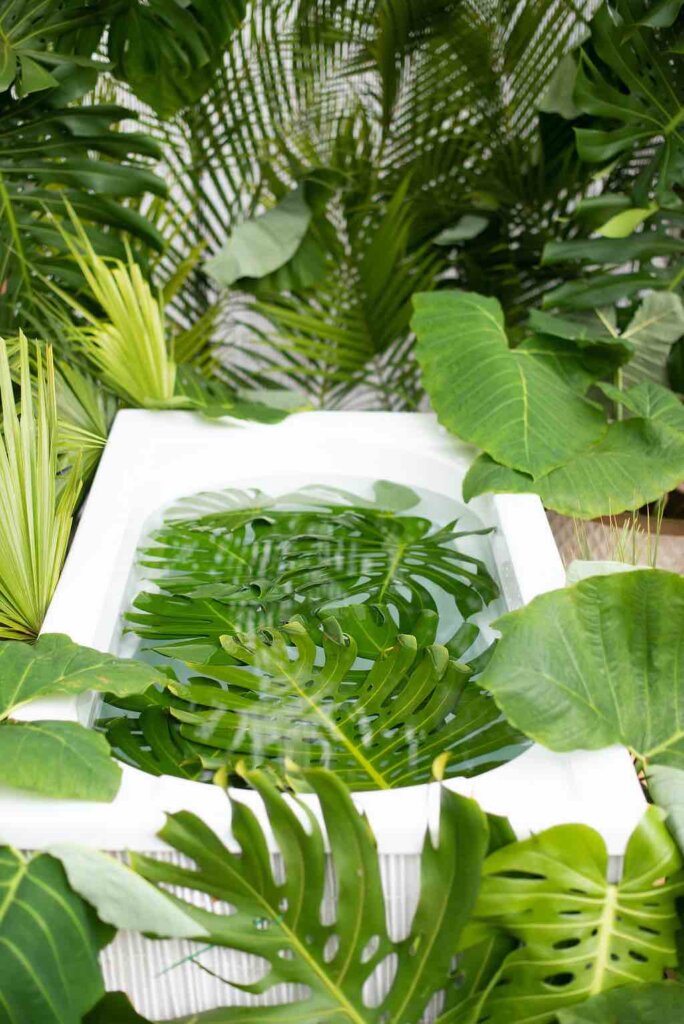 They have meticulously created a jungle-themed outdoor photo set with a restored bathtub and lots and lots of gorgeous tropical leaves and blossoms.
Kauai is called the Garden Island because it's so lush. The Kauai Jungle Tub takes those brilliant colors and textures and incorporates them into the backdrop with YOU as the star!
It is something you will cherish forever, especially since they will do an amazing job with this nature photography. They are some of my favorite photos that I've gotten on this garden isle.
HOW IS KAUAI JUNGLE TUB DIFFERENT THAN OTHER KAUAI PHOTOGRAPHER SETUPS?
What sets Kauai Jungle Tub above the others is that they have a private photo set on private property. Therefore, you won't feel awkward posing in front of random strangers on vacation on this beautiful island.
It's one of the most unique Kauai vacation photography. I mean, how often can you play in an outdoor tub that looks like it is in the center of the jungle?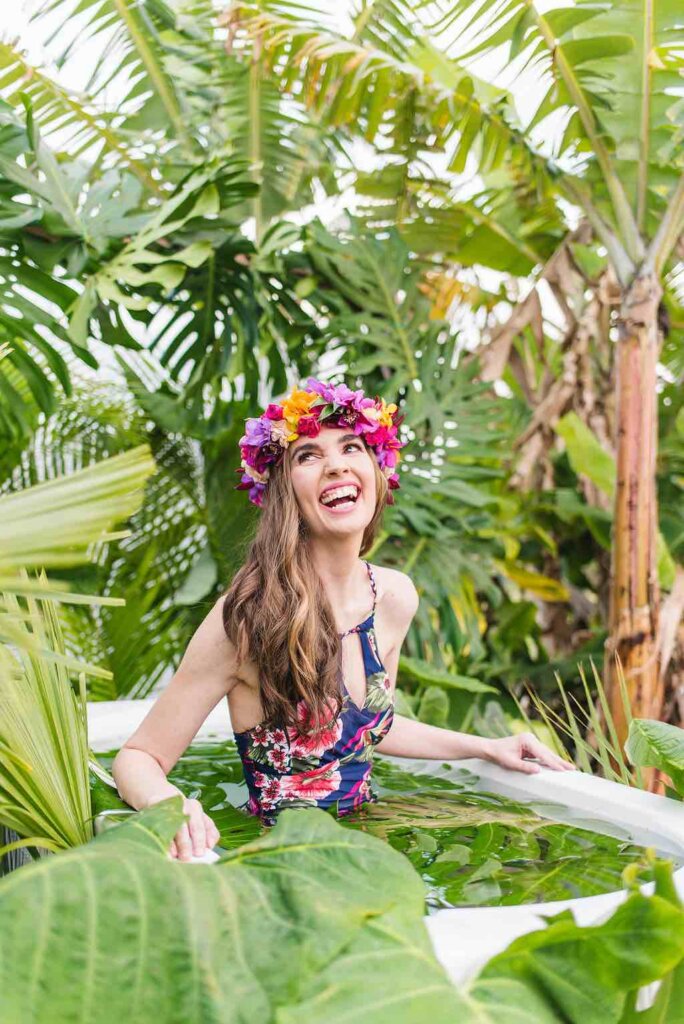 Additionally, you will receive professional hair and makeup from a top artist plus get your photos taken by an incredible photographer. They're both well-known and respected in the Kauai wedding business.
What Was My Experience with Kauai Jungle Tub Like?
Originally, I'd planned on taking my boys (ages 5 and 2 ) to join me and get some pictures of the 3 of us playing in the tub.
But, as we got closer to our trip, I realized that I would be so concentrated on the children that I would not get to enjoy myself. And since I had been so excited about it, I was afraid that I might be let down if the kids did not cooperate.
Fortunately, my mother lives on Kauai and offered to watch the kids so my husband and I could do the photo shoot kid-free.
This meant we got one of the most unique date nights on Kauai, Hawaii!
KAUAI PHOTOGRAPHY LOCATION
The Kauai Jungle Tub is located in Nicolette's backyard off the bypass road in Kapaa on the East Shore of Kauai, the most beautiful of the Hawaiian islands.
It's a really awesome house with a fairly secluded backyard. There was lots of parking at her property. And her backyard is enormous!
ARRIVAL
Nicolette welcomed us with champagne, and we chatted about her gorgeous space!
It just so happened that the hair and makeup artist had her mother visiting from out of town, and they asked if it was okay for her to come sit in on the shoot. I'm so glad that she stayed because she was hilarious!
There were many chairs set up around the space, so my husband, the photographer, along with the makeup and hair artist's mom were able to hang out while I was getting my makeup and hair done.
All of us sat around barefoot just getting to know each other and talking about Kauai. It was so comfy and pleasant!
HAIR/MAKEUP
Meghan has a full outdoor hair and cosmetics table set up right alongside the tub. It is the first time that I've ever had my hair and makeup done outside and it felt like such a luxury!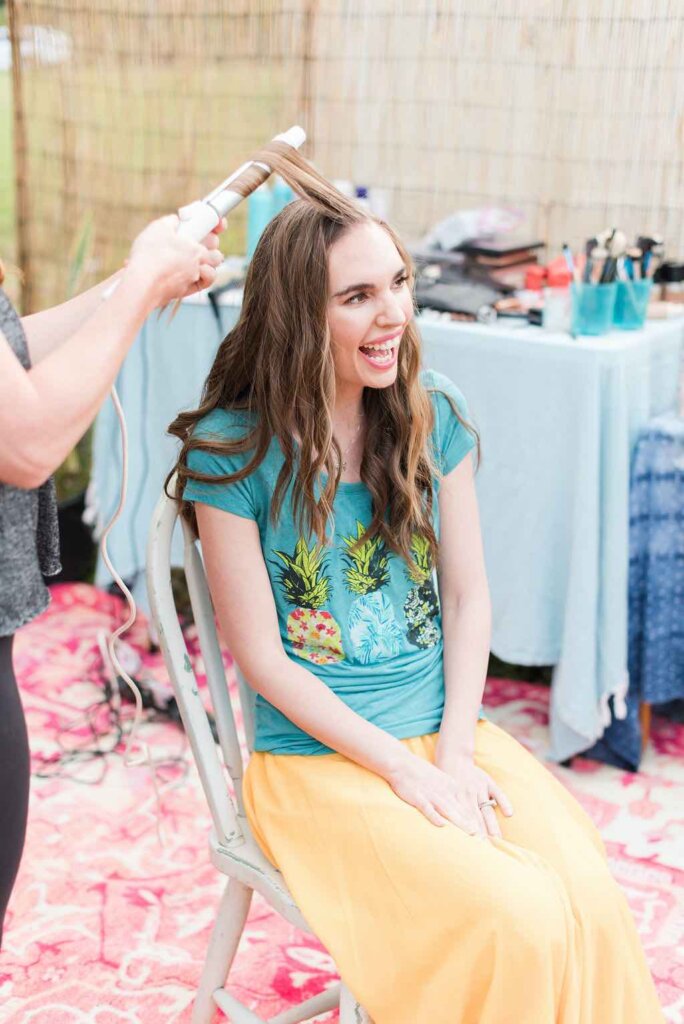 Meghan is a complete pro. She's been doing hair and makeup since she was a child (I know because her mother told me).
She asked me a bit about color preferences and the way I normally do my hair.
I advised her that I usually love bright colors, but otherwise, she is the expert, and I was confident that whatever she did would appear fabulous.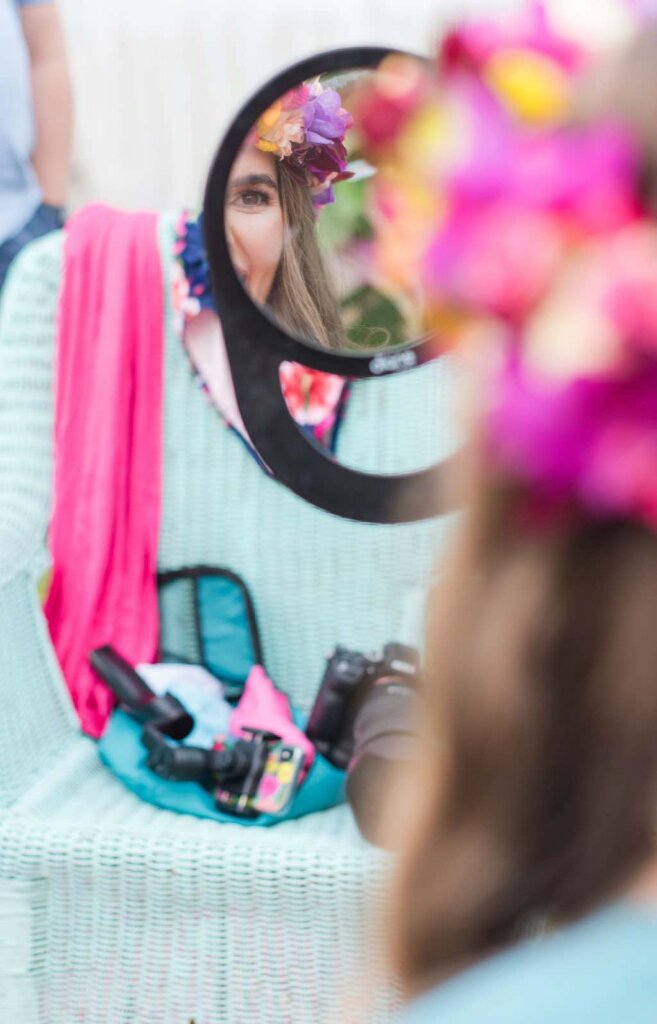 I'm always at a loss as to how to do my hair and makeup (I see way too many YouTube tutorials)! And I am so in awe of people who can do it so well!
It was such a relaxing encounter, and we had so much fun that all of us nearly forgot about the photo shoot! It felt more like a fun hangout!
KAUAI PHOTO SHOOT
As soon as my hair and makeup were completed, we placed my handmade haku lei on my head, and we were ready to shoot!
Nicolette is among the friendliest photographers I have worked with, and that instantly put me at ease.
I am someone who feels super awkward posing for photographs. I don't understand what looks great or where to place my hands, or even where to look.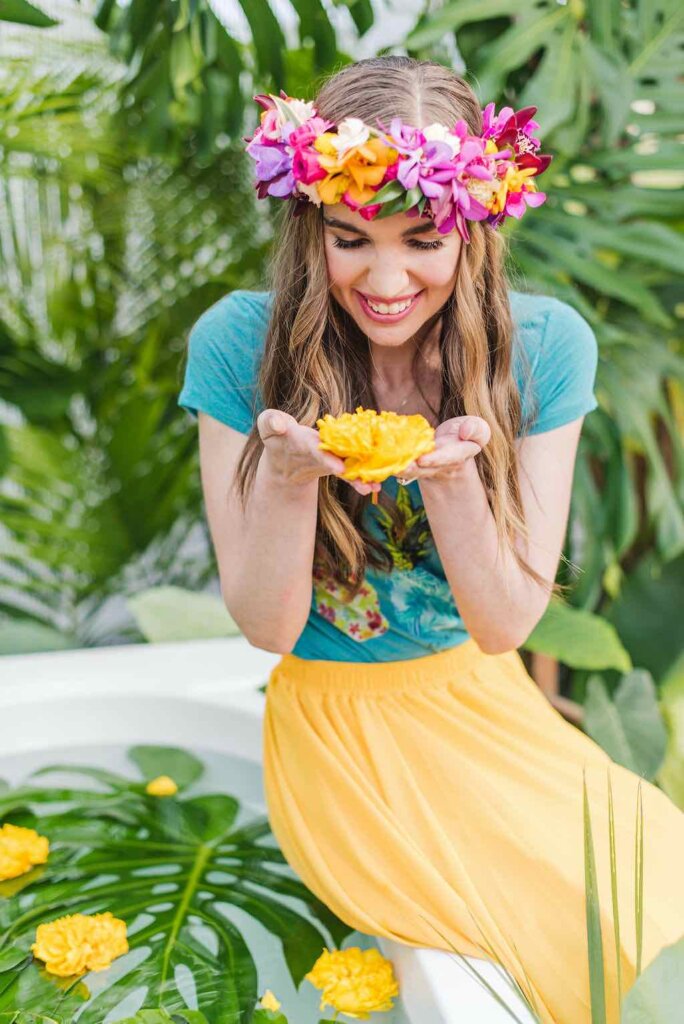 Thankfully, Nicolette is such a pro, and she gave me directions on how to pose in a relaxed, conversational manner. And it was really simple to mimic what she was doing when she showed me cute poses.
She let me know that she'd be switching lenses during the shoot and may walk about and try unique angles while I held the pose. She's a top photographer in Kauai.
I always felt in the loop, and I never felt awkward in any of the positions.
Instead, Meghan and Nicolette maintained a positive atmosphere and made me feel like I was an old pro at this. That gave me a lot of confidence, which allowed me to have even more fun!
Fun fact: Meghan really found those yellow blossoms at Smith's Tropical Paradise earlier in the day!
KAUAI JUNGLE TUB WARDROBE
They've got a cute changing area just behind the Kauai Jungle Tub. There are straw mats on the floor and a lot of room to change.
They even have towels so that you can dry off a bit in between outfits.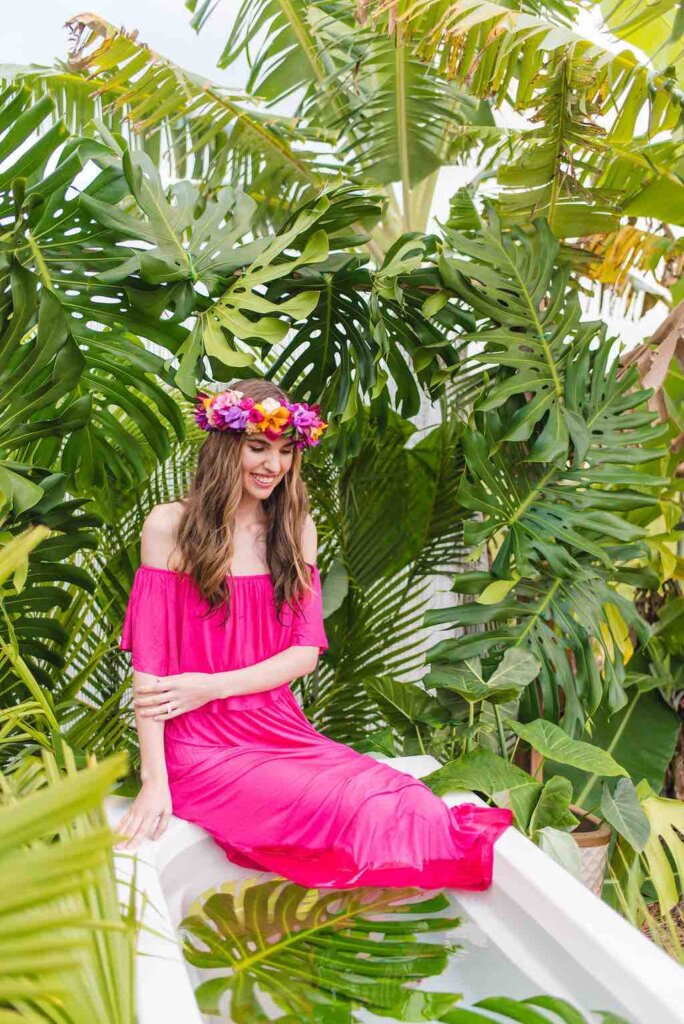 I brought 2 swimsuits, an off-the-shoulder maxi dress, a chiffon maxi skirt, and a pineapple shirt I found the previous day at Cariloha at Poipu.
It was definitely helpful to have a lot of different outfit choices so we could play around with what would look best.
FINAL RESULT OF THIS KAUAI PHOTOGRAPHY SESSION
I felt like I was a magazine model and I loved every moment of my Kauai Jungle Tub experience!
It was among the most empowering photo shoots I've done, and it really motivated me to try taking more "Instagram-worthy" pictures for the remainder of our trip, utilizing a number of Nicolette's genius tricks!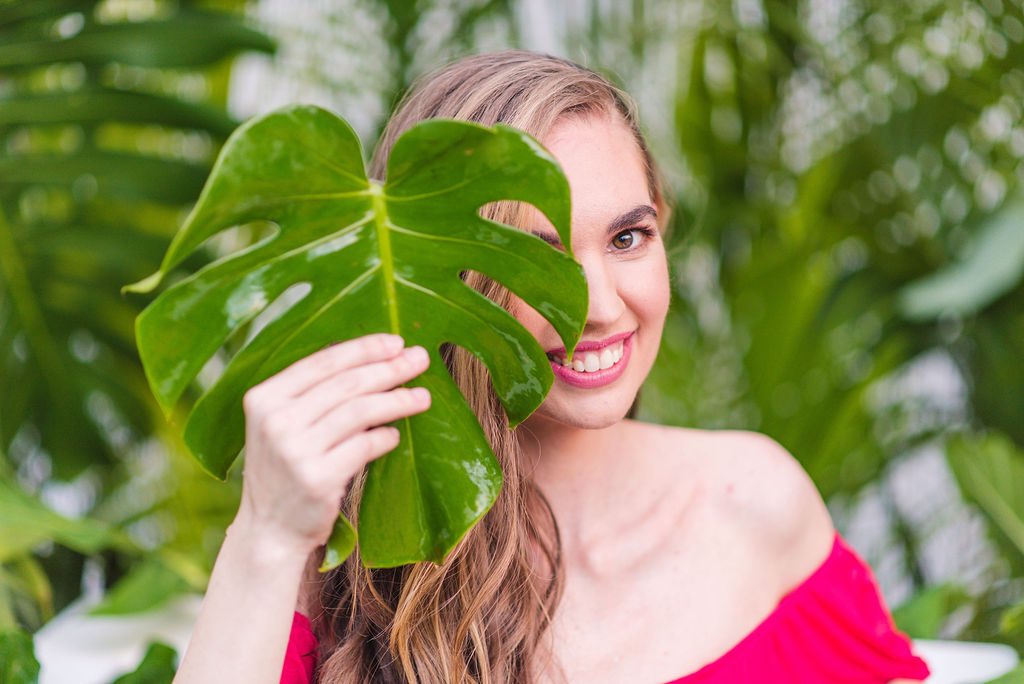 Out of all of the activities/adventures we did during our visit to Kauai, this one was my favorite. And so much of that is because it's something I did just for myself, and it was an opportunity I wouldn't have back home in Seattle.
Even as I look at these stunning images while writing this blog post, I am smiling ear to ear since I can still feel the energy and carefree vibe of the whole day!
Who Must Book a Kauai Jungle Tub Photo Shoot?
Personally, I believe this is such a great chance for mothers to get some self-care on family vacations. It's easy to get so caught up in making sure everybody else in your family is cared for that you completely forget about yourself.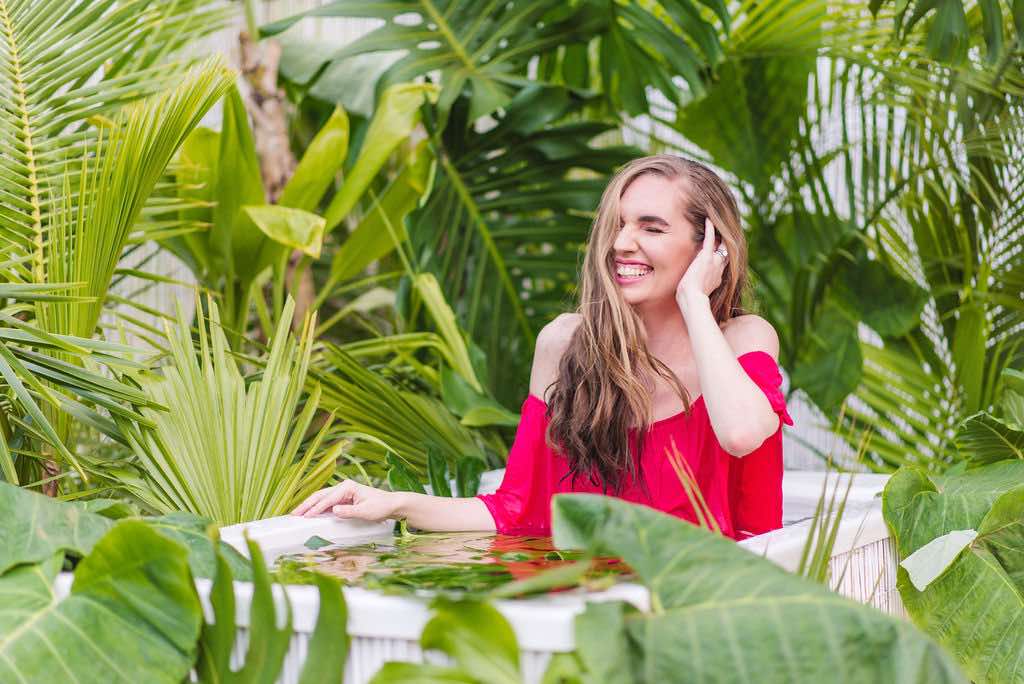 I always advocate for moms to book themselves a spa appointment or go for a very long walk alone or read a book by the pool vacation. Just do something where you can recharge and get some downtime.
For moms visiting Kauai, I definitely advise booking a Kauai Jungle Tub photo shoot. You will be pampered by these Kauai photographers and end up with some incredible photographs you will cherish for many years.
And it would make an excellent Mother's Day present!
KAUAI WEDDING PARTIES
So many people get married on Kauai (I know, my mom is a Kauai wedding officiant!) And I can think of 3 ways brides may incorporate a Kauai Jungle Tub photo shoot into their destination wedding festivities:
Kauai Bridal Shower
While I was doing my photo shoot, I kept thinking that this would be such a fun thing to do with a bridal shower!
You can sip champagne and nibble on snacks while taking turns participating in the picture shoot.
I'm all for doing experiences with family and friends, and this could definitely be a memorable bridal shower!
Pictures with Bridesmaids
For those getting married on Kauai, it may be cool to do a group photo shoot with your bridesmaids.
You can do this as part of a bachelorette party or the day of your Kauai wedding.
All the bridesmaids could get in the bathtub with the bride or take turns. You can make it a bikini shoot or do Hawaiian dresses.
Trash the Dress
Additionally, I thought this could be such a fun approach to Trash the Dress following a destination wedding on Kauai!
I wore a bright pink dress at the tub, and it was so fun with all the monstera leaves. But, imagine how gorgeous it would be using a white dress floating about you in a tub full of vibrant flowers?
And you might hop in with your new hubby in the bathtub, too!
MOMS ON THEIR KAUAI BABYMOON
Kauai is a wonderful place to go for a babymoon! It is such a relaxing island with incredible food, lush beaches, and excellent resorts with spas.
Just think how magnificent this tub would be for Kauai maternity photography! You can wear one of those flowy maternity dresses or even a floral swimsuit!
Additionally, it is much more unique than other Hawaiian maternity pictures on the beach. Plus, you'll get one of the best Kauai photographers.
KAUAI HONEYMOON COUPLES
If you're looking for romantic things to do in Kauai, this photoshoot is one of the most epic Kauai honeymoon activities.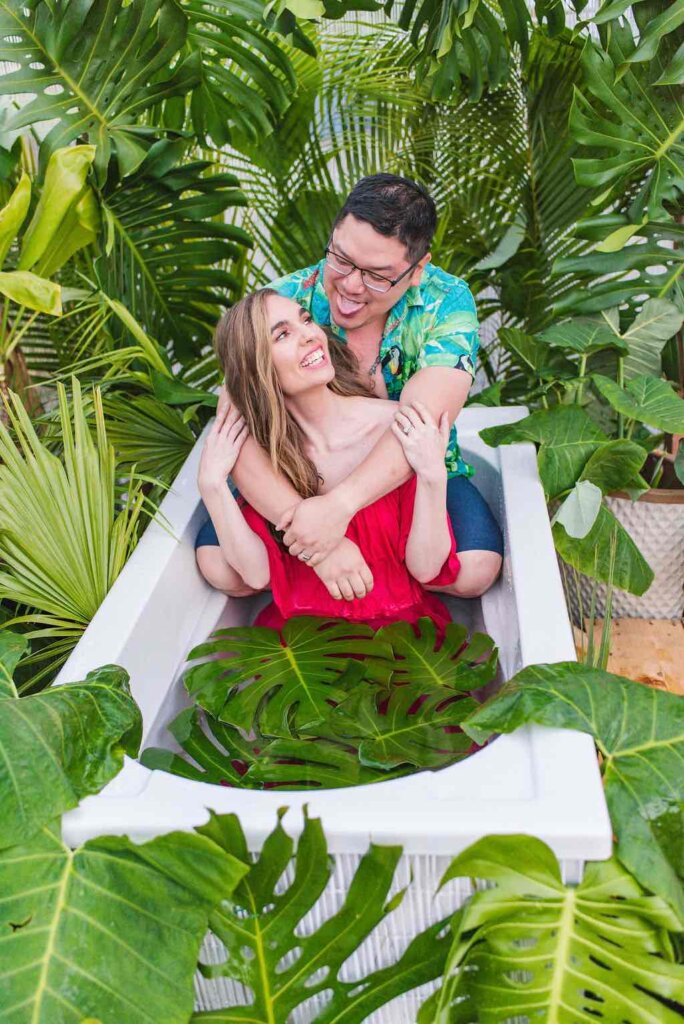 There are plenty of options for both romantic as well as silly poses to capture all the post-wedding bliss. And Nicolette is awesome for Kauai couples photography.
It's definitely one of the more unique Kauai honeymoon ideas out there, which you will cherish forever.
ANYONE WHO WANTS TO FEEL FABULOUS ON KAUAI!
However, I truly don't believe you need a reason to book a Kauai Jungle Tub photo shoot.
I think of it like a spa day. If you generally like to book yourself an afternoon of spa treatments on vacation to pamper yourself, you will love this Kauai photographer experience.
Meghan and Nicolette can make you feel like the most intriguing and stunning individual, and that feeling will stay with you long after the shoot is finished.
What to Bring to this Kauai Photography Shoot
Even though you only need to bring yourself and clothing that may get wet, I am all for maximizing photo shoots.
So, I've come up with a few things I would recommend you bring so as to make the most of your Kauai photo shoot.
HAKU LEI
You are going to need one of these Hawaiian flower crowns, called a lei po'o or haku lei.
They have been around for ages, nevertheless, they are super trendy on Instagram right now, and everyone appears to be wearing them in photos.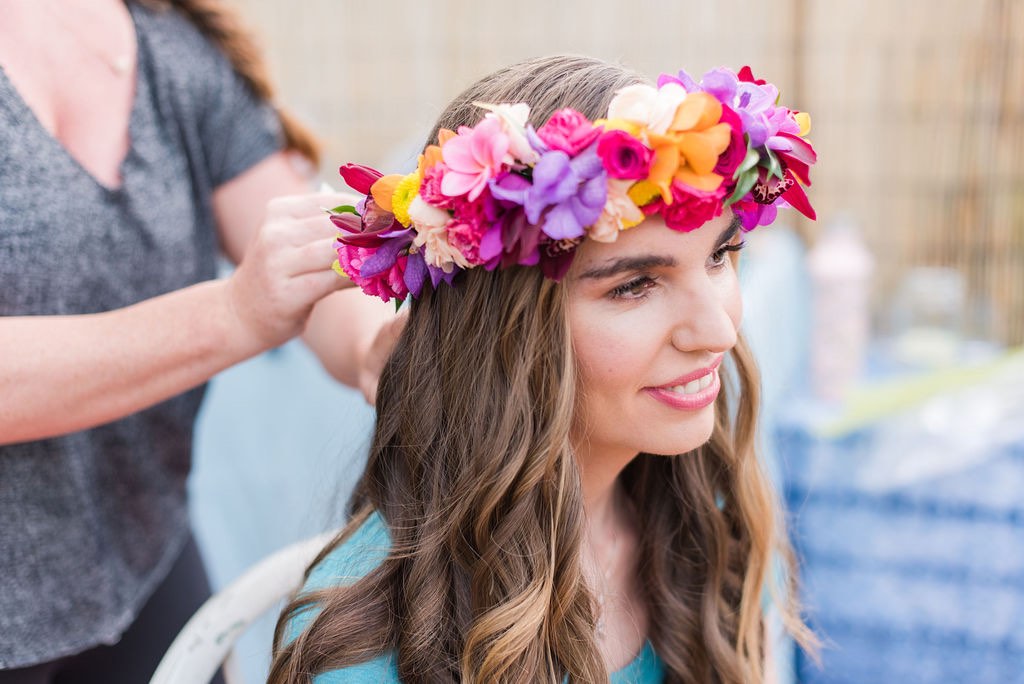 I purchased mine from Kealoha Flowers a couple of days prior to the shoot. She has a fabulous Instagram account, and I just messaged her with screenshots of the haku leis I liked.
Then, I managed to pick it up from her home in Kilauea right before our Kauai photo shoot. She had it in a cooler bag in her yard, and it was all packaged up and ready to go!
After the photo shoot, I kept it in a fridge and was able to wear it on and off for 4 more days. Talk about longevity!
I suggest keeping it covered in the refrigerator in a box or using a wet paper towel on top. And keep it in a cooler in your car if you plan on being outside all day but want to use it for a few photos.
SWIMSUIT(S)
Bring a minimum of one swimsuit since you'll be in a bathtub! There are a few local Kauai bikini designers that have some stunning choices.
Since I knew I'd be posting these photos on my blog and social websites, I chose to stay modest because I knew that would make me most comfortable.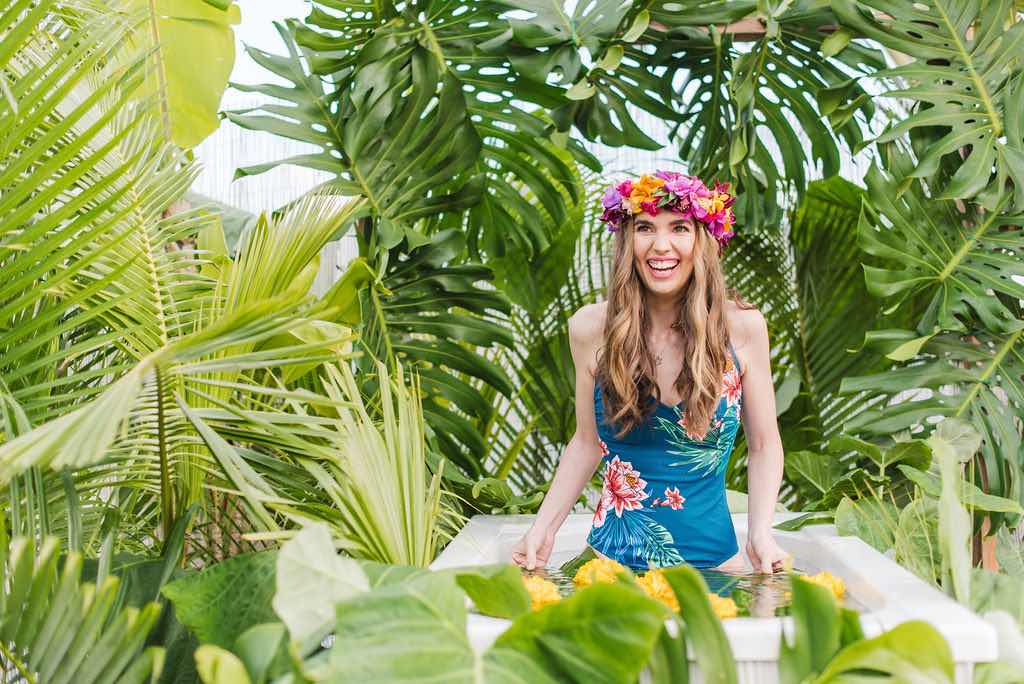 I wound up finding two or three one-piece swimsuits from Target as part of their Kona Sol swimwear line. I am seriously obsessed with these adorable suits!
The most important issue is to bring one (or 2 or 3) that you are feeling fantastic wearing because it will come through on your photos!
PAREO
They market pareos (a Hawaiian sarong) all over Kauai. They're a simple way to change up your look.
Find one that looks good with your own swimsuit, and you can wear it for photographs as you sit on the edge of your tub.
You might even learn how to tie your pareo to make a cute top or dress. This is a great resource on the best way to tie a pareo.
DRESS OR LONG SKIRT
This Kauai Jungle Tub set is indeed versatile. It's possible to take photographs near the tub or inside it. Both choices seem great while wearing long skirts or dresses!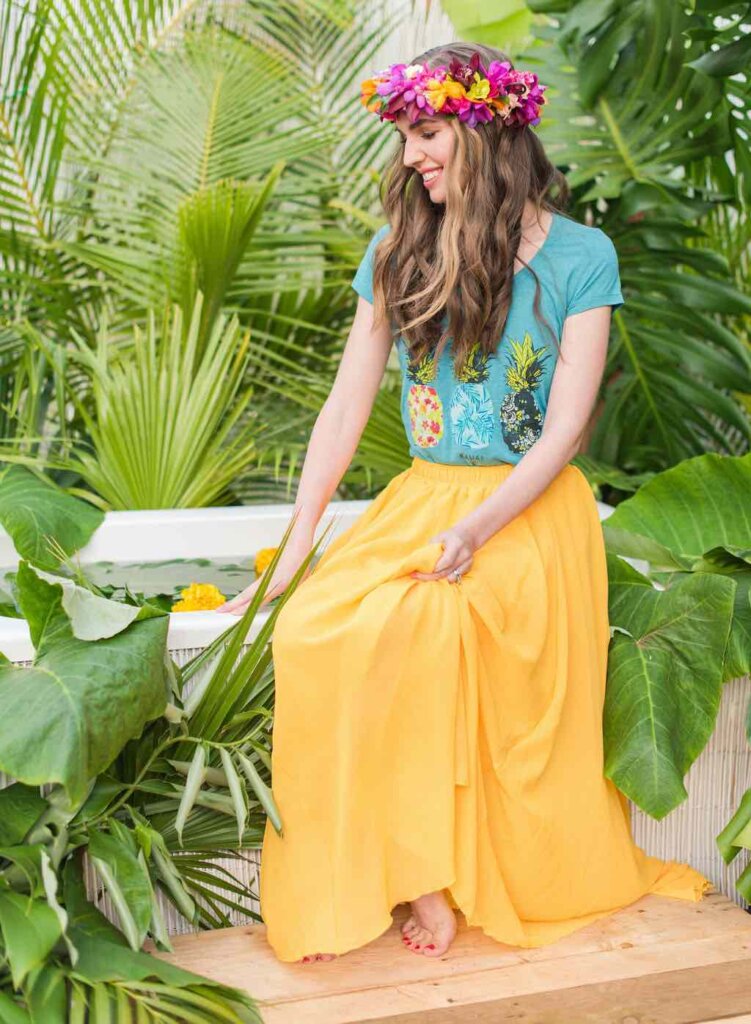 Keep in mind that the tub is white, and the background has a lot of lush, green leaves.
I wound up going with this bright yellowish maxi skirt and this pink maxi dress. I really like how the colors pop and just add a lot to the whole jungle color story!
How to Reserve a Kauai Jungle Tub Photo Shoot
Ok, have I eventually convinced you to add this to your Kauai itinerary?
Booking this Kauai photographer is super simple.
Follow @kauaijungletub on Instagram.
Send them a Direct Message mentioning you read this blog article on Hawaii Travel with Kids, and they will provide you with $100 off your photo shoot! (not available for mini sessions).
Figure out a date/time that works for everyone.
Kauai Photography FAQs
What are the best photography spots on Kauai?
There are so many amazing places on Kauai that make awesome photo spots. A few popular Kauai photography locations with photographers on this Hawaiian island include Hanalei Bay, Kilauea Lighthouse, Waimea Canyon, Wailua Falls, and Kokee State Park. There are also tons of Instagram spots on Kauai worth checking out.
What should I do before my Kauai photoshoot?
Try not to do any activities that will wear you out too much. And be sure that everyone is fed and content. I also strongly suggest you leave enough time to do your hair and makeup. And do it more than you normally would, as it will look pretty normal in photos.
What should I bring to my Kauai photography session?
It's really helpful to bring an extra outfit just in case. And bring extra makeup, a comb, and a few snacks. It can also be fun to bring along props, like a letter board, sign, ukulele, flowers, a fresh lei, tropical fruit, etc. Be sure to check with Kauai photographers in case they have any other suggestions.
SAVE $100 ON YOUR SHOOT BY MENTIONING HAWAII TRAVEL WITH KIDS
I hope this helps convince you to invest in yourself with this one-of-a-kind Kauai Jungle Tub photo shoot for your next Kauai vacation!
This is definitely one of the most unique things to do in Kauai, and you'll treasure these photos forever! Be sure to check out my list of Hawaii Instagram captions, and Hawaii quotes to post with your photos!
Kauai Jungle Tub provided services in exchange for a fair review. All comments are my own. I loved it and can not wait to do it again!