Thinking about visiting Pearl Harbor with kids? Find out whether or not you should add the USS Battleship Missouri at Pearl Harbor to your Oahu itinerary!
This post about the USS Battleship Missouri at Pearl Harbor was written by Hawaii travel expert Marcie Cheung and contains affiliate links which means if you purchase something from one of my affiliate links, I may earn a small commission that goes back into maintaining this blog.
When my husband and I toured Pearl Harbor about 11 years ago, one of our favorite historical sites was the USS Battleship Missouri. It's a really massive ship, and touring it was a completely immersive experience.
So, when we decided to spontaneously plan a Pearl Harbor day on our most recent trip to Oahu with kids, we knew we wanted to revisit the USS Battleship Missouri.
We had our 4-year-old and 7-year-old with us, and they only had a basic understanding of the attack on Pearl Harbor. Therefore, we knew it was a total gamble whether or not they'd be interested in exploring the USS Battleship Missouri at Pearl Harbor.
For our Pearl Harbor day with kids, we only visited the USS Battleship Missouri and the Pearl Harbor Aviation Museum. We spent about 6 hours at Pearl Harbor.
Keep scrolling to see what our experience was like visiting the USS Battleship Missouri with kids.
Get your USS Battleship Missouri tickets HERE!
Don't have time to read a bunch of Hawaii blog posts and reviews? Here are some of our top picks for visiting Oahu with kids.
Best Kid-Friendly Oahu Tours/Activities
Best Kid-Friendly Oahu Resorts
Want to Rent a Car in Hawaii?
One of the best places to rent a car in Hawaii is Discount Hawaii Car Rental because they get the best rates from top national companies like Alamo, Dollar, Thrifty, Avis, Enterprise, Budget, and Payless.
Want to skip all the planning and just access my detailed Oahu Itinerary complete with daily schedules, kid-friendly activities, and travel hacks? Click the button below.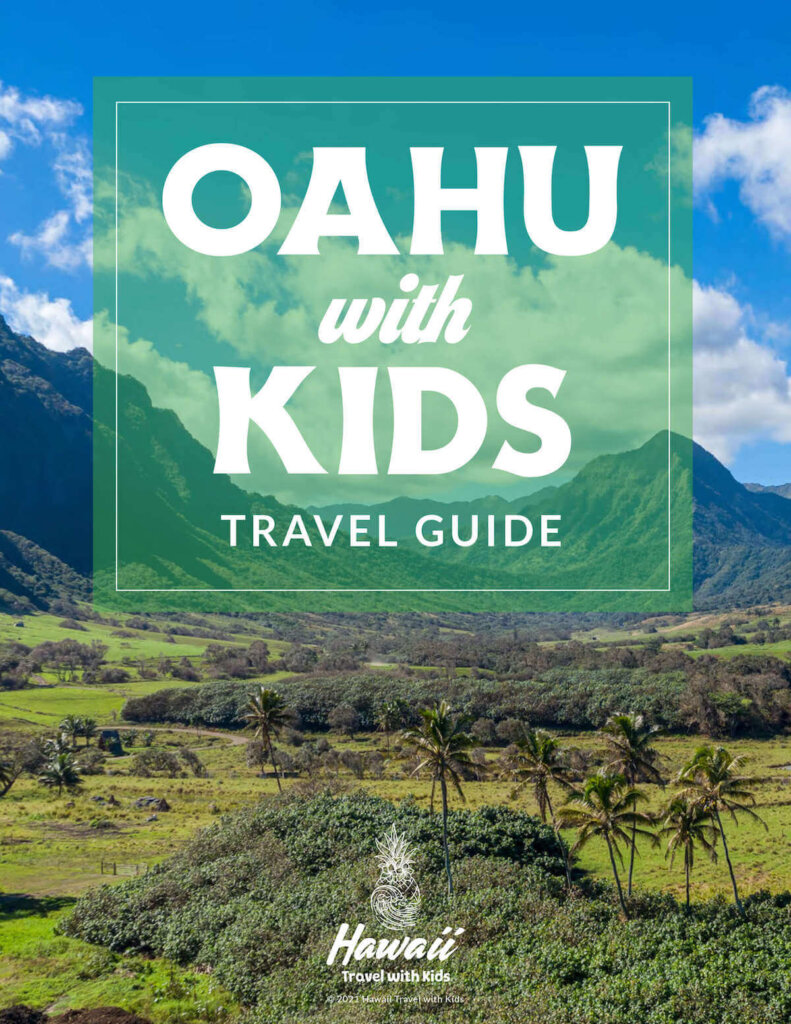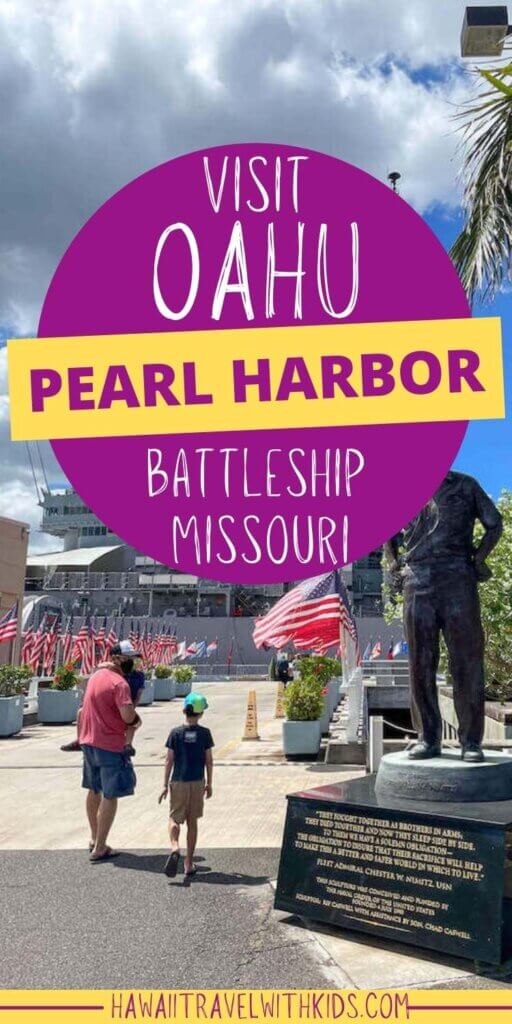 Why is the USS Battleship Missouri Important?
While most people know that the USS Arizona sank when the Japanese attacked Pearl Harbor on December 7, 1941, a lot of people don't know about the USS Missouri Battleship.
This is actually the site where the Japanese surrendered, ending WWII.
The USS Missouri is also the last battleship ever built. It was launched on January 29, 1944, and has remained active in various capacities for over 70 years since then.
In 1999, the Battleship Missouri Memorial opened at Pearl Harbor and welcomed more than 9 million visitors. It is one of the top Pearl Harbor historic sites.
For a lot of families, this is a really special experience to walk through a living museum.
What to Expect at the USS Battleship Missouri at Pearl Harbor
Here is everything you need to know about the Battleship Missouri Memorial to prepare for your visit.
Free Pearl Harbor Shuttle
When you arrive at Pearl Harbor, you'll need to leave your bags at their baggage lockers and then go through security. The locker fee is $6.00 per bag or $7.50 per large bag and/or luggage. Clear bags (like for sporting events) are okay to bring into Pearl Harbor.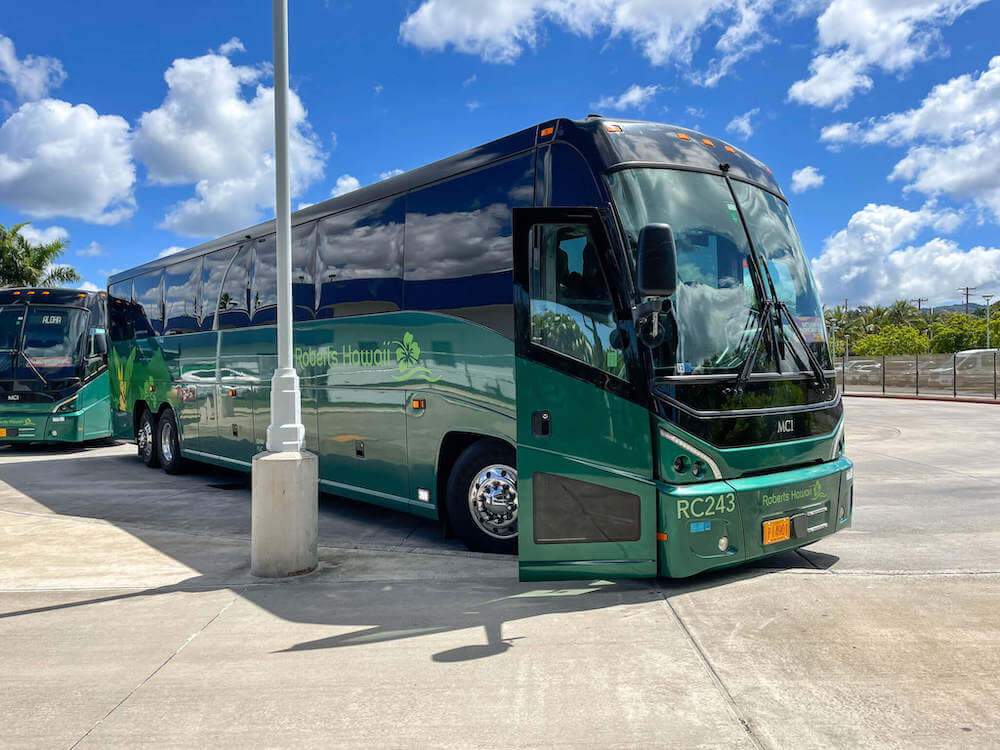 Once you've made it through security, turn right and wait for the Pearl Harbor Shuttle to pick you up. There's undercover seating available, which is handy if it's raining or just too hot outside.
It's a fairly short shuttle ride to the USS Battleship Missouri. The shuttle will drop you off right in front of the entrance. If you stay on the shuttle, it will take you to the Pearl Harbor Aviation Museum and then back to the Pearl Harbor Visitor's Center.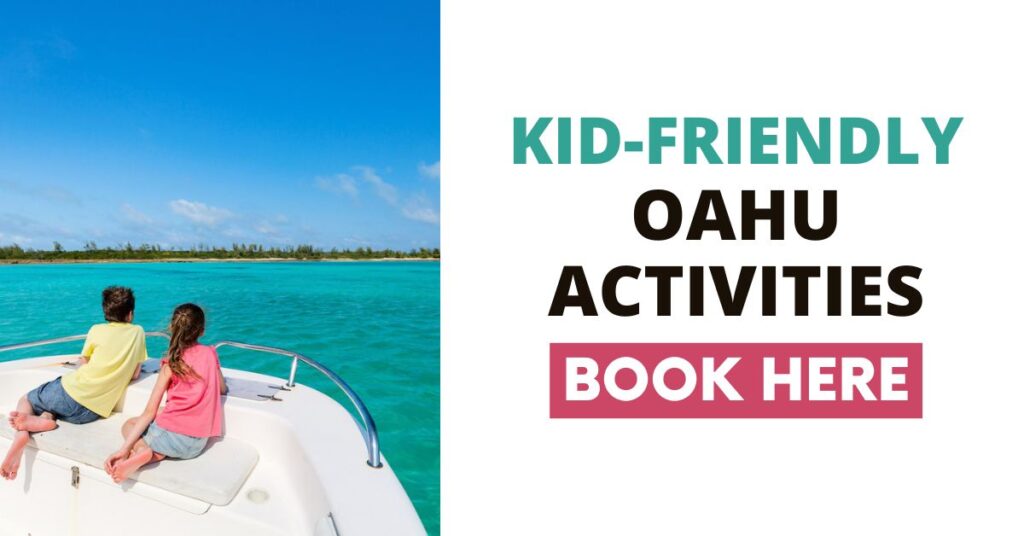 Things to See on the USS Battleship Missouri
Entrance
It's kind of hard to explain, but the walkway to the USS Missouri is quite impressive. There are rows of American flags lining the path. Plus, there's a statue of Fleet Admiral Chester W. Nimitz, who directed the War of the Pacific. They also named a highway after him.
Main Deck
The first thing you'll do is head up to the Main Deck. This does require climbing up a bunch of stairs, and then you'll walk across a plank to get there.
Once you get there, you'll find volunteers who are eager to tell you all about Mighty Mo! There are tons of historic photos and plaques with more information.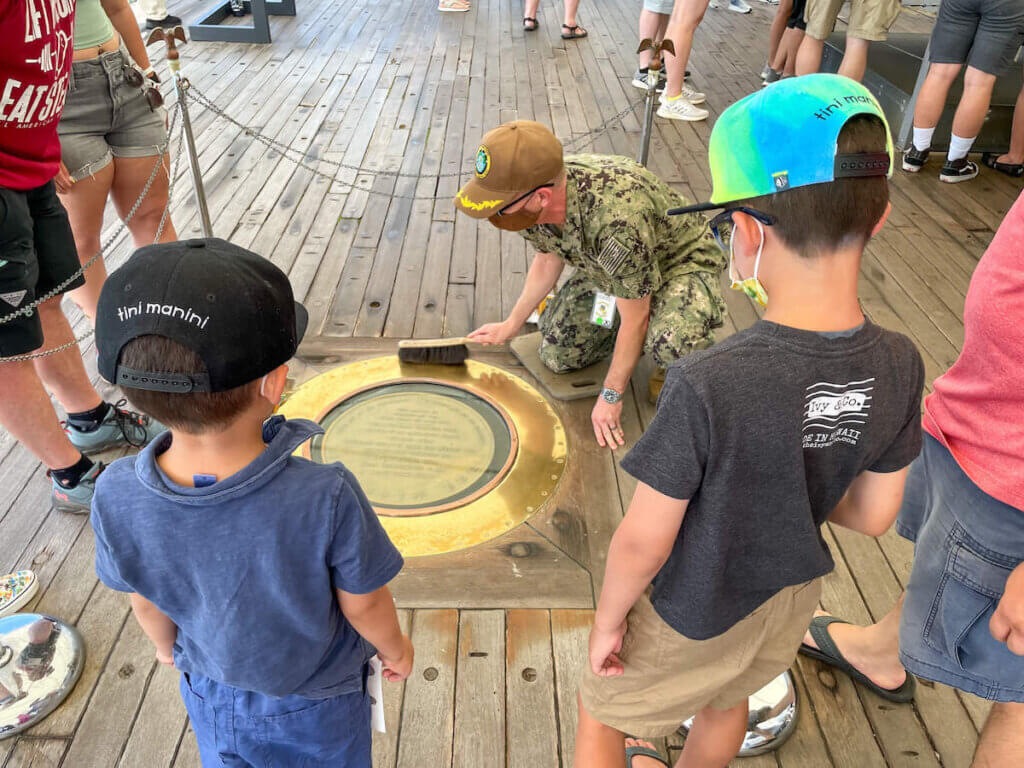 While we were there, we got to watch them clean the plaque indicating the spot where the signing of the Unconditional Surrender took place. I think he said they clean it every 2 weeks. For my kids, this was one of the most interesting things they saw on the USS Battleship Missouri.
In case you're wondering, the plaque reads: "Over this spot on 2 September 1945, the Instrument of Formal Surrender of Japan to the Allied Powers was signed, thus bringing to a close the Second World War – The ship at that time was at anchor in Tokyo Bay. Latitude 35° 21′ 17″ North. Longitude 139° 45′ 36″ East."
Inside the Ship
From the Main Deck, you'll head down into the belly of the ship. That's where you'll find the permanent and temporary exhibits, historic displays, and all sorts of cool military stuff.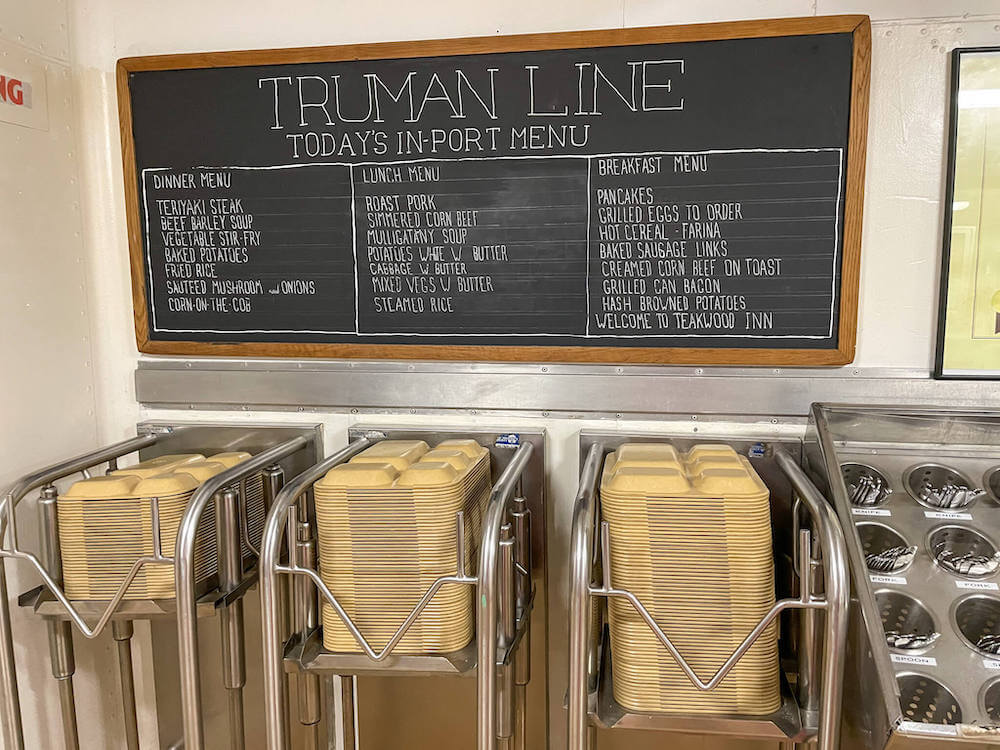 Our favorite areas were the kitchens (they even added in pretend food like loaves of bread) and the sleeping chambers. It's amazing how many sailors are housed in each space!
Permanent Exhibits and Historical Displays
In addition to exploring the ship itself, there are also tons of museum-quality exhibits and displays set up. Here are the permanent ones you can see:
Divine Wind: Kamikaze and the Battle for the Pacific
One of the most moving exhibits is all about Japanese kamikaze pilots. It features farewell letters, personal poems, photographs, uniforms, and other kamikaze artifacts that usually aren't displayed outside of Japan.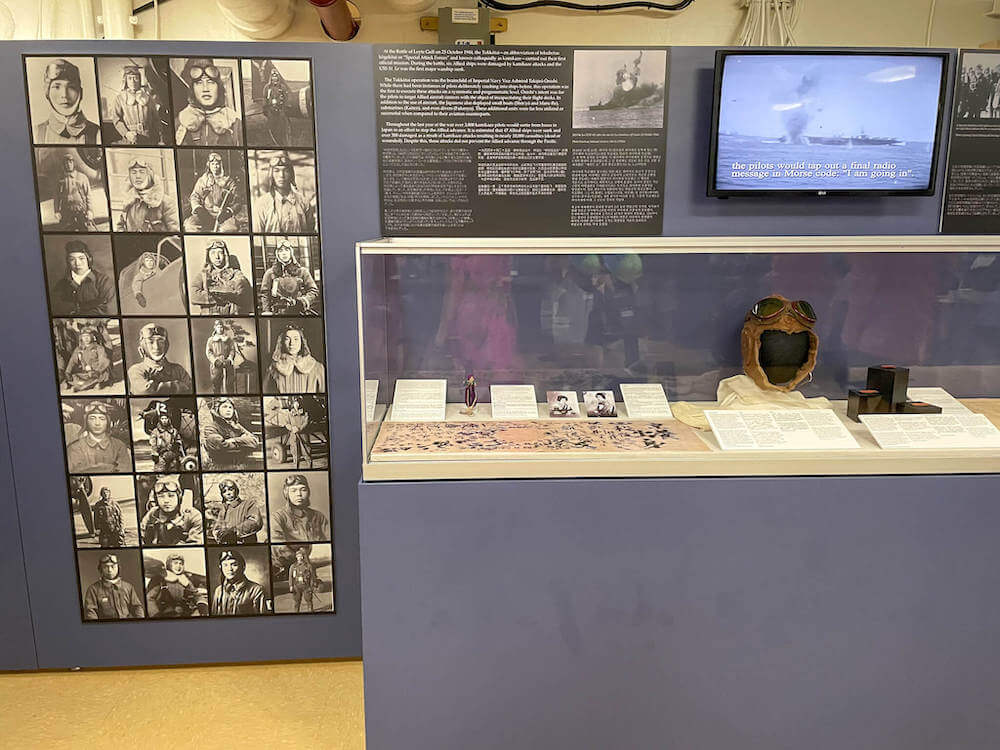 It's really sobering to walk through, especially seeing the family photos.
The USS Missouri was actually struck by a kamikaze plane on April 11, 1945. The pilot was given a military burial the next day. You can see the spot it hit on the Main Deck.
Crew's Room Exhibit
While we associate the USS Missouri with WWII, it actually was a working battleship from the 1940s through the 1980s.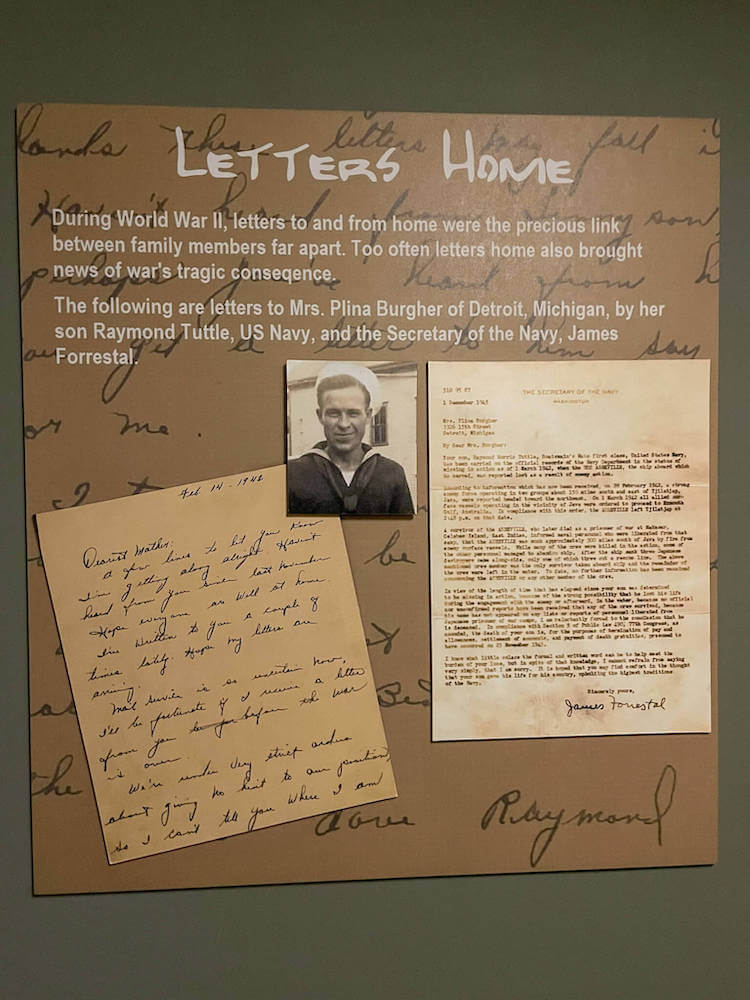 This exhibit showcases personal items from crew members who served on the ship during those years. My favorite was the letters home. It really added that personal experience to what life was like living on this big ship.
The Chief Petty Officers (CPO) Legacy Center
Located in the CPO Mess area, this is an exhibit all about the US Navy chiefs. You'll see where they ate, slept, and relaxed.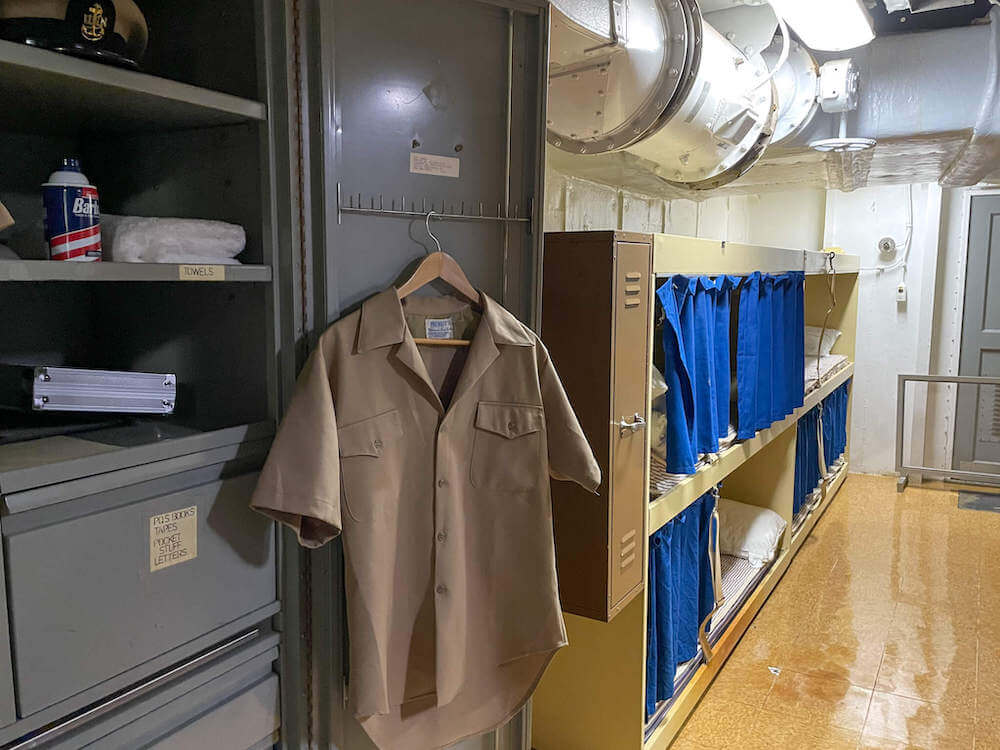 Plus, they have cool artifacts like uniforms, weapons, and even a medal of honor.
World War II Exhibit
Step back in time by checking out a 1940s-style living room. Here, you'll find WWII artifacts spanning the bombing of Pearl Harbor all the way to the Japanese surrender on the USS Missouri.
This exhibit was actually temporarily closed when we went in June 2021.
Wardroom Displays
Finally, on the Main Deck, there's a display area featuring pieces of the USS Arizona. Plus, you can learn about all the military ships that are named after the state of Missouri, including the USS Missouri submarine.
Rest of the Main Deck
When you are done exploring inside the ship, you'll head back up to the Main Deck. This time, you'll head to the opposite end. This is where they have the 9 huge cannons, which makes the ultimate photo spot.
Apparently, these are the largest guns that have ever been mounted on a U.S. ship. And they are massive! Each one is 65 feet long and weighs about 116 tons.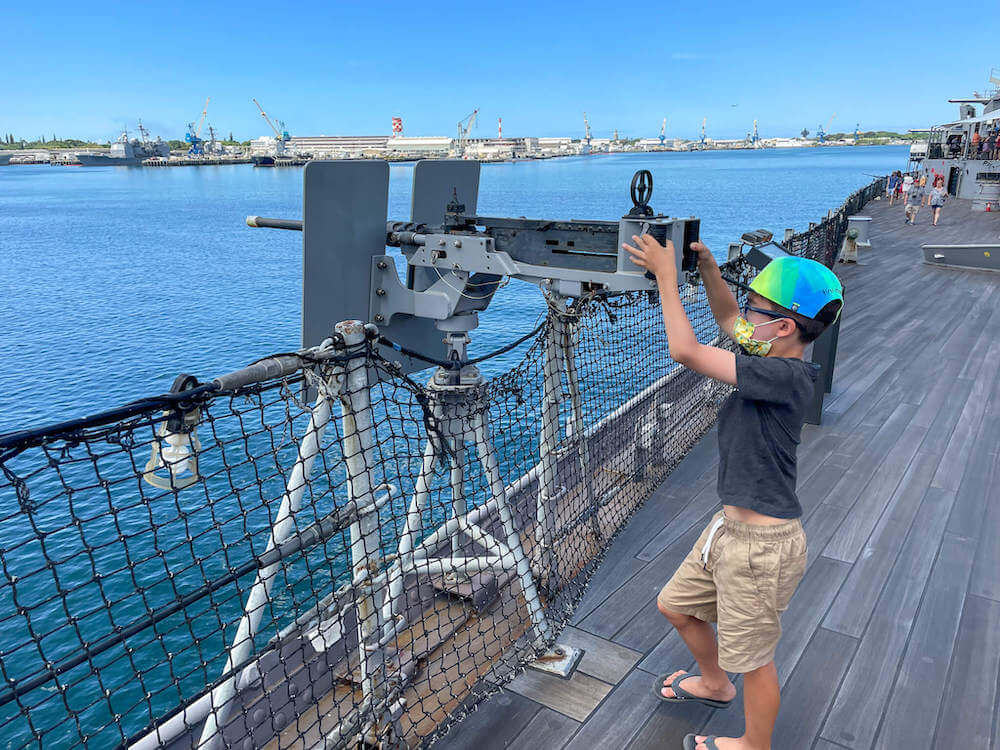 There are also places where you can maneuver unloaded guns on the ship and see torpedoes. This was an area my kids really liked exploring.
Upper Deck
Finally, you can climb up more stairs to get to the Upper Deck. This is where you can see the Captain's chair. I believe this is the Navigation Bridge.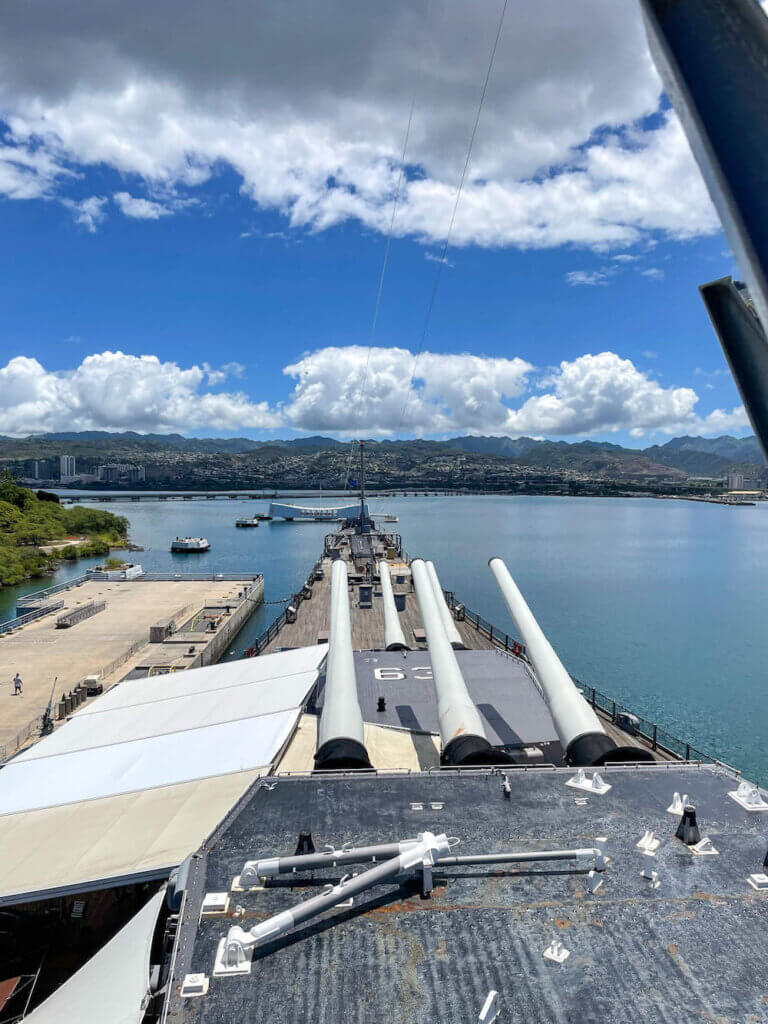 I took the photo above, and you can even see the USS Arizona Memorial. When you're on the Main Deck, you'll have lots of places to take photos of the USS Arizona Memorial.
Food Options at USS Battleship Missouri
When we arrived at Pearl Harbor, my husband was chatting with an employee who recommended that we grab food at the USS Missouri. She said they had more food options than the other areas at Pearl Harbor.
Since we did an early morning tour, we weren't quite ready for lunch yet. Although they had some great options.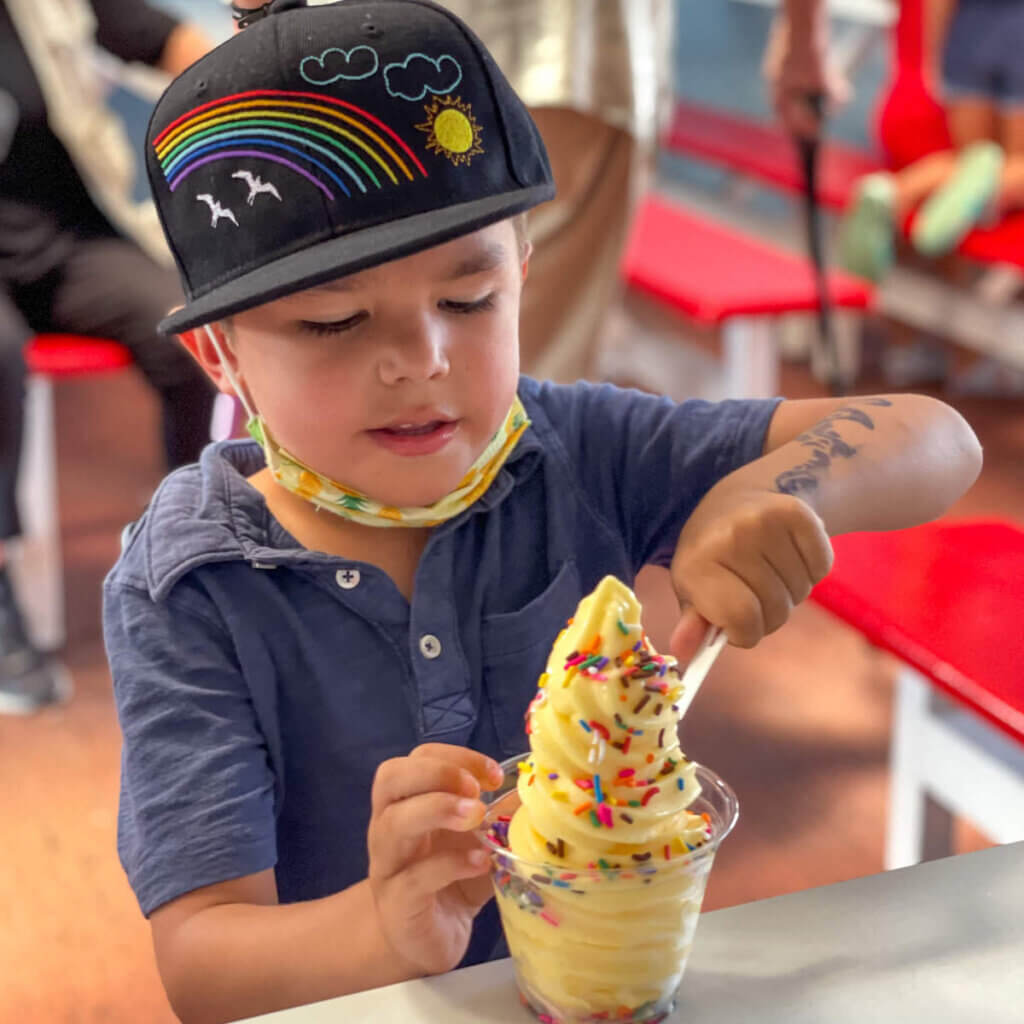 Battleshop
There's a cute gift shop right outside the USS Battleship Missouri Memorial called Battleshop. They sell bottled juices, water, and soda. You can also pick up snacks and locally-made ice cream and sorbet.
Slider's Grill
If you're looking for a hot lunch, this food truck sells Hawaiian plate lunches and hamburgers. They have lots of seating available that have awesome views of the USS Arizona Memorial.
Wai Momi Shave Ice
Beat the heat at this cute shave ice stand. They also sell pizza slices and large churros.
So, is it Worth Bringing Kids to the USS Battleship Missouri Memorial?
I'd say it really depends on your kids and their interest level in ships or history. Some kids might totally geek out, while others will think it's boring.
Honestly, my kids (ages 4yo and 7yo) were hot and bored the entire time. The only saving grace is that we promised them Dole Whip after our self-guided tour to cool off and re-energize.
While they were unimpressed with Mighty Mo, they had a blast touring the Pearl Harbor Aviation Museum right after. But they are really into airplanes.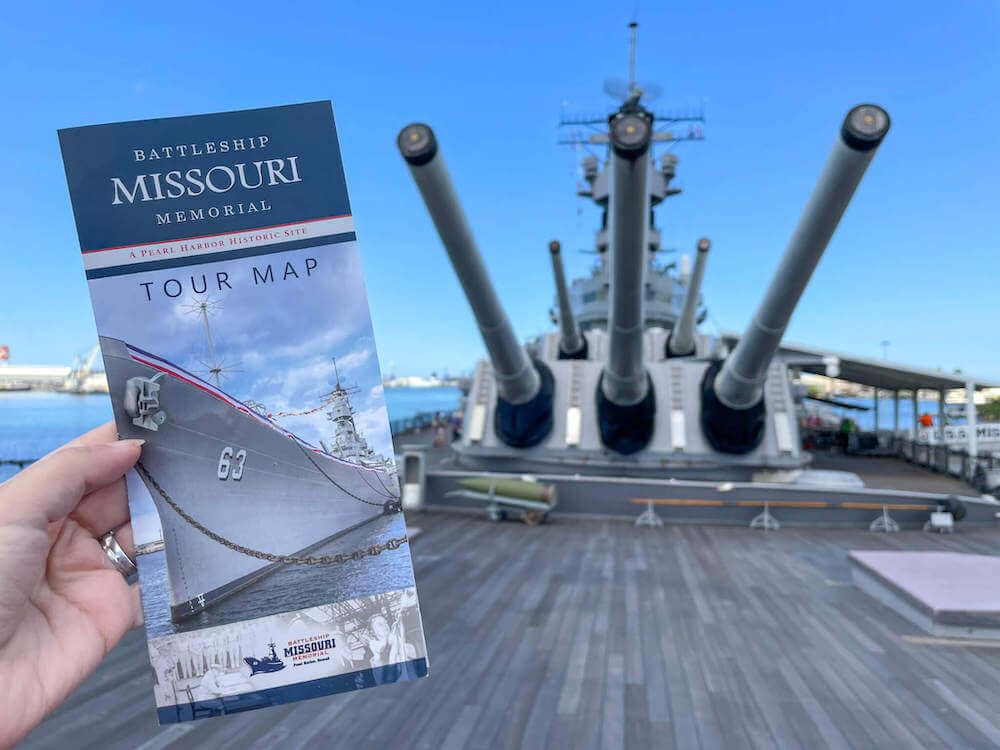 USS Battleship Missouri Tips for Families
If you do decide to add Mighty Mo as one of your Pearl Harbor activities, here are a few things to keep in mind.
The Stairs are Steep
There are a ton of stairs to get all over the ship. Some of them are even ladders. This is important to think about if you are visiting Pearl Harbor with toddlers or preschoolers.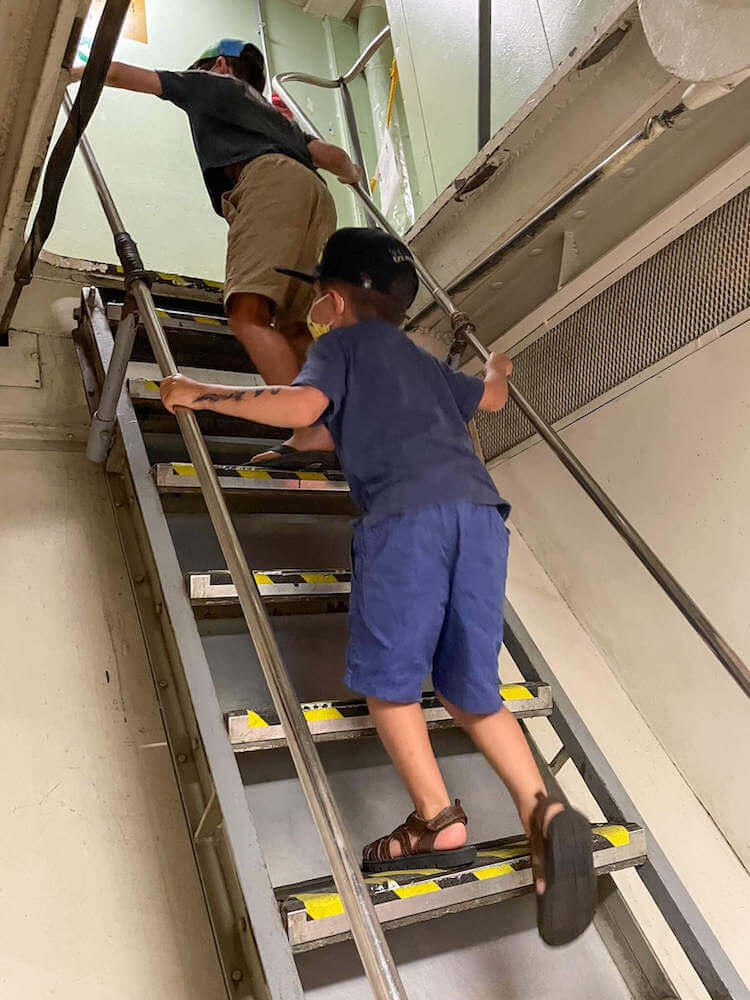 My boys (ages 7yo and 4yo) were able to do them, but my 4yo definitely got tired.
Be Mindful of Time
You'll want to think about how many Pearl Harbor activities you plan to do so you don't run out of time. It's easy to spend a lot of time at the Battleship Missouri Memorial (it's HUGE)!
Keep tabs on your kids, too. If they are starting to get bored, either move a little quicker or take them for a quick break to get snacks/drinks.
It Can Get Hot
The Main Deck area can get super hot, especially during the summer. It can be a lot cooler when you get inside the ship, but it can also feel a bit stuffy.
That's why I recommend visiting the Battleship Missouri Memorial early in the morning. Not only will you beat the mid-day heat, but you'll also have enough energy to really explore.
USS Missouri Tours
If you think your family would benefit from taking a USS Battleship Missouri Memorial tour, there are a few options worth checking out.
This tour is really handy if you aren't renting a car. You'll get picked up in Waikiki and then head to the USS Arizona Memorial and the USS Missouri before heading back to our hotel. It's a small group tour, and you'll even see cool sights along the drive. Check latest rates and more information.
If you think you want to try to do all four Pearl Harbor attractions, this tour is a great idea. It will keep you on track so you don't miss anything. They will pick you up in Waikiki, and you can even add on lunch, if you like. It is perfect for those wanting to learn more about World War II. Check latest rates and more information.
USS Battleship Missouri Memorial FAQs
What are the Battleship Missouri Memorial's hours of operation?
While Pearl Harbor itself is open 7 am-5 pm, the USS Battleship Missouri is open 8 am-4 pm. You will need to purchase a ticket to enter, and you'll take a shuttle from the Pearl Harbor Visitor Center to get to Ford Island, where the USS Battleship Missouri resides.
Are they restoring the USS Battleship Missouri?
Yes! It's an ongoing project. In October 2009, the ship was taken to the Pearl Harbor Naval Shipyard for a major restoration, and it's now protected from corrosion. In 2017, they did a bunch of repairs to the 05 levels and above. In 2019, they dehumidified the ship and restored 53,000 square feet of teak decks.
How long do the tours take?
Your admission ticket includes a Mighty Mo tour that takes about 35 minutes. But it's totally optional. If you explore at your own pace and move quickly, you can see the ship in about 30 minutes. However, if you like to stop and read everything, it could take up to 5 hours.
Is Pearl Harbor for kids?
Honestly, it really depends on the ages of your kids and their interest level in WWII. You won't really find kid-specific activities here (although the Pearl Harbor Aviation Museum does have a flight simulator).
Did the USS Missouri fight in Pearl Harbor?
The USS Missouri fought in World War II, but it did not have anything to do with the attack on Pearl Harbor. It is a historic battleship that symbolizes hope and victory from the attack.
Did the USS Missouri ever see combat?
The USS Missouri was on active duty when the Korean War started.
What role did the USS Missouri play in Pearl Harbor?
The USS Missouri helped with the Iwo Jima and Okinawa invasions and hosted the ceremony of the Japanese surrender in 1945.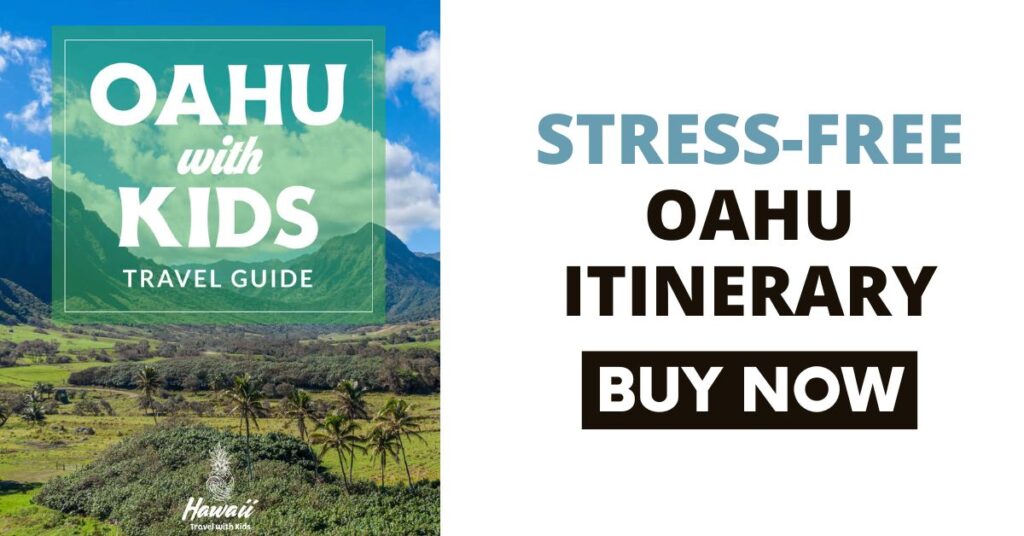 USS Missouri Wrap-Up
This pacific national monument is fun to explore, especially with older kids. Younger kids might struggle with the steep stairs on this American battleship.
It is fun to see where World War II ended on the surrender deck where Japan surrendered, and learn more about this fascinating museum ship from your tour guide!
Even though this was not a part of the attack on Pearl Harbor, the USS Missouri served in many wars and was a major part of ending World War II.
So, climb aboard and explore it today, along with the Pearl Harbor Visitor Center, USS Arizona Memorial, and even the USS Bowfin Submarine Museum too!
P.S. Join our Hawaii Travel with Kids Facebook group to get connected with other families planning a trip to Hawaii!