Hawaii is a tropical paradise full of velvety green forests, crystal clear waters, intense volcanoes, and postcard-perfect beaches. It really is the dreamiest destination for anyone looking to get away from the hustle and bustle of everyday life.
With a 10,970 square mile landmass stretching over the most stunning coastlines, you'll never run out of places to explore!
But if you really want to really get into the Hawaiian spirit, you can't go where every other tourist is going, right?
The Aloha State is full of hidden waterfalls, secluded black sand beaches, wild shipwreck sites, and secret caves that offer a glimpse into the diverse beauty that makes the Hawaiian Islands so special.
And luckily for us, many of these places are not overflowing with tourists (at least, not all the time!)
So here are a few of my favorite Hawaii hidden gems you might not know about. Make sure to add these places to your Hawaii bucket list!
Want to skip all the planning and just access my detailed Hawaii Itineraries complete with daily schedules, kid-friendly activities, and travel hacks? Click the button below.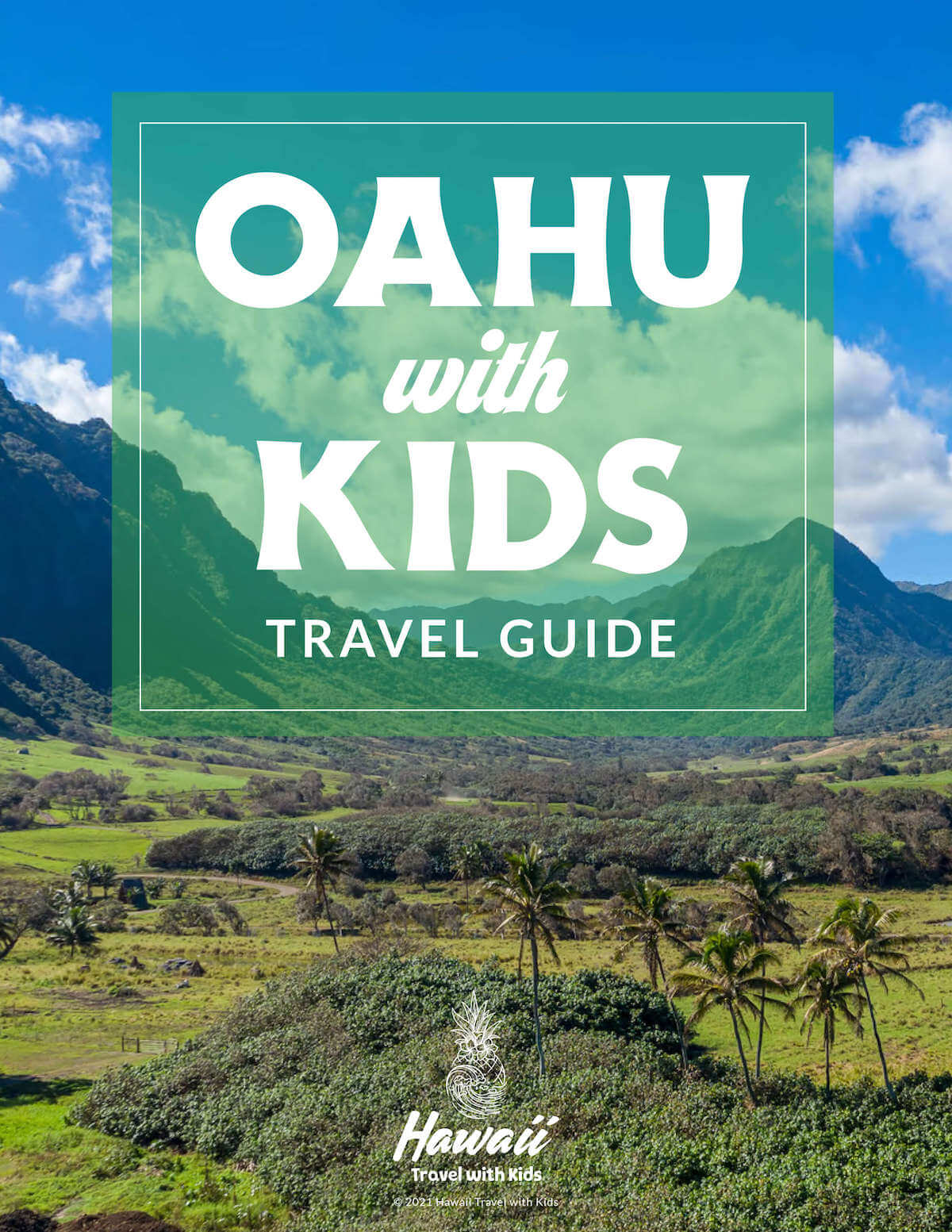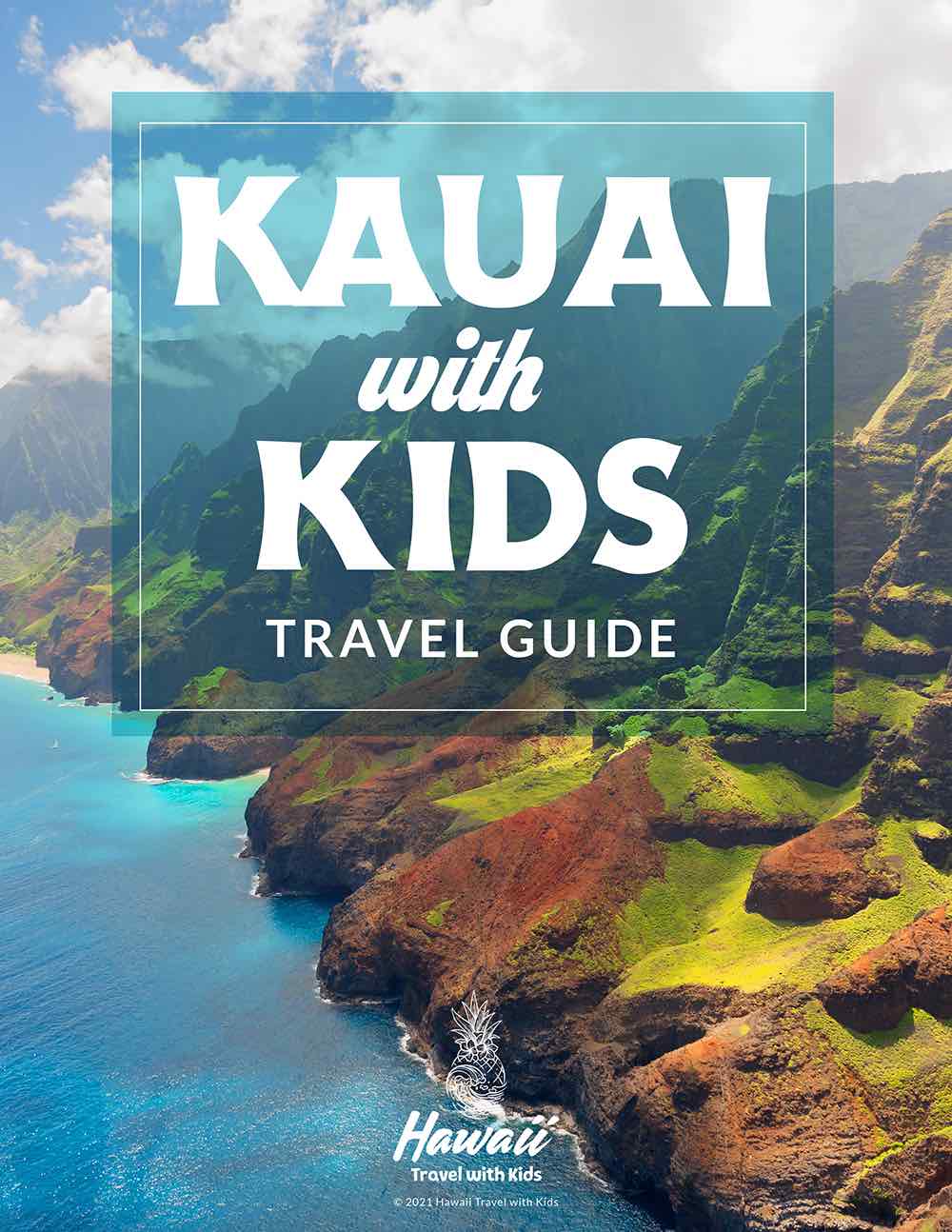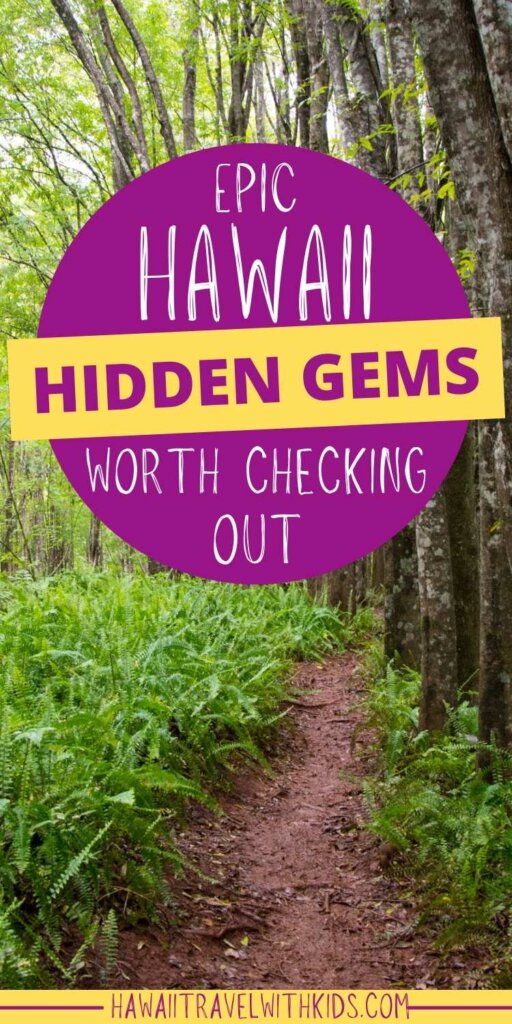 Do you want to see some epic secret places in Hawaii? Check out these Hawaii hidden gems that will blow your mind!
1. Mermaid Caves, Oahu
Don't miss out on exploring the breathtaking Mermaid Caves, one of the most beautiful sights in Oahu. This treacherous cavern formation is located near Nanakuli Beach Park / Kalaniana'ole Beach Park. There's a bit of a trek involved to get there, but it's totally worth it. It's one of the top Oahu hidden gems.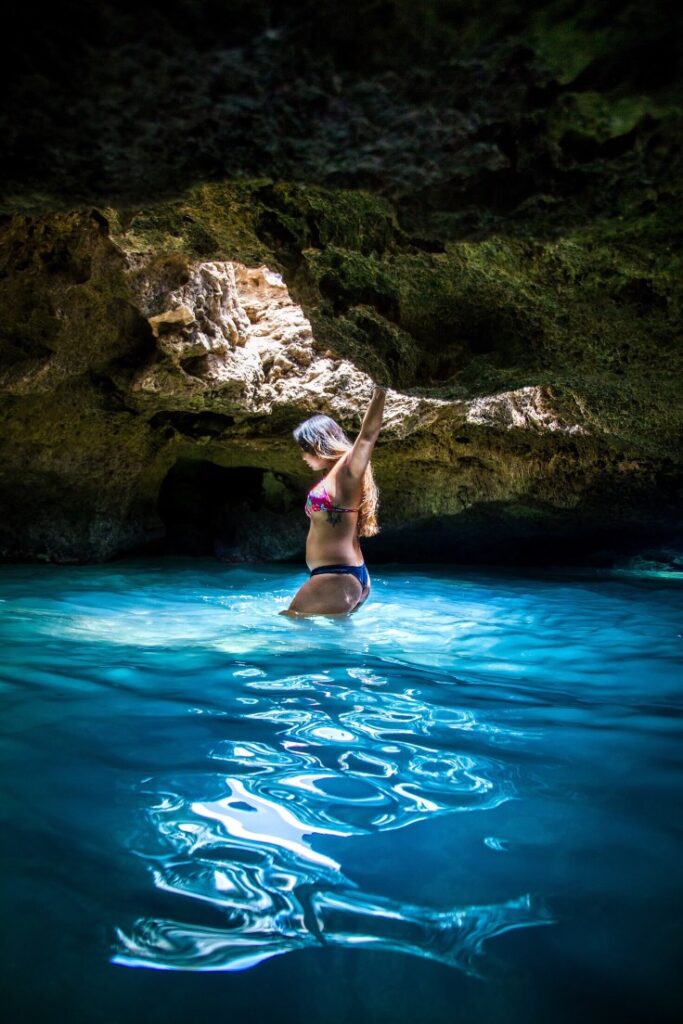 Walking into these magical cave tunnels will make you feel like you're descending deep into the Earth. But you're actually only a few feet underground.
But getting into the cave can be tricky. You'll need to jump from a giant hole, and there's also a bit of contorting involved to pull yourself up. So I don't recommend going down unless you know what you're doing.
So in order to stay safe and make the best of your Hawaiian getaway, just enjoy the views from above and watch how other daredevils jump into the ocean from the cliff above the cave. The little ones will have a blast watching all the action safely from the top!
2. Elusive Wallaby Colony of Kalihi Valley, Oahu
Hawaii is home to a huge variety of animals like whales, sea turtles, dolphins, coral reefs, and thousands of different species of fish. But there is one animal you probably didn't expect to find in Hawaii: the wild brush-tailed rock wallaby.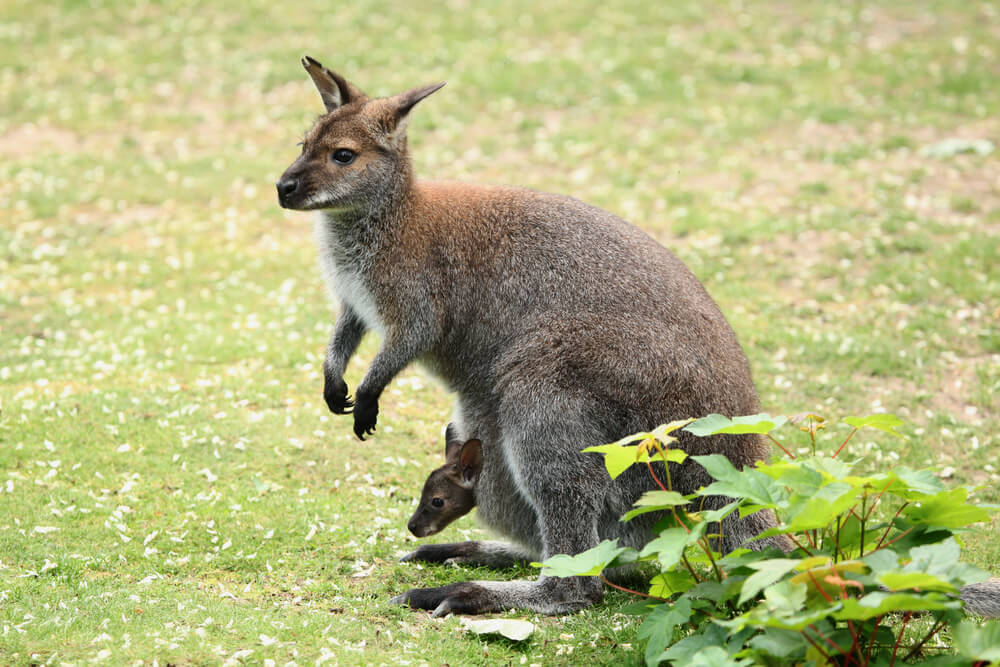 Though originally from Australia, the wallaby has made its way to Oahu and established a small colony in the Kalihi Valley.
But how did these tiny marsupials end up there?
Well, in 1916, three non-native wallabies were brought to a private zoo in Kalihi. But two of them (a male and a female) escaped and ran into the valley. Eventually, Mother Nature did its thing, and today, you can find a colony of wild wallabies living in the heart of Kalihi Valley.
Of course, your chances of seeing a wallaby are pretty slim. But the locals have spotted them in the wild and even managed to capture them on film, so you never know!
3. The Makawao Forest, Maui
The Makawao Forest on the island of Maui is an enchanting paradise tucked away in the clouds. Located at approximately 4,000 feet above sea level, you'll find plenty of opportunities to connect with Mother Nature as you make your way through miles upon miles of trails.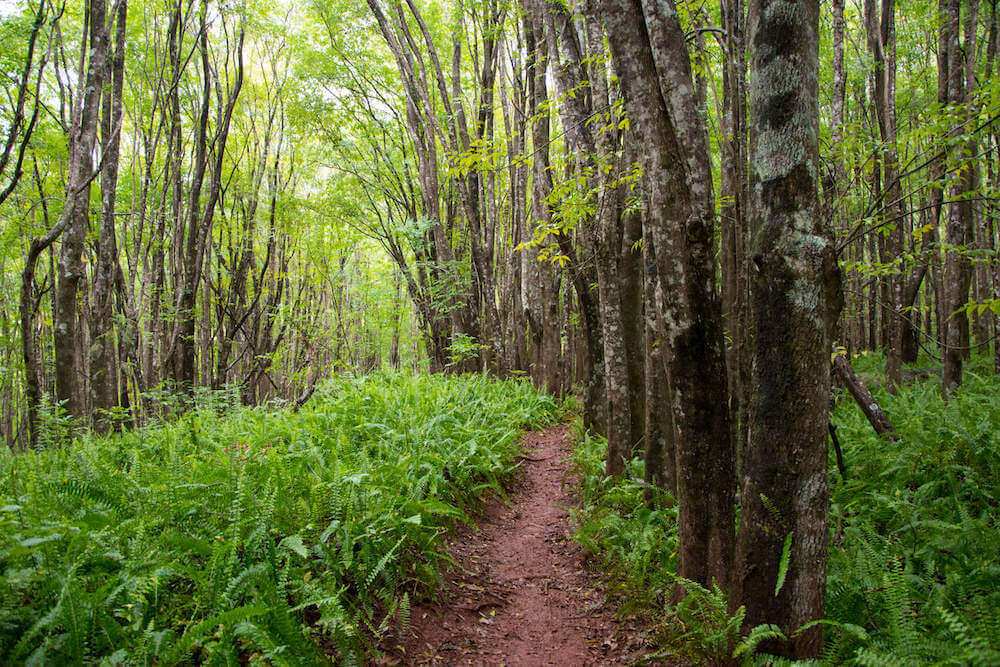 The most beautiful hiking area is the Kahakapao Loop Trail. Only about a 10-minute drive from Makawao, Kahakapao Loop Trail offers unmatched views of the island. It's one of the top Maui hidden gems.
From luscious green forests to ocean cliffs and various wildlife, visitors will find plenty of things to do in the luscious Makawao Forest. You can go mountain biking, get completely immersed in nature by hitting a boardwalk trail, or go on an unforgettable waterfall hike. It's one of the secret Maui spots worth checking out!
Hikers have run into exotic birds, deer, chameleons, blooming ginger plants, towering eucalyptus trees, and kupukupu, a regional plant native to Hawaii. This is definitely one of the most beautiful places Hawaii has to offer.
4. Mountain Tubing, Kauai
If you're looking for a heart-pumping experience, then you've found it! While visiting the island of Hawaii is an adventure on its own, there's no better way to make your tropical getaway extra special than taking the kids mountain tubing in Kauai.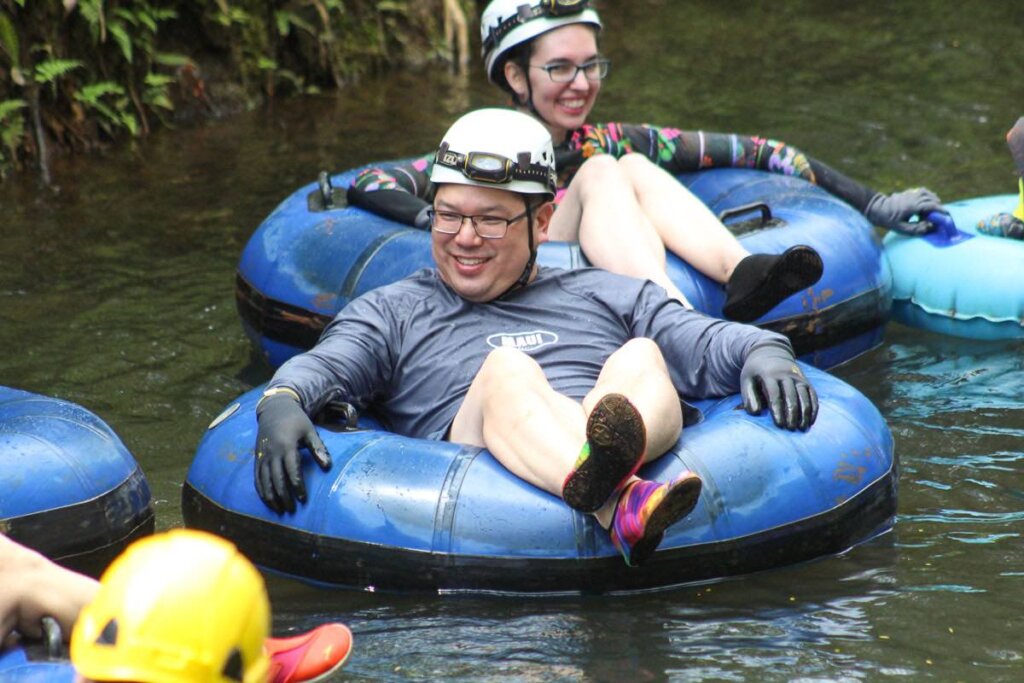 This four-wheel tour begins with a leisurely ride through 17,000 acres of the old Lihue Plantation fields. This is one of the prettiest places in Hawaii that most people can't access.
As you make your way to their launch site, the tour guides will share interesting tidbits about the island's history and culture.
Once you arrive, you'll embark on the most exciting water adventure of your life! Just put on a headlamp, grab a tube, and drift away in a series of tunnels that were hand dug in the 1870s. It's a great way to explore Kauai off the beaten path.
5. Go Inside The Kilauea Crater, Big Island
Almost everyone has heard of the magical Nāpali Coast in Kauai and Hanauma Bay, one of the most scenic beaches in Oahu. But of course, the most popular attraction on Hawaii Island is Kilauea. It's an enchanting volcano that rests about 45 minutes from Hilo.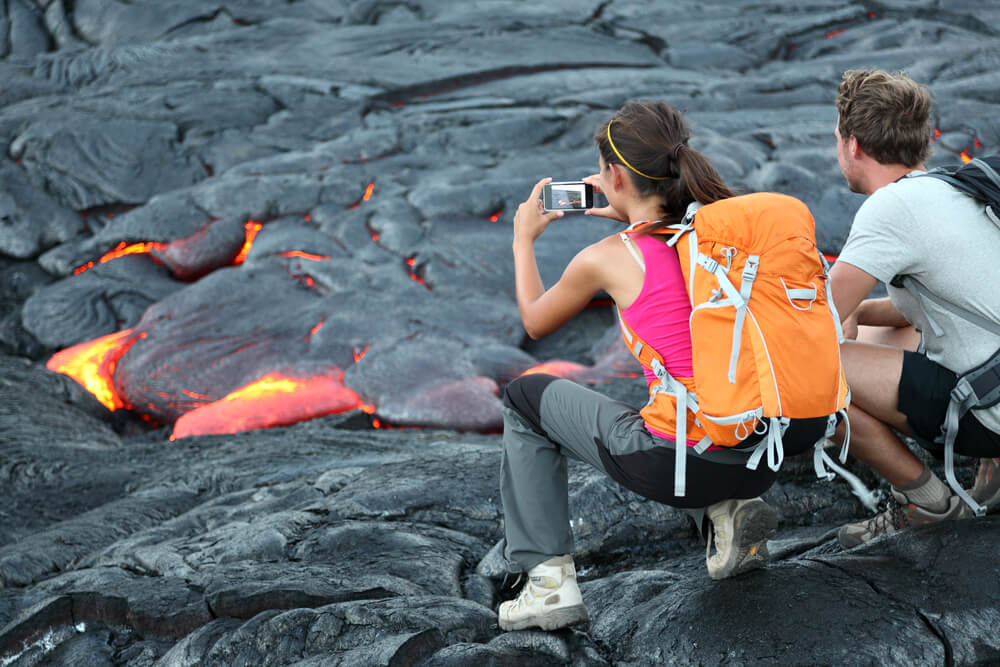 Kilauea Volcano has been erupting almost nonstop since 1983. That's 34 times in total!
As of January 2021, there hasn't been any unusual activity in the area. So currently, there's no active lava to see on Kilauea. Whether the volcano is active or not, it's still a spectacular sight.
To take a peek inside this colossal volcanic mass, go on a hiking trek through the Kilauea Iki Trail. It's a relatively easy hike (about 4 miles) that will take you deep into the crater, where you'll cross-vertical walls, lava holes, a misty rainforest, and a solidified lava lakebed.
Make sure to charge your phone and bring plenty of water and comfy shoes!
Check out my ultimate guide to Hawaii Volcanoes National Park!
6. Spitting Cave, Oahu
One of the most impressive landmarks in Oahu, the Spitting Cave (also known as The China Wall), is an incredibly scenic cliff shoreline.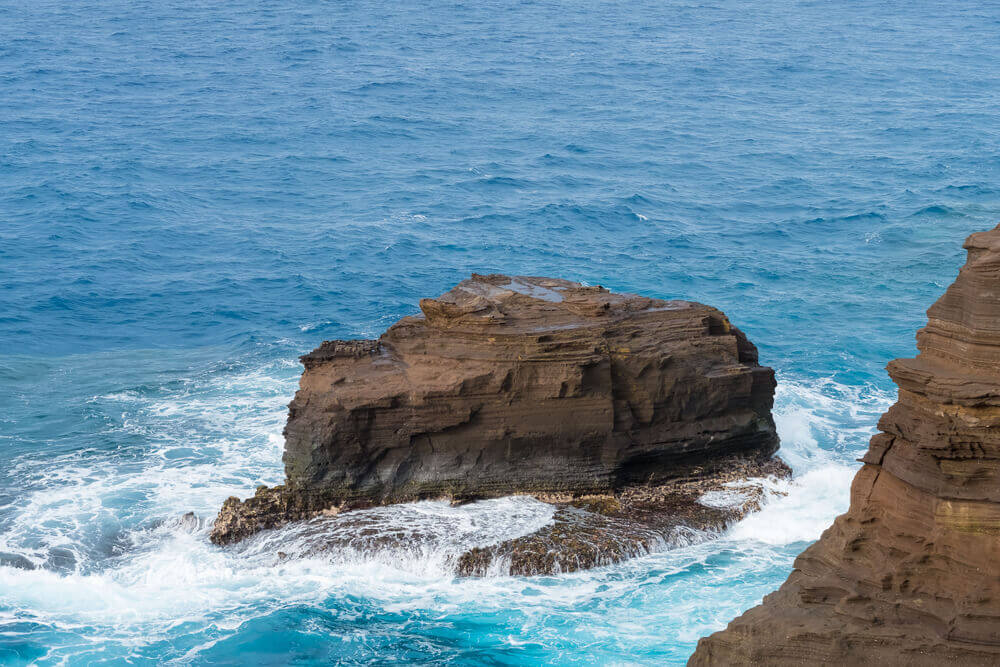 The Spitting Caves got their name due to the way the water rushes in and is then "spat" out of the cave. Sometimes, the cave spits water which so much force it leaves a lovely rainbow behind.
Tucked away in the residential community of Hawaii Kai, you can enjoy breathtaking views of the ocean and lava formations and get goosebumps as you watch professional divers and daredevils jump 70 feet into the ocean.
Of course, jumping off a cliff is extremely dangerous. But just being anywhere near the cliffs will give you an adrenaline rush! It's one of the best-hidden gems Oahu offers!
7. Corsair Plane Wreck Dive Site, Oahu
While most tourists are familiar with Waikiki Beach, the Pearl Harbor Memorial and have been to Diamond Head Crater, few people have been or even heard of the Corsair Plane Wreck Dive Site.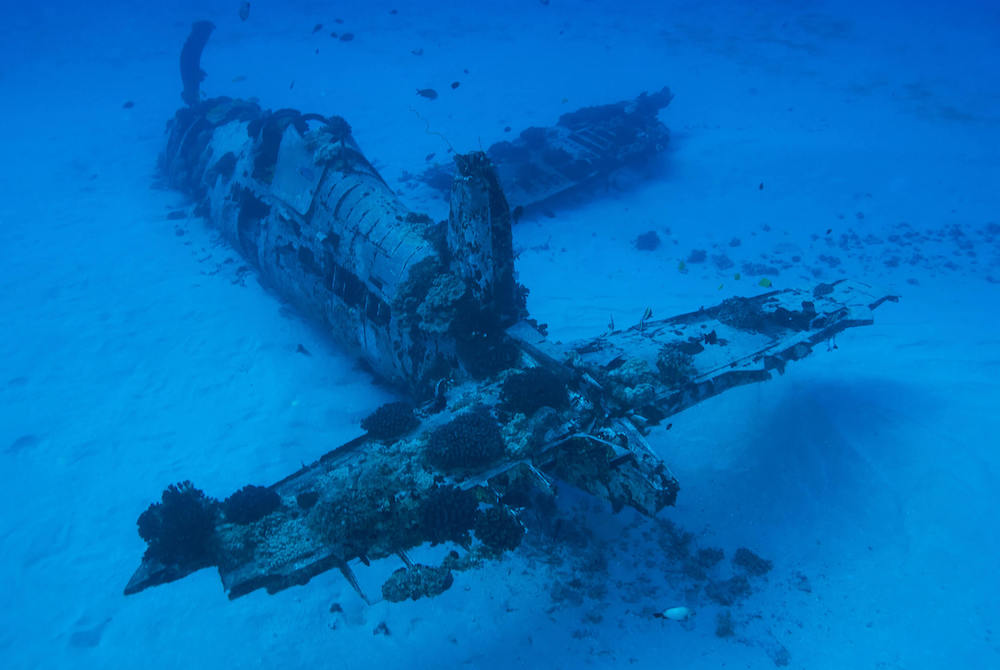 This advanced scuba diving site sits just 3 miles away from the Hawai'i Kai marina, and for experienced divers, it's a great location to dive into the past.
But how did the Corsair Plane end up at the bottom of the ocean? In 1948, a pilot flying this WWII aircraft had to make an impressive water landing when he noticed the craft's engine started to fail. Some locals believe the craft had run out of fuel.
Regardless, the pilot did an incredible job maneuvering the plane and landing it on the water. Eventually, the man got rescued, but despite his best efforts, the Corsair Plane couldn't float, so it ended up sinking.
The WWII Corsair Plane Wreck sits approximately 115 feet underwater. Due to the strong currents, the area can get pretty dangerous. So, consider booking an experienced scuba guide if you have moderate to advanced diving experience.
If you've never scuba-dived before, this place will for sure inspire you to finally book those scuba diving lessons to explore a few secrets of Oahu!
8. One'uli Beach (AKA Naupaka Beach), Maui
One'uli Beach is a less popular black sand beach in the south of Maui. Since this hidden gem is on the remote side, it's one of the best places in Hawaii where you can escape the crowds. Even though One'uli is a bit secluded with not too many visitors, getting there is not that hard.
This hidden gem is located less than a mile away from Makena State Park, and it's a great beach to go snorkeling, swim, or just sit down and enjoy the views of the nearby islands.
One'uli Beach is covered in a thick layer of reddish-black sand, giving it an almost otherworldly feel. The beach gets its salt and pepper dark sand from lava deposits that washed up on the shore.
You can sunbathe by the water or go on a mini hike to the top of Puʻu Ōlaʻi to get one of the best views in Hawaii. One'uli Beach is a great place to go fishing in Hawaii as well.
And if you're up for some fun in the water, this beautiful beach is a great spot to go kayaking. Just if you plan to go paddling, make sure you stay in shallow waters and always check the tide.
Beautiful Places in Hawaii FAQs
What is the most beautiful part of Hawaii?
It really depends on your idea of beauty. Some people are in awe of the lava fields at Hawaii Volcanoes National Park, while others think the lush cliffs of the Na Pali Coast are unsurpassed. It's also hard to beat the views from Lanikai and Kailua beaches on Oahu.
Which is the most beautiful island in Hawaii?
While there are several beautiful Hawaii islands, most people would agree that Kauai is the prettiest Hawaiian island. There are tons of Kauai hidden gems, including the Kalalau Lookout, Ke'e Beach, Maniniholo Dry Cave, Hanalei Valley Lookout, and more along Kauai's North Shore. And there are many Kauai hidden secrets you'll just have to discover for yourself!
What is the least touristy island in Hawaii?
Molokai is the least touristy out of all the Hawaiian islands. There are no luxury resorts on Molokai, and they don't even have a single stoplight! You will find plenty of secluded spots on the beaches on this island.
Wrap Up
If you're ready to plan a trip that will take you off the beaten track and give you an authentic experience of Hawaii, we have some recommendations for things to do on each island.
These are just 8 of our favorite hidden gems on Oahu, Maui, Kauai, and Big Island (sorry, Molokai!), but there is so much more beyond these places if this list doesn't suit your fancy.
You might also like seeing some Olowalu petroglyphs, the Nakalele blowhole, Makauwahi Cave, Papohaku Beach, a bamboo forest, Kawela Bay, the Kaumana Lava Tubes, and so much more!
Whether you just have a day or two for your visit or plan on spending weeks exploring everything there is to offer here in Hawaii, these spots will make sure that you get a glimpse at something truly unique during your vacation.