This post about the best secret things to do in Oahu Hawaii contains affiliate links which means if you purchase something from one of my affiliate links, I may earn a small commission that goes back into maintaining this blog.
Do you love Hawaii? Are you looking for some new adventures on Oahu?
We're here to help! This article will provide a list of the best-hidden gems in Oahu that are perfect for your next trip.
Whether it's exploring the island or spending time with your family, these secret places on Oahu are sure to make your vacation unforgettable.
From hiking trails and waterfalls to beaches and luaus, we have everything covered in this guide. So sit back, relax, and enjoy our top 15 hidden gems in Oahu!
You won't believe how beautiful all of these secret Oahu spots are until you see them yourself. The views from each location are simply breathtaking and will leave you speechless when you arrive at each of the hidden spots in Oahu.
These secret places to visit on Oahu aren't just great for adults but also perfect for kids as well! They'll be able to explore nature like never before while learning about Hawaiian culture along the way too!
It's truly an experience they'll remember forever, so don't wait any longer. Plan out your next trip today by checking out this article on the hidden gems in Oahu, Hawaii, right now!
Keep scrolling to see my top 15 Oahu hidden gems worth adding to your Oahu itinerary!
Don't have time to read a bunch of Hawaii blog posts and reviews? Here are some of our top picks for visiting Oahu.
Popular Oahu Tours/Activities
Favorite Oahu Resorts/Hotels
Want to Rent a Car in Hawaii?
One of the best places to rent a car in Hawaii is Discount Hawaii Car Rental because they get the best rates from top national companies like Alamo, Dollar, Thrifty, Avis, Enterprise, Budget, and Payless.
Want to skip all the planning and just access my detailed Oahu Itinerary complete with daily schedules, kid-friendly activities, and travel hacks? Click the button below.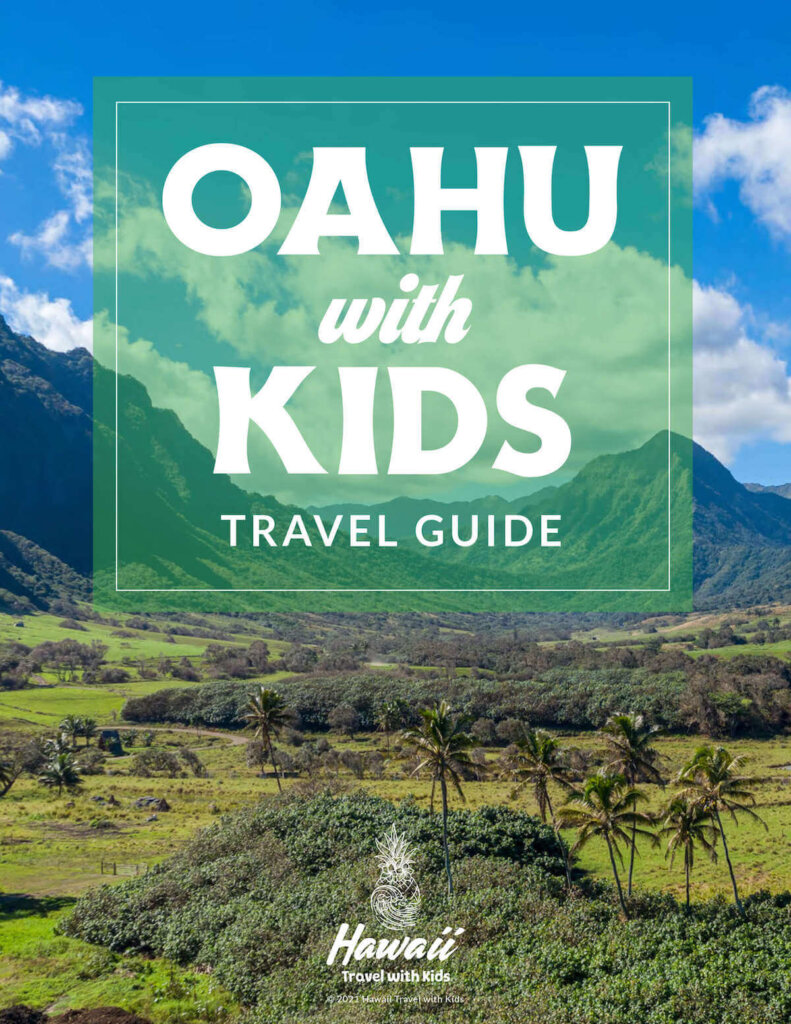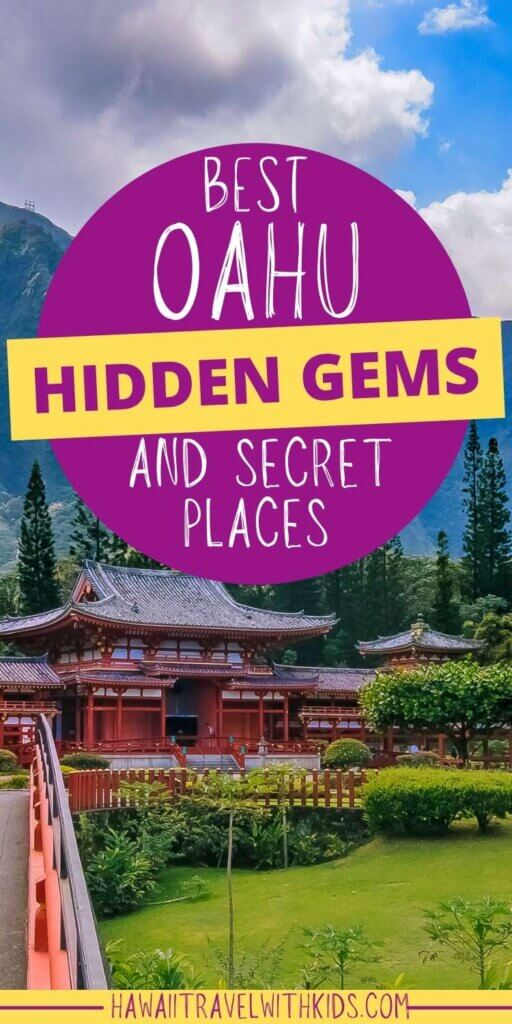 15 Best Oahu Hidden Gems Worth Checking Out
There is nothing wrong with the traditional Oahu tourist spots, and you should check them out during your vacation as well. But these are some of the best-hidden gems in Hawaii that will take your vacation to the next level!
1. Mermaid Cove
Mermaid Cove is one of the best hidden gems of Oahu, in my opinion. No tours are going to the Mermaid Coves and for a good reason. It is a natural beauty and should be kept as an off-the-beaten path on Oahu to ensure it is kept beautiful.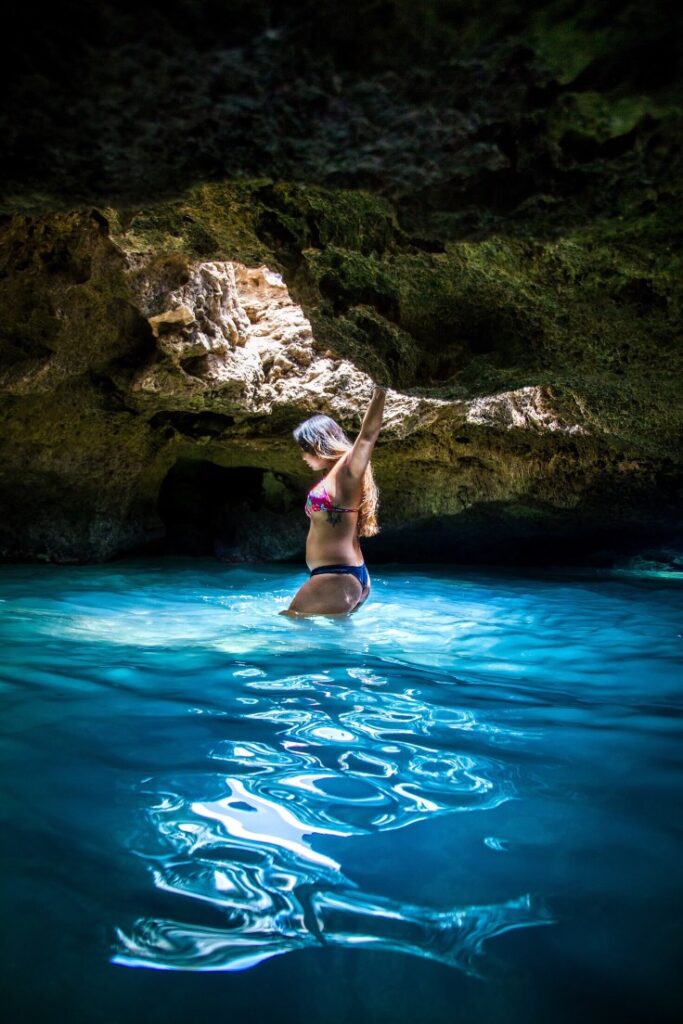 Many love to explore the incredibly clear water in the caves and watch as the sun's rays hit the water. It is truly a magical experience. Not only is it a fun place to visit, but the Mermaid Caves are also the best Oahu Instagram spots to capture stunning pictures.
It is not easy to find, but you should find your way relatively easily if you head over to Nanakuli Beach Park. The Mermaid Caves are literally a secret place in Oahu and should be kept that way!
You will have to go through tunnels and walk quite a distance, so be prepared. But it is worth all the trouble for one of Oahu best kept secrets!
2. Hoʻomaluhia Botanical Gardens
If you are looking for a peaceful spot to relax away from tourists, the Ho'omaluhia Botanical Gardens is another one of the hidden treasures on Oahu. Ho'omaluhia means to make a place of peace, and the botanical gardens are nothing but peaceful!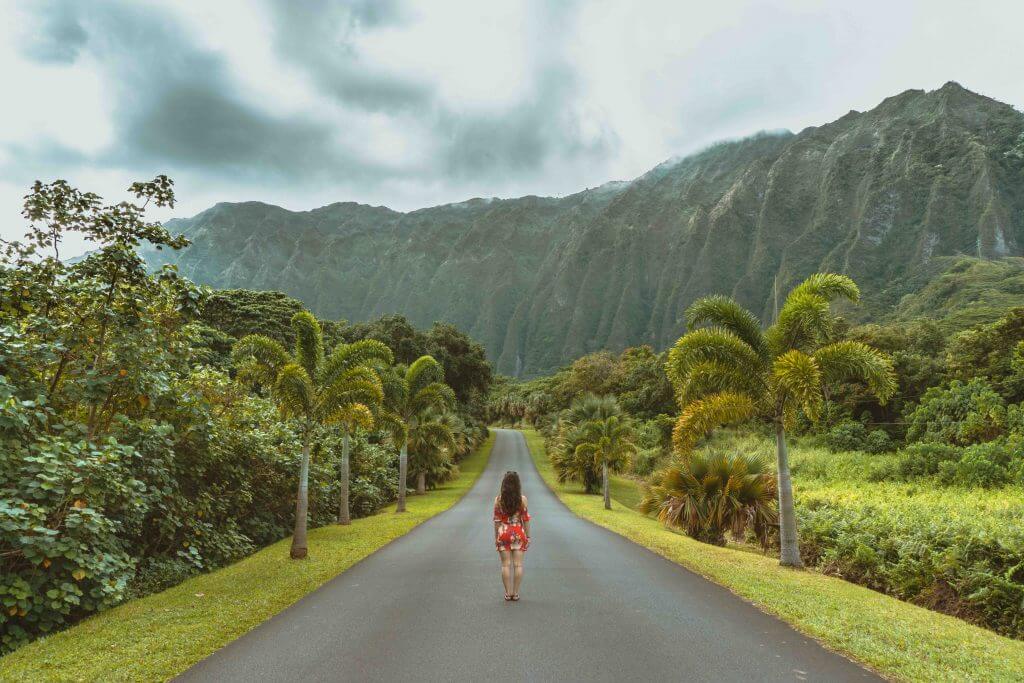 At the Ho'omaluhia Gardens, you can paint, fish, and explore the beautiful surroundings. If you want an extra adventure, you can also camp there!
They also have tours if you are interested in going with a group or want more fun facts about the gardens. The best part about these Oahu hidden spots is that they are all free!
There are many botanical gardens on the island of Oahu. Find some in the following locations:
Kaneohe
3 in Honolulu
Wahiawa
Each one is unique and brings its own peace when you visit. Respect the land and try to keep it a relaxing and peaceful spot for everyone else around you.
3. Kahuku Farms
If you are looking for some secret things to do in Oahu, check out Kahuku Farms.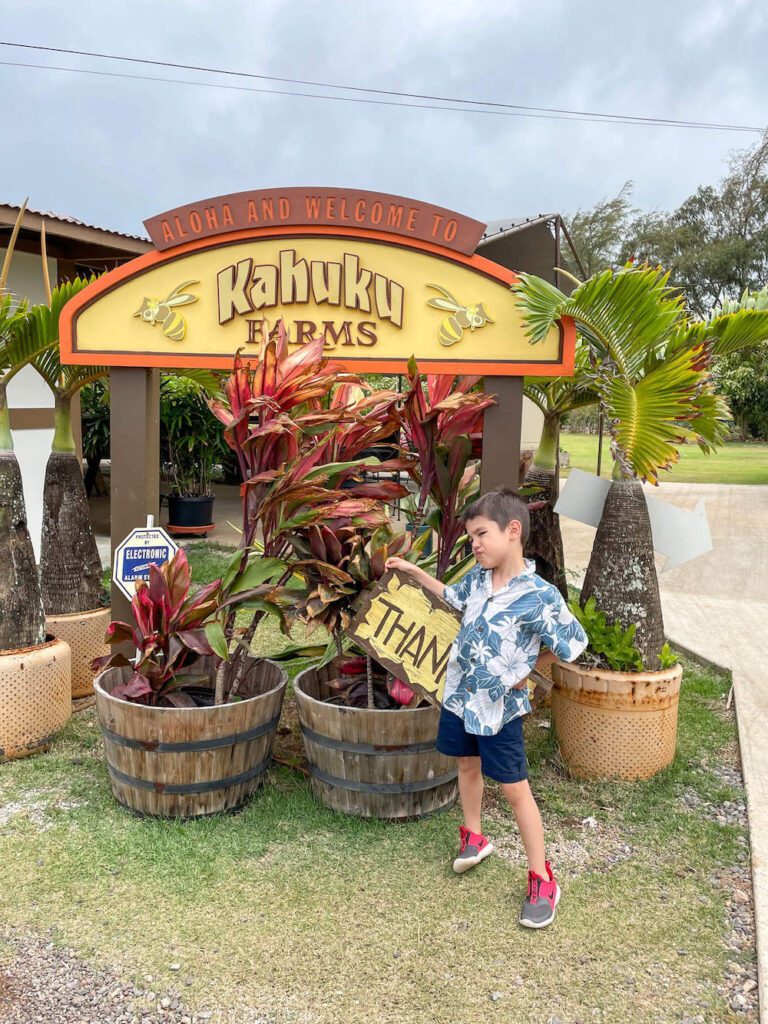 What started out as a small roadside shop has turned into a fun place to visit! One of the best parts about Kahuku Farms is the delicious fresh food you'll find there.
You can take a tour of the farm and even sample the fresh fruits right off the vine! They also offer beauty and body products. If you go, be sure to try the acai bowl, it is the best I've tasted!
Kahuku Farms is one of the top hidden gems North Shore Oahu offers.
Book a Family Photo Shoot
Whenever we travel to Hawaii, we almost always book a family photo shoot with Flytographer. They are super easy, affordable, AND it guarantees that I'll be in some photos. You can get $25 off if you book through this link or use the code HAWAIITRAVEL.
4. Byodo-In Temple
The Byodo-In Temple is another secret of Oahu worth sharing. Located in Kahaluu, you can go and walk on these sacred grounds. This is one of the best Oahu photography spots, for sure. You must get a picture here!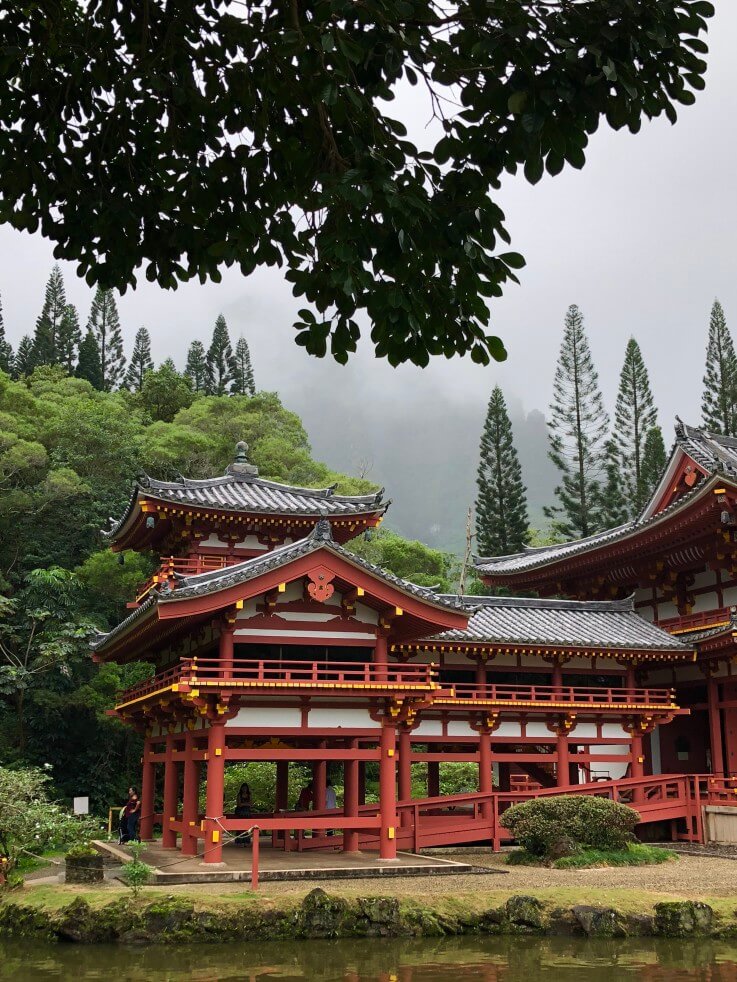 As a small replica of the Byodo-In Temple in Japan, this one was built to commemorate the Japanese people who lived in Hawaii for over a hundred years. Because it is a non-practicing Buddhist temple, all visitors are welcome.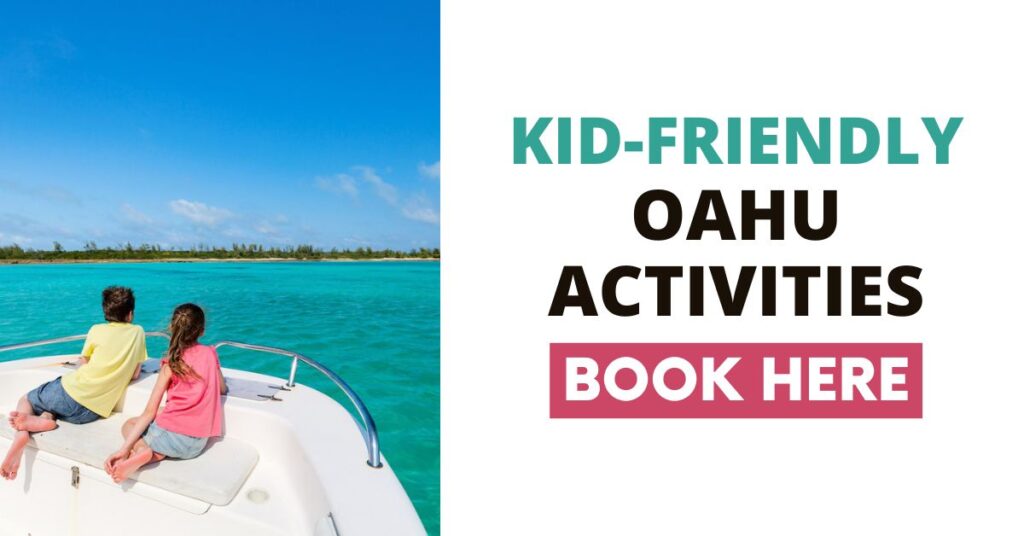 5. China Walls
Most often, you don't see volcanic rocks on Oahu. However, China Walls shows that side of this volcanic island and is one of the hidden spots on Oahu you might not have known about!
This is one of the Honolulu secret spots right in town with lava rocks. Whether you want to take stunning photos there or love exploring geology of the lava rock, be sure to visit China Walls!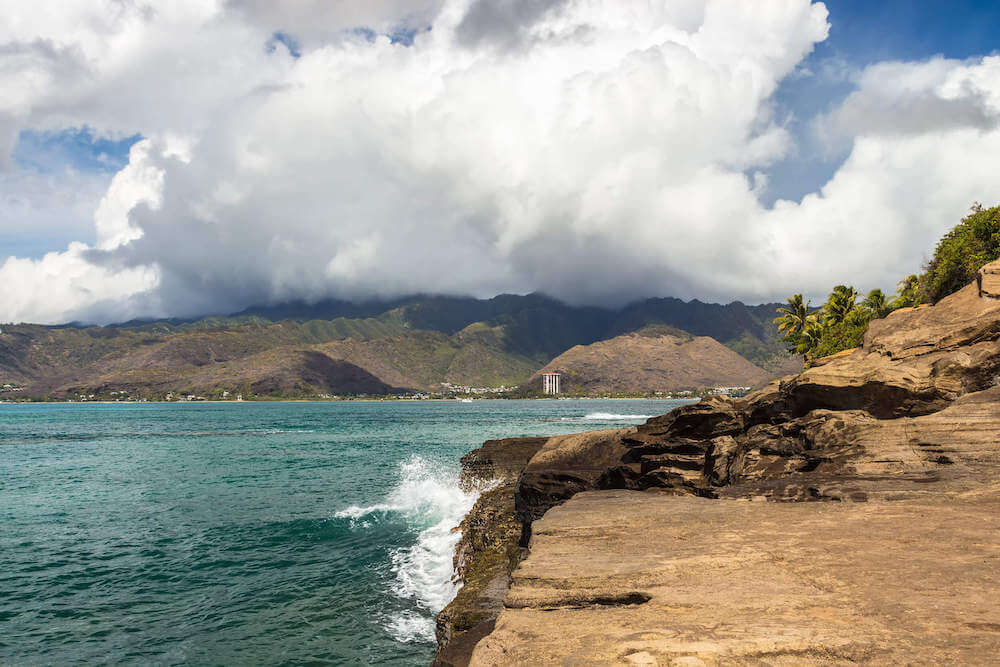 Many love to jump off China Walls as well. But this spot is only for the very experienced. It can be dangerous if you do not know what you are doing. Try out this hidden gem of Honolulu if you can swim extremely well, climb up wet rocks, and need an adrenaline rush!
6. Waimea Falls
If you want to visit a waterfall during your vacation in Hawaii, check out Waimea Falls. This site has a lot more to do than just a waterfall; you can explore the botanical gardens and eat delicious food! This is run by a nonprofit to keep the area safe, beautiful and to preserve the culture.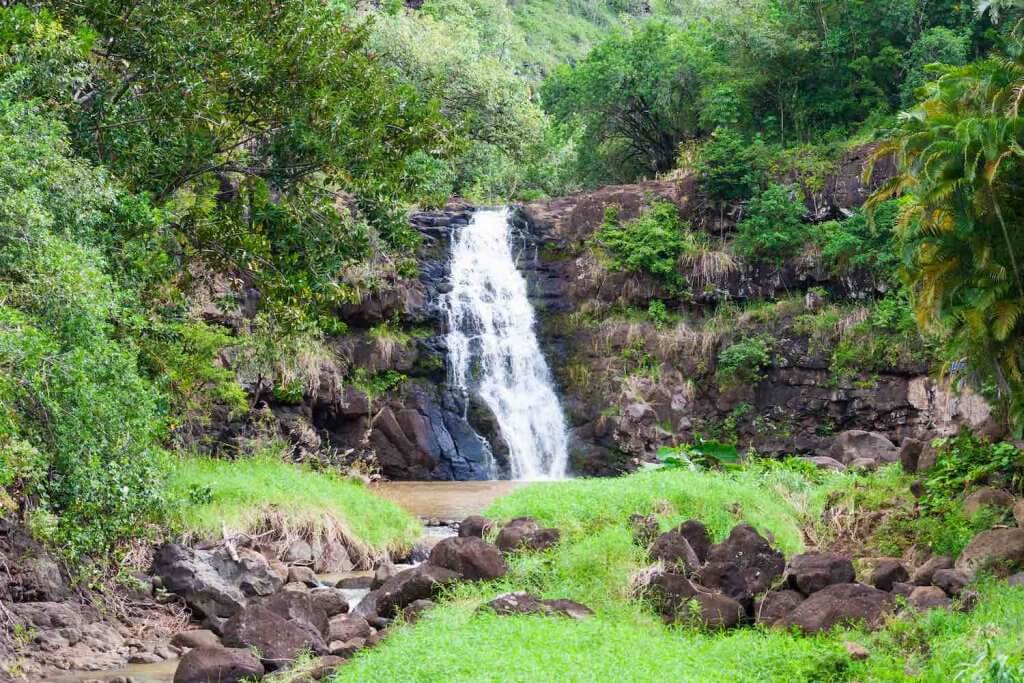 There are shuttle options for those who cannot hike, which is great for families wanting to swim by the waterfall! It is a 3.5-mile hike and is not too difficult. It is one of the hiking trails you can do with kids if you wanted!
You will mainly be hiking along a paved trail. This waterfall is a beautiful gem on Oahu to visit and explore the culture of Hawaii a bit more!
Even though it is not one of the most hidden places in Oahu, Hawaii, it still is quite incredible to see and experience!
7. Lyon Arboretum
One of the hidden things to do in Honolulu is to go to Lyon Arboretum. At this hidden gem, you can enjoy a public botanical garden at the University of Hawaii.
Here you will find around seven miles of hiking trails and tons of tropical plants to enjoy Admissions are even free, making it one of the top hidden gems Honolulu offers!
Oahu Secret Beaches
Of course, some of the best-kept secrets of Oahu are the beaches! Here are some of the secret beaches in Oahu!
8. Waimānalo Bay Park
While all the beaches in Hawaii are gorgeous, some just take your breath away. One of my all-time favorite beaches is the one at Waimanalo Bay Park. Thankfully, tourists do not visit this beach and park area, so you can have the beach almost all to yourself!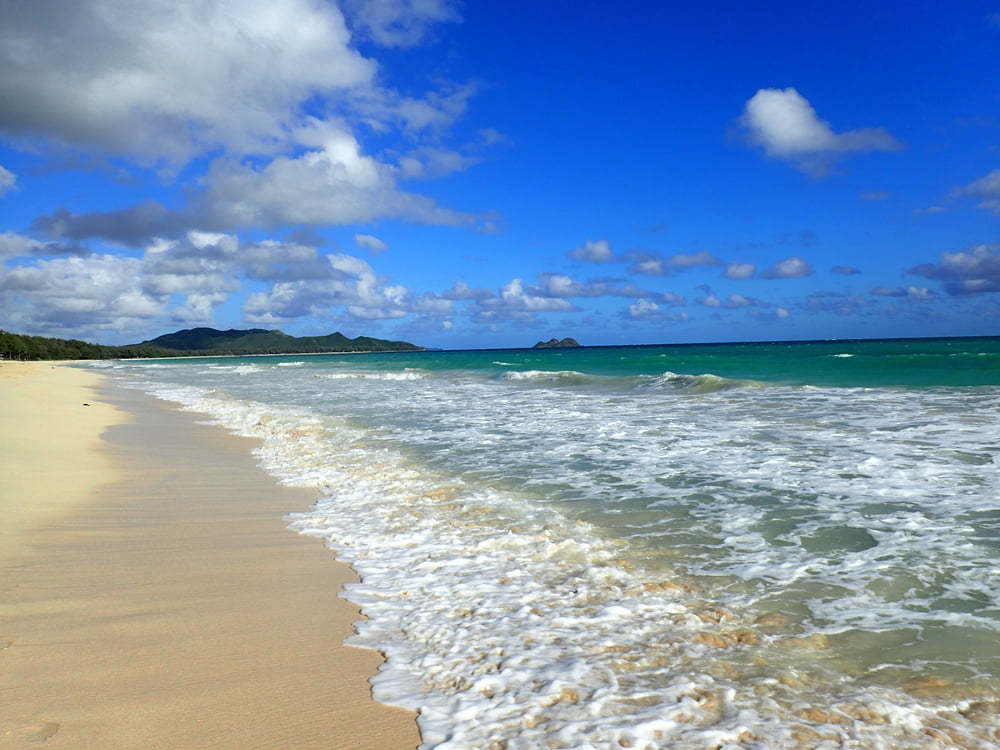 This is located in Waimānalo and is also a camping site. If you don't mind camping, it is totally worth it to see this beach! The water is super clear and has a beautiful turquoise color, plus the sand is extremely soft.
This beach and park area are on the eastern side of the island in a smaller town. It can be hard to spot, especially because it is in a forest-type area! You can camp in the Sherwood Forest part and be a few steps away from this amazing hidden gem on Oahu.
9. Electric Beach
Electric Beach got its name from the power plant close by, well, right across the street! Due to the power plant emitting warm water into the ocean, the sea life there is stunning. There is a long water pipe out in the ocean, which is the best spot to go snorkeling.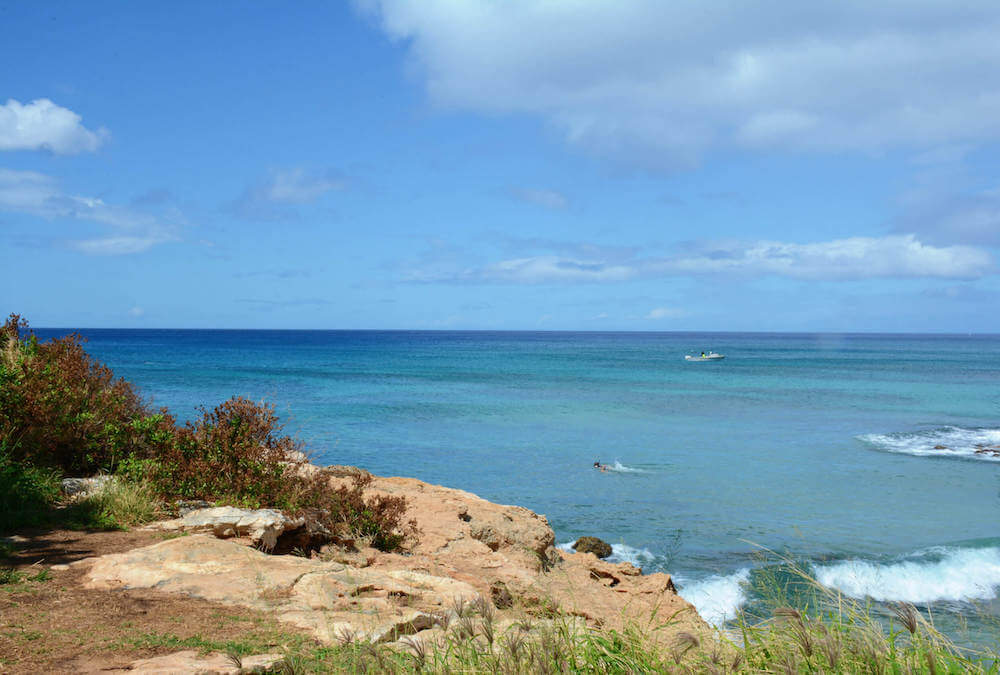 While it is quite beautiful and such a fun adventure, this snorkeling location is not for beginners. It can be extremely dangerous, especially with strong surf. It does have strong currents, so wear fins and be extra cautious as you snorkel.
The marine life here is what makes Electric Beach another one of the hidden gems on Oahu, Hawaii!
10. Goat Island
Goat Island is a tiny little island off the coast of Laie Bay. It is also named Mokuauia Island. This is another one of the top-secret spots in Oahu to visit if you can.
This island is home to seabirds, not goats. It is an official seabird sanctuary, so some parts of the island are marked, and you cannot enter. However, the beaches of this island are incredible. Sometimes you might even see sea turtles too!
Because it is on a small island off the bay, it is protected from high surfs. You can simply just relax and not worry about huge ocean waves. This is why it is one of my favorite spots to go to. It is best accessible when it is low tide. You can actually walk right to it! But it is better to swim to protect the coral below.
The current is pretty strong on the way to Goat Island, especially when the tide rises, so be extra careful. Riptides can also occur, so be prepared. Always go with someone and help each other out. This is a hidden beach that is worth it!
11. Kawela Bay
If you struggle with being on a beach with hundreds of tourists, check out Kawela Bay. Not only is it right next to the Turtle Bay Resort, almost no one goes there! This is also a very kid-friendly beach because the waves are almost always calm.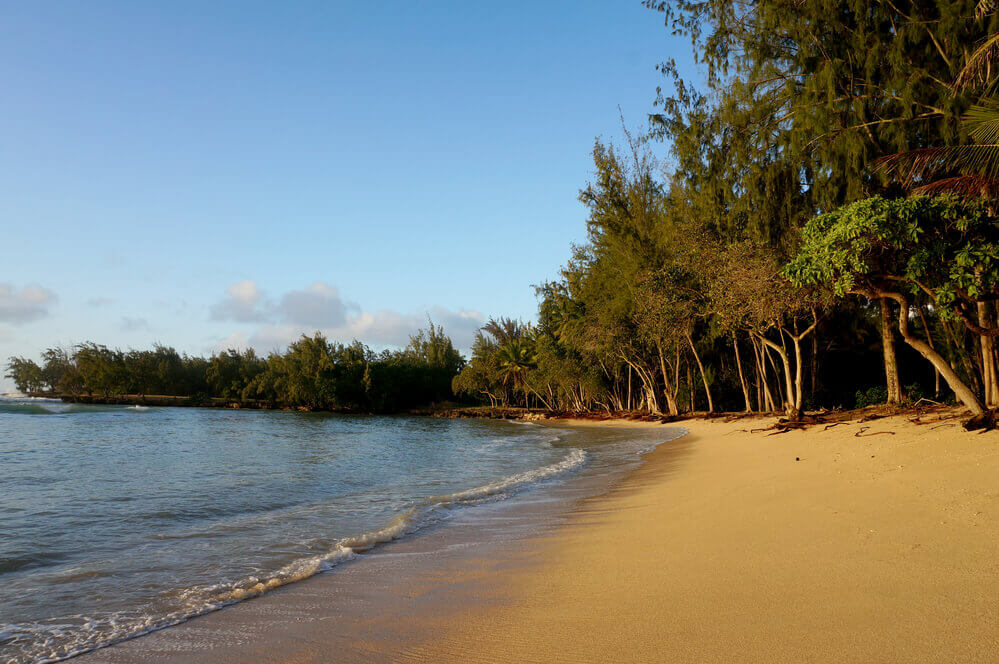 If you do go, be sure to wear some sort of water shoes, because there can be rocks every now and then. There are beautiful trees along the beach, which is another great Oahu photo spots!
12. Kaena Point State Park
Not only is this a secret beach not many know about, but this is also an amazing hiking opportunity as well! The Kaena Point State Park connects the Westside and North Shore sides of the island.
You can climb around on the rocks, take in the beauty, or go along the beach shore. However, the beach area is only for extremely talented swimmers due to the strong waves.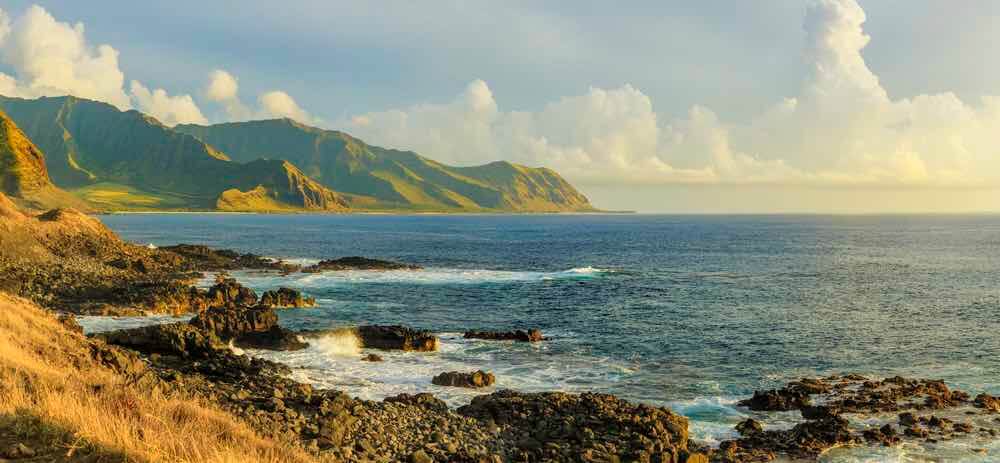 Most mornings, you can spot dolphins out in the ocean here! You can also see a sea cave. The hike is 2.7 miles one way and shows off the volcanic coast, tide pools, arches, and so much more. It is a great place to visit if you can!
Amazing Oahu Luaus Most Tourists Haven't Heard Of
Lots of visitors to Hawaii hear about luaus in the tourist magazines from the airport. If you want a more authentic experience, these are hands-down the best luaus on Oahu.
13. Toa Luau in North Shore
One of the coolest luaus in Hawaii is Toa Luau up at Waimea Valley in North Shore Oahu. It's only a few years old, so most tourists haven't heard of it. This luau is run by a Samoan family that incorporates a lot of Samoan traditions in addition to Hawaiian culture.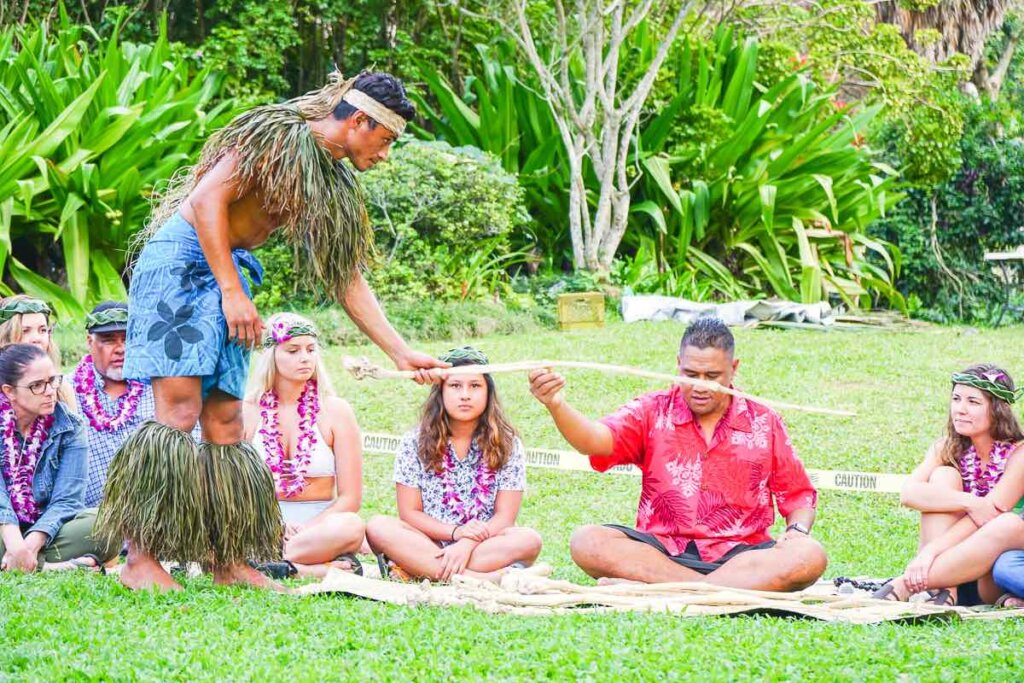 It's a really intimate luau that has lots of family activities, hands-on experiences, and super tasty food. It's the only luau I've ever been to that has a traditional Samoan kava ceremony as part of the festivities.
They also invite guests to cook Samoan food, which is a fun opportunity. You can read a full review HERE.
14. Experience Nutridge Luau in Honolulu
Another amazing Oahu luau worth checking out is the Experience Nutridge luau. It's sort of tucked away in the hills above Honolulu at the first macadamia nut farm in Hawaii. It is one of the Honolulu hidden gems you will love.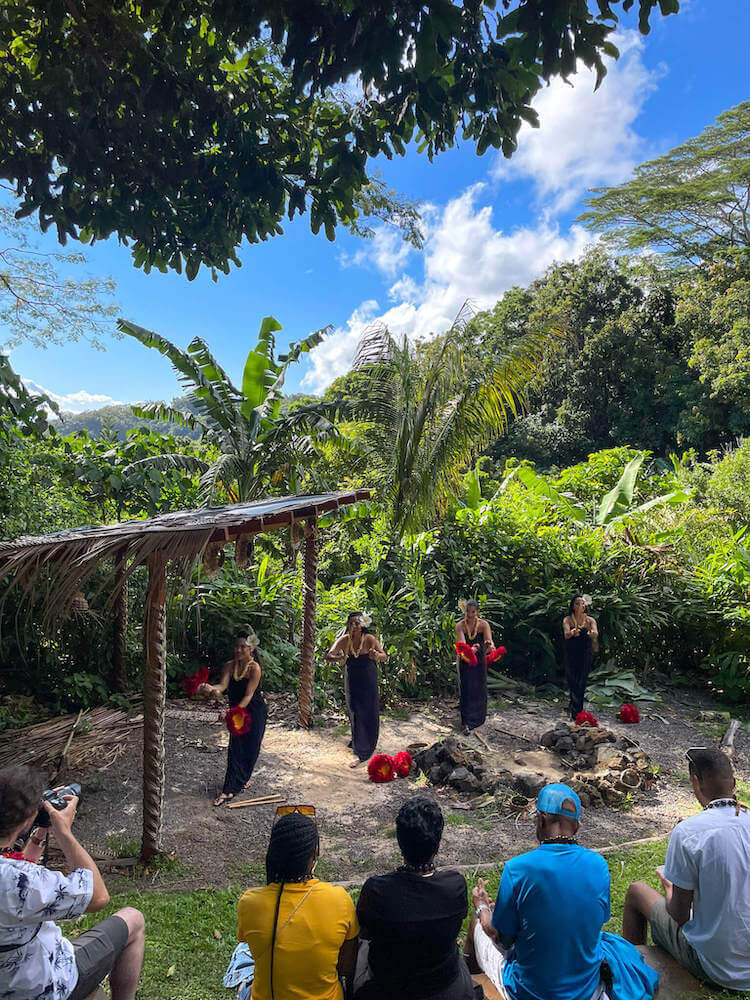 If you want a small, intimate luau that feels like you are hanging out in a family member's yard, this is the luau to do. It's a whole evening of presentations, games, activities, and some of the best luau food I've ever had.
This is definitely one of the best hidden gems in Honolulu. You can read my full review HERE.
15. Hidden Gems of Oahu Tour
Want to see lots of the hidden gems Oahu offers? Then you will love this Oahu hidden gems tour! It is one of the Waikiki hidden gems that will take you all over the island to experience the many secret spots in Oahu.
From the Halona Blowhole to Mokoli'i Island, Kahuku Farms, Waimea Falls, and more, you can experience all the non-touristy things to do in Honolulu and the entire island in one trip!
Places to See on Oahu FAQs
What are some of the most beautiful places in Hawaii?
Oahu is home to some of the most gorgeous attractions, like the Ho'omaluhia Botanical Garden, Tantalus, the Ka'a'awa Valley, and the Byodo-In Temple. Maui has tons of gorgeous waterfalls along the Road to Hana as well as the lush Upcountry Maui. The Big Island has the stunning Waipio Valley and the rugged volcanic landscape. And Kauai has the colorful Waimea Canyon and tropical North Shore coastline.
What's the top place to visit on Oahu?
Waikiki is one of the most popular Oahu places to visit, and it's also really pretty. You can walk toward Diamond Head side to get away from crowds, but there are many incredible areas for you on this island! Many of the hidden gems in Waikiki are the top places to visit.
What are some Oahu secret spots for food?
Oahu has tons of amazing places to eat. A few of our favorite hidden food gems in Oahu include breakfast tacos at Kono's, loco moco from Cinnamon's, the deli at Foodland for fresh poke, the musubi from 7-Eleven, and shave ice from Uncle Clay's House of Pure Aloha.
Where do the locals go on Oahu?
Many locals will do the non-touristy things to do in Oahu, Hawaii, including heading to many hidden beaches all over the island. You will also find locals at many of the off-the-beaten path Oahu offers too!
Where is the most secluded place on Oahu?
If you are looking for hidden beaches, Makua Beach, Waimanalo Beach Park, and Makapu'u Beach are some of the more secluded beaches to enjoy.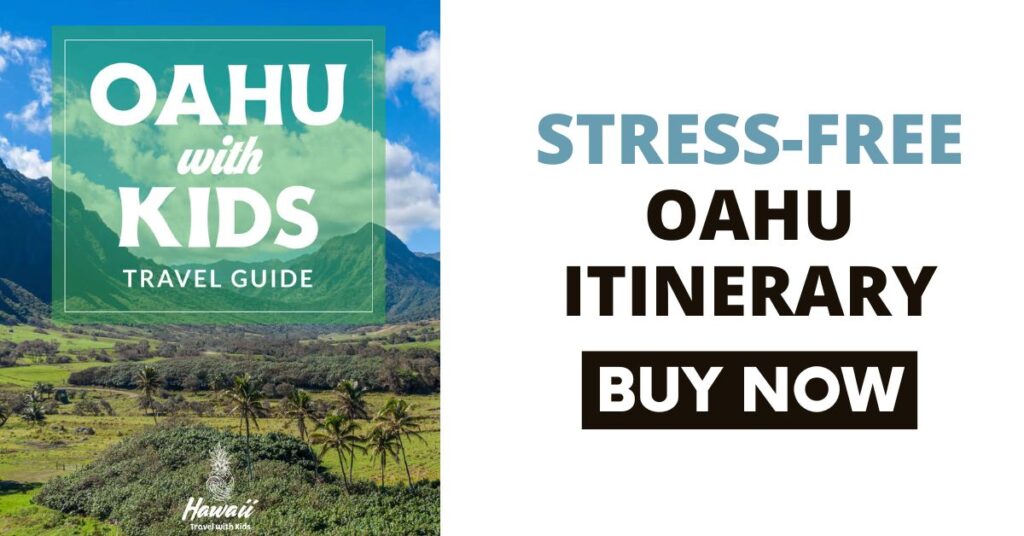 Secret Things to do in Oahu Wrap-Up
Have you visited any of these hidden gems on your trip to Oahu? If not, we recommend giving them a try.
You'll never run out of things to do on this fantastic island. With so many great attractions and activities that are perfect for all ages, it may be hard to decide what your favorite spots will be during your vacation.
No worries – take a look at these 15 secret things to do in Honolulu and over the entire island as potential options (or pick one from each category) and make a plan now before you go!
We hope you find something new or old favorites when exploring our content about Oahu.
Our team is constantly working on new content for this blog so make sure to subscribe below and check back often for updates!