Are you planning on seeing the sunrise at Haleakala and want to know whether you should drive up on your own or book a tour? Keep scrolling to read an honest review of the Polynesian Adventure Haleakala sunrise tour on Maui.
This review of the Polynesian Adventure Haleakala Sunrise Tour on Maui is in partnership with Viator and contains affiliate links which means if you purchase something from one of my affiliate links, I may earn a small commission that goes back into maintaining this blog.
Are you planning a trip to Maui?
If you're looking for an amazing sunrise experience, Haleakala National Park is definitely worth checking out.
But it can be difficult to know whether to drive up on your own or book a tour. In this post, I'll share an honest review of the Polynesian Adventure Haleakala sunrise tour so you can make an informed decision.
Plus, I'll share some tips and tricks for making the most out of your Haleakala National Park sunrise experience.
Keep scrolling to read our honest review of the Polynesian Adventure Haleakala sunrise tour and find out how to book your spot today!
Don't have time to read a bunch of Hawaii blog posts and reviews? Here are some of our top picks for visiting Maui.
Popular Maui Tours/Activities
Favorite Maui Resorts/Hotels
Andaz Maui (this is a luxury resort with the best luau on Maui)
Honua Kai Resort & Spa (this is one of our personal favorites because there are tons of pools and there are condo options)
Want to Rent a Car in Hawaii?
One of the best places to rent a car in Hawaii is Discount Hawaii Car Rental because they get the best rates from top national companies like Alamo, Dollar, Thrifty, Avis, Enterprise, Budget, and Payless.
Want to skip all the planning and just access my detailed Maui Itinerary complete with daily schedules, kid-friendly activities, and travel hacks? Click the button below.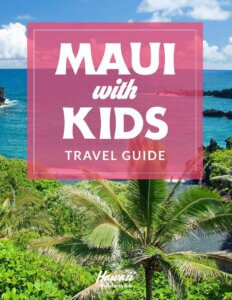 Haleakala National Park Sunrise Tour FAQs
Where is the breakfast for this Haleakala sunrise tour?
Breakfast takes place at Kula Lodge and includes coffee, hot tea, or juice. There's a variety of choices that guests can select from including loco moco, bacon and eggs, waffles, pancakes, and more.
What should I wear to see the sunrise at Haleakala National Park?
It can get extremely cold up at the summit before sunrise, so you'll definitely want to dress in layers.
Where do I catch the tour bus and what time?
When you sign up for the tour, there's a place to enter your hotel/condo information. They will contact you and let you know what time and where to meet. As a reference, our pick-up time was 3:10 a.m. at our hotel sign in Kihei.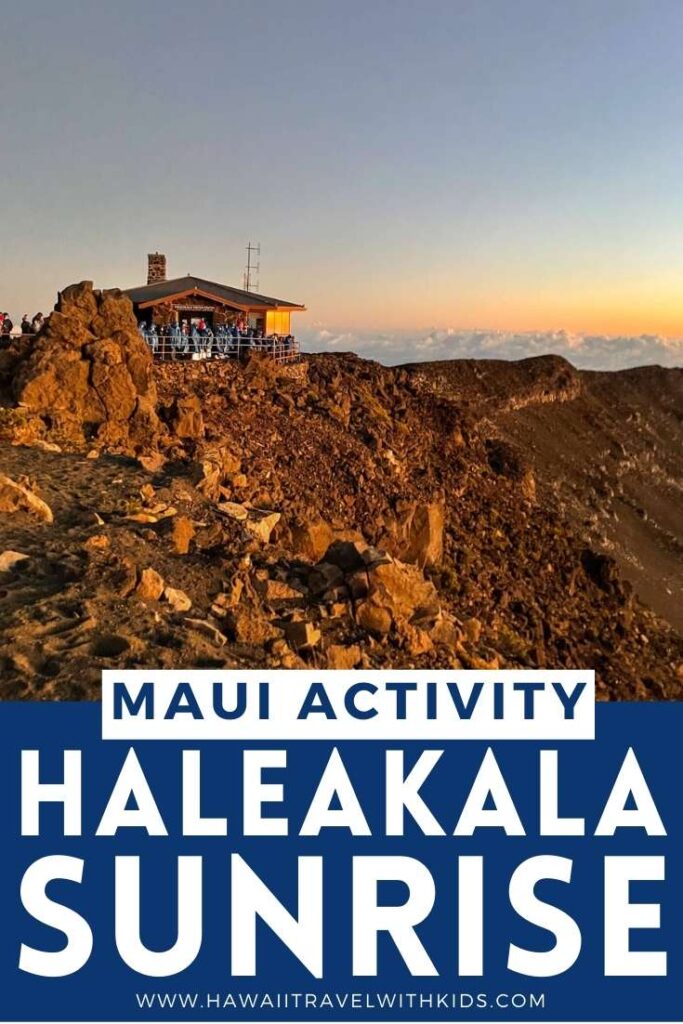 Overview of the Polynesian Adventure Haleakala Sunrise Tour on Maui
The Polynesian Adventure Haleakala Sunrise Tour on Maui is a luxury bus tour that picks you up from your hotel and takes you up to Haleakala Crater in time to see the sunrise.
There are restroom breaks, chances to pick up drinks, and you'll enjoy a really nice breakfast at a botanical garden.
Here's a brief outline of the schedule:
2:30 am – 3:50 am: Hotel pick-ups in West Maui and South Maui
4:00 am – 4:30 am: Restroom break and stop at the 76 Station for drinks
4:30 am – 5:50 am: Drive up to Haleakala Crater (restroom break included)
5:50 am – 7:00 am: Time at Haleakala Crater to watch sunrise (sunrise was at 6:45 am)
7:00am – 8:30 am: Learned a bit about Hawaiian culture, ordered breakfast, restroom stop, and drove to Kula Lodge
8:30 am – 9:45 am: Breakfast at Kula Lodge, walk through botanical garden, shot at Kula Market
9:45 am – 11:30am: Hotel drop offs in South Maui and West Maui
This Haleakala sunrise tour takes all the stress out of seeing sunrise at Haleakala so you can just sit back and enjoy.
Why We Chose This Maui Tour
We've always driven up to Haleakala National Park on our own, but always when it was light out. The drive itself is beautiful, but it's a lot of switchbacks and the altitude change makes me dizzy.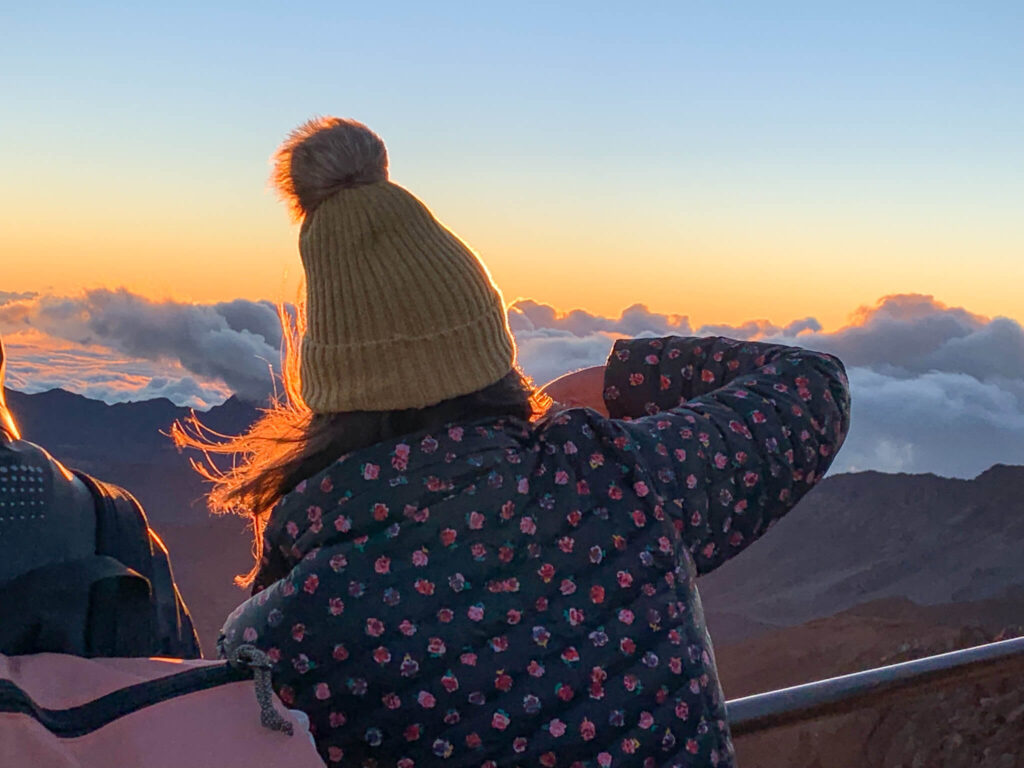 So, I figured for my most recent trip to Maui I would try out a sunrise tour at Haleakala National Park to see if it was worth paying for vs driving myself.
I'm so glad that we did! I could barely keep my eyes open on the whole drive up because of waking up at 2:30am!
What to Know about this Haleakala National Park Sunrise Tour Before You Go:
Hotel Pickup
If you are staying at a hotel or condo in Ka'anapali, Lahaina, Kihei, or Wailea, you can get picked up right from your accommodations. If you are in a vacation rental home, you can arrange to get picked up in a public area.
For reference, for our trip in March 2022 the pick up time was 2:30am in Lahaina and 3:10am for our hotel in Kihei.
There are Restroom Breaks
If you're someone who needs frequent restroom breaks, this tour has you covered! There was a 15 minute restroom break in Kahului and another one on the way up Haleakala (at the 7,000 ft marker).
There are also restrooms near the Haleakala Visitor's Center. And then another 5 minute restroom break on the way down Haleakala and then restrooms at Kula Lodge (where you'll stop for breakfast)
There's a Stop for Coffee/Drinks
If you need your caffeine fix, there's a quick stop at the 76 Station to pick up coffee. It's also a great place to get water, ginger ale, or anything else you might need during the tour.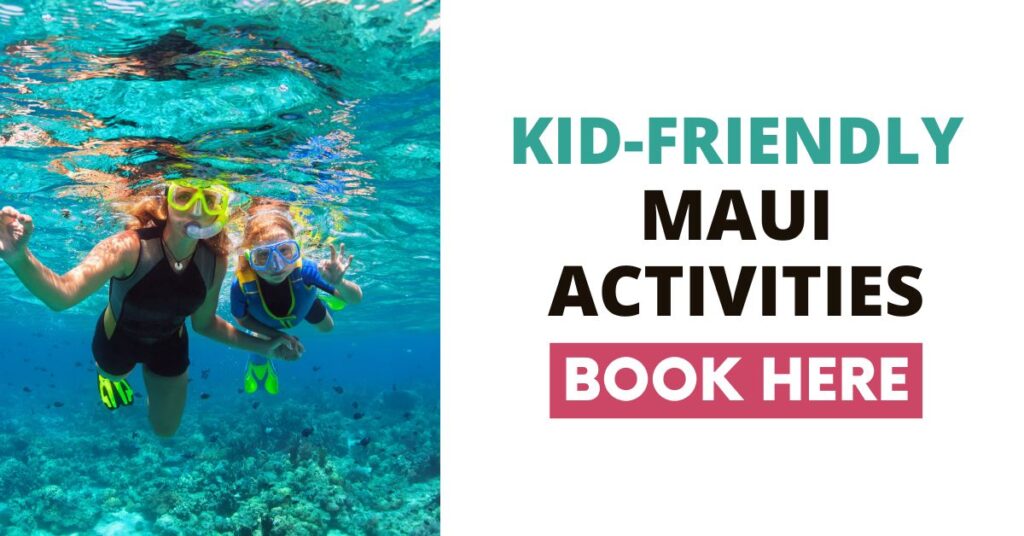 You Might Feel Sick
I mentioned ginger ale specifically because there's a chance you might feel queasy on the ride up to Haleakala National Park. It's pitch black outside and you'll be traveling up a switchback road up to 10,000 ft above sea level.
So, there's a chance of motion sickness as well as altitude sickness.
One trick is to close your eyes the entire drive up from Kula to the top of Haleakala. There are also sick bags on board in case you need them.
It's COLD Up There!
The weather at Haleakala Crater can be unpredictable. The day we went, it was in the 30s but it was crazy windy and felt so much colder than that. It was so cold that other people were talking about going back to the bus before sunrise.
But, the prior day, it was a little warmer and there was no wind, so it was much more comfortable. It's best to plan for the worst and be pleasantly surprised.
The Highlights of this Maui Tour and What You Should Look Out For
Stargazing at Haleakala
Something that hadn't occurred to me is that when you go somewhere before sunrise, the stars are still out! And when we went, there were also some planets in the sky visible at Haleakala National Park.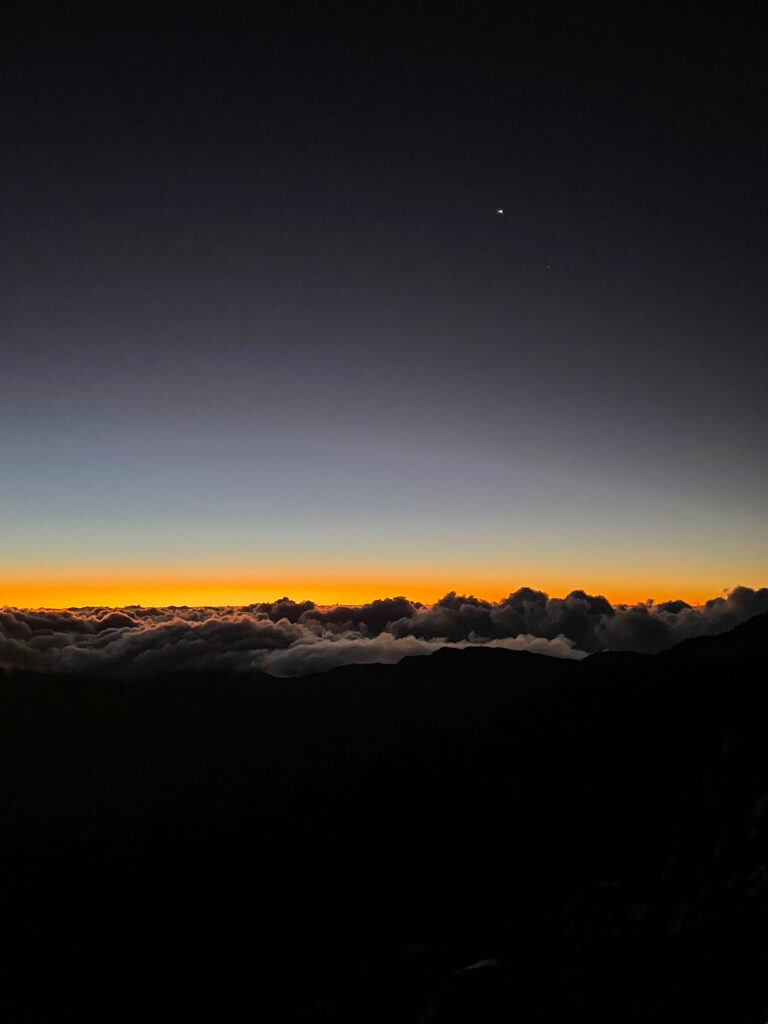 There were tons and tons of stars in the sky, but I was mostly distracted by spotting Jupiter without needing a telescope.
Mount Haleakala Sunrise
So I had to start with the most obvious highlight: seeing the Haleakala Crater sunrise! It really is pretty magical and unlike any sunrise I've ever seen before.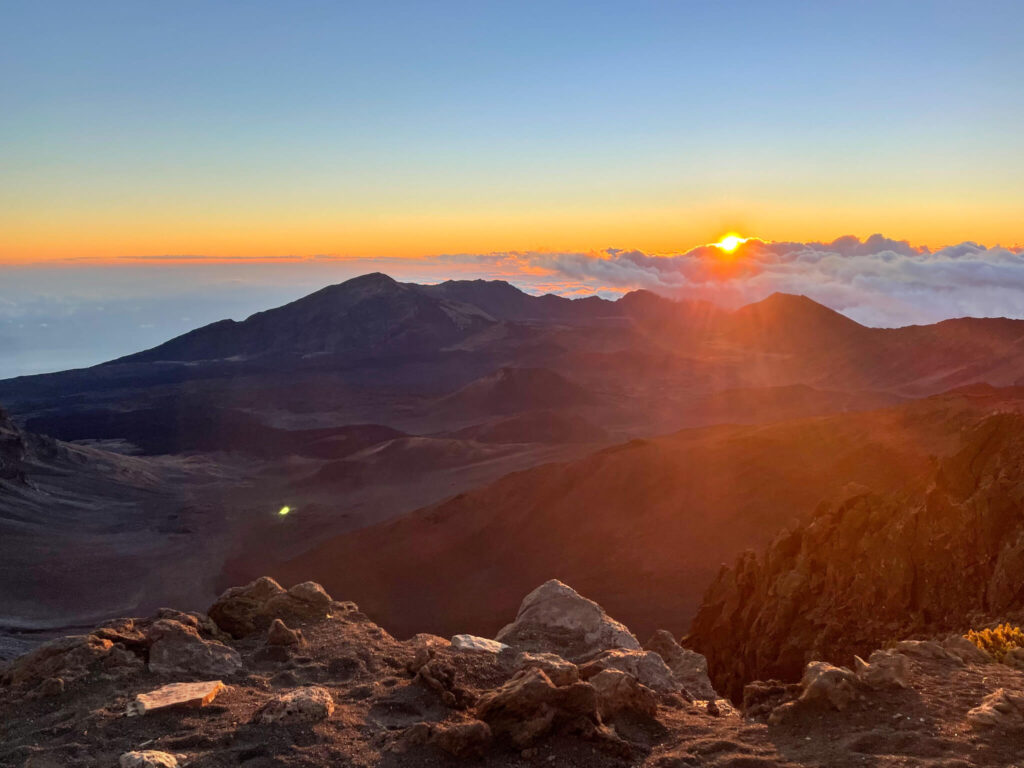 Our hotel receptionist told me that seeing the sunrise from a mountain is spectacular because you just don't know where to look. And she was totally right about the Haleakala summit sunrise.
There was the obvious place to look (right at the sun) but it was also impressive to see the light touch the crater, the visitors center, and all the crevices of Maui.
Breakfast at Kula Lodge
Many Haleakala bus tours stop by Kula Lodge for breakfast. Normally I'm not hungry enough for breakfast, but I definitely had an appetite by the time 8:30am came around.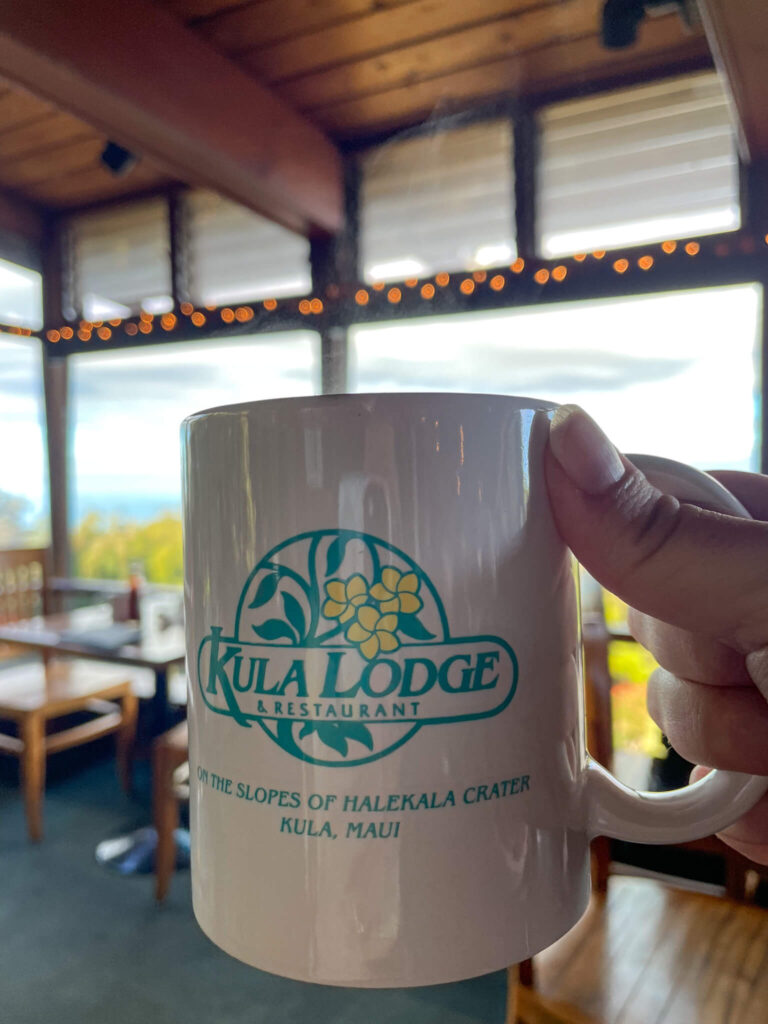 We pre-ordered our food on the bus and then put the number of the meal we chose in front of us at the table and our food was delivered. It was so fast and efficient and I wish more places did this!
I admit, I had low expectations of the food since it came out so quickly. However, it was really tasty. And I liked the variety of options.
The setting of the restaurant was gorgeous and there were massive windows that overlooked the area.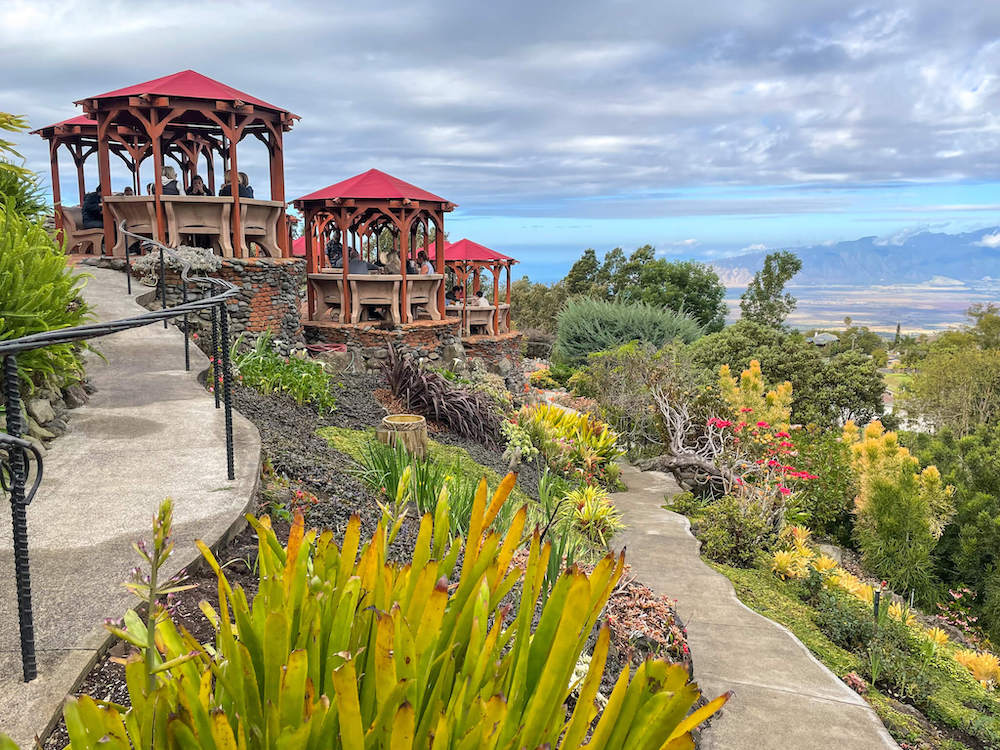 Another cool thing is that there's a botanical garden you can visit when you are done eating. It's really pretty and easy enough to do a quick walk through before heading back on the bus.
Drive Through Upcountry Maui
Since the drive up to Haleakala Crater is in the dark, the drive down the volcano and through Upcountry Maui is really beautiful. It's a great opportunity to see animals, plants, and rolling hills of grass.
I think Upcountry Maui is one of the most under-rated beautiful places on Maui.
Haleakala Sunrise Tour vs Driving Up Yourself
The drive up to Haleakala Crater is really beautiful and fairly easy to do on your own…during the daylight hours.
The road has a lot of switchbacks and goes 10,000 feet up, which can make a lot of drivers (and passengers) feel sick or dizzy. And when it's pitch black, it's hard to find a spot to pull over. Plus there are some hairpin turns that are tricky to see.
When you do a sunrise tour at Haleakala National Park, you're leaving the driving to professionals that could probably do it with their eyes closed. Plus, you'll have extra time to rest so you'll be able to enjoy sunrise.
There's also the issue with Haleakala sunrise reservations. If you want to drive up on your own, you'll need to secure reservations so you can park. There are limited Haleakala National Park sunrise reservation tickets each day and they are really hard to snatch up.
When you do a tour, that's all taken care of because the bus has a parking spot every day of the year.
Haleakala Tour Tips for Families
What to Wear
It is COLD up there so you should definitely wear as many layers as you can. I wore athletic shoes, socks, jeans, a t-shirt, a sweatshirt, lightweight down jacket and a knit beanie and I was still freezing.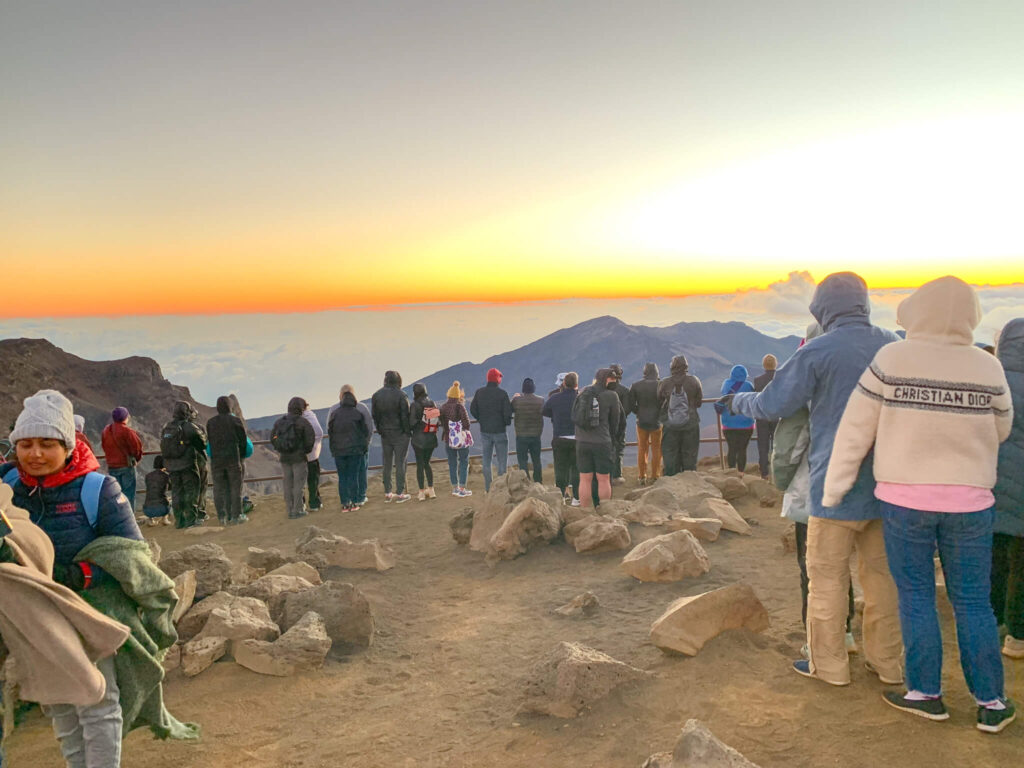 You'll definitely want long pants and a few layers on top. You can also bring blankets from your hotel room.
Don't show up in shorts or think you can manage the cold for a few minutes. I stood out there for an hour (to get a good spot) and the people wearing shorts bailed before sunrise. Don't let that be you.
What to Bring
If you plan on taking photos/video, I recommend bringing hand warmers to keep in your pockets. That will keep your fingers from going numb.
You'll also want a sturdy tri-pod if you are doing a time-lapse video. I saw a lot of lightweight ones moving around a lot, which leads to lame videos.
I'd also bring your own drinks for the bus ride (and maybe even snacks) if you are particular. It might also help to bring motion sickness pills or ginger chews if you tend to get nauseous.
It's also a smart idea to bring a phone charger. Our bus has a regular outlet as well as a USB outlet. You'll use up a ton of battery if you're taking lots of photos and video.
Where to Go
I stayed at the railing with 99% of everyone else at Haleakala National Park for sunrise. However, my mom walked up to the viewing area about 1/4 mile up from the parking lot and there were far less people.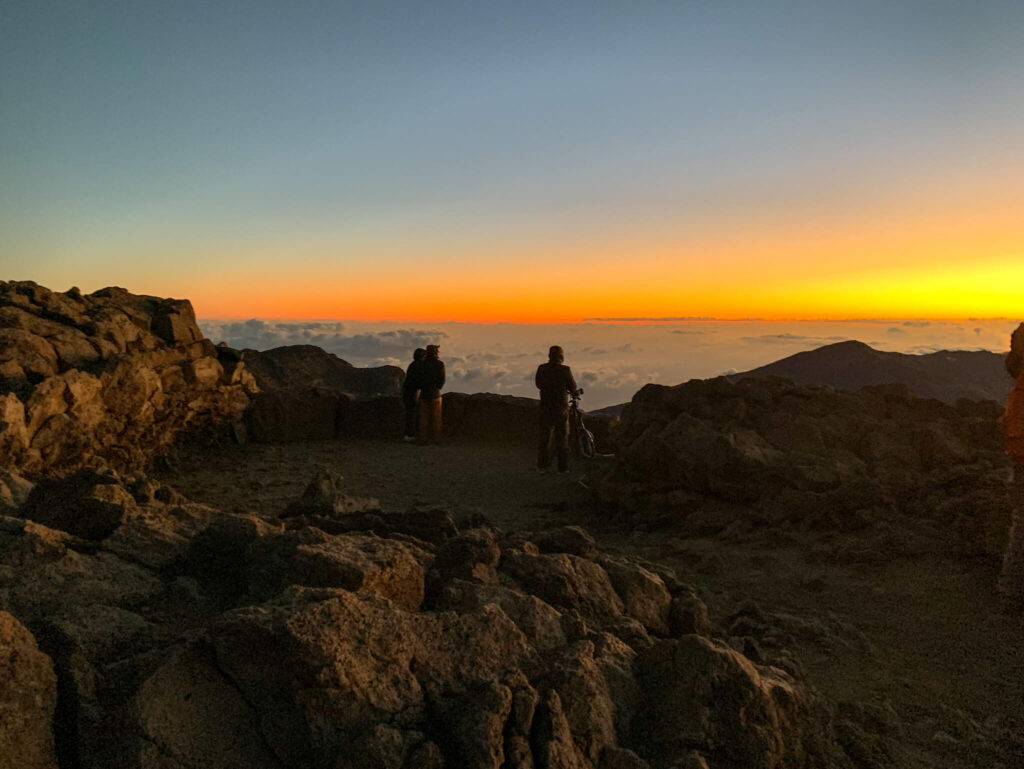 So, if your kids can handle it, whip out your cellphone flashlight and do the easy walk up to the higher platform. Plus, it will feel good to move your body after the long ride.
How Much Does it Cost and Where is it Located?
This Halekala Sunrise Tour on Maui is $215 per person through Viator. They pick you up from your hotel/condo, so you don't have to worry about finding them in the middle of the night.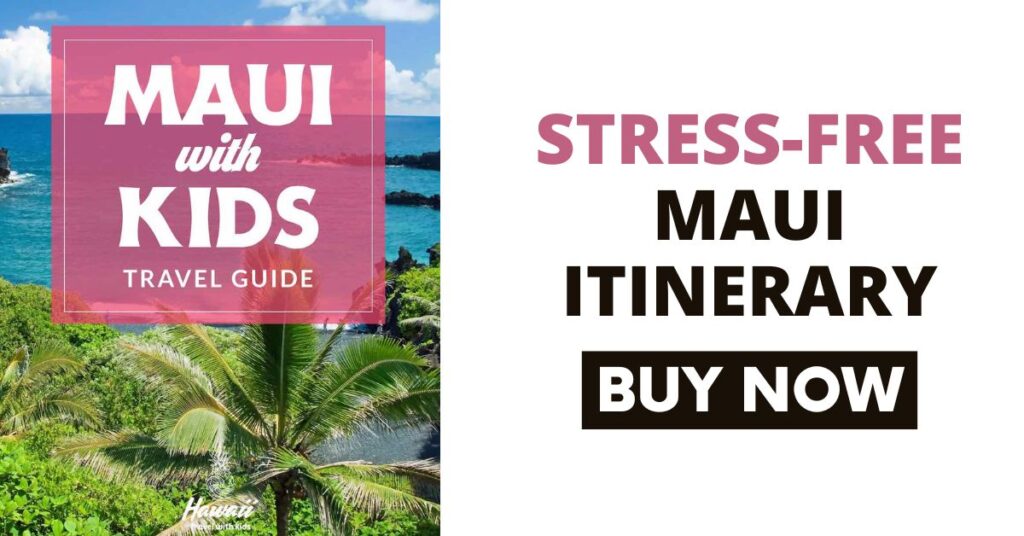 So, is this Haleakala Sunrise Tour Worth It?
Absolutely. Driving up the switchback road to get to the summit of Haleakala in complete darkness would be incredibly stressful. Then add in being tired/jetlagged and unfamiliar with the area, and it's a recipe for disaster.
The first 2 hours or so of the tour, the bus is completely dark and there's no commentary so you can go back to sleep (or at least zone out in the quiet).
It's SO much easier to leave it to the professionals who do this everyday. That way, you can take a nap (or at least close your eyes) to avoid nausea. Plus you won't have to try to score the coveted Haleakala sunrise tickets.