Are you wanting to swim with Manta Rays on the Big Island of Hawaii? Keep scrolling for an honest review of Big Island Manta Ray snorkel tour and how to secure reservations.
This Big Island Manta Ray snorkel tour review contains affiliate links which means if you purchase something from one of my affiliate links, I may earn a small commission that goes back into maintaining this blog.
Guest post by Chelsea Kelly-Sipe
Want to see some amazing creatures while on vacation?
Hawaii is home to some of the most beautiful and unique animals in the world. From dolphins to sea turtles, there's always something new to discover while exploring the islands.
Snorkeling with Manta Rays on the Big Island is one of the MUST SEE activities while visiting the Big Island. It is also one of seven places in the world where you can experience this type of activity.
With around 300+ local Manta Rays that stay in the area year-round, you are almost guaranteed to have an amazing night in the water with these beautiful creatures.
A Hawaii Manta Ray night snorkel is one of the top recommended tours to take when visiting the Big Island and I highly agree!
Keep scrolling to read my honest review of the Big Island Manta Ray night tour and my tips and tricks for an epic adventure!
Don't have time to read a bunch of Hawaii blog posts and reviews? Here are some of our top picks for visiting the Big Island.
Popular Big Island Tours/Activities
Favorite Big Island Resorts/Hotels
Want to Rent a Car in Hawaii?
One of the best places to rent a car in Hawaii is Discount Hawaii Car Rental because they get the best rates from top national companies like Alamo, Dollar, Thrifty, Avis, Enterprise, Budget, and Payless.
Want to skip all the planning and just access my detailed Big Island Itinerary complete with daily schedules, kid-friendly activities, and travel hacks? Click the button below.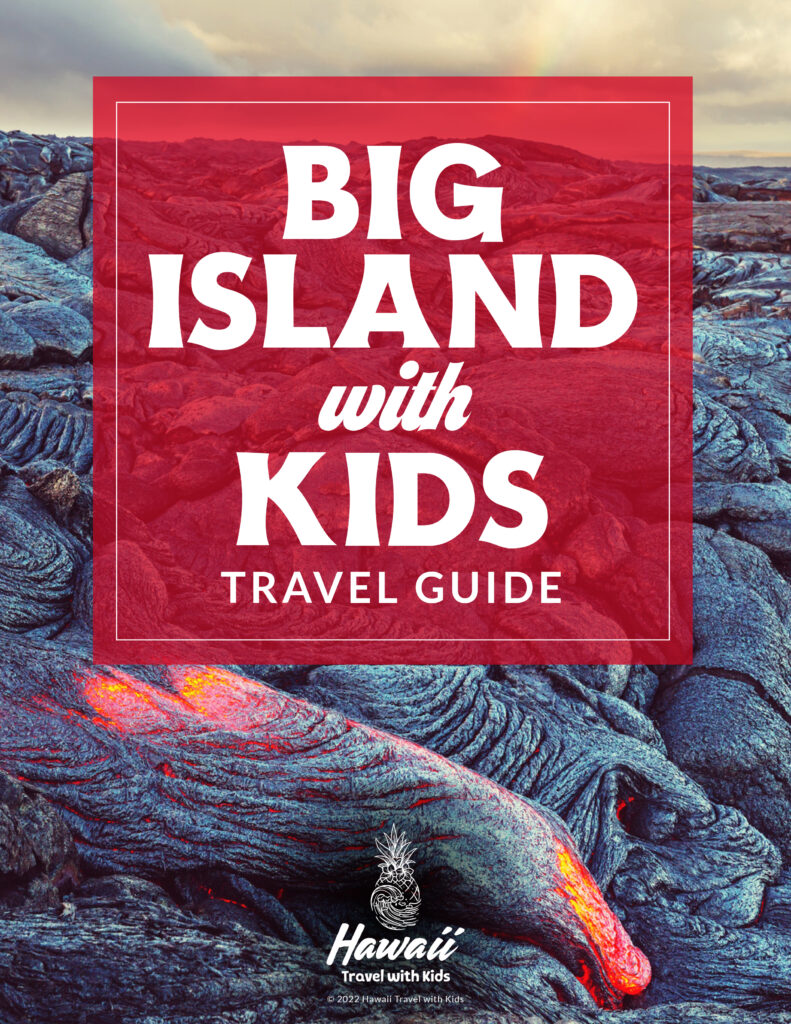 Manta Ray Night Snorkel FAQs
How big are the Manta Rays?
The reef Manta Rays in Hawaii can grow up to an 18-foot wingspan. Most of the Manta Rays on the Big Island of Hawaii are around 12 feet across.
Is it scary to go night snorkeling with Manta Rays?
It isn't scary in the sense that the Manta Rays will hurt you because they are harmless. I do think that visitors need to be comfortable keeping still with large sea animals brushing up against their bodies and be able to remain calm. I was comfortable during the entire experience and it was more thrilling than scary.
What about taking a Big Island Manta Ray night dive to see the Manta Rays?
If you are dive certified, I highly recommend scuba diving to see the Manta Rays. You'll head into the water and sit on the sandy bottom surrounded by lights. You will have more freedom of movement because the Manta Rays summersault in the center of the lights and not directly above you. As a snorkeler, it was neat to see the scuba divers' experience compared to ours. 
What is the best way to capture photos and videos?
I brought both my iPhone and a GoPro. I didn't have any luck with my phone. It was too hard to keep it tucked away (so I didn't hit the Manta Rays) and try to take pictures. The go pro was much easier strapped to my wrist to manipulate and get a few videos and pictures. The pictures are grainy compared to a high-level camera, but the videos featured in this post are from the go pro and I think they turned out nicely.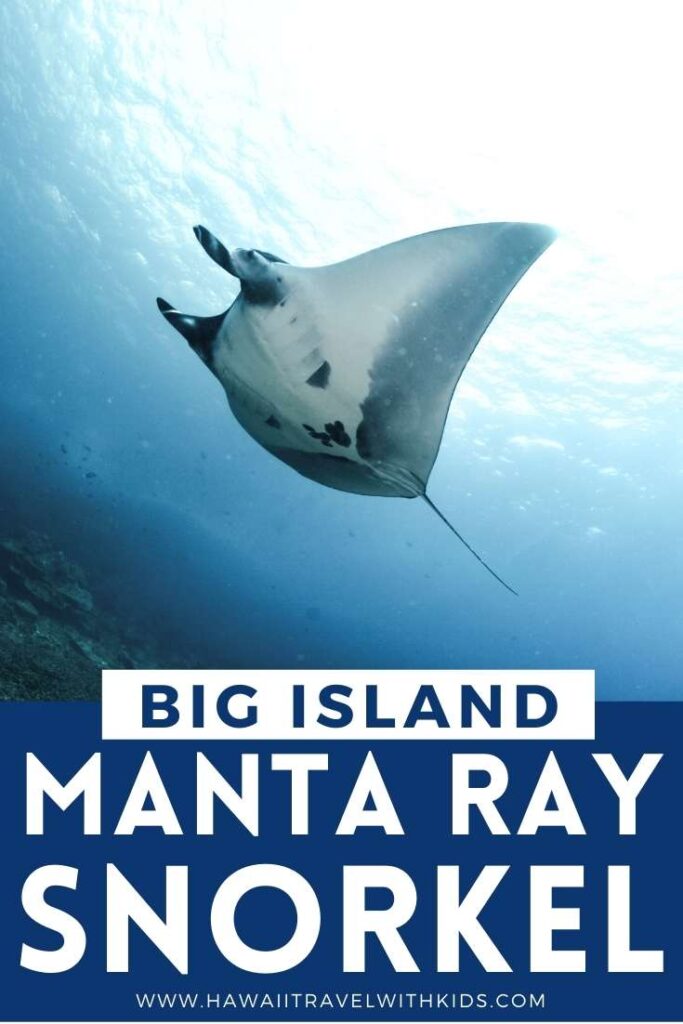 Overview of Manta Rays on the Big Island of Hawaii
The Manta Rays just outside of Kona are Reef Mantas with a width of about 12 feet making them the second-largest Manta Rays in the world!
Unlike other mantas around the world, the reef Mantas stay in the same area year-round. There are around 300+ Manta Rays in Kona and each one has its own unique name. As a visitor, if you find a new reef Manta, you are asked to name it!
Our boat captain shared some pretty unique and fun names including Lefty Ray, Big Bertha, and Ray Charles. Each Manta Ray has a unique spot pattern on its ventral side and this is how scientists and divers can spot each individual.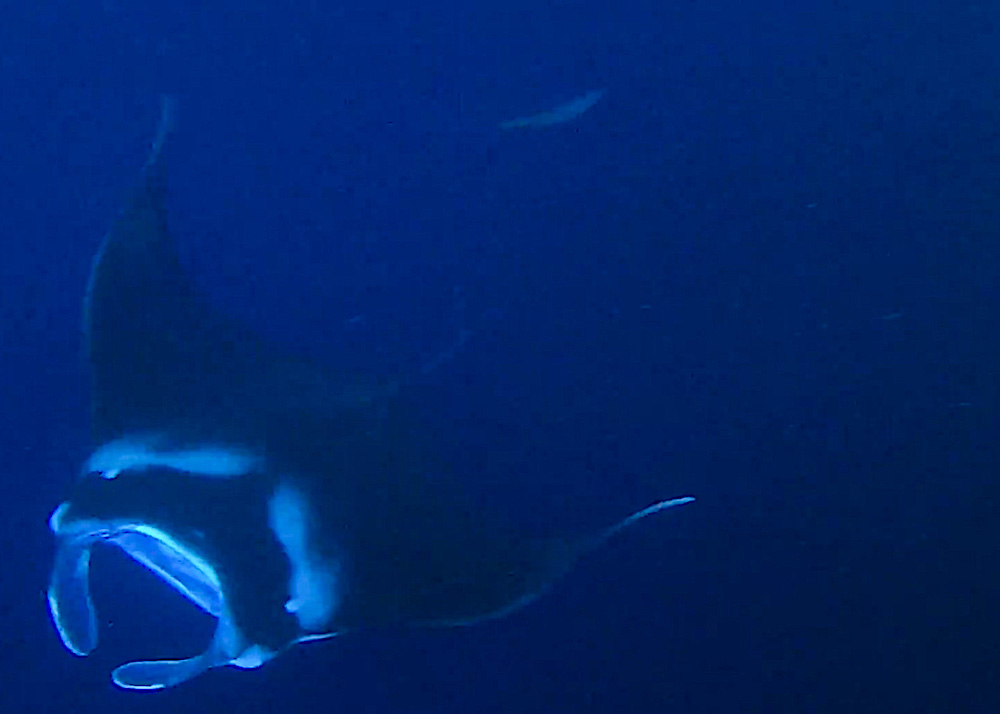 Manta Rays are different from stingrays, which often confuses visitors and deters them from enjoying this activity. Although Manta Rays and Stingrays are related, Manta Rays DO NOT have a tail "stinger" or barb-like tail like the stingrays. Thus, Manta Rays cannot harm visitors who want to enjoy their beauty.
Manta Rays are plankton feeders. Plankton is attracted to light sources. Ao the boats and divers use large bright lights to attract the Manta Rays to the dive/snorkel location. The Manta Rays gracefully swim with their mouths wide open, letting the plankton fill their bellies.
At times, they will do somersaults to continually feed while brushing up against your body as you float. It's a surreal experience.
The snorkeling or diving will take place at Garden Eel Cove or "Manta Heaven" which is located in Makako Bay (near the airport). However, this location is only accessible by boat and you'll need special equipment (dive lights).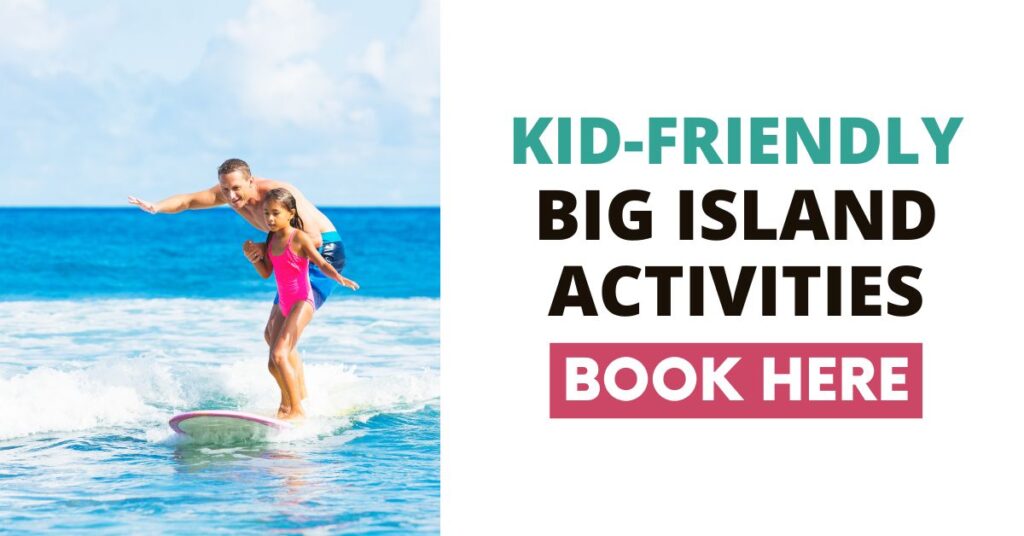 Why We Chose This Manta Ray Snorkel Tour on the Big Island
I booked a last-minute tour during winter break, so I was limited by where I could find a seat. I ended up booking with Big Island Divers on a "snorkel only" boat tour.
Although, when I showed up for the tour, they had added 8 scuba divers to the boat because a boat tour was canceled the previous day. It was crowded on the boat and the scuba divers were a priority with getting into the water. This meant the snorkelers were asked to move to the back of the boat. And we had to wait a while before we got into the water.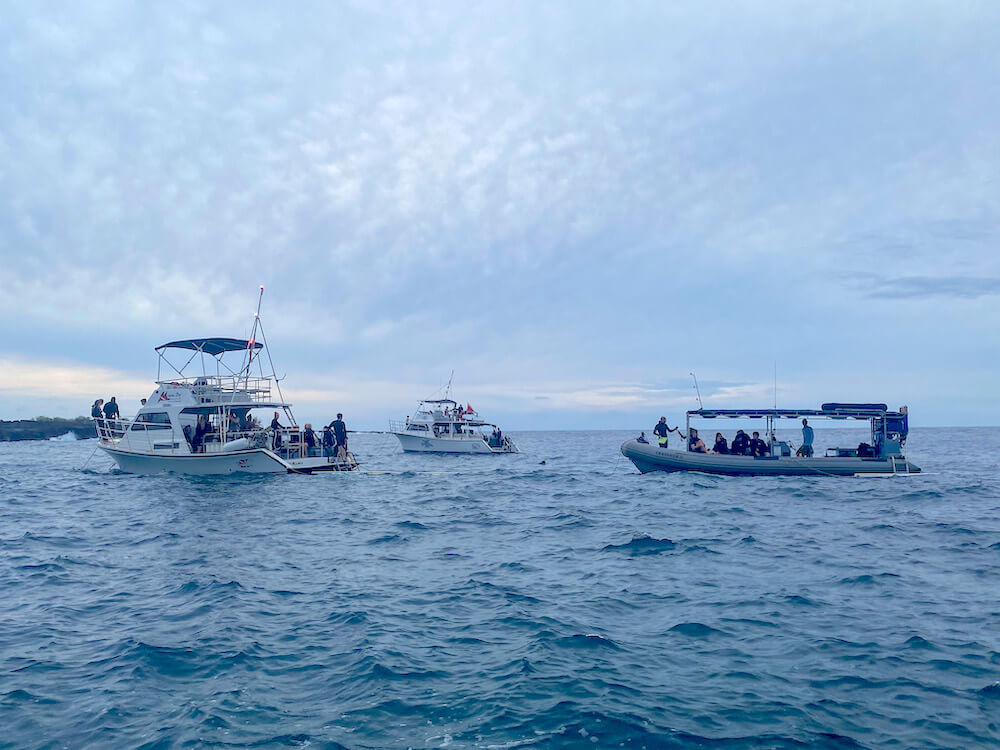 That wouldn't have been a big deal, except the boat is really rocky in this location. If you are prone to seasickness, any amount of extra time on a still boat is a recipe for disaster. Thankfully I was prepared, but it is something to consider.
Since I typically research way ahead of time on which companies and tours are the best, I'll share that research below.
Best Kona Snorkel Tours to See the Manta Rays
One of the top-rated companies for snorkel tours is Manta Ray Dives of Hawaii. The tour lasts approximately 3 hours.
The tour is broken down into a 30-minute boat ride to the site, 2 hours spent at the location to gear up and snorkel for around an hour before returning back to the boat, then a 30-minute ride back to the harbor.
Manta Ray Dives of Hawaii offers two boats with a snorkel-only boat and a snorkel/dive boat option. Both boats leave between 4-6 pm depending on the time of year (later in the summer, earlier in the winter). Check-in is located directly at the boat slip.
The minimum age to snorkel is 6 years old. They do allow ride-alongs, but parents are not able to trade-off to take turns snorkeling.
They also offer a Big Island Manta Ray dive option for visitors who are dive certified. The combination boats allow families with both needs to go together.
What to Know about the Manta Ray Night Snorkel Tour Before You Go:
Arrival
There are various boats that will offer a Manta Ray night snorkel tour. Each tour provides a slightly different experience and location to meet up depending on where they harbor their boat.
However, all of the tours depart from the Kona area, so you'll need to be staying on that side of the island (or plan for a really late night).
During my tour, I was asked to check in at the dive shop located in Kailua-Kona. From there, I was given directions to the harbor where I was to meet the boat in about 45 minutes. You'll want to make sure you have a rental car since you'll be driving between the Dive Shop and Honokohau Marina (for my tour).
Once parked at the harbor, there are bathrooms that you can use, and then the group staged under the covered pavilion.
Our guides did a quick roll call under the pavilion and explained a little bit about our tour and what we should make sure we have packed in our bags: swimsuit, reef-safe sunscreen, water/hydration, a towel, and warm clothing for after you snorkel. It is also highly recommended to take an anti-nausea/sea sickness medication.
All of the tour companies provide a snorkel set included in the cost of the tour and some provide wetsuits. Others charge a fee for a short or long wetsuit.
I also recommend bringing some snacks for after the dive and an underwater camera to capture the action.
Swimming with Manta Rays in Hawaii
So what is it like to swim with Manta Rays? Well, you won't actually be swimming and this applies to all of the tours.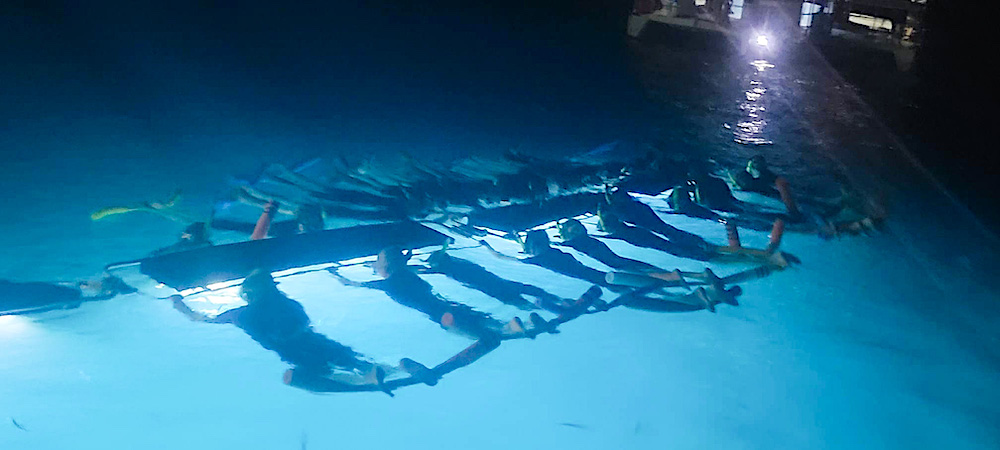 As a snorkeler, you'll be holding onto a floating raft with your body floating at the surface of the water. The guide will pull the raft into the best position and you'll stay in that position for the duration of the time in the water.
Why? Lights are mounted on the underside of the floating raft and the Manta Rays will be doing summersaults below the raft, looping over and over directly under you.
It is important that you are comfortable in the water, but it is not necessary that you are an excellent swimmer. However, you need to also be comfortable keeping a snorkel on and keeping your face in the water for an extended time.
We spent around 30-45 minutes in the water and at least 20-25 minutes were spent with Manta Rays actively feeding off our board or the boards around us. It was also really neat to see the Manta Rays feeding above the scuba divers that sat on the sandy bottom with lights shining above them.
The Highlight of this Big Island Tour and What You Should Look Out For
The Big Island offers such an array of adventurous tours, so why pick a night Manta Ray snorkel tour?
As an experienced traveler with more than 30 countries across four continents, I would have to say that the Kona Manta Ray night snorkel was a huge highlight. Combining my love of animals, nature, and adventure, it was the perfect mix.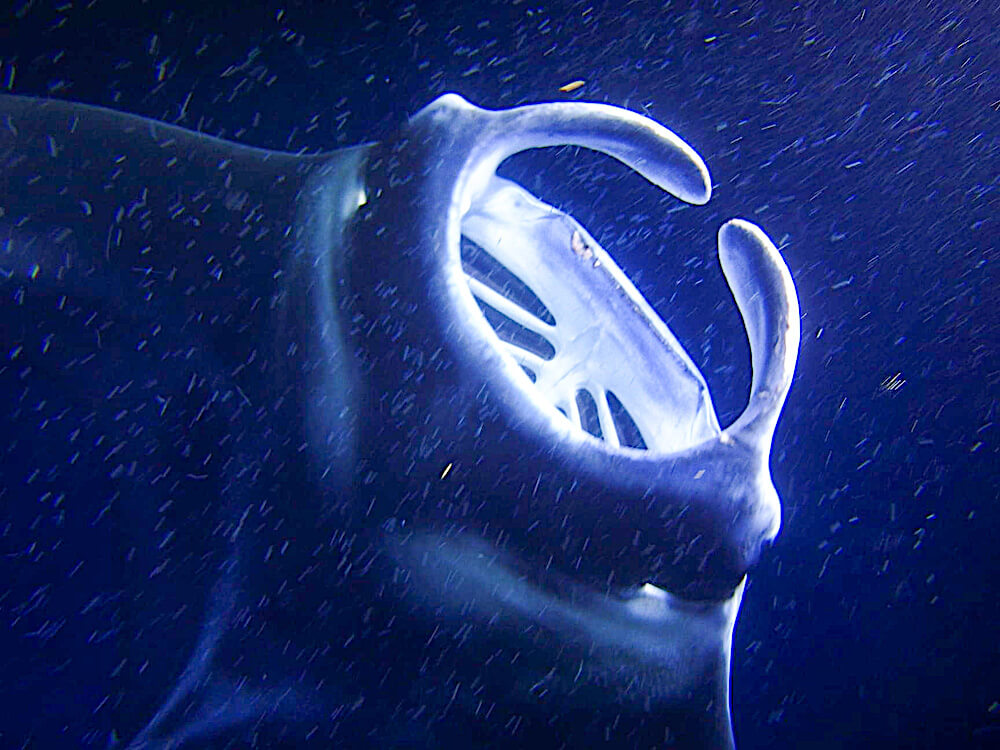 There aren't many tours that you are able to get this close to sea creatures while still maintaining their safety (and yours). The Manta Rays didn't seem bothered in the slightest with our presence. And they were happy to feed on the plankton as we marveled from above.
Our tour boat guides gave us an excellent presentation about the biology and behaviors of the Manta Rays before our snorkeling tour. We were also given strict warnings never to touch the Manta Rays or attempt to photograph or film them in a way that affected their natural behaviors.
Kona Manta Ray Snorkel Tips for Families
What to Wear
Since this is a nighttime activity, you won't be able to enjoy the warmth of the Hawaiian sun, so you'll need plenty of layers to stay warm.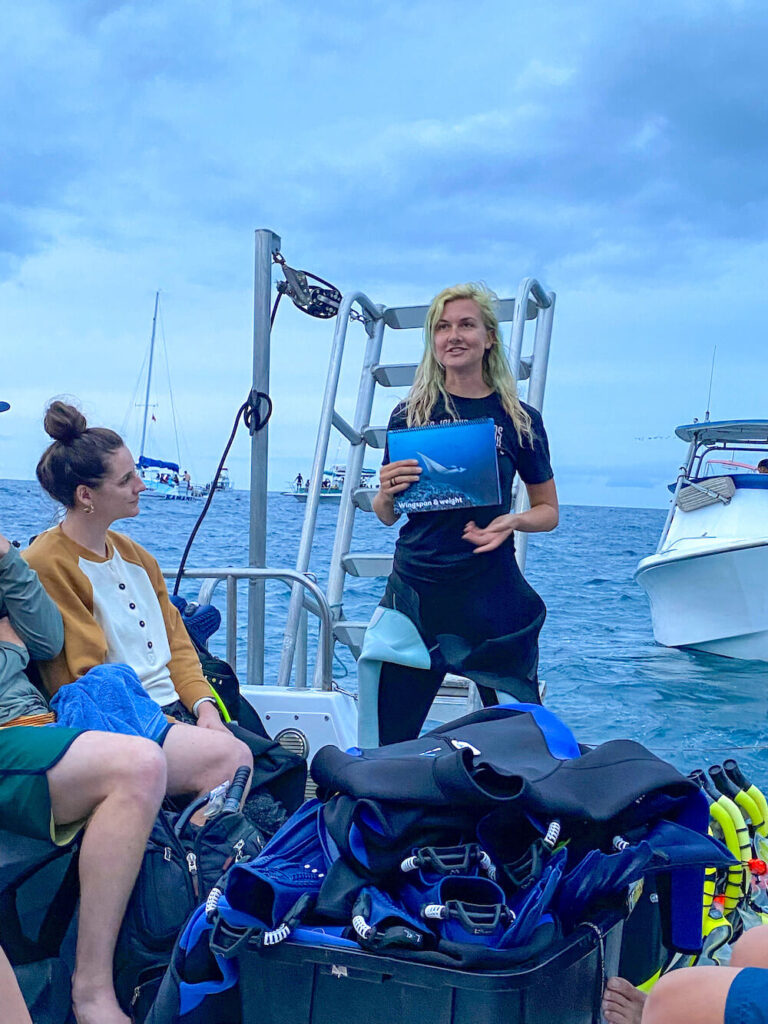 While snorkeling, you'll want to have a swimsuit and a wetsuit. Each company has a wide variety of wetsuits (long or short) as well as various thicknesses. It's better to have a wetsuit and not need it, rather than not have one and ruin your adventure because you get cold.
I was visiting in the month of December and I wore a 3mm bodysuit with long sleeves (no legs). Perhaps in the summer months, you can avoid a wetsuit.
As soon as you are back on board, you'll want to dry off with a towel or two and then throw on a fleece or windbreaker.
Hawaii is beautiful and warm during the day. But as soon as the sun goes down and the boat starts to head back to the shore, the wind can make for a cold ride home. So be sure to layer up or pick a spot on the boat that has some protection.
What to Bring for Your Manta Ray Swimming Adventure:
Be sure to bring a bag packed with dry towels, sunscreen (for the boat ride out), sunglasses/hat, snacks, water/drink, an underwater camera, and your gear (snorkel set/wetsuit) if you plan to use it.

In addition, I recommend taking medication if you are prone to seasickness. You'll also want a wet bag for your rash guards/extra swim gear.
The majority of the tours provide drinks ranging from sodas, water, and hot chocolate. They also provide cookies and chips when the tour is over on the boat ride back.
Bringing the Kids
I am a huge fan of bringing my son on adventures around the globe. He has parasailed in Iceland, rappelled over waterfalls in Costa Rica, and enjoyed cliffside bridges in Switzerland. However, at the age of 7, he was too young to enjoy this activity.
If you bring your children, make sure that they are comfortable wearing a snorkel for a prolonged period of time. If your child is continually messing with their snorkel, adjusting it, or popping their head out of the water, this activity might be too much for them (and you).
I would recommend children be at least 8 years and older unless they've lived in a location in which snorkeling is a weekly activity and they are highly comfortable. Each boat tour has a different minimum age for children ranging from 6 years old to 10 years old.
If you have younger children, look for a boat that lets guests enjoy the activity from the boat for a reduced cost. Although, I will warn you that you may or may not see anything from the boat's anchoring location.
Our boat anchored on the outside ring and we had to be pulled into the inner ring in order to enjoy the Manta Rays. Once back on board, I couldn't see anything.
How Much Does the Kona Night Snorkel with Manta Rays Cost?
There are always variables in the costs, but on average it is around $120-$140 per person for a snorkel tour. That includes snorkel gear, our guides, and the boat. Go Pro camera rentals and wet suits were an extra cost. Tips are also appreciated at the end of the tour.
If you want to dive, you'll incur a slightly higher cost with the scuba rental gear and tank.
Where are the Manta Ray Snorkeling Tours Located?
The boat tours are all located outside Kailua-Kona on the Big Island of Hawaii. No other island in the Hawaiian chain offers night Manta Ray tours. Kailua-Kona is located on the West side of the Big Island and is easily accessible from the local resorts.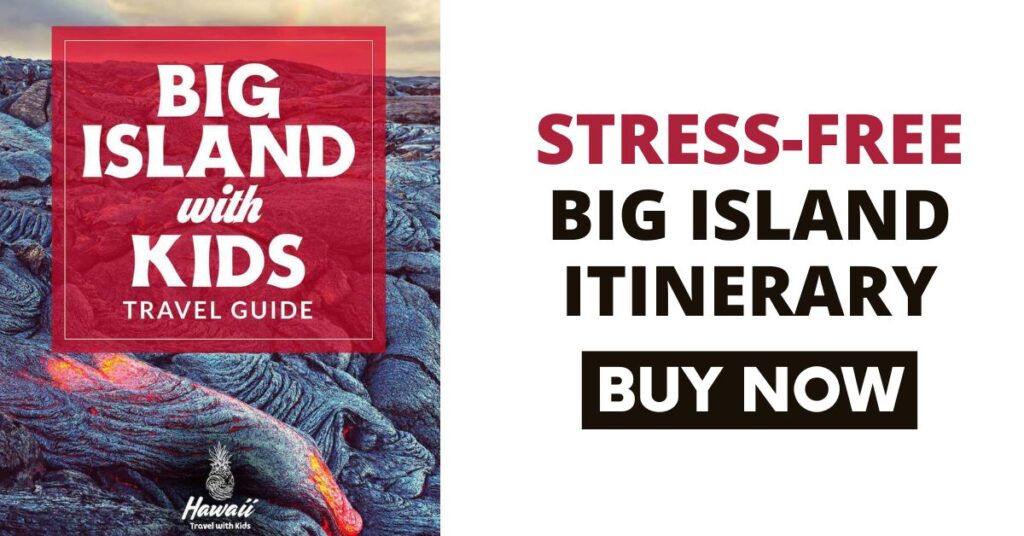 So, is the Manta Ray Kona Night Snorkel Worth It?
Absolutely! If you are staying near Kailua-Kona it is an amazing experience to get up close to Manta Rays in their natural habitat. With so many amazing Kona snorkeling tours to choose from, this tour was certainly high on my list for unique experiences.
About Chelsea
Chelsea is the founder/editor of Pack More Into Life, a travel blog that covers adventures as a family around the globe. She is a special education teacher and military spouse who has grown up all over the world and continues to share her passion and love for travel with her husband and son. She has visited family friendly hotels and destinations around the world including Costa Rica, Finland, Quebec City, Germany, Croatia, Slovenia and aims to inspire fellow families to pursue their travel dreams around the globe