Are you planning a trip to Oahu? Keep scrolling for my quick guide to Daniel K. Inouye International Airport on Oahu, plus my top Honolulu airport tips so you'll know what to expect.
This list of Honolulu airport tips was written by Hawaii travel expert Marcie Cheung and contains affiliate links which means if you purchase something from one of my affiliate links, I may earn a small commission that goes back into maintaining this blog.
Are you traveling to the Honolulu airport soon? Do airports make you anxious, especially when you are flying with your family?
The Honolulu International Airport is a busy place, and it can be easy to get lost. Here are some tips for navigating through the airport with your family!
It's important that you know what to expect before you arrive at the airport so that everything goes smoothly. We have all of the information about parking, security lines, baggage claim, and more right here on our website!
You will never feel anxious or confused again when flying with your kids after reading this article.
This guide has everything you need to know about how to navigate through Oahu's busiest airport – including where not to park your car if you don't want an expensive ticket!
Don't worry – we have got all of your bases covered. All of these tips come from someone who has been there and done that – we understand exactly what it takes for a smooth flight in Hawaii!
Let us help make sure that everyone in your family enjoys their trip as much as possible by following these simple steps.
After reading this article, even first-time travelers will feel confident they are prepared for anything when they fly into Hawaii with their children.
Use these Honolulu airport tips to have an easy flight to Hawaii!
Don't have time to read a bunch of Hawaii blog posts and reviews? Here are some of our top picks for visiting Oahu.
Popular Oahu Tours/Activities
Favorite Oahu Resorts/Hotels
Want to Rent a Car in Hawaii?
One of the best places to rent a car in Hawaii is Discount Hawaii Car Rental because they get the best rates from top national companies like Alamo, Dollar, Thrifty, Avis, Enterprise, Budget, and Payless.
Want to skip all the planning and just access my detailed Oahu Itinerary complete with daily schedules, kid-friendly activities, and travel hacks? Click the button below.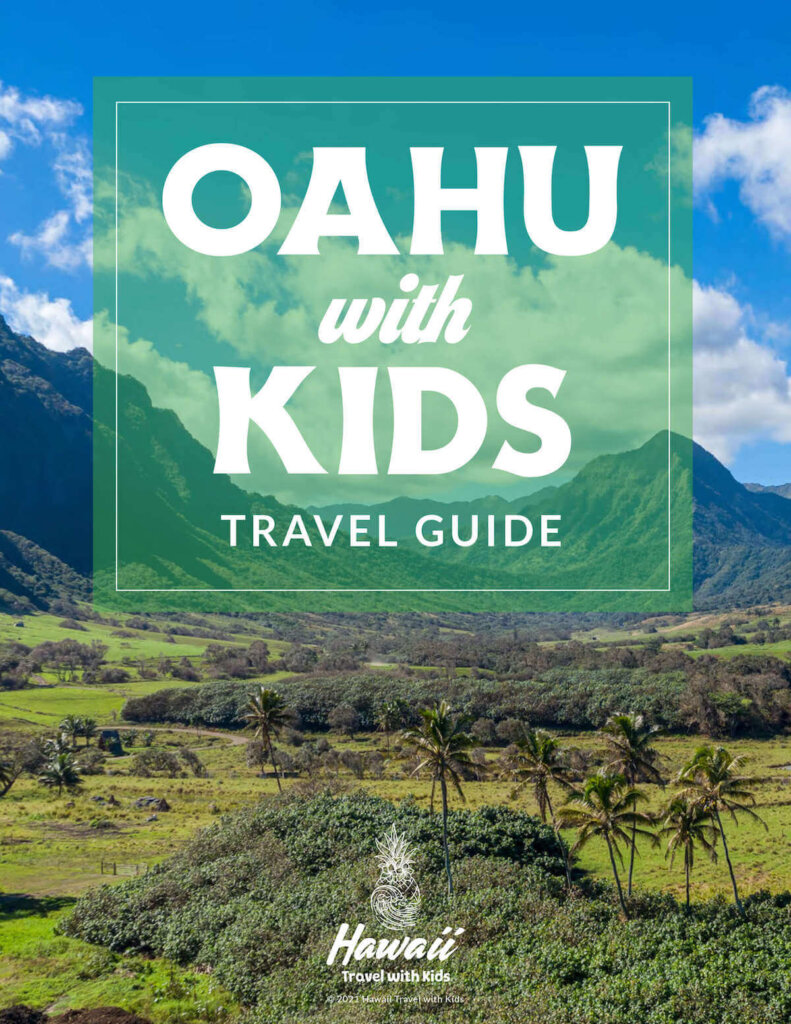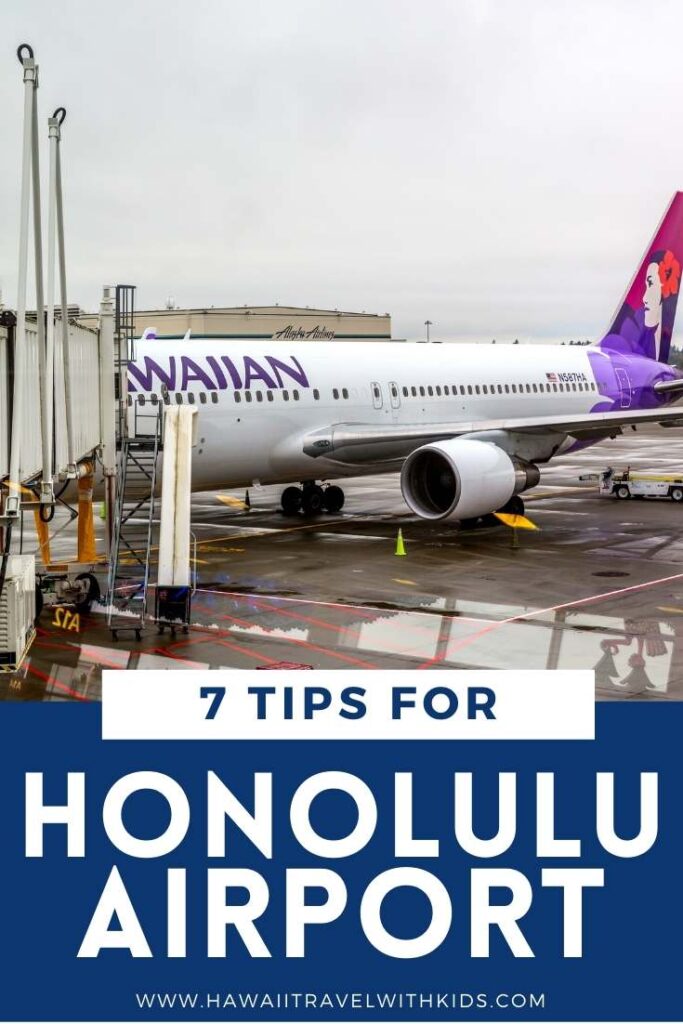 How Long Does It Take to Get to Honolulu Airport from Your Hotel?
Oahu is a small island, but that doesn't mean everything is close. You will need to plan ahead to get to and from the Honolulu airport in the right amount of time. Here are some general times, but these can change due to traffic.
Downtown Honolulu: 15-20 minutes
Waikiki: 30 minutes
Ko'olina Resort: 35-45 minutes
North Shore: 45 minutes to an hour
Turtle Bay: 1 hour to 1 hour and a half
What Happens When You Arrive at HNL Airport?
Let's take a walk-through of what will happen when you arrive or depart at the Honolulu, Hawaii Airport so you know exactly what to expect.
Honolulu Airport Arrival
When you arrive at the Hawaii international airport, you'll first head across the terminals toward the elevator to head to baggage claim.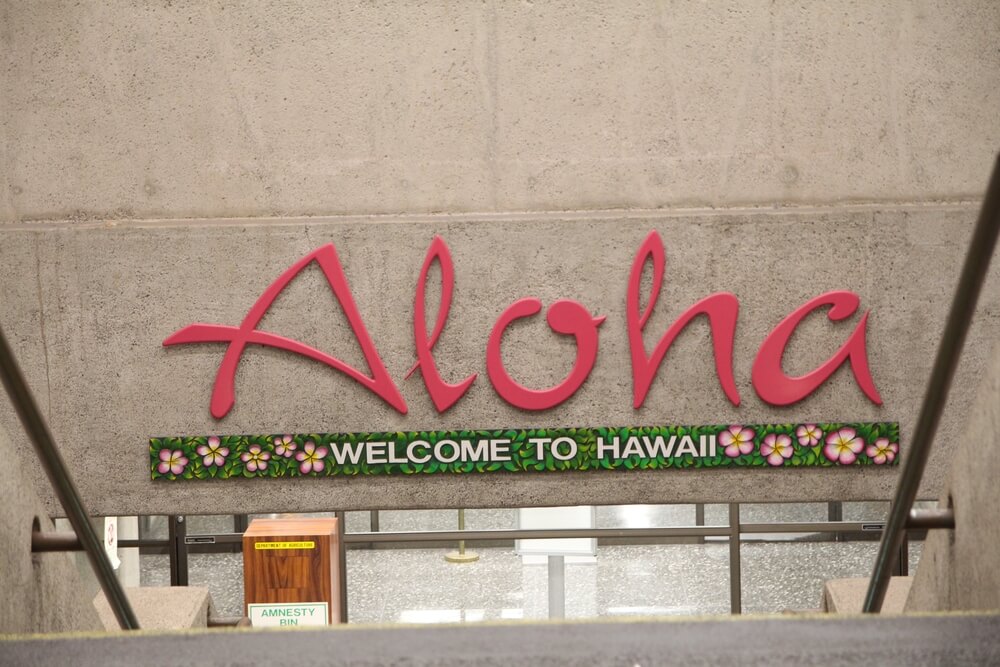 There are plenty of bathrooms along the way if you need one. I always suggest using one further from your gate in order to avoid standing in line.
Baggage Claim
The Honolulu baggage claim is fairly small, but many have trouble getting to it. After you arrive and get off the plane, you will need to walk for a bit to enter the front of the airport.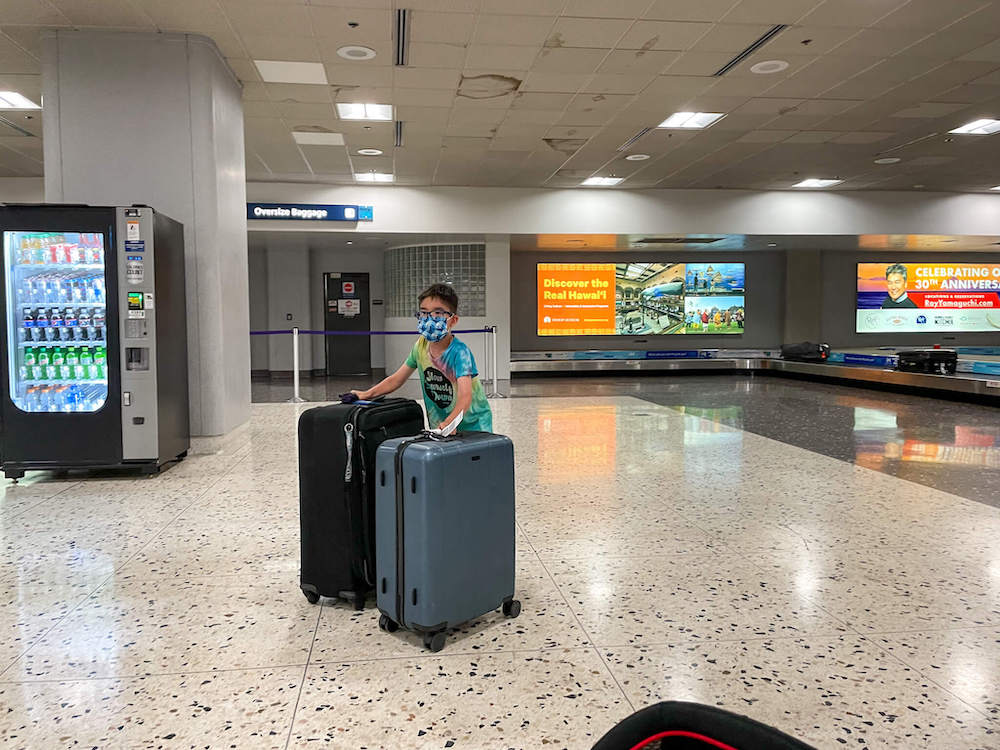 You usually get on an elevator from there, as baggage claim is on the ground level.
Once you have all of your bags, find your method of transportation, whether rideshare, shuttle, or rental car.
Rideshares, Rental Cars, and Shuttles
Once you arrive at the airport in Oahu, there are many ways to get to your hotel, resort, or Airbnb. There are rental cars at the Honolulu airport, as well as shuttles and rideshares. With a variety of rental car agencies, you'll find just the car you need during your trip.
Discount Hawaii Car Rentals
We all like to save money while we travel, right? Well, we've found that we can usually save a lot of money by booking through Discount Hawaii Car Rentals.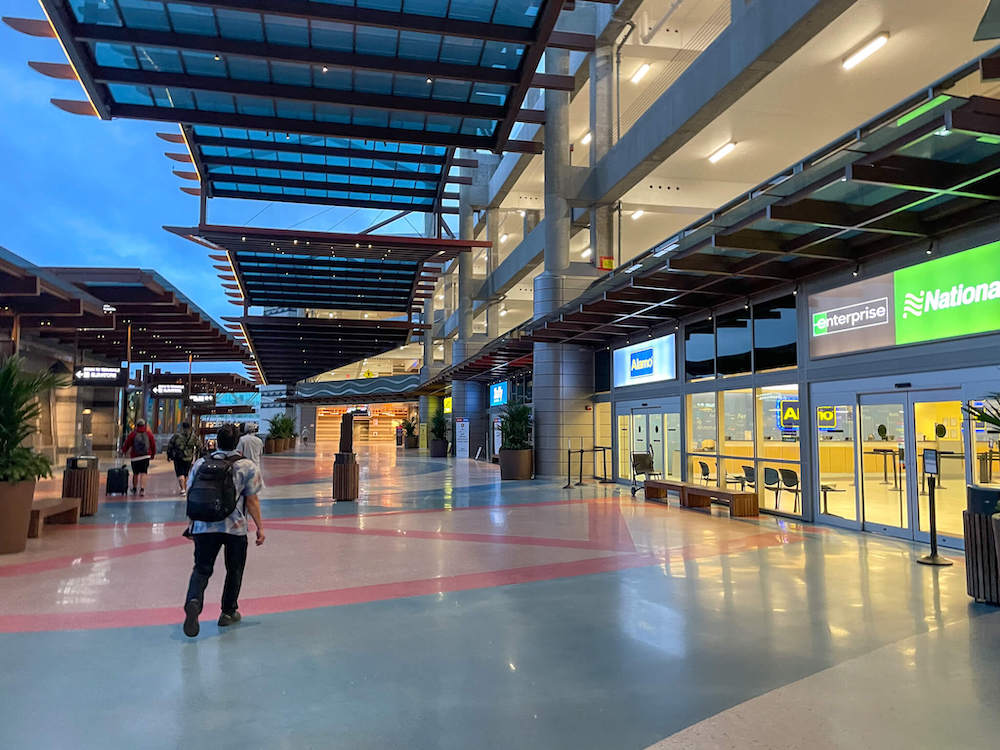 Basically, they get screaming deals on rental cars from top companies like Alamo, Dollar Car Rental, Avis, Thrifty, Enterprise, Budget, and Payless.
And then they pass the savings onto you.
Plus, they can often get free extra drivers or reduce the young driver rate. It's definitely the way to go. Check out the latest prices and more details.
In December 2021, they made picking up a rental car at Honolulu airport even easier. You can now find a ton of Oahu car rental companies in one consolidated place.
Honolulu Airport Shuttles
There isn't a free Honolulu airport shuttle to Waikiki. You'll need to arrange this one on your own or talk to your hotel.
Many shuttles will take you from the Honolulu airport to Waikiki if you need to get to Waikiki. Some hotels will offer a shuttle to the Honolulu airport if you are not renting a car as well.
These airport shuttles make it very affordable to visit Hawaii on a budget! Check with your hotel or resort to see exactly what they offer in terms of shuttles from Honolulu Airport to Waikiki.
You can also book a shuttle to Honolulu Airport for the end of your trip.
Uber at Honolulu Airport
You can also get picked up or dropped off at the airport with Uber. It will usually cost around $30 to take an Uber from HNL Airport to Waikiki. This is another great way to save money during your vacation.
Honolulu Airport Parking
If some members of your party are arriving early, they can pick up the rental car and park it at the Honolulu Airport and wait for you at baggage claim.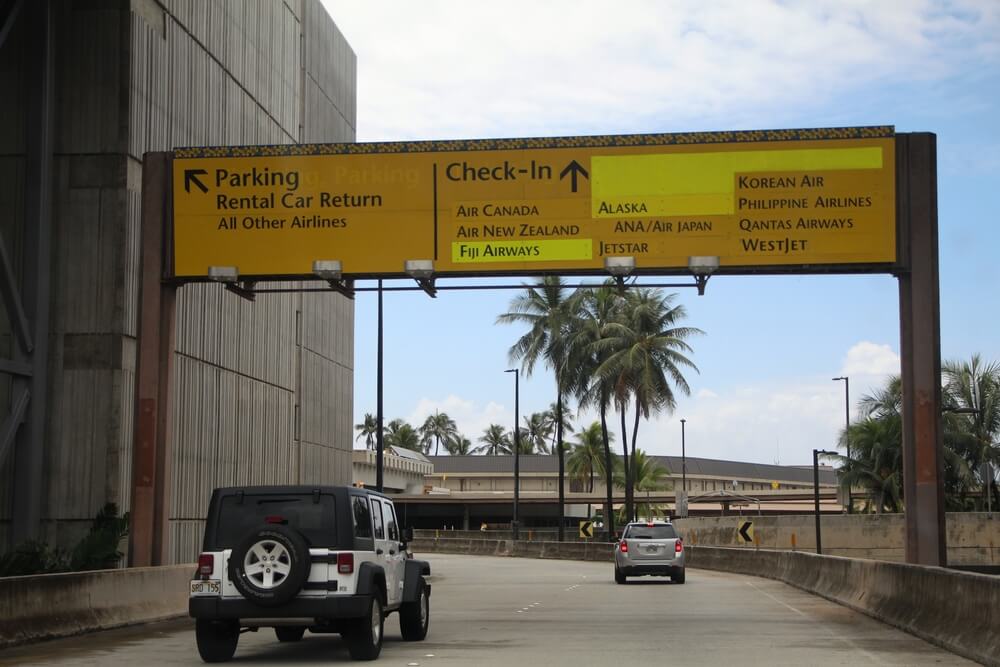 There are actually 3 Honolulu airport parking garages. The first one is located at the international building, the second is at Terminal 1, and the third is at Terminal 2.
Honolulu Airport Departures
As you are heading home, you will either be dropped off at the airport or will need to return your rental car. First, find which side of the airport your airline is located. Then, put your bags through the agriculture inspection lane. Use a kiosk or head to the front desk to drop off your luggage.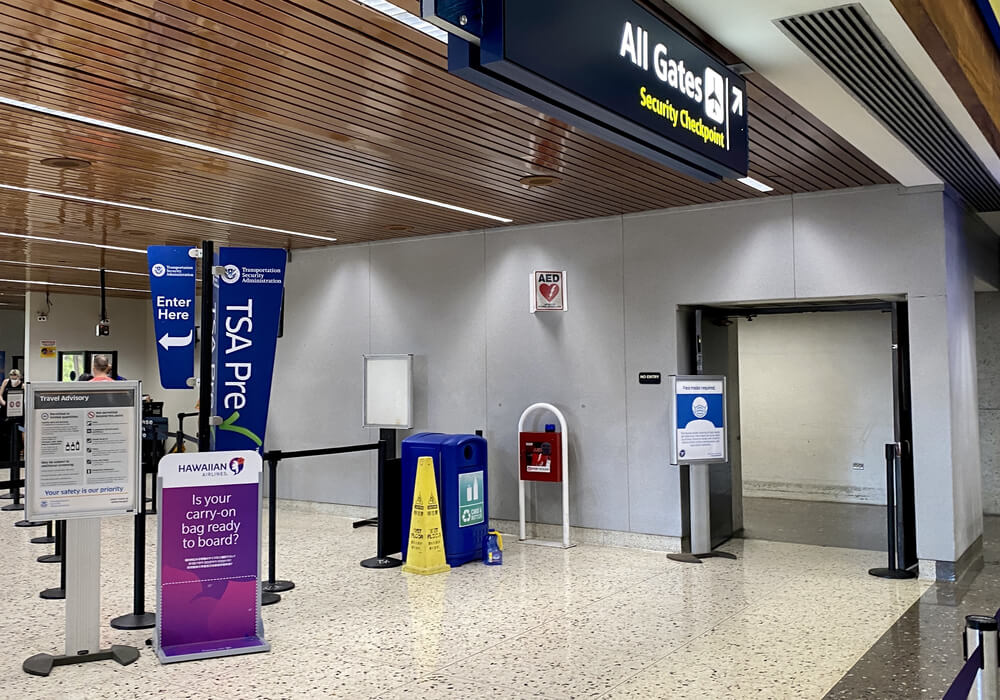 There are many security checkpoints throughout the airport. Depending on when your flight takes off will determine how many are open at a time. During the day, these lines can be crowded and take a while.
You can always go through TSA pre-check at this airport if you want. This has saved our family SO much time throughout the years. Plus, it's the easiest way to get through security with little kids.
After you finish, head toward your terminal!
Walking Between Terminals
Can you walk between terminals at HNL? Between Terminals 1 and 2 you can walk, but you will need to ride the terminal shuttle bus if you want to get to Terminal 3. It usually takes between 5 to 15 minutes to walk between 1 and 2.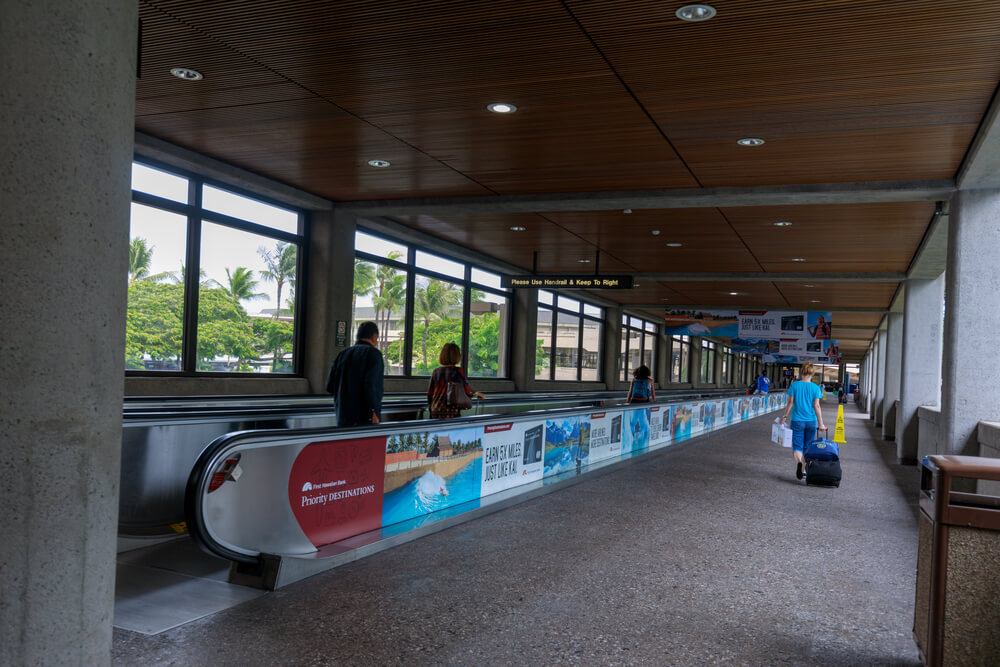 You'll experience a mix of indoor and outdoor areas as you walk through the Honolulu Airport.
Honolulu Airport Restaurants
There are a few fast food places and restaurants at the Honolulu airport. You can also grab some snacks at different shops as well, but the HNL Airport food is more expensive.
Each terminal has a few shops, but they also have a food court that is open most of the day.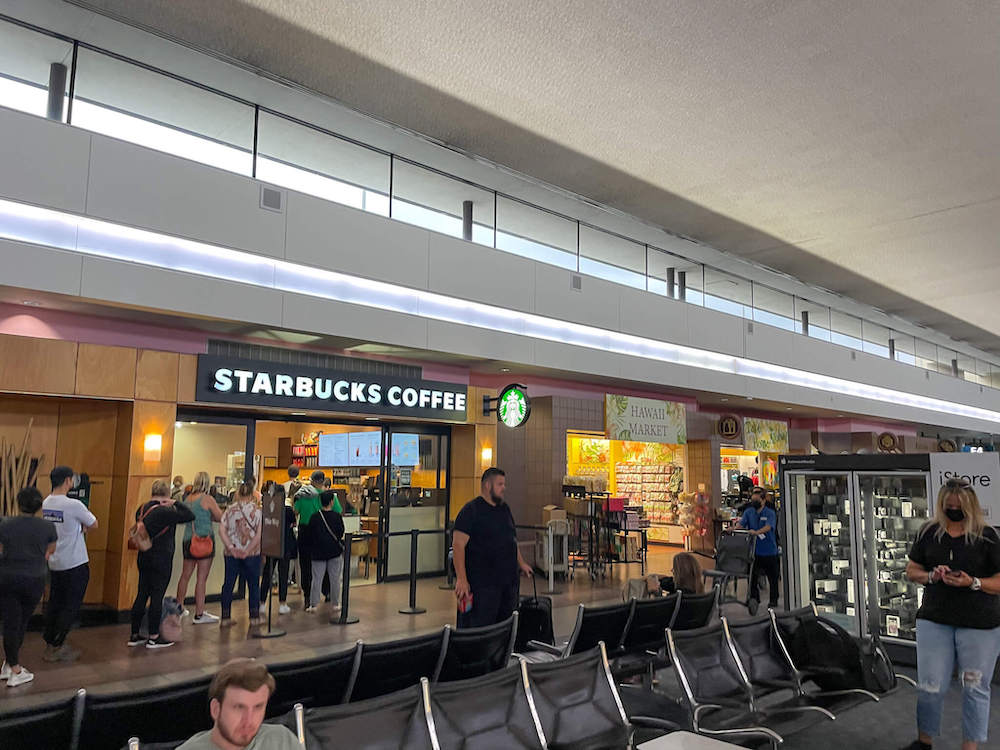 We always hit up Starbucks before our flight, no matter what time of day. They have pastries and pre-wrapped food that is easy to take on the plane.
You can take all the food from the restaurants on your flight as well; just make sure to grab to-go boxes!
Gift Shops at Honolulu Airport
Out of all the airports we've been to, I think the Honolulu Airport has the best gift shops! You'll find them all over the airport.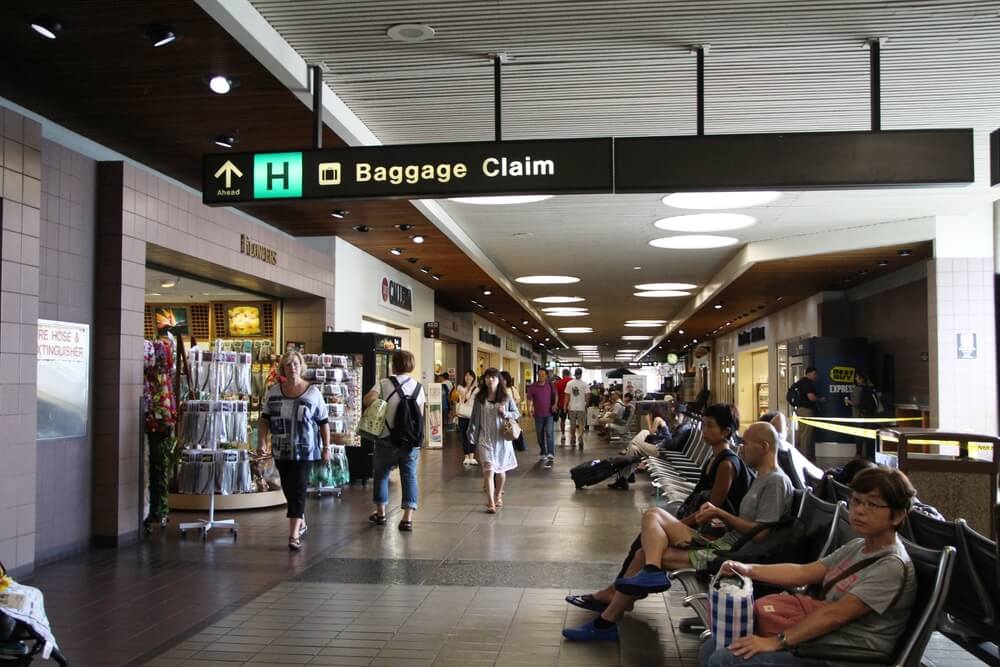 You can find everything from fresh flower leis, Hawaii t-shirts, Aloha shirts, books, and other Hawaii souvenirs. You can even take home a fresh pineapple all boxed up!
Honolulu Airport Lounges
There are a few airport lounges at the Honolulu Airport. Different airlines will have their own throughout each of the terminals. There are also a few lounges that don't require a specific class or airline. These lounges usually require paying for a day pass or getting a year pass.
If you are staying at Disney Aulani Resort, be sure to look into booking a slot at the Ko Olina Lounge.
Post Office at Honolulu Airport
If you happen to have a lot of items to pack home and you're worried about the extra checked bag fees, you might consider shipping some of your items home.
There's actually a post office right before you get to the airport, which is super convenient.
What are the Closest Honolulu Airport Hotels?
While there are no hotels at Honolulu Airport, there are several nearby. A few options include the Airport Honolulu Hotel, Pacific Marina Hotel, and the Best Western Plaza Hotel.
These are great options if you are arriving late at night, have a flight delay, or simply need to take a shower or short nap on a layover.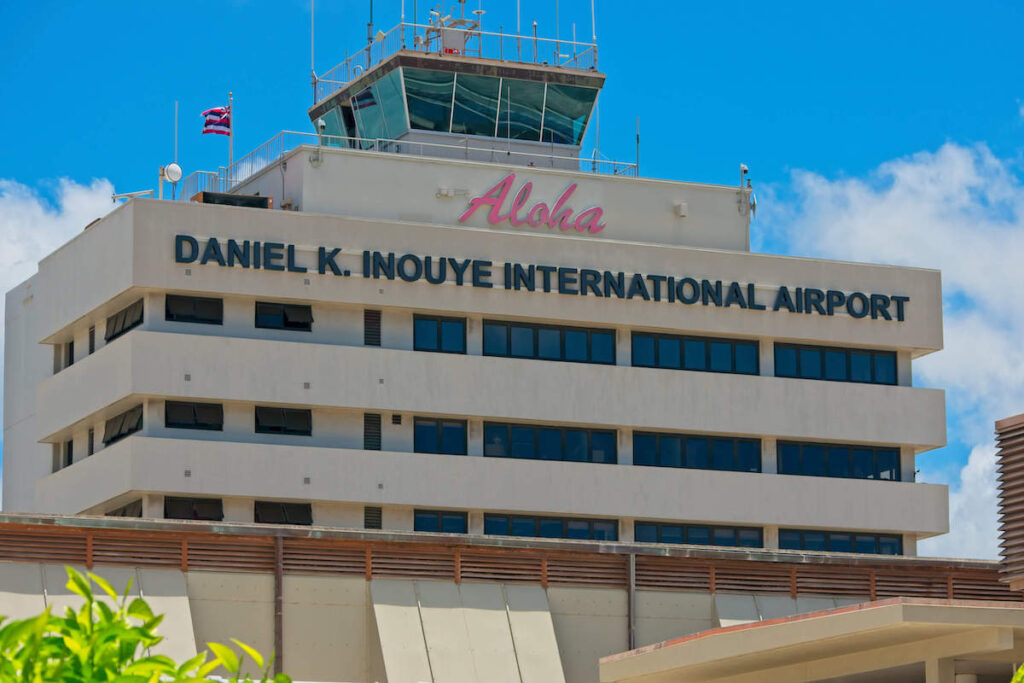 Honolulu Airport Tips
Here are some of the best tips for getting around the airport on Oahu. Use these during your next vacation in Hawaii so you can feel confident and at ease as you arrive at the Honolulu, Hawaii Airport!
1. Arrive Early
How early should you arrive at the Oahu Hawaii airport? Everyone will have a preference on when they like to arrive at any airport. You should arrive at least 90 minutes before your flight at the Honolulu International Airport.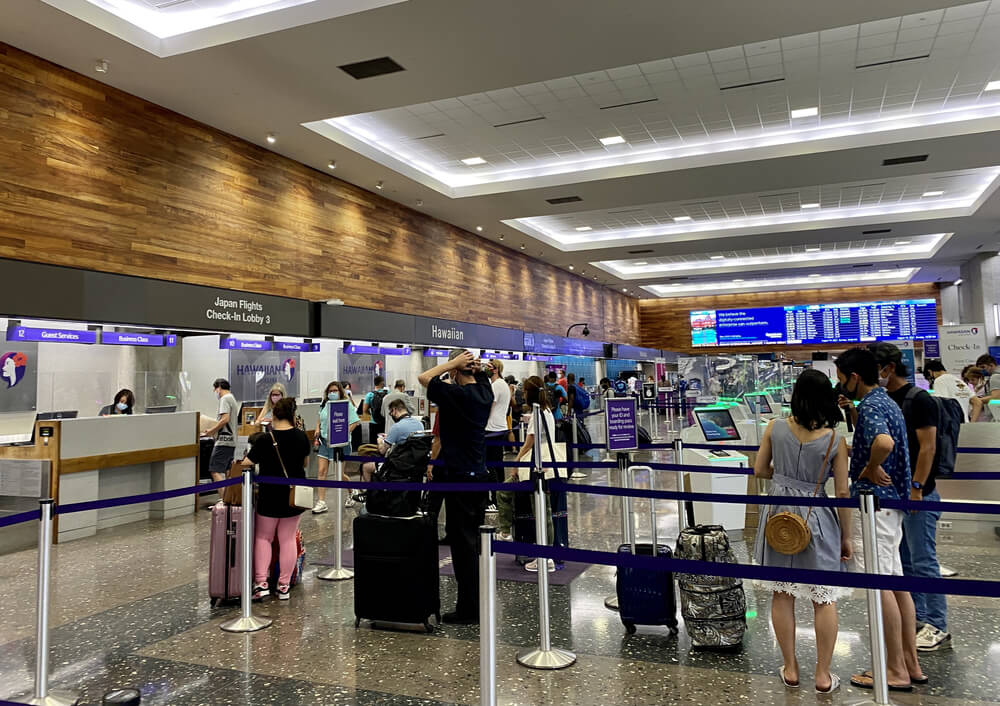 If you have bags, try to aim for two hours. If you are traveling with small children, it is probably best to arrive three hours before your flight leaves. This will help you take your time, go through each section, and not feel like you are in a rush.
Arriving early doesn't hurt anyone! You have more security lines than normal at HNL, so be sure to give yourself enough time so you don't panic. You want to stay relaxed and peaceful even after your vacation!
2. Make Sure You Go Through the Right Agriculture Line
At the Hawaii Airport, you will need to put your bags through an agriculture security belt. This is to make sure you aren't bringing specific fruits, plants, and bugs back to the mainland. All checked bags are required to go through this agriculture inspection.
However, be sure to go through the correct line. There are many inspections throughout the airport. If you go in one, only to realize your airline is further down, you might have to go through a new line all over again. That is mainly because you get a particular sticker color for your bags.
Double-check where you need to check in for your airline so you don't go through the wrong one.
3. Wait to Buy Your Leis
Many people automatically think that everyone will get lei greetings at Honolulu airport, but that's not the case. If you are being picked up by someone or your hotel, you will more than likely have a beautiful Honolulu Airport lei greeting. Otherwise, you might have to get one for yourself.
There are many lei stands at the Hawaiian Airport. However, the cheapest and the prettiest are outside the airport! A few ladies sell leis as you drive out of the terminals. Be sure to stop and support them and grab beautiful leis for a traditional Hawaiian greeting!
4. Wear Very Cool Clothes
The majority of the airport does not have air conditioning, so it gets extremely hot. Wear lightweight clothes to keep yourself cool. Also, bring a spare outfit in your carry-on, as you might want to change right before you get on the airplane if you sweat a lot!
There are a few airport terminals that have AC at the Oahu airport. If you arrive early enough and need to wait a while, find one of those to rest in before your flight.
5. Fill Up Your Water Bottle Right Away
Because it is so hot throughout the airport, make sure to fill up your water bottle as soon as you can after going through security. Find a water fountain and fill up all the bottles you have. You will want to drink all throughout the airport so you don't get overheated!
6. Put All Food and Liquids in a Ziploc Bag
At the HNL airport, you have to take out all your snacks, food, and small liquid items. To save time, place all those in a big Ziploc bag. That way, it is easier and quicker to grab when you reach the front of the line.
If you have a few bigger electronics, have them all in the same bag so you know exactly what to take out all at once instead of opening each carry-on you have. This will save you time and will make everyone behind you happier!
7. There are Nursing Stations for Parents
While there aren't any "mothers' rooms" at the Honolulu airport, there is a Mamava nursing pod near Gate A15 as well as near Gate E2 just outside of the restrooms.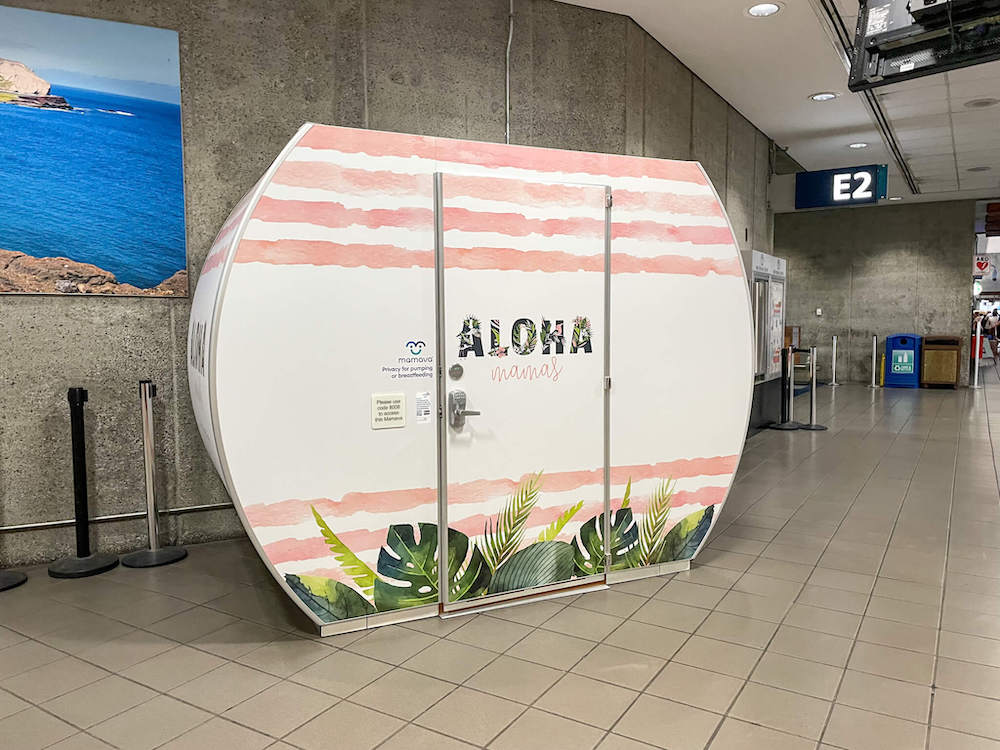 If you use this Mamava app, you'll be able to check the vacancy and even control the airflow and lights.
They also have Mamava nursing pods at the Lihue Airport on Kauai, Kahului Airport on Maui, and the Hilo Airport on the Big Island.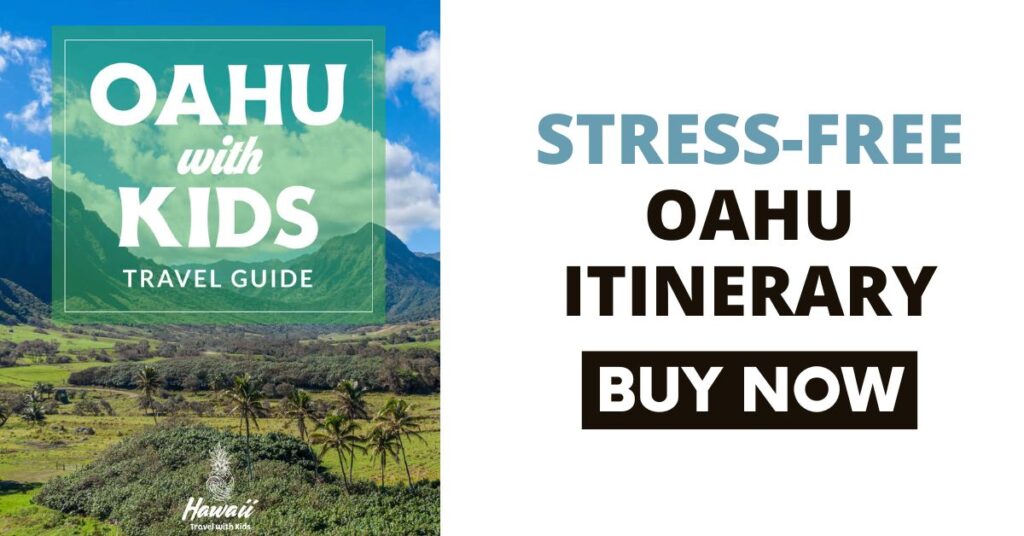 Daniel K. Inouye International Airport in Honolulu FAQs
Does the Honolulu Airport close? 
There are some red-eye flights at the Honolulu airport. But, most sections of the airport will be closed from 10 pm to 5 am. If you have a layover or need to sleep at the airport, you will need to verify your flight ticket.
What's the airport code for Honolulu?
The Daniel K. Inouye International Airport is abbreviated to HNL, which stands for Honolulu. It's the main airport in Oahu, HI.
Is there parking at Honolulu Airport?
Yes! There's the International Parking Garage located directly across from the International Arrivals Building, Terminal 2 Parking Garage, and Terminal 1 Parking Garage. The rates are really reasonable (it's just $5 for 2 hours).
Can you walk between terminals at Honolulu Airport?
You can walk between Terminals 1 and 2 at the Daniel K. Honolulu International Airport, but you will need the terminal shuttle bus to get to Terminal 3.
Daniel K. Inouye International Airport in Oahu Wrap-Up
As the largest airport in Hawaii, the Daniel K. Inouye International Airport can get confusing, especially if it is your first time.
Use these tips to get through your arrival and departure from this airport with ease! Remember to give yourself plenty of time; you got this!