Are you looking for the best place to stay on Oahu for families with kids of all ages? Keep scrolling to read my honest Disney Aulani Resort review.
This Disney Aulani Resort review contains affiliate links which means if you purchase something from one of my affiliate links, I may earn a small commission that goes back into maintaining this blog.
Are you looking for a family-friendly resort in Oahu?
Aulani, a Disney Resort & Spa is the perfect place to stay if you're traveling with your kids. It has everything from kid-friendly pools and activities to delicious restaurants that will make everyone happy! I'll tell you all about it below.
You can relax knowing your kids are having fun while also enjoying their own vacation at this beautiful Hawaii resort. Plus, there are plenty of things for adults too!
We stayed at Aulani twice now and loved every minute of our time there. If you want to know what we did during our trip, keep reading my honest review below!
I'll even share some tips on how to save money on food and activities so that your family can have an affordable vacation without sacrificing quality or fun.
You'll be able to make memories that will last a lifetime when visiting one of these top-rated Hawaii hotels on Oahu with your family!
Scroll down to read my review of Disney Aulani in Hawaii!
Don't have time to read a bunch of Hawaii blog posts and reviews? Here are some of our top picks for visiting Oahu with kids.
Best Kid-Friendly Oahu Tours/Activities
Best Kid-Friendly Oahu Resorts
Want to skip all the planning and just access my detailed Oahu Itinerary complete with daily schedules, kid-friendly activities, and travel hacks? Click the button below.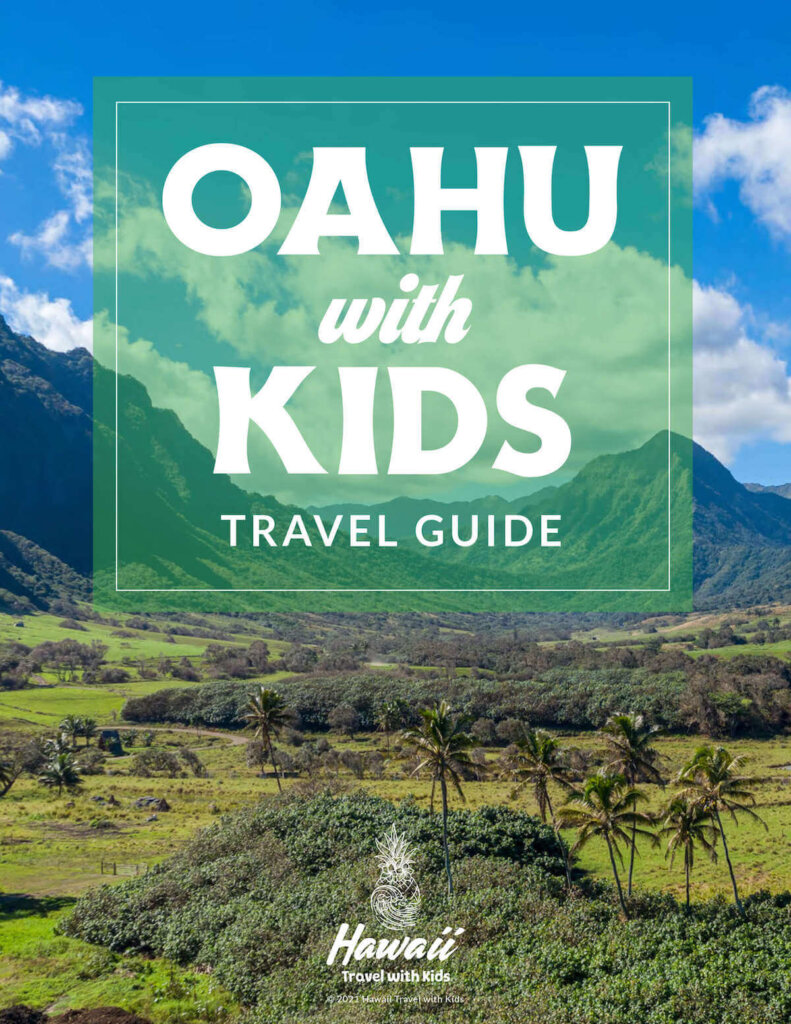 Aulani, a Disney Resort & Spa FAQs
Is Disney Aulani open to the public?
Sort of. The beach in front of Disney Aulani is open to the public. Non-guests can also attend the Ka Wa'a Luau or make dining reservations. However, only guests can meet characters and hang out at the pools.
Do you need a car at Aulani?
It really depends on what you'd like to do. Disney Aulani is so fabulous that you might not want to leave. In that case, just take a shuttle or taxi to/from the airport. However, if you'd like to explore Oahu, I recommend either renting a car for a few days or finding tours with transportation from Aulani Disney resort in Hawaii.
How far is Disney Aulani from Pearl Harbor?
Pearl Harbor is about a 25 minute drive from Aulani, a Disney Resort & Spa. You'll either need to rent a car or book a Pearl Harbor tour with transportation from Aulani.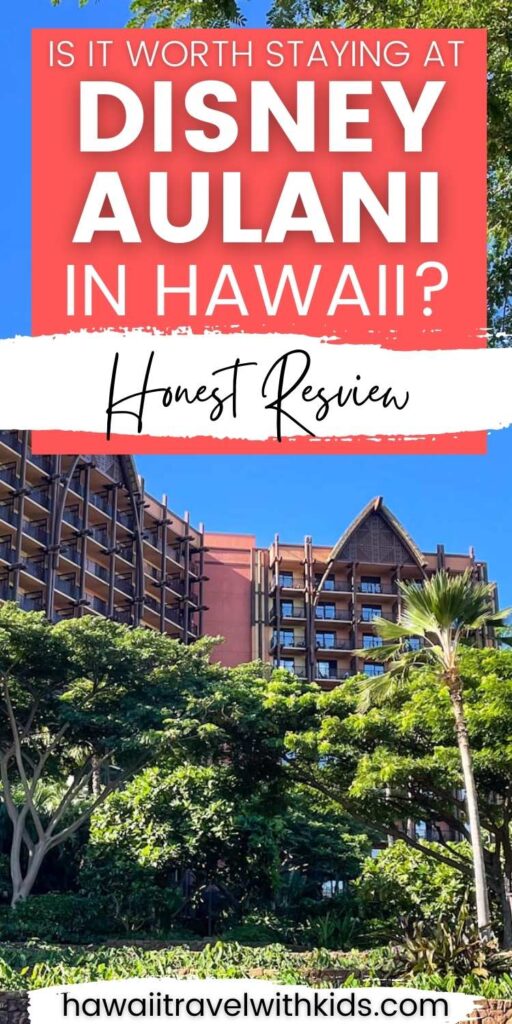 Where is the Disney Aulani Resort?
Aulani, a Disney Resort & Spa is located in Ko Olina on the island of Oahu. It's about 25 minutes from the Honolulu Airport (or an hour with traffic). The address is 92-1185 Ali'inui Dr, Kapolei, HI 96707.
You'll need to either book your own taxi or shuttle from the airport or rent a car. Check out the Disney Aulani transportation options from the airport.
Because of the dry weather, we think this is one of the best areas to stay on Oahu.
Honest Disney Aulani Review
This was our second time staying at Disney Aulani Resort in Hawaii, but I'll focus my review on our most recent trip in November 2021.
I'd been reading tons of Disney Aulani reviews in Facebook groups and that's how we figured out which room to reserve. This is one of the best Oahu family resorts with a variety of room types and capacities.
What was our room like?
Our room was AMAZING! We actually had to reschedule our Spring Break 2020 trip and needed to use up the DVC points we rented. The only rooms they had available for Thanksgiving week was a 2-bedroom villa that slept 9 people.
This was the most spacious set-up for our family of four and I almost wished we would have invited other people to join us.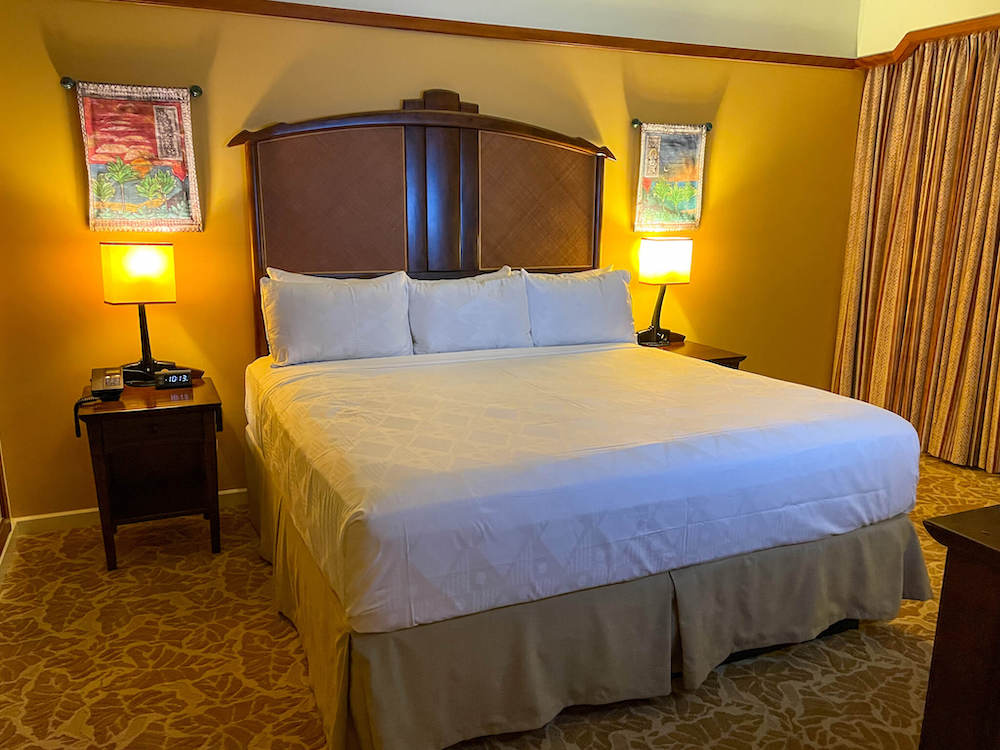 The bedrooms themselves were fabulous. We had a master suite with a king size bed and huge bathroom that included a soaking tub.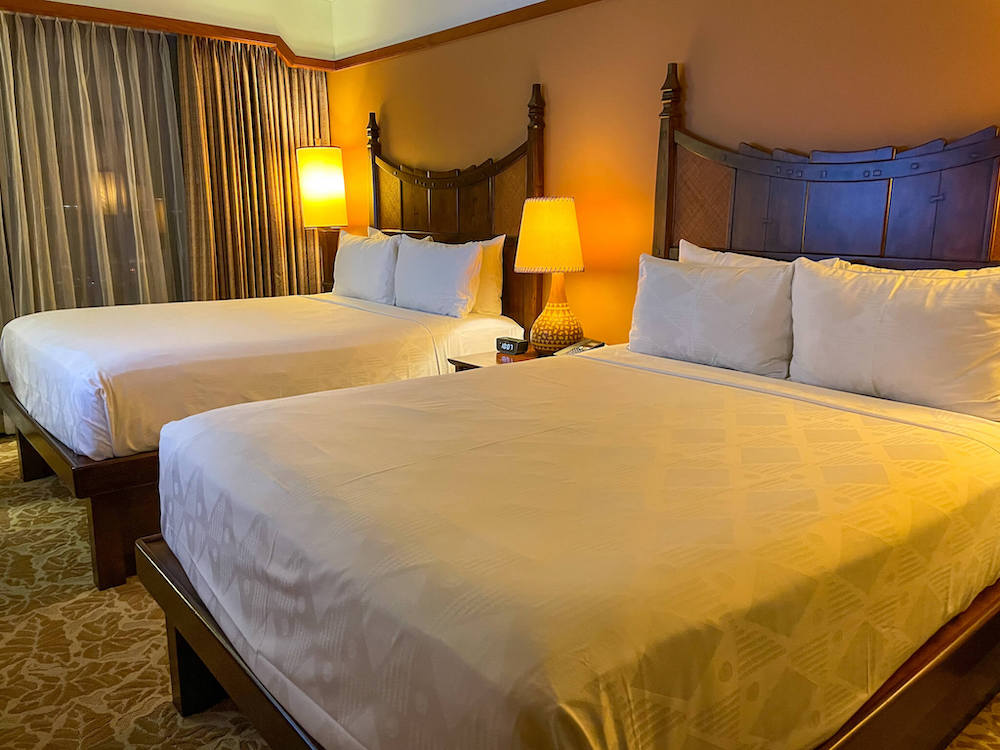 There was also a kids room with 2 queen beds and a full bathroom with a bathtub.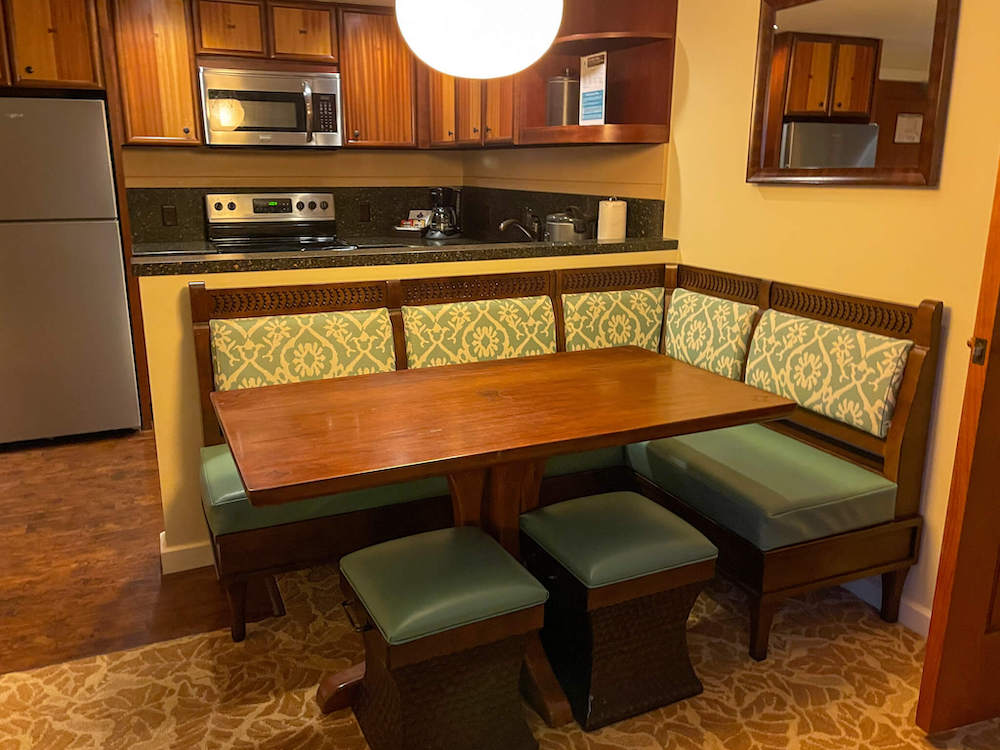 There was a full kitchen with all kinds of amenities including a rice cooker! We were only there 4 nights so we didn't use much more than the microwave and fridge. But, it would be really easy to have groceries delivered and save money by cooking meals.
I was most thankful for the in-unit washer/dryer. We had been traveling before we arrived at Aulani and brought a lot of dirty laundry with us.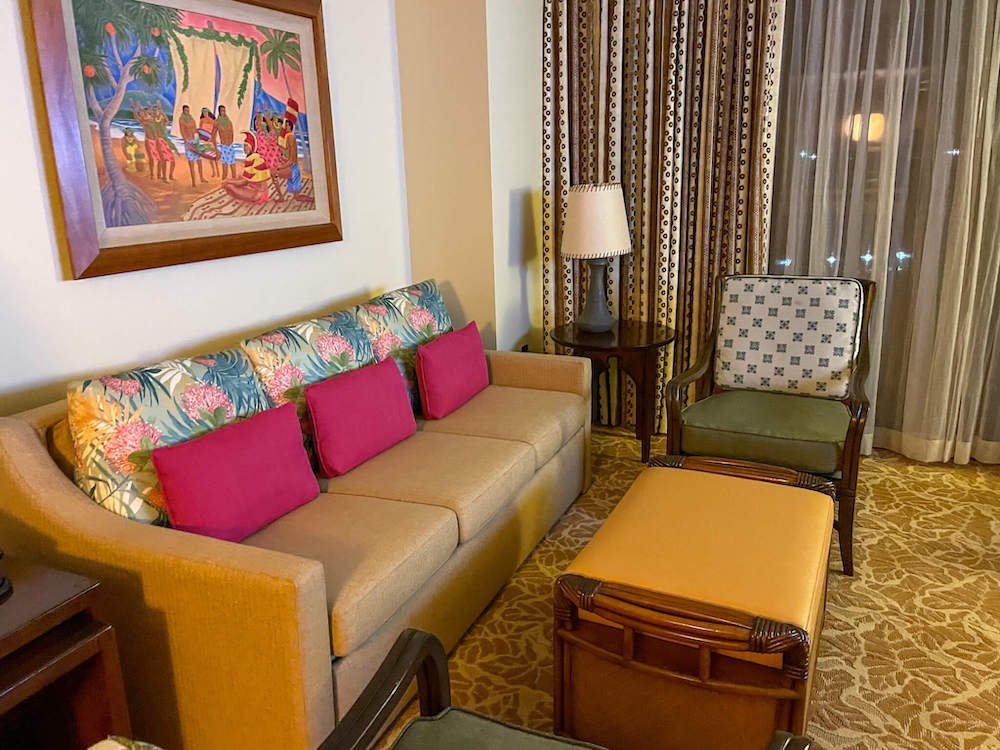 There was also a nice living room space with a couch, chairs, and even a TV. Actually, there were TVs in both the bedrooms, too.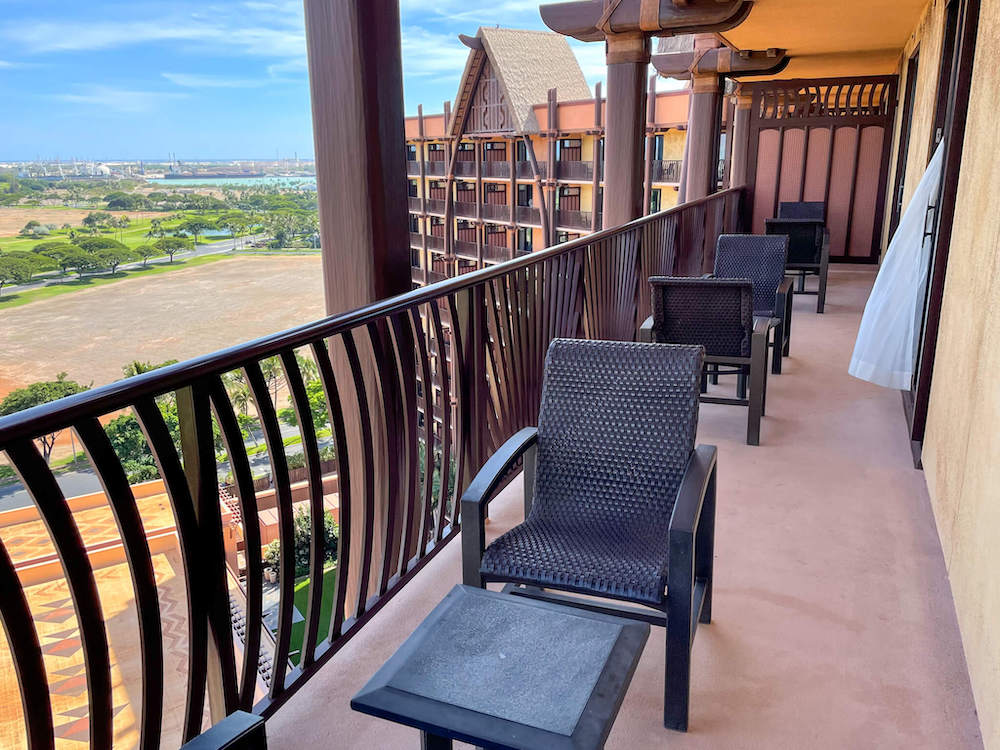 Our lanai was massive and featured 3 sets of tables and chairs. It was perfect for doing coffee and breakfast outside.
Last time, we stayed in a standard room and it was still really nice. The only downside was there wasn't enough space to eat dinner in the room.
What did we think of the dining options?
There are several places to eat at Aulani Resort in Oahu. I'll talk about each one below.
Makahiki
This is where they hold the Aulani Character Breakfast, but it's also a regular restaurant the rest of the time. We've only eaten here for the character breakfast at Aulani and the food was pretty tasty.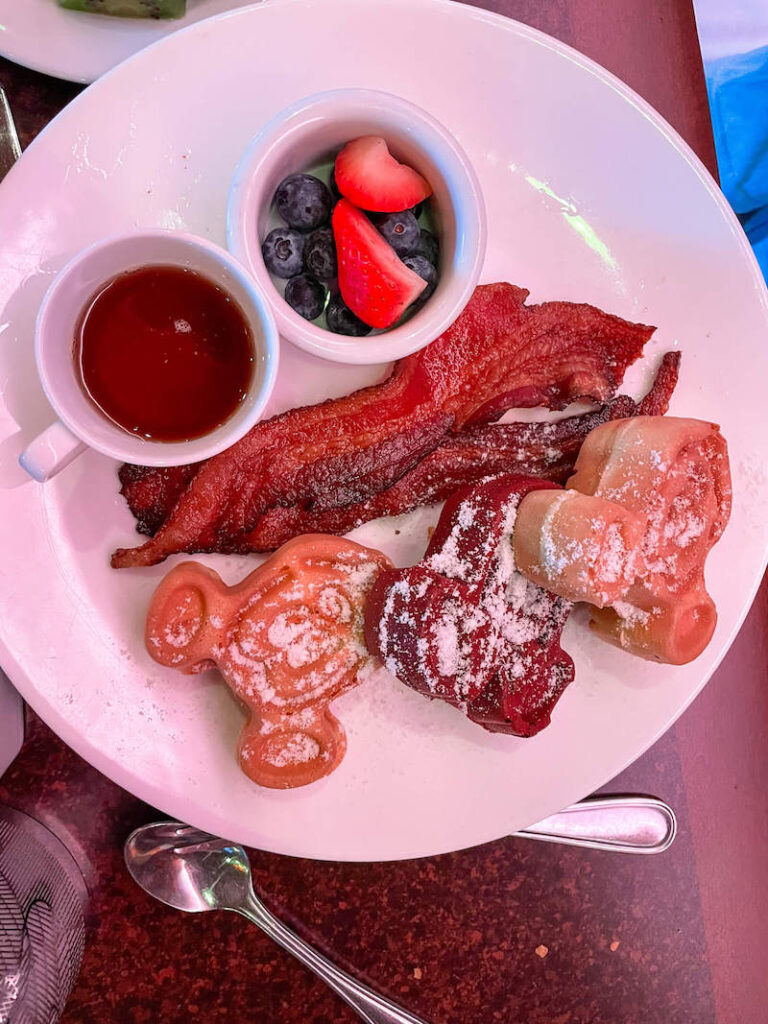 Read my full Aulani Character Breakfast review HERE.
Off the Hook
This is a poolside restaurant located behind the water slide. They have a full kids menu as well as tasty options like fish tacos and burgers.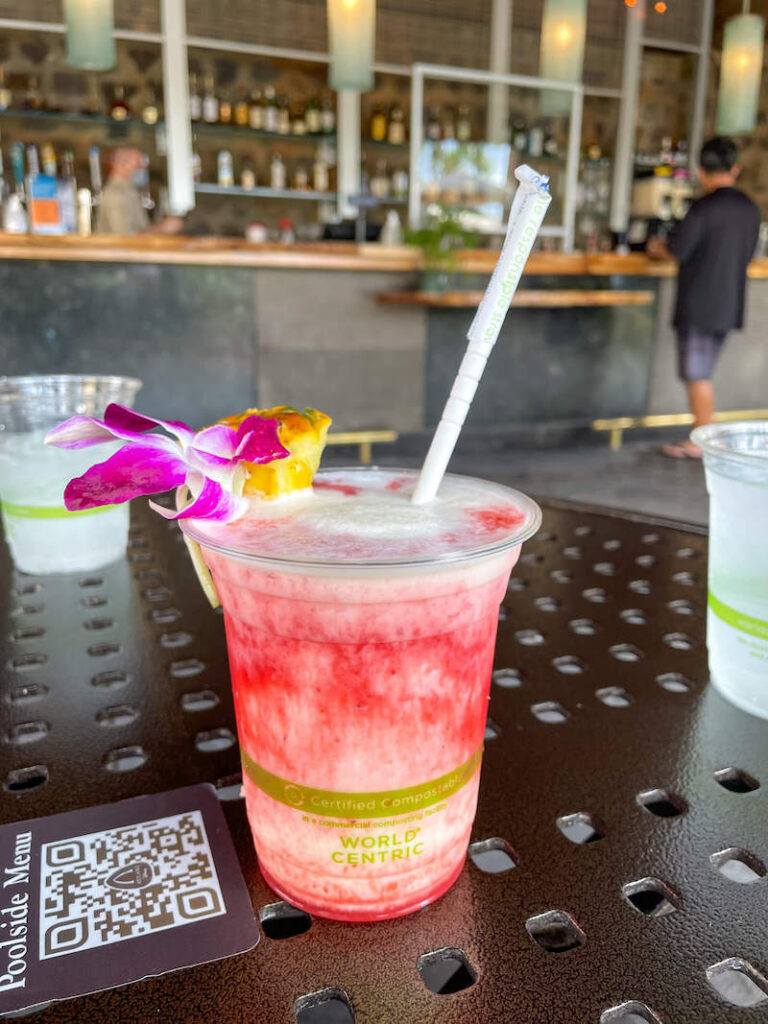 And this is the place to get fancy cocktails or fun drinks for kids.
Ulu Cafe
This is the main grab and go food option. It's located down by the pool area right across from Wailana Coffee.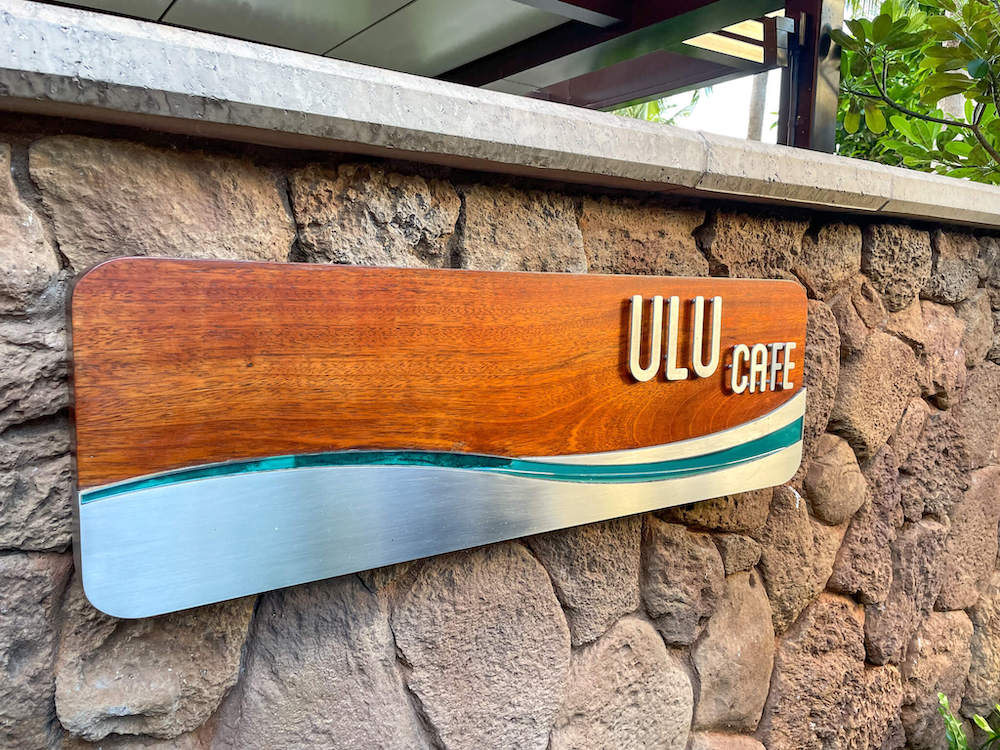 Not only can you buy pre-packed sandwiches, salads, snacks, drinks, and other items but they have a grill where you order pizza, hot breakfast items, and more.
Wailana Coffee
This is the coffee stand at Disney Aulani. It's located in the back of the pool area and always has a line every morning. They have a pretty extensive menu of drinks. I recommend the Aulani Special, which has macadamia nut syrup.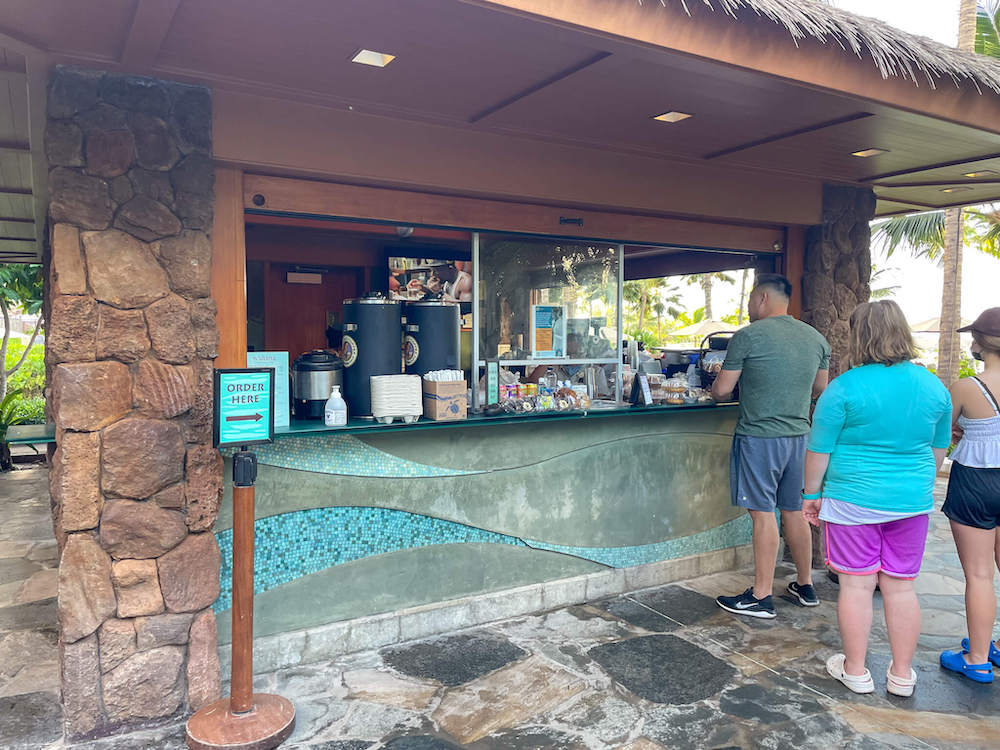 They also have grab and go breakfast pastries and treats. Some of them even feature Mickey Mouse!
Later in the day, you can come here to get frozen cocktails or even non-alcoholic pina coladas which are fantastic.
The Olelo Room
This is sort of a Hawaiian-themed lounge where you can get fun drinks and appetizers. We didn't have an opportunity to try it but it sounds nice for late night dining.
Papalua Shave Ice
My family LOVES shave ice, but according to my kids, the shave ice at Aulani is a "hot mess." It's much more like a snow cone than Hawaiian shave ice. Part of the problem is that the cup they use has a flat rim so the melted shave ice pools up and drips right off the cup.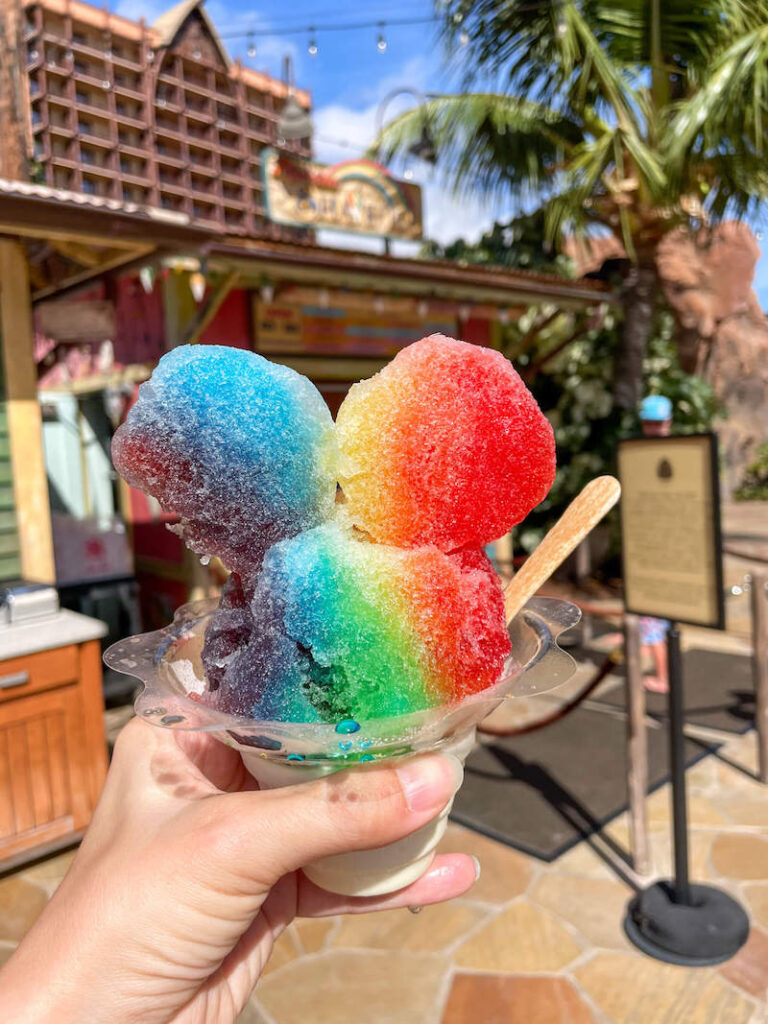 I love the fact that you can upgrade it to have Mickey ears (which is super cute for photos) but you'll need to immediately eat the ears after your pic. We saw a lot of people just biting into the shave ice while walking around, which again makes in more like a snow cone.
Mama's Snack Stop
This is an easy place to get hot food by the pool. It's a little stand right next to Papalua's Shave Ice. We did fish and chips here and it was pretty tasty. The food also came out quicker than we expected.
Little Opihi's
This is a snack stand on the beach right in front of Disney Aulani. It was closed when we were at the beach, but it seems like an easy place to refuel while playing in the lagoon.
Nearby Places to Eat
Disney Aulani Resort is also located right next to the Four Seasons and you can make reservations for their restaurants and easily walk over.
Across the street, there are two shopping centers with restaurants. The most popular restaurant is Monkeypod Kitchen (they have the best mai tai in Hawaii). There's also a Mexican restaurant that opened in November 2021 called Mekiko Cantina. Plus, you can pick up grab and go food from Island Country Market.
Disney Aulani Pool Area
One of the main reasons that people love Disney Aulani is that they have an amazing pool area. It's actually a bunch of pools all situated in the center of the resort. Some are zero entry, infinity pools, or just regular pools.
If you have kids who love pool time, Aulani is one of the best places to stay in Oahu.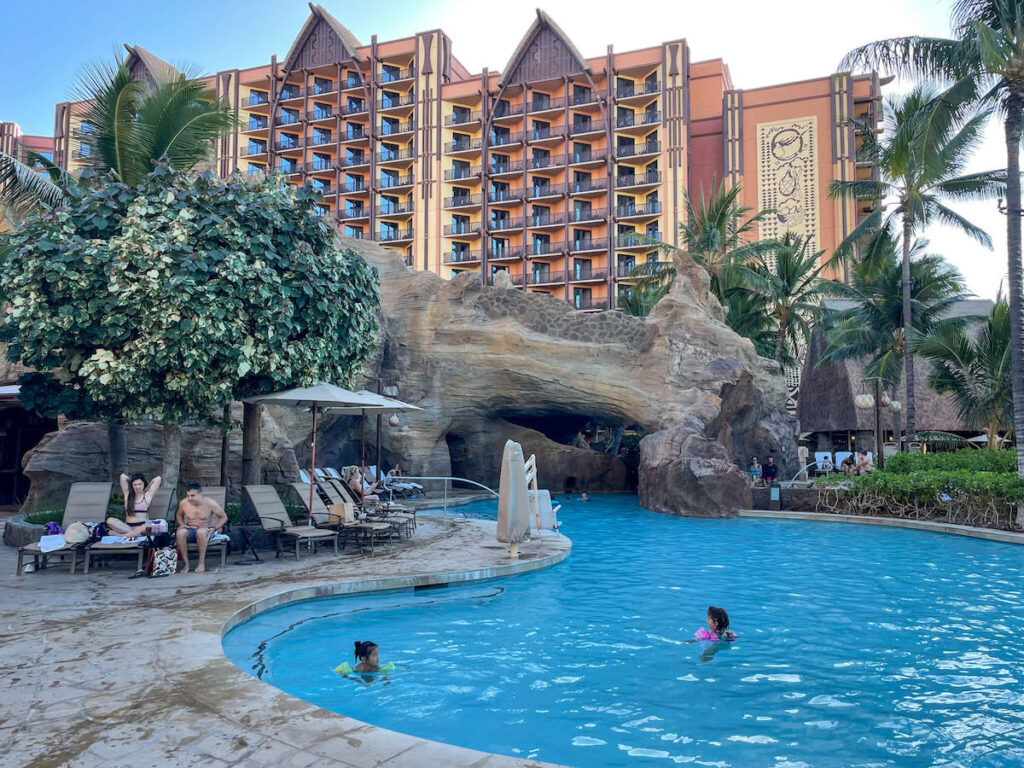 I'll chat about the most popular features below. They also have complimentary life jackets for kids. Oh, and they have cubbies to put your stuff if you can't find a chair.
Lazy River
One of the best things to do at Aulani resort is hang out in the lazy river. It goes through part of the pool area. You'll need to grab an inner tube (they have singles or doubles) and enjoy a relaxing float.
You'll go under a few bridges and dodge some waterfalls and spouting water. There are several places to enter/exit the lazy river.
And you don't really need an inner tube to enjoy it. My kids had fun just swimming around there.
Water Slides
There are a few water slides at Aulani. Near the lazy river you can do their water slide with an inner tube or their body slide. My 7yo and my husband thought the inner tube one was a blast!
There's also some little kid water slides at the Menehune Bridge.
Menehune Bridge
This is the main water play structure for younger kids. It's a cool wooden play bridge with all kinds of water features you'd see at any water park.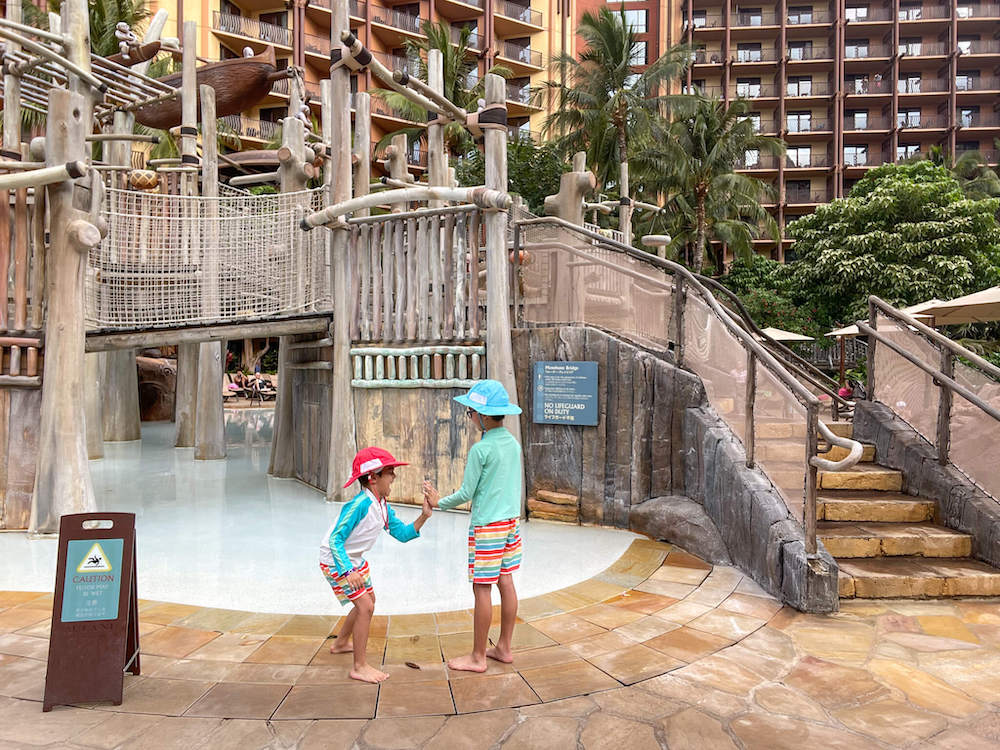 They also have two water slides here. One for really little kids and one for slightly older kids.
Splash Pad
This is an awesome spot for babies, toddlers, and preschoolers. It's a really simple splash pad but little ones will love stepping on the water and running around the area.
Rainbow Reef
There's a really cool opportunity for snorkeling at Aulani Resort. They have Rainbow Reef in their pool area. This is a saltwater pool that has a coral reef at the bottom and it's filled with tropical fish.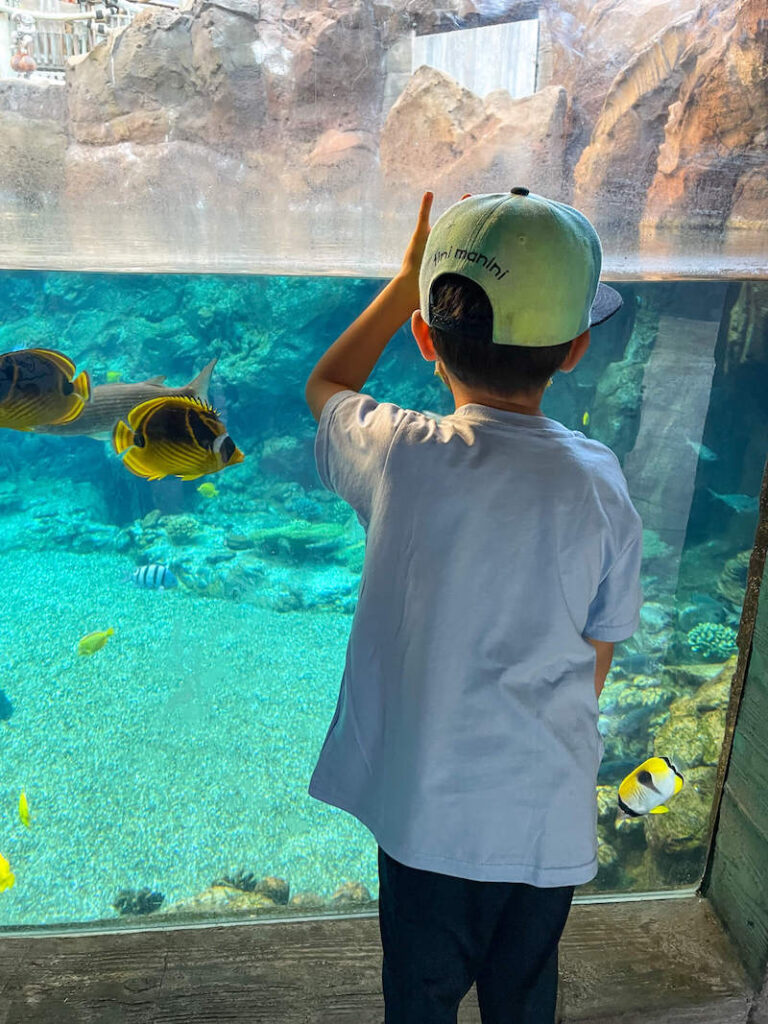 You'll need to reserve a time and pay for this Aulani activity. They provide all the equipment.
For families who don't want to pay for the experience, you can still check out the fish in the viewing windows.
Other features/amenities
Beach/Lagoon
If you exit out of the pool area and head to the ocean, you'll see the Aulani lagoon and beach area. It's roped off to show which section of the beach is for Aulani guests.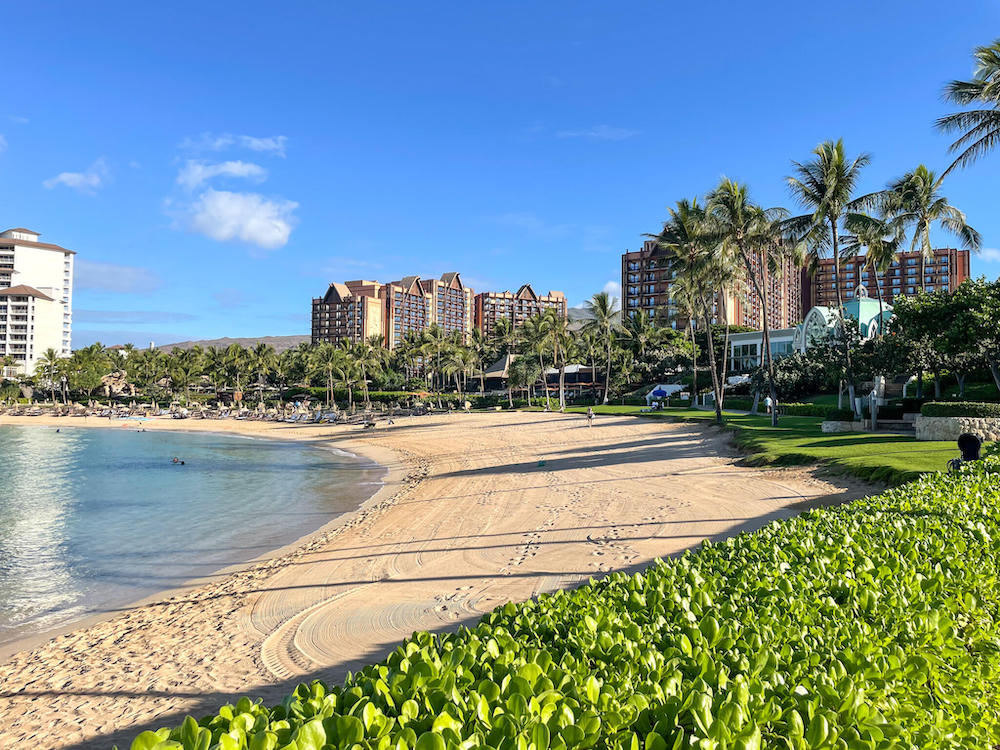 You can rent little cabanas or just use the complimentary lounge chairs. They also rent out stand up paddle boards and you can book a catamaran boat ride here.
The water is super calm and it's perfect for kids of all ages.
Laniwai Spa
The Aulani spa is pretty fantastic. They have a bunch of services like massages and facials. Plus, you get access to their hydrotherapy garden where you can enjoy their private soaking pools and array of showers.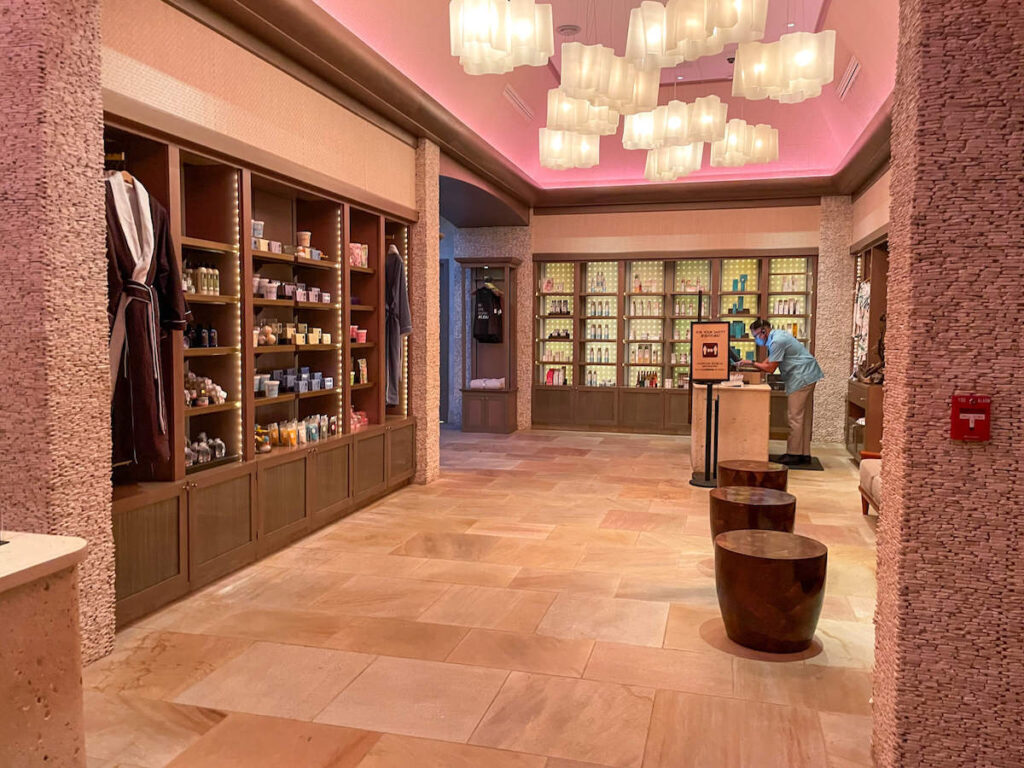 Read my full Laniwai Aulani spa review HERE.
Ka Wa'a Luau
While there are tons of luaus on Oahu, none are more convenient than the Aulani luau if you are already staying there. It's right on the property and they do an awesome job of weaving in Hawaiian myths and stories in this theatrical presentation.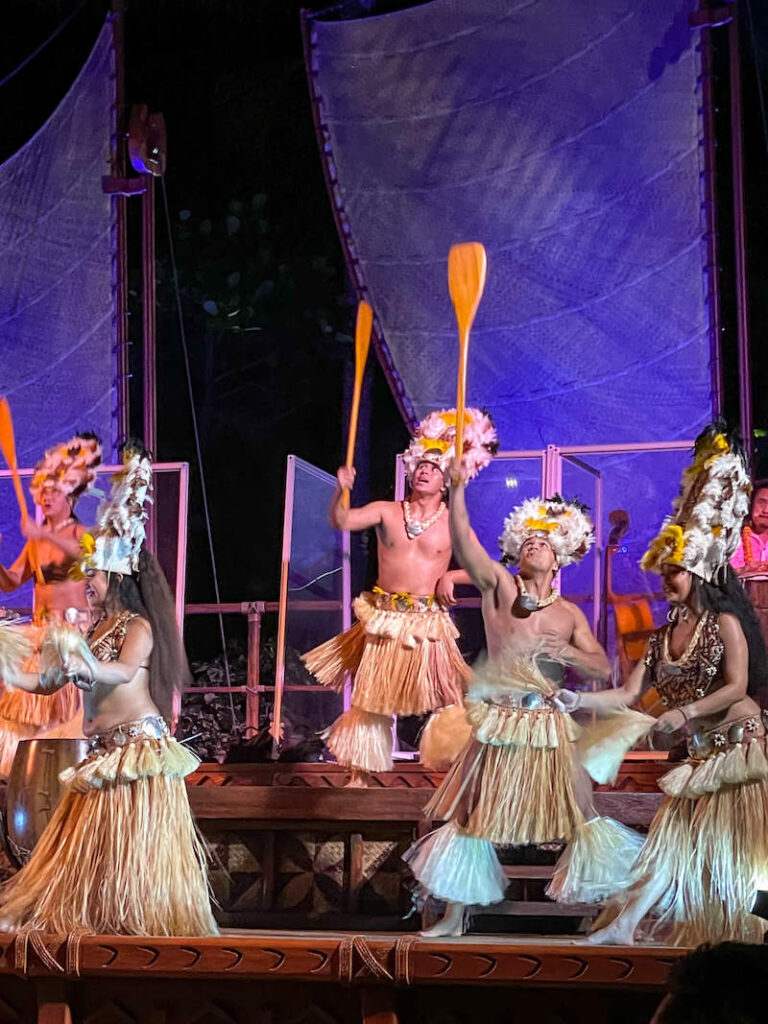 Read my full Ka Wa'a Aulani luau review HERE.
Shopping
There are a few places to shop at Aulani. Kalepa's Store is the biggest Aulani gift shop and you can find all kinds of Aulani souvenirs like plushies, spirit jerseys, Minnie ears, and more. Hale Manu is another option and features more high-end items like jewelry and designer clothes/accessories.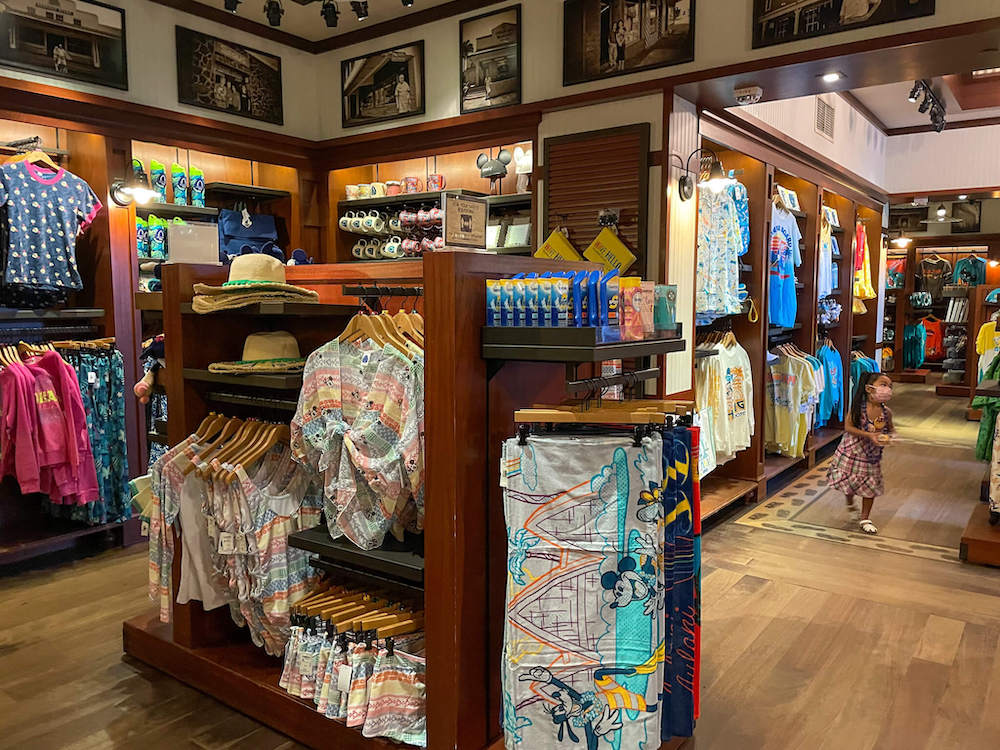 Down at the pool area you'll find the Lava Shack. This is a great place for beach items and clothing/swimsuits.
They also sell a lot of body products and lounge-wear at the Laniwai Spa.
Character Meet and Greets
Aulani is one of my favorite places to meet Disney characters because there's hardly ever a wait. Plus, the characters wear really fun Hawaiian clothing!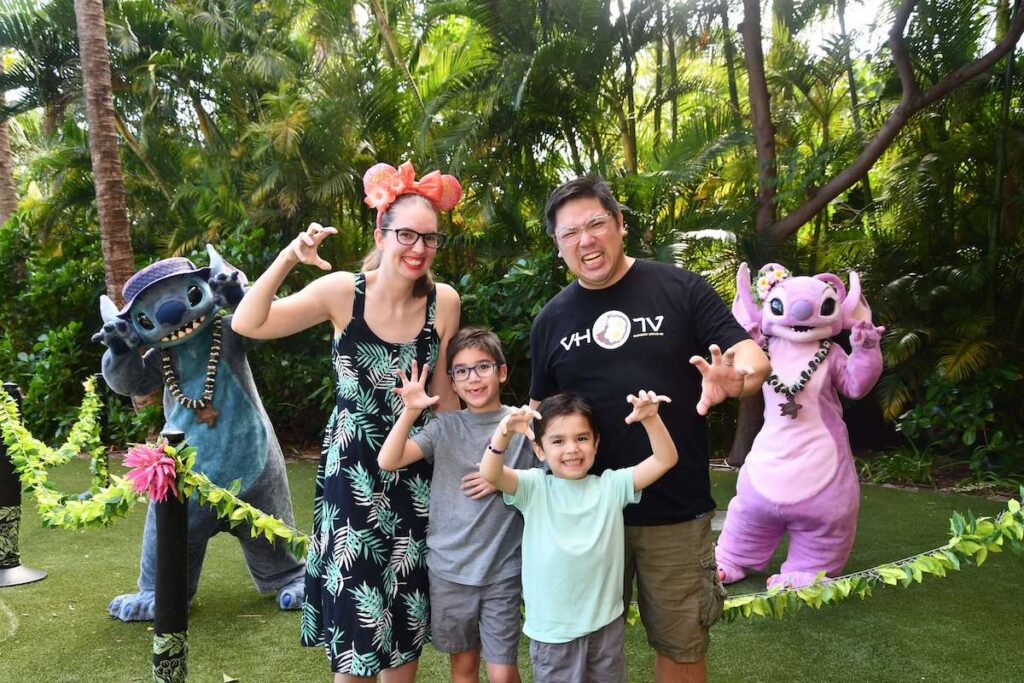 The characters make Aulani Resort in Hawaii one of the best Oahu resorts for families who love everything Disney (like us)!
Read my full guide to meeting Aulani characters HERE.
Disney Activities
The amount of Aulani activities has changed during the past few years due to the pandemic. When we were there in November 2021 there were just a few activities running. In the past, we've loved the storytelling and premium Aulani activities.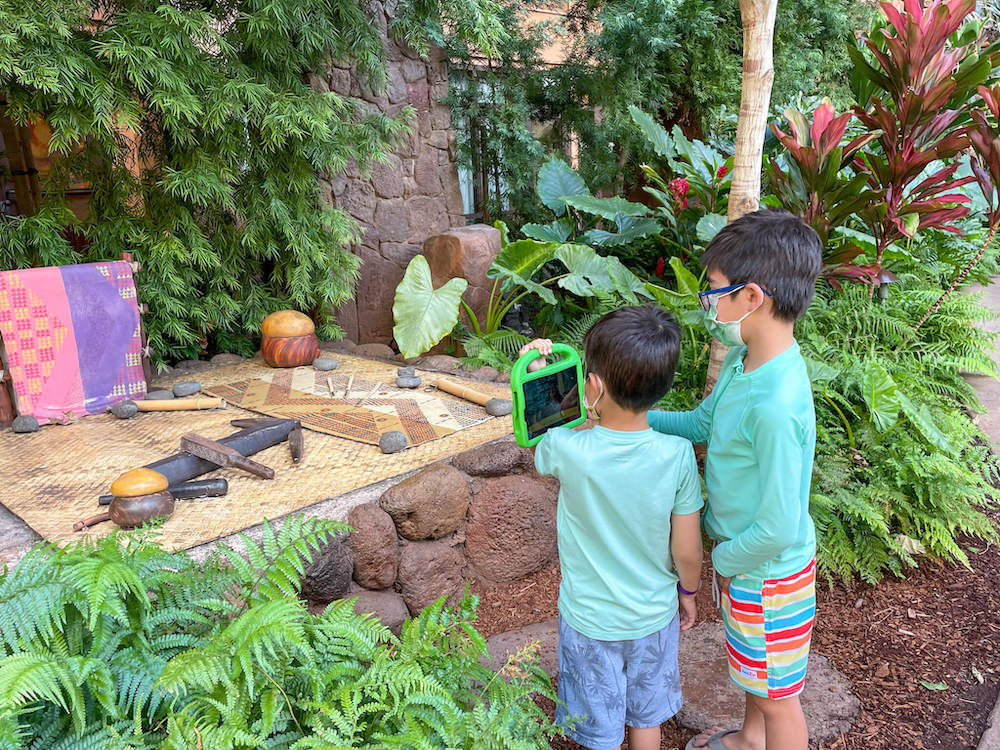 My kids had a blast doing the Menehune Adventure Trail. This is where you borrow an iPad that is loaded with video clues and you solve them by walking around the pool area to complete missions.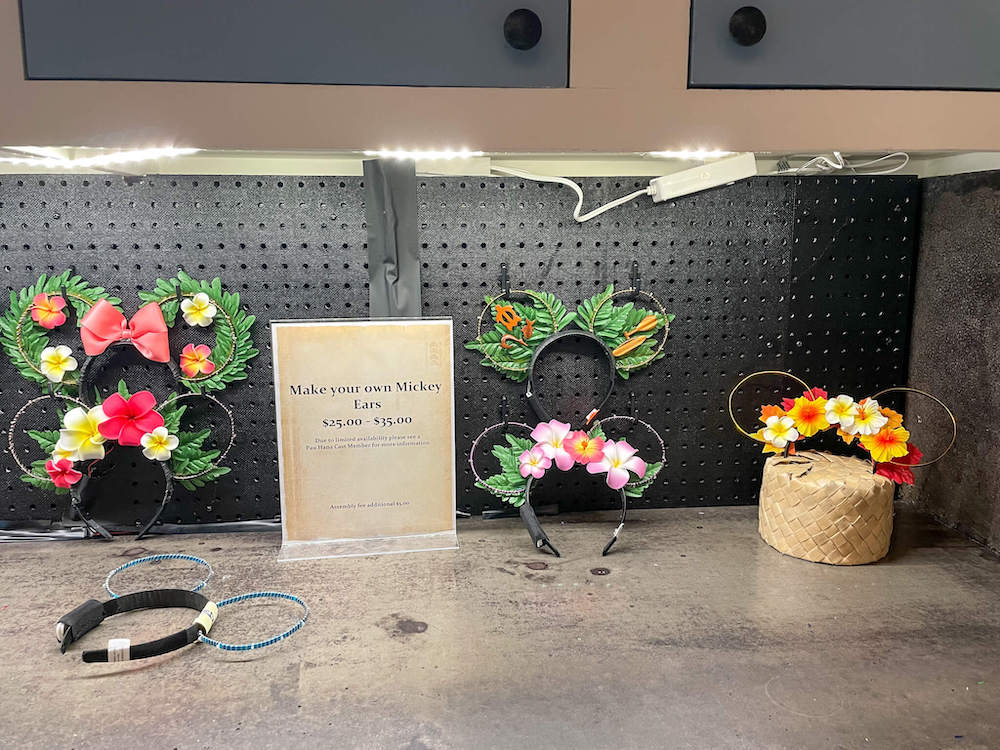 They also had a Make Your Own Minnie Ears activity. It wasn't available during the times that fit our schedule but we were able to buy a kit to bring home to do it.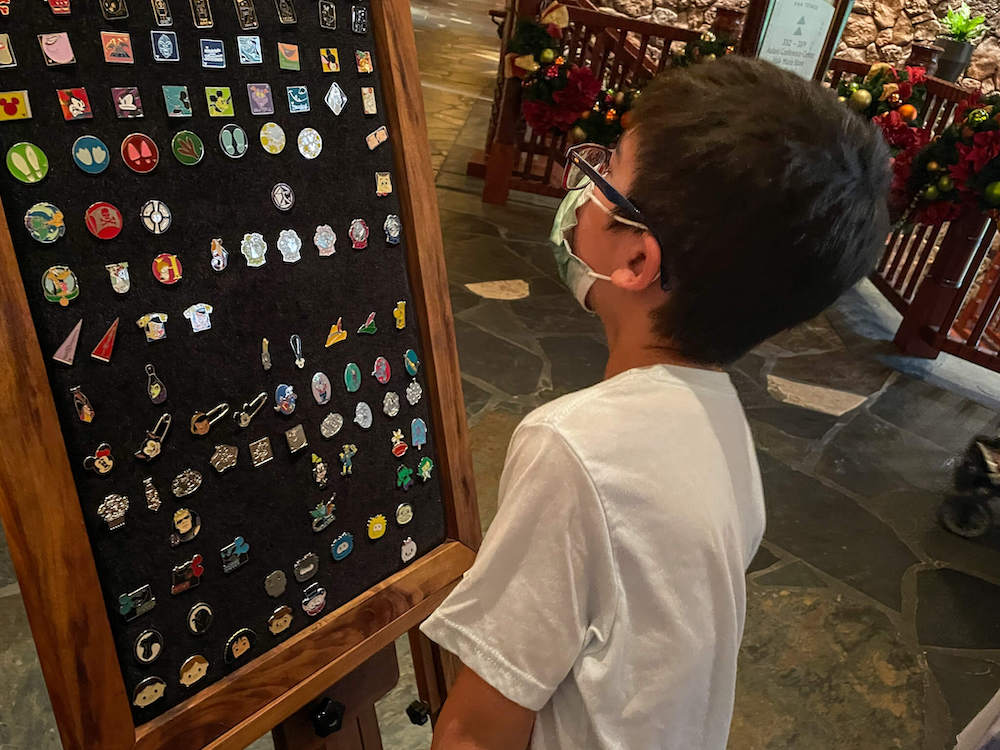 Aulani had pin trading every afternoon with a cast member and that was a big hit with my 7 year old.
And we saw that they had ukulele lessons for kids and adults. We didn't have time to do this but it's definitely on our list for next time.
Aunty's Beach House
Ok, so I added Aunty's Beach House to the list in hopes that it re-opens soon. This is the complimentary childcare at Aulani. You need to register for it, but it's a great way to get some kid-free time.
They also have cool premium activities that you have to pay for but most are totally worth it! My oldest did one a few years ago where he made slime and got to hang out with Stitch.
The free childcare is a top reason why Aulani is one of the best places to stay in Oahu for families!
Are there any things we didn't like?
It's definitely a "splurge" resort. We either rent DVC points or take advantage of sales in order to afford the trip to Aulani.
And the food is just okay. It's right on par with food you'd find at Disney Parks. We're pretty snobby when it comes to our food and Hawaii has SUCH amazing food that it's a bit disappointing that the food at Aulani doesn't measure up.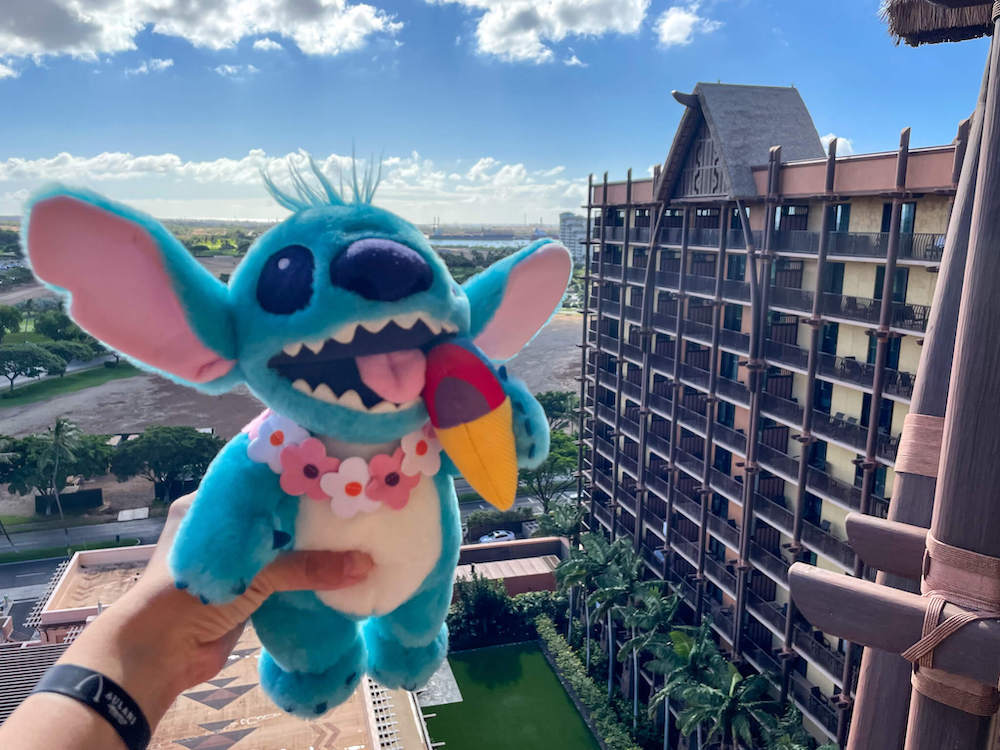 Would we recommend the Disney Aulani Resort?
Absolutely! Disney Aulani is one of my favorite kid friendly resorts in Hawaii. It's even fun just to spend a couple of nights there.
We love how easy it is to take photos with characters, hang out at the pool area, and enjoy the customer service Disney is famous for. It's perfect for an Oahu family vacation. And there are lots of Oahu tours with transportation from Aulani.
If you're looking for where to stay on Oahu, it doesn't get much better than Disney Aulani Resort in Hawaii. It's definitely one of the best resorts in Oahu for families!
P.S. Join our Hawaii Travel with Kids Facebook group to get connected with other families planning a trip to Hawaii!